Carnival Pride Live Blog 2021 – Day 1 – Embarkation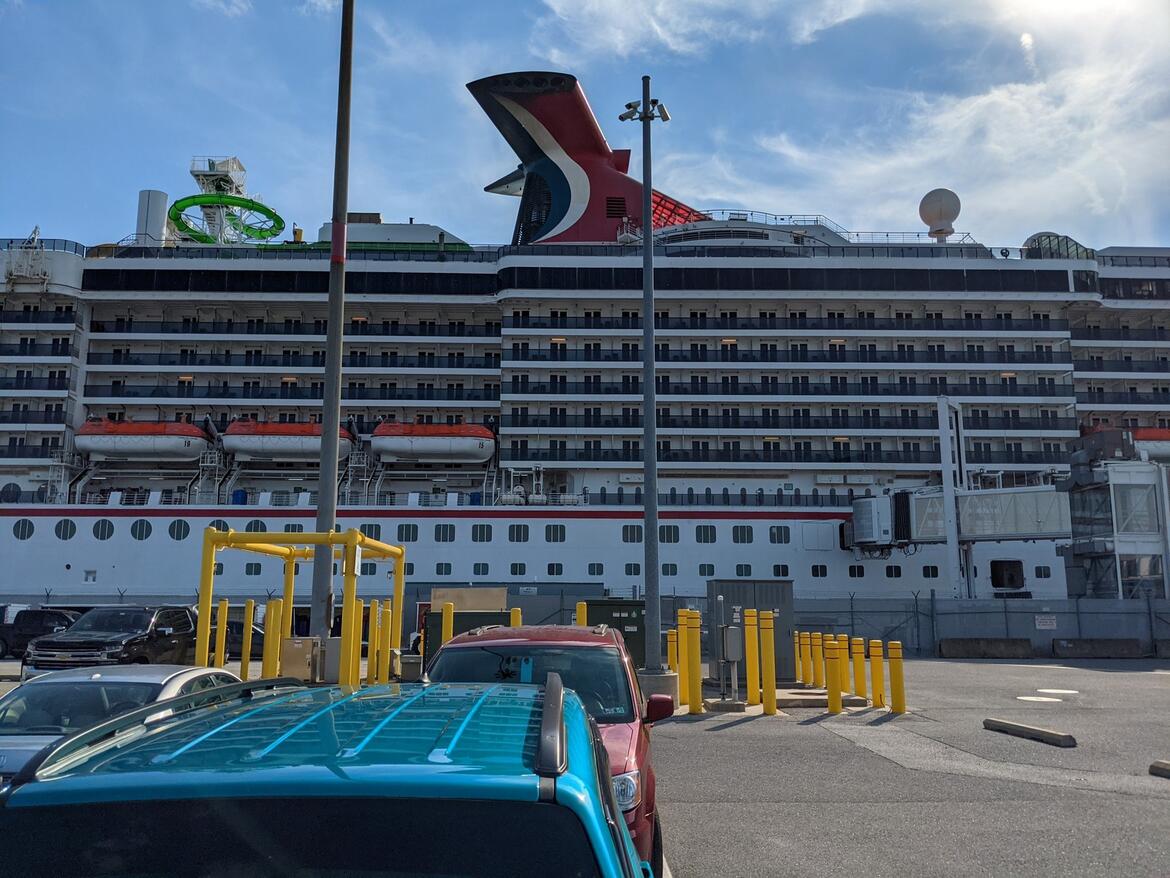 It's been months since cruising restarted from U.S. homeports, but I have not set foot on a cruise ship since November 2019. How exciting, then, to see Carnival Pride's iconic red, white, and blue funnel come into view as we pulled off I-95 and headed for the Baltimore cruise port. 
Would it feel strange to be onboard a ship wearing a mask or would it be a slice of familiar in a very strange year? A bit nervous, a bit giddy, I headed for the ship.
Arrival and check-in
Despite living an hour away in Northern Virginia, I have never cruised out of Baltimore. My travel companion had, and as we drove, she regaled me with horror stories of the hour-long line her family waited in to park at the port several years ago. 
I had read that Carnival was not letting people park if they arrived earlier than their allotted check-in time, so I had timed the drive to arrive as close to our 3:30 check-in time as possible. Because parking is adjacent to the Baltimore terminal building– no shuttle necessary – I hadn't left much time for the parking process.
Turns out I had  no need to worry. We pulled up to the port entrance, with only one or two other cars in sight. We received a parking pass, paused to drop one large suitcase off with the porters, and proceeded to the gatehouse to pay our weekly fee and receive a hang tag. From highway exit to parked car took five minutes, maybe 10.
The check-in procedure was mainly as I remembered it – with two notable differences. The agent at the security line asked to see our proof of vaccine and negative Covid test results, along with our passports,  and lines were nonexistent. We waltzed right through to a check-in agent, bypassing the empty cordoned-off lanes for queuing. No insufferable waits, inching along, waiting for your turn. It was the easiest big-ship embarkation process I've ever experienced.
Image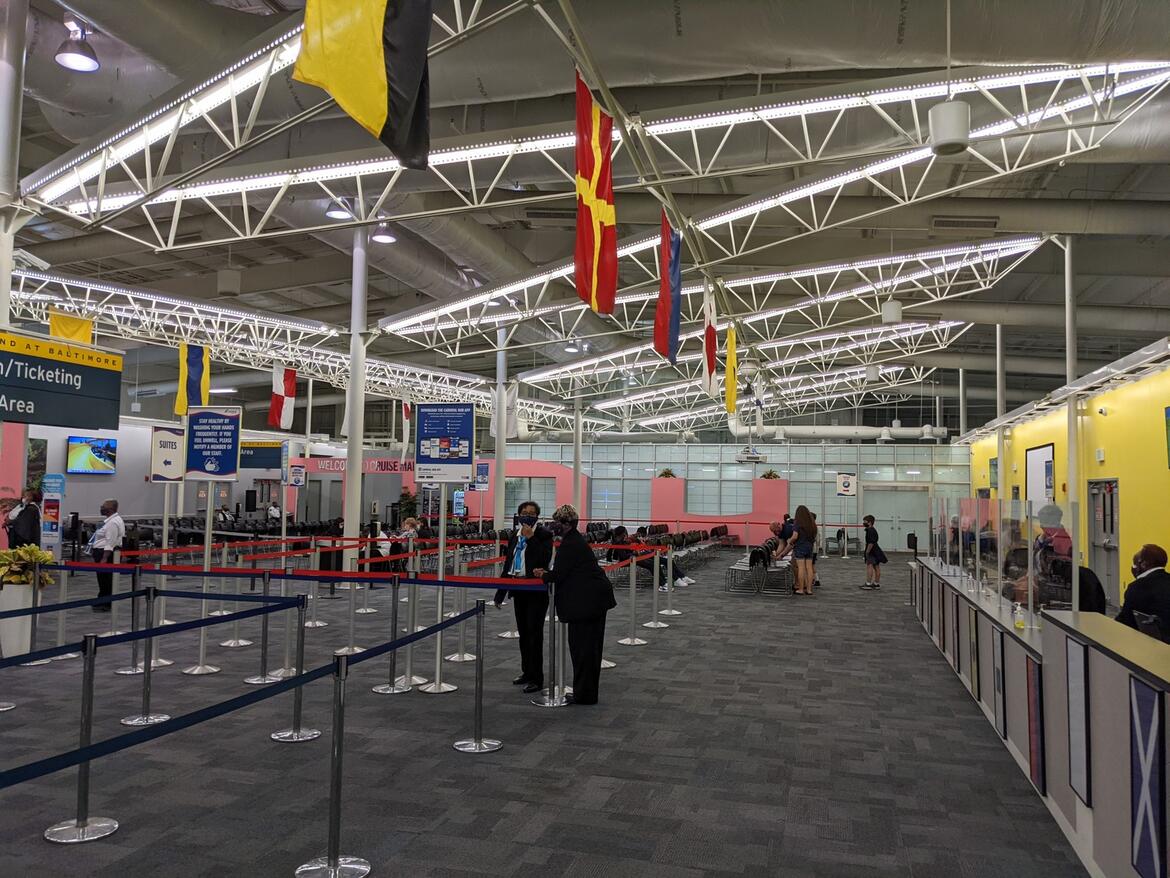 Everyone has to wear a mask in the terminal, and plenty of signs stressed that point. The only times we took them off was for pictures. With so few people about, social distancing was not a problem.
Carnival's carry-on beverage policy is one of the best. You're allowed one bottle of wine or Champagne and a 12-pack of canned nonalcoholic drinks per person. I brought a 12-pack of seltzer to avoid paying bar prices. My friend brought a bottle of wine, but no one asked to inspect it. I don't know if that's a sign of a more laidback policy around alcohol or that our belongings did not raise any red flags.
One disappointment: I've seen photos and videos of fanfare and cheering as people first boarded ships and everyone celebrated the return to cruise. I was looking forward to a warm welcome back. Perhaps the party was saved for the very first sailing of every ship or the very first people onboard, but no one batted an eye or even noticed us when we stepped onto the ship. I guess it's up to us to make our own party.
Cabin upgrade
Our check-in agent had some surprising news for us. You have a new cabin number, she said. We looked it up, and we had been upgraded to a suite! I have been hosted by Carnival on many cruises over the past 15 years, and I have never once been upgraded. (In fact, my last Carnival cruise was in an inside cabin.) Chalk it up to a ship selling under capacity that Carnival had empty suites to give away.
Image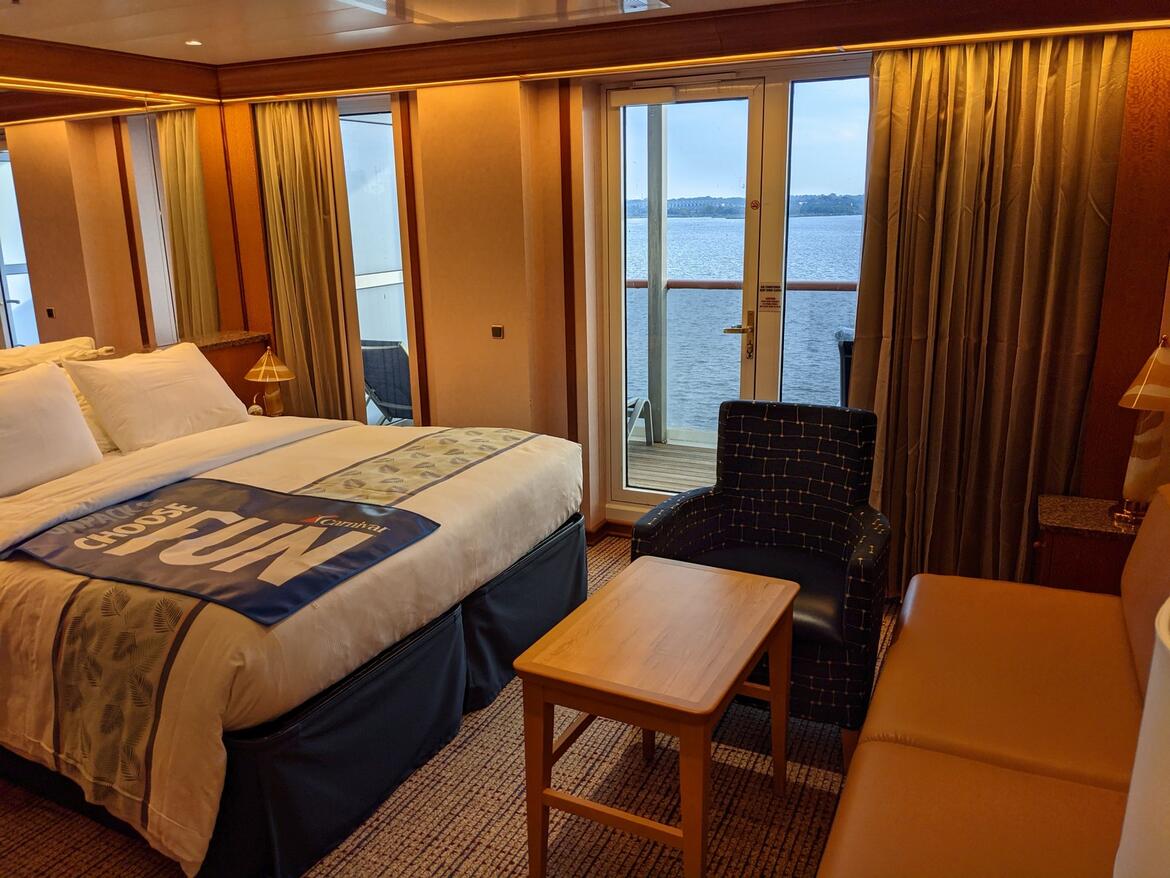 Only one problem: I had tagged my suitcase with the old cabin number. Would it find me? (The answer is no; it was delivered to my original cabin number, and I had to go looking for it and drag it back to the new cabin.)
I'll write more about the cabin later when I've had time to properly experience it. Highlights are two sets of closets, so we don't have to fight over hangers; a dressing area outside the bathroom; double sinks and a full bathtub with shower in the bathroom; and a balcony large enough to fit two upright chairs and two full loungers. I am hoping to spend a lot of time on that balcony!
Not to look a gift suite in the mouth, but the room hasn't been upgraded in years. The drawers stick, and the wood is scuffed. Also, for a spacious room, there is only one U.S.-style plug, and it's in the dressing area (for hair drying, I guess) rather than by the desk. I naively thought a suite would have more than one outlet, but Carnival Pride is one of the line's oldest ships.
Passed the muster
Everyone's least favorite onboard activity on embarkation day is the muster drill. You have to interrupt your afternoon plans to grab your life jacket and stand shoulder to shoulder out on deck in the heat, while the cruise director drones on about safety procedures you're unlikely to remember and crew give tutorials on how to put on a life jacket, which you already know how to do.
Carnival's new post-pandemic procedure for mustering is so much better that I hope they make it a permanent change. Anytime before the ship sails, you must report to your muster station (no need to grab a life jacket), present your cruise card, and watch a crew member correctly put on a life jacket. No crowds, no bar closures – two minutes and done. It was the most pleasant muster drill of my career.
Image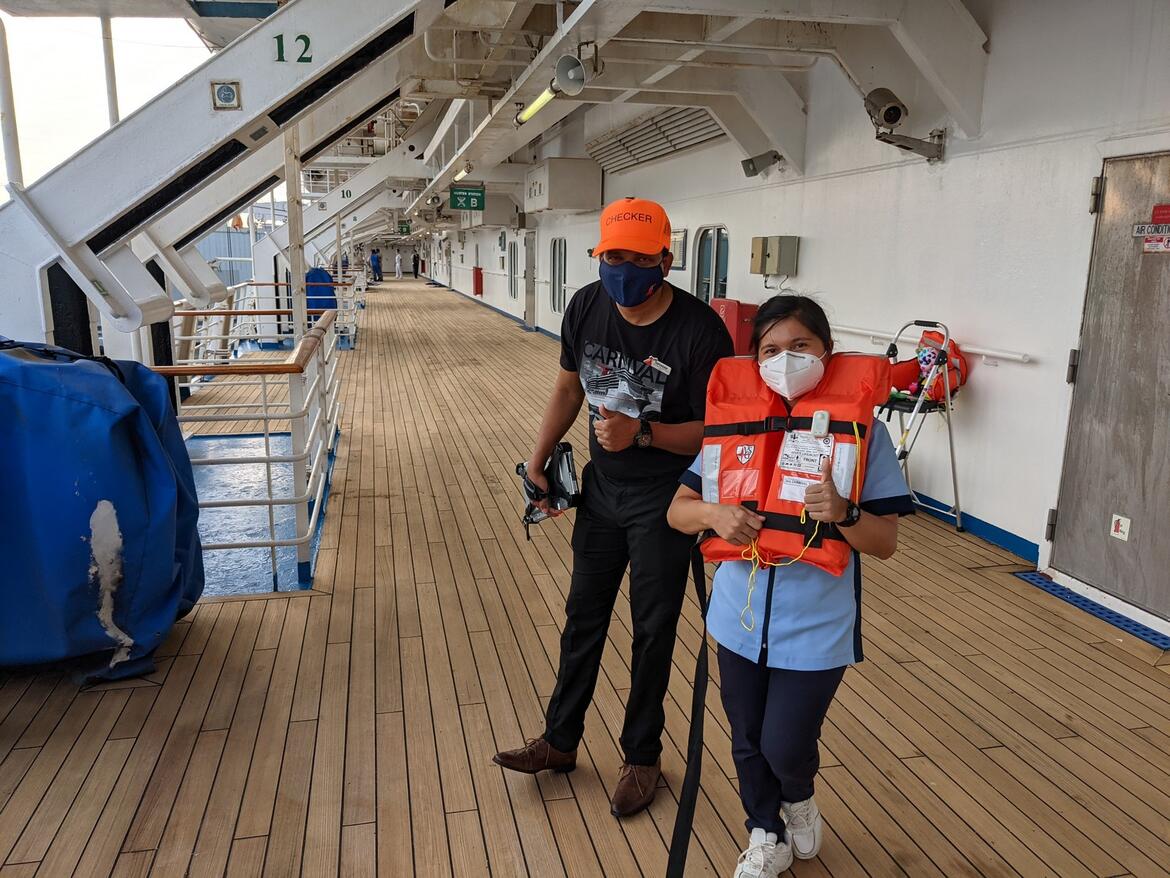 Prior to sailaway, the cruise director did give a safety briefing over the PA system, and the ship blew its emergency signal to demonstrate the call to muster. We listened to this while reclining on deck chairs above the pool deck, totally comfortable and relaxed.
Steakhouse dinner
Here's a Carnival cruise insider tip: Book your dinner at Carnival's Steakhouse on the first night of the cruise. Not only is the restaurant uncrowded on night one, but there's usually a special deal for free or discounted bottles of wine. 
Carnival is known more for its casual dining, but its steakhouse never disappoints. And I don't even eat red meat! It's a great option for a special occasion dinner to celebrate a birthday or anniversary and to enjoy dishes that are a cut above dining room fare.
On Carnival Pride, which features a crazy Renaissance art theme, the steakhouse is called David's Steakhouse because the restaurant is dominated by a large replica of Michelangelo's David, fig leaf and all. And, yes, the large tables in the center of the restaurants have a direct view of his pasty white naked behind. We recommend you ask for a window seat.
Image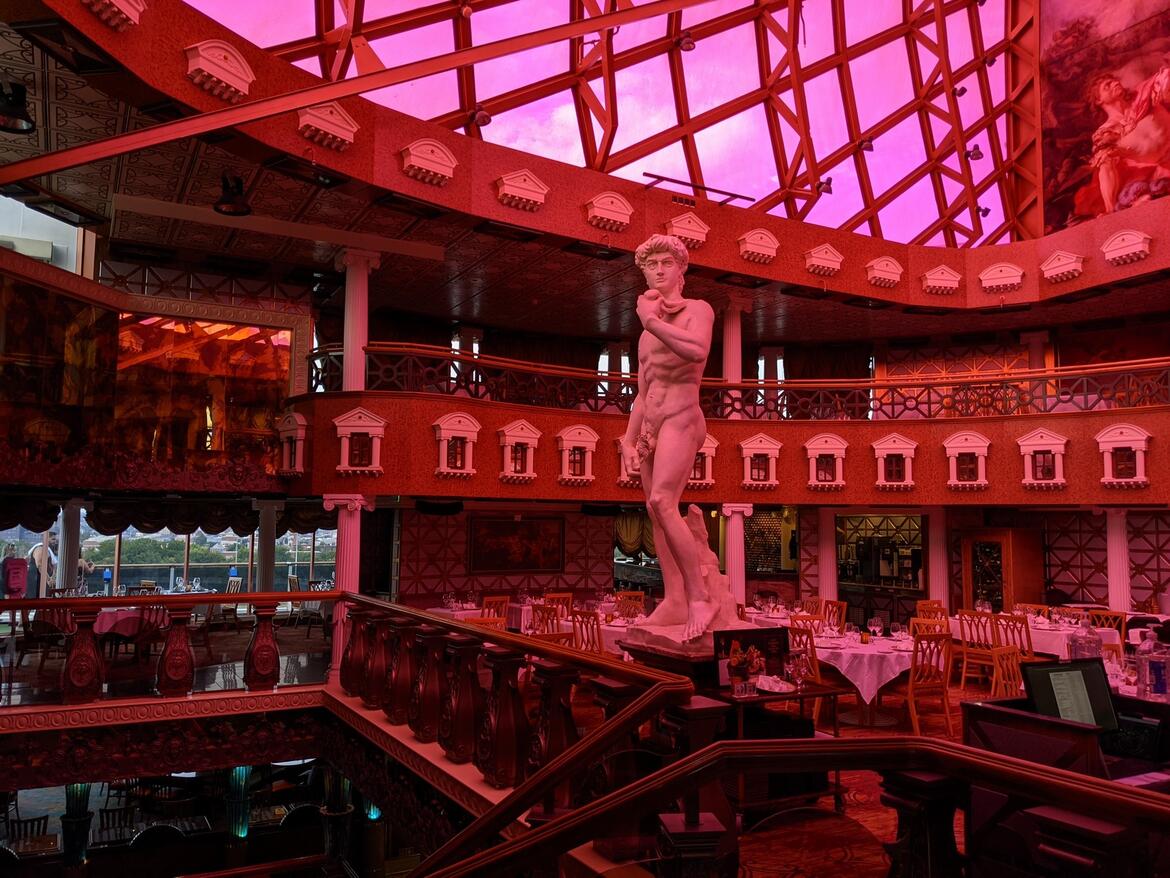 Tonight's wine special was a free bottle of the house merlot or chardonnay, or 50 percent off the other wines on the list. We chose the merlot; I'm not a wine aficionado, but I enjoyed the bottle.
Dinner at David's Steakhouse consists of your choice of an appetizer, soup or salad, entree with two sides, and dessert. The chef sent over an amuse bouche to start us off – a Wagyu beef slider for my friend and raspberry sorbet for me.
For appetizers, I ordered the stuffed mushrooms, which came with a mushroom "tea." My friend ordered the bone marrow and beef tartare. Both were excellent.
Image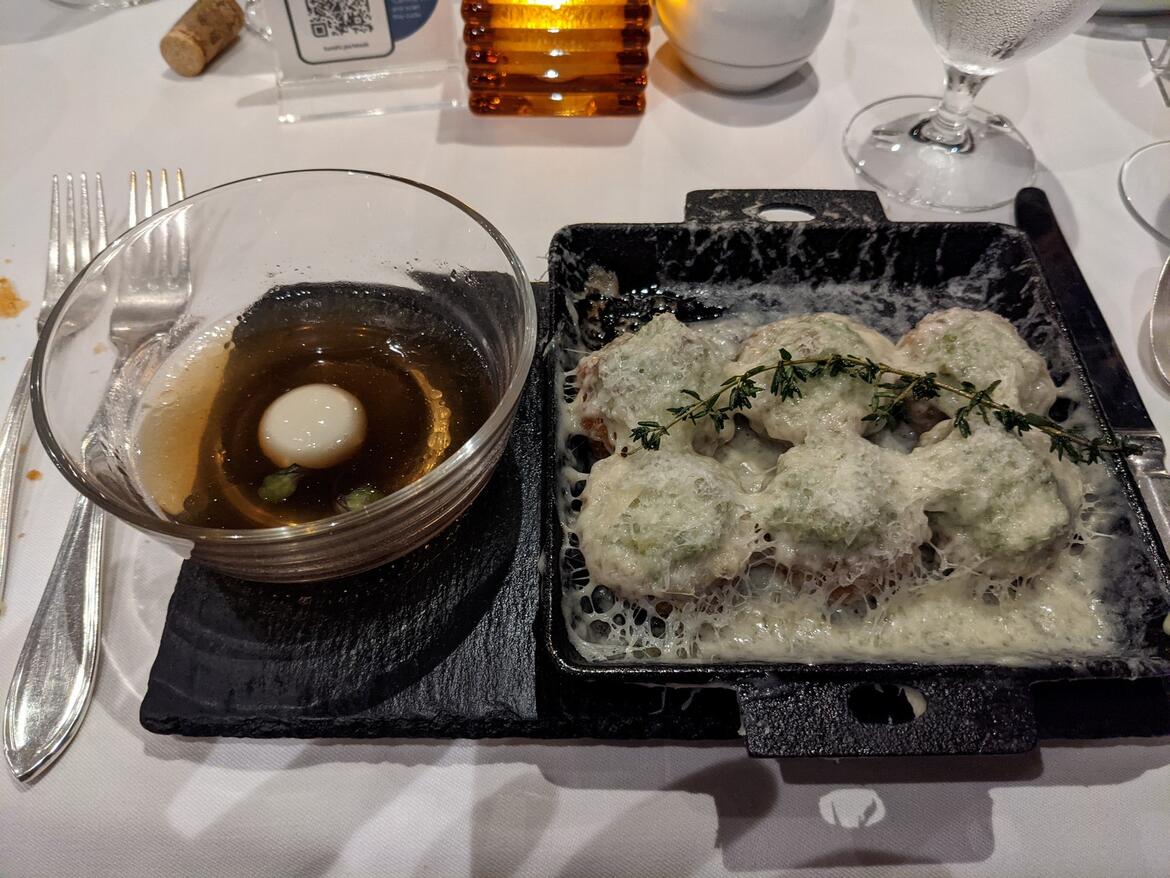 For my second course, I ordered the Caesar salad, which was prepared tableside. Honestly, it wasn't much of a show, but at least I got to request no anchovies. My friend tried the spinach salad, but ordered it with the dressing from another salad. The waiter was happy to oblige her request.
Image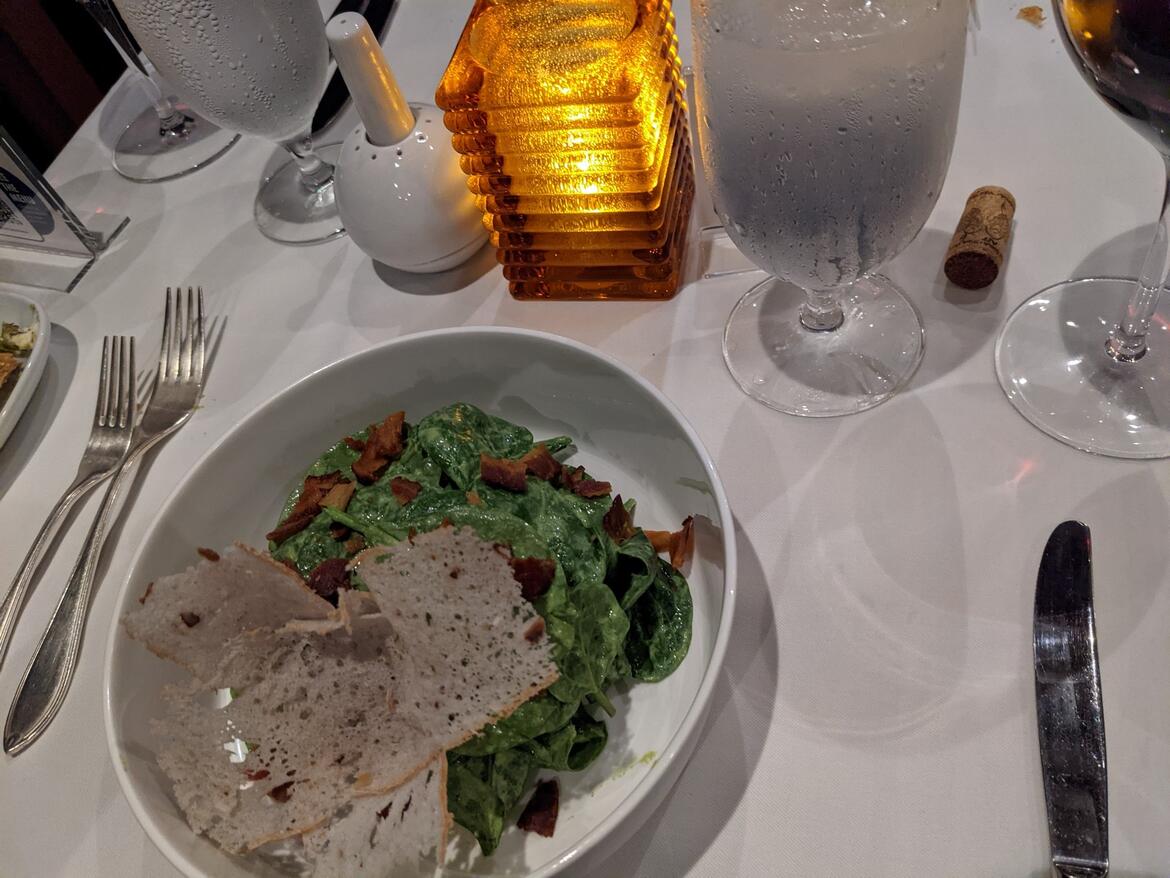 As a non-meat eater, I ordered the Dover sole for my main course, along with sauteed mushrooms and wasabi mashed potatoes, a dish I love but rarely have the chance to eat. It didn't disappoint. The fish was cooked perfectly and came with a quartet of sauces – my favorites were the mango and the fig pepper relish. My friend got the filet mignon, which she said was good but not special.
Image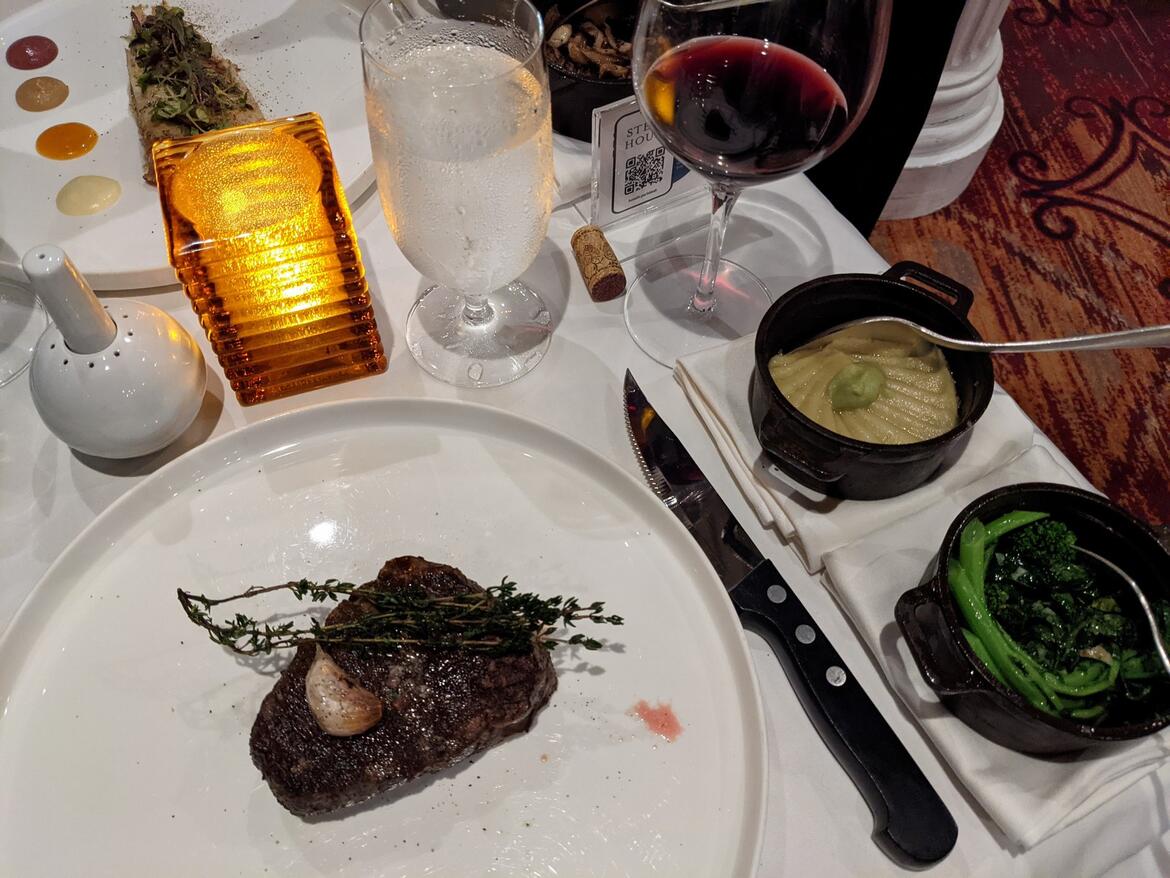 The signature dessert at all of Carnival's steakhouses is Art at Your Table. For this treat, the waiter places an empty white board on your table than streaks it was various sauces and tops it with a chocolate candy sphere filled with ice cream and an assortment of jelly candies and cookies. It looked fun but we were intrigued by the other options.
We went with the Chocolate Sphere and a sampler dish of strawberry cheesecake ice cream, raspberry sorbet, and salted caramel ice cream. It's hard to describe the chocolate sphere (the menu does a less-than-stellar job, as well), but it's a perfectly round ball of chocolate with more chocolate and a praline pate inside. The waiter pours a chocolate ganache over it that "melts" the sphere, and then you eat it. 
Image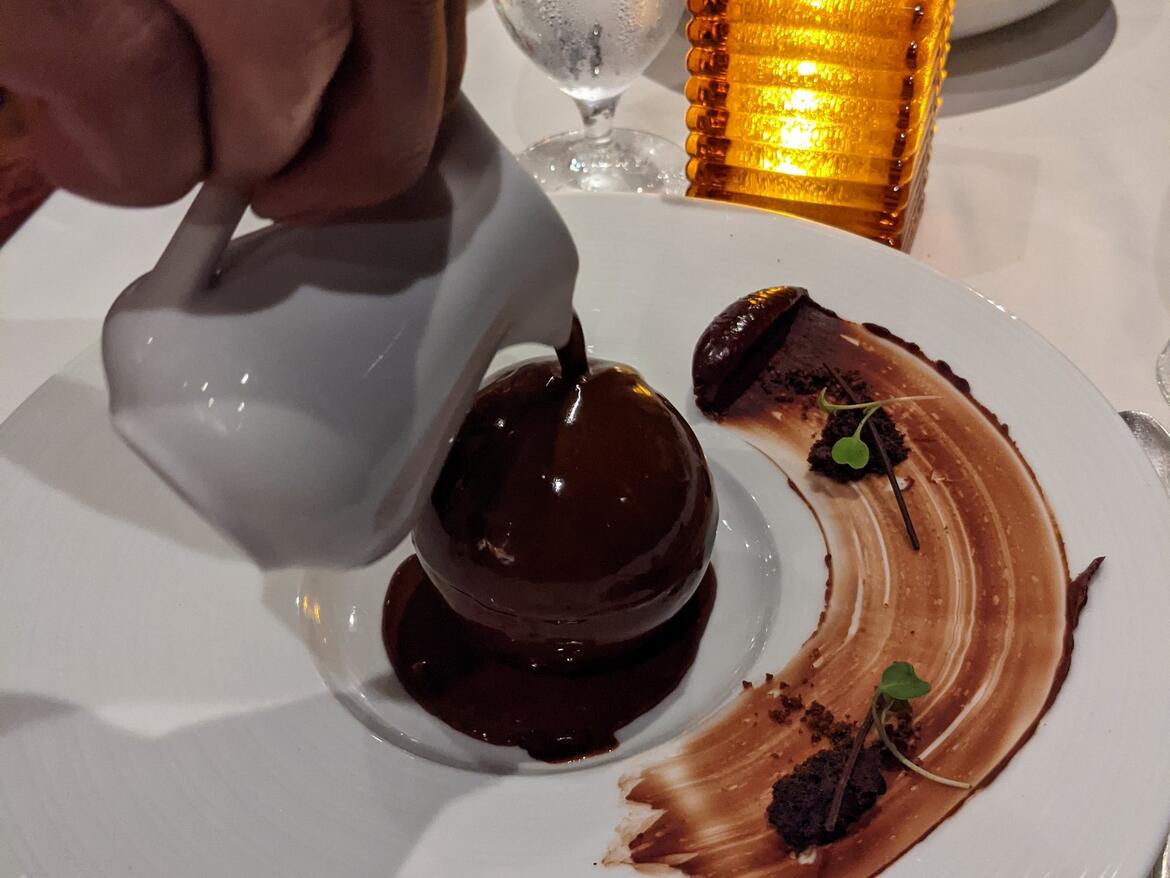 The ganache was over-the-top delicious. We were practically licking the chocolate off the plate by the end. We even interrogated the dessert chef about it. He told us it's a mix of chocolate ganache, freshly squeezed oranges, and white wine. 
Our waiter Budi shared another secret steakhouse tip: If you get to the end of your meal and you're too full for dessert, you can come back for it later, including on another evening of your cruise. Given the crazy number of courses we consumed, I will definitely remember that tip for my next visit.
I was surprised to discover that our meal had lasted 2.5 hours. Perhaps that was because it was paced perfectly; we never felt like we were waiting overly long for the next course. Time apparently flies when you're enjoying your first indoor restaurant meal in more than a year.
Tomorrow is our first sea day. The only plan I have is to sleep in. Check back tomorrow to see what fun we get up to on a Carnival Fun Ship.