Carnival Cruise Line is one of the biggest cruise lines in the world by passenger capacity with its fleet of 25 ships. Although its 'fun ships' predominately attract Americans, the cruise line sails around in the world in regions like Alaska, Caribbean, Mexico and Australia.
The cruise line is known for having some of the most casual, laid-back ships at sea and brings many families onboard thanks to its fantastic kids programming and childcare options.
Carnival also aims to offer the most affordable cruises, with plenty of options for short getaways, spring breaks or weekend trips. Nothing onboard feels too pretentious, you'll be having too much fun for that, anyways!
If you like grubby food, like juicy burgers and crispy chicken tenders, you'll certainly love all of the complimentary dining options on Carnival. For the price point, the cruise line gets it right. You can also indulge nightly with some of the best chocolate melting cake at sea - there, I said it!
Image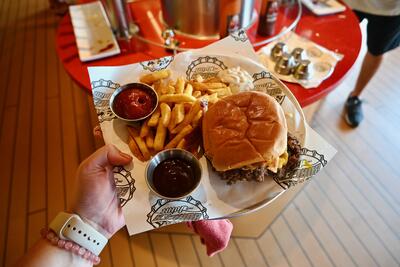 Entertainment is hit or miss, but you can't expect too much given the low price point of Carnival's fares. You probably won't be watching Broadway-style musicals on your cruise; instead, you can enjoy nightly comedy shows in the Punchliner Comedy Club and game shows like Deal or No Deal and Family Feud.
Carnival is also known for sailing from more obscure ports in the United States, such as its seasonal sailings from Mobile, Alabama and Charleston, South Carolina. The cruise line aims to be accessible for American families, with many guests opting to drive for their cruise instead of flying.
Overview of Carnival's Fleet
Image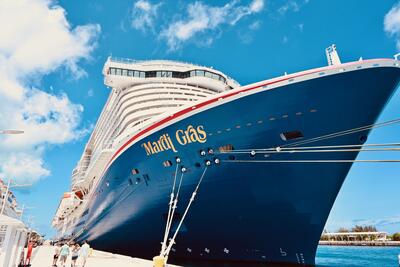 As mentioned, Carnival Cruise Line currently operates 25 ships across its fleet. The vast majority of these sail from North America, visiting ports in the Caribbean, Mexico, Alaska and Bermuda.
In general, Carnival's ships are smaller than competitors and most would be categorized as mid-size. But, back when Carnival first debuted, the cruise line built some of the biggest cruise ships in the world.
While Carnival is vastly popular in the cruising industry, you won't find the same massive cruise ships like rivals Royal Caribbean and Norwegian Cruise Line. For many years, Carnival built modestly-sized vessels that packed a lot of fun, but not much innovation.
The cruise line kept a similar design across its ship classes, unlike other competitors in the cruise industry. New ship classes featured slightly bigger designs with many similarities across the board. While other cruise lines aimed for innovation advancement, Carnival stuck with their tried-and-true ship designs.
Image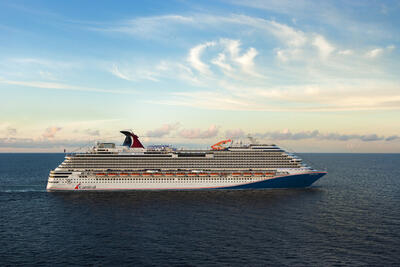 This has recently changes with the debut of the Excel-class of ships with Mardi Gras, Carnival Celebration and Carnival Jubilee. Carnival went big with this new ship class, building vessels 40% bigger than anything else in the fleet. Carnival has officially joined the mega-ship category in the cruise industry with these vessels holding around 5,400 passengers.
When looking at the biggest cruise ships in the world, only the Excel-class makes the top 50 list. These massive vessels are clock in around 180,000 tons - notably bigger than any other ship class in its fleet.
Starting in 2023, Carnival acquired two ships from Costa Cruises: Carnival Venezia and Carnival Firenze. Both of these have an Italian-flair of cruising, as the ships were built for a European market for sister-brand Costa. Sailing on one of these ships will be a more unique cruise than a typical Carnival cruise ship.
Overall, there are 8 ship classes in Carnival's fleet: Fantasy, Spirit, Conquest, Splendor, Dream, Sunshine, Venezia/Vista and Excel class
Fantasy Class (1998): Carnival Elation, Carnival Paradise
Image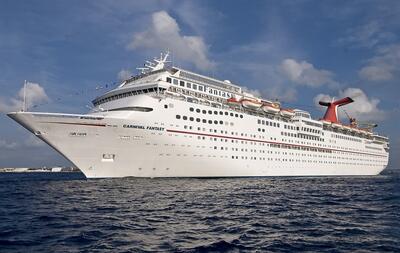 Carnival's Fantasy Class is home to the oldest and smallest ships in the cruise line's fleet. Because of the implications of the pandemic, Carnival has started to phase out the Fantasy Class quicker than anticipated.
The only remaining ships from the Fantasy Class include Carnival Elation and Carnival Paradise. Weighing only 70,000 gross tons, these ships are designed to sail with 2,000 passengers.
Carnival has done a fantastic job keeping the Fantasy Class ships up-to-date with many signature amenities and eateries. You can still find options like Guy's Burger Joint and BlueIguana Cantina, along with freshly made pizza and paninis.
Spirit Class (2001-2022): Carnival Spirit, Carnival Pride, Carnival Legend, Carnival Miracle and Carnival Luminosa
Image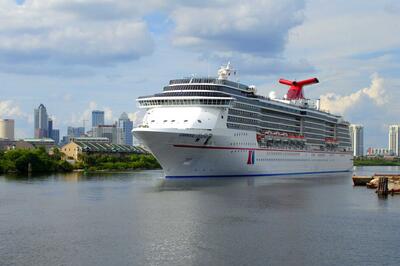 The Spirit Class in Carnival's fleet is built to withstand all types of weather; as such, you won't just find these ships sailing in the Caribbean. At just half the size of Carnival's newest Excel-class ships, Spirit class ships are used to sail to exotic destinations. Most ships in this class weigh right around 80,000 gross tons and hold 2,100 passengers, making them midsize ships for today's standards. These vessels are designed structurally to visit smaller ports, yet still offer plenty of versatile amenities.
You can find pools covered with retractable glass, making Spirit class ships perfect to sail colder destinations in Alaska. Even though these ships are slightly bigger than Fantasy class ships, Carnival has packed with plenty of signature amenities, including waterslides, miniature golf, pools, casinos, spas and even an adults-only area called Serenity.
While most of the Spirit class was built in the early 2000s, the newest ship, Carnval Luminosa, was acquired from Costa Cruises and retrofitted for Carnival's branding. 
Conquest Class (2002-2007): Carnival Conquest, Carnival Glory, Carnival Valor, Carnival Liberty, Carnival Freedom
Image
The Conquest Class is one of the biggest in Carnival's fleet and measure 110,000 gross tons. Each cruise ship can hold around 2,900 passengers at capacity. Because of these ships' modest size, many itineraries feature smaller ports.
Guests might find the Conquest Class to be the perfect size, as these ships are considered midsize. As with most Carnival ships, you can find plenty of Carnival's signature dining venues like Guy's Burger Joint, RedFrog Rum Bar, Alchemy Bar, Pizza Pirate BlueIguana Cantina and Carnival Deli.
Splendor Class (2008): Carnival Splendor
Image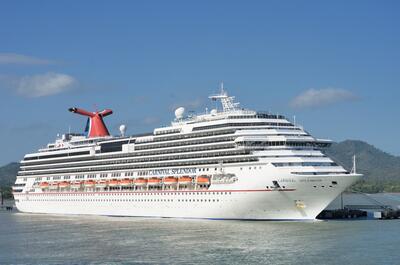 This is the smallest class in Carnival's fleet with just one ship: Carnival Splendor. This vessel was originally designed and built to sail for sister-brand Costa Cruises, but the company decided the ship would fit better in Carnival's brand.
Carnival Splendor is truly one of a kind! Measuring 113,000 gross tons and holding 3,000 passengers, the vessel is also considered midsize. While the ship is the only of its kind, it's still very similar to other ship's in Carnival's fleet. The top deck is the most significant difference between Splendor and Conquest-class ships with glass magrodome that retracts and waterpark.
Dream Class (2009-2012): Carnival Dream, Carnival Magic, Carnival Breeze
Image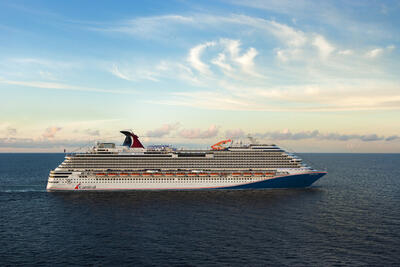 Carnival's Dream Class features modestly sized vessels holding 3,600 passengers and measuring 130,000 gross tons.
Carnival's Dream Class has some unique amenities, such as a 4D thrill theatre. Dream Class ships also debuted the top-deck ropes course, which continues to be part of Carnival's fleet throughout the future.
Dream Class ships are full of complimentary dining options, as well as specialty dining restaurants. Complimentary dining includes Guy's Burger Joint and BlueIguana Cantina while specialty dining venues include Cucina Del Capitano Italian and Fahrenheit 555 steakhouse.
Sunshine Class (2013-2021): Carnival Sunshine, Carnival Sunrise, Carnival Radiance
Image
Carnival's Sunshine Class is one of its most unusual. All three ships in this class were originally built in the 1990s; however, the ships were completely gutted and redesigned from head-to-toe with a $200 million renovation for each ship.
Nearly every area of the original ships were redesigned. All of these cruise ships in the Sunshine Class can hold approximately 3,000 passengers at capacity and measure around 100,000 gross tons. These ships are still 40% smaller than Carnival's newest and biggest ships, but still have tons of amenities, like the adults-only Serenity, WaterWorks waterpark and sports court.
Dining options are plentiful and include options like Guy's Burger joint, Pizzeria del Capitano, BlueIguana Cantina, Bonsai Sushi and Fahrenheit 555, along with many more.
Vista Class (2016-2019): Carnival Vista, Carnival Horizon, Carnival Panorama
Image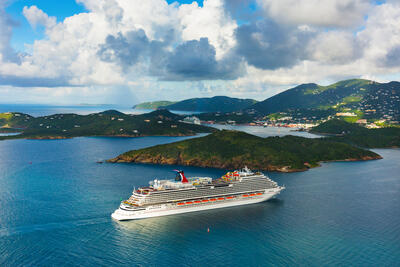 The Vista class for Carnival are notably smaller than Carnival's newest ships, but still pack in tons of fun and things to do. These vessels clock in at 130,000 gross tons and hold around 4,000 passengers.
Vista class ships featured the first breweries and BBQ smokehouses at sea thanks to another partnership with celeb-chef Guy Fieri. Carnival Panorama and Horizon both include the newer complimentary dining option of Guy's Pig and Anchor Smokehouse and Brewhouse.
Again, you can enjoy an array of dining onboard with Cucina Del Capitano, JiJi Asian Kitchen, BlueIguana Cantina, Fahrenheit 555 steakhouse and Guy's Burger Joint.
Excel Class (2021-2023): Mardi Gras, Carnival Celebration, Carnival Jubilee
Image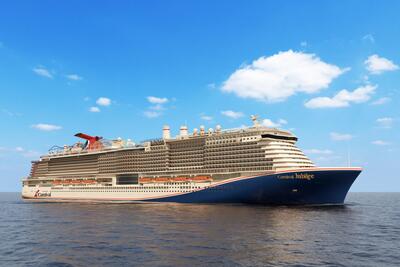 The Excel class of ships is home to the biggest and most innovative ships from Carnival. The cruise ships are totally redesigned from anything Carnival had built before and feature a slew of brand-new amenities onboard.
The ships in the Excel class clock in around 180,000 gross tons, making them - by far - the biggest ships for Carnival. These ships are nearly 40% bigger than anything the cruise line has built before. At maximum capacity, the ships can hold 6,500 passengers.
Excel class ships are LNG-powered, which makes them more sustainable than other ships in the fleet. Another first was the highly-anticipated debut of Bold: The Ultimate Sea Coaster. This was the first rollercoaster at sea.
There are nearly 20 different eateries onboard, featuring new dining options like Shaq's Big Chicken and Emeril's Bistro. You can enjoy all of Carnival's signature dining options, as well as multiple specialty dining restaurants.
Everything onboard Excel class ships is bigger and better. You'll also find top-of-the line entertainment and accommodations onboard Excel class ships.
Venice Class (2024-2025): Carnival Venezia, Carnival Firenze
Image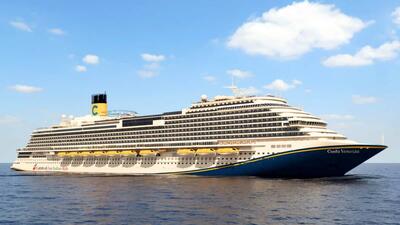 Another unique class on Carnival is its Venice Class, which is home to two ships that were transferred from sister-brand Costa Cruises. Both of these vessels have an Italian-flair to cruising thanks to Costa's Italian heritage.
Carnival describes these ships as having a distinct blend of vacation flavors. The design onboard is certainly notable, with Italian-designs around every corner. The ship's center looks like something straight from Italy.
These ships are fairly large compared to the rest of Carnival's fleet, measuring 135,000 gross tons and holding around 4,126 passengers at capacity. Guests can enjoy a mix of complimentary and specialty onboard with almost all of Carnival's signature dining options; and of course, plenty of pizza!
Carnival's Itineraries and Destinations
Image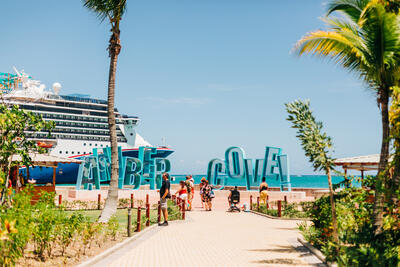 If you're looking to take a Carnival cruise, you will more than likely be sailing from North America. The cruise line aims to attract mostly Americans, although you can find Carnival ships sailings around the world.
Because Carnival strides to be the most affordable cruise line, the cruise line's strategy revolves around guests arriving to the port by car rather than plane. This aligns with the company's goal to attract budget cruisers.
The most popular destinations on Carnival include itineraries to the Caribbean, Mexico and Bahamas. Carnival operates the most sailings from all major cruise hubs in North America, including Miami, Port Canaveral, New Orleans and Galveston, Texas. Other smaller ports include Jacksonville (Florida), Mobile (Alabama), Charleston (South Carolina) and Baltimore.
Image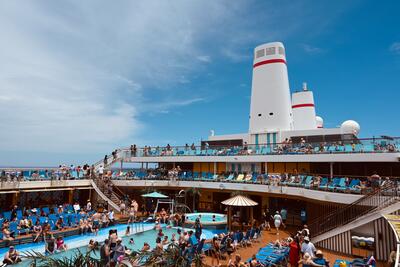 Just recently, Carnival has expanded its fleet to include more exotic destinations. For example, the cruise line recently sailed a unique itinerary to Canada and Greenland. The sailing was so popular - selling out within 24 hours - that Carnival opted to add more sailings to Greenland.
Carnival Journeys is a limited series of sailings that focus on longer itineraries to impressive, worldwide destinations. You can book sailings to incredible ports in Japan, Philippines, Bali, Australia, New Zealand and Vietnam. These longer sailings provide a more immersive experience for Carnival guests to learn about new cultures.
In general, you won't find many sailings to Europe on Carnival. Only occasionally will the cruise line deploy a ship to Europe for some limited sailings when the vessel is due for dry dock or amplifications.
Accommodations, Suites and Staterooms
Image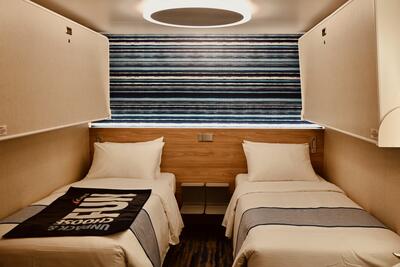 Because of Carnival's focus on being budget-friendly, you might not find as many stateroom and suite options as you'd find on other cruise lines. Those looking for a top-of-the-line Carnival suite experience will want to cruise on an Excel-class ship, which has 180 suites onboard and multiple different tiers of suites.
However, most of Carnival's ships have a relatively low number of suites available. All Carnival ships will offer inside cabins, outside ocean view cabins, balcony cabins and suites.
What Carnival lacks in suites it makes up for in balcony categories. Throughout the fleet, you can find upwards of 18 different balcony staterooms. For example, families can book a Family Harbor Balcony cabin and receive special access to the Family Harbor lounge, which serves up all of your kids' favorite meals (think: PB&J sandwiches, Mac and cheese and chocolate chip cookies ).
Image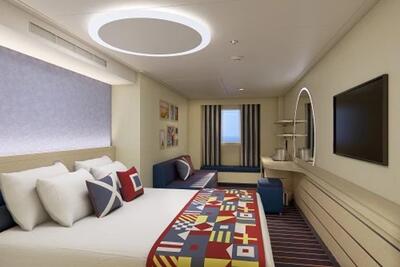 You can also book Cloud 9 Spa balconies which are located conveniently next to the Cloud 9, where guests receive access to the thermal spa throughout their cruise. Another specialty-cabin to consider would be the Havana stateroom, which is located near the Latin-themed Havana bar onboard. Guests have access to an exclusive sundeck and pool in the Havana area.
Note that Carnival's older ships, especially in the Fantasy class, have very few balconies. If you want to have a private veranda, you better book one of the coveted balconies as quickly as you can. Even with amplifications to add more balconies, only around 150 balconies are available onboard.
Otherwise, you'll find more standard cabins throughout Carnival's fleet. Cabins are comfortable and functional, especially on the newer vessels. The newer cabins feature light woodwork with hues of blue and cream throughout while older cabins have darker woodwork. The most impressive aspect on Carnival's newest ships was the bathroom design with extremely spacious showers.   
Dining
Image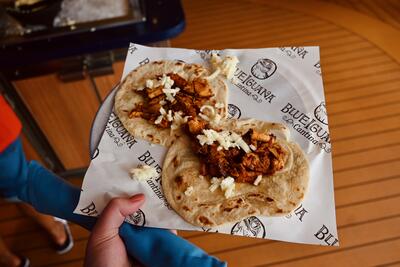 Carnival Cruise Line has some of the best complimentary cruise fare in the industry. While you can also splurge on specialty dining for an up-charge, Carnival's ships have an impressive amount of quick, casual eateries included in your cruise fare.
And honestly, all of the food is pretty darn delicious - especially when you consider the affordability of the cruise fare in comparison to other cruise lines.
Every Carnival cruise ship will have a main dining room included in the cruise fare, which serves up sit-down meals for breakfast, lunch and dinner. You won't want to miss out on SeaDay Brunch, which is one of Carnival's signature dining options only available on sea days, as the name suggests. You'll either be assigned a traditional dining time (first or second seating) or you will need to request a table using your Carnival app for those with Your Time dining.
Image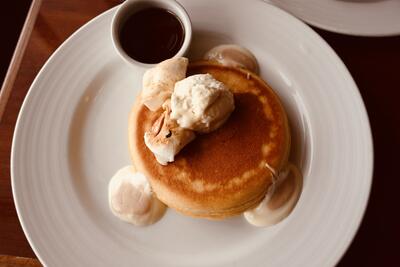 Carnival's ships will also feature a buffet with food served cafeteria style, called the Lido Marketplace. While this venue is my least favorite option on Carnival's ships, it is easily accessible for meals throughout the day.
Where Carnival really shines is its quick, casual dining options with some of the best poolside eateries you can find at sea. Even better, they're all complimentary! My personal favorites are Shaq's Big Chicken, which is mostly available on newer vessels, and Guy's Burger Joint, which is available on all Carnival ships. Fun fact: each ship serves around 1,000 freshly made burgers every single day!
Shaq's Big Chicken rivals Chick-Fil-A with crispy chicken tenders and sandwiches, with a nice selection of homemade dipping sauces. The eatery also serves breakfast sandwiches. On the other hand, Guy's Burger Joint, serves juicy, freshly made burgers. You can build your own burger or order from the set menu. All burgers are served with well seasoned fries.
Image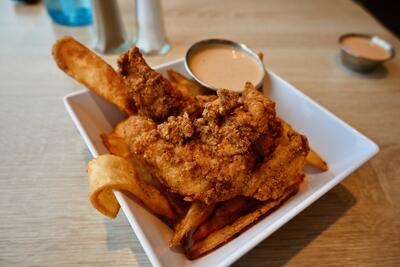 Another very popular, complimentary option is BlueIguana Cantina. This poolside venue has tacos and burritos available throughout the day, with breakfast offerings in the morning.
Carnival is also known for its pizza, which is available nearly all hours of the day. You can request a freshly made personal pizza or grab a slice whenever you feel. Another excellent option is the panini shoppe onboard, where you can get a better-than-Subway sandwich made to order.
Newer ships will also feature another dining option from Guy Fieri, called Guy's Pig and Anchor Smokehouse. Barbecue entrees are served for lunch (buffet style) and dinner (sit-down) with meats smoked right onboard. The smokehouse is right next to Guy's Brewhouse, which is the ship's very own brewery onboard. The brewery makes its very own beers, which is pretty rare to find on a cruise ship.
Image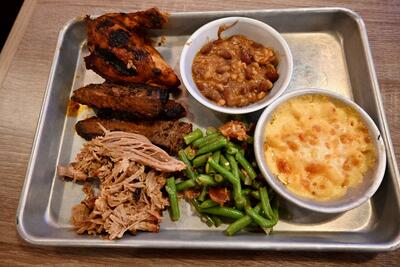 Excel-class ships also feature complimentary lunch and dinner at ChiBang, which is an Asian-Mexican restaurant with two separate menus for each cuisine, and Cucina del Capitano, an Italian specialty restaurant. While these are complimentary onboard Excel-class ships, other classes will have a small surcharge to dine here.
Those looking for a more upscale dining experience can try out Carnival's signature steakhouse, Fahrenheit 555. Although this was not our favorite place to dine on Carnival, many seem to rave about the steakhouse. Other specialty options include Bonsai Sushi and Teppenyaki, along with JiJi Asian Kitchen. Newer vessels also feature Rudi's Seafood specialty dining as well.
Whether you just want to eat complimentary food on your Carnival cruise or splurge for specialty dining, you will find something delicious to enjoy. Carnival's food continuously surprises us, especially for the prices of their cruises. The food is generally more grubby and greasy than other cruise lines, although you can still find healthier options. Don't expect gourmet food and you won't be disappointed.
Image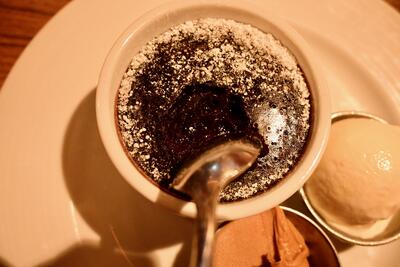 Oh - and do not forget to try Carnival's chocolate melting cake! It's available each night, and it's the best chocolate cake at sea.
Entertainment
Image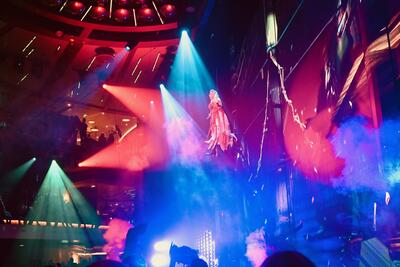 There's always something happening on a Carnival cruise ship, whether you are hitting the casino, attending a Production Playlist show, singing tunes at karaoke, or visiting the comedy club each night. You'll find plenty of things to keep you busy when it comes to entertainment.
Carnival's production shows are not as long and over-the-top as you'll find on competitor cruise lines, like Royal Caribbean and Norwegian Cruise Line. Most shows are only 30 minutes long, which allows you to bop around to multiple events, activities and shows throughout your day.
Image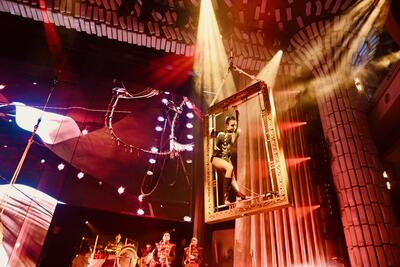 The exception to this comes from the newest ships in Carnival's fleet within the Excel-class. The biggest vessels have more space allocated to entertainment with multiple theaters for productions to take place. I'd argue that the Excel-class ships have the highest quality entertainment shows, some that rival other cruise lines. With acrobatics, cutting-edge technology, singing and dancing, you'll certainly enjoy all of the Excel-class entertainment.
The rest of Carnival's fleet keeps entertainment more simple. You'll find the production shows are enjoyable to watch, but nothing to write home about. The entertainment is always lively, fun and upbeat.
Image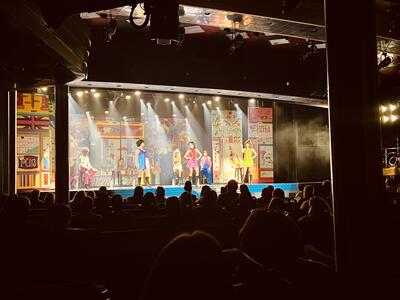 Carnival is also known for having daily comedy shows in its famed Punchliner Comedy Club. You can find the comedy club onboard every Carnival ship, although it might be a versatile lounge rather than a dedicated venue. In fact, Carnival is one of the biggest employers for comedians in the world! You can attend daily shows - some meant for adults and others for all ages with family-friendly content.
In general, Carnival's cruise ships have many versatile lounges that can host anything from comedy shows to trivia and everything in-between. One of my favorite aspects of Carnival's entertainment is the cruise line's commitment to keeping shows right at 30 minutes. This allows you to spend your evening attending multiple shows or events, or seeing one quick show before calling it a night.
Image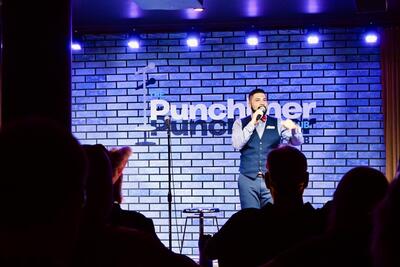 If you are sailing on an Excel-class ship, I'd recommend getting there early for any shows taking place in the Center Stage venue. This innovative venue, which spans over three decks in the atrium, lacks seating options. Many will wait in line just to grab a seat for the main shows - and it can get heated with people vying for seats.
Onboard Activities
Image
In addition to its production entertainment shows, some of Carnival's signature entertainment comes from its unique game show offerings. The cruise line has exclusive deals to host Deal or No Deal shows onboard, along with Family Feud. These interactive shows are a hoot, so be sure not to miss them. If you don't mind the spotlight, try getting onstage yourself during one of these rowdy activities.
Whether you want to take the stage and sing karaoke yourself or attend the Piano Man bar, you can sing your heart out all evening onboard a Carnival cruise. Both of these offerings are very popular activities for Carnival cruises, with karaoke being one of the main things to do each evening.
Image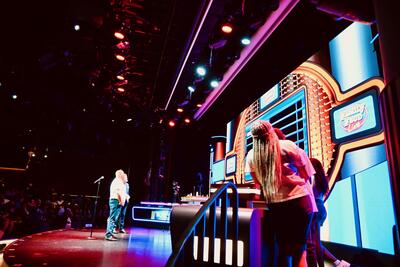 Although not typically considered an activity, Carnival's ships feature more photographers and opportunities for photoshoots than your average cruise ship. Carnival cruisers love the professional photo-ops onboard, and these are always busy with guests posing for keepsake pictures. Each evening, you'll be able to find photographers ready to capture your best smile!
Those who prefer spending their evenings at the slot-machines or playing poker can enjoy Carnival's onboard casinos. Every Carnival ship has a casino onboard - and it's a busy place all hours of the night.
Image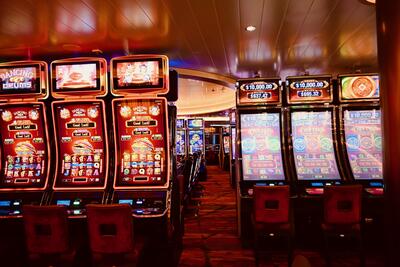 Live music is also common to find in the evenings onboard your Carnival cruise ship. It's not unusual to see live bands performing in the onboard lounges and bars. This can make for an enjoyable happy hour with a pre-dinner cocktail.
Something newer to Carnival's list of onboard activities is Carnival Kitchen. This onboard facility allows guests to book cooking classes, which cost anywhere from $30 to $60. These classes range from one to two hours. 
Image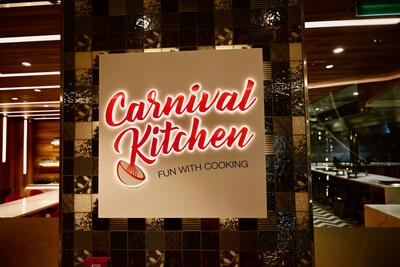 You can learn how to make Carnival's signature pizza or chocolate melting cake, along with plenty of other classes in the state-of-the-art kitchen. In our experiences, these classes book up quickly before you even get onboard. If you are considering a cooking class, you should reserve your spot ASAP.
Thrills and Attractions
Image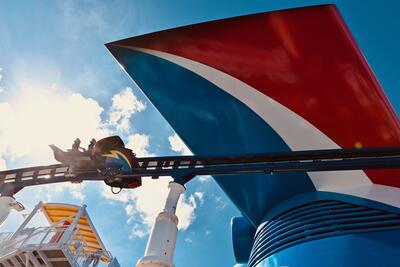 Carnival's top deck is jam-packed with onboard thrills and attractions, all aimed for your entire family to enjoy. Those looking for some relaxation by the pool can snag one of many loungers on the top deck; adults can retreat to the child-free Serenity onboard, which has even more space to relax.
If you want a rush of adrenaline, head to the aft of your Carnival cruise ship to see all the fun attractions and thrills. Most Carnival ships feature a waterpark area called WaterWorks with multiple waterslides. You might think these are just for kids, but even I found the slides to get my adrenaline pumping.
Image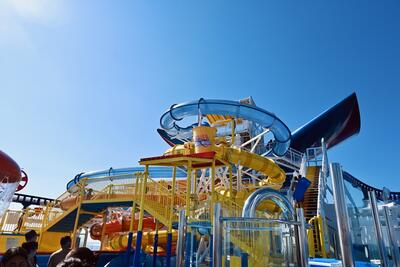 You can also venture around the top deck on an obstacle course called SkyCourse. This complimentary ropes course is complimentary and takes you around zip-lines, challenging traverses and suspended bridges. Guests of all ages love these courses. You can even hang off the side of the cruise ship! SkyCourse is available on most of Carnival's cruise ships.
Those wanting to stay active can enjoy the walking path around Carnival's top deck, although I've found these to always be busy with kids and families walking to the onboard thrills. Basketball and volleyball lovers will also like the sports courts available on most of Carnival's ships as well. You can find organized games as well as plenty of other guests playing pick-up games here too.
Image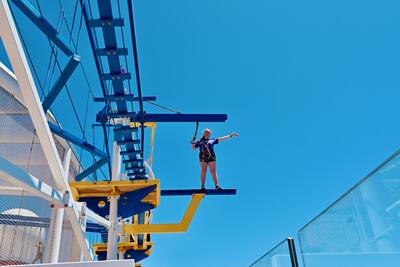 One of the most notable attractions comes from Carnival's newest ships with Bolt: The Ultimate SeaCoster. The flagship vessel in the Excel-class, Mardi Gras, was home to the first rollercoaster at sea. Sister-ships Carnival Celebration and Carnival Jubilee also feature Bolt. Adrenaline-junkies won't want to miss the unique opportunity to soar above the top-deck on these 2-person riders. For $15, you can take two quick laps around the coaster track. While pricey, we found the ride to be well worth the cost and we were surprised by how fast and furious the coaster felt.
Childcare and Kid's Programming
Image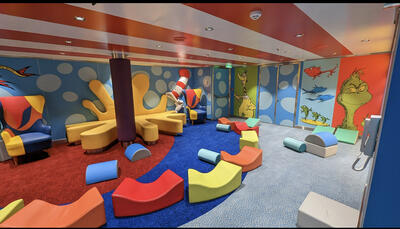 Carnival is very family-focused, so it only makes sense the cruise line has a renowned childcare program. For kids starting as young as 2 years old, the cruise line has extensive programming called Camp Ocean for kids and teens up to age 17.
The cruise line describes Camp Ocean as the best parts of summer camp, available year round onboard Carnival's ships.
The program splits children into age groups: Sharks (age 9-11 years old), Stingrays (age 6-8 years) and Penguins (age 2-5 years old). Turtles are considered children between 6 months and 2 years old. Everything is supervised and hosted by Carnival's trained youth staff.
Image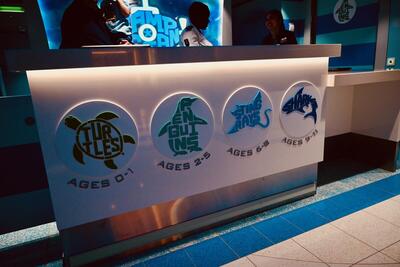 In these age groups, Camp Ocean has age-appropriate activities. The cruise line's website describes, "Together with their group they'll enjoy tons of fun-filled, age-appropriate activities like arts and crafts, songs, games, toys, dancing, movies and video games. When it's mealtime, kids eat together and get their own menus with back-on-land faves like mac & cheese, chicken nuggets and more."
If you're looking to enjoy adult-only time - whether late onboard or ashore in port - you can leave your kids in Camp Ocean. For a fee, counselors will take care of your children while you get have some kid-free time. Camp Ocean refers to this as Night Owls time and fees do apply, but this is a great option for childcare onboard.
Image
Free programming is available until 10 p.m. Once this commences, the slumber-party style of Night Owls begins with counselors transforming Camp Ocean into the ultimate late-night party with snacks, games and movies.
Teens (age 15-17) and Tweens (age 12-14) also have their own dedicated space onboard and are free to come and go as they please without any sign-ins. Tweens can enjoy the Circle C space lounge exclusively for guests of similar age. There's plenty of video games, movies and music taking place here.
Older teens can also gather in Club O2 onboard Carnival's ships. This is for the oldest age group and includes karaoke, activities, music and dancing. Carnival's website even states that Club O2 hosts the cruise line's version of prom!
All kids and teens need to be registered by parents/guardians. It's best to do this the first day onboard so your children have the opportunity to visit Camp Ocean, Circle C or Club O2 throughout the entire cruise.
Carnival's Loyalty Program: VIFP Club
Image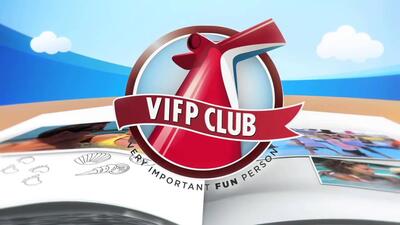 Like all major cruise lines, Carnival Cruise Line rewards loyal cruisers to the brand through its VIFP Club. VIFP stands for Very important Fun Person Club, which perfectly aligns with Carnival's Fun Ship branding.
If you're new to cruise line loyalty programs, you'll want to know that it differs from airline and hotel loyalty programs. You do not need to qualify for your status each year. Points accrue throughout your lifetime and you retain your status year over year.
Carnival guests will earn points for every night they sail onboard, allowing cruisers to move through five tiers of the loyalty program. The five tiers include: Blue, Red, Gold, Platinum and Diamond.
Image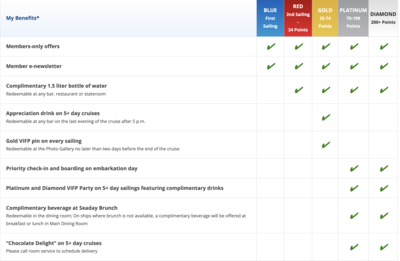 If you move tiers mid-voyage, Carnival actually allows you to enjoy the higher-end benefits of the newly earned tier. This is a unique feature of Carnival's loyalty program.
All guests earn Blue status on their first cruise and eventually move to Red status after one cruise. Lower tiers don't feature anything special. Blue members receive 'member only deals' while Red status guests earn 1 complimentary liter of water in their stateroom. Even Gold members only receive a single free drink, which can be only redeemed on the final night of the cruise.
Once guests earn 75 points - or spend 75 nights onboard Carnival's ships - the benefits become arguably more enticing. Platinum status requires 75 points, but you'll earn priority check in, priority debarkation, priority reservations for dinner and priority tendering in ports. You also receive free wash-and-fold laundry service.
Guests who reach Diamond level will need to earn 200 points. This is relatively low compared to other top-tier thresholds (for example, Royal Caribbean's top-tier requires 700 points). Diamond members receive unlimited laundry, guaranteed seating time, dedicated sales number for reservations and a one-time room upgrade.
Image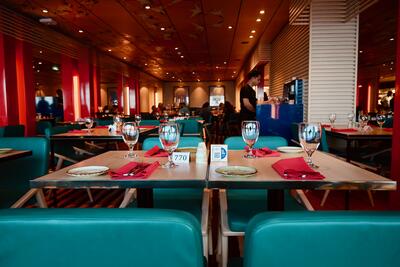 Platinum and Diamond members can attend a special VIFP Party for sailings 5+ nights or longer, which serves complimentary alcohol and appetizers. There is also a complimentary beverage during SeaDay brunch available for these loyalty members, as well as complimentary chocolate covered strawberries.
Cost of Carnival Cruise
Image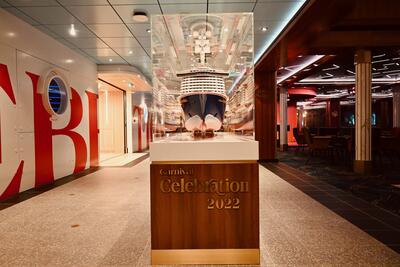 Carnival's entire brand is centered around offering affordable cruise fares for families. The cruise line also offers a lot of short weekend sailings, which also helps cruisers keep costs down.
Most of Carnival's sailings are cheaper than competitors. It's tough to beat Carnival on price, unless you plan to sail during spring break. During this time, you could find higher prices due to demand. Carnival's the party-ship, and college students want to party during spring break!
You can expect to spend less than $100 per day per person on Carnival's ships for an interior cabin. Some sailings might be slightly more or less than this amount. If you splurge on a higher-end cabin, such as a balcony or suite, you can expect to spend closer to $150 per person per day.
Image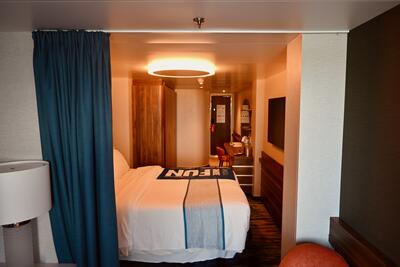 Most 7-night cruises on Carnival for 2 people in an inside cabin will be priced anywhere from $1,200 to $1,500. Shorter sailings for 4-nights are priced around $500 for an inside cabin.
Pricing on Carnival is dynamic, so sailing during shoulder season, such as the months of September through December, can be priced lower. Last minute bookings can also provide cheap fares, although not always.
Many suggest booking cruises as far in advance as possible to lock-in the best price and stateroom selection. You can book directly with Carnival on the cruise line's website or you can book through a travel agent.
Know before you board
Here are a few other helpful tidbits you'll want to know before boarding your Carnival cruise, especially if you're a first-time cruiser.
Boarding Documents
First, confirm the boarding documents necessary for sailing. It's best to have a valid passport within at least 6 months of validity, although Carnival also allows U.S citizens to board round-trip sailings that leave and return to the U.S. to board with alternative identifying documents. Those sailing from
Image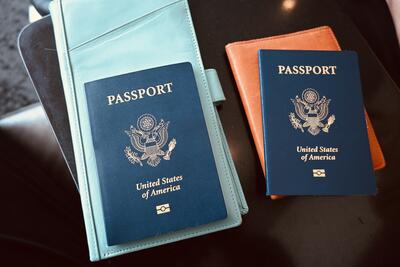 If you do not have a passport, you will need an official copy of your birth certificate and a driver's license (or other government identification card). You might also be required to bring any marriage or divorce licenses, so it's best to consult Carnival's website before ditching the passport. International departure ports will require a valid passport.
Your name on the reservation must be exactly as it is shown on your official government documents. Be sure to pack these in your carry-on and do not check passports or documents in your checked luggage at the terminal.
Wi-Fi
Carnival's onboard internet is not complimentary. The speed and reliability on Carnival's ships have been impressive in my experiences, although it is still slower than on-land speeds. You will need to purchase an internet plan for your sailing if you want internet access during your cruise. It's best to pre-purchase your internet packages for your Carnival cruise to save up to 15%, but you can also pay for internet onboard your cruise.
Image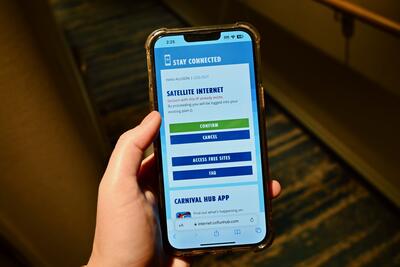 Carnival offers three different internet packages: Social, Value and Premium. Those looking to access social media websites, such as Instagram, Facebook and Twitter, can purchase the social media package for $12.75 per person per day. The Value Wi-Fi plan allows you to do basic internet activities like emailing, surfing the web and checking the weather, but does not support streaming services. The Premium package has the best connection and supports all internet activities, including streaming and video calls.
Drink Package
If you plan to drink frequently on your Carnival cruise, you might want to consider booking Carnival's CHEERS! package. Your cruise fare will only include basic beverages, such as water, coffee, tea and, lemonade and milk. Those wanting alcohol will need to either pay for each drink onboard or purchase the CHEERS! drink package.
With the drink package, you can indulge in a fixed umber of alcoholic beverages during every day of your cruise. This means you don't need to worry about racking up a bill with each cocktail purchase.
Image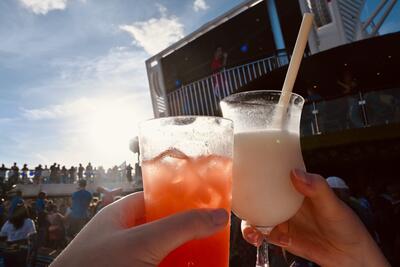 The CHEERS! drink package is the only drink package that includes alcoholic beverages and you're limited to 15 alcoholic drinks each day. You receive unlimited drinks of soda, specialty coffees, energy drinks and more.
Currently, the CHEERS! Package runs for $59.95 per person for each day when purchased before your sailing. All guests that are 21+ years old in your stateroom must also have the drink package, meaning you cannot purchase the drink package for just one guest in your stateroom if others are of legal drinking age.
Image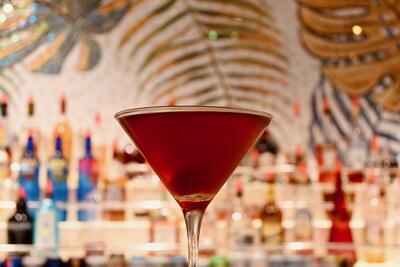 If you pre-purchase the drink package before your sailing, you will save 10% versus waiting to purchase onboard. Instead of the onboard price of $65.95 per day, you will pay $59.95 per person per day.
The drink package can save you money if you plan to drink frequently during your cruise, especially if higher-end cocktails, liquors and spirits are your go-to. Those who just want a daily cocktail are better off purchasing a-la-carte.
Gratuities
Gratuities are charged each day onboard Carnival's cruises for every person in your cabin. These can be prepaid before boarding your cruise or can be charged daily during your sailing. The current rate (as of September 2023) is $16 USD per person per day in standard rooms while suite guests will be charged $18 per person.
It's standard to pay these gratuities, as it supports the staff onboard and rewards crew members for high-quality service. Gratuities are technically optional, although it's not recommended to remove or adjust these charges. If you have any concerns with this rate, it's best to consult Guest Services onboard.
Smoking and Drug Policy
Like all cruise lines, Carnival has a strict smoking policy to ensure the safety of all passengers. Fire is the biggest threat to cruise ships, so these rules are enforced.
On Carnival's ships, smoking is only allowed in designated outdoor areas and in the casino. You are not allowed to smoke on your private balcony - and you could be fined or kicked off if you break this rule. These smoking policies also apply to electronic cigarettes and vapes.
Image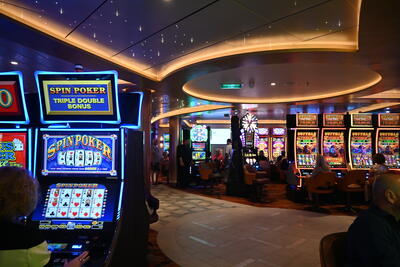 Illegal drugs of any kind are not allowed onboard Carnival's ships. The cruise line is very strict about this, and has even enforced drug sniffing dogs in recent months. Even if marijuana is legal in your state, the cruise line has to follow federal laws.
Carnival states, "Illegal drugs, including marijuana, on cruise ships and at cruise terminals, is prohibited. While marijuana may be legal in some states. We are required to follow federal law, irrespective of the law in the state where you may be boarding your ship".
Those using medical marijuana will need to bring alternative therapies onboard, as even medical marijuana is not allowed. Guess who violate this will be fined and could be forced to disembark.
Dress Code
In general, Carnival's ships are very casual and laidback. Sea days in warm climates mean that most guests will be dressed as if they are hitting the pool or beach. Shorts, tank tops, t-shirts, dresses and swimsuits are common during sea days.
Evenings onboard might have an official dress code, but Carnival is notoriously casual. The cruise line designates many nights onboard as 'Cruise Casual' which implies jeans, polos and sundresses. I've seen people wear anything and everything in the evenings onboard Carnival's ships, so don't stress too much about the dress codes.
Image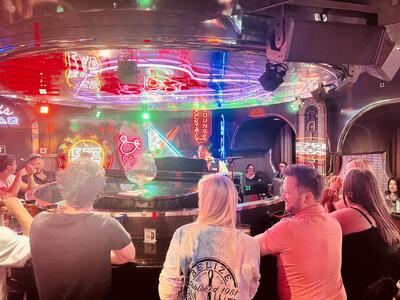 Carnival's ships also feature an elegant night onboard, which encourages more formal attire. You can pack a cocktail dress for women and dress pants with a button-down for men. If you don't want to participate in formal night, you can simply dine elsewhere onboard (and there are plenty of other dining options other than the main dining room).
Carnival HUB App
While sailing on your Carnival cruise, you'll want to make sure you've downloaded the cruise line's app, called Carnival HUB. You can download the app before even setting sail to book excursions, spa reservations, dining reservations and internet packages. You can also complete your online check-in as your sailing gets closer.
During your cruise, the Carnival app becomes more important. You can chat with other guests, look at the activity schedule, see deck maps, manage your onboard account and also request dining reservations.
Image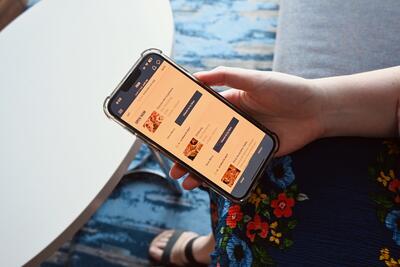 If you do not have a traditional dining time (first or second seating), then you will need to request your dinner table in the main dining room on the Carnival HUB app. You can check-in on the app when you're ready to eat, as well as view the menus for all lounges, bars and restaurants.
The mandatory safety drill will also be done using the Carnival HUB app. Right after you embark, you will need to visit your assigned muster station and complete the safety drill on the app.
The app is free to download, although the chatting feature is an additional cost. You do not need to purchase an internet package for the app to work, as it works even on airplane mode.
Onboard Vibe
Don't board a Carnival ship and expect anything to upscale or fancy. Carnival's ships are all about fun and providing a laid-back environment. It's a party most of the time from the minute you step onboard! In fact, you should head straight to the Sailaway Party because that will be your first taste of the party atmosphere.
Image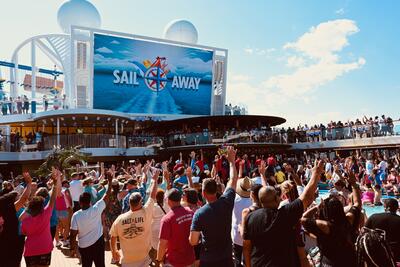 For the price you pay, Carnival offers a great value for cruisers of all ages, but especially families. Camp Ocean is an excellent resource for families to take advantage of.
Dining might feel more like fast-food than you'd find on other cruise lines, but that doesn't mean it isn't delicious. In fact, I think other cruise lines can take note of Carnival's approach to dining with fantastic eateries serving quick, poolside grub. This keeps the atmosphere feeling very casual, which aligns perfectly with Carnival's branding.
Image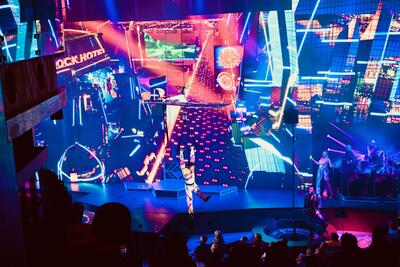 There will be no shortage of fun on your Carnival cruise, but it's not a luxury cruise product. Carnival's onboard vibe can be flashy and fast-paced. It's the best cruise line for those looking to save money without sacrificing on fun. Let loose and don't forget to try the chocolate melting cake for me!