As someone who grew up sailing with Royal Caribbean and Disney Cruise Line, I was hesitant to book a cruise with Carnival Cruise Line. The party atmosphere of the cruise line never appealed to me, even throughout my early 20s. 
Recently, however, I decided to sail onboard Carnival Celebration, the newest ship in their fleet, to finally see what the most fun ships at sea were truly like. 
After 7-nights onboard, I am already looking forward to my next cruise onboard Carnival Vista! While there were some aspects of the cruise I was not a fan of, I loved the laid-back environment, delicious fast-casual dining options, and variety of onboard entertainment.  
Here are my honest thoughts about my first-ever Carnival cruise. 
Embarkation was smooth and quick
Image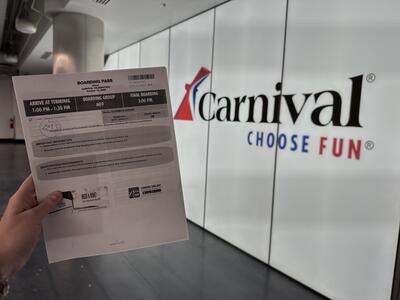 When I arrived at Miami's Terminal F, I was promptly greeted by a porter who assisted me with my one piece of luggage. As I approached the actual building, there was a lot of yelling by port agents, and it was difficult to know which line to join. 
My arrival time was 1:00pm to 1:30pm; however, I had to check out of my hotel at noon, so I arrived about thirty minutes early. One agent told me I had to wait outside behind a specific pole, while another walked up to me and said that I could go inside.  
It was around 12:45pm when I made my way inside the terminal, and I was on the ship by 1:00pm! The actual check-in process was similar to what I have experienced on other cruise lines, as I had to speak with a port agent who checked my passport information and took my photograph. 
Image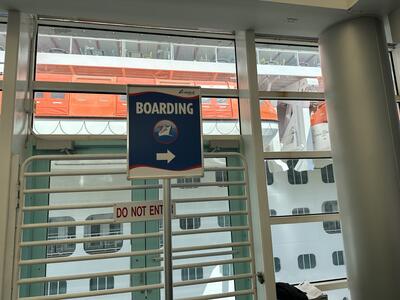 Once my boarding pass was validated, I headed up an escalator for security screening. Before being able to walk through the detector, everyone in line was instructed to place their carry-on bag at their feet. They actually had a K9 narcotics dog present and sniffing!
After getting through security and bypassing all the photo opportunities, I was onboard the ship and ready to eat! First, however, I took a few moments to complete my muster drill. While my app told me that my drill was in the Punchliner Comedy Club, it was actually in the Piano Bar. I had to check in and attend a brief in-person safety briefing that only took a few minutes. 
Note that Carnival Cruise Line requires you to print your boarding pass ahead of time. I also had pre-printed my luggage tag and attached it to my suitcase at my hotel before heading to the terminal. 
The fast-casual dining options were amazing
Image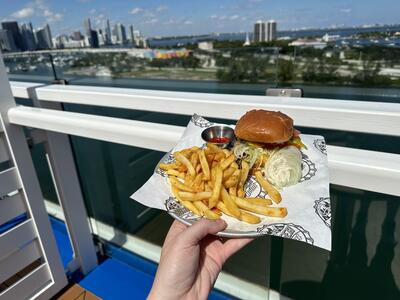 The fast-casual dining options on Carnival Celebration are probably my favorite on any cruise ship I have sailed on! I loved the juicy burgers from Guy's Burger Joint, as well as the tacos and breakfast burritos from BlueIguana and crispy chicken sandwiches from Big Chicken. 
While other cruise lines have begun to add similar venues (i.e., El Loco Fresh on Royal Caribbean), the quality isn't the same. I loved the actual salsa bar at BlueIguana with options ranging from mild to spicy. 
Image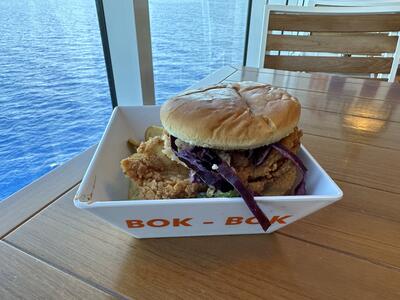 Depending on when I went, there were sometimes some pretty long lines for these venues. I went to Guy's Burger Joint on embarkation day and waited a full hour! Similarly, I ate at Big Chicken on the first sea day around 12pm. While the wait was not as long, it still took about fifteen minutes to make my way through the line. 
While docked in Amber Cove, I returned to the ship for lunch, as I did not want to pay $15+ for an entree on the island. I was at BlueIguana as soon as they opened and was seated with delicious chicken tacos in under ten minutes! 
Image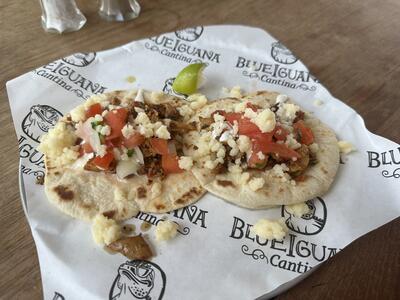 My least favorite dining option onboard was Miami Slice. I got the Quattro Formaggi pizza fresh out of the oven and found it to have a rubbery texture. 
The dining wait times shown on the app were not always accurate, but I loved being able to check in from anywhere onboard
Image
One night when I went to the Carnival HUB app to check in for dinner, I noticed that Cucina del Capitano had a 10-20 minute wait. Since it was only 5:49pm, I thought that was perfect and would allow me to get a pre-dinner drink at Bar 820. 
Around 6:40pm, my app was showing that there was under a 10-minute wait. I was confused as it had already been about thirty minutes! It was not until 6:55pm that my table was ready, or about an hour after I had checked in. 
While minor, I had checked in at 5:49pm because I wanted to make a 7:15pm. Needless to say, I ended up missing that one! 
Overall, though, checking in for meals through the app was great and a feature I wish Royal Caribbean and other mainstream lines would implement on their apps. I never had to wait in any lines, and I loved being able to check in for the sea day brunch from bed and then get ready! 
The sailaway party was just as crazy as I anticipated
Image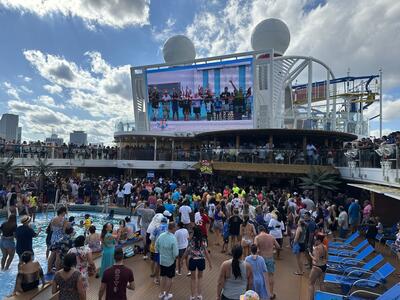 I've seen countless videos of Carnival sailaway parties on social media, particularly TikTok. I think that is one of the reasons that I stayed away from the cruise line! 
Naturally, I had to check out what Carnival Celebration's sailaway was like. I headed up to the lido deck around 3:50pm, just ten minutes before the festivities were scheduled to begin. 
Not only was it packed, but it took me close to twenty minutes to get a drink from Red Frog. For my next sailing onboard Carnival Vista, I know that I need to head up at least thirty minutes before to give myself plenty of time to get a drink and find a good viewing spot. This time, I was crammed on the stairs leading up to Deck 17. 
That being said, it was a fun party! Everyone, both young and old, was participating and having a good time. I got a little overwhelmed after about thirty minutes and left to check out the rest of the ship, though. There were a lot of families playing mini-golf, and some people were already riding BOLT! 
My cabin was tiny but modern
Image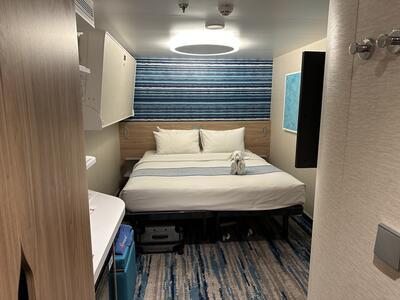 For my 7-night cruise, I stayed in an interior room. I have stayed in my fair share of these rooms, so I came prepared knowing that they're the smallest accommodation options onboard any cruise ship. 
That being said, while my room was pretty cramped (there wasn't even an extra chair for seating!), it was stylish and modern. I loved the lighter color wood and blue accents. I also think the shower was one of the largest I have seen in a standard cruise ship room; I didn't hit my elbows once!
While my room could have accommodated three people with one extra pullman bed, I personally think that would be too many! I was sailing by myself, so space was not an issue. However, I do not think I would stay in an inside room onboard Carnival Celebration with more than one other person. 
Read more: I stayed in a windowless cabin onboard Carnival Celebration that cost $1,900 — here's what my inside stateroom looked like
Amber Cove was not my favorite port 
Image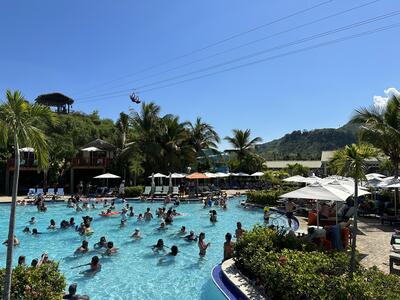 As someone who loves a relaxing day on a cruise line's private island, I was excited to see how Amber Cove would compare. While neither a private island nor belonging exclusively to Carnival Cruise Line, I knew that it was a private area owned by Carnival Corporation. 
Before arriving, I had relatively low expectations since I knew that there was no complimentary beach access. When I saw just how crowded the pool was, though, I realized that I would have rather just stayed onboard the ship! 
Other than the pool, there were no free activities. In fact, an umbrella by the pool was advertised as costing $22. The ship's Wi-Fi did not work ashore, either. All-day access costs another $8 per person. 
Image
Plus, there are no complimentary dining options available. If I wanted a simple Caesar salad, I would have been out $16, not including a bottle of water or soda. 
Next time, I think I'd plan on getting off the ship pretty early and hanging out in the pool until lunchtime, heading back to the ship to eat and enjoy the fewer crowds onboard. 
While the entertainment was not as high-quality as other cruise lines, I enjoyed every event I went to
Image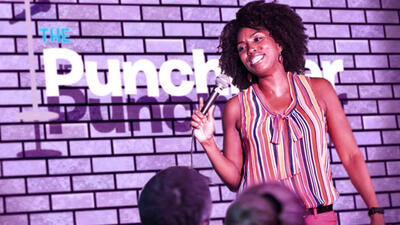 My favorite form of entertainment onboard Carnival Celebration was the comedy shows. I loved how there were different shows for those 18+ every single night! For those with children, they had PG shows daily, too.
Personally, I think the dedicated comedy club is a major pro for sailing onboard a Carnival ship. Even their oldest vessels have them, whereas you won't find the same type of comedy on a cruise onboard Royal Caribbean's Grandeur of the Seas.  
On the third night of my cruise, I was able to see "The Most Magnificent Circus" at Center Stage. While the show started off pretty slow, I was blown away by the vocals of the three singers, namely the single female, as well as the beautiful costumes. 
Image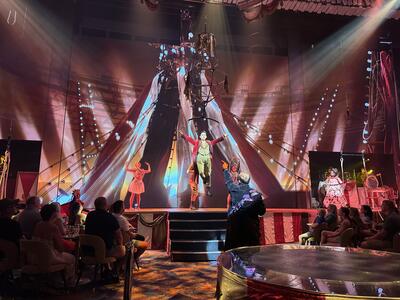 The acrobatic tricks were cool, but they weren't necessarily anything to write home about, as I had seen similar stunts before. It was neat that the audience was part of the action, though! 
There was a jester who would mess around with other guests by taking their phones and snapping a quick selfie, laughing at them, and blowing raspberries. 
I also went to Deal or No Deal one night, and while it was an entertaining hour, I do not think I would pay a minimum of $25 to play again. I would rather just watch the live audience member participate on stage and spend the money elsewhere. 
Image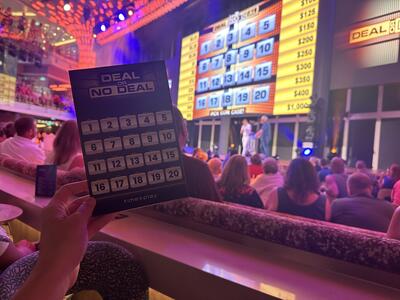 That being said, I did win $25 in bingo credits with just one card, which made me feel like it was not a complete waste of money! 
Before Deal or No Deal started, there was a neat light show that involved moving televisions, strobe lights, and smoke machines. While short, it was neat that there was some sort of entertainment during the thirty minutes leading up to the game.  
I also enjoyed sitting on the lido deck during sea days, too. There was a lot more going on than standard belly flop competitions and live tropical music. On the last day, there was a pumpkin carving contest that was almost immediately followed by the "Legends of the Lido" competition. The eagerness of passengers to participate was great, and everyone cheered each other on! 
Truthfully, I did not have a bad meal
Image
Another preconception I had about Carnival was that the food was mediocre. In addition to the great fast-casual options, I had some fantastic meals in the Festivale Dining Room, Cucina del Capitano, Guy's Pig and Anchor Smokehouse, and ChiBang, as well as Emeril's Bistro 1397. I think the bananas foster crepes were some of the best crepes I have ever had and were certainly worth $6!
While some things didn't hit the mark, like the pizza from Miami Slice or the beef roll from Steam Dream (I also didn't love the calamari on elegant night or the sea day brunch hash browns), the actual meals themselves were better than some I have had recently onboard Royal Caribbean ships! 
Image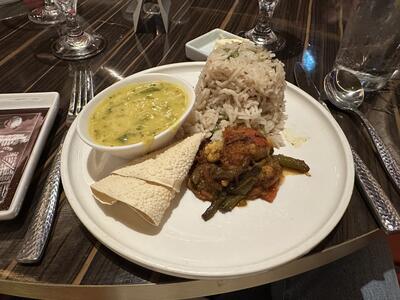 One of my favorite things about dining onboard Carnival Celebration was their variety of spicy meals. I have a pretty high spice tolerance and love to sweat a little bit during meals. 
The salsa bar at BlueIguana was great (although I wish they had chips, so I could have snacked on chips and salsa by the pool!), and the Kung Pao chicken at ChiBang definitely had some heat to it. I was sad that a second visit would cost $8! 
Image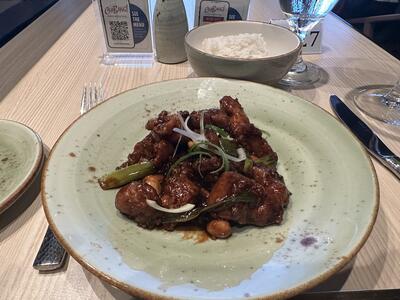 While the only specialty restaurant I tried was Emeril's Bistro 1397 for breakfast, I plan on trying at least one for dinner while on Carnival Vista, so I can see how these venues compare to those onboard other cruise lines! 
Speaking of food, I could not believe that they had a midnight buffet
Image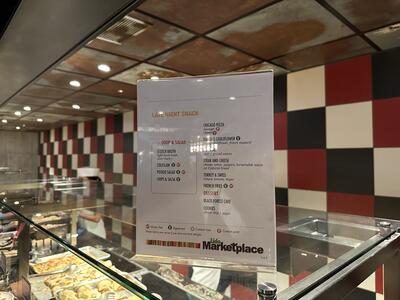 On the majority of cruise lines, the midnight buffet is a thing of the past, so I was surprised to see it as an option on my daily schedule! 
Located at Guy's Pig and Anchor Smokehouse, the midnight buffet was available from 11:30pm until 1:00am. I thought this was a great option, so you did not always have to settle for pizza! 
While not an extensive menu, there was a decent selection of snacks. In the mood for pizza? They had it! What about french fries or chips and salsa? It was there. They also had hot dogs, buffalo cauliflower, potato salad, and coleslaw, as well as turkey and swiss and steak and cheese sandwiches. 
Image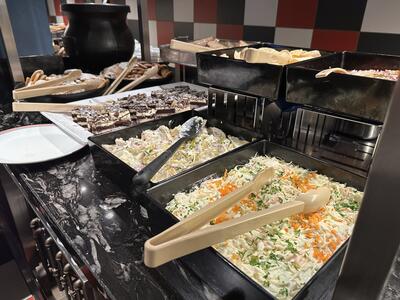 For those with a sweet tooth, the midnight buffet had black forest cake and some cookies. This was such a nice nod to the old-school midnight buffet! 
Read more: Nostalgic cruise traditions being phased out
BOLT was worth the extra $15
Image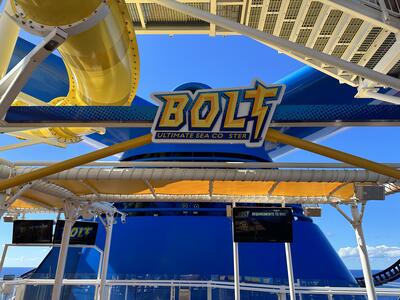 I knew prior to boarding Carnival Celebration that riding BOLT, the one-of-a-kind roller coaster at sea that can only be found onboard Carnival's Excel Class, was a priority of mine. While it does come with a charge of $15 per person, I found the cost to be worth it! 
When I eventually queued up, I was glad to see that riders were able to go around the track twice! Honestly, I never thought I would be riding a roller coaster in the middle of the ocean; the views of the wake were so incredible!
Image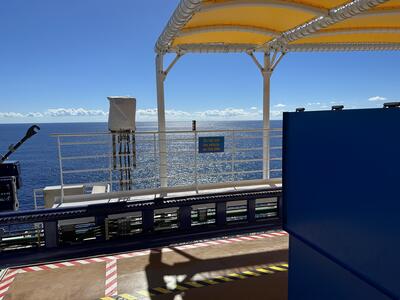 My only regret is saving BOLT until the last day. While the ride was supposed to open at 9:00am, it was unable to do so due to high winds. I am thankful that it opened around 2:00pm, so I was still able to do it! Otherwise, I would have missed out on this fun activity. 
Read more: Is Carnival cruise's roller coaster worth $15?
I only had an issue with the Wi-Fi twice
Image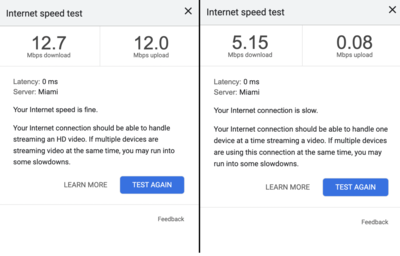 In terms of onboard Wi-Fi, I think anything is better than what I experienced while sailing onboard MSC Seashore. I purchased the premium package ahead of time for a total of $130.90 and only had an issue one morning! 
I tested the speed of the internet on our first sea day and had good results. While it wasn't super fast by any means, it was sufficient for Wi-Fi at sea, with a download speed of 12.7 Mbps and an upload speed of 12.0 Mbps. 
After three days in port, we had another two sea days. While I was able to use the internet fine when I woke up, it cut out for a little bit around 9:30am. I tried logging in on both my phone and computer to no avail. When it was back up and running, I ran another test, and the results came back slow! The download speed had decreased to 5.15 Mbps, and the upload speed decreased to 0.08 Mbps. 
On the last sea day, I noticed that my Wi-Fi connection went out around 4:30pm. I was unable to load any web pages on my phone or send iMessages. The issue, however, only lasted for a few minutes. I had great connection other than the two aforementioned instances 
Disembarkation was just as easy as embarkation
Image
Carnival's disembarkation process was a little bit different than what I have experienced with other cruise lines. Rather than get assigned a disembarkation group and have luggage tags left in your room by your cabin steward, you have to go get your tags yourself (Note that if you are a Diamond or Platinum guest, or purchased Faster to the Fun, you will get luggage tags delivered to your stateroom). 
This means that you are at liberty to choose which group you want to be part of, whether it's an earlier one or the latest group possible. 
There were a few different places where you could pick up tags between the hours of 8:00am and 6:00pm on the last day of the cruise. The earlier you go, the better your chances are of getting the group you want. Bags were to be put outside of the stateroom between the hours of 8:00pm and 10:00pm on the final evening. 
Image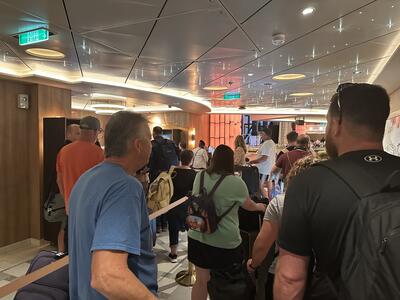 I opted for express disembarkation, meaning that I carried my own luggage off the ship and did not have to go get a tag. While they were supposed to disembark by muster station (i.e., all A stations, B, etc.), I was told that I could get in line at 7:25am, before any stations had even been called! I was off the ship and waiting for a Lyft by 7:35am, just ten minutes later!