Do you have an upcoming cruise and you're looking to board your cruise ship as fast as possible? We can't blame you - we always eagerly await starting our cruise vacations too!
There's nothing worse than painstakingly waiting in a crowded cruise terminal. It can be frustrating to see everyone on the pool deck already having fun while you're stuck in a barely-moving line, which is the opposite of fun.
Once you arrive at your cruise terminal, there are a few basic things you can do to board your cruise efficiently. The more efficient you are, the quicker you can get started vacationing with a fruity cocktail in hand!
Image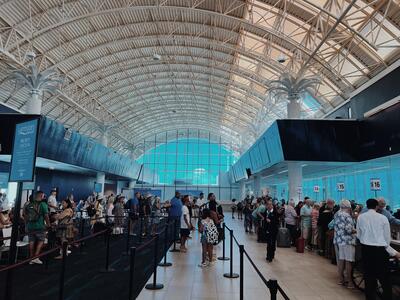 There are multiple strategies to board your cruise ship faster than the average guest, from booking a suite to checking-in online prior to embarkation. Some cruise lines even allow guests to purchase exclusive access with priority boarding.
Here's our list of 15 ways you can board your cruise ship faster.
1. Book a suite
The easiest way to board your cruise ship as fast as possible is to book a suite onboard your sailing. Suites often come with many lucrative perks, including priority embarkation and disembarkation.
Image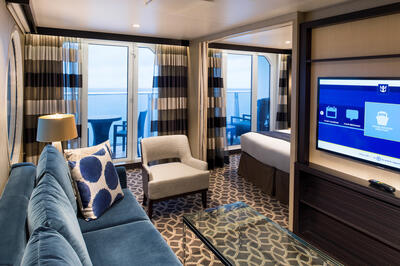 The newest cruise ships are placing a huge emphasis on the suite experience. Most new cruise ships have suite areas that are essentially private resorts or a 'ship within a ship' type of retreats.  Not only are suites themselves getting bigger, but also the amount of space onboard dedicated to suite areas.
When you stay in a suite, you will also have access to exclusive areas onboard your cruise ship, such as the suite-only restaurants, lounges and sundecks. The higher end suites normally include complimentary drinks and internet as well.
Image
Because these will be the most expensive cabins onboard, you'll want to budget for staying in a suite. These cabins are not cheap, but the perks can outweigh the benefits depending on your cruising style and budget.
2. Earn loyalty status
If you're someone who cruises often, you should be enrolled in a cruise line's respective loyalty program. Being enrolled in a loyalty program costs you absolutely nothing, but you can earn tons of freebies and perks.
After each cruise, you will earn points towards loyalty status - and having status can help you board your cruise ship faster than those without status. Those with the highest status typically receive priority embarkation and disembarkation, such as Royal Caribbean's top-tier Pinnacle Club members. 
Image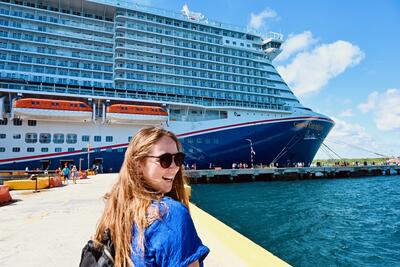 Not only will you be able to board your cruise ship faster with loyalty status, but you can also receive incredible perks onboard. These typically include free drinks, internet and laundry, along with discounts on specialty dining and more. 
Essentially, if you aren't enrolled in a cruise line's loyalty program, you could be missing out on major freebies simply for sailing with that cruise line. In fact, most cruise lines start to give perks to loyal cruisers after just one cruise!
3. Pay for exclusive access
The cruise lines know you want to board your cruise ship as fast as possible. To capitalize on this, most cruise lines have released programs that allow you to purchase exclusive ship access, which often includes priority embarkation and disembarkation.
Image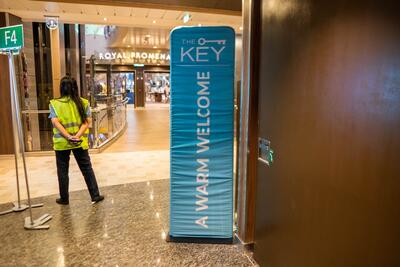 For example, Royal Caribbean offers cruisers an add-on package called The Key. Those who purchase The Key will be able to board the ship in an exclusive area with priority embarkation. Once onboard, these guests receive complimentary lunch from Chops Grille (the specialty dining steakhouse onboard) while their luggage is delivered to their staterooms.
Similarly, Carnival Cruise Line released their Faster to the Fun program. This add-on allows priority check-in for cruisers, along with early access to staterooms and express luggage delivery.
4. Fly in the day before
This is one of our cardinal rules for cruising - you must fly into the cruise port the day before your cruise departs! You are playing with fire if you opt to fly in the same day as your cruise departs because you simply cannot predict cancellations and delays from the airlines.
Missing your cruise is the last thing you want to happen and properly scheduling your airline travel is one way to prevent this from happening.
Image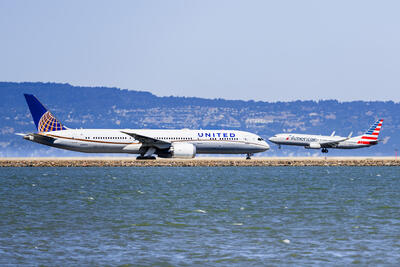 As such, flying into the cruise port the day before your cruise departs ensures you have plenty of time to make your sailing if you encounter unexpected issues while traveling. Arriving the day before your cruise departs also helps you board your cruise ship as quickly as possible, as you're already at the port the day of sailing. 
5. Stay close to the port
Once you've arrived to your cruise departure port, make sure you book a hotel that is close to the cruise terminal. Remember, there are thousands of people not only boarding your cruise ship, but all of the other cruise ships in port as well.
Staying close to the port allows you a quick commute the morning of your cruise, even if you run into traffic on your way to the cruise ship. Busier port cities, like Miami and Fort Lauderdale, will get very congested. 
Image
In addition, staying close to the port in a hotel allows you a more relaxing morning before the start of your vacation. This is the ideal way for your cruise to begin!
6. Leave luggage with porters
Having bulky luggage at the cruise port will only slow you down as you go through the embarkation process.
You have to go through numerous check points and security before getting on your cruise ship. If you have your big suitcases with you, this will inherently cause you to not board your cruise ship quickly.
Image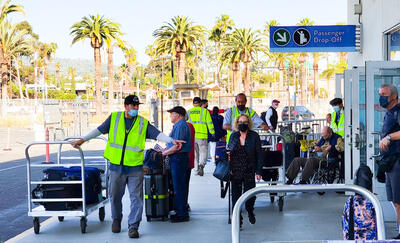 If you want to board your cruise ship faster, leave your luggage with the cruise porters once you arrive. These workers will take your luggage off your hands so you can breeze through the terminal during the boarding process. We always tip the luggage porters for taking our bags, usually about $5.
7. Have luggage tags ready to go
Along with our last tip, you should plan to have your luggage tags already printed and attached to your suitcase.
After you check-in online for your cruise, you will receive boarding documentation with your boarding pass and luggage tags. It's best to print these out before you leave home. I've also printed my luggage tags at the hotel before departing for the cruise port.
Image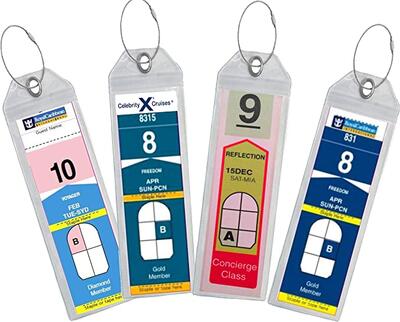 We also recommend these handy luggage tag holders so you don't need to worry about having a stapler or tape on hand. These luggage holders are perfect for cruising and they ensure your luggage tag won't get ripped off.
8. Book a private transfer
Depending on where your cruise departs from, you can save major time by booking private transfers to and from the cruise port.
Rather than relying on ride share service or a taxi on the morning of your cruise, you can arrange a transfer service that will pick you up promptly at a designated time. I also much prefer a private transfer rather than a hotel shuttle or coach bus where you have to wait for others.
Image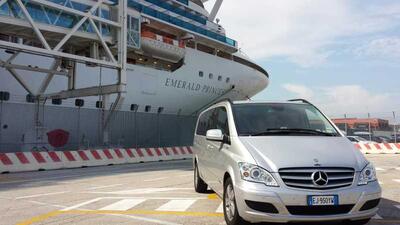 These private transfers are often quite affordable and can easily be booked online; for example, I've personally used Viator for many cruise transfers with great success. I've also found this most helpful if I am traveling in a foreign country, such as cruising from Europe or Asia. 
9. Choose the earliest check-in time
After you've booked your cruise, you can normally check-in for your sailing around 90 days before departure. Even after all of my years of cruising, I just learned that the earlier your complete your pre-boarding, the more likely you are to get an earlier boarding time.
Image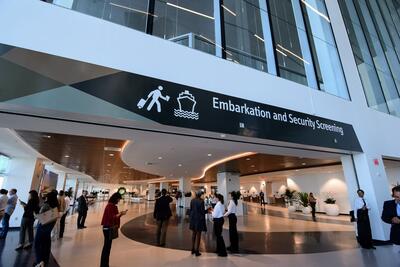 You must check-in prior to boarding your cruise. Cruise check-in entails entering your passport information, taking a picture of yourself, providing emergency contact information and entering a credit card to be used onboard.
Once you've completed the check-in process - or even just started it - you can normally select a boarding time for your sailing. Those who do this sooner will have more boarding time options, including the earliest options.
10. Avoid the crowds
Similar to the tip above, you will likely run into large crowds at the terminal if you arrive during peak boarding times. Typically, the peak boarding times are between 11:30am -1:30pm. If you're sailing from somewhere warm, this might mean waiting outside in the heat in a long line. It could also mean finding parking further away from your terminal. 
Image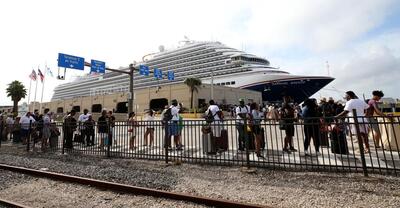 To avoid the crowds, consider boarding your cruise ship board during the early slots (like 11am) or the late slots (2pm). During this time, you will encounter shorter lines and less frustration. If you're looking to board faster, you'll want to snag the earliest slot you can.
11. Be organized at the port
Once you've arrived at the cruise terminal, you will want to be as organized as possible so you can quickly board your cruise ship.
Image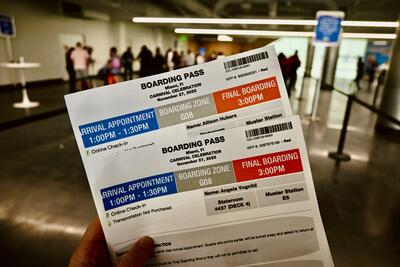 Being organized means you should have your passport and boarding pass in-hand, along with any other documentation that you need to board. It's best to have your entire travel group's documentation handy for an efficient boarding process.
If you are constantly fumbling or looking for documents in your luggage, this will slow you down at the terminal.
12. Cruise with a passport
If you're sailing on a closed-loop itinerary that starts and ends in the United States, citizens can also board with their birth certificate and any legal name change documentation. However, we would highly recommend cruising with a passport for a number of reasons.
First - and most importantly - having a passport will allow you to board your cruise ship faster. The port agents do not need to spend extra time verifying birth certificate and marriage documentation, which can be a tedious process. Depending on your departure port, the line to board with birth certificates might be much longer than those traveling with a passport because of this.
Image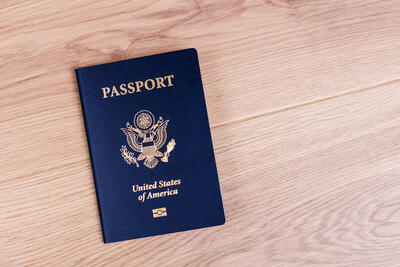 Second, you will likely be visiting foreign countries during your sailing, as it's a requirement for cruises departing from the United States. You do not want to be stuck in a foreign country without a passport in a worst-case scenario.
13. Pack essentials in your carry-on
If you are looking to board your cruise ship faster, you'll want to make sure you have all the necessary boarding documentation with you in your carry-on. We've heard horror stories of guests packing their passport in their checked luggage, only to hand it off to the cruise porters and be left without their passport to board the ship.
Image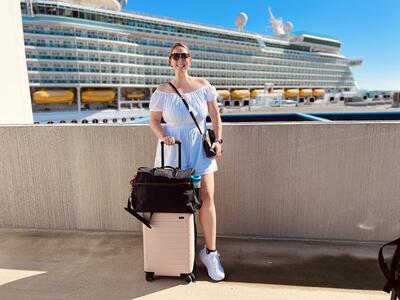 When you are packing for your cruise, make sure you separate your boarding essentials and pack these in your carry-on. This will help you stay organized at the port too.
14. Don't bring prohibited items
Just like at the airport, you are required to go through an X-ray scanner with your luggage before boarding your cruise ship.
Image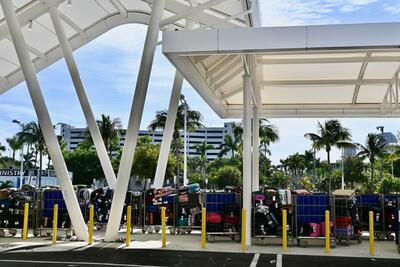 If you try to bring prohibited items onboard your cruise ship, you will get flagged during the security screening process, which will slow you down.
Each cruise line has a list of prohibited items that cannot be brought onboard. So, before you pack away your steamer, iron and extension cords, make sure you know what you can't bring onboard your cruise before packing.
15. Know your stateroom location and number
Once you've finally made it onboard your cruise ship, your vacation can officially begin! Rather than aimlessly wander around the cruise ship trying to find your cabin, be prepared by knowing your stateroom number and location beforehand.
Image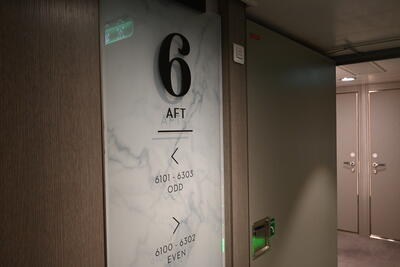 It might sound overly simple, but it's a small item on your to-do list that should not be missed. This will help speed up the process of getting settled and dropping off your carry-on luggage. When you are inevitably asked by someone what your stateroom number is, you will be ready to go!