Celebrity Cruises was founded in 1988 by the Greece-based shipping company Chandris Group. In 1988, they merged with Royal Caribbean Cruise Line, and today, they are a wholly owned subsidiary of Royal Caribbean Group. 
The cruise line is a premium cruise line known for their destination-focused itineraries, sailing to places like Alaska, Asia, Australia & the South Pacific, the Caribbean, Europe, South America, and even the Galapagos. 
After the debut of Celebrity Beyond in 2022, Celebrity Cruises' fleet was increased to a modest 15 ships, with 2 more scheduled for delivery between 2023 and 2025. 
In this comprehensive guide, we provide an overview of the cruise line, as well as information regarding onboard amenities, dining, destinations, and other helpful tips that will enhance your cruise experience.
Overview of the fleet
Image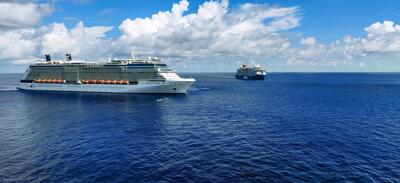 As of January 2023, there are 15 Celebrity ships actively sailing across the globe in 4 different classes, including 3 expedition vessels. Excluding these smaller yacht-like ships decreases Celebrity's total number of ships to 12 in 3 classes. 
Their newest ship, Celebrity Ascent, is expected to debut in December 2023 and will be the third Edge Class ship released by the cruise line. 
By the end of 2025, Celebrity's fleet will be comprised of 17 ships in 4 different classes. 
Read more: Celebrity Cruises ships by class
Edge Class
Image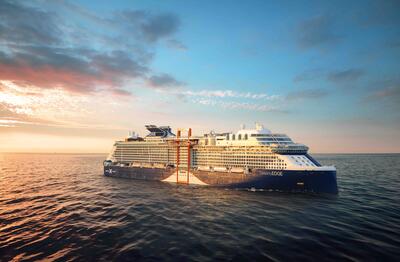 The Edge Class is Celebrity Cruises' newest class of ships and the most advanced in their entire fleet. The first ship, Celebrity Edge, set sail in 2018, followed by the Celebrity Apex in 2021 and Celebrity Beyond in 2022. A fourth ship, Celebrity Ascent, is expected to debut in December 2023. 
These ships are modern, stylish, and boast numerous revolutionary high-tech innovations, including the Magic Carpet, a multipurpose space that juts out over the side of the ship that's a trendy bar by night and, when necessary, a tender gangway by day. 
Onboard, you'll also find Eden, a three-story nature-inspired venue that hosts a café offering light options for breakfast and lunch, bar, sit-down restaurant for dinner, dance floor, and nighttime entertainment. Plus, there's about 7,000 square feet of glass windows, meaning that you'll be able to soak in ocean views just about anywhere. 
This class of ship was also the first to debut infinite veranda staterooms, which bring the balcony into the living area. Folding doors separate the balcony portion of the cabin from the interior space, but you can opt to leave these open at all times. You never truly step outside, though. With the single push of a button, you can control whether the window at the end of the room (aka the balcony) is raised or lowered. 
Edge Class ships are also home to the cruise line's largest and most luxurious suite -- the Iconic Suite -- that has over 2,500 square feet of indoor and outdoor space. 
Celebrity Beyond is larger than her sister ships and can hold roughly 11.5% more passengers. The main differences are more outdoor space, pools, and hot tubs, as well as an additional passenger deck. The ship also features Daniel Boulud's Le Voyage, a new specialty restaurant.
Read more: 10 things Celebrity got right on their newest cruise ship
Celebrity Edge (2018)
Gross tonnage: 129,500
Length: 1,004 feet
Width: 128 feet
Number of passengers (double occupancy): 2,918
Celebrity Apex (2021)
Gross tonnage: 129,500
Length: 1,004 feet
Width: 128 feet
Number of passengers (double occupancy): 2,910
Celebrity Beyond (2022)
Gross tonnage: 140,600
Length: 1,073 feet
Width: 128 feet
Number of passengers (double occupancy): 3,260
Read more: Worth the hype? My review of the Celebrity Beyond
Solstice Class
Image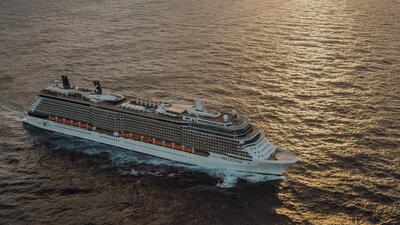 There are five ships in Celebrity's Solstice Class; the first, Celebrity Solstice, was launched in 2008 and was the first cruise ship to have a real glass lawn at sea, as well as offer a hot glass class onboard. 
Read more: Celebrity Edge vs. Equinox: Is newer always better?
Onboard Solstice Class ships, guests will find amenities such as a chic pool deck, including outdoor pools and an indoor, adults-only pool; casino; spa; spacious accommodations; Camp at Sea youth programming; main stage production shows; live music; and Celebrity's signature Italian Steakhouse, Tuscan Grille.
Celebrity Solstice (2008)
Gross tonnage: 122,000
Length: 1,041 feet
Width: 121 feet
Number of passengers (double occupancy): 2,852
Last renovated in 2021
Celebrity Equinox (2009)
Gross tonnage: 122,000
Length: 1,041 feet
Width: 121 feet
Number of passengers (double occupancy): 2,852
Last renovated in 2019
Celebrity Eclipse (2010)
Gross tonnage: 122,000
Length: 1,041 feet
Width: 121 feet
Number of passengers (double occupancy): 2,852
Celebrity Silhouette (2011)
Gross tonnage: 122,400
Length: 1,047 feet
Width: 121 feet
Number of passengers (double occupancy): 2,902
Last renovated in 2020
Celebrity Reflection (2012)
Gross tonnage: 126,000
Length: 1,047 feet
Width: 123 feet
Number of passengers (double occupancy): 3,046
Read more: Solstice vs. Edge Class on Celebrity Cruises
Millennium Class
Image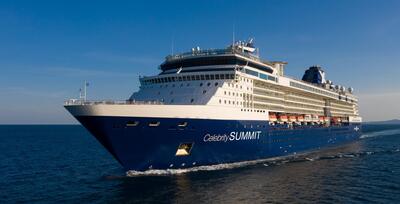 The Millennium Class is Celebrity's smallest class of cruise ships; however, they still contain many iconic Celebrity venues, including an indoor adults-only Solarium, Sunset Bar, three-story theatre, spa, outdoor pool deck, Tuscan Grille, and Sky Lounge. 
While you won't find a grassy outdoor space, there is a Rooftop Terrace that functions as a restaurant, bar, and alfresco movie theatre.
Due to their size, they are able to sail destinations that are unable to accommodate larger ships. Celebrity Infinity, for instance, sailed to Antarctica in February 2023. While they ship didn't actually dock, guests did get to sail through the Schollaert Channel, Paradise Bay, Gerlache Strait, and Elephant Island. 
Celebrity Millennium (2000)
Gross tonnage: 90,940
Length: 965 feet
Width: 105 feet
Number of passengers (double occupancy): 2,218
Celebrity Infinity (2001)
Gross tonnage: 91,000
Length: 965 feet
Width: 105 feet
Number of passengers (double occupancy): 2,170
Celebrity Summit (2001)
Gross tonnage: 90,940
Length: 965 feet
Width: 105 feet
Number of passengers (double occupancy): 2,218
Celebrity Constellation (2002)
Gross tonnage: 90,940
Length: 965 feet
Width: 105.6 feet
Number of passengers (double occupancy): 2,184
Expedition ships
Image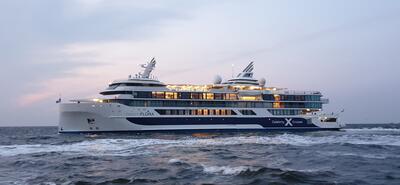 Celebrity Cruises currently has three ships -- Celebrity Xpedition, Celebrity Xploration, and Celebrity Flora -- that sail to the Galapagos Islands. These vessels are much smaller and more yacht-like than traditional cruise ships and can only carry between 16 and 100 passengers. 
These ships lack many amenities that regular cruisers may be seeking, including multiple dining options, full-service spas, nightly entertainment, and youth programming. 
Where they shine, however, are their itineraries. Other than SilverSea, Celebrity Cruises is the only cruise line to regularly sail to the Galapagos Islands, and they're able to do so because of their smaller expedition ships. 
Celebrity Flora (2029)
Gross tonnage: 5,739
Length: 333 feet
Width: 55.7 feet
Number of passengers (double occupancy): 100
Celebrity Xploration (2017)
Gross tonnage: 3,195
Length: 98.3 feet
Width: 36.7 feet
Number of passengers (double occupancy): 16
Celebrity Xpedition (2004)
Gross tonnage: 2,842
Length: 296 feet
Width: 49 feet
Number of passengers (double occupancy): 48
Destinations
Image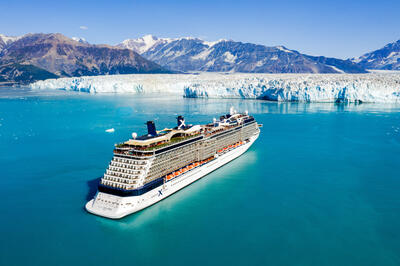 With over 300 different cruise ports across the globe, you can certainly find a sailing onboard a Celebrity cruise ship that fits your travel wants and needs. 
They offer numerous bucket list sailings to places and events like the Cherry Blossom Festival in Japan, Northern Lights cruises, Dubrovnik Summer Festival, and the Cannes Yachting Festival. 
Antarctic Ocean
Asia 
Australia & New Zealand
Bahamas
Bermuda
Canada & New England
Europe
Galapagos
Hawaii
Mexican Riviera
Pacific Coast
Panama Canal
South America
South Pacific
Transatlantic
Transpacific 
Read more: Celebrity Cruises to take guests around the world in 2024-2025 with new itineraries
"All Included" fares
Image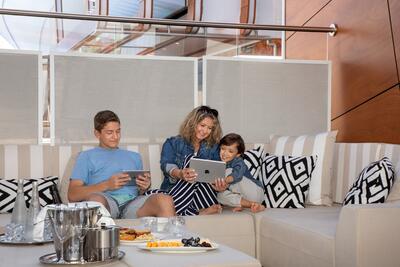 Experienced cruisers know that cruising is not an all-inclusive vacation. While your base fare does include lodging, complimentary restaurants, entertainment, select beverages, and transportation between ports, there's a lot that it does not cover. -- think alcoholic beverages, gratuities, and Wi-Fi.
Celebrity Cruises appeals to those seeking a more inclusive vacation by allowing each guest to book one of two fares: cruise-only or all included. 
Image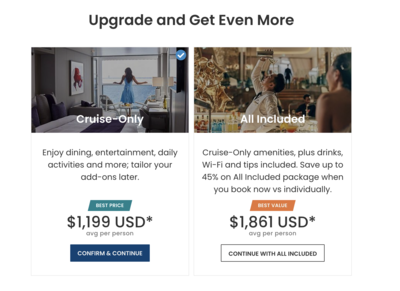 If you opt to book an all included rate, you'll receive a Classic Drinks package, basic Wi-Fi, prepaid gratuities, as well as everything that's included in a base cruise fare. 
Onboard accommodations
Image
Every Celebrity ship offers numerous different cabins for guests to choose from. There are interior cabins for those trying to make the most out of their vacation budget, ocean view staterooms which offer great views of the passing scenery from a sealed window, balcony cabins for those who can't get enough of an ocean view and breeze, and suites that are, well, iconic.  
Read more: Celebrity Cruises Cabin Overview: What you need to know
Studio cabins
Image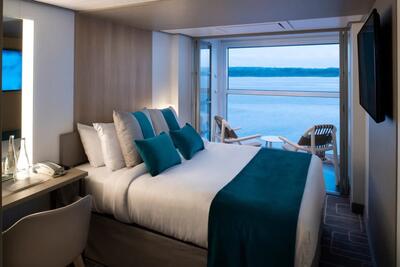 Studio cabins are available on six of Celebrity's ships: Celebrity Apex, Ascent, Beyond, Edge, and Silhouette.
On Edge Class ships, solo cruisers can book a 131 square foot Infinite Veranda stateroom that has an additional 42 square feet of space on the veranda.
Celebrity Beyond has 16 of these solo cabins, Apex has 24, and Beyond has 32. When Celebrity Ascent launches in December 2023, she will have 32 staterooms dedicated to solo travelers, too. 
The only other ship in Celebrity's fleet to feature single cabins is Celebrity Silhouette. She, however, has considerably fewer. Onboard, there are only four interior solo cabins, each a mere 103 square feet. 
Interior
Image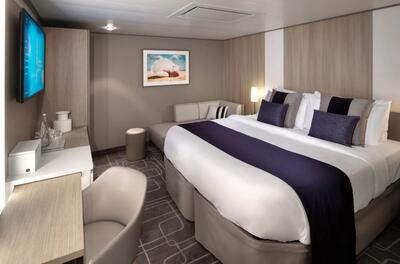 Interior staterooms are perfect for those who are on a budget or planning to spend the majority of their time onboard exploring the ships and ports of call. Plus, they're outfitted with the same basis amenities as other standard cabins; however, they lack any access to natural light and are often the smallest accommodations onboard.
Onboard Celebrity cruise ships, inside cabins range from 170 to 202 square feet. Despite their size, there's plenty of storage available. On select ships, you may choose a standard or deluxe interior cabin. Deluxe rooms tend to be about 20 square feet larger, and these rooms usually have an additional seating area. 
Ocean view
Image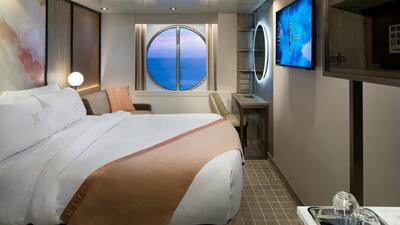 Ocean view staterooms are often more spacious than interior ones and include an exterior-facing window. While you can't open the window to enjoy fresh ocean air from the comfort of your cabin, you do have access to natural light and the every-changing scenery.
These cabins range from 170 to 242 square feet are are usually located on lower decks or at the forward and aft of the ship on higher decks. Occasionally, they may even be at the very front of the ship and have an angled picture window looking out over the bow of the ship.
Panoramic Ocean View cabins are available on Edge Class ships and have a large, exterior-facing floor-to-ceiling window, rather than a single rounded or square window. These staterooms are located midship or forward on lower decks and are 212 square feet. 
Veranda
Image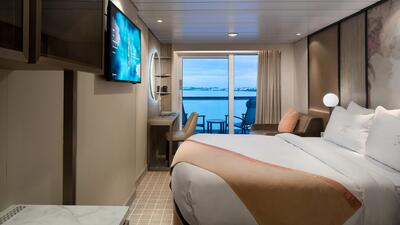 Veranda staterooms are one of the most popular cabin categories since they have their own private oceanfront balconies that come with ample indoor and outdoor space, as well as additional outdoor seating consisting of two chairs and a small table. 
The indoor space ranges from 150 to 228 square feet, while the balconies can be anywhere from 38 to 89 square feet.
Even though you'll pay more for veranda staterooms than ocean view or interior rooms, one way to save money is to choose one that's located in the forward or aft of the ship or one that has an obstructed view. 
Infinite Veranda
Image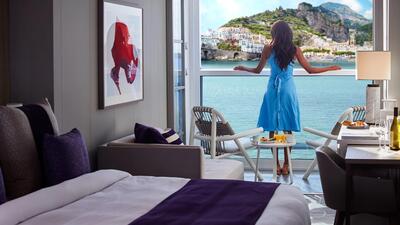 Infinite veranda staterooms are available exclusively on Edge Class ships and allow you to bring the veranda into the stateroom.
Folding doors separate the balcony portion of the cabin from the living space, and you can opt to leave these open at all times. With the single push of a button, you can control whether the floor-to-ceiling window at the end of the room (aka the balcony) is raised or lowered. You never truly step outside, though. 
Concierge Class
Image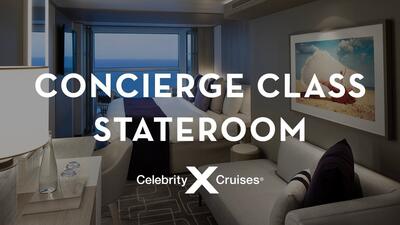 Concierge Class staterooms are veranda cabins that come with additional benefits, including a dedicated concierge team who are able to assist with all of your vacation needs, exclusive welcome lunch, and destination seminars.
You'll also receive a Celebrity embossed key holder, sparkling wine upon request, use of binoculars and umbrellas, main and specialty restaurant seating time preferences, daily delectable delights, and complimentary shoeshine services.
The sizing of Concierge Class staterooms varies based upon the class of ship you're on: 
Millennium Class: 209 square feet with a private 42 square foot balcony. These staterooms are larger than standard verandas. 
Solstice Class: 192 square feet with a private 54 square foot balcony. 
Edge Class: 243 square feet with a private 42 square foot balcony. 
AquaClass
Image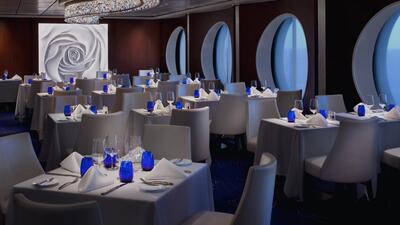 Like Concierge Class staterooms, AquaClass rooms are verandas that come with added benefits. 
However, this class of staterooms are for those seeking an immersive wellness experience, from unlimited access to the spa's SEA Thermal Suite on Edge Class ships or Persian Garden on Millennium and Solstice Class ships, to fitnesses passes, spa concierge, preferential rates on AquaClass spa packages, healthy room service menu options, and even a yoga mat.
You will receive upgraded stateroom amenities, like shower toiletries with eco-friendly natural ingredients and daily in-room bottled water service, as well as access to an exclusive restaurant that focuses on clean, healthy cuisine: Blu.
On Millennium Class ships, these accommodations range from 233 to 271 square feet with private balconies anywhere from 42 to 62 square feet. On Solstice Class vessels, they're 246 square feet with a private 54 square foot balcony. Finally, Edge Class AquaClass cabins are 243 square feet with a private 42 square foot balcony. 
Suites
Image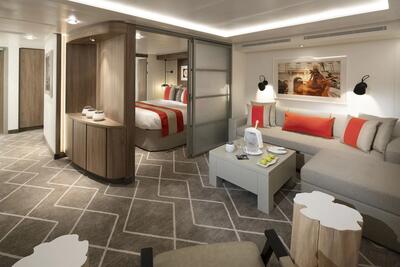 Celebrity Cruises offers a variety of suites ranging from a 254 square feet studio Sky Suites to the luxurious 1,892 square foot Iconic Suites on Edge Class ships. 
If you are torn between booking a suite or AquaClass stateroom, they offer Aqua Sky Suites that combine all the benefits of AquaClass staterooms with the exclusive spaces, services, and amenities of suites! 
Every suite grants access to The Retreat, an exclusive suites-only area that has a dedicated restaurant, lounge, and a private sundeck on select ships. Celebrity Constellation, Celebrity Eclipse, Celebrity Infinity, Celebrity Reflection, and Celebrity Solstice do not feature a Retreat sundeck. 
Image
Each menu at Luminae, the Retreat's private restaurant, is crafted by a Michelin-starred chef and are not available anywhere else on the ship.
The Retreat Lounge, or Michael's Club on non-revolutionized ships, is where you'll find the dedicated concierge who can assist with dinner reservations, spa treatments, shore excursions, and more. Plus, there are also complimentary beverages and gourmet bites, including afternoon tea, available. 
Every suite comes with unlimited premium drinks and Wi-Fi, gratuities, onboard credit, and numerous other benefits that are meant to curate the ultimate and (mostly) inclusive vacation experience:
A butler
Priority check-in, departure, and port tendering/boarding
Pre-cruise and onboard Retreat Concierge
Reserved theater seating on Evening Chic nights
Complimentary 24-hour room service, including breakfast, lunch, and dinner
Premium bathroom amenities
Plush bedroom slippers and 100% cotton bathrobes
In-suite specialty coffees
A welcome bottle of sparkling wine
Fresh fruit upon request 
Celebrity's eXhale® bedding, which includes plush duvets, 100% pure cotton sheets, and a pillow menu to customize each night's sleep
If you book one of the higher-tiered suites -- including Royal Suites, Edge Villas, Penthouse Suites, Iconic Suites -- you'll receive even more perks:
Complimentary bottled water, soda, and beer stocked daily
Unlimited lunch and dinner in all specialty restaurants 
Two complimentary bottles of premium spirits 
VIP canapés
Complimentary laundry service twice per cruise
Priority luggage delivery 
Staterooms on exploration ships
Image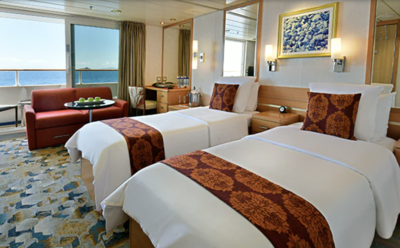 Celebrity Flora has a total of 50 cabins comprised of 6 different suite options: Sky Suite with Veranda, Sky Suite with Infinite Veranda, Premium Sky Suite with Infinite Veranda, Ultimate Sky Suite with Infinite Veranda, Royal Suite, and the Penthouse Suite.
Celebrity Xploration is the smallest exploration ship and can carry only 16 guests in 8 staterooms. There are only types of two staterooms onboard: Junior Suite or Elite Ocean View, with the latter not having private balconies. 
Finally, Celebrity Xpedition can only accommodate 48 passengers in 24 cabins. Passengers can choose from 5 different categories of staterooms, ranging from Premium staterooms (similar to an ocean view), to Xpedition Suites, and, finally, their infamous Penthouse Suites.
Dining
Image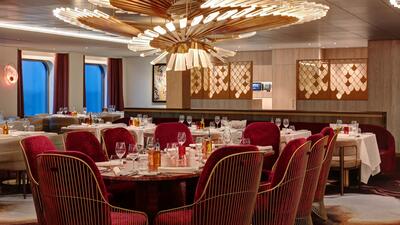 With each ship offering a variety of complimentary and specialty dining options, you'll never find yourself hungry when sailing on a Celebrity cruise.
There are plenty of options available to satisfy all travelers. Those seeking a more laid back dining experience may opt to eat in the Oceanview Café buffet, which is open for breakfast, lunch, and dinner, or grab a quite bite to eat at the pool deck's Mast Grill for lunch.
For guests who want to elevate their meal experiences, specialty restaurants are available for a surcharge, including Celebrity's signature steakhouse, Tuscan Grill (available on Solstice and Millennium Class ships); 3D dining at Le Petit Chef; sushi at Raw on 5 on Edge Class ships; and French cuisine at Murano on Solstice Class ships.
With so many choices, it's important to understand what venues are complimentary and which ones are available for an additional fee. 
Complimentary dining
Image
Sticking to the included dining options is the best way to get the most value out of your cruise fare; it's easy to board the ship and not spend any extra money on food! 
Main dining rooms
Image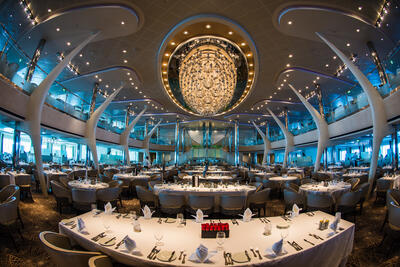 On Millennium and Solstice Class ships, Celebrity offers guests the opportunity to dine in their main dining room each evening of their cruise.
Each night's menu consists of rotating selections that change daily, as well as timeless options that are always available.
Chilled Thai coconut soup and organic roasted red beets are examples of rotating appetizer options, while chilled shrimp cocktails and baked French onion soup are offered daily. 
On Edge Class ships, they strayed from the traditional cruise dining experience. Instead of offering one main dining room, there are four complimentary restaurants for guests to choose from:  
Cyprus specializes in Mediterranean dishes
Normandie is the modern French restaurant
Cosmopolitan focuses on New American cuisine
Tuscan dishes up global contemporary options with an emphasis on Southern Italian food
Cosmopolitan is the only main dining restaurant that also serves breakfast and sea day lunch. 
Oceanview Café
Image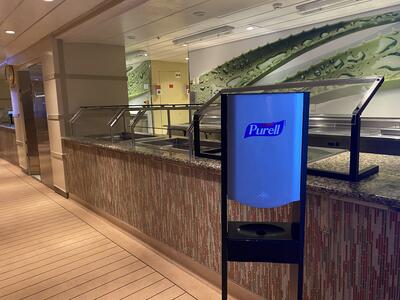 Oceanview Café is Celebrity Cruises' fleet-wide buffet that's open for breakfast, lunch, and dinner. During each meal, there are plenty of options for guests to choose from. During breakfast, for instance, you can find staples like eggs, bacon, sausage, pastries, fruit, pancakes, and more. Plus, you'll also be able to get a cup of coffee to kickstart your day.
These options rarely, if ever, change throughout the sailing. 
The Oceanview Café is not open 24 hours per day; however, it is open long enough during each meal to cover the range of when guests may choose to eat. Sample hours include breakfast from 7am - 11am, lunch from 12pm - 12:30pm, and dinner from 6pm - 9:30pm. They can, however, be open as late as 1am. 
The Spa Café
Image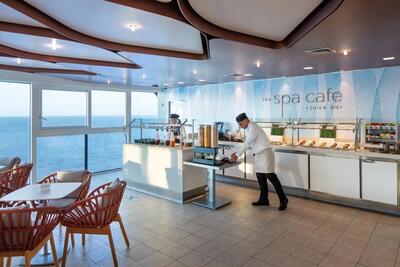 The Spa Café features flavorful, healthy dishes -- think homemade energy bars and muffins, cereals, and acaí bowls. 
For an additional cost, you can order cold pressed juices and smoothies.
Mast Grill
Image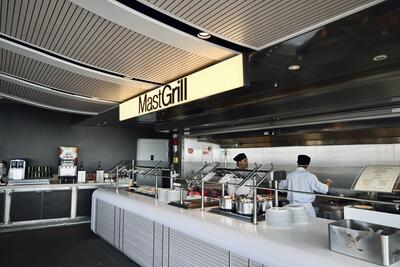 Mast Grill is a relaxed, poolside joint that serves up complimentary burgers, hot dogs, french fries, and light refreshments -- like juices and water -- in the afternoons. 
Eden Café
Image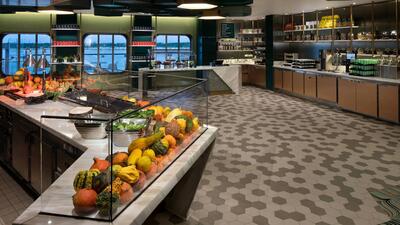 Available exclusively on Edge Class ships, Eden Café offers a variety of morning beverages and casual bites, including fruit bowls, steak & egg bagels, pastries, salads, soups, sandwiches, and paninis. 
Specialty dining
Image
For an elevated and more intimate dining experience, Celebrity Cruises offers guests the opportunity to dine in one of their specialty restaurants for an additional charge.
They are priced in one of two manners: a singular cover charge or à la carte pricing. Restaurants that are paid via cover charge include at least one option for each course. 
À la carte venues charge you just for what you order and can be thought of like a conventional land-based restaurant.
The cost of dining at a specialty restaurant varies. A 3-course meal at Murano onboard Celebrity Equinox costs $71 per person including the 18% gratuity. Dining at Tuscan Grille on the same ship will run a little less, or $64 per person with gratuity. 
Sushi at 5 is à la carte. You can spend as little as $4 on miso soup, $10 for a classic tuna roll, or as much as $16 for lobster ramen! They even offer fresh table side wasabi for $12. 
In general, you can expect to spend at least $50 per person at any cover charge specialty restaurant. However, Celebrity Cruises does offer dining packages that allow you to dine at multiple specialty restaurants for less than purchasing each individually. 
The available options also vary from ship to ship, so be sure to check which are on your specific cruise before booking.
Murano, serves up contemporary French cuisine in a sophisticated environment.
Tuscan Grille, Celebrity's signature Italian steakhouse found onboard Millennium and Solstice Class ships. 
Le Petit Chef, a 3D dining experience where an animator character guides you through the preparation of each course before it's presented in front of you.
Lawn Club Grill, American cuisine in an outdoor setting. You can build your own salad/pizza or order a specialty dish from the "Grill Master." 
The Porch, offers fresh seafood and a raw bar.
Sushi on 5, à la carte sushi and noodle restaurant. 
Raw on 5, à la carte sushi and seafood specializing in raw delicacies like salmon poke and sashimi. When the Magic Carpet is parked on deck 5, it's an open-air extension of Raw on 5 (it also features a few unique menu options).
Le Voyage by Daniel Boulud, the first-ever restaurant at sea by Chef Daniel Boulud. The menu's global flavors are meant to give diners a taste of the places that have inspired Boulud.
Image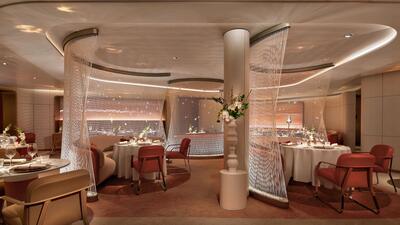 Chef's Table by Daniel Boulud, an exclusive five-course meal designed by Chef Daniel Boulud that's rooted in French cuisine. Wine pairings are available for an additional fee. 
Eden Restaurant, innovative cuisine that's rooted in nature and features dishes like roasted Carabineros shrimp and sheep's milk ricotta gnocchi with smoked pecorino cheese. 
Fine Cut Steakhouse, an upscale steak and seafood restaurant that offers a wide select of choice cuts of meat and premium seafood.
Le Grand Bistro, a casual dining venue that's inspired by a Fresh patisserie.
Rooftop Grill, backyard BBQ in an outdoor setting.
Dinner on the Edge, dine on the Magic Carpet as it's perched at the top level and enjoy a prix fixe menu with shared plates, impressive seafood towers, and delicious desserts. 
Drink packages
Image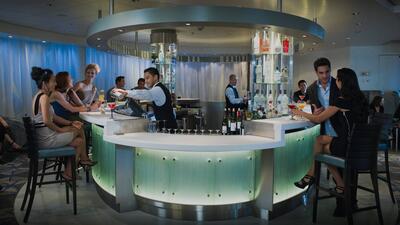 Whether you want to kickstart your day with a specialty coffee, sip on a cocktail while lounging by the pool, enjoy a glass of wine with dinner, or drink a martini made at the infamous Martini Bar, Celebrity Cruises offers numerous lounges and bars for guests.
Celebrity Cruise drink packages are a popular add-on for cruises who want to save money or are worried about a large bill at the end of their vacation.
There are three different packages to choose from depending on your drinking preferences: the Classic Package, Premium Package, and Zero Proof Package.
Pricing for the Classic Package starts at $89 per person, per day, while the Premium Package is a bit more and starts at $109 per person, per day. At $30 per person, per day, the Zero Proof Package is the cheapest drink package offered by Celebrity. 
The main difference between Classic and Premium Packages is that the Classic only includes alcoholic drinks up to $10, while the Premium covers alcoholic drinks up to $17. The latter package also offers a greater discount on wines by the bottle. 
When booking your cruise, you have the option between choosing a cruise-only fare or an inclusive model, which pre-packages popular add-ons, including Wi-Fi, a Classic Drinks Package, and gratuities, and adds them into the fare. 
Choosing an "All Included" fare can save you up to 45% of the total cost of all add-ons than if you were to purchasing everything individually, and, therefore, is a great option for those who are considering a drink package!
Internet
Image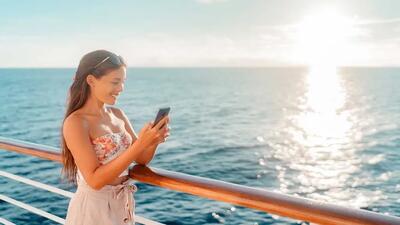 Staying disconnected while at sea is slowing becoming a thing of the past. Celebrity Cruises offers two internet packages for guests to choose from: Basic and Premium. 
The Basic Package is $20 per day and includes web browsing, texting/messaging, and email access. The Premium Package is $35 per day and is much more inclusive, allowing guests the same benefits as the Basic Package, as well as the ability to share/post photos and videos, exchange files and attachments, stream videos, and video chat. 
You can purchase a single package and switch between devices. Just note that the internet will only be active on one device at a time; as soon as you log into the second device, the first is disconnected. 
Entertainment and activities 
Image
Entertainment onboard a Celebrity cruise ship ranges from trying your luck at the casino to getting pampered at the spa, reaching your fitness goals in the gym or during a HIIT class, playing bingo, partaking in a culinary or beverage workshop, attending evening events and parties, listening to live music, and watching a movie under the stars or captivating main stage production.
Not every activity is included in your cruise fare, so it's important to research what may cost extra. Mixology classes, for instance, will cost an additional fee, as well as a glass blowing class. 
As Celebrity Cruises is an upscale cruise line, you won't find waterslides, surf simulators, rollercoasters, ice skating rinks, bumper cars, zip lines, or free-fall dry slides onboard any of their ships. 
Read more: 10 things I learned on my first Celebrity cruise
Youth programs
Image
For those sailing on a Celebrity cruise with kids and teens, you'll be happy to know they have a great youth program called "Camp at Sea." 
One of the first things you do when you board the ship is head to youth facilities to get your child (or children) registered. While you can register kids at any point during the cruise, taking advantage of the open house on embarkation day allows for an optimal experience. 
While parents get to meet the staff and ask any questions that they may have, the kids get to check out the facilities and possibly make a new friend early on!
There are four different age groups for guests between the ages of 3 and 17:
Shipmates (3-5)
Cadets (6-9)
Captains (10-12)
Teens (13-17)
Depending on which age group your child is in, they may be able to participate in activities like silent disco parties, sports competitions, video game tournaments, scavenger hunts, arts & crafts, movie nights, and nautical education programming.
Captain's Club 
Image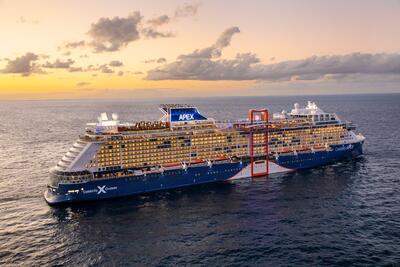 Celebrity's loyalty program is called the Captain's Club. Before you even set sail on a Celebrity cruise, you can join their loyalty program as a "Preview" member, which will grand you access to the Captain's Club Loyalty Desk service center and newsletter. 
After completing your first sailing, you will become a "Classic" member. The most you cruise with Celebrity, the faster you'll move up the ranks. 
The category of stateroom you book corresponds directly with the total number of Club points you will earn for that specific sailing:
Inside or ocean view gets 2 points per night 
Veranda gets 3 points per night
Concierge Class and AquaClass staterooms get 5 points per night
Sky Suites and AquaClass Sky Suites get 8 points per night
Signature, Royal, Sunset, and Celebrity Suites get 12 points per night
Edge Villa, Penthouse, and Reflection Suites get 18 points per night
Iconic Suites get 24 points per night
There are six tiers within the Captain's Club:
Preview (0 Club Points)
Classic (2-149 Club Points)
Select (150-299 Club Points)
Elite (300-749 Club Points)
Elite Plus (750-2,999 Club Points)
Zenith (3,000+ Club Points)
Loyalty points are awarded at the conclusion of each cruise; therefore, if you're currently a Classic member and reach Select status mid-sailing, you won't receive the additional benefits until the next cruise.
What you need to know about Celebrity Cruises
Image
Prior to placing a deposit on a Celebrity cruise vacation, here are some things you should keep in mind:
Cruise-only vs "All Included" fares
At its core, Celebrity is not an all-inclusive cruise line. It's important to calculate how much you are expecting to spend in add-ons, such as port fees, gratuities, specialty dining, drink packages, internet, spa treatments, shore excursions, onboard activities, etc. Sometimes, these can be more than the base fare itself!
One way to reduce the cost (or simply make the cruise a more inclusive vacation) is to purchase an "Always Included" fare. While they are more expensive than the base fare, you won't have to worry about getting a drink package, Wi-Fi, or paying for gratuities.
Read more: 14 cruise ship extra charges you should know about
Worldwide sailings
Celebrity ships sail all over the world, from the Antarctic Ocean, to Iceland and Norway, and even the Galapagos Islands. No matter where you want to travel, there's sure to be an itinerary that peaks your interest.  
Celebrity Cruises App
Before you leave for your cruise, make sure you download the cruise line's free app. You'll need it access your Set Sail pass, as well as complete the mandatory "Muster 2.0" safety briefing prior to sail away. Plus, the app will be your guide for onboard activities, as it will be home to each day's schedule! 
Read more: 10 things I loved and hated about my frist Celebrity cruise