Can you still have fun on an older cruise ship? I put this question to the test when I recently sailed on Celebrity Equinox and Celebrity Edge for a combined total of three weeks. 
The older Celebrity Equinox ship was quite different from the innovative Celebrity Edge, providing two different experiences, and the results of my dueling cruise adventures surprised me. 
My long Southern Caribbean itineraries gave me time to get to know the ships, try out many great restaurants, activities, and entertainment onboard, and get to know Celebrity for the first time. 
Here is what I loved and learned in my side by side comparison of these two well known Celebrity ships. 
Overview of ships 
Image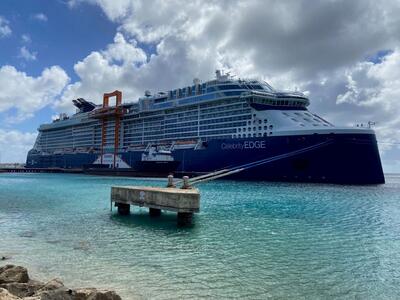 Celebrity Equinox, my temporary home for a delightful 10 day trip, was launched in 2009 and was revitalized in 2019. The ship's update was part of a $500 million fleet-wide modernization. Celebrity Equinox, the second ship in the Solstice class, has a passenger capacity of 2,852 passengers (double occupancy), a crew of 1,290, and a gross tonnage of 122,000.  
Celebrity Edge was the first in the cruise line's innovative new series of ships and was launched in 2018. It is slightly larger and welcomes 2,918 passengers (double occupancy) with 1,320 crew. With a gross tonnage of 129,500, it is not that much bigger than Celebrity Equinox, a mere 6% larger. 
I had assumed the newer ships would be a lot bigger, but that was not the case, and Celebrity has gone a different route in how they developed their newer class of ships, challenging the bigger is better model. 
Initial impressions 
Image
Normally I do a lot of research when picking a cruise, scrutinizing the itinerary, and checking out all the great stuff onboard. My Celebrity Equinox cruise popped up out of the blue and was an incredible deal, at $750 for a 10 cruise, with a drink package, wi-fi, and gratuities. I figured with such a great promotion, I could overlook any weaknesses of an older ship and booked it immediately. 
To my surprise, the ship was beautiful inside, and I loved the classic feel. The central atrium stretched the full height of the ship, flooding it with sunlight. Growing up, I spent a lot of time sailing on the Atlantic Ocean, so the wood finishings, soothing natural palettes, and classic nautical feel instantly appealed to me. 
As I stepped on Celebrity Edge four days after finishing my Celebrity Equinox cruise, I was immediately struck by the varied designs and aesthetics of the two ships. Celebrity Edge has lots of modern art, a sleek design, and incredible pops of color with the vibrant Magic Carpet. It felt pretty different than any cruise ship I had ever been on. Whimsical yet edgy, with lots of functional, multipurpose spaces, an interesting combination. I read that Celebrity Edge was completely designed in 3D, which is evident when you spend time onboard, Every nook seemed to have a purpose, and the ship was thoughtfully designed.
Dining 
Food and cruising go hand in hand, and as someone who loves to try any type of cuisine, I was keen to try all the offerings on both cruises. 
Main dining room 
One of the most significant changes with Celebrity Edge and subsequent ships in the series is the separation of the main dining rooms into four unique themed venues: Cyprus, Normandie, Tuscan, and Normandie. They all offer regional specialties as well as classics such as steak, chicken, and shrimp that you can get at any of them. Being smaller than a traditional main dining room, they have more of a specialty dining feel with thematic décor. 
Image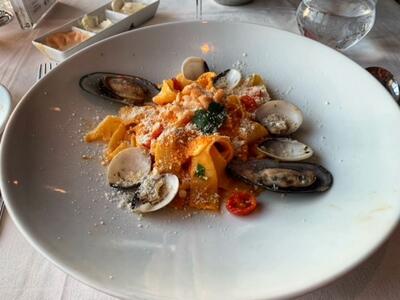 I found it to be an interesting idea, and the change provided more variation in menus. We particularly enjoyed Normandie, a French-inspired venue. Their beef tenderloin rivaled the specialty dining steakhouse, and as word got out, it became more crowded in the evening. The major downside to this separate approach is that you don't get to know your wait staff as you rotate between the various main dining rooms throughout your cruise. It also requires a bit more planning and figuring out where you want to eat each night. 
Celebrity Equinox, on the other hand, has the classic cruise ship dinner setup. By the time I booked the cruise, the early time sitting was booked up, so I went to the anytime dining each evening. I was seated each night at the same beautiful ocean view table. I enjoyed getting to know my wait staff, and as they learned my preferences and tastes, they made great food and drink recommendations, and it was quite a relaxing experience. Overall, the food was good in both, with no clear winner. 
Specialty dining/ other food venues 
Image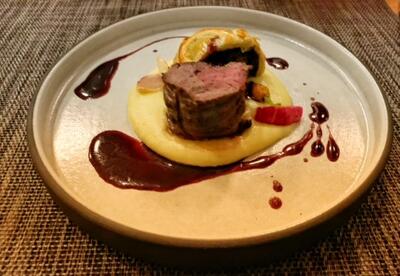 Buffets are a mainstay on cruise ships, and Celebrity's Oceanview Café was no different. Both were large open spaces with outdoor seating, a massive bonus for me. There was a good selection of options at breakfast and lunch. Dinner was far more narrow, as most people visited other venues. 
Image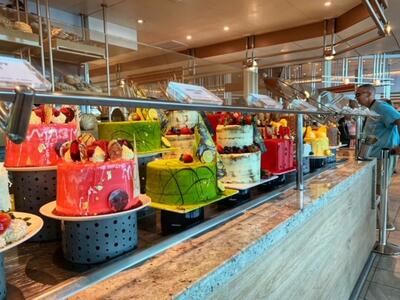 I had the opportunity to try out specialty dining on both ships and would say that both were fantastic meals. On Celebrity Equinox, I ate at Murano, which is described as a contemporary take on French cuisine. The food and ambiance were exceptional, and the menu was full of classic fare. I had scallops, beef, and a chocolate soufflé. Decadent, to say the least. 
On Celebrity Edge, I tried both the steak restaurant and Eden, which everyone was raving about. It was spectacular. My only complaint is that it was too much food. What I loved about Eden is that the restaurant is perfectly located at the back of the ship, providing a great atmosphere. Most of the other specialty dining restaurants encircle the Grand Plaza and are open-air,  meaning you get more noise and activity from below. I also had access to Luminae, being in a suite. We had great service and food and dined there many times. There are many dining options on Celebrity Edge, and I wish I had tried more. 
Cabins
Celebrity Equinox 
Image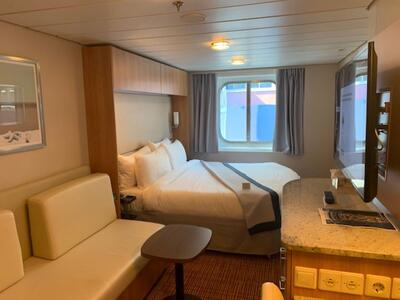 My two cabins could not have been more unlike. While sailing on Celebrity Equinox, I was cruising solo,  and for the first time got to try out an ocean view cabin. At around 176 square feet, the stateroom is compact but well designed, making the most of its footprint. 
The couch and small table made the room feel more functional, and it was nice to have a spot to sit and do some work or watch tv. There was a good amount of closet space and drawers for one. The bathroom was reasonably sized and had good storage for toiletries and other stuff. 
This was my first time staying in an ocean view cabin, and I have to say I loved seeing the waves close up. Being on the third deck, I had an excellent view, and I loved sleeping with my curtains open to see the moon, and found it very relaxing to hear the sound of the waves bouncing off the ship. I did not feel much movement compared to the higher decks. 
Being on Deck 3, I was central to most amenities and venues, including restaurants, numerous bars, guest services, and the casino.  
Celebrity Edge
Image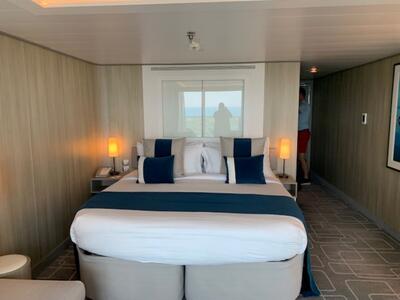 For my Celebrity Edge cruise, I was in a Sky Suite (320 square feet), a definite bonus, especially for a Panama Canal cruise. 
Celebrity explains that these cabins are meant to provide" breathtaking views of the outdoors from anywhere in the stateroom," This was undoubtedly true. I loved that the bed faced the floor to ceiling windows. It was evident that the design team carefully considered how each part of the room would be used, and the flow was excellent. The finishings were top-notch, and the bathroom, in particular, was designed well with a separate water closet. It has one large sink with two faucets and a large shower with a tub; it even has a window in the bathroom. 
We had tons of closet space and could easily store our suitcases under the bed. The room also included upgraded bedding, bathroom products, robes, slippers, an umbrella, and binoculars, but no coffee maker. Our cabin attendant and butler provided superb service throughout our 11 day journey. I do love a balcony cabin, and I enjoyed sitting out there relaxing, especially when sailing through the Panama Canal. I did wish it was big enough for a lounger, but I certainly made do with chairs and a table. 
Not really a fair comparison between the two staterooms, but I did sleep well and enjoyed both cabins immensely. I would book either again.  
Itineraries
Image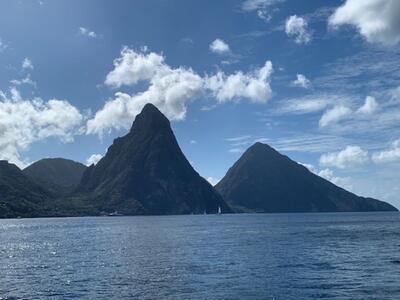 Both of my Celebrity cruises were longer itineraries, and I am now a huge fan of the extended cruise. I find a 7 day cruises feel a little short. I am just getting into vacation mode, and it is time to fly home. 
My first adventure was aboard the Celebrity Equinox traveling far south to a number of bucket list destinations. We visited St. Lucia, St. Kitts, and Nevis, Grenada, Antigua, and Martinique. These are all part of the Lesser Antilles and make up part of a volcanic arc on the Eastern boundary of the Caribbean - stunning scenery and charming islands.
 My second cruise was an 11 night Panama Canal cruise going even far south to Aruba, Bonaire, Curacao, Panama, and Cartagena, Columbia. 
Image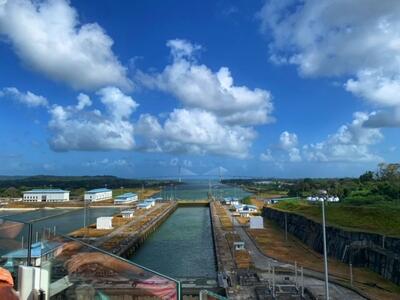 Unlike some other cruise lines, Celebrity's newer ships aren't just on shorter 7 days cruises to popular Eastern and Eastern itineraries. Celebrity seems to have a lot of variety in their sailings, meaning there is something for everyone, even 10+ days. Due to the ship's size, they can travel to many ports and destinations that other ships can't.
If you are looking for a good deal, you may find a similar cruise on an older ship at a lower price. With Celebrity, there are tons of options, whether it be an older or newer ship.
Fun stuff 
Image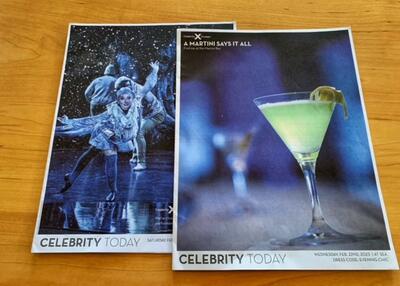 Cruise ships are known for their wide range of activities and entertainment, and the Celebrity ships I sailed on were no different. However, being mid-sized ships, they don't have quite as much selection as some mega-ships, but I was never bored and always found something to do. 
On Celebrity Edge, the Grand Plaza is a central hub of activity with tons of music, a sprawling Martini Bar, most of the specialty dining restaurants, and the popular Café al Bacio. I still dream about the cafe's mouth-watering pastries. As a common point for so many venues and entertainment, the area was quite busy, especially during sea days. It could be a little noisy, with all the open-air venues and music. 
The flow of this area was somewhat different on Celebrity Equinox. The atrium area, called Grand Foyer, does play a role in many ship's activities with music, dancing, and guest services but not quite as busy. Alternatively, the specialty dining and bars are located away from this area, spreading out passengers to different parts of the ship. 
Both ships offered a number of shows, casinos, and lots of activities throughout the day, like trivia and wine tasting. I love live music and have always found a good band (to the detriment of seeing shows, sadly). 
As you would expect, there are pools, hot tubs, a solarium, and other great spaces onboard.  There are a number of shops with many upscale ones, such as  Cartier and Bulgari, which are way out of my price range but was fun to look at nonetheless. 
Celebrity Edge extras
Celebrity reinvented the wheel with Edge, and there were a couple of significant differences to highlight, which certainly made an impression on me. 
Magic Carpet
Image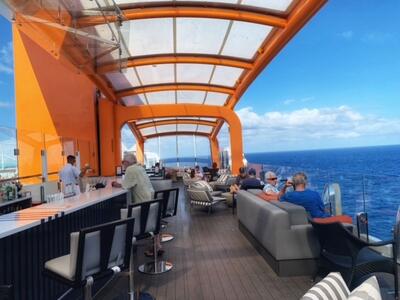 I have to say, before I boarded, I thought perhaps the Magic Carpet was a bit of a gimmick and did not get the fuss. You can't miss the bright orange, tennis court sized space. It juts outs from the side of the ship and can travel 13 stories. (Although it does not move when guests are on it).
On a sea day, we happened to be walking by and saw an open spot and grabbed it. Looking out onto the ocean, it has the most incredible views, and with a semi-opaque covering, it provides just the perfect amount of shade from the hot Caribbean sun.
Next time we cruise, I want to dine on the Magic Carpet. 
Eden
Image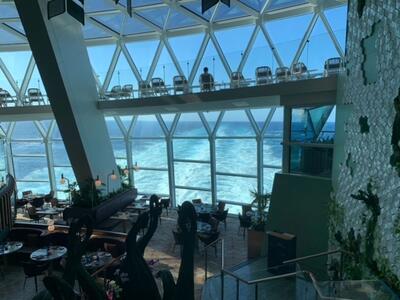 Eden is indeed a hidden gem. Well, at least it was on my cruise. It is a unique venue that ticks a lot of boxes.  Bar, breakfast spot, lunch venue with casual eats, music, and a spectacular dining venue, it deserves a special shoutout. By far, the best meal of our whole trip, we enjoyed a  seven-course meal with impeccable service. I cannot recommend it enough.
On Celebrity Equinox, I spent a reasonable amount of time on Deck 5, enjoying some amazing music in the Ensemble lounge. So at first, I felt a little sad that this area was missing on the Edge. 
But Eden, a green oasis as its name implies, was an idyllic spot. First of all, it was never packed when I was there, and it was easy to get a chair and sit down and listen to music. The area spans three levels, and it is quite massive. The acoustic music was terrific and well geared toward a more serene environment. The splashes of green, wicker chairs and plants made you feel like you were in a jungle on a cruise ship. 
Celebrity Equinox – Key takeaways 
Image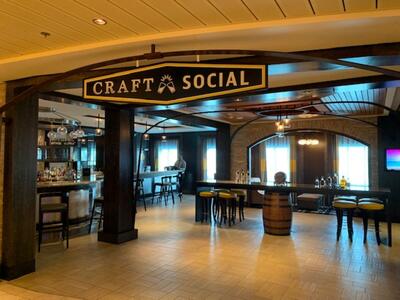 My 10 day journey went by very fast. Here are a couple of the standouts from this cruise:
The top deck on Celebrity Equinox was a big surprise. A natural grass lawn on a cruise ship is something I did not expect to see. Guests get to try their hand at lawn bowling, practice putting, or enjoy a sunbed. There is even a glass-blowing studio, which was quite popular among guests. 
Cool bars – Craft Social is an excellent gastropub with a fantastic ambiance. If you want to catch a sports game, this is the go to spot.  Another favorite is the Ensemble bar, which is everything you would think of in a lounge. A little dark, with red couches, it is the perfect atmosphere to have a drink and listen to some music. 
Lots of space - There are lots of hidden gems like a card room and library. If you want to escape, there is a place for you. 
It would like to see more included food options, and the buffet could offer more options in the evening. 
My ocean view cabin was great, and I was surprised at how much I enjoyed it. I could, however, hear a little noise sometimes from the Foyer.
Celebrity Edge – Key takeaways
Image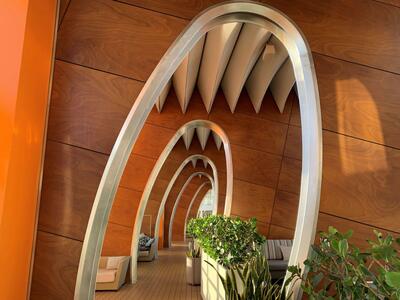 Another fantastic ship; there were a number of great things about this ship: 
Eden is a wonderful addition to Celebrity ships. Dinner at Eden was phenomenal and was one of my favorite evening spots to listen to music. 
Retreat areas – As a suite guest, I had access to the Retreat areas, including a dedicated dining venue. The Retreat area on Edge was quite spacious and had a bar, restaurant, and a small pool. 
The ship is like a floating art gallery, which on a 11 day cruise, gives you time to explore and see things in a different light. 
While I liked trying different main dining rooms, it was not relaxing as a traditional experience.
I was lucky enough to do a ship tour, which was fantastic. I also attended the Captain's Talk which was interesting and fun. 
My cabin was well designed, with lots of light thanks to the giant windows
Due to its size, Celebrity Edge is not too big to visit the Panama Canal.  A definite advantage for cruisers who want a great itinerary on a modern ship.
First experience with Celebrity 
Image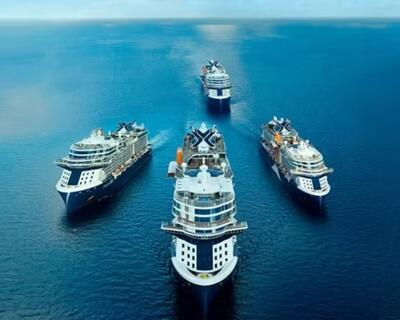 Although these two ships are quite different in design and offerings, they have the common thread of quality associated with the Celebrity brand. This was my first experience with the cruise line, and I have previously sailed on Royal Caribbean and MSC. Overall, I was very pleased with my experience, and I am already looking at more Celebrity cruises. 
Kudos for all the nice little touches, like upgraded hair and bath products in your stateroom, chocolates on your pillow, and chilled fruit waters welcoming you back on board. 

I love the smoke free casino and that you can drop your stuff off in your cabin as soon as you board.  There are no waterslides, arcades, waterparks, or other activities that many people have come expect on big cruise ships. There were so few kids on my sailing, it felt like an adult-only cruise. 

The internet could have been better, and the app would sign me out sometimes, especially on Celebrity Edge.
As with other cruise lines, Celebrity has yet to solve/ effectively deal with the chair hogs. 
The verdict
Image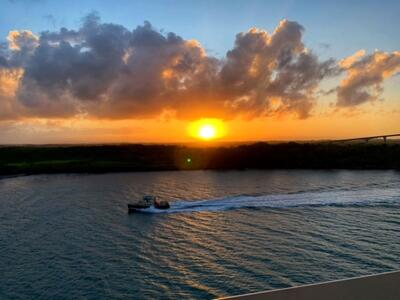 Two long cruises on two different ships, but they were both fantastic, and I came away very impressed with Celebrity. Of course, it is not easy to compare an ocean view cabin on an older ship with a suite on a newer one, but they were both great in their own way, and I would do either again in a heartbeat. 
Although Celebrity Equinox is more of a classic design and quite different than Edge, recent updates make it feel newer, so the age difference between them is not so pronounced. My advice to would-be cruisers is don't count out older ships. Also, one of the benefits of cruising on an older ship, it seemed like a well-oiled machine. 
Prior to this, I had not sailed on anything longer than a 7 day cruise, and I did not give much thought to how the length (and type of itinerary) would have an impact on the cruise itself. But it added substantially to my cruise experience. Sailing on a leisurely 10 day cruise was one of the most relaxing experiences I have ever had. There was only a handful of kids on the ship and a lot of retired guests. This created a super chill vibe. No one seemed overly impatient, hurried, or anxious. 
Although I love cruising on a big ship like Royal Caribbean's Wonder of the Seas, I did not miss many of the big ship amenities. For me, the things I love about cruising - sitting outside, live music and great food were all there.  I am ready to book another Celebrity cruise.