Are you planning to cruise soon with Celebrity Cruises and looking for tips and tricks? You've come to the right place!
Celebrity Cruises is one of the three main brands under the Royal Caribbean Group company. If you've cruised with Royal Caribbean, then you'll probably find that Celebrity Cruises offers a similar but more elevated, refined experience. Think of Celebrity as the older, more grown-up sister to Royal Caribbean.
Offering a refined experience doesn't mean that you'll feel the atmosphere is stuffy. Celebrity's cruises are filled with plenty of trendy entertainment options and activities. You will find Broadway-style performances in the theatre, glassmaking classes on the top-deck and plenty of spots for live music. Celebrity also partners with American Ballet Theatre to bring exclusive performances.
Celebrity's cruise ships are very modern and sleek, ensuring you'll love the upscale experience onboard. Fans of the cruise line love the brand's big ships, excellent food and personalized service. You'll find that Celebrity cruises are structured to be carefree, easy and effortless from the moment you step onboard.
We've complied some of the best insider tips for Celebrity Cruises to ensure you're prepared for your experience onboard.
Understand Always Included Pricing
Image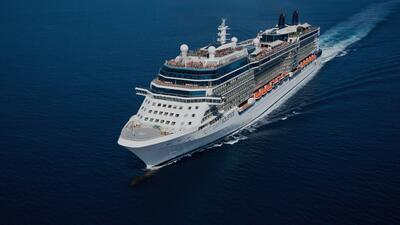 Celebrity has recently moved to a new 'Always Included' price structure when booking reservations. This gives cruisers the most popular amenities conveniently bundled into its cruise fares, including complimentary drinks, internet and gratuities. With everything bundled into one price, you won't have to worry about unexpected expenses onboard. 
This creates an all-inclusive style of cruising, which is more revolutionary and innovative for the cruise industry. Celebrity also offers you the opportunity to upgrade to more premium packages with faster internet, top-shelf alcohol, shore excursion credits and onboard credit. Whether you upgrade your package or not, having everything bundled will cultivate a carefree experience onboard. 
Evening Chic Night
Image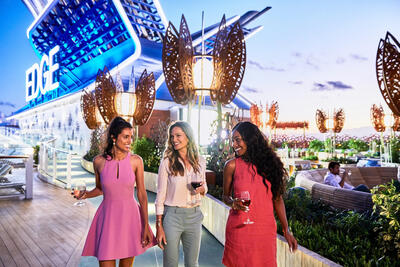 Celebrity sailings don't have a traditional formal night; rather, the cruise line features an evening Chic Night on one night during the sailing. On 7-day sailings, you can expect to have 2 evening Chic Nights while shorter sailings will only have one. 
This is a 'modern reboot' on Formal Night. Chic Night is meant to be both modern and trendy, which is very fitting for the cruise line's brand.
For Chic Night, Celebrity recommends wearing something a little dressier than normal. Again, don't mistake this to mean Chic Night has a stuffy atmosphere. The Chic Night is meant for you to feel like you can shine in whatever way you prefer, as the website explains, "Get glamorous. Get chic. Be sophisticated".
Image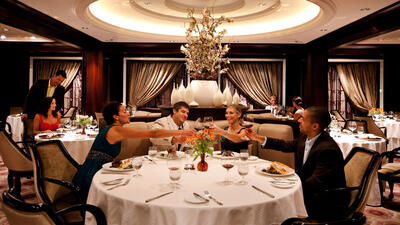 On 7-day sailings, you can expect to have 2 Evening Chic Nights while shorter sailings will only have one. Women should wear a cocktail dress or skirt with an elegant top. Men are encouraged to wear a button-up shirt or sweater with pants or designer jeans, with a sport coat being optional.
Those who want to wear a full tuxedo or evening gown are welcomed to do so! It's your time to shine!
Veranda Balcony Options
Image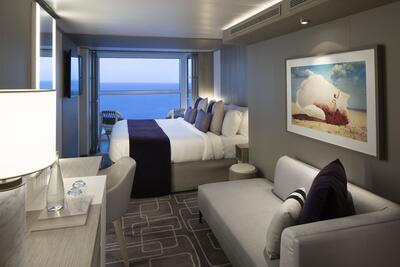 Celebrity's ships reinvent the balcony experience by bringing suite amenities to balcony staterooms. Celebrity offers Aqua Class and Concierge Class Veranda rooms, which are elevated balcony cabins. 
Aqua Class cabins include attractive amenities like early boarding, breakfast and lunch in the Blu Restaurant, unlimited access to Persian Gardens/SEA thermal and complimentary beach towel service. You'll also receive a 10% discount on spa treatments, close proximity to the spa and a personal concierge to arrange spa treatments.  
Concierge Class amenities are slightly different from Aqua Class. These cabins include personalized concierge service, embarkation lounge access, pillow menu, exclusive embarkation lunch, and (rumored) better cabin location. 
Incredible Suites at Sea
Image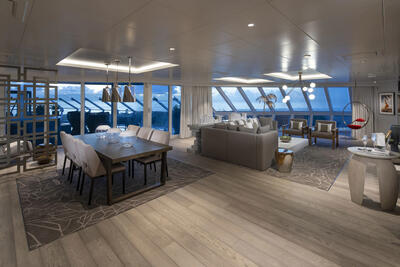 Celebrity's ships have some of the most spacious, over-the-top suites available for cruisers looking to truly elevate their experience. Iconic Suites on the cruise line's Edge Class ships have nearly 2,500 square feet with 2 bedrooms, a dining room, a living room, master bathroom with massive whirlpools and even marble showers. 
If you don't need that much space, Celebrity's Edge Class ships also have multi-room Penthouse Suites. These are closer to 1,600 square feet, still offering plenty of space for your travel party. The Edge Class ships have the most suites with nearly 190 suites of multiple types. You'll be cruising in luxury if you choose to stay in these incredible rooms!
Martini Experience
Image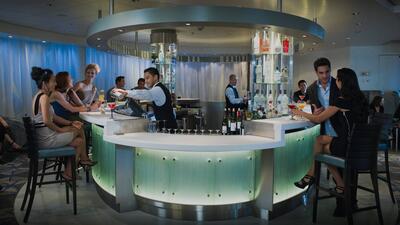 Longtime cruisers of Celebrity love to rave about the cruise line's Martini Bar & Crush Experience.
This isn't your typical bar onboard a cruise ship. This is a totally cool experience where talented bartenders put on a high-energy show and prepare a wide array of martinis.
Choose from classic to contemporary martinis served on an ice-topped bar. You won't want to miss this experience during your Celebrity cruise!
Free Room Service
Image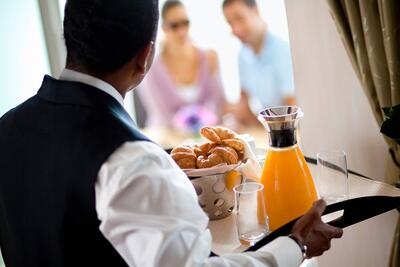 Between 6am and 11pm, cruisers will enjoy free room service onboard Celebrity's ships.
While other cruise lines have started to charge extra for room service, Celebrity has continued to offer complimentary room service. This is a nice perk when late night munchies hit or you have an early morning excursion.
Even if you have no reason other than wanting to enjoy the simple luxury, complimentary room service is a great perk.
It is important to note that orders for room service between 11pm and 6am will have to pay a small fee during these hours.
Try Cafe al Bacio
Image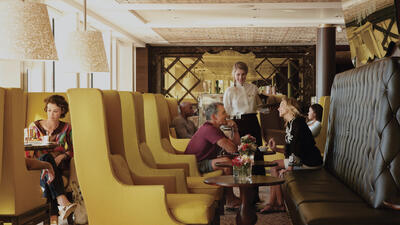 Longtime fans of Celebrity Cruises will tell you that Cafe al Bacio is a favorite option for not only the European ambiance, but the delicious treats and food offerings available.
Many first-timers on Celebrity think that Cafe al Bacio costs extra, but it's complimentary! From pastries to layered cakes, treat yourself to Cafe al Bacio while sailing onboard your Celebrity cruise.
Craft coffee is also available at the cafe and included in some beverage packages. 
Prepare for Relaxation
Image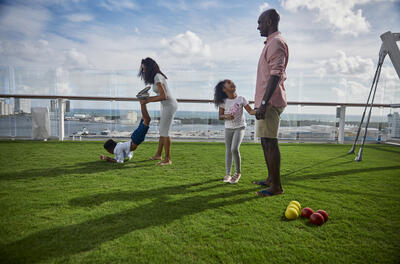 You won't find roller coasters, zip-lines, go karts or waterslides on the top deck of your Celebrity Cruise ship. Rather than packing the top-deck with tons of thrills, Celebrity has chosen to keep its top decks focused on relaxation by keeping a very serene atmosphere. The lounges, pools and hot tubs are very stylish and covered with plenty of areas to relax. 
One of the more unique features for a cruise top-deck is the half-acre Lawn Club onboard Celebrity's Solstice Class vessels. The lawn features real grass that is maintained by full-time greenskeepers who manage the lawn and ensure the irrigation works properly. You can also find hammocks, Adirondack chairs and lawn games in the Lawn Club. 
Check out the Magic Carpet
Image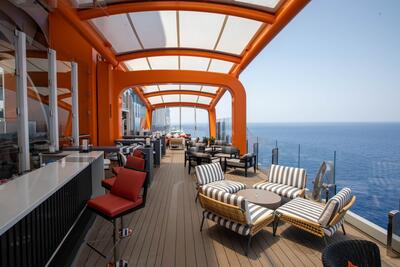 Have you noticed the orange section on the exterior of Celebrity's Edge Class ships? This is the Magic Carpet, which is an incredibly engineered system of platforms that move up and down the side of the ship.
The Magic Carpet serves multiple functions depending on its location and need. It's designed to have comfortable seating with a full bar and space for live music performances. Late at night, the Magic Carpet moves to the top deck and becomes a venue for unique, mouthwatering experiences like Dinner on the Edge.
During the day, you might find the Magic Carpet serving as a tender boarding area. 
The Little Details
Image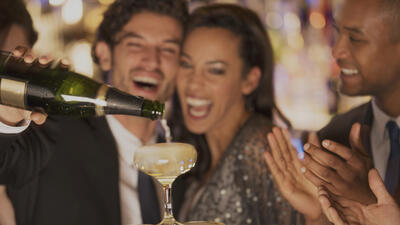 Cruising on Celebrity means you will be treated to thoughtful attention to detail for your entire cruise. Be prepared for welcoming champagne drinks, upscale lounge chairs, cooled towels after a hot day in port, hand rolled towels in the public bathroom, and rotating spreads with the bread basket each night.
These little touches contribute to Celebrity's goal for offering a refined and upscale experience - so be sure to look out for the little details throughout the ship!
Know Your Loyalty Perks
Image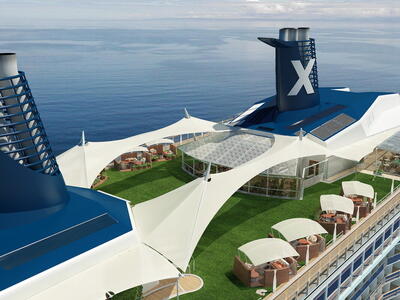 Celebrity has its own loyalty program called Captain's Club that allows cruisers to earn points for each night spent cruising. The program features 6 tiers and points are earned based on the number of nights you are sailing and type of cabin booked. The higher tier you earn, the more perks you'll receive on your Celebrity sailings. These can be very lucrative benefits, so be sure to enroll and plan accordingly based on your Captain's Club status. 
For example, cruisers who earn Elite status will have access to daily coffee house-style breakfast and an evening cocktail hour. Elite-Plus members receive the same perks as Elite but receive two complimentary bags of laundry and discounts on Internet packages and specialty dining discounts. Those who earn the coveted Zenith status will receive a complimentary 7-night cruise along with complimentary streaming Internet, premium beverage package and laundry. 
Sail the Galapagos Islands
Image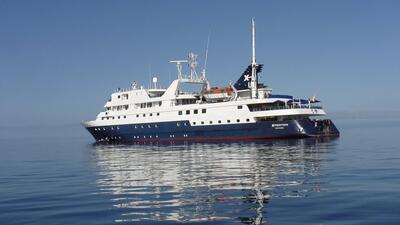 If you've dreamed of seeing the Galapagos Islands from sea, you will want to consider sailing with Celebrity onboard its Xpedition, Xploration and Flora ships. Celebrity is one of the few cruise lines, and the only mainstream cruise line, that offers sailings to this remote destination.
This is a once-in-a-lifetime sailing that will take you on an unforgettable voyage to one of the most untouched islands in the world. Filled with nature and history, the Galapagos Islands are situated off the coast of Ecuador. Celebrity offers a truly all-inclusive experience on its Galapagos sailings with complimentary shore excursions, Internet, drinks, flights, and tips.