Are you a loyal cruiser with Royal Caribbean and looking to branch out to other cruise lines?
You might want to consider cruising with Celebrity Cruises. Anyone with Crown and Anchor status through Royal Caribbean's loyalty program can receive benefits between the two cruise lines. This is because Royal Caribbean and Celebrity are owned by the same parent company, Royal Caribbean Group. 
Although technically sister companies, Royal Caribbean and Celebrity Cruises offer different experiences. Royal Caribbean is more focused on offering a family-friendly vacation with very affordable pricing and large ships with plenty of thrills and amenities. Celebrity Cruises focuses on offering a more upscale, refined experience with slightly higher pricing. Both have plenty to offer for all cruisers depending on your travel style and needs.
Branching Out
Image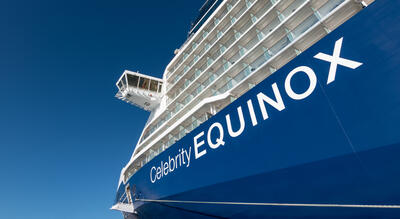 As a Diamond Plus member on Royal Caribbean, achieving the top-tier Pinnacle status feels like it's a lifetime away. I will be lucky to get there before retirement! 
I've never cruised on a Celebrity cruise ship, but I've been intrigued by some of their unique itineraries that Royal Caribbean does not offer. For example, Celebrity Cruises has a seasonal itinerary around Cape Horn that sails between Argentina and Chile. 
They also have some super cool itineraries to Antarctica, India, Sri Lanka and Egypt. These are all places we would love to visit on a cruise ship. If our budget was endless, I would also love to try Celebrity's Galapagos Islands sailings. Maybe if I win the lottery!
Image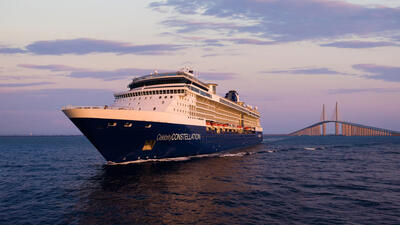 Since my husband and I don't have any children yet, we are interested in traveling to some of these cool locations that Royal Caribbean doesn't typically offer. We aren't as focused on a family-friendly experience, so we think it might be a good time to look at Celebrity's itineraries so we can visit some of these more unique locations. 
Sailing around Cape Horn is on our bucket list, so we've put down a deposit on a March 2023 sailing (fingers crossed!). Before booking our reservation, I did some research to ensure we could enjoy some of our C&A benefits onboard our Celebrity sailing. 
Most importantly, we love the complimentary drinks we receive on Royal Caribbean as Diamond Plus members. We've never purchased the beverage package because we find the C&A perks are plenty for us on vacation. We also love the lounge access and free internet days that we receive through the C&A program. 
Loyalty Match Program
Image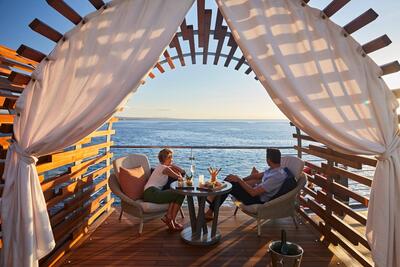 Through Celebrity's Loyalty Match program, cruisers can enjoy membership benefits between both Royal Caribbean and Celebrity Cruises. Having a shared status allows you to have access to comparable benefits across the brands. The benefits are unique to each line, but should be somewhat comparable between the two.
It's important to note that the top tiers on each line cannot be received through the Loyalty Match program. For C&A members, you can only receive benefits up to Elite level on Celebrity sailings. Similarly, Captain's Club members can only receive up to Diamond status benefits when sailing with Royal Caribbean. 
Therefore, to earn Diamond Plus or Pinnacle on Royal Caribbean, you'll have to earn these the old fashion way by racking up points. You'll need to do the same if you want to earn Elite Plus or Zenith status on Celebrity. 
Also, it should be noted that the lowest tier on each cruise line (Gold on Royal Caribbean and Classic on Celebrity Cruises) will not receive any reciprocated benefits.
Additionally, while you can enjoy benefits between the two cruise lines under the Loyalty Match program, sailing nights only count towards each respective cruise line. Points are only earned for the brand you sailed on. 
Captain's Club Benefits on Royal Caribbean Sailings
Image
Most Celebrity tiers (excluding Select) will receive Diamond benefits on Royal Caribbean. Diamond members are eligible to receive 4 free drink vouchers each day of their sailing, up to $13 value for each drink. Diamond members also receive nightly access to the Diamond Lounge with free appetizers, discounts on suites and balcony rooms, one free photo and one free day of Internet access. 
Below is a breakdown of the reciprocated benefits you'd receive sailing on Royal Caribbean with Celebrity's status. 
Image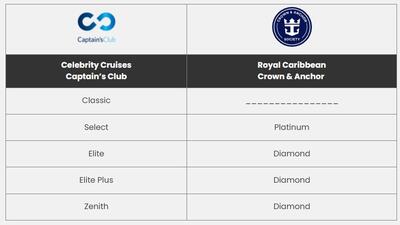 Crown and Anchor Benefits on Celebrity Sailings
Image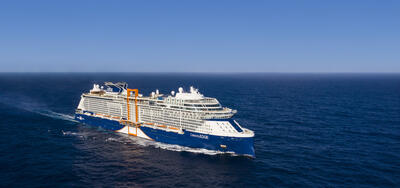 Likewise, Royal Caribbean Crown and Anchor cruisers can receive comparable benefits onboard Celebrity ships. For example, as a Diamond Plus member on Royal Caribbean, I will receive Elite benefits on Celebrity.
Noteworthy Elite benefits include access to Captain's Club Coffee Lounge and unlimited complimentary drinks from Captain's Club each night. Elite members also receive discounts on internet packages and photo packages, along with complimentary dry-cleaning for one time and complimentary bag of laundry on each sailing.
Here's a breakdown of reciprocated Captain's Club benefits that Crown and Anchor members will receive on Celebrity sailings. 
Image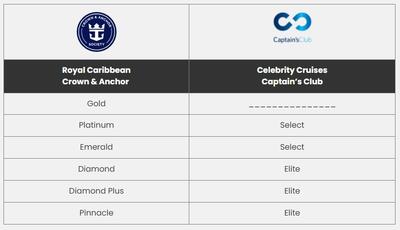 Enrollment
Image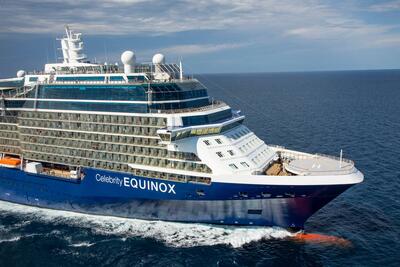 If you are currently enrolled in both Royal Caribbean's Crown and Anchor program and Celebrity Cruises Captain's Club, you will automatically receive your benefits for your sailing on each brand. 
Before booking our 2023 sailing on Celebrity, I wanted to ensure that we received the benefits we are entitled to. As stated on Royal Caribbean's website, Crown and Anchor members who are not a member of Captain's Club and plan to sail on Celebrity Cruises should call the Loyalty Service Center. 
I also chatted with Celebrity on their website to see if I needed to enroll in Captain's Club before booking the cruise. The representative advised me to call the Loyalty Service Center to make sure I was enrolled before booking. This would ensure I had a Captain's Club membership number to add to the reservation. 
Calling Celebrity was very easy and they quickly enrolled me and my husband in Captain's Club. 
Upon further investigation, it appears my Captain's Club membership number was already available in my Royal Caribbean account the entire time. By logging in to my account and clicking Profile, I found an option for 'My Loyalty'. Clicking on this tab brought me to a screen that shows my loyalty membership numbers for Royal Caribbean, Celebrity Cruises, and Azamara Cruises, all of which are owned by Royal Caribbean Group.