When booking a cruise, many people dream about waking up and having breakfast on their personal balcony watching the ship glide through the ocean. There are, however, different cabin categories that are available to appeal to cruisers of all budgets and preferences. 
Interior rooms are the cheapest available on any ship, and while they do not offer any natural light, they are a great value that allows you to still enjoy all of the standard amenities onboard the ship. In other words, you will be able to hang out by the pool, dine in the same restaurants, and watch the same entertainment as someone who booked an ocean view or balcony cabin. 
Additionally, all staterooms are equipped with the same basic amenities, including a television, closet, mini-fridge, safe, vanity area with mirror, and ensuite bathroom. 
Here are 10 reasons why you should book an interior room on your next cruise.
Able to allocate money towards other cruise add-ons
Image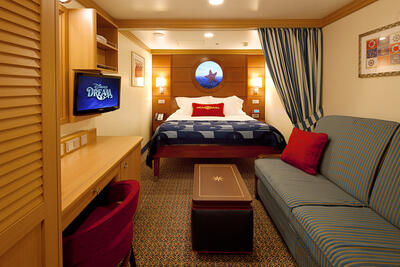 Since these are the cheapest types of accommodations onboard, you will be able to stretch your vacation budget a little further. Whether that means purchasing awesome shore excursions, a drink package, or splurging on specialty dining, these experiences will make your cruise even more memorable! 
Even if you do not put that money towards cruise add-ons, the cost savings between an interior and other cabin categories may allow you to purchase other essentials, like airfare. You do not want to be stuck waiting to purchase last-minute flights, as you will pay exponentially more than if you were to book them a few months out. 
Plus, if you are flying, you will also need a hotel for the night before; you never want to fly into your embarkation port the day the ship is scheduled to depart. 
In short, booking an interior room means that you will have more flexibility with your vacation budget. 
Read more: 16 hidden cruise ship extra charges you should know about (2024)
Pitch-black darkness offers a good night's rest
Image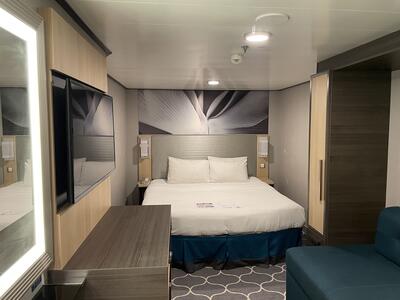 Do you sleep best in the dark? You will love an inside room, then. Since there is no natural light, once you turn off the stateroom's artificial lights, you will be left sleeping in complete darkness. 
Cruise fans who frequently book inside rooms usually talk about how great they can sleep because they are not woken up by the sun. 
Of course, you will want to ensure that you have plenty of alarms set to prevent yourself from accidentally sleeping through morning activities or your scheduled shore excursion departure time. 
One cabin hack is to purchase and bring a sunrise alarm clock. These have a light that gradually comes on in the half-hour leading up to your pre-set wake-up time to simulate a sunrise, and will wake you up more gently than the ringing of your mobile phone's alarm. 
Read more: Best rooms on a cruise ship: Deck, location, & category
You are booking a port-intensive itinerary
Image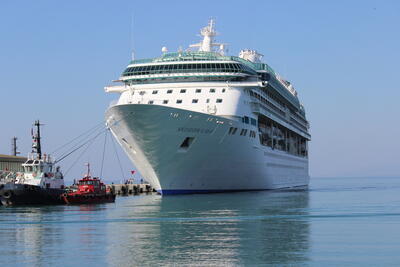 Certain itineraries lend themselves more to booking certain stateroom categories. If, for instance, you are leaning towards a port-intensive itinerary, or one where you have more days in port than at sea, you will not be spending much time in your stateroom. In fact, the majority of your days will be spent ashore! 
With that, your cabin will be a place for you to rest and get ready for the day's adventure. There will be fewer opportunities for you to sit out on a balcony and watch the ocean pass by. 
Instead, it might be smart to save some money by booking an interior room. This way, you'll be able to splurge on one-of-a-kind shore excursions in port!
The first time I went on a Mediterranean cruise, I was perfectly satisfied with my interior room. Since I was spending all day ashore exploring ports like Valencia, Spain and Rome, Italy, I wanted to take in all the ship had to offer at night. This meant that I was rarely, if ever, in my stateroom other than to sleep! 
Solo cruisers will have to pay far less
Image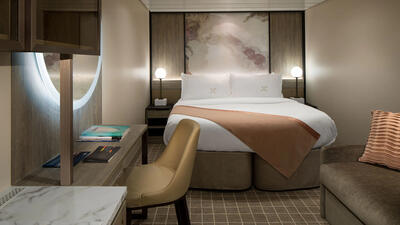 Traveling solo? Unfortunately, most cruise lines charge a single supplement fee. This means that you will be paying the price of two passengers in standard cabin categories. While you should try and sail on a ship with solo cabins, this is not always possible, especially since they're often few and far between and booked up in advance. 
Staying in an inside room means that you will be paying less than if you were to book a balcony. Plus, since you'll be alone, you will not be compromising on storage space; there will be plenty for one person! 
Read more: I took my first solo cruise on Norwegian Cruise Line. After 5 nights, here are the pros and cons of cruising alone
You can cruise more frequently 
Image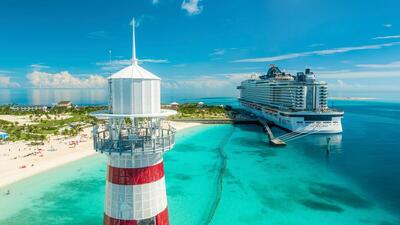 If you love to cruise, you are probably wondering how you can afford to do so more frequently. One way is to book an interior room. The money you save on your accommodations will allow you to set sail more often, allowing you to explore different cruise lines, ships, and ports of call. 
No curtains to close when in port
Image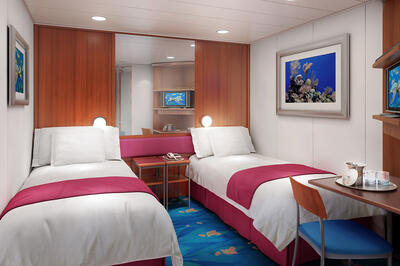 When docked and staying in an ocean view or balcony room, you will want to ensure that you are covered up before stepping out of the bathroom. You never know when another ship will pull in beside you, allowing those across the pier to look directly inside of your room. 
In these rooms, there's less privacy than you might think! In an interior cabin though, there are no concerns of this. Due to the lack of windows, there is no way that anyone can view in (or out) of the room. 
Read more: 15 Things You Should Never Do in Your Cruise Ship Cabin
Not all inside cabins lack views 
Image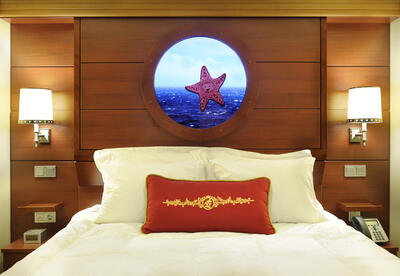 It is important to know that not all interior rooms lack views! You may be sailing on a ship that has inside rooms with windows that have a view of the interior of the ship. 
On Carnival Glory, for instance, you may stumble upon a room called "Interior with Picture Window." While more costly than a standard interior room, this stateroom features a picture window that allows you to observe the deck outside. 
Similarly, Carnival Glory has also interior staterooms with portholes. These windows are smaller than the picture window; however, they actually have an ocean view!
Image
Some Royal Caribbean ships -- namely Oasis and Icon Class -- have cabins with windows that overlook certain neighborhoods, such as the Boardwalk or Central Park. Some also overlook the Royal Promenade, too, on Voyager, Freedom, and Oasis Classes. 
While you won't be booking these rooms for the view itself, it is a great compromise to get some light in the room without going over budget. 
You'll want to spend more time around the ship
Image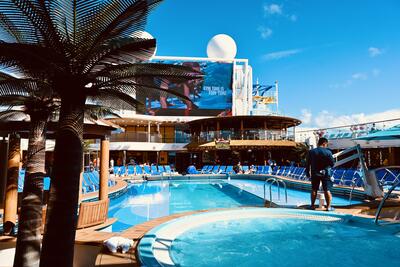 Without an ocean view, it is unlikely that you will want to act like a hermit and hide inside your cabin. Instead, you will want to experience all of the other stuff onboard, whether that is the pool deck, scheduled activities, and entertainment, or just hanging out at a bar. 
If you had your own balcony, you might find yourself returning to your stateroom more than you anticipated and missing out on onboard programming. 
Read more: 40 Fun Things to Do on a Cruise Ship
There's a possibility you could bid to upgrade your stateroom
Image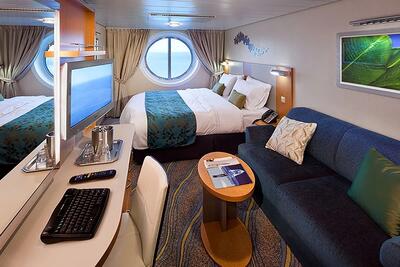 Some cruise lines allow you to bid to upgrade your cabin. While this is never a guarantee, you can always try and see if you can score an upgrade to an ocean view or balcony cabin. If you are lucky, you will win an upgrade and pay less for the cabin than you would if you outright booked it. 
Once when sailing on Allure of the Seas, my travel companion wanted to upgrade from an ocean view room with a window to a balcony. While we got a room overlooking Central Park instead of the ocean, we only paid $100 altogether and enjoyed having this private verandah to sit on. 
Of course, if you know that you'll be unhappy in a room with no light, you should not rely on getting a cabin upgrade. It's great if you get the opportunity to score a higher category stateroom for less; however, since more and more ships are sailing near or at full capacity, you may not be able to bid or pay for the room that you want without going over budget. 
Read more: 11 easy ways how to get a cabin upgrade on a cruise (2023)
You will get the same service that you'll get in other cabin categories 
Image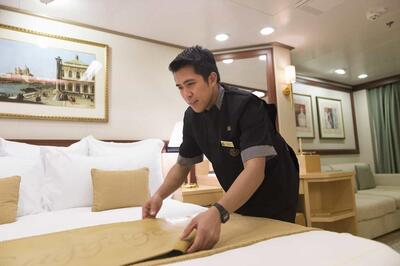 All rooms on a cruise, no matter whether it is an interior or balcony cabin, have a cabin attendant assigned to them. 
This is the person responsible for making sure that your cabin is clean and tidy throughout the cruise and whose responsibilities include refreshing your towels, making your bed, emptying the trash, delivering important disembarkation documents, and even leaving fun towel animals! 
Outside of your cabin attendant, other crew members won't know what category of room you are staying in, so you will receive the same service as all other passengers.