If you have questions about what to do on a cruise, don't worry: you'll be anything but bored.
Activities on a cruise ship run the gamut from relaxing and quiet to exhilarating and high-energy. Below, we've listed the top 40 most popular and, perhaps, surprising cruise activities if someone you know needs a little convincing to give sailing a try.
So, what is there to do on a cruise ship? Check out our picks, and once onboard, check your daily schedule for a list of what's happening, where and when.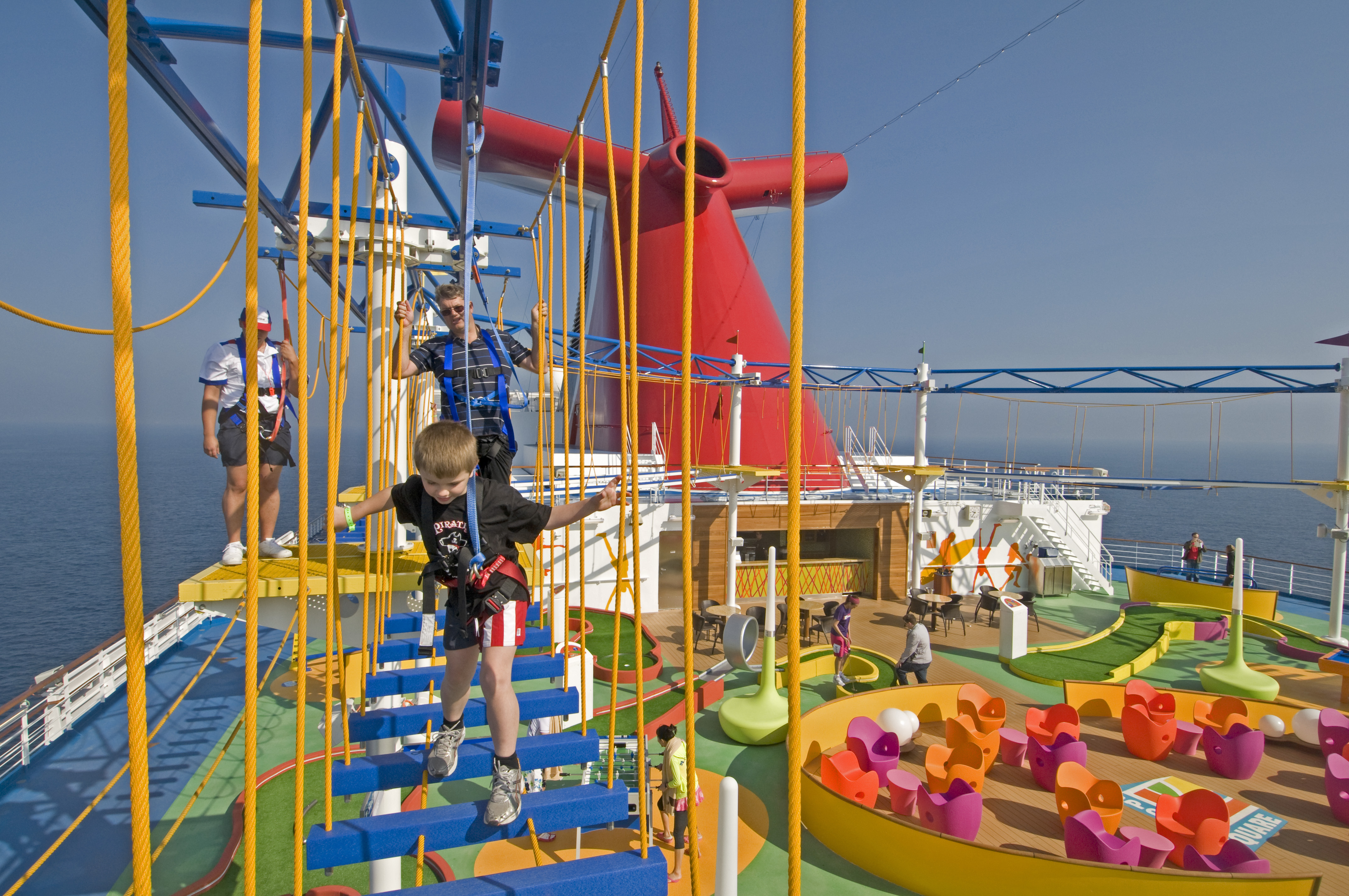 1. Adrenaline Boosters
If you're a traveler who enjoys thrills that will make your heart pound, you'll find plenty on a cruise. Check out Carnival's aerial bicycle SkyRide and Bolt, the first roller coaster at sea; Norwegian's go-karts; Royal Caribbean's bungee trampoline, Ripcord by iFly skydiving simulator, and FlowRider surfing and boogie boarding simulator.
You'll also find ziplining (Royal Caribbean and MSC), rock climbing (Norwegian and Royal Caribbean) and ropes courses (Carnival and Norwegian) among the offerings on several lines' ships.
2. Arcade and Casino Play
Nearly all major cruise lines' ships feature for-fee onboard arcades. Some are designated for kids only, while others are open to all passengers. Additionally, kids clubs might offer video game consoles with gaming competitions appearing on the daily schedule.
Meanwhile, select NCL ships are home to Galaxy Pavilion, a virtual-reality room that makes participants feel like they're hang gliding, on safari or walking a tightrope. NCL and Royal Caribbean also include laser tag options for those who enjoy gaming with a more physical component.
If you prefer gambling to gaming, you can head to the casino; most, but not all, ships have them. If you're an avid gambler or really want to test your luck, check the daily schedule to see if there's a gambling tournament you'd like to participate it.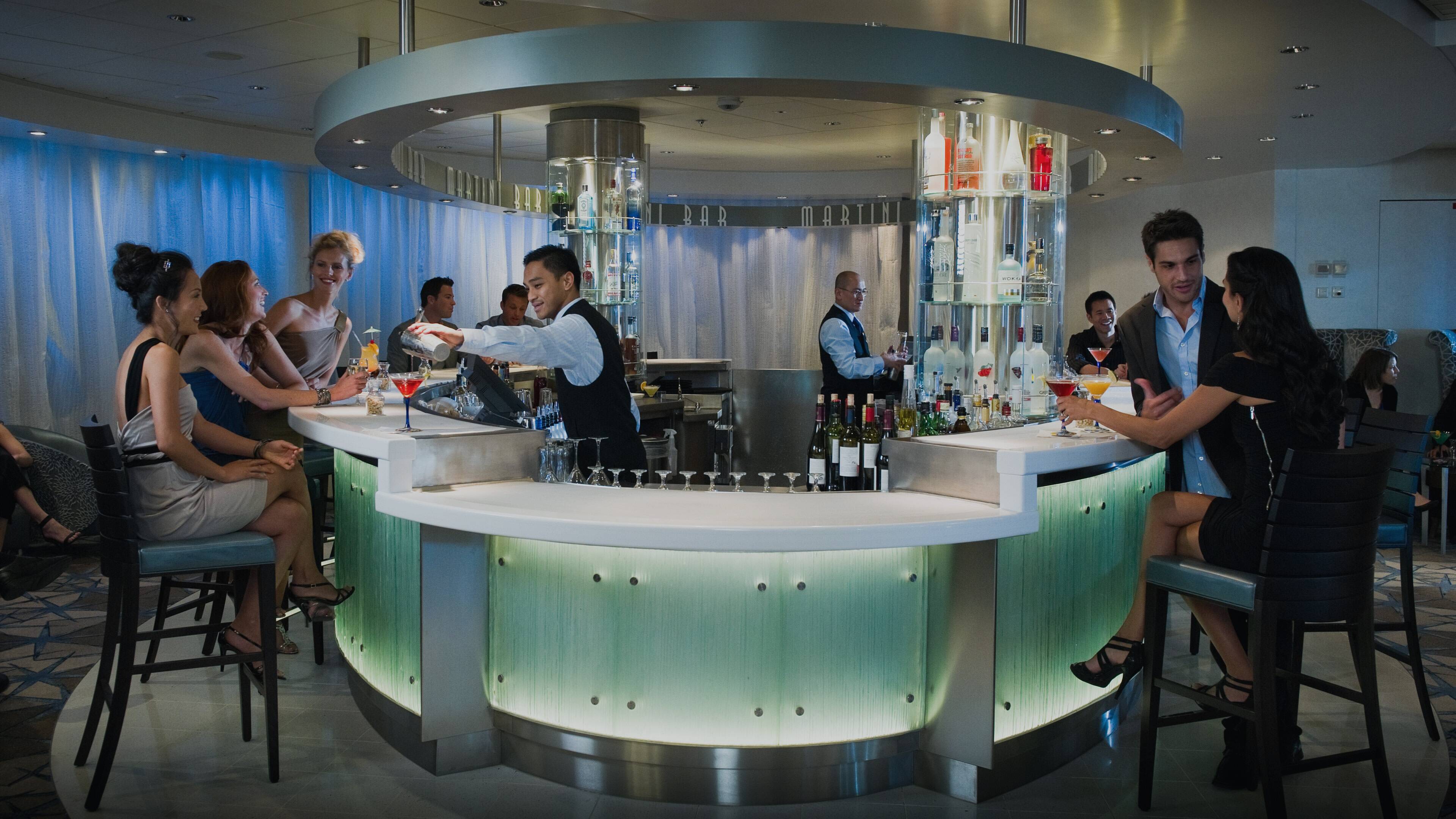 3. Art Collecting and Appreciation
Although they seem to be fading onboard, art galleries still exist on many ships. Cruisers can attend art talks and shows (often with free alcoholic beverages) or simply stroll through the gallery to view and appreciate what's for sale, whether they choose to make a purchase or not.
Note that most cruise lines partner with Park West, a well-known gallery that can sell you a number of works, even if they aren't necessarily available onboard -- no bidding required.
4. Arts and Crafts
From scrapbooking and knitting to jewelry making, crafty cruisers can find plenty to interest them when they sail. Specific crafts vary from ship to ship and sailing to sailing, so be sure to check your daily list of onboard events.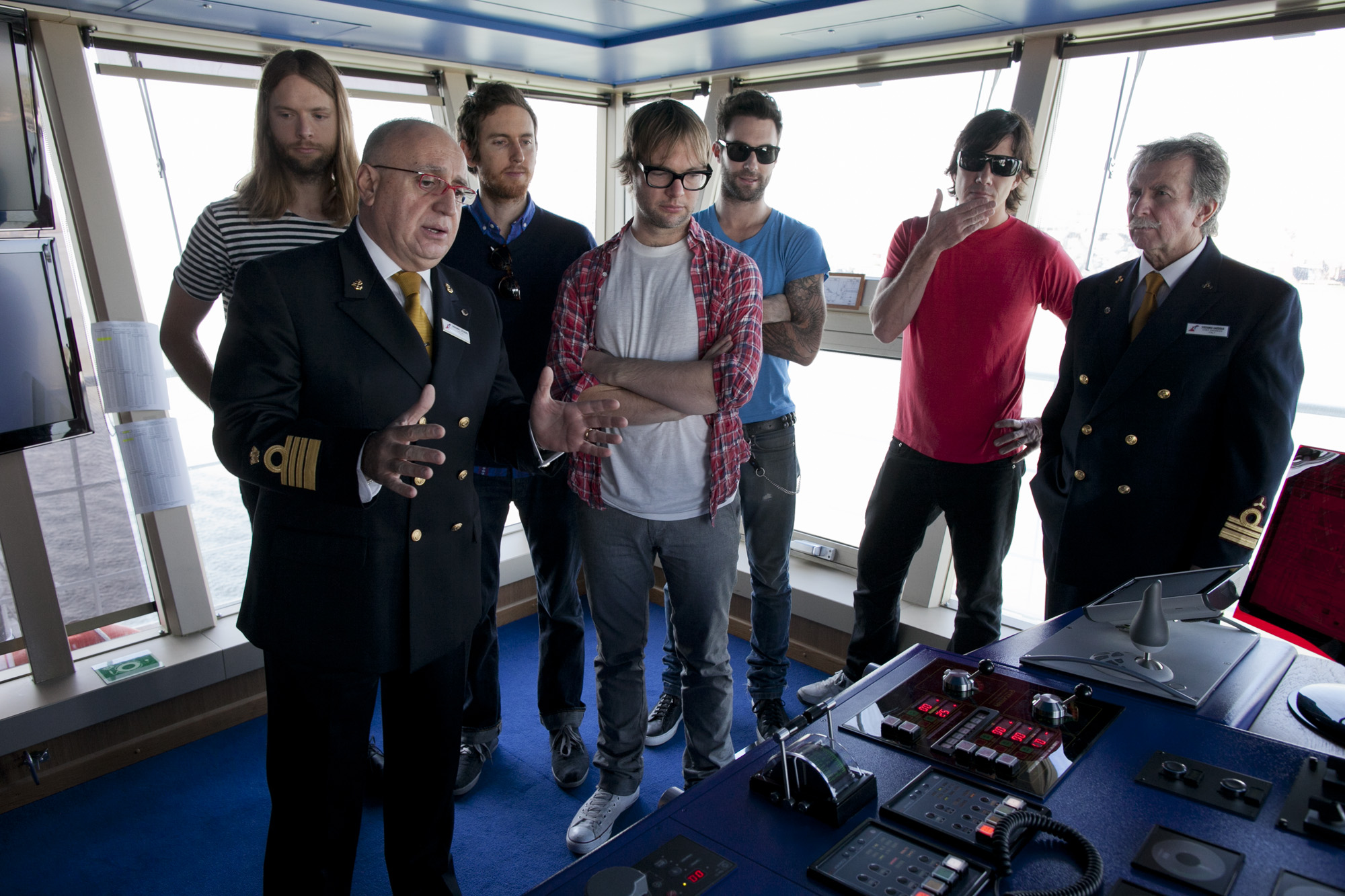 5. Behind-the-Scenes Tours
Eager to learn what makes a ship operate smoothly? If you're desperate to see what makes it all tick, see if your ship runs behind-the-scenes tours. These can show passengers the inner workings of areas like the galley, the bridge and backstage in the theater.
Normally, these tours come with a fee, and it's not always cheap. However, it's worth it if you have a curious mind. The cost also often helps to keep numbers small, ensuring a more intimate experience.
Royal Caribbean, for instance, has started to offer their All-Access Tour again. Note that cameras are not permitted while on the tour.
As of September 2022, Carnival's "Behind the Fun" tour is paused. When it is offered, however, it is only available for purchase onboard at the shore excursions desk. Pricing ranges from $55-$95/per person, and the minimum age is 8. 
6. Bingo
This classic pastime is available on voyages with just about every mainstream cruise line. There's a cost, but you can play several cards at once. Although most prizes are cruise lined branded swag, some -- including cash and free cruises -- are more than worth the price of admission.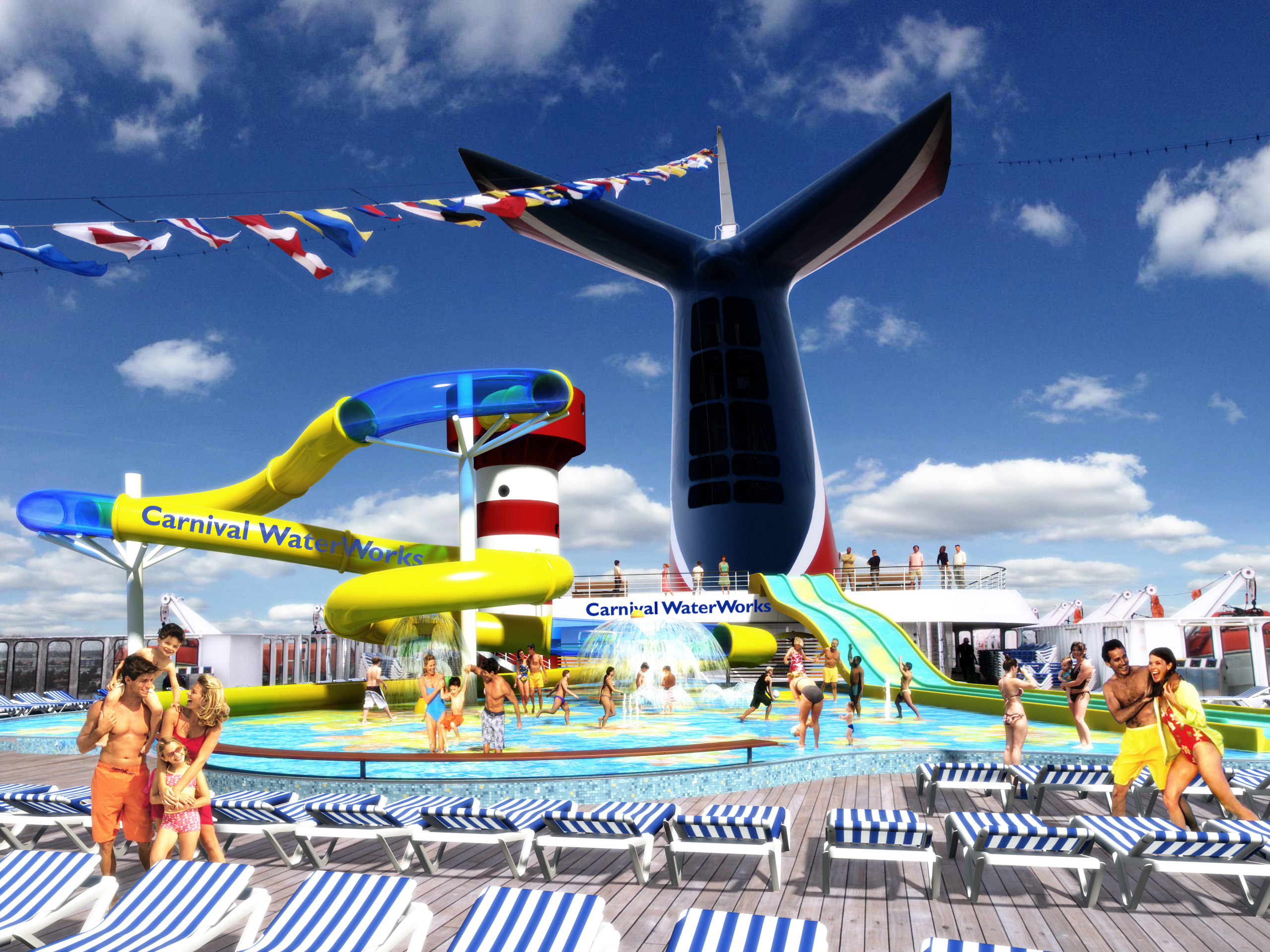 7. Charity Work
If you're the volunteer type, vacation is as good a time as any to give back. If you're sailing with Carnival, check out Groove for St. Jude, where passengers pay a modest sign-up fee (donated to St. Jude Children's Hospital) to have a member of the entertainment staff teach them a dance.
If you're sailing with any of the Carnival Corp. brands -- which include Carnival, Holland America and Princess -- you can be a part of On Deck for a Cure. For a nominal entry fee (donation), you'll walk a 5k (3.1 miles) around your ship's outer deck to benefit cancer research. Fathom shore excursions, which set travelers up with volunteer opportunities in port, are also offered by select Carnival Corp. ships.
8. Cooking Classes and Demos
For culinary wizards, many cruise ships make cooking classes available. While Carnival features pizza-, pasta- and sushi-making, Royal Caribbean teaches kids how to decorate cupcakes. Note that Carnival Kitchen is currently only available on the Carnival Panorama and Mardi Gras. Expect to see it on the much anticipated Carnival Celebration and Carnival Jubilee. 
On certain HAL vessels, a partnership with America's Test Kitchen makes for a fun time where anyone can sit in on cooking demos hosted by members of the onboard culinary staff or pay a fee to actually participate.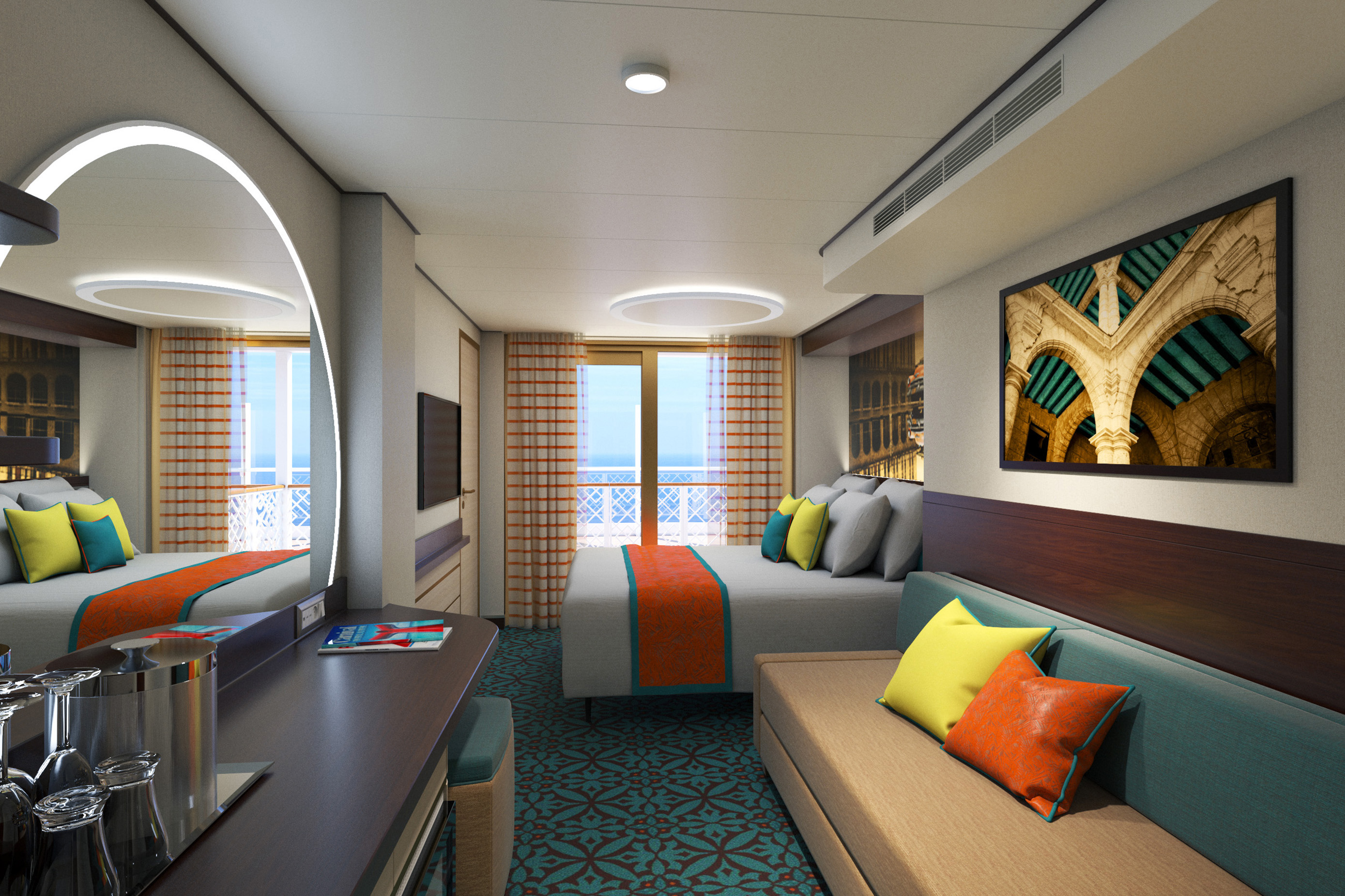 9. Dancing
Get your groove on whenever the mood strikes with a plethora of opportunities to shake your groove thang. (Yes, I said "thang.") Poolside line dancing is a favorite pastime of cruisers, generally in the evenings. If what you're really looking to do is learn how to dance, some ships include lessons in their daily programming. We've seen everything from waltz to tango and even salsa represented.
And, if you prefer something a bit less organized, go clubbing instead. Just about every ship has a disco where you can cut a rug into the wee hours of the morning.
10. Dining
What would cruising be without its myriad of dining options? Some -- like the main dining room, buffet, afternoon tea and some room service -- are included in your fare, while alternative restaurants provide more flexible options and varied cuisine, often for an added price. Alternative eatery fare might include steak, burgers, burritos, pizza, Asian, Italian and French, with some venues boasting delightful quirks.
Our favorites are Celebrity's Le Petit Chef, where projections of a tiny culinary master are viewed on your tabletop as he prepares your meal; Celebrity's Eden, where acrobats surround you as you order from a menu of creatively prepared dishes themed around the four elements; Royal Caribbean's Sorrento's pizza; Carnival's Guy's Burger Joint; and Norwegian's The Local, featuring pub grub.
If you're sailing Princess and want a bit of romance, book the Ultimate Balcony Dining experience, where a waiter will serve you and your partner a multicourse alfresco meal on your stateroom balcony.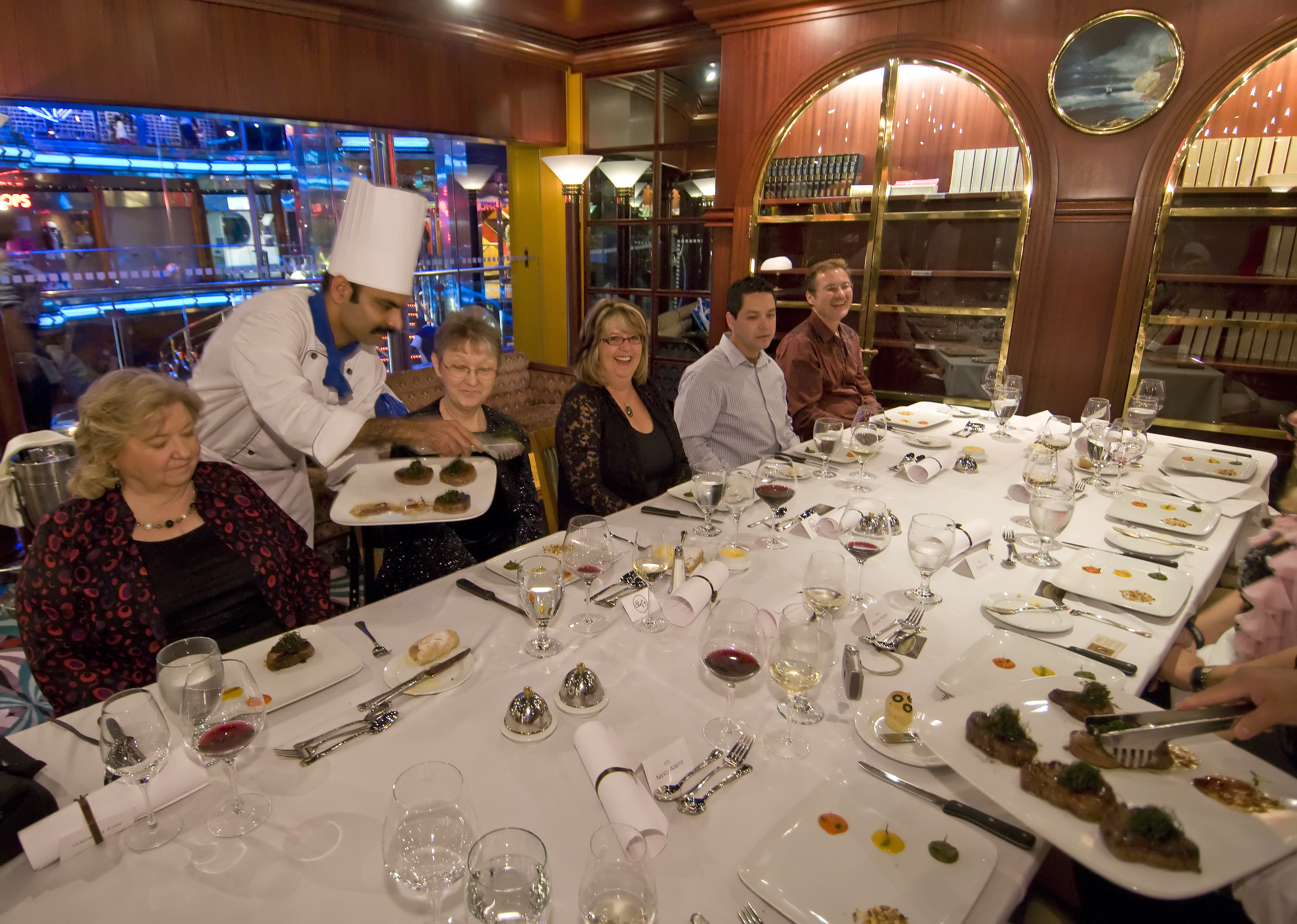 11. Drinking
There's far too much to say about cruise drinks in such a short amount of space, but they're plentiful, with menus often touting fruity cocktails made for days spent lazing in the sun. Depending on how much you plan to consume, an alcohol package could be a smart idea.
In terms of bars, you can't go wrong with an atrium bar for people watching, a piano bar for singalongs, or an onboard pub or sports bar for a great selection of beers -- sometimes even the line's own microbrews.
For "I can't believe that's on a ship" tipples, check out Royal Caribbean's Rising Tide Bar and Bionic Bar. The former moves up and down between decks, while a robotic arm prepares your orders at the latter. On NCL, the ice bar is gimmicky but great if your goal is to literally chill, and you'll want to head to the Venchi Cioccogelateria & Coffee Bar on the newest MSC ships for a selection of beverages made with Italian chocolate.
Our advice is to branch out and try new beverages, especially if you purchase a beverage package. Ask the bartender what their go-to drink is, or see if they can make you something one-of-a-kind!
12. Enrichment Seminars
Learning is a never-ending process, so it makes sense that there would be chances for enrichment on vacation, too. On a cruise, you might find talks related to the areas you're visiting, health and wellness evaluations or shopping seminars used to try to sell you something.
Higher-end lines, such as Seabourn, Viking Ocean or Cunard, bring dedicated local experts onboard to give lectures on local flora and fauna, history and outer space.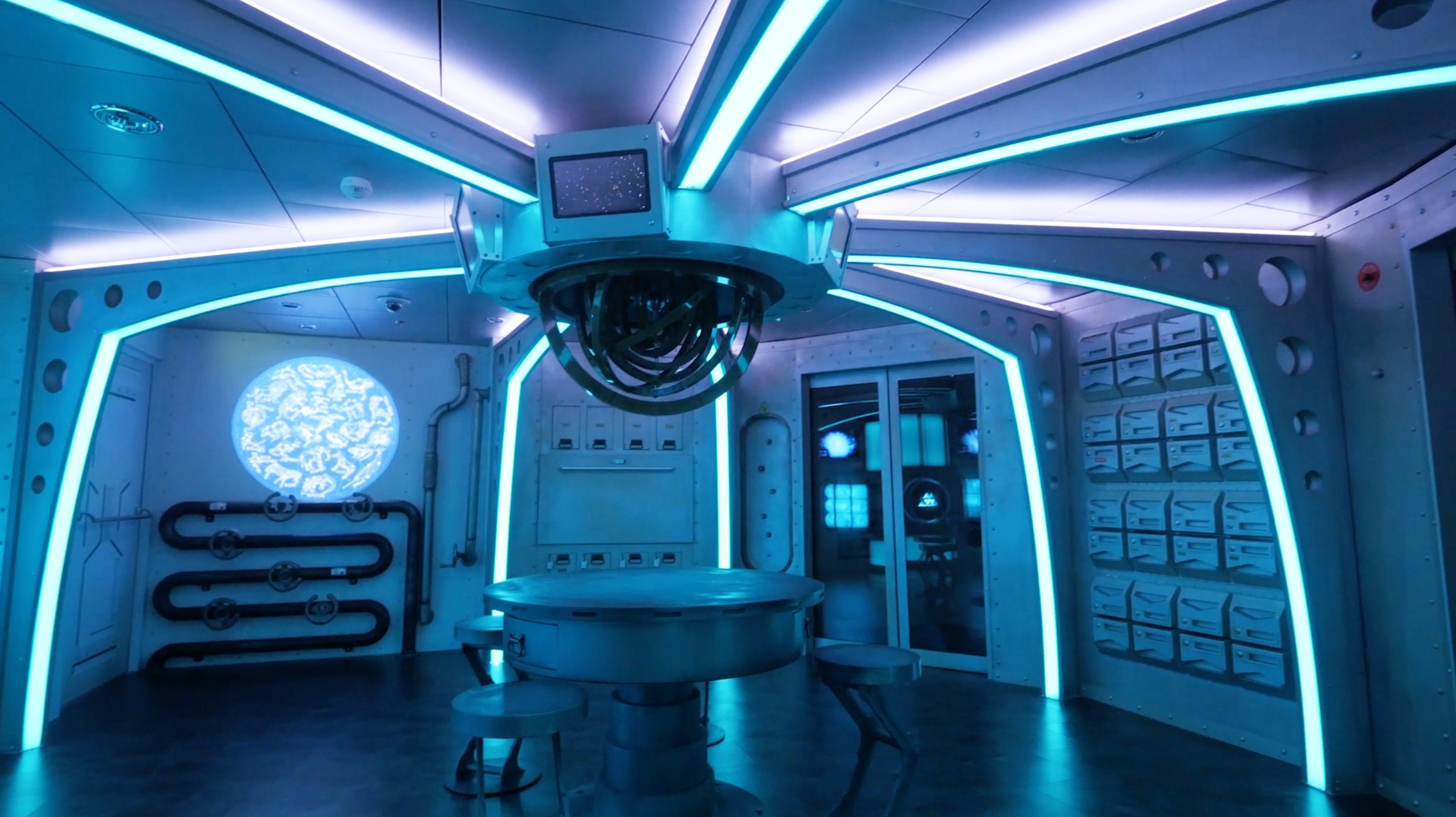 13. Escape Rooms
On select Royal Caribbean, Norwegian and Princess ships, passengers can sign up to try their luck beating various escape rooms. Small groups of cruisers work together to find clues, solve puzzles and decipher riddles that allow them to escape from a tiny room in which they're voluntarily confined. Some lines charge a fee.
14. Excursions
So far we've discussed what you can do on your cruise. But what about when you leave it? Each ship has a shore excursions desk when you can sign up for tours. Although most lines charge for the privilege, some luxury lines include basic options in their pricing.
The choices are extensive; we've seen them all over the spectrum, including charter bus tours that don't involve much walking, local culinary adventures, historic walking tours, all-inclusive beach breaks, adventurous pursuits like ziplining or cave tubing, and active selections like hiking or horseback riding. No matter what you choose, you'll see a snippet of the port you're visiting in a safe way.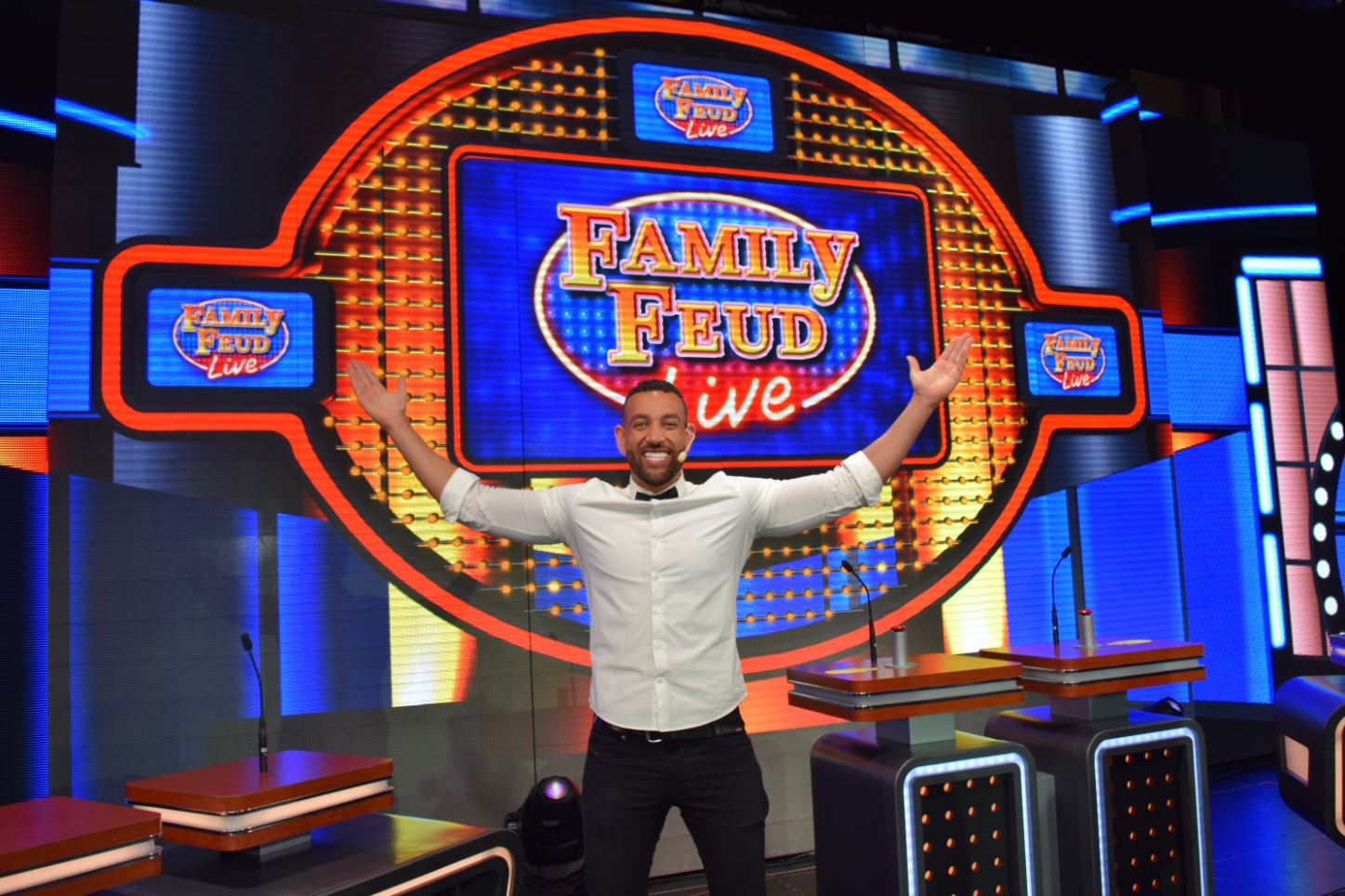 15. Game Shows
Live, interactive game shows are a cruise line staple. Across the major brands, you're likely to see titles like Battle of the Sexes, the Newlywed/Not So Newlywed or Love and Marriage game, and Quest, an adult scavenger hunt that often gets weird and wacky.
Some lines, however, have found ways to take game shows up a notch. Carnival, for example, hosts Hasbro, the Game Show, where volunteers participate in giant versions of popular board games on stage to win prizes. For its part, Princess Cruises introduced The Voice of the Ocean, at at-sea take on popular singing competition show The Voice.
16. Sweeping Views
Another mainstay on every voyage is the amazing views. Whether from the railings of the upper decks during sailaway, the floor-to-ceiling windows of your ship's observation lounge, your own cabin's balcony or a specialty viewing area -- such as Celebrity's North Star or Two70, or MSC's Bridge of Sighs -- take some time to enjoy the passing scenery and a sunset or two.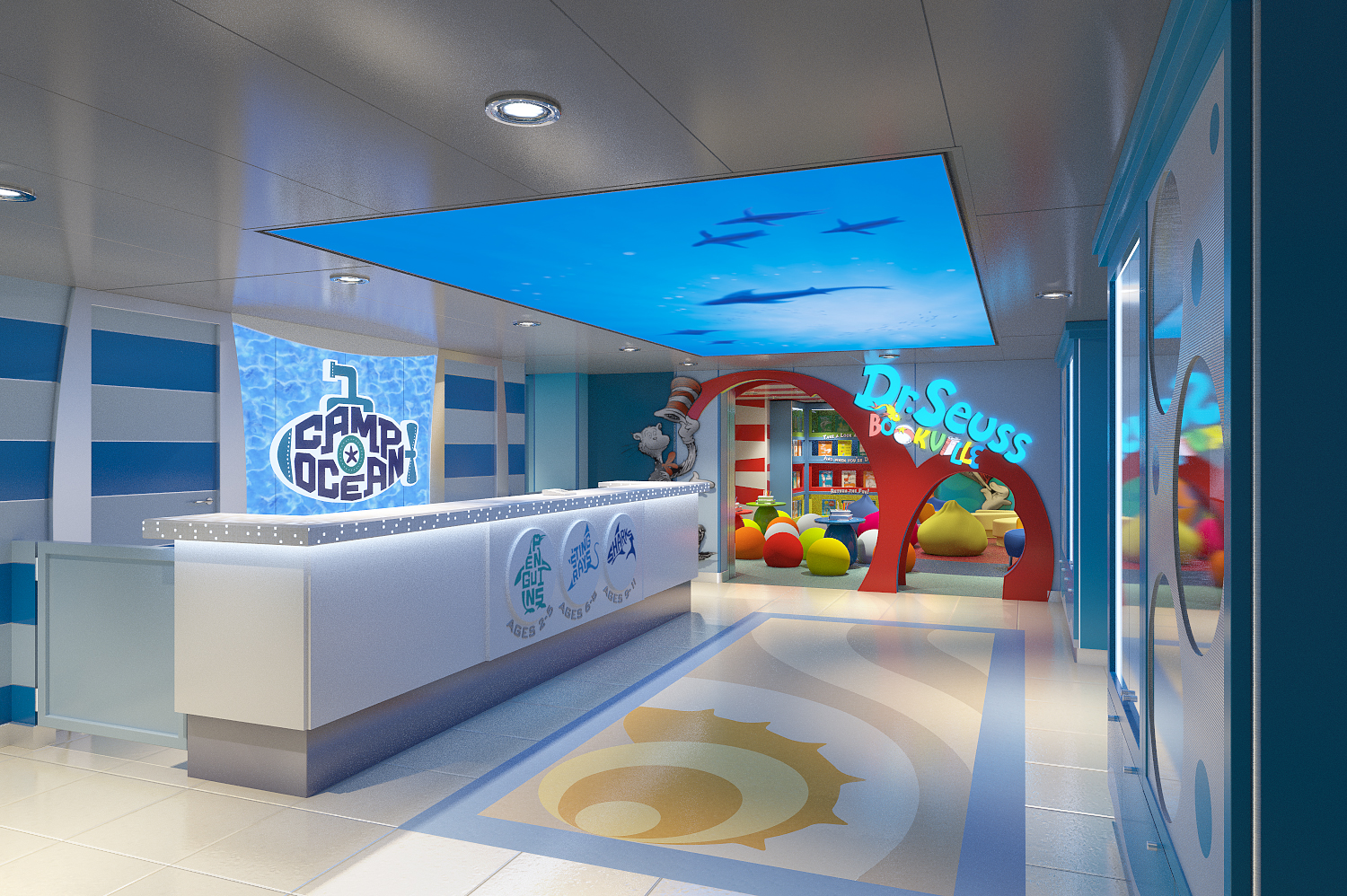 17. Ice Cream
Ice cream is one of life's simplest yet most indulgent pleasures. The best part is that it's available for free, in the form of self-serve self-serve, on just about every single ship.
But some vessels create additional opportunities to ruin your beach bod by selling added-cost cups and cones in a variety of flavors with an array of toppings. These include Sugar Beach in the Boardwalk area on select Royal ships, Venchi Gelateria and Creperie on MSC's Seaside-class ships and X at the entrance to the buffet on Celebrity Edge.
18. Kid Stuff
Wondering whether a cruise is a good option for families? The mainstream cruise companies' fleets offer plenty for kids to do. Disney boasts character meet and greets, special afternoon tea, and princess and pirate makeovers. Carnival presents Seuss at Sea, comprising story time and a Green Eggs and Ham Brunch with the Cat in the Hat, Thing 1 and Thing 2 (Trust us: adults will enjoy it as well).
Several vessels house other fun oceangoing amenities like carousels (Royal Caribbean), Build-a-Bear Workshops (Carnival) and candy stores (MSC, Royal Caribbean, Carnival). But, the most standard -- and often most adored -- offerings for both children are the onboard kids clubs, which are usually divided into age-appropriate groups and provide organized, supervised activities throughout each day. Many ships also have kid-friendly splash areas and water slides.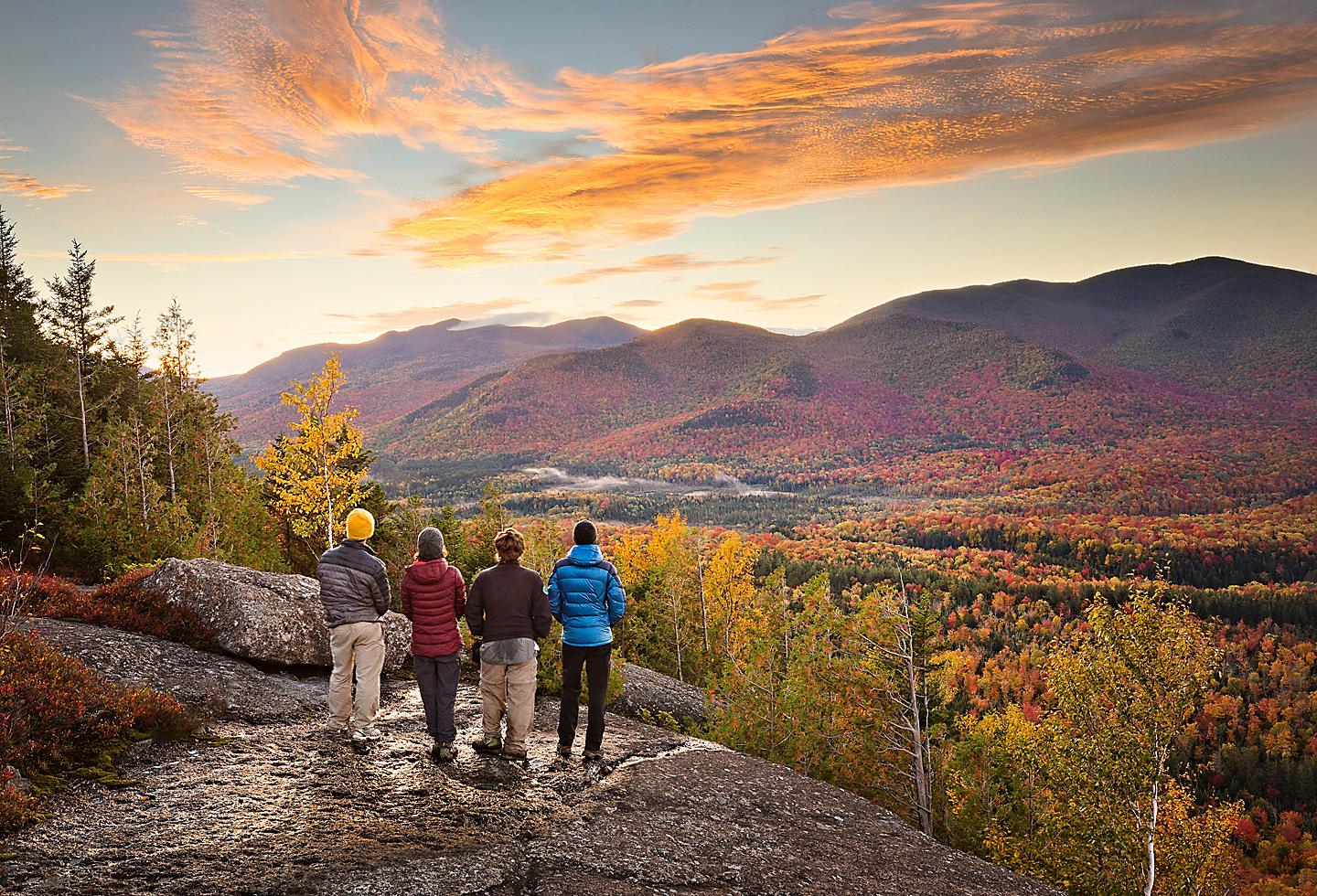 19. Leaf Peeping
Although fall foliage sailings are fantastic, you don't have to go on one to experience greenery at sea. Royal Caribbean's Oasis-class vessels are divided into seven neighborhoods, one of which is Central Park, a leafy public space that looks like an upscale greenhouse and is populated by more than 10,000 live plants and flowers.
If you simply miss sitting in your backyard, head up to Celebrity's Lawn Club, found on the line's Solstice-class ships. There, passengers will find -- you guessed it -- a real grass lawn for picnics, bocce and croquet.
20. Live Music
Live music is about as synonymous with cruising as food, sun and fun. You'll hear it just about everywhere throughout the day on most vessels. From steel drums on deck, jazz trios in the atrium and rock 'n' roll bands in the lounge to opera and live orchestras in the theater, there's a venue and musician to fit just about every taste and genre.
Notably, Norwegian has made a significant investment in music on its newest ships with The Gammy Experience, which features live performances by real Gammy Award winners, and Howl at the Moon, where cruisers submit requests to a pair of dueling piano players.
Holland America followed suit with the launch of its Music Walk, Lincoln Center Stage and Billboard Onboard venues, and Royal Caribbean passengers will be delighted by The Stowaway, a roving piano player who's been known to show up in strange places -- like the elevator -- at random times.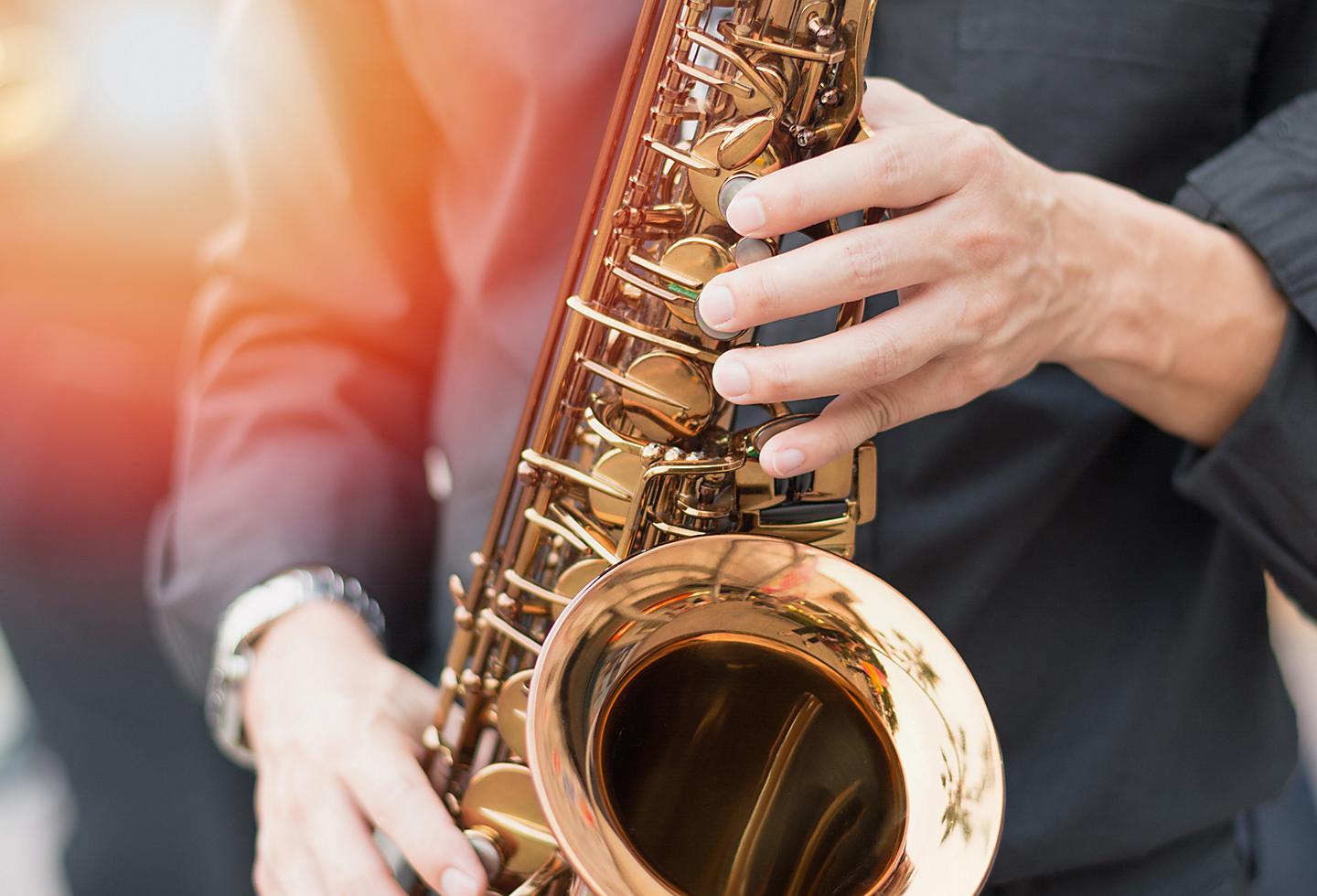 21. Meeting Celebrities
Want to get close to your favorite musical legend, fitness guru or actor? Theme cruises have been popping up like crazy, and they attract people from special interest groups who might not cruise otherwise.
Put it this way: if you're on a ship with your idol for several days, and there are only a couple thousand other passengers, you have a much a better chance of bumping into said idol than if you attended a concert for two hours with tens of thousands of others who are all vying for attention.
Theme cruises are sponsored by several companies that contract with cruise lines to charter entire ships. These companies, set pricing, book talent and handle other logistics, such as performances, meet and greets, and other passenger-facing activities. The most well-known of these companies is Sixthman, which is owned by NCL and specializes in music-themed sailings. 
22. Movies
If film is your forte, you'll be spoiled for choice when you sail. Most lines' ships have sizeable in-cabin libraries on demand, some free and some for a cost. Lines like Holland America and Disney Cruise Line show movies at indoor cinemas, but Disney's Buena Vista Theater is especially notable for featuring first-run movies that are currently in theaters -- for free.
For outdoor viewing, you can find poolside flicks on Royal Caribbean's, Costa's and Disney's massive outdoor screens, as well as Movies Under the Stars on Princess and Dive-In Movies on Carnival. Carnival also pioneered the first IMAX theater on a ship, and 4D cinemas are part of the lineup on some Carnival, Costa and MSC sailings.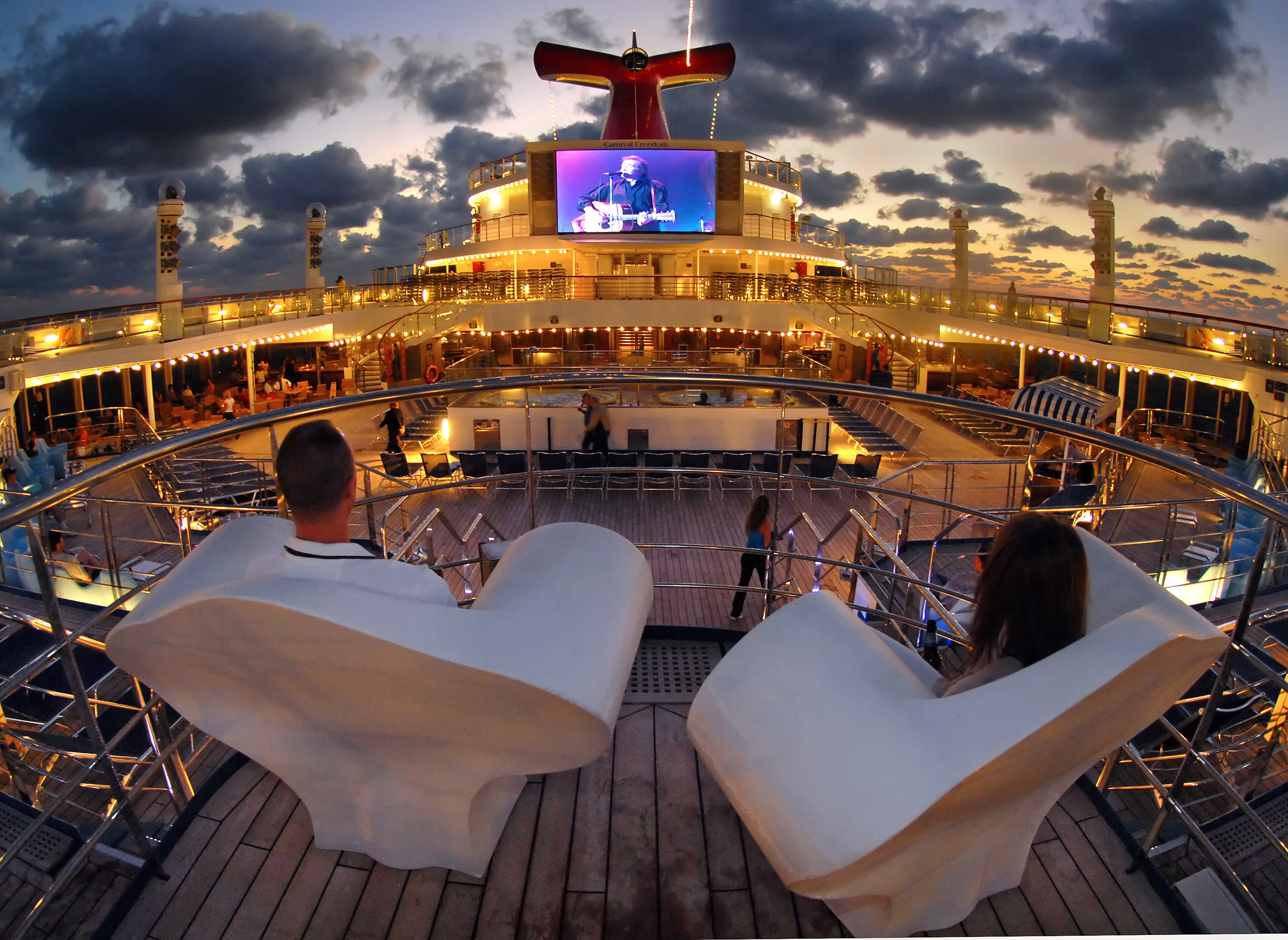 23. Parades
Get social and active with onboard parades that pump up the energy. Royal Caribbean is known for its shindigs in the Royal Promenade on its largest ships, accompanied by acrobats, balloons and other surprises that will leave you feeling festive. Meanwhile, Carnival's Seuss at Sea program encompasses, among other things, a Seuss-a-Palooza parade, complete with character appearances.
24. Physical Activity
If you prefer to keep moving, there are several ways to do so, lest that second helping of dessert catch up with you. All mainstream ships have onboard fitness centers with equipment you can use and classes for which you can sign up. But, if you're less of a gym rat, you can take advantage of other options, such as jogging tracks, shuffleboard and mini-golf, which are found on most vessels.
Further, you can sign up for Disney's Castaway Cay 5k on the line's private island, ice skate on select Royal Caribbean ships, try fencing on Cunard's Queen Mary 2, or take up bocce or croquet when sailing on Celebrity's Solstice-class vessels.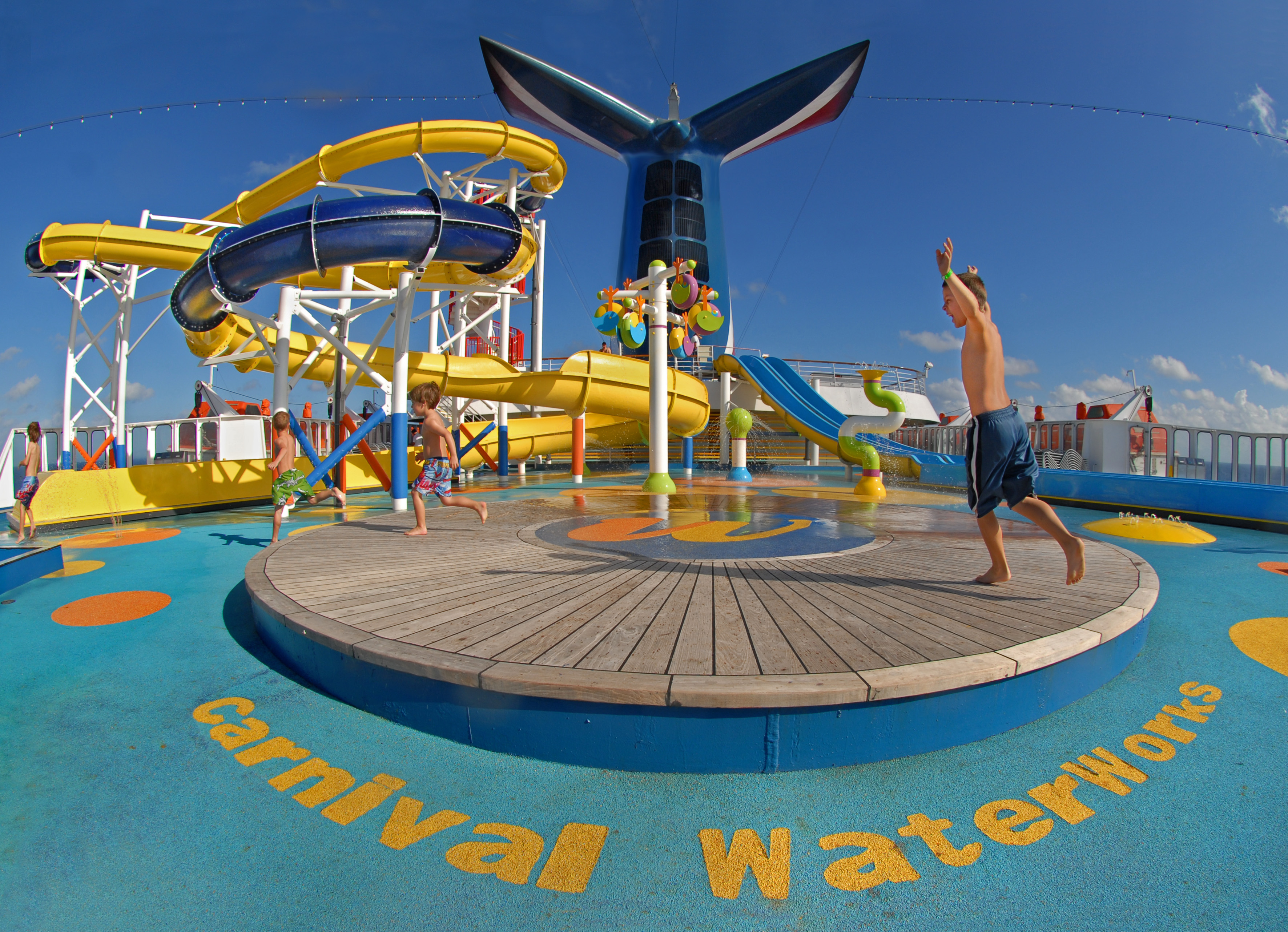 25. Pool Fun
Every ship has at least one pool, but most have more, along with at least a couple of hot tubs for lounging, relaxing and socializing. Around the pool area, you'll often find fun -- but sometimes tacky -- competitions throughout the day, including The Hairy Chest Contest, Mr. Sexy Legs and bellyflop competitions.
26. Private Islands
Private islands are just what they sound like: islands owned or leased by cruise lines for private use by their ships. Experiences there are often more contained and controlled, meaning that passengers are likely to have a pleasant but sheltered and prefabricated experience.
Since most of the cruise lines' islands are located in the Bahamas, you're likely to visit them on Bahamas or Caribbean itineraries. While there, you'll generally have free access to a buffet lunch and use of the beach and restroom facilities. Additional dining, activities, amenities, shore excursions and alcohol might be available for a fee.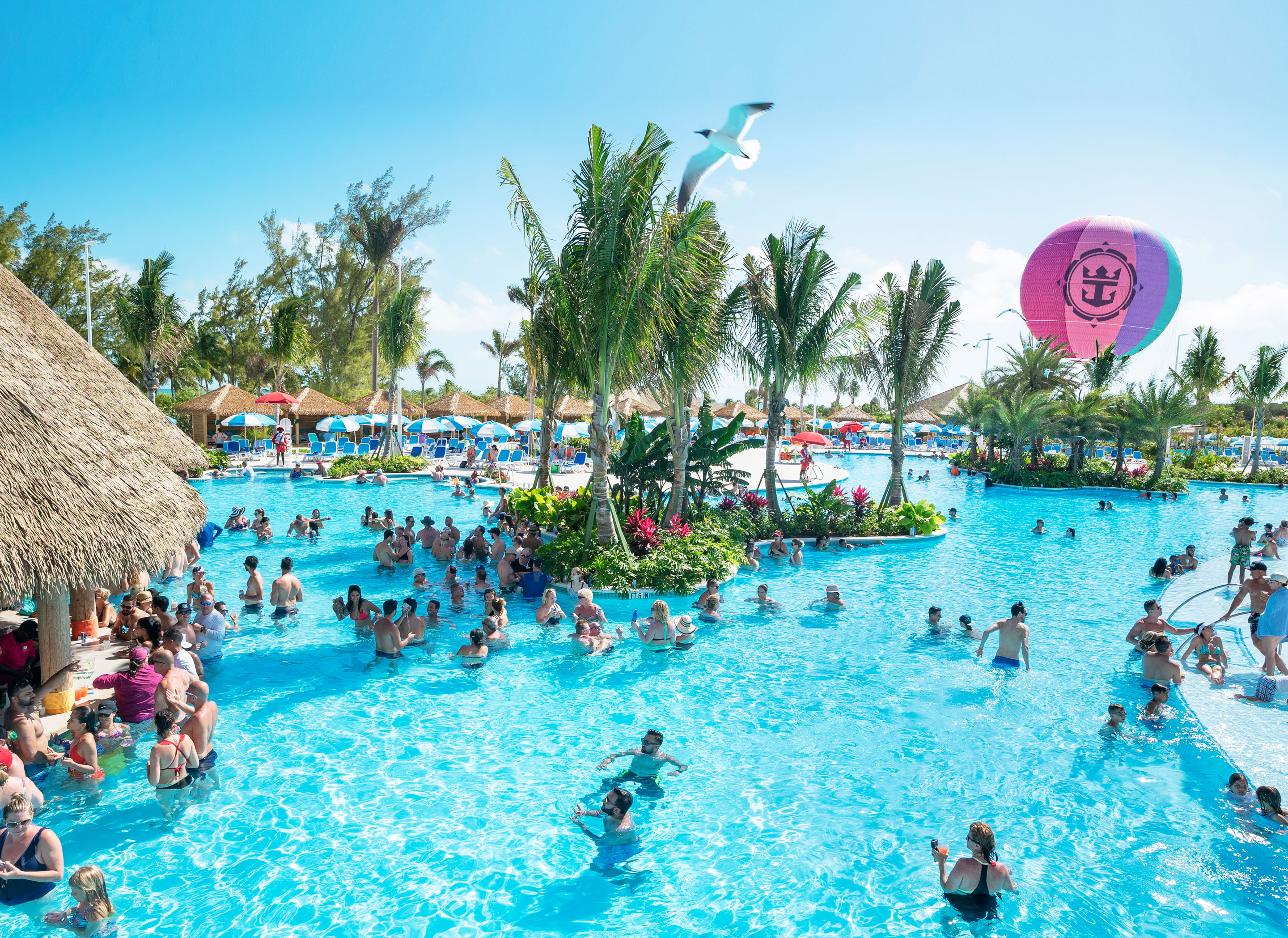 27. Production Shows
So, you've packed tons of great diversions into your day, but what happens when the sun goes down? Depending on your dining time, you have options both before and after dinner. The type and quality of theater entertainment varies widely from line to line and ship to ship, but song-and-dance revues are always tried-and-true standbys.
The marquees on more modern ships bill ice shows with choreographed drones (Royal Caribbean), Broadway shows like Six and Kinky Boots (NCL) or Hairspray and Mamma Mia! (Royal Caribbean), jaw-dropping acrobatics shows (Royal Caribbean, Celebrity) including Cirque du Soleil (MSC), dinner theater (NCL), Burn the Floor Latin dance (NCL), and AquaTheater high-diving performances (Royal Caribbean).
28. Reading
Few things spell relaxation like curling up someplace comfy with a hot drink and a good book. But, even if you didn't cart the entire New York Times Bestseller List with you on your trip, most ships have libraries, from which you can rent a variety of titles.
For younger kiddos, storytime is often scheduled at least once per day in the children's areas. Sometimes the stories are even read by characters like the Cat in the Hat (Carnival).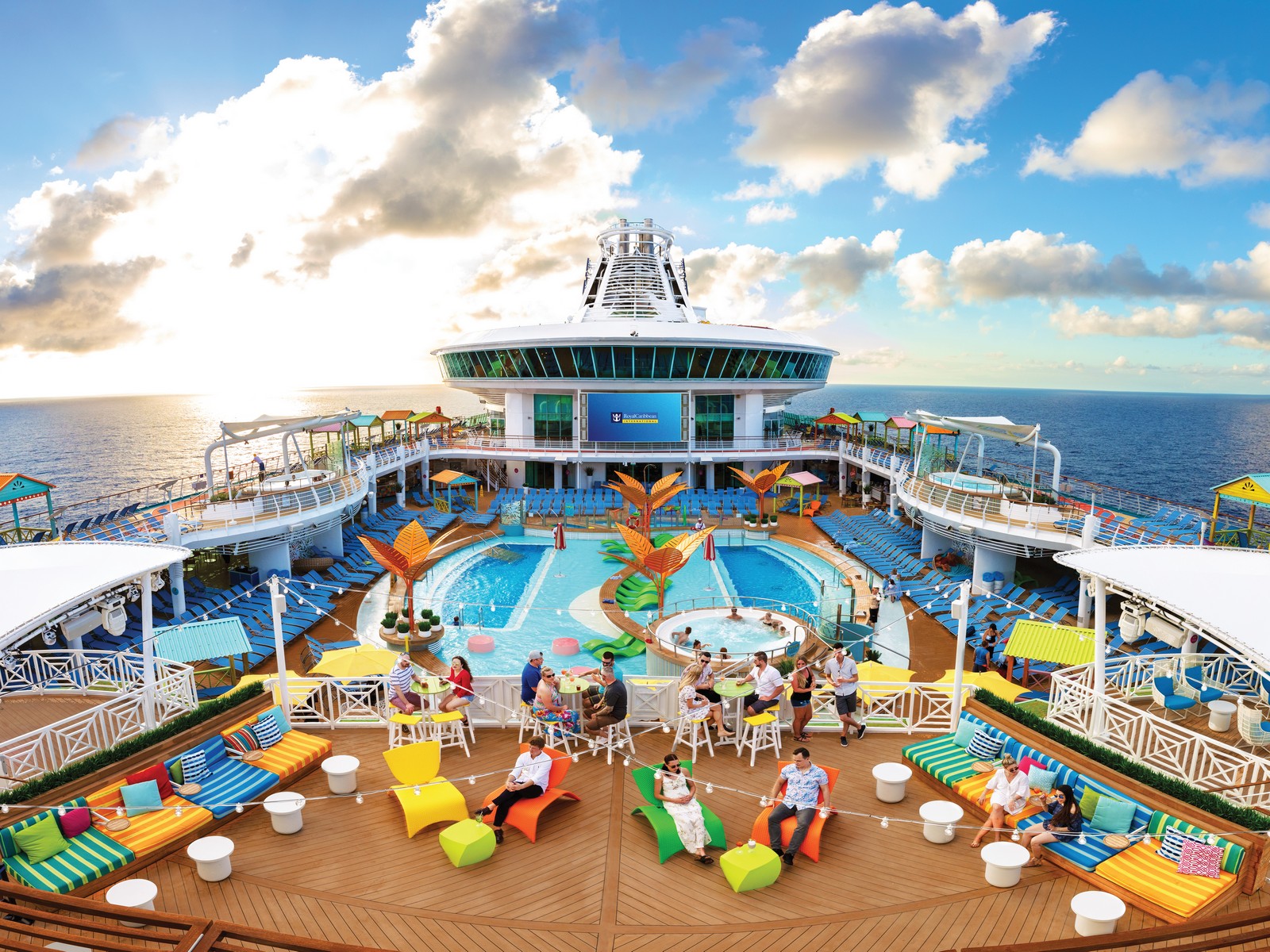 29. Sailing Milestones
Both a rite of passage for new cruisers and a favorite event for old salts, sailaway is what officially kicks off each voyage. Join fellow passengers and crew on the upper outdoor decks for music, dancing and drinks to mark the beginning of a great vacation, along with spectacular views -- of the sunset if you're lucky.
Another favorite milestone of many sailings is the captain's welcome, where the master of the ship traditionally welcomes passengers. This might also involve an opportunity for you to directly interact with the captain and have your photo taken with him or her.
30. Scavenger Hunts
Who doesn't enjoy a secret (or not so secret) mission every once in a while? Scavenger hunts abound onboard -- if you know where to look. For kids, they can be found frequently on kids club daily schedules.
Adults and kids alike will enjoy finding hidden Mickeys throughout Disney's ships or sleuthing out clues while solving a mystery from the line's Midship Detective Agency. For more adult fun, Quest is an R-rated scavenger hunt that happens after hours. It often involves mean wearing lipstick and complete strangers swapping unmentionables in order to win.
31. Spa Treatments
Find your bliss with a good massage or facial, try an unusual treatment like acupuncture or teeth whitening, or simply purchase a pass to your ship's thermal suite, which usually involves heated tile loungers and access to saunas, steam rooms and aromatherapy chambers.
Tip: Ask about discounts on multiple treatments or port-day services when most passengers are ashore.
32. Stargazing
There are few places with less nighttime light pollution than on a ship in the middle of the ocean. That makes your cruise an ideal spot to look toward the heavens. If you're already a space aficionado or just want to learn more about stargazing, Princess offers the real deal on clear nights as part of its Discovery at Sea programming in partnership with the Discovery Channel.
Cunard Line's Queen Mary 2 and Viking Ocean Cruises' Viking Orion and Viking Jupiter have onboard planetariums, and the ships often bring astronomers onboard to give lectures as you view the cosmos from the comfort of a seat in the theater. But, if you're more into DIY options, take advantage of Azamara Cruises' Nights in Private Places on a clear night, where you and your partner can fall asleep under the stars.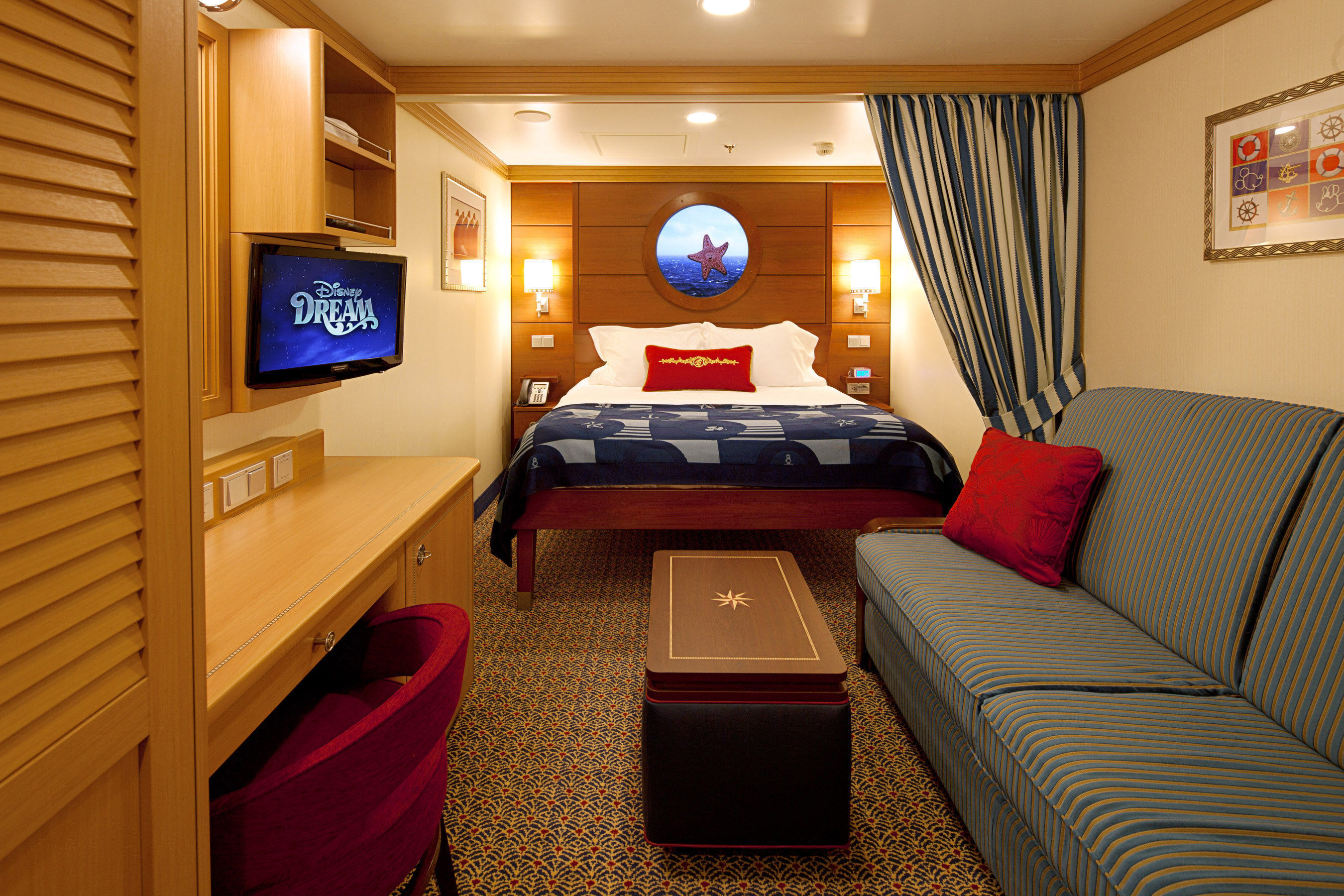 33. Staying In
You're on vacation, so relax. There's nothing wrong with sleeping in, ordering room service and enjoying a movie on your cabin's TV. Or, if you're staying in a room with a balcony, take in some sea breezes on your own little slice of outdoor space, perhaps with a drink and a good book.
34. Staying in Touch
While it's nice to disconnect and unwind, Wi-Fi packages are for sale onboard. Per-day pricing is reasonable on popular lines like Royal Caribbean, Celebrity and Carnival, while others still operate on a per-minute fee basis. Speeds are never the same as they are on land, but ships are more connected now than ever before.
If you're traveling with a group, you might also want to download any apps your cruise line offers. Often, they'll allow you to stay connected with your party while onboard without having to pay for an internet connection. Note that you should always keep your phone in airplane mode when onboard to avoid pricey data roaming charges.
35. Sunbathing
Nobody wants to come back from a warm-weather cruise looking all pasty. Whether it's a hint of golden glow or a deep tan you're going for, there are plenty of places to perfect it. The pool deck is likely to the be the most central but also the most crowded. For more privacy, rent a private cabana, book a suite with access to an exclusive outdoor area, or seek out a lounger or hammock on your ship's adults-only sun deck (if it has one).
36. Theme Nights
If you're here to party, theme nights are one of the best ways to be involved. Many voyages schedule nights themed around disco, the 80s or even toga parties. Norwegian's famous White Hot Party turns on black lights while cruisers dance into the night wearing all white, and once per cruise, Disney ships pull out all the stops for Pirate Night, which features fireworks and Captain Jack Sparrow rappelling down your vessel's funnel (weather permitting). Pack with costumes in mind.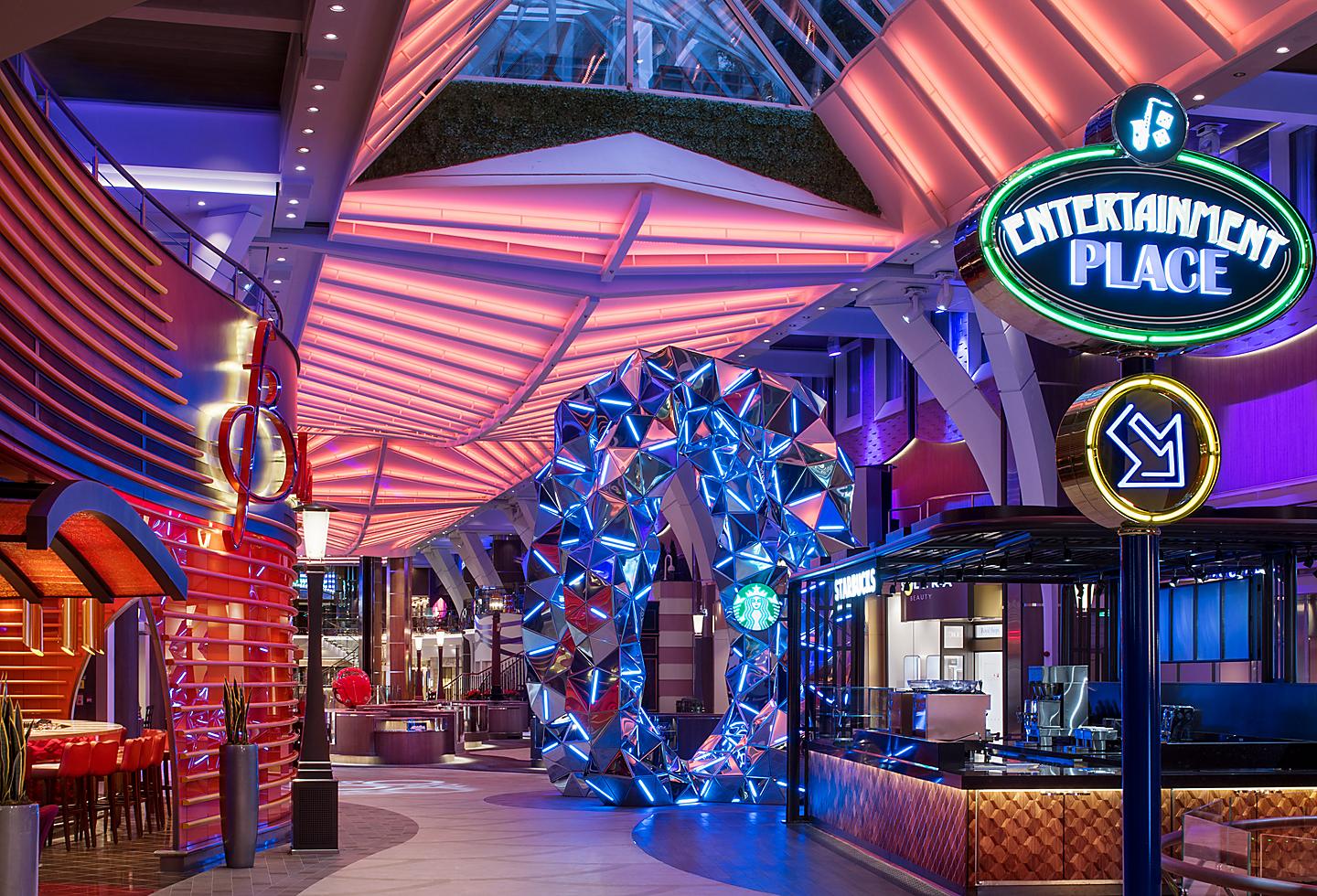 37. Towel and Napkin Folding
Part housekeeping, part arts and crafts, this unique skillset offers up great party tricks. Learn how your room stewards make your table settings so fancy and why those in-cabin towel animals end up being so darn cute.
38. Trivia
Test your wits or prove your mettle as a self-proclaimed know-it-all with trivia quizzes, offered multiple times daily on just about all ships. We've seen topics range from pop culture, music and history to advertising slogans and even Harry Potter.
Prizes are often small branded items, but if your team wins, the bragging rights alone are enough of a reward.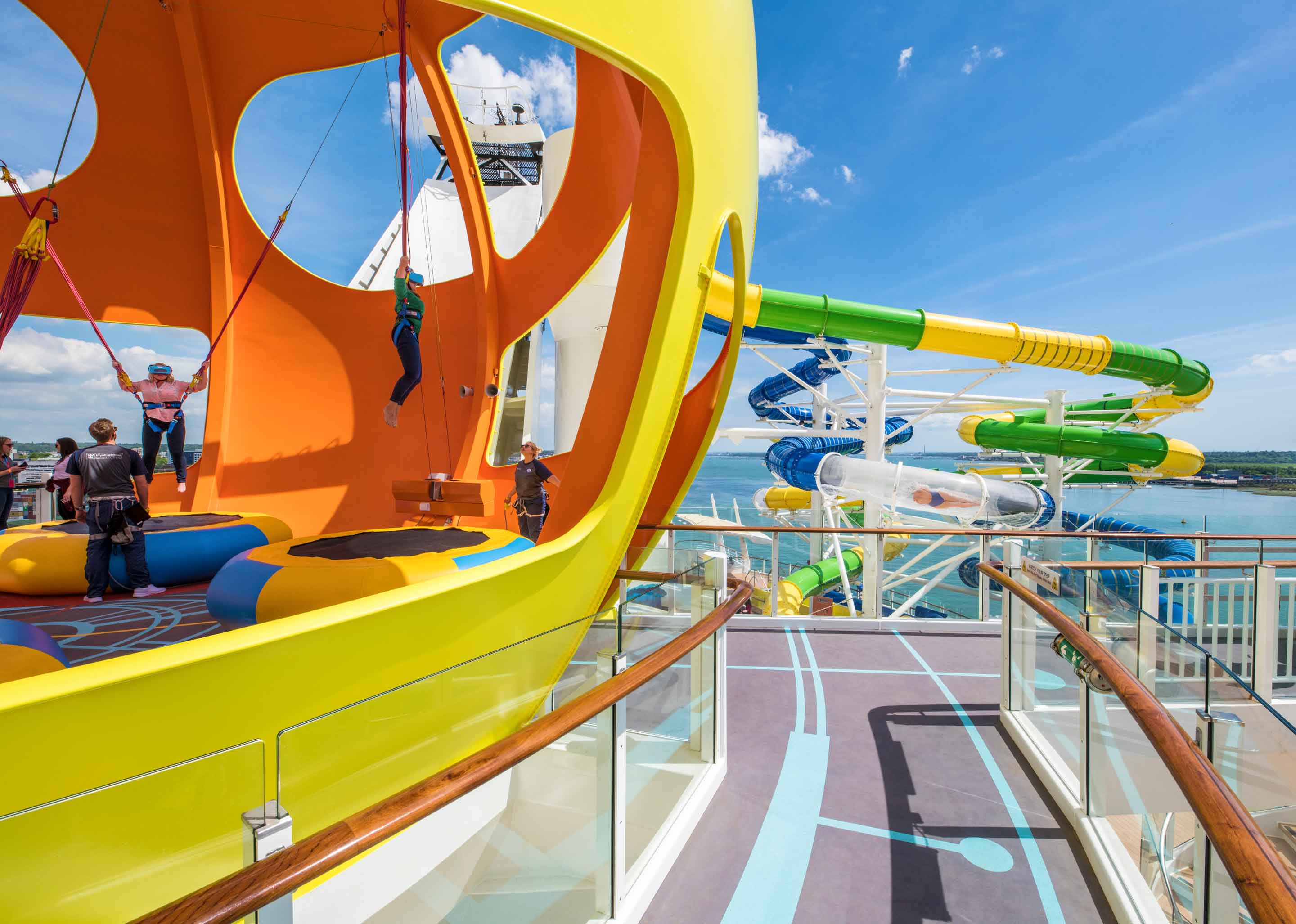 39. Water Slides
For watery fun outside of the pool, water slides are the way to go. You can access them on all Disney vessels, most Norwegian, Carnival and Royal Caribbean ships, and select ships in the MSC fleet. Notable options include Royal Caribbean's Perfect Storm, a trio of waterslides that includes two racing slides and either a funnel-style bowl slide or a boomerang slide (depending on the ship).
Meanwhile, MSC's latest ships are outfitted with up to four slides: a standard slide, two racings slides and a fourth one used for "slideboarding," which puts riders on a board that allows them to push buttons corresponding with lights that flash inside the slide as they're gliding through it (sort of like a video game). Similar to slideboarding is Carnival's Kaleid-O-Slide, which sends riders down a visually appealing light-up tube.
Finally, when cruising with Disney, don't miss the AquaDuck water coaster tube ride or the AquaDunk waterslide found on select ships.
40. Wine Tastings
Last, but certainly not least, winos can make their way to their ships' respective watering holes for wine tastings and pairings, during which certified sommeliers lead you through a selection of pours. Most cruise lines offer some form of this, but there are a few standout programs.
On Princess sailings, the line offers wine and chocolate pairings via a longstanding partnership with Norman Love Chocolates. On Celebrity, wine-loving cruisers benefit from the line's link-up with The Wine Show, a UK-based TV series, and MSC's Italian heritage shines during such presentations at its wine bars. Further, if you'd just like a quick self-served glass, we'll shout out the Enomatic wine dispensers on NCL, Royal, Celebrity and Azamara vessels.