After you have picked the perfect cruise ship and itinerary, you will have to decide what stateroom you want. From interior cabins with no windows to expansive suites that come with some pretty neat perks, you will be faced with a lot of different choices!
Another decision you will have to make is where you want your chosen stateroom to be located. 
Sometimes, the decision is made for you, like if you want an aft facing balcony or a suite that's only available within a certain exclusive enclave.  
Ultimately, the best rooms on a cruise ship have to do with your personal preferences. Do you want to be close to the elevators or a certain venue, like the youth club or adults-only pool? No matter what you are looking for, there is a perfect stateroom for you!
Read more: Top 10 cabins you shouldn't book on a cruise ship
Best cabin location to avoid seasickness: low and midship with a view 
Image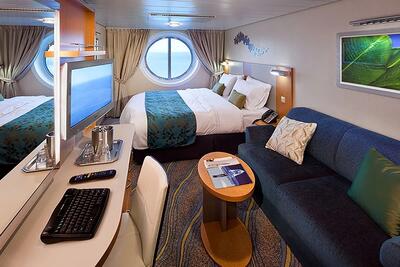 While seasickness is not as common as a first-time cruiser might think, if you are worried about feeling ill, you should choose a stateroom that is midship on a low deck. As a ship rocks and rolls in the waves, it is most stable at its lowest and most central point. 
You will also want either access to fresh air or a window to look out at the horizon. This actually helps to regulate your brain! Because of this, it is advantageous to skip the inside cabins found on the lowest passenger decks and either choose the lowest, most central balcony or ocean view cabin you can book. 
Read more: How to avoid cruise motion sickness
Best cabin for those balling on a budget: interior
Image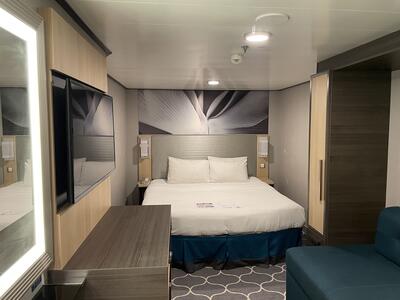 Going on a cruise does not have to break the bank. In fact, it can be one of the most cost effective vacations out there! You will have to manage your expectations, though. 
One way to save money on a cruise is to book an interior room. These windowless cabins are some of the smallest accommodations available onboard, meaning they are also the cheapest. Don't worry-- they still come with all the same amenities as other standard cabins (i.e., ocean view and balcony rooms). You will have a bed, ensuite bathroom, vanity area, mini-bar, and television. 
With so many fun things to do, you will not be spending much time in your cabin, anyways. If you would rather splurge on things like drink packages, shore excursions, Wi-Fi, specialty dining, and more, go for the interior cabin. Your wallet will thank you later! 
Read more: Why an inside cabin is the best choice for a cruise
Best cabin location for picture perfect ocean views: a higher deck
Image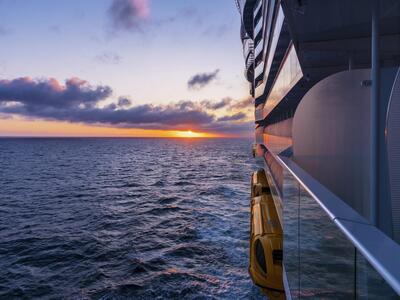 Those who can't get enough ocean views should book a cabin at the top of the ship. Observation towers are high up for a reason, with an elevated position so you can see farther!
It is no surprise that most cruise ships place their swankiest cabins and suites on upper decks. You will enjoy amazing views of the ocean's horizon from your upper balcony or walls of windows.
Plus, cabins on the upper decks are convenient to many cruise attractions, including the pool, buffet, top-deck active pursuits -- think zip lines, ropes courses, and mini-golf--, and even the spa. 
Read more: 40 Fun Things to Do on a Cruise Ship
Best cabin for those who want easy access to fresh air: balconies 
Image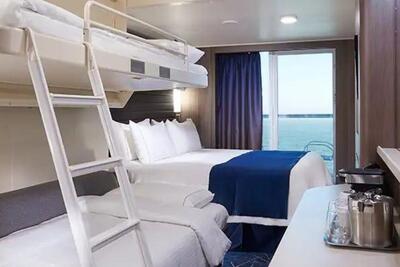 Balconies are the most popular cabin category and for good reasons! You will always be seconds away from stepping outside and taking in the fresh ocean air on your own private verandah. 
Have you ever dreamed of having breakfast delivered straight to you to be enjoyed outside? It is one of those quintessential cruise things that are on many people's bucket list! Plus, the extra space is great for families. You will always have a place to go, so everyone is not tripping over each other while getting ready.  
While these rooms are more expensive, they are a justifiable splurge to many; going on a cruise without one just would not be the same! 
Best cabin location for spacious balconies and wake views: all the way at the back (or aft) 
Image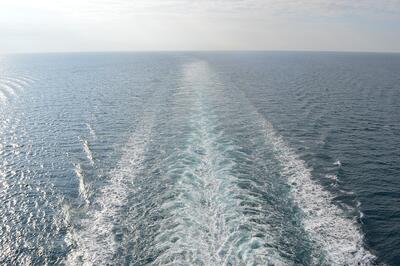 If you like big balconies, the best cabin for you is at the back of the ship. Cruise fans go nuts for wake views, even though technically you are looking backwards at where you have been, rather than where you are headed. Still, there's something soothing about staring out to sea and watching the wake trail off into the distance.
Cabins at the back of the ship are often less cookie cutter than those along the sides in order to accommodate the ship's superstructure. You will often find oddly shaped or elongated cabins with extra large balconies. These rooms can be priced the same as regular balcony cabins, giving you more bang for your balcony buck.
Some folks report that these cabins experience more ship vibration than others; others claim they don't notice a difference. In any case, be aware when booking that your aft cabin might be a bit more rumbly.
Best cabin location for easy accessibility: by the elevators
Image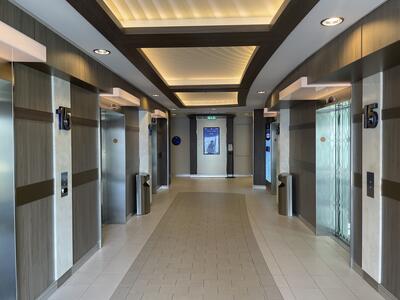 If you have mobility issues, you should book a cabin by the elevator shafts. It can be a little noisier in these rooms given all the foot traffic, but you will not have to trek down endless corridors to get to your cabin. 
To put that in perspective, Symphony of the Seas is as long as the Empire State Building is tall (minus its antenna). If your cabin is far from the elevators, it can be a long walk back to your room at the end of the day.
A convenient location by the elevators especially comes in handy when seas are rough. A rolling ship makes walking tough for anybody. If you already struggle to get around, you do not want to have to walk long distances on a ship getting tossed around by the waves.
Best cabin to elevate your cruising experience: a suite
Image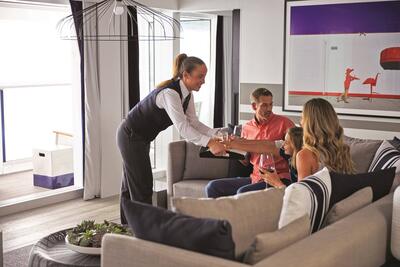 Cruise ship suites are different than suites at standard hotels. On land, a suite usually just guarantees more space. Sometimes, they can come with access to a concierge lounge. 
Not only are cruise ship suites larger than other cabins, but they include a lot of amenities that help to justify the cost. Depending on what ship and cruise line you book with, booking a suite might include a butler, access to a special restaurant or lounge, concierge services, priority boarding, and more. 
The best suites are going to be found on ship's that have a "ship within a ship" concept, such as Norwegian Cruise Line's "The Haven," MSC Cruises' "Yacht Club," and Celebrity Cruises' "The Retreat." 
With these, you will gain access to exclusive enclaves available just for suite guests. They're a great way to escape the normal crowds that are found on cruise ships. Thanks to the private sun deck, you will not have to worry about beating chair hogs on the pool deck. Plus, dinner will feel more intimate, as you will not have to eat in the ship's main dining room. 
Read more: 7 best suites on big-ship cruises
Best cabin location for light sleepers: sandwiched in between other cabin decks
Image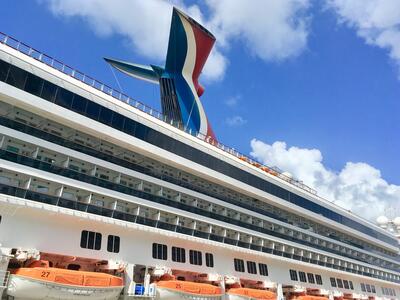 Cabins right above or below public areas-- like the pool, the dining room, casino, bars, etc.-- can be louder than you would like at particular times of day. 
The rooms underneath the pool will hear the scrape of early morning deck chair set-up or the thumping vibrations of late-night deck parties. Rooms above the dining room or bars may hear the buzz of conversation or dining room song-and-dance showdowns.
If you're a light sleeper, the best place for you to stay on a cruise ship is in a room surrounded by other cabins. That means you have a cabin on either side of you and cabin decks above and below you. While it is always possible to hear TV noise or crying babies in adjacent rooms, cabins are much quieter than popular public areas that get lots of foot traffic by passengers and crew. 
You should also try to book a cabin next to those that can only accommodate two guests. When selecting your room, cruise lines often provide a key to tell which staterooms can hold two, three, four, and even five guests. 
Even better, choose a room that does not connect to the cabin next door because these are less sound-proof than staterooms without an extra door in the middle. Also, skip the cabins all the way forward as these can be loud when the ship drops anchor at tender ports.
Best cabin location for those who are always excited to see what's ahead: the very front (or forward) of the ship
Image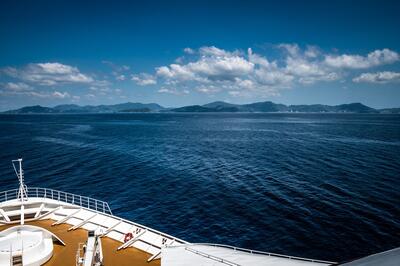 While you will not find any forward-facing balcony cabins, you can book an ocean view room that overlooks the front of the ship. These cabins are great for those who want to wake up and watch the ship pull into port from the comfort of their stateroom. 
Like aft balconies, they tend to be larger than standard ocean view rooms, too. This is because the front of the ship is angled, and the staterooms have been designed around that. 
With these, though, it is important to warn you that they are prone to feeling motion more than cabins that are centrally located. Moreover, they will be further from elevator banks, meaning that you will have a longer walk to and from your stateroom. Of course, this is a minor thing to a lot of people, and the spectacular views will make up for this slight inconvenience. 
Best cabin location to maximize your fun (or relaxing) time onboard: near your happy place
Image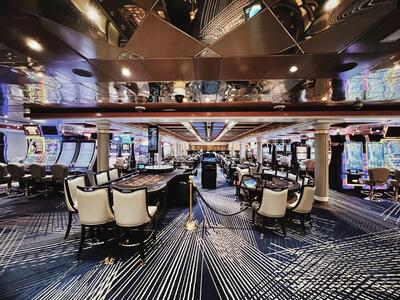 When you cruise, where do you spend most of your time? If you have yet to cruise, where do you think you'll spend most of your time? The spa, the pool, the casino, the adults only deck, the kids' club? 
The best cruise ship cabin location for you might be the one with the shortest commute to your happy place. If you are going to play poker every night until 2 a.m., choose a cabin that is a quick walk from the casino. If you want to sleep as late as possible and still be the first person to snag a primo lounge chair at the pool deck, pick a room on the lido deck or one that's steps away from the closet stairwell on the deck below. 
Do you want to roll out of bed and get breakfast? Choose a cabin that is a deck or two away from the buffet or main dining room. 
Image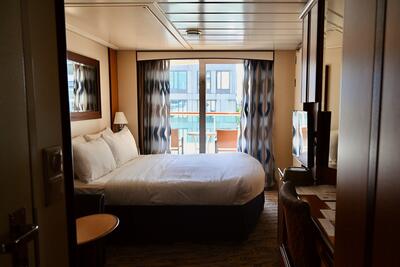 Spa cabins were designed to give spa lovers close proximity to their treasured thermal suite Plus, they come with some pretty sweet spa amenities!
Do not waste time trekking down hallways and waiting for elevators. Position your home away from home to be as close as possible to your favorite onboard destination to maximize your vacation time.