When booking a cruise, you might be overwhelmed by all the cabin options. Sometimes, it is not as easy as simply choosing an interior or balcony. There might be different room categories and layouts, ranging from spacious rooms that are able to accommodate larger families to balconies that overlook the interior of the ship versus the ocean.
In addition to the cabin itself, the location on the ship can make a huge difference on your overall cruising experience. Not all cruise ship cabins are created equally, and there are a few you might want to skip over when booking a cruise.
Staterooms on a cruise come in all sorts of sizes, shapes, and with different amenities. Most are perfectly fine (you are on a cruise getting to relax by the pool deck and visit fun destinations regardless of where you sleep!), but there are some you should not book depending on your preferences or group size.
Read more: Why an inside cabin is the best choice for a cruise
Staterooms below the pool deck
Image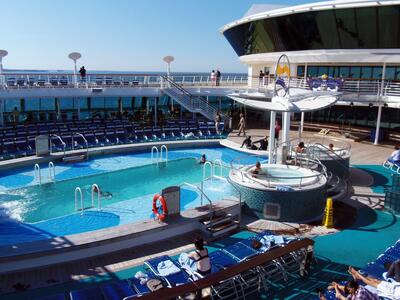 Cabins underneath the pool deck are notorious for noise bleed issues.
Chairs scarping, people walking around, loud music, and plenty of deck parties all can lead to some of that noise being heard below your room.
Often, the crew will prepare the pool area in the early morning hours, which can also lead to noise bleed, especially when deck chairs are rearranged.
If you are cruising on a ship with interior cabins, like Royal Caribbean's Oasis Class or MSC's World Class, you may also want to avoid a balcony cabin directly underneath the pool deck. During the day, you may find that the noise takes away from being able to soak up time on your personal verandah. 
Read more: Royal Caribbean Cruise Cabins and Suites Guide
Connecting cabins
Image
Unless you book both rooms to keep your travel party together, avoiding connecting rooms is a good idea.
Connecting cabins are staterooms with a common door between the two. These are great for families, but not if you do not know the people in the other room.
While the connecting door is locked if you do not know the other people, noise bleed can be more of an issue from talking, television, phones, etc. 
Imagine you are traveling on a couples-only vacation and end up in a connecting room that is beside a family of four! Likewise, if you are sailing during spring break, your family might not want to be next to a group of college kids. 
Deck plans will list which cabins are adjoining, so you can avoid booking them.
Rooms near public areas
Image
One of the biggest generators of noise is people coming and going, and rooms near public spaces will likely encounter the most noise issues.
Rooms near the kids' clubs, theaters, bars, or excursion meeting points are all going to hear people coming and going, talking, and otherwise a lot of noise. Maybe it is from a live band or teens hanging out in the youth clubs prior to curfew. Regardless, cabins that are surrounded only by other cabins tend to be quieter. 
Be sure to also look where the nightclubs are on the ship to avoid those areas.  If you are not a night owl, you may find the deep bass emanating to your room while you try to sleep. 
Cabins near the casino
Image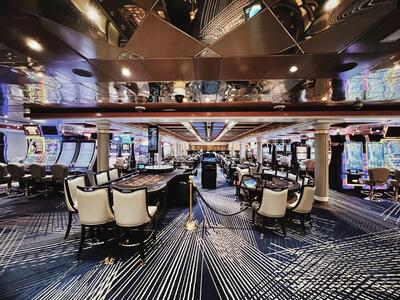 The casino is a late-night venue that often gets more crowded as the night progresses, meaning that it is subject to a lot of notices. There will be people talking, music from slot machines, and cheers from those who have luck in their favor. 
Plus, some cruise lines allow smoking in their casinos in certain areas. They, of course, have ventilation systems to help reduce the impact on other cruisers; however, it is not uncommon for smoke to trickle out of it. 
Avoid rooms near crew access points
Image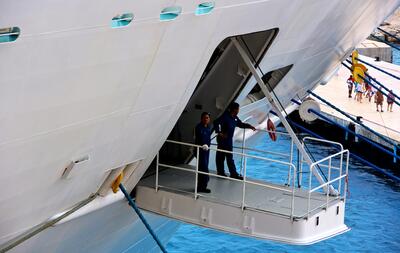 Nobody seems to move around at odd hours of the day and night than crew members.
Crew operations are a 24-hour business, so rooms near a door leading to crew decks can see much more foot traffic right by your door.
Identifying crew access points is sometimes difficult, as they are rarely identified on deck plans. Be sure to ask your travel agent for advice, or seek out words of wisdom on cruise message boards for advice.
Read more: 8 best balcony cabins on cruise ships
Staterooms with interior views (if you are worried about privacy)
Image
Some ships have staterooms that offer views of the interior of the ship, rather than a room with no window at all. Not only does this mean that they are subject to noise from any ship event or party, but it also means that those below and across from you can potentially see into your cabin! 
If you do not want to have to worry about keeping the blinds shut all the time, these types of staterooms may not be the best fit for you.  
Obstructed view rooms
Image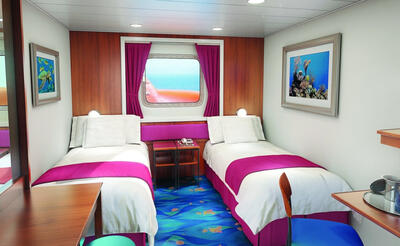 Cruise lines sell rooms with an obstructed view, which means part of the view out of your balcony or porthole window is blocked by something. It can be a lifeboat or another structure that prohibits you from getting your picture-perfect ocean view.
First and foremost, you would be amazed how many people think they do not mind having their view obstructed, only to realize later they really did not like it.
In addition, during lifeboat drills, there can be a noise bleed issue from lifeboats being lowered and raised. The good news is drills are usually relegated to when your ship is in port, but if you opt to go back to your room for a nap, that can be an issue.
The good news is that cruise lines will tell you if the cabin you are looking at is obstructed or not. Unless, that is, you book a guarantee stateroom! 
Rooms all the way forward
Image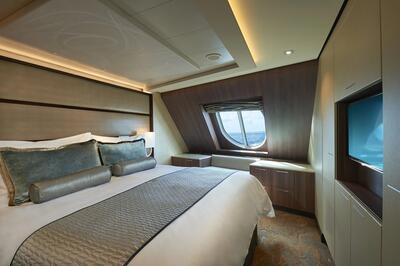 Rooms on the extreme ends of the ship can sometimes experience significantly more motion than rooms more centrally located. When the seas are rough, cabins at the very front tend to be extra rocky. The same can be said for aft rooms; however, it is often to a lesser degree. 
In general, the closer you are to the center of the ship, the less the sensation of movement in the ocean can be felt.
Moreover, rooms all the way forward mean a longer walk to elevators or stairs compared to rooms more central. On smaller ships, you may not find this to be an issue; however, on today's mega-ships, you could find yourself spending more time walking to your cabin than you would like, especially with all of the other fun activities onboard.
Cabins near the elevators or stairwells
Image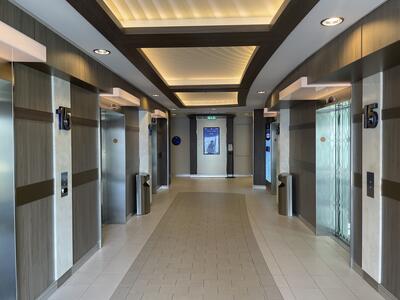 If you choose a room by the elevator bank, you will be subject to some potential noise from people coming and going, as it serves as an access point to the cabin hallways! 
More people will be passing by your cabin than if you were located a little bit further forward or aft. This does not, however, mean that you need to be all the way on either end! You may just not want to be one of the first cabins in the hallway. 
The elevator banks and stairwells also often act as meeting points for families, meaning that groups may gather and congregate for breakfast when you are trying to sleep in a little bit. 
Guarantee staterooms
Image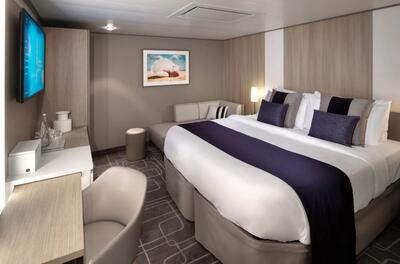 Guarantee staterooms are cheaper cabin options offered by many cruise lines in exchange for allowing them to assign your stateroom closer to the sail date. This means that when you book your cruise vacation, you will not get your exact room assignment. 
The purpose of guarantee cabins is to help fill in the gaps of unsold staterooms, as some rooms in "less desirable" locations are less likely to get selected by others. 
If you are picky about where you want your cabin to be, you ought to just pay extra to select your cabin. With a guarantee stateroom, you could be anywhere on the ship: below the pool deck, on the same deck as the casino or nightclub, adjacent to the elevator bank, etc. 
Which deck is best on a cruise ship?
Image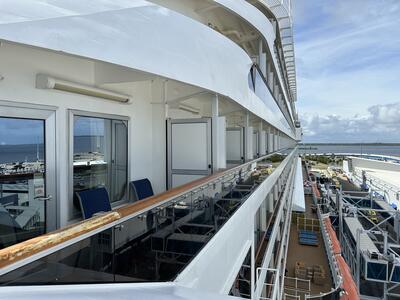 There isn't a single universal deck that's perfect for everyone. Instead, the best deck will be dependent on your preferences. 
If, for instance, you're prone to getting seasick, then you'll want to choose a stateroom that's on the lowest possible deck in the middle of the ship, as this is where the sensation of movement is least noticeable. When cruising on Carnival Vista, I had a room located at the very front of the ship on Deck 9, and I was constantly thinking about how rocky it was!
Balconies tend to be on higher decks than interior and ocean view staterooms, so you will want to make sure that it isn't located too far forward. Regardless, having a view of the horizon is one way that you can combat any feelings of motion sickness on your cruise. 
Image
Those with children might want to be closer to the youth clubs to make pick-up and drop-off easier. The location varies depending on which cruise line and ship you're sailing on, so you will need to check your ship's deck plans to see where it is on your upcoming cruise before choosing a room! 
Typically, however, the youth clubs tend to be on higher decks. When I was sailing on Carnival Vista, I noticed that Camp Ocean was located on Deck 11. Similarly, Adventure Ocean onboard Symphony of the Seas can be found on Deck 14. 
If you're sensitive to noise, avoid choosing a cabin on a deck that's below a public area or near the ship's atrium/promenade. Instead, try and snag a room that is sandwiched in between only room-only decks. 
Image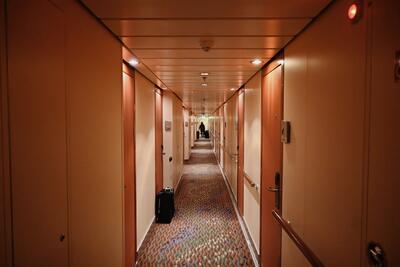 Since cruising is a personal type of vacation (i.e., your coworker's favorite cruise line/ship might not be yours and vice versa), what's important to one person will likely be less important to another.