There's no doubt you can be busy all day long on a Royal Caribbean cruise. From the endless activities to the onboard thrills and exciting ports of call, you might even forget you need a place to unwind each day of your cruise.
A cruise cabin quickly becomes your home at sea, a cozy place where you can rest and rejuvenate as needed.
Royal Caribbean has a wide variety of staterooms to accommodate your travel needs - more importantly - your cruise budget.
Whether you're wanting to splurge on the Royal Class Suite or looking to save money with an inside cabin, Royal Caribbean's cabins will provide a comfortable place to enjoy each day. 
Here's the ultimate guide to Royal Caribbean's cruise cabins and suites
Inside Cabin
Image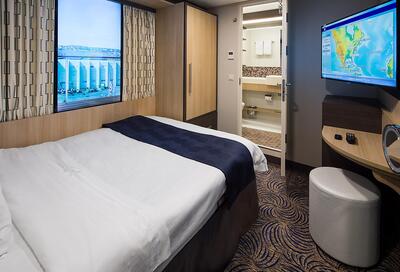 Those cruising with a tighter budget who need affordability will want to consider booking one of Royal Caribbean's inside cabins. 
Inside cabins are almost always the cheapest option when booking your reservation. These staterooms do not have a window and are often the smallest cabins onboard the cruise ship.
Royal Caribbean's inside cabins range from 180-270 square feet, although you'll still find these cabins have plenty of storage.  
Image
For Royal Caribbean ships that feature a promenade, you can often pay a little extra to have an inside cabin with a view overlooking the promenade. Promenade inside cabins can be a great option for cruisers looking to save money while still offering a stateroom with a view.
Royal Caribbean has also introduced its new virtual balcony inside cabins! These cabins feature an HD screen from floor-to-ceiling with real-time views of the ship's current sites and sounds. 
Traveling in an inside cabin means you won't be waking up to beautiful views of the ocean each morning. Instead, you'll have the luxury of napping in complete darkness at any hour of the day! 
Image
Just because you're cruising on a budget doesn't mean you won't get to enjoy all the amenities and luxuries of cruising. You get access to pretty much everything available onboard (unless an amenity is available only to suite guests). 
Personally, I've had great experiences cruising in an inside cabin. Choosing to cruise in an inside cabin allows me to cruise more often because these staterooms are often half the cost of a balcony. I'm often so busy when cruising, whether that's onboard or in port, that we just use our cabin as a space to sleep, change and get ready.  
Ocean View Cabins
Image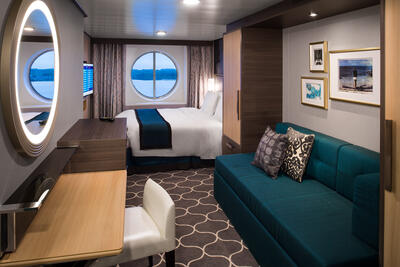 Royal Caribbean cruisers looking to save money should also consider booking an ocean view stateroom. You'll find more space in an ocean view cabin compared to an inside stateroom, which alone can be worth the cost to upgrade from an inside cabin.
Best of all, you can enjoy picture perfect scenery of the ocean each day through your stateroom's porthole!
You won't be able to take in the fresh ocean air like you would with a balcony, but an ocean view stateroom still provides a sea view and allows natural light into your cabin each day. 
If you're sailing on one of Royal Caribbean's Radiance class ships, you will find Ultra Spacious Ocean View cabins available, which are located at the front and back of the cruise ship. These staterooms are great for families, as they are offer approximately 300 square feet of space. Be prepared to pay more than a typically ocean view cabin for these spacious staterooms though, which can accommodate up to 6 passengers.
Onboard Royal Caribbean's newest cruise ships, there are increasingly fewer ocean view cabins available to book. The cruise line has moved towards offering more balcony staterooms; therefore, if you're hoping to reserve an ocean view stateroom, be sure to book your stateroom early. 
Balcony Cabins
Image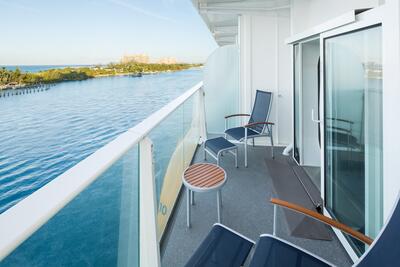 If you want to enjoy the sunrise or sunset each day without ever leaving your stateroom, you'll want to book one of Royal Caribbean's balcony staterooms. These days, everyone wants to book a balcony stateroom - and for good reason!
With a private balcony attached directly to your cabin, you can breathe in the fresh ocean air during your cruise. You can sip a cup of coffee while enjoying room service breakfast on your balcony in the morning. With a balcony cabin, you can take in the sites of each port without even needing to leave your stateroom.
To accommodate the increasing demand for balconies, you'll find there's no shortage of balcony staterooms on Royal Caribbean's newest and biggest cruise ships! With nearly 70% more balconies available than older cruise ships, you're sure to find a balcony cabin that fits your needs.
Image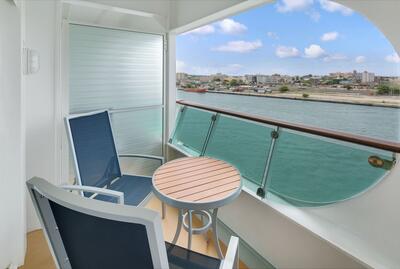 While the balcony itself is great to enjoy, balcony cabins are also more spacious. 
On average, balcony staterooms on Royal Caribbean measure right around 180 square feet. This doesn't include the balcony itself, which is around 50 square feet. You will find 2 chairs and a small table on each balcony, making it the perfect to sit down and relax with your travel partner.
On Royal Caribbean's Oasis Class ships, there are cruise balconies available to book that face both inward and outward. Outward facing balconies have stunning views of the sea while inward facing balconies have views of the ship's Central Park and Boardwalk. Expect to spend more for outward facing balconies, although you might find that inward facing staterooms are more noisy. 
Those looking to enjoy the luxury of a balcony stateroom without totally splurging could consider booking an obstructed balcony stateroom. This will have some sort of barrier, like a lifeboat, that obstructs the balcony view. But, these cabins typically cost less and still have the amenity of a private balcony attached to your stateroom. 
Suites
Image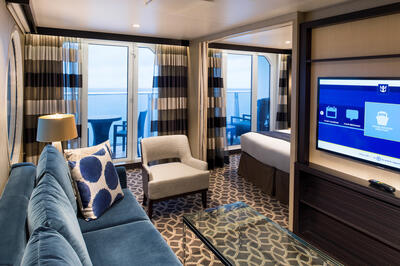 On its newest and biggest ships, Royal Caribbean has introduced some incredible, even multilevel, suite options that will truly leave a lasting impression. You're not just paying for more space in a suite cabin, you're paying for an exclusive, luxurious experience.  
Those looking to splurge on a lavish cruise cabin experience should consider booking a Royal Caribbean suite on their next cruise. Depending on the cruise ship, you might even be provided with a Royal Genie (essentially a butler) at your disposal. Some Royal Caribbean suite guests can also have access to the suite-only sundeck, specialty restaurants and lounges. 
Those in a suite cabin will receive priority boarding and a dedicated check-in queue when embarking.
Here's a breakdown of Royal Caribbean's suite classes, including the cruise ship cabin's exclusive amenities.
Royal Suite Class
Image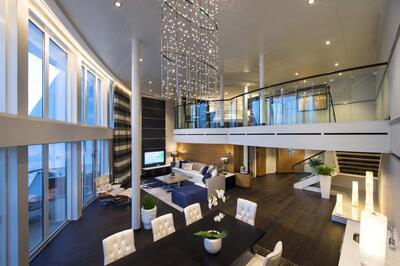 Royal Caribbean's Royal Suite Classes are available on Oasis Class and Quantum Class ships. You are truly treated like royalty when sailing in one of these spacious suites with exclusive amenities available. You won't even need to lift a finger - it really is the 'suite life'!
The Royal Suites Class is available based on 3 different tiers: Sky Class, Star Class and Sea Class. Each tier offers unparalleled accommodations with top-notch living spaces and expertly crafted experiences. 
Be prepared to spend a pretty penny for these Royal Suites, although you'll be receiving an all-inclusive, premiere cruise experience. 
Star Class
Image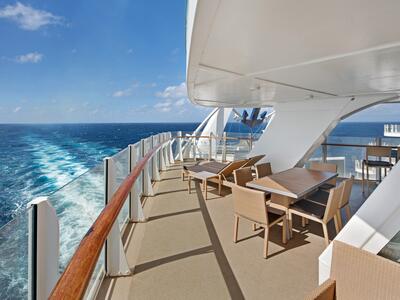 The highest tiered suite is considered Royal Caribbean's Star Class Suite, which aims to redefine the meaning of being a VIP cruiser. Star Class is an all-access pass to the most luxurious - and spacious - cabin experience offered by Royal Caribbean. 
With access to the Royal Genie, which is a VIP concierge, guests have every want and need taken care of. There is nothing too big or too small to ask of the Royal Genie, which creates a perfectly curated, personalized experience. 
Image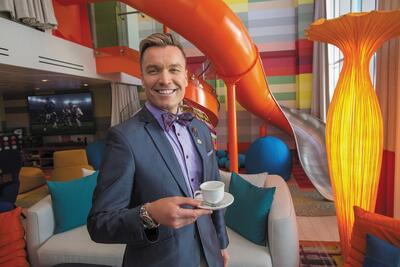 Those cruising in a Star Class suite also have access to the Concierge Lounge, Suite Sun Deck and Coastal Kitchen. Royal Caribbean's Star Class guests also receive priority disembarkation, unlimited VOOM internet, and invitations to exclusive signature events.
Additionally, Star Class suites include complimentary gratuities, specialty dining and premium alcohol beverages. 
Star Class suites include Ultimate Family Suite, Royal Loft Suite, Villa Suite, Owner's Loft Suite, Grand Loft Suite, 1 Bedroom Panoramic Suites (Owner's and Grand), Star Loft Suite and 2 Bedroom AquaTheater Suites.
Sky Class
Image
Royal Caribbean's middle tiered Royal Class suite is considered the Sky Class Suite.
Although Sky Class is considered a step below Star Class, these suite guests still receive incredible accommodations with extremely spacious rooms, exclusive services and spectacular experiences.
Sky Class guests also receive priority departure, VOOM internet, and access to exclusive Royal Class events. 
Image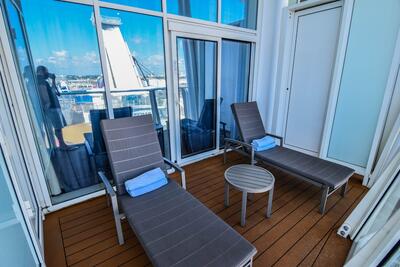 Most importantly, Sky Class suite guests have access to a Concierge. Similar to a butler, the Concierge serves as the ultimate vacation planner and cruise insider, whether that's reserving a cabana at CocoCay or booking a dining reservation at Chef's Table. 
Sky Class Suites include 1 and 2 bedroom Grand Suites, 1 bedroom Owner's Suites and 1 bedroom AquaTheatre Suites. The Crown Loft Suite, Sky Loft Suite, Golden Balcony and Golden Junior Suite are also included in Sky Class.
Sea Class
Image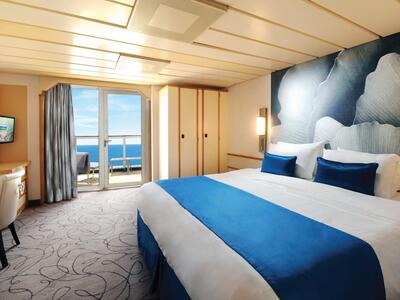 The bottom tiered Royal Class suite is called the Sea Class Suite when sailing on Royal Caribbean's Oasis and Quantum cruise ships. These are spacious cabins stocked with luxurious bathroom amenities and even a personal espresso coffee machines. 
Sea Class suite guests will receive priority embarkation and access to Coastal Kitchen for dinner in the evening. Additionally, Sea Class guests can access a dedicated Royal Class check-in queue when embarking. 
Junior Suites onboard Royal Caribbean are considered Sea Class suites. 
Ultimate Family Suite
Image
Royal Caribbean made waves in the cruise industry when it debuted the Ultimate Family Suite. These Ultimate Family Suites are currently only offered on Spectrum of the Seas, Wonder of the Seas and Symphony of the Seas. 
The Ultimate Family Suite is geared towards families with younger children, as its multilevel and multi-room design features an indoor slide, ping pong table, gaming room, and an air hockey table. There's even an in-suite cinema that's sure to create lasting family memories.
Parents sailing in the Ultimate Family Suite will surely enjoy the cabin's private hot tub. The stateroom's stylish master suite is the perfect oasis for parents looking to relax and unwind together. 
Image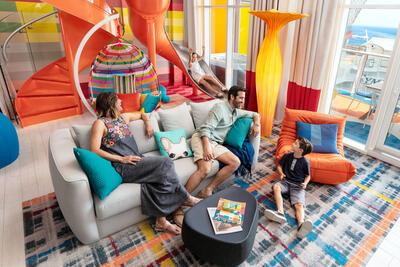 The Ultimate Family Suite can accommodate up to 8 passengers in a space that covers approximately 1,100 square feet, along with a private balcony adding an additional 200 square feet. So much space for all the family fun! 
Those sailing in the Ultimate Family Suite will also have access to Royal Caribbean's Royal Genie. Other VIP perks include complimentary beverage and specialty dining packages, along with free VOOM internet access. This is all because the Ultimate Family Suite is considered part of Royal Caribbean's Star Class collection, which provides an all-inclusive VIP cruise experience. 
Be prepared to splurge if you want to sail in the Ultimate Family Suite, as it typically costs upwards of $20,000 to book one of these suites. 
Villa Suite
Image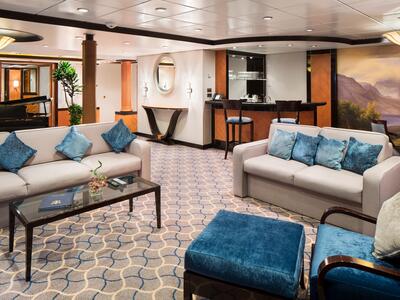 Onboard Royal Caribbean's Oasis Class and Quantum Class ships, travelers sailing in larger groups that want to splurge on a premiere cruising experience can book the Villa Suite. This is a 4 bedroom luxury suite, formerly known on some Royal Caribbean cruise ships as the Presidential Suite. 
These suite cabins can hold up to 14 cruisers, which makes it a perfect pick for larger groups wanting to stay in the same accommodations. Villa Suites come with 2 master bedrooms and 2 guest rooms, offering more than 1,100 square feet. This doesn't even include the 400 square foot balcony!
Each room in the Villa Suite comes with its own bathroom. There is a large common space in each Villa Suite as well. Even better- the huge balcony features a private hot tub for Villa Suite guests to enjoy.
Surprisingly, some Royal Caribbean cruisers have found that off-season sailings, combined with certain sales and promotions, can make the Villa Suite pretty affordable. Some have found the sailings for as little as $1,000 per person, which is extremely affordable for a Star Class Royal Suite.
Loft Suites
Image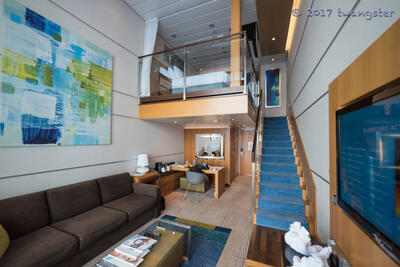 Royal Caribbean's newest ships are also offering incredible Royal, Star, Sky and Crown Loft Suites. These suites are essentially duplex apartments with separate bathrooms and bedrooms.
Star, Sky and Crown Loft Suites are 2-story rooms that can accommodate up to 4 passengers while Royal Loft Suites accommodate up to 6 passengers. These incredible suites are massive, with Royal Loft Suites expanding over 1,500 square feet and a balcony adding another 500 square feet. On the other hand, Star and Sky Loft Suites are 750 square feet while Crown Loft Suites are a modest 500 square feet.
Cruising in a Loft Suite is a great option for larger families looking to have a spacious and exceptional cruise experience. These cruise cabins offer a master suite on the second level. The second bedroom is located on the first level, along with a private balcony. The balcony in a Royal Loft Suite even has its own a private hot tub for guests to enjoy.
AquaTheater Suite
Image
Royal Caribbean's Oasis Class ships offer incredible AquaTheater Suites, which have stunning views of the back of the ship and overlook the Aqua Theatre. These are spacious rooms that provide the Royal Class Suite experiences as well.
Cruisers have the option to book either 1 bedroom or 2 bedroom AquaTheater Suites. The 2 bedroom AquaTheater suite is considered part of the Star Class while the 1 bedroom AquaTheater suite is part of the Sky Class. In this case, the biggest difference in amenities would be access to the Royal Genie in the 2 bedroom AquaTheater.
The AquaTheater Suite has a balcony almost as massive as the cabin itself. These suites range from 670-820 square feet with balconies ranging from 610-770 square feet! You won't want to leave these huge balconies; you especially won't want to miss the incredible views of the Royal Caribbean AquaTheater show that you can watch from your stateroom.