There is no greater feeling than getting a good deal on a cruise. Every dollar counts, right? Sometimes, though, the cost savings are not worth it, especially if you are picky about where you want your stateroom to be located. 
Most cruise lines-- such as Royal Caribbean, Celebrity, and MSC -- offer guarantee staterooms that are cheaper than standard fares that allow you to select your cabin at the time of booking. Choosing a guarantee rate means that you won't be assigned your specific cabin until closer to your sail date. 
Are guaranteed staterooms worth the risk? Here is everything you need to know about being assigned a random room on a cruise ship before you make that decision. 
What is a guaranteed stateroom on a cruise?
Image
Guaranteed staterooms are those that will be assigned at random by the cruise line. They are cheaper than standard fares because you are giving up the ability to select exactly what cabin you want. 
They're typically available in all cabin categories, whether that be an interior, ocean view, or balcony, with the absolute cheapest rooms on any given cruise tending to be guarantee interior cabins. 
Part of the "guarantee" is that you are guaranteed a stateroom in your chosen category, so if you book an ocean view room, you will not be downgraded to an interior. You do not have to worry about not getting a room, either! In the event that all ocean view staterooms do sell out, you will be upgraded. 
Image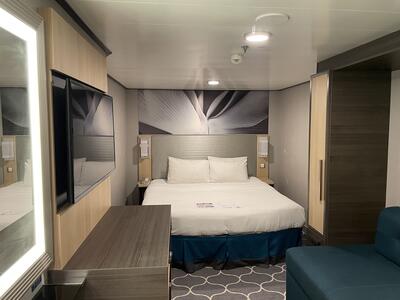 This, however, means that all types of rooms within your booked category will have to sell out. If you're cruising on one of the world's largest cruise ships, like Royal Caribbean's Wonder of the Seas, there are different types of interior cabins, such as those with windows that overlook the interior neighborhoods of the ship, as well as those with virtual balconies. 
In other words, even if all traditional, windowless interior rooms sell out, you will not be bumped up to an ocean view room if one of the other interior staterooms are available. 
With a guarantee cabin, you won't be subject to any differences in service, and you will have access to the same amenities throughout the ship. In fact, your cabin attendant won't even know that you booked a guarantee stateroom. There's no mention of this anywhere on your cruise card. 
Image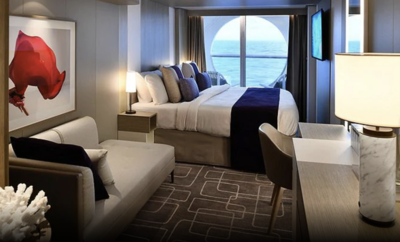 The only exception is MSC Cruises, as there are three different "experience" levels that you can select when booking your cruise, each of which have different perks. Bella, the lowest tier, does not let you choose your cabin. 
Additionally, there is less that's included with this fare than the Fantastica or Aurea experiences. You will not, for instance, be able to get free breakfast delivered to your cabin, but you will still be able to relax by the pool, dine in the same main dining rooms, and enjoy all the entertainment offerings. 
What are the risks of booking a guarantee room?
Image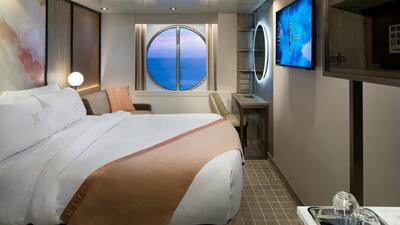 The biggest risks with guarantee cabins are that you could end up in a less-than-desired location or with an obstructed view. 
If you have hopes of waking up to an unobstructed view of the ocean, you will want to book the exact room that you want in order to avoid disappointment when you walk into your cabin and realize that you can only see out 60% of the window because it's blocked by a lifeboat. 
Image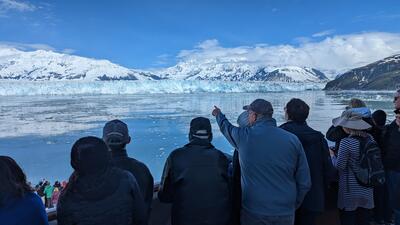 This might not matter on certain itineraries as much as it does on others. You, for instance, will want to be able to see all the glaciers you sail past on an Alaskan cruise. On a Caribbean one, though, much of the scenery is the same, especially when sailing on the open ocean. 
Moreover, guarantee cabins can be located anywhere on the ship. Yep, that means that your room could be directly underneath the pool deck, close to the casino, or far from an elevator bank. You could even be assigned a connecting room, regardless of whether you know the party in the other room or not (don't worry-- the door will remain locked the entire cruise!). 
Image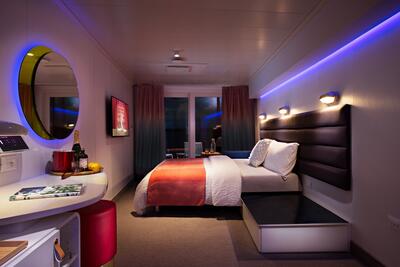 If you do not want to be kept awake at night to the thumping of music from the ship's nightclub or awoken in the morning to the sound of pool chairs being dragged across the deck, your best bet is to spend the extra money and select a room that is sandwiched between other stateroom-only decks. 
The purpose of guarantee rooms is to help fill in the gaps of unsold staterooms, as some cabins are less likely to get booked. This means that when your room is assigned, your room will be selected from a pool that other cruises deemed "undesirable."
Read more: Best rooms on a cruise ship: Deck, location, & category
When do cruise lines assign guarantee cabins?
Image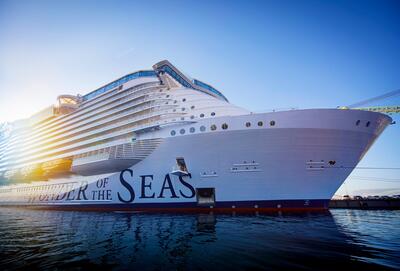 When you book a guarantee cabin, your exact stateroom may be assigned as far out as a couple of weeks before the scheduled departure date or as close as a few days before. 
The cruise line is not obligated to assign your room by any certain time, so long as you have a cabin assignment by the time you board the ship. 
In general, though, most lines strive to assign your cabin a few weeks before. This is a drawback for those who like to have all of their information in advance. If you are traveling with a group, you might not like not knowing where everyone will be located, especially if you are hoping that your cabins will be close to one another. 
Should you book a guarantee cabin on your next cruise?
Image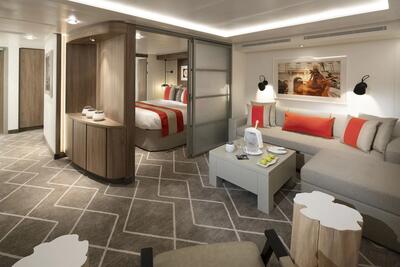 Well, it depends. Whenever I book a cruise, I do not mind taking a gamble with my stateroom, as I know that I will still be on the same ship as everybody else and enjoying the same amenities. Plus, I do not spend too much time in my stateroom; I'd rather use my time onboard to explore the ship, listen to live music, or hang out on the pool deck. 
One time while sailing onboard Royal Caribbean's Symphony of the Seas, I was assigned an accessible interior room, meaning that my cabin was much larger than other standard interior rooms. I really enjoyed having the extra space, as this stateroom was 258 square feet, or over 100 square feet larger than traditional interior staterooms! 
Plus, it was located pretty mid-ship, so I was close to the elevator banks and an equal distance from the front (forward) and back (aft) of the vessel. 
Image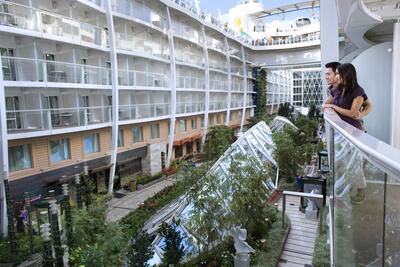 Everyone's preferences vary. If you do not care about the actual stateroom or location, you might not mind saving some money and letting the cruise line pick your room, especially if you are able to spend money on other incidentals. On the other hand, if you want to be located near a certain venue or part of the ship, you're better off spending the extra money. 
This is especially true on ships with multiple types of rooms within a given category, like Royal Caribbean's Oasis Class. Did you know that these ships have interior facing balconies that overlook the Central Park and Boardwalk neighborhoods? 
Image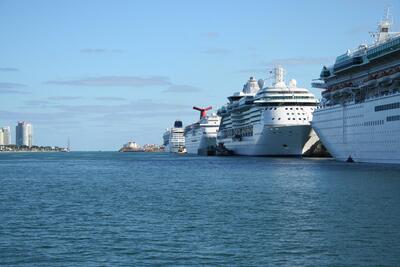 You do not want to make the mistake of selecting a guarantee balcony, only to find out that you have no view of the ocean at all! Even if you aren't concerned about an ocean view, some cruisers prefer one neighborhood over the other, too. Central Park tends to be a little bit quieter than the Boardwalk
Overall, do not book a guarantee room under the assumption that you will be upgraded. It is crucial that you book something that you will be happy with, so if staying in a tiny interior room with no natural light is not for you, go ahead and reserve an ocean view or balcony room. The further in advance you book, the more time that you will have to pay off your cruise vacation.