After spending $1,900 on an interior room onboard Carnival Celebration, I decided to book a $3,600 suite on Carnival Vista to see how the staterooms compared.  
Image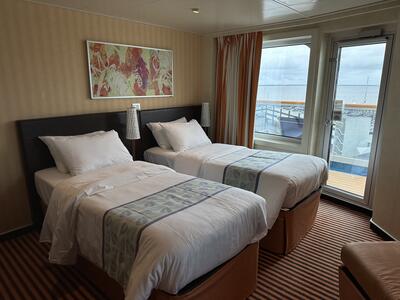 Carnival Vista launched in 2016 and is the first ship in the cruise line's Vista Class. She was later joined by Carnival Horizon and Carnival Panorama. 
Image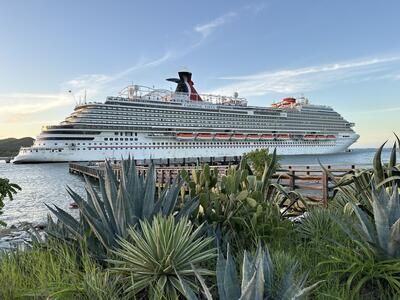 The vessel is smaller than Carnival Celebration, measuring only 133,500 gross registered tons. That, however, doesn't mean that there aren't a variety of fun activities onboard!
Image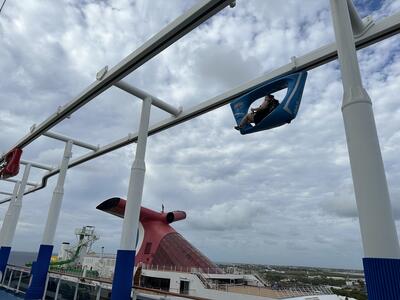 I was thrilled when I found a suite onboard Carnival Vista for $3,600, or $1,800 per person! 
Image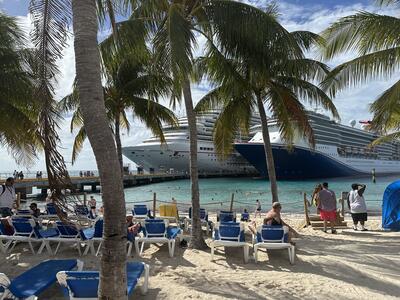 After spending nearly $2,000 on an interior room on my last cruise as a solo traveler, I figured the extra space and amenities would be worth the cost for this 5-night cruise. 
Image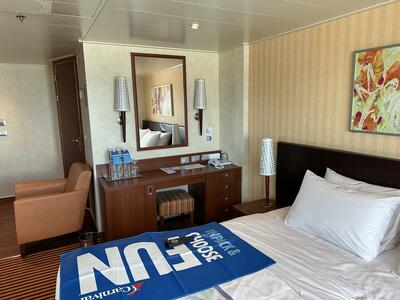 The Junior Suite was 152 square feet larger than my interior room on Carnival Celebration, measuring a total of 310 square feet, including the balcony.
Image
While Carnival's suite program is not as expansive as other cruise lines, some perks that I received included property embarkation/disembarkation, two complimentary large bottles of water, and bathrobes. 
Image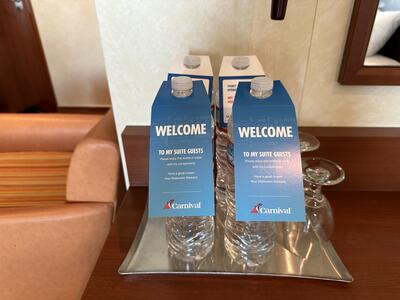 The pillow-top mattress was a nice benefit, too. The bed was much more comfortable than the one I had when sailing on Carnival Celebration. 
Image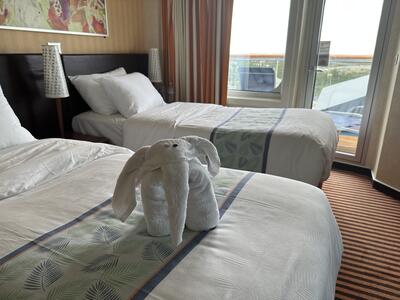 My Junior Suite onboard Carnival Vista was located on Deck 9 at the very front of the ship right above the Bridge. 
Image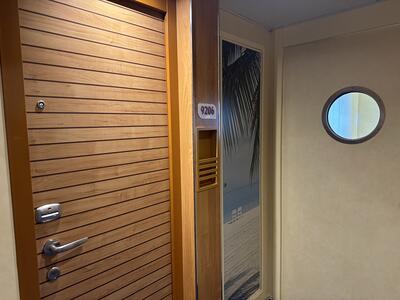 The location was one of my biggest issues with the cabin, as my cousin and I constantly felt the rocking of the ship. Plus, it was impossible to utilize the large balcony on the first full day because of how windy it was. 
Image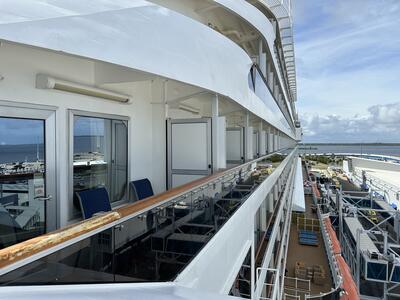 Due to the public deck that was right outside of the stateroom, there was also less privacy than other balconies I have previously stayed in. People could easily peer over and look right into our balcony.
Image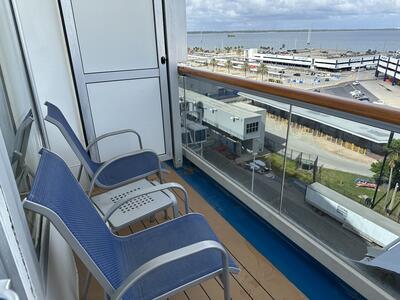 There was also a large picture window that further contributed to the lack of privacy. We were startled whenever we saw someone walk by! 
Image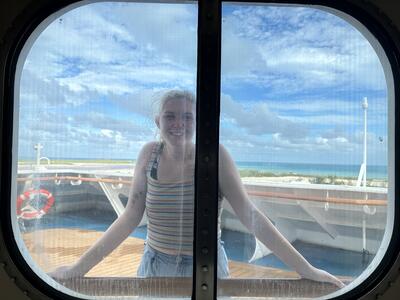 I did appreciate the larger balcony, though. In addition to the two standard chairs and table, there was enough space for a lounge chair!
Image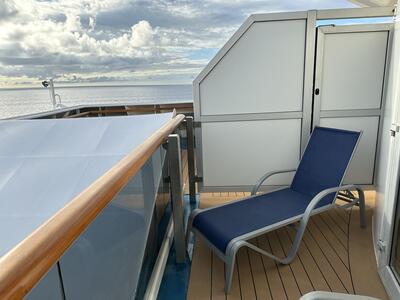 Image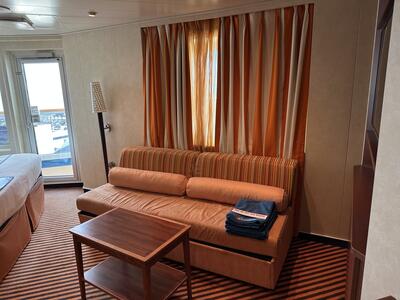 Not only was there an oversized sofa, but the expansive entryway had a single chair. In the past, I have used the extra seating as a catch-all place; however, since this stateroom had so much storage, it remained free all week! 
Image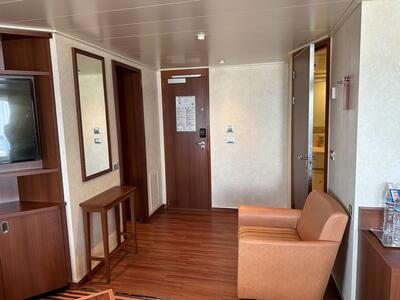 The walk-in closet had more than enough space for all of our clothing and was the largest closet I've had on a cruise ship. 
Image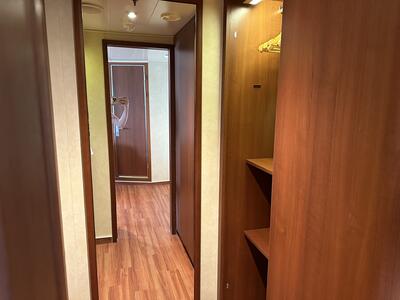 Rather than individual hangers with their own hooks, they were grouped together by a single plastic piece that could not be removed from the rod. They were different than any other hangers I've ever seen!
Image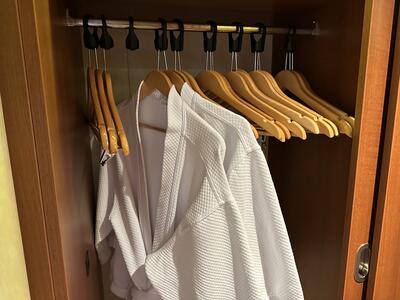 The larger bathroom felt like a standard hotel bathroom, rather than one on a cruise ship. In addition to dual sinks, there was also a shower-tub combo with jets!
Image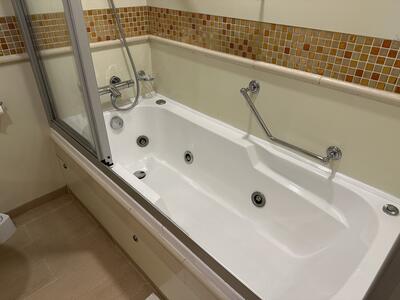 Standard cabins onboard Carnival Vista have a shower curtain, so I was glad that my suite came with a tempered glass door, as well as upgraded Elemis products. 
Image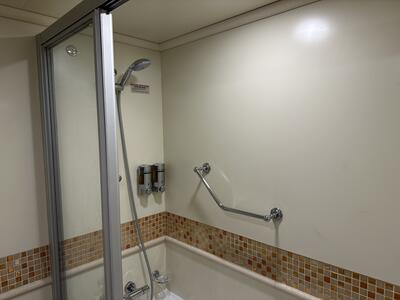 That being said, there was some obvious wear and tear, as there were quite a few scratches on the wall in the shower. This was a little surprising to find in a suite, as I figured they would be maintained a little bit better!
Image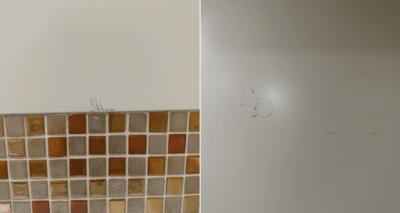 I wasn't disappointed, though, as the spacious bathroom was a major perk of booking this cabin. There were a total of six shelves to store all of our cosmetics, and we were each also given our own bars of hand soap!
Image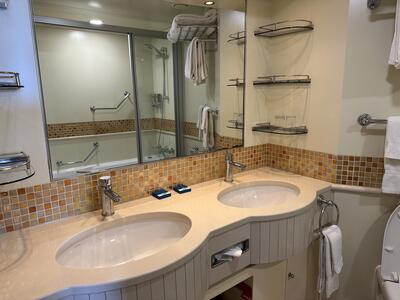 While not as modern as my bathroom on Carnival Celebration, it definitely served its purpose. 
Image
While not one of the newest ships at sea, I was surprised by the number of charging options available. The vanity area had two USB ports, as well as two American plugs and a single European outlet. 
Image
There were two more outlets by the table in the entryway, totaling seven plugs in this Junior Suite. None, however, were located by the beds.  
Image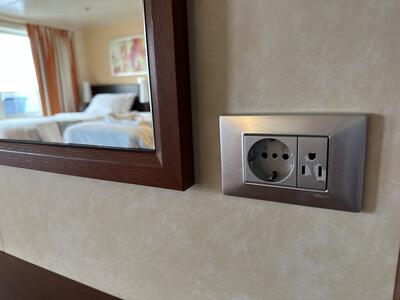 Standard stateroom amenities, such as a mini-fridge, were also present. The fridge in this stateroom happened to be located underneath the television, rather than near the vanity. 
Image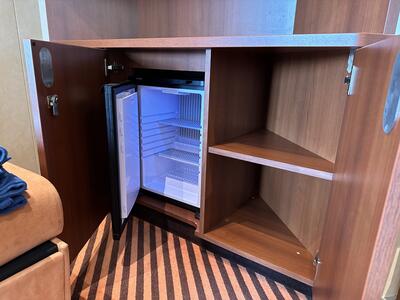 The large vanity was home to the stateroom's telephone, which I thought was pretty bulky, safe, and had four drawers. 
Image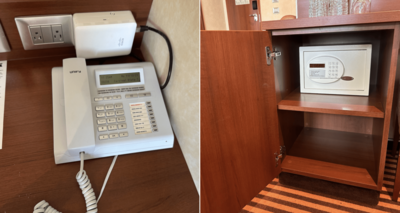 Similar to Carnival Celebration, a cruise card had to be left in a slot near the door for the lights to work. When we arrived, however, there was a card placed there already! It remained in the slot for the entirety of the cruise. 
Image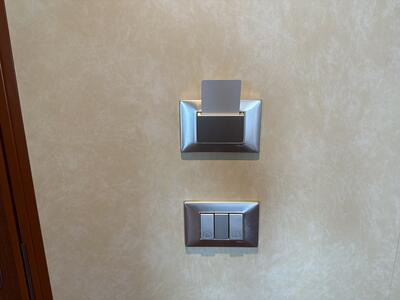 While $1,800 per person for a 5-night cruise is definitely more on the expensive side, this was a great first cruise suite experience! 
Image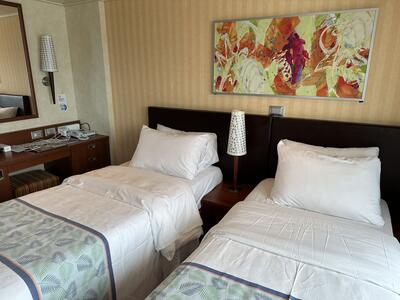 However, I would be interested to try one of their specialty suites, like a Havana Cabana, as they come with more lucrative perks, such as private pool access.