When most people think of cruising, they think of a family vacation where they can create memories and spend time with loved ones. 
Cruises, however, make for a great solo trip, too! With so many scheduled activities, it is easy to show up and strike up a conversation with fellow passengers. Plus, you get to explore new places around the world, so you know you will always have something to talk about with others. 
When planning your solo voyage, you will want to consider sailing in a solo cruise cabin. If you book a standard cabin, you will most likely have to pay a single supplement free. Since staterooms are based on double occupancy, this surcharge is applied to single travelers to help cover the cost of the would-be second guest.
Image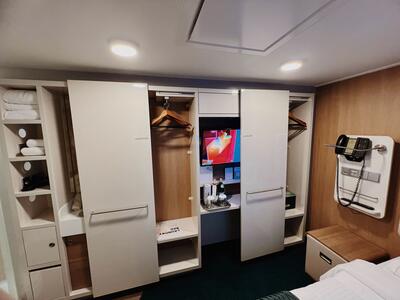 Often, this premium is close to 100% of the cruise fare. In other words, you will be paying close to what you would for two people, even if you are alone. 
With the popularity of solo cabins increasing, solo travelers can now look forward to even more affordable vacations, as they will not have to pay an increased price for a single occupant in a standard cabin.
Here's a list of the 8 best solo cruise cabins, so you can put your money towards other fun cruise-related things!
Read more: Can You Cruise by Yourself? A Guide to Solo Cruising
Virgin Voyages' Solo Insider and Solo Sea View cabins
Image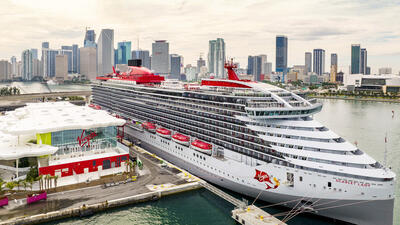 Unlike other mainstream cruise lines, Virgin Voyages is new to the industry, with their first ship -- Scarlet Lady -- setting sail in 2021. Onboard all their ships, you will find 46 cabins for single passengers, six of which are ocean view rooms. 
Solo cabins are not large. In fact, they are usually smaller than standard interior rooms. For one person, though, these 105 square foot rooms come appointed with everything you need for a comfortable stay, including a full-sized bed, television, desk, and ensuite bathroom. 
Currently, Virgin's fleet is comprised of three ships: Scarlet Lady, Valiant Lady, and Resilient Lady. A fourth, Brilliant Lady, is scheduled to enter service at the end of 2023. She, too, will have solo cabins onboard. 
Royal Caribbean's studio cabins
Image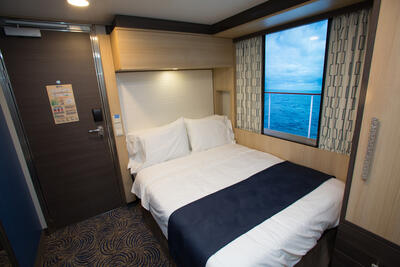 You will find studio staterooms on nearly half of Royal Caribbean's ships, including Anthem of the Seas, Adventure of the Seas, Brilliance of the Seas, Harmony of the Seas, Jewel of the Seas, Mariner of the Seas, Odyssey of the Seas, Ovation of the Seas, Quantum of the Seas, Radiance of the Seas, Serenade of the Seas, and Spectrum of the Seas.
There's a variety of different categories, too, such as standard interior rooms, ocean view, and even those with virtual balconies. Due to the different configurations, they vary in size. Some have full-size beds, while others have twins, but they all include the same basic amenities as cabins intended for more than one passenger.
Oddly enough, you will not find solo rooms on the cruise line's newest ships: Wonder, Icon, and Utopia of the Seas. 
Celebrity's Infinite Veranda solo cabins
Image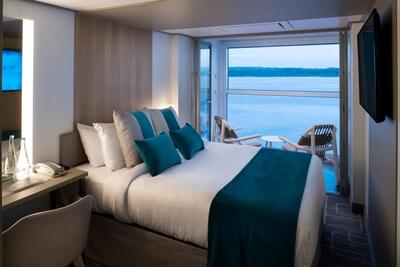 Celebrity is Royal Caribbean's sister line; they are both owned by Royal Caribbean Group. Knowing that, it does not come as a surprise to find out that they, too, have solo cabins onboard some of their ships. 
When Celebrity Edge launched, she was the first ship in their fleet to feature 16 Infinite Veranda staterooms for single travelers that measure 131 square feet. When Celebrity Apex set sail a few years later, Celebrity increased the number from 16 to 23. 
The solo cabins on Celebrity Beyond are a little big larger, coming in at 184 square feet. This is larger than some standard interior rooms for two people! Interior cabins onboard Carnival Celebration, for instance, are 158 square feet. Plus, they doubled the number of available solo rooms compared to Celebrity Edge. 
When Celebrity Ascent launches in December 2023, she, too, will have 32 cabins dedicated to solo travelers. 
Additionally, Celebrity Silhouette was retrofitted to include four single inside staterooms.
MSC's solo inside cabins
Image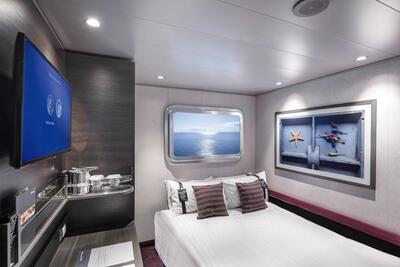 In order to further increase their presence in the cruising industry, MSC Cruises have added cabins for single travelers on some of their ships, including MSC Virtuosa, Grandiosa, Meraviglia, and Bellissima, to compete with other lines. 
Each room is an inside cabin, meaning that there is no exterior view, and measures about 129 square feet. 
Read more: I took my first solo on MSC Cruises. After 4 nights, here are the pros and cons of cruising alone
Norwegian Cruise Line's studio cabins
Image
When Norwegian Epic launched in 2010, Norwegian became the first mainstream cruise line to outfit a ship with solo cabins. This paved the way for lone seafaring vacationers to have their own affordable rooms!
These solo cabins are just 100 square feet in size, and passengers booked in these rooms can take advantage a dedicated studio lounge, where they can mingle with others cruising by themselves.
Since Epic debuted, Norwegian has also made sure to put studios on Norwegian Escape, Bliss, Breakaway, Getaway, and Encore. Plus, Pride of America, which sails exclusively around the Hawaiian islands, was also renovated to include studios. 
Prima Class ships also feature solo studio staterooms, with the smallest coming it at a whopping 94 square feet!
Read more: See exactly what a cabin designed for one person includes: solo traveler cruising
Holland America's ocean view single cabins
Image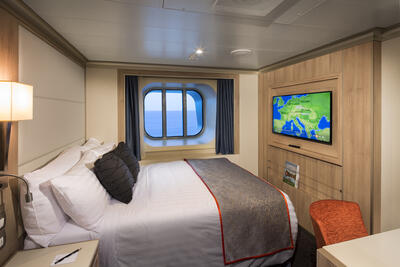 You will find 12 ocean view cabins for one onboard Holland America Line's newest ships: MS Koningsdam, Nieuw Statendam, and Rotterdam. These ships offer impressive itineraries, ranging from Alaska to the Caribbean and Europe!
Unlike other cruise lines, like Norwegian, they all feature ocean views and measure anywhere from 127 to 172 square feet, making them some of the larger rooms for single travelers. Inside, you will find the standard amenities available in other cabins, like a writing desk, chair, and bed. Plus, the ensuite bathroom is the same size. 
They have not added solo cabins to any older ships. 
Cunard's Britannia single cabins
Image
Queen Mary 2, Cunard's most well-known ship that sails regular transatlantic voyages between Southampton and New York, has 15 solo cabins onboard that range from 178 to 183 square feet. Known as Britannia Single Staterooms, all are outside rooms and feature a picture window. 
You can also find solo cabins on two more ships in their fleet: Queen Elizabeth and Queen Victoria. The nine available rooms are unlike those on Queen Mary 2, as not all of them have ocean views. Instead, they are a mix of inside staterooms and cabins with ocean views.
Oceania's ocean view and Concierge-level solo cabins
Image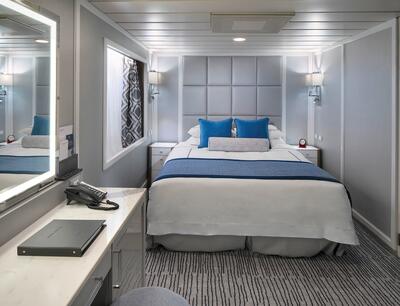 Over half of Oceania'a fleet, or five out of seven ships, have 14 solo cabins onboard: Regatta, Nautica, Sirena, Insignia, and their newest ship-- Vista.
When renovations on the older ships were done in late 2022, 56 staterooms were added to their fleet. All solo rooms on these ships are ocean view. 
Additionally, Vista has six 270 square foot Concierge level rooms. In addition to a balcony, guests can take advantage of all Concierge amenities, including free laundry, room service from the main dining menu, complimentary embarkation, a private lounge, and free bottle of champagne.