Most of us aren't lucky enough to live within driving distance of a cruise port. Plenty of people onboard a cruise ship have to fly from their home into a port city before boarding their cruise.
Even if you live close to a cruise port, you might want to cruise to other destinations, which often requires airline travel.
I can empathize with anyone who has to travel long distances to a cruise port. Cruising can be cheap but airline travel can sometime be very pricey. I've often felt that my flights are usually just as expensive, if not more, than the cruise itself. It also adds another logistical layer to travel planning, which can be stressful. 
Image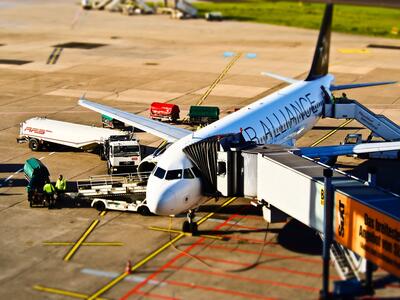 I grew up in the Midwest, so my family and I often escaped to Florida in the winter months. We loved cruising to the Caribbean and Mexico, especially when it was so cold back home! Living in South Dakota, we were nowhere near a cruise port, meaning we would always have to fly if we wanted to cruise. 
My dad always told us that we would never fly into the port on the same day as the cruise begins. For us, the unpredictability of winter weather, along with a million other things that can go wrong when you travel, meant we never flew on the same day as our cruise departed. In fact, my dad considers this the golden rule of cruising - and he's not wrong!
First-time cruisers often make the mistake of booking flights to land on the same day as their cruise departs. If you can land at 8am and the cruise shows a departure at 4 PM, that should be plenty of time, right?
Image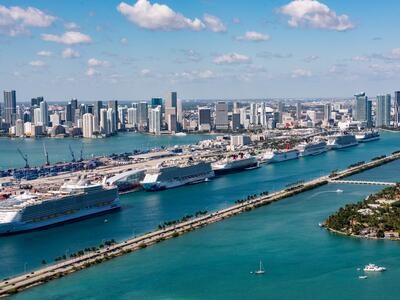 Well, think again! You can find yourself in a nightmare travel situation if you choose to fly on the same day as your cruise behind.
To avoid travel catastrophe, it's a good rule of thumb to seriously consider booking flights that will get you to your destination at least one day before of your cruise ship departure. 
But why is it a bad idea to fly on the same day as your cruise begins? Let's look at some of the biggest reasons below!
It's Risky
Image
The most obvious reason to not fly in on the same day as your cruise departing is simply that it's risky. If you have any sort of travel delay or cancellation, you will risk missing your cruise entirely. Of course, this is a costly mistake since you've already paid for your cruise in full at this point.
So many things can go wrong when you choose to fly on the same day as your cruise begins. From weather delays to maintenance issues, there are a million things that can go wrong when flying. You are leaving it up to fate and good luck if you choose to fly in for your cruise the same day it begins. 
And you know how it goes - the one time you absolutely need to be somewhere on time is when you will have a day full of travel woes. 
Image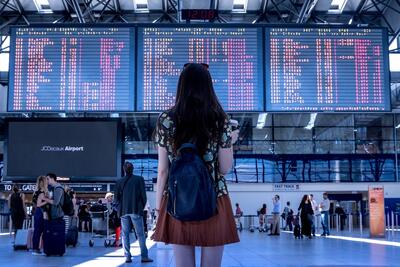 Even if you are slightly delayed, you still have to collect your luggage and make your way to the port. As luck would have it, you'll probably hit loads of traffic on your way to the ship in this situation too! 
Don't forget that even if you land with marginal time to spare, you can still encounter other delays after getting on your plane, like baggage delays, long lines at customs or immigration and horrible traffic. 
Flying on the same day as your cruise begins is very risky and can be avoided almost entirely by traveling the day before and spending the night in a hotel.
It Could Be Costly
Image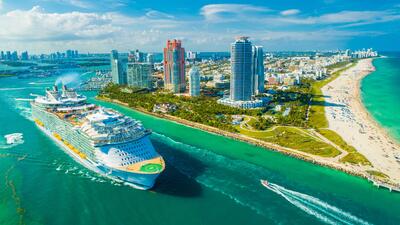 If you choose to fly into the port on the same day as your cruise begins, you could risk missing your cruise vacation entirely.
In a worst case scenario, if you have any travel delays or cancellations that leave you unable to board the cruise ship on embarkation day, then you are left with 2 choices. 
You can choose to fly to the first port of call and meet up with the cruise ship at your own expense. Of course, booking a last minute flight is often very expensive. Depending on how much you spent on your cruise, this could end up not being worth it if the flights cost more than the price of your cruise. 
Image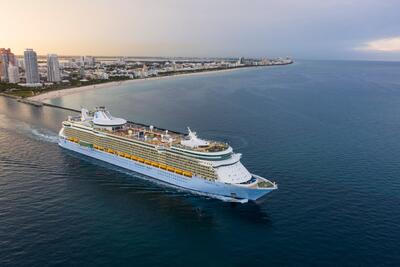 The second option you have is to cut your losses and miss the cruise entirely. In this case, you won't receive any refund from the cruise line if you are unable to board the cruise. 
Both of these options will leave you either losing money on your lost cruise vacation or dropping money on flights to catch-up with the cruise line at its first port of call. 
Even if you've had good luck flying into the port on the same day as your cruise, just one day of bad travel luck can be more costly than whatever the cost was to fly the day prior and get a hotel. 
No Stress on Vacation
Image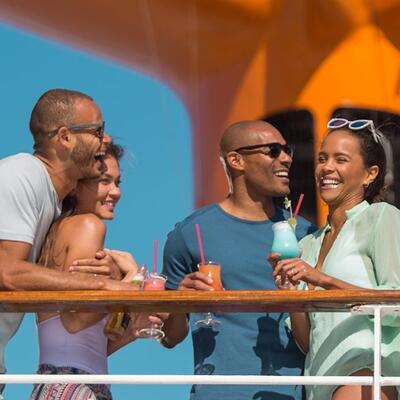 You deserve to have a stress-free vacation from the moment you get to the airport. For me, vacation starts the minute I get to the airport and through security. That's why so many people are drinking at an airport bar at all hours of the day!
If you fly on the same day as your cruise begins, you will probably be stressed about any chance of a delay or cancellation. Vacation is meant to be relaxing, so you don't really want to start off your cruise being stressed all morning.
Only once in all of my cruising years have I flown on the same day as my cruise departed. I won't lie to you, it absolutely stressed me out for weeks leading up to our cruise. I tend to stress more than the average person, but I was so worried that we would have bad Minnesotan winter weather that would cause a huge delay for us flying to San Juan. 
Image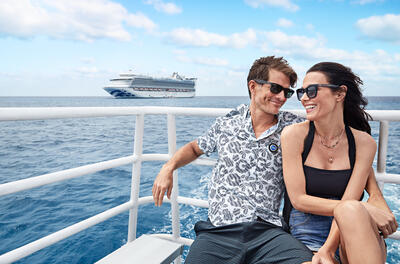 My husband and I had a Southern Caribbean cruise planned from San Juan after spending Christmas in Minnesota. We booked a direct red-eye flight from Minneapolis to San Juan that landed at 7am the morning of our cruise.
I knew this was risky, but it was almost $1,000 cheaper than any other alternative - not to mention the cost savings of not needing a hotel in San Juan that night too.
I researched backup options that would allow us to still board the ship on time, which made me feel a bit better. Luckily, we didn't have any travel issues but the anxiety that it caused was not worth it to me to do that again. 
It's the most relaxing for everyone when you fly the day before your cruise begins, as this leaves plenty of time for delays or unexpected factors to arise.
Fly the Day Before
Image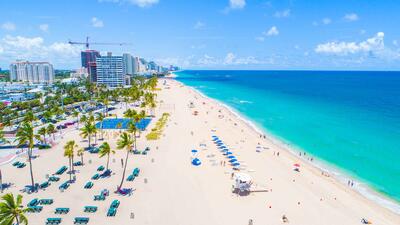 You'll pretty much avoid any travel nightmares when you travel the day before. By flying the day before, you are giving yourself the best opportunity to make it on time to your cruise departure. More wiggle room gives your more options in case you encounter delays, maintenance issues, or weather problems. 
It's best practice to fly into the cruise port the day before your cruise departs, which ensures you can still get to the ship even if you experience travel delays or cancellations. 
It's also less stressful for everyone when you fly the day before. Nobody wants to be a ball of nerves at the start of vacation! 
Also, if you need to travel internationally for your cruise, you absolutely should arrive at least one day prior to your cruise embarking. For example, if you are traveling from the US to Europe for a cruise, you should plan to leave 2 days before your cruise starts to ensure you arrive in the country the day before departure. 
Extend Your Vacation
Image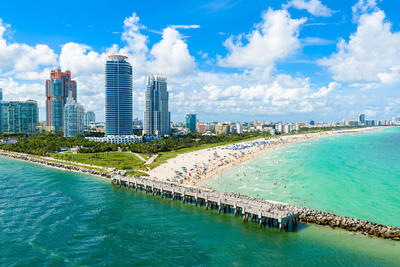 If you want to extend your vacation (and who would blame you!), then consider flying even a few days before your cruise departs. Having just one full day to explore or relax in the departure city before your cruise can be a great way to start vacation.
My husband and I have found that we actually really enjoy giving ourselves a few days to explore the port city or country before embarking on our cruises. This gives us the best of both worlds when traveling - we can explore independently on our own time before indulging, relaxing and feeling pampered on a cruise.
When we cruised from Singapore a few years ago, we arrived 3 days before our cruise departed. This allowed us to have 2 full days exploring the beautiful city of Singapore before we cruised to Thailand and Malaysia. On our honeymoon cruise from Venice, we flew in a full week before the cruise to explore Italy on our own. We packed ourselves full with day trips from Milan to Lake Como, Cinque Terre, and Lake Lugano in Switzerland. By the time we boarded our ship, we were definitely ready for some relaxation. 
Image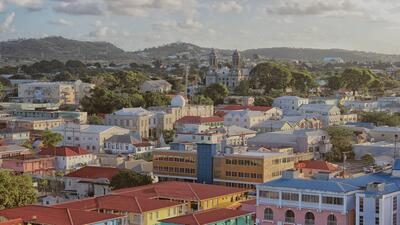 Finally, my family and I traveled to Beijing a few days before our cruise departed to Japan from Shanghai. We wanted to see the Great Wall of China, so traveling a few days early gave us time to see China before embarking on our cruise.
Instead of seeing the extra travel day as a logistical burden, use it as an opportunity to extend your vacation a few days. When you take this approach, it's mitigating almost all risk that you'll miss the cruise departure because of flight issues.
Same Day Travel Tips
Image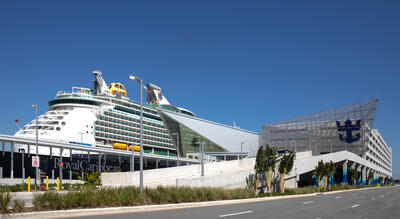 Sometimes life happens and it just doesn't work out to fly the day before your cruise departs. 
If you have to fly into the port on the same day as your cruise, it's best to book the earliest flight available to give you as much time as possible to get to your destination. 
Booking a direct flight will also decrease your odds of having something go amiss on your flight's scheduled departure and arrival. This is also the most convenient option for traveling.
Image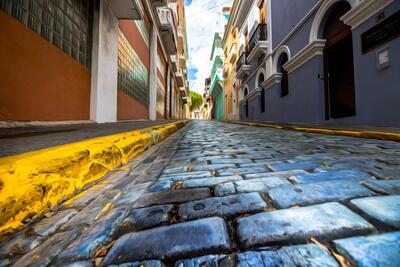 Like my flight to San Juan, another good option could be booking a redeye flight that departs the day before but lands the morning of the cruise. These flights usually depart in the evening and arrive at a destination the following morning. This is probably the least risky way to fly into the port on the same day, but you can still experience delays that are close to your cruise departure time.
Additionally, if you are flying the same day as your cruise departs, you could consider booking your flights with the cruise line. If you experience delays or need travel assistance, you will receive immediate help through the cruise line. Additionally, these programs will usually accommodate any travel needed if you miss the cruise departure and need to fly to the next port.