There is nothing quite as annoying as heading up to the lido deck on a sea day just to find empty chairs claimed by towels. 
Nicknamed "chair hogs," these individuals will leave their belongings on one or more chairs near the pool in order to try reserve them for later use. Rather than use them in that moment, they will go do other things, such as eat breakfast, return to their stateroom, etc. 
Most cruise lines try and limit this practice by monitoring which chairs are being actively used. There is only so much they can do, though. 
Here are some tips and tricks to beating the chair hogs on your next cruise. 
Note that we do not recommend putting yourself in a position where you could get involved in an altercation with other guests. 
While many cruise lines state that chair hogging is against their rules, do not put yourself in a position to enforce them yourself. If you move someone's belongings and they return to the chairs later, you may find yourself with a vacation memory that you'd rather forget. 
Get up early
Image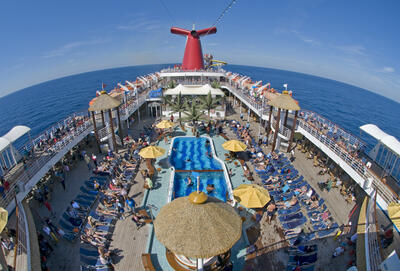 As long as you get to the lido deck at some point during the morning, you will usually be able to snag a couple of chairs for you and your travel party. 
If you have a preference in location, I would aim for sometime before 10:00am. If you do not, you should be okay to find something around 11:00am or so. 
The earlier you head up to the buffet to grab a bite to eat and then outside, the better. If you are worried about oversleeping, consider retiring a little be earlier the night before. 
Plus, the buffet tends to get more crowded later in the morning. You are only doing yourself a favor by going earlier. 
Image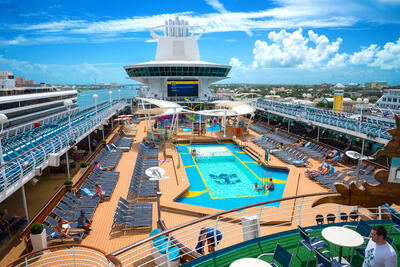 You might be a night owl, though. And since it is your vacation, you should adhere to whatever sleep schedule you want! In this case, your next best option is to wait the chair hogs out. 
Those who have spent all day up on the lido deck start to slowly leave the pool in order to prepare for dinner or their evening plans somewhere around 4pm. 
If you want to spend the majority of your sea day by the pool, then you will want to get up early and claim a chair. Otherwise, you can find some opening up around dinner time. In this case, you will want to plan for a later traditional dining time. 
Read more: 17 mistakes you shouldn't make on a cruise ship sea day
Return to the ship early on port days
Image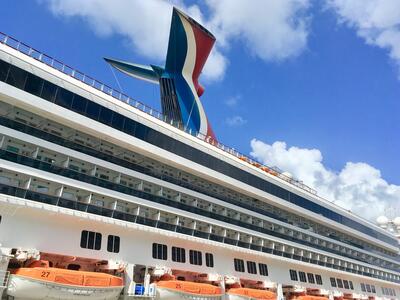 If you are on a budget or have visited a port before, you may consider staying onboard to utilize the ship's amenities. There's always something new to explore, so you should research the port to see what you might have missed the last time. Plus, you can often find cheaper excursions through third party operators. 
In other words, do not stay onboard all day. Find something to explore and return to the ship a little bit earlier. You will still find plenty of pool chairs and fewer crowds on the lido deck, and you will be able to talk about what you did during the morning while ashore! 
I visited Palermo, Italy for the first time on a recent cruise onboard MSC Seashore and found a great third party street food tour that only lasted about two hours. 
Image
Afterwards, I wandered the streets for a little bit before returning to the ship well in advance of all abroad. This meant that I was able to sit in the adults-only pool with minimal people around me!
Similarly, I am going on a cruise to St. Maarten in October. This is a port I have visited many times before, including just this past January! It will also be on a ship that I have never been on before. While I want to stay onboard, I know there is something new for me to go see. Believe it or not, I have yet to visit the famous Maho Beach. 
My plan is to get off early and hang out at the beach before it gets too hot. I'll return to the ship early and stake out a comfortable spot on the lido deck to enjoy the rest of my afternoon. 
Look elsewhere for lounge chairs
Image
If you explore away from the pools, you will usually finds lots of available chairs. 
On a recent cruise onboard Freedom of the Seas, for instance, I did not visit the FlowRider until the last afternoon, which was my sailing's only sea day. 
I found an entire deck of lounge chairs that had an incredible aft view that was virtually empty! While there was noise trickling down from the sports court and surf simulator, it was no more than was near the pools. 
While this means that you might not have a pool view, you might have a better ocean view than you thought! Plus, unless you are planning on spending all day in the pool, this will not matter too much. 
You will still be able to lay out in the sun and read a book, nap, or just enjoy the company of those you are with. 
Book a suite that gives you "ship within a ship" perks and benefits
Image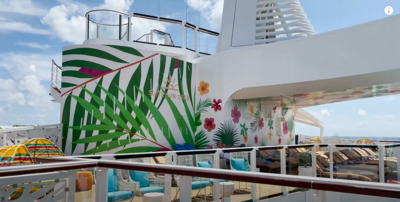 Some cruise lines offer private sun decks for those who are staying in a suite. This reserved area typically has plenty of lounge chairs available throughout the day, meaning you can head up to the deck at your leisure without feeling rushed in the morning. 
Consider splurging on a suite on a ship that has a "ship within a ship" concept, such as Norwegian Cruise Line's "The Haven" or MSC Cruises' "Yacht Club." 
Sometimes, these sun decks will even have their own pool, making them a great way to escape the typical crowds that you can expect to encounter on a beautiful sea day. You may even get perks like priority boarding, exclusive suite-only restaurants, and more. In other words, booking a suite comes with more than just a private sun deck. 
Image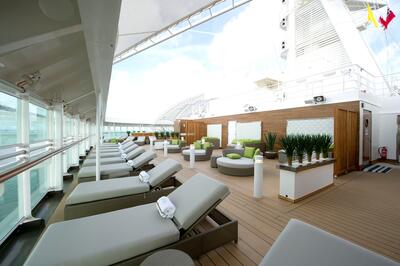 This, of course, is going to be a more expensive option, and not everyone will be able to book a suite to avoid chair hogs. 
At the time of writing, a cruise onboard Norwegian Encore on March 16, 2025 starts at $1,199 per person for a balcony stateroom. If you want to upgrade to the cheapest stateroom in The Haven, you'll be paying a minimum of $5,099 per guest. 
That is a pretty large price difference, and the average cruiser will need that money for other cruise add-ons, such as drink packages, shore excursions, airfare, etc.  
Read more: How to beat the crowds on your cruise ship
Remember that there's so much to do and see on a cruise ship, so you won't ever be bored!
Image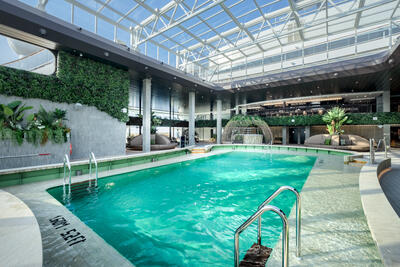 Do not get discouraged if you are unable to snag a prime lounge chair on a sea day. In fact, there are so many other things that you can do on a cruise! Check out your ship's daily schedule. Maybe you will find an activity that you would rather do--one that you cannot do as easily on land! 
Ships offer things like cooking and dance classes, dedicated youth programming, alcohol tastings, trivia, and more. Depending on what ship you're on, you might even be able to go ice skating, race against your friends on a go-kart track, test your bravery on a ropes course, play a round of mini-golf, etc. 
Read more: 40 Fun Things to Do on a Cruise Ship
So long as you are flexible with your plans, you will get your pool time in. You may even find it more enjoyable if you wait until the lido deck clears out!