Many first time cruisers wonder how to sneak alcohol onto their cruise ship.  Most major cruise lines prohibit guests from bringing alcohol onboard their ships because they want their passengers to spend money on alcoholic beverages. These passengers, on the other hand, wish to save money on their cruise vacation.
Over the years, passengers have gotten crafty in their techniques, and sneaking alcohol onboard is a controversial topic. It is flagrantly breaking the cruise line rules, and it can lead to some serious consequences if caught.
Royal Caribbean's website states, "Guests who violate any alcohol policies (...attempt to conceal alcoholic items at security and or luggage check points...), may be disembarked or not allowed to board, at their own expense, in accordance with out Guest Conduct Policy." 
That's a lousy way to start your vacation...by not being able to go at all!
We have a few ways others have shared on sneaking in booze, and some reasons why you definitely do not want to do it.
Seven ways to sneak alcohol onto a cruise
Image
While we do not promote sneaking alcohol onboard a cruise, there are a few strategies that have been observed that seem to work for guests some times. 
Buying 3-ounce plastic bottles and keeping it in your carry-on luggage.
Buying alcohol onboard the ship on one sailing and keeping it for a back-to-back sailing.
Pouring out mouthwash and replacing it with alcohol. Dark rums in white containers seem to work best, although some people will even use colored food dye and reseal the bottle.
Buy a fake flask. These are alcohol flasks meant to look like something else, such as sunscreen bottles, bracelets, and even hair brushes. 
Replacing soda with beer.  If the cruise line allows non-alcoholic drinks, replacing soda with cans of beer in a cardboard case.
Emptying the contents of a wine bottle and replacing it with the liquor of your choice. Those who have been successful using this method have placed a heat activated shrink wrap cap over the cork and often use food dye to mimic red wine.
Purchasing rum runners. They are transparent, sealable plastic bags that are supposed to not look like hidden bottles.
Why not to try and sneak alcohol onboard your cruise
Image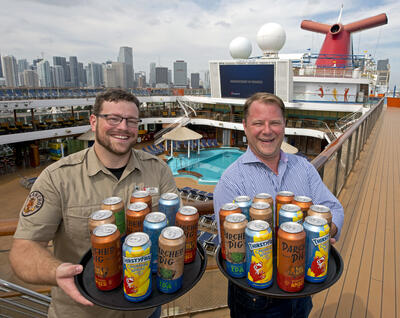 While there is little risk in sneaking in alcohol, the bottom line is it is against the cruise line's rules, and there are some good reasons not to do so.
First and foremost, even if you do sneak in alcohol, you will be pretty limited in how to consume it. You will have to constantly go back to your cabin to get refills. Plus, you may be forced to pay for mixers, such as soda or a non-alcoholic cocktail, which negates the savings of sneaking the alcohol onboard.
You also have to think about how much you will be spending to prep. Do you have hidden flasks already, or will you have to purchase them? Are you planning on paying to check a bag just to bring the smuggled alcohol? If so, you could put those funds towards buying drinks onboard.
Moreover, no matter how much you manage to sneak on, you will never have the same selection or supply as any ship bar can provide. Part of the fun of cruising is trying new things or indulging in drinks you otherwise wouldn't. If you are limiting yourself to the alcohol you snuck on, you may miss finding a new favorite drink!
Read more: 20 drinks to order if you have a cruise drink package
There is also risk involved in sneaking on alcohol because if you are caught, you will lose out on the cost of the alcohol, as well as any special containers you bought to try to get it on. Since you will likely end up paying for drinks if your contraband booze is gone, this will add to the overall cost of your foiled smuggling operation, especially since you would have lost out on any pre-cruise sales. 
If, for instance, you pre-purchase Carnival Cruise Line's drink package, you can save up to 10% per day! Likewise, Royal Caribbean offers sales that sometimes discount their drink packages 20% or more per day. 
Image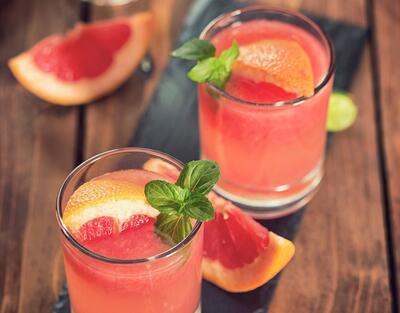 It is also worth noting that many cruise lines allow guests to bring a limited amount of wine or champagne on their cruise. Not only is this allowed by the cruise lines, it can significantly assist in reducing the overall drink cost. Royal Caribbean, for instance, allows passengers to bring two 750ml bottles of wine or champagne onboard per stateroom. 
Carnival allows for guests to bring one 750ml bottle of sealed wine or Champagne per person. It's important to look into your specific cruise line's policies regarding bringing alcohol onboard, as they do vary from line to line.
Speaking of drink costs, unlimited alcohol packages are so prevalent and easy to use these days that it makes the effort required to smuggle drinks onto a cruise seem outdated.  After all, sneaking in booze was an idea that came from a time when unlimited beverage packages did not exist. Today, drink packages provide an economic way to enjoy drinks on a budget. 
If you are sailing on a tight budget, consider also drinking while in port, as the drinks tend to be much cheaper than onboard. Plus, you won't have to go through all the trouble of preparing to sneak alcohol on the cruise ship.