A Carnival drink package allows you to indulge in a fixed number of alcoholic beverages per day of your cruise for a set price, so you do not have to worry about purchasing each drink á la carte. 
They are one of the most popular cruise add-ons for a reason! Of course, if you are not a big drinker, you may not get your money's worth. Maybe you would rather splurge on some once-in-a-lifetime shore excursions or a nicer stateroom. 
Here are 15 tips that will help you decide whether or not a Carnival drink package is worth the investment or not. 
Know what is included with your base fare
Image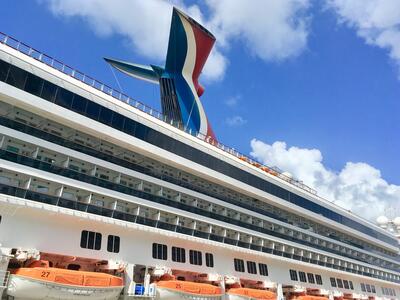 Carnival is not an all-inclusive cruise line, meaning that only select beverages are included with your base fare. These include water, lemonade, fruit juice, coffee, and tea, as well and regular and chocolate milk. 
If you want a broader selection, you will either have to purchase each drink individually or pay for a drink package. 
To start off, there are some drinks that are included with the standard cruise fare. Water, lemonade, fruit juices, coffee, tea, regular and chocolate milk are all complimentary. For those who want a broader selection, drinks can be purchased a la carte or guests can purchase drink packages.
Read more: 14 cruise ship extra charges you should know about
Consider the price of a drink package versus the price paying for each drink individually 
Image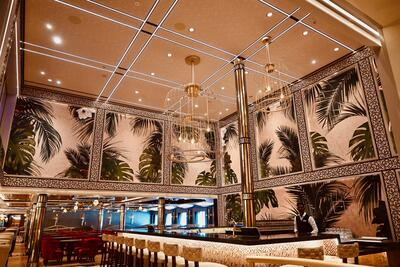 The CHEERS! package, the only alcohol option, costs $65.95 per person, per day, plus 18% for gratuities, if purchased onboard. 
With the CHEERS! package, you will have an extensive selection of beverages to choose from, as you can order any spirit, cocktail, beer, or glass of wine that is valued at $20 or less. Additionally, you get a 25% discount off the menu price for any spirit or wine by the glass that is above $20, as well as any bottle of wine or champagne. 
While you have a cap of 15 alcoholic drinks per day, it includes unlimited non-alcoholic beverages, such as sodas, zero-proof frozen cocktails, energy drinks, specialty coffee, hot tea, 500ml bottled water, and other non-alcoholic bottled beverages. 
Image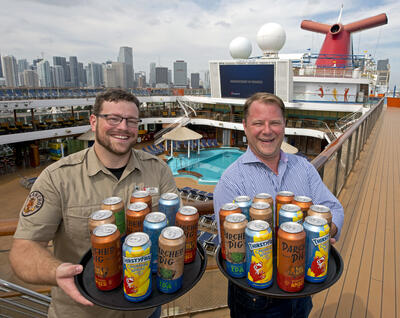 For those under the legal drinking age or are not interested in the alcoholic option, you can choose to purchase the Bottomless Bubbles package. For the low price of $9.95 per adult, per day, or $6.95 per child, per day, you can indulge in unlimited soda, including Pepsi, Diet Pepsi, Pepsi Zero Sugar, Caffeine Free Pepsi, Diet Pepsi Caffeine Free, Sierra Mist, Sierra Mist Zero Sugar, Mug Root Beer, Mountain Dew, Diet Mountain Dew, and Bubly Lime or Blackberry Sparkling Water. 
Note that Carnival Cruise Line does not offer a non-alcoholic package that includes mocktails and specialty coffees. If you purchase Bottomless Bubbles, you will have to pay for each of these individually. 
To know if a drink package would be a wise investment or not, it is crucial to understand how much each drink costs if paid for individually: 
Image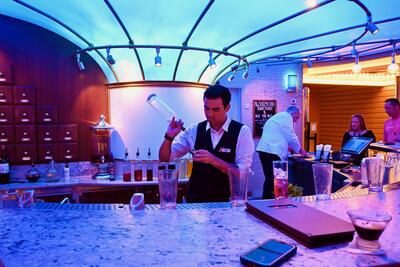 Most beer is around $7.00-$8.00, including Blue Moon, Corona, TikiFrog Ale, Bud Light, and more. 
If you want to purchase wine by the glass, expect to spend at least $8.00 per glass in the Main Dining Room. Premium selections can cost upwards of $15.00, though. 
Most cocktails are under $14.00. Depending on which bar you go to, you might be able to find a wide selection for $11.00 and under, including the Atrium Bar, which has offerings such as Bahama Mamas, Margaritas, and Pirate Punch for $11.00. 
Soft drinks are $2.50. Other non-alcohol drinks, such as energy drinks, bottled water, and Gatorade, can be purchased for less than $3.00. 
Specialty coffees range from $1.95 for a simple brewed coffee to $6.50 for spiked (alcoholic) beverages.
What happens if you want a drink that is over $20?
Image
Most drinks onboard Carnival ships are well under $20, which is the threshold that's included with the package; however, if you find a specialty drink that you are itching to try, you will get a 25% discount off of the menu price, rather than simply paying the difference. If, for instance, the drink costs $25, you will be billed $18.75. 
Pre-purchase your CHEERS! package to save some money
Image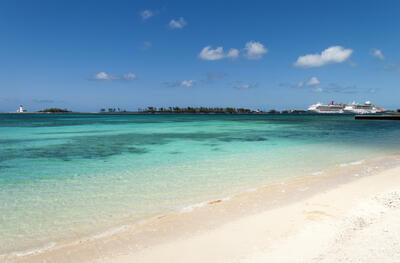 To save 10% off the daily price of the CHEERS! package, you will want to buy it in advance via Carnival's website or by calling the call center. This means that rather than paying $65.95 per day, you will only pay $59.95. 
The cut-off for pre-purchasing a beverage package is 11:59pm the day before embarkation through the website and 9:00pm EST through the call center. 
Note that there are no discounts for the soda package, so it does not matter if you purchase it six months in advance or once you board the ship on embarkation day. 
Get the drink package if you want to step outside of your comfort zone
Image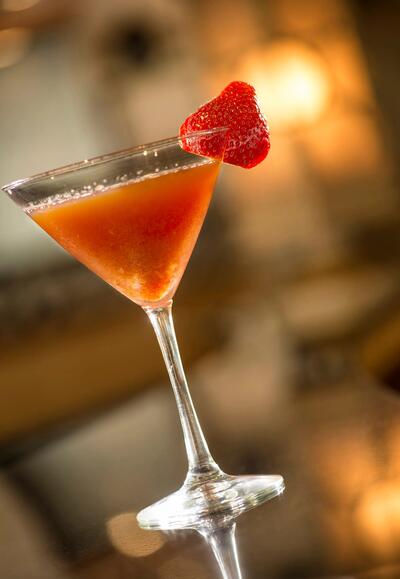 You might have your favorite go-to drink, like a Moscow Mule, Margarita, or Whiskey Sour, but why not try something new?
With a CHEERS! package, you will be able to step outside of your comfort zone and try drinks that you might not even think about if you were paying for each individually. Carnival has specialty cocktails that you cannot find on other cruise lines, or if you are feeling really adventurous, ask a bartender what their favorite drink to make is for a fun surprise.
If you don't like it, it is not a big deal, simply order something else! At least you can say you tried something new while on vacation
Read more: 6 reasons why you should get a Carnival drink package
The CHEERS! package is great for those who prefer higher quality beverages 
Image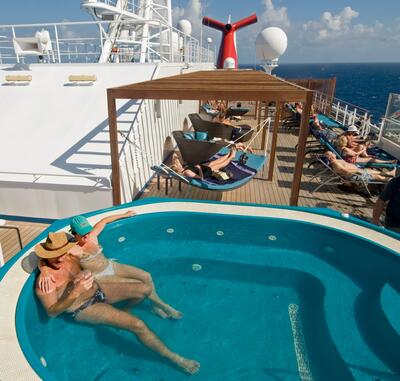 Since the drink package includes all drinks valued up to $20.00, it is easy to get your money's worth quickly, especially if you have a refined palette. 
One serving of Blanton's Burton, for instance, will set you back $16.00, while a serving of Patrón Añejo costs $19.00, before the extra service charge. You would break even with only 4 alcoholic drinks per day! 
Are you sailing from New York or Texas? If so, you should know that you cannot use the package until the second day
Image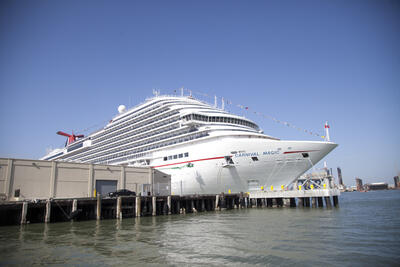 Due to local laws, Carnival does not allow CHEERS! packages to be used on the first day of any cruise that departs from New York or Texas. 
This means that if you get the package, you will still be paying for each drink individually on the first day. Of course, you will not be charged the entire duration of your cruise. If, for instance, your sailing is 7-nights, you will only be billed as though you were on a 6-night cruise. 
What does CHEERS! exclude?
Image
CHEERS! is not an all-inclusive package. As mentioned earlier, you will be limited to 15 alcoholic drinks per day. 
In addition, you cannot use the package for any drink served in a souvenir glass or offered at the ship's gangway; bottles of liquor; beverages offered through room service or mini-bars; large sharing cocktails, floaters, pitchers, tubes and buckets; or drinks that are served through enomatic wine machines. 
You also cannot use the package at Half Moon Cay
Image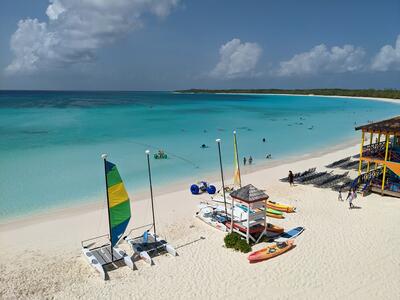 If your ship has a scheduled visit to Half Moon Cay, Carnival's private island in The Bahamas, you will not be able to use your CHEERS! package while ashore. 
This means that even if you have already spent a considerable amount of money on this beverage package, you will have to pay for each drink that you get while lounging on the beach individually. 
The afternoon buffet is included in the cost of your cruise fare, though, so you won't have to worry about returning to the ship for lunch. 
Don't plan on sharing packages with other guests in your stateroom
Image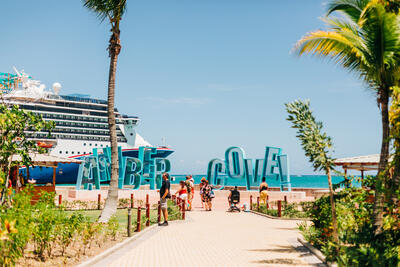 If one person in your cabin decides that they want the CHEERS! package, then all other adults assigned to the same room will be required to purchase one, too. 
Plus, you have to be 21-years-old or older in order to get it, meaning that this package is not available for minors. 
Note that if one person in the stateroom purchases Bottomless Bubbles, not everyone else is required to do so; however, if anyone other than the assigned individual wants to order soda with the package, they will be required to get their own. In other words, no Carnival drink package can be shared. 
If you decide not to get the package, Carnival allows you to bring a limited amount of alcohol onboard with you on embarkation day
Image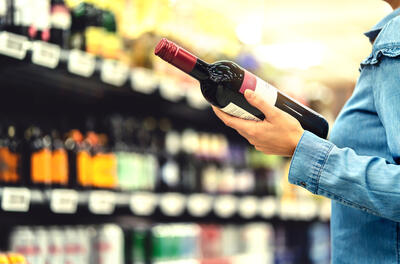 Passengers may bring one 750ml bottle of unopened wine or champagne per person in their carry-on luggage. They can also bring a maximum of 12, 12oz unopened cans or cartons per person.
If you choose to bring a bottle of wine or champagne onboard and consume it outside of your stateroom, you will be charged a $15 corkage fee per bottle. 
If you love wine, consider purchasing a "Cruise the Vineyards" package
Image
For those passengers who enjoy a glass of wine, Carnival offers two "Cruise the Vineyards" packages that offer discounts on a predetermined selection of wine-- think of wines from Italy, New Zealand, France, Germany, California, Washington, Chile, Armenia, and Argentina!
While prices are not listed on Carnival's website, passengers have noted that discounts can be as high as 35% than if you were to purchase everything individually. 
Since prices are not made available online, you will have to ask your dining room server for more information once you get onboard! 
Stock up on bottled water
Image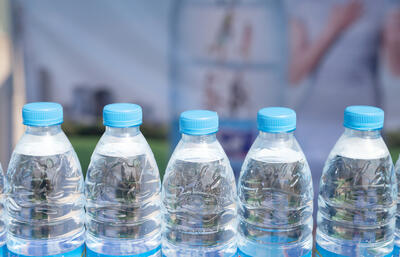 If you are not getting a drink package, consider purchasing a pack of bottled water in advance through Carnival's website. 
If you are in a rush getting ready to make it to a shore excursion in time, you will be thankful that you can just grab a bottle from your stateroom's mini-fridge before heading out the door. Plus, you will save money compared to if you were to buy each bottle individually. 
Currently, Carnival offers two different packages:
Image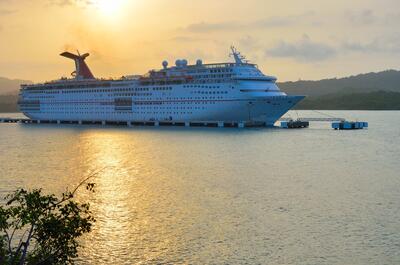 12-pack of 16.9fl bottles of natural spring water for $9.95
8-pack of 50.72fl bottles of natural spring water for $20
Alternatively, you can bring your own refillable water bottle to make sure that you always have water available in your cabin. You do not want to wake up in the middle of the night and have to put on your slippers to go grab water to quench your thirst. 
Rise up the ranks of Carnival's loyalty program for some free beverage perks
Image
Some tiers of Carnival's loyalty program, known as Very Important Fun Person (VIFP), have some drink benefits. In order to reach different tiers, you will have to continue sailing with Carnival. Guests accumulate one point for every night sailed, meaning that you will reach Gold after four 7-night or five 5-night cruises. 
After your first sailing, you become a Red VIFP, which is where you will remain until you reach 25 points. You will also get a free 1.5 liter bottle of water on each cruise! 
Gold VIFP members get a free bottle of water, as well as an appreciation drink on sailings that are five days or longer that you can redeem at any bar on the last evening of the cruise after 5:00pm. 
Image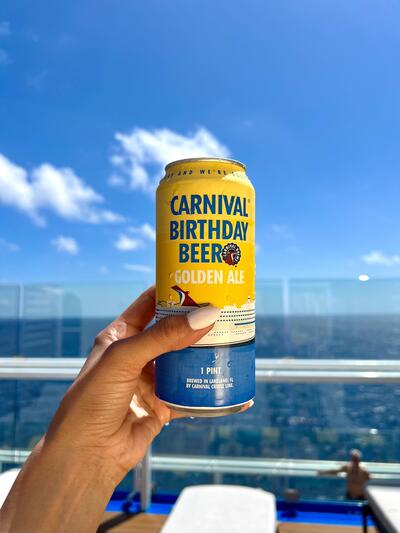 Once you have reached 75 points, you become a Platinum VIFP. While you will not have an appreciation drink, you will get a complimentary beverage at SeaDay Brunch, as well as a special party on sailings that are longer than five days where you will be able to enjoy free drinks. You do not gain any additional beverage benefits once you reach Carnival's highest tier, Diamond. 
Spend a lot of time in the casino for free drinks
Image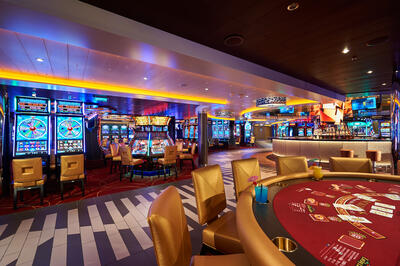 If you love to gamble, you might just be able to get some free drinks based on how much time (and money) you spend in the casino. 
"Drinks on Us!" rewards those who accumulate a certain number of points with complimentary cocktails, beer, wine, sodas and other non-alcoholic drinks while playing. According to Carnival's website, "...you [can] earn free drinks twice as fast as on any other cruise line." 
Plus, the more points you earn, the more benefits you will get in addition to free drinks, like private invitations to Carnival Premier Cruises and tournaments. 
Once you get onboard, you can speak with the Casino Host for more information.