Carnival's private island, Half Moon Cay, is a largely undeveloped island, located in the southeastern Bahamas.
It provides guests with a stunning crescent-shaped beach to swim and lounge, as well as a variety of activities to fill the day.
Named " Best Private Island" 20 years in a row by Porthole Cruise Magazine, it is clearly popular among its guests.
To make the most of your day, here's what you need to know when visiting Half Moon Cay.
Overview
Image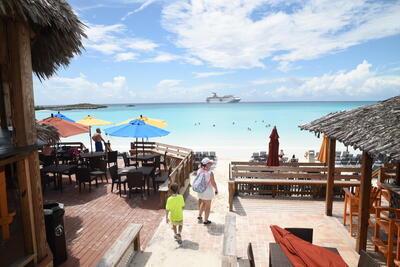 Many cruisers are familiar with Nassau, the capital of the Bahamas. About 100 miles southeast is a quiet uninhabited island, Little San Salvador, which is home to Carnival's Half Moon Cay.
The island was purchased by Holland America (also owned by Carnival Corporation), and both cruise lines make use of it during the year.
It has a lot of natural beauty with 2400 acres of mostly trees and bushes, along with a 2 mile long beach. There is lots of room to explore.  
What's the weather like?
Image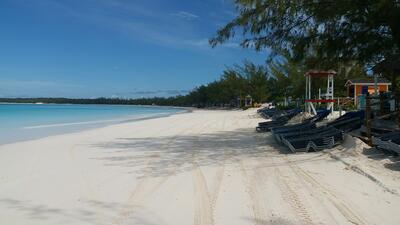 Being one of the most northerly islands in the Caribbean, Half Moon Cay is not super hot all year long but rather has some mild fluctuations.
Winter months tend to be drier with temperatures in the high 70s for both the air and sea. A great time to explore the walking trails or to try a bike excursion.
Spring begins to warm up to the 80s, ideal weather. Summer sees heat in the 90s , with higher humidity and the occasional rain shower.
Although early fall can bring the odd storm, the weather moves back into the 80s with less rain.
Going onshore
Image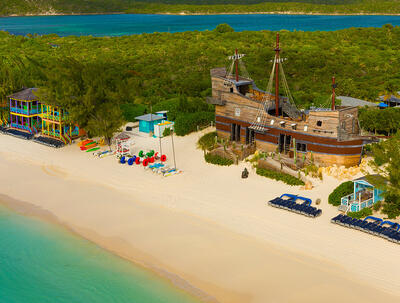 The waters around Half Moon Cay are quite shallow preventing docking. Cruisers need to tender ashore, which can take around 15-20 minutes. There are trams that run from the welcome center to the main areas on the island.
Guests should make sure to bring everything they need for the day, lots of sunscreen, towels, Sail & Sign card, and anything else required for activities. There are locker rentals priced at $10 per person.
There is no wi-fi onshore, but some guests have reported being able to access cell coverage with Bahamian cell providers.
What is there to do?
Beach
Image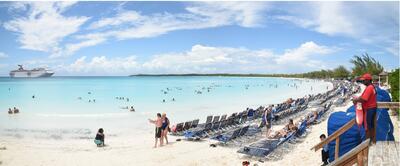 The major attraction on the island is its beautiful beach. Not surprising since the Bahamas has some of the best beaches in the world.  
There are free chairs and loungers on the beach but do take note, the main beach area lacks adequate shade.
Consider either renting a clamshell chaise for $30 or pick a spot a little farther back near the trees.
Activities
Image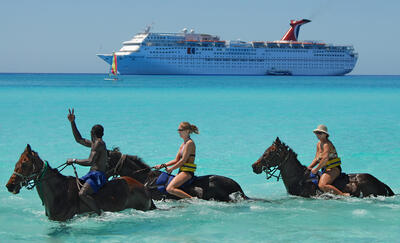 Although there is no pool area, Carnival provides guests with a good array of activities. Ideally, book ahead of time so as to not be disappointed.
Activities under $50:
Island Bike Tour $20
Nature Walk  $20
Water floats $20
Water bikes $40
Eco-Lagoon Tour $40
Stand-up paddleboard $40
Swimming with stingrays $45
Kayaking  $45
$50+plus:
Snorkeling by the boat $60
Watercraft adventure $95
Horseback riding $105
Other things to do
Image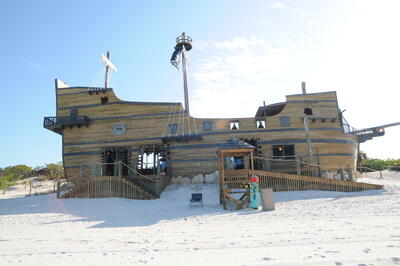 Younger kids can play at the Half Moon Lagoon Aquapark which has some slides and a pirate ship. There is also basketball, volleyball, shuffleboard and a playground.
Buy some local handmade souvenirs at the straw market or the gift shop.
There is even a small church for wedding ceremonies or vow renewals, a perfect backdrop for a romantic event.
Cabana Rentals
Image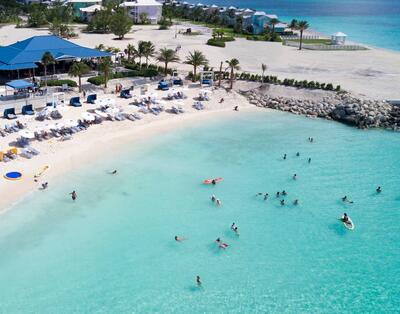 For those who want to relax on the beach, and perhaps splurge a little, there are additional options.  
Cabana:  Starting at $360, rent a beachside cabana with air-conditioning and a private terrace, featuring:
A ceiling fan, refrigerator, table and chairs inside, outdoor dining table and chairs, 2 deck loungers, and a misting shower
Water floating mats and snorkel gear are provided for use during the day
Light snacks such as chips & dip, fruit, along with water and soda
Price includes 4 guests
Image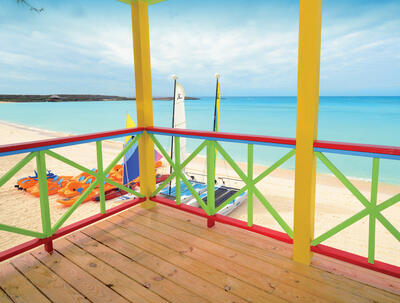 Beach Villa: Starting at $600, this vibrantly colored 2 story villa includes:
A private deck just steps from the beach.
Hot tub
Fridge, dining area and misting shower
Guests are provided with floating mats and snorkel gear
Light snacks, water a soda
Price includes 8 guests
Private Oasis: Starting at $1600, this is the ultimate in rentals:  
1,620-square foot grand cabana
8 person hot tub
Heated indoor and outdoor showers, misting stations and privacy gate
A personal chef, bartender, butler, cabana steward, and lifeguard
BBQ lunch, snacks such as chips, dip and fresh fruit.
Domestic and imported beers, house wine by the glass, and various tropical cocktails
What's for lunch?
A free buffet "Island Barbecue" is provided between 11:30am-1:30pm.
The menu features typical bbq fare with some added Caribbean touches like Jerk Chicken and banana rum cake, along with some tasty sides like salads and coleslaw.
Guests seeking something different may be interested in the Lobster Shack, not to be confused with the new England style Seafood Shack onboard ships, it has a different menu. Enjoy lobster, Caribbean rice and beans ($20) along with a glass of wine.
Bars
Image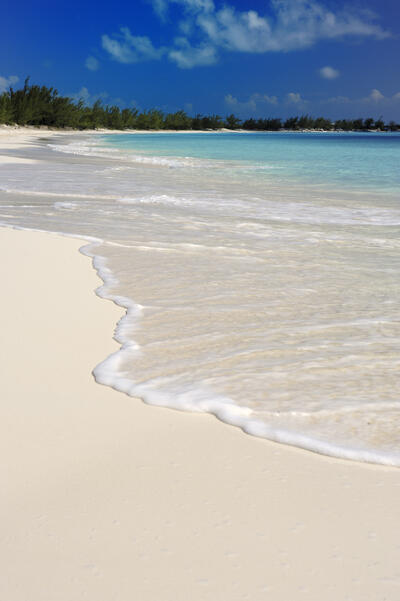 There are four bars on the island. Captain Morgan's Pirate Ship has three levels featuring a bar with great views.
There is also Lookout Bar, a more tranquil spot, on the opposite side of the island from the beach.
Sadly, you can't use Carnival's "Cheer Package" to pay for your drinks. Prices are the same as onboard
What ships visit Half Moon Cay?
A number of Carnival ships stop at Half Moon Cay, on 5-8 day itineraries that include the Bahamas, eastern and southern Caribbean:  
Carnival Conquest
Carnival Dream
Carnival Elation
Carnival Freedom
Carnival Glory
Carnival Legend
Carnival Magic
Carnival Radiance
Carnival Sunrise
Carnival Sunshine  
Carnival Vista
Holland America Line also has ships that visit the island; however, they visit less frequently due to sailing in the Caribbean seasonally, rather than year-round:
MS Nieuw Statendam 
MS Eurodam
MS Nieuw Amsterdam
MS Rotterdam 
MS Volendam
MS Zaandam
MS Zuiderdam
Half Moon Cay Frequently Asked Questions
Do people live on Half Moon Cay?
Image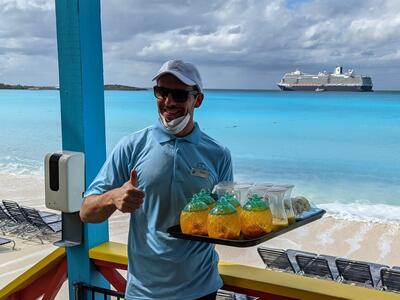 Half Moon Cay is an uninhabited island. The locals who work on the island commute via ferry on days when Holland America or Carnival ships tender. 
Is the Half Moon Lagoon Aqua Park free?
Image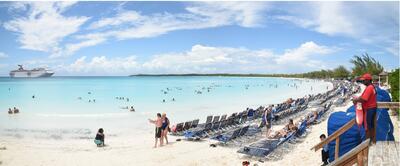 Yes, it is free of charge. Located just steps from the ocean, it gives families a saltwater free option while still allowing them to enjoy take in the famous turquoise water views.