Over the years, it has become increasingly popular for cruise lines to have their own private islands where guests can enjoy a day in the sun.  
Most of the islands are located in the Bahamas, an archipelago of over 700 islands, a day's sail from Florida. With great weather, this location offers cruisers year round enjoyment and crystal blue waters, great for snorkeling.
Some islands have more of a natural island feel, whereas others have been amplified to provide thrills and numerous excursion options.
This guide provides an overview of the islands, major activities, food and beverages, highlights, as well as what you need to know before going onshore. Let the tour begin.
Half Moon Cay – Carnival Cruise Line and Holland America Line
Image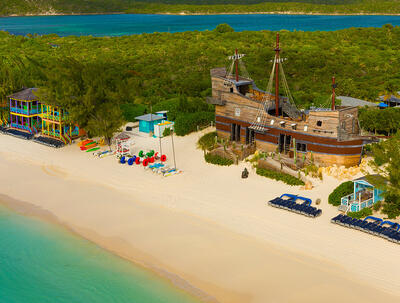 Carnival's private island, Half Moon Cay is a largely undeveloped island located in the eastern Bahamas. It provides guests with a stunning crescent-shaped beach to swim and lounge on, as well as a variety of activities to fill the day. Weather in the Bahamas tends to be warmer in the summer months, with more humidity and a chance of rain. Late fall and winter can drop into the 70s, with drier conditions.
Named "Best Private Island" 20 years in a row by Porthole Cruise Magazine, it is clearly popular among its guests from both Carnival and Holland America (also owned by Carnival Corporation).
The island's 2,400 acres feature mostly natural landscape, including a 2 mile long beach. There is lots of room to explore, and guests don't need to worry about tripping over one another.
Things to do at Half Moon Cay
Image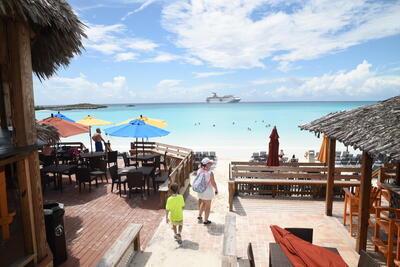 The major attraction of the island is its beautiful beach. Not surprising since the Bahamas has some of the best beaches in the world. There are free chairs and loungers on the beach but do take note that the main beach area lacks adequate shade. It's a good idea to rent a clamshell chaise or pick a spot a little farther back near the trees.
There are a variety of activities on Half Moon Cay, many of which are free or are great for value seekers.
Land activities
Island Bike Tour 

Nature Walk  

Playground

Basketball

Volleyball

Shuffleboard

Horseback riding

Shopping
Water Activities
Swimming

Snorkeling

Watercraft adventure

Water floats and bikes  

Water bikes

Eco-Lagoon Tour

Stand-up paddleboard

Swimming with stingrays

Kayaking 

Half Moon Lagoon Aquapark
There are also a number of cabana rental options, including a basic cabana for 4 guests, a spacious 2-story beach villa for 8, or the ultimate 1600 square foot private oasis, which includes a personal butler, chef and bartender and can accommodate up to 24 people.
Half Moon Cay Food and Beverages
Image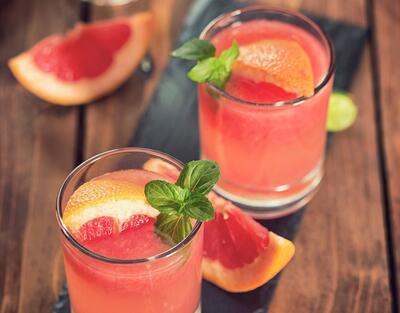 A complimentary buffet, Island Barbecue, is provided between 11:30-1:30 pm, serving typical BBQ fare with some added Caribbean touches. Guests seeking something different may be interested in the Lobster Shack for an extra fee.
There are four bars on the island and Captain Morgan's Pirate Ship is a favorite with three levels and great views. There is also Lookout Bar, a more tranquil spot hidden on the opposite end of the island.
Important to note, the CHEERS! package does not work on the island. Beverage prices are comparable to those on the ship.
Key Takeaways for Half Moon Cay
Image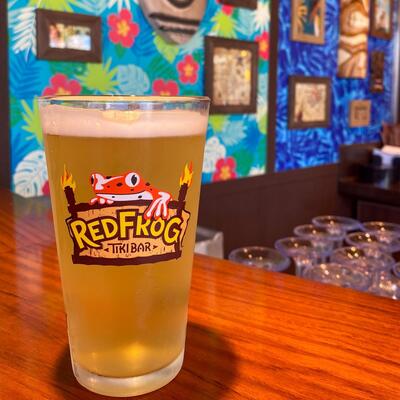 What's great about this island?
The beautiful beach offers guests an authentic taste of the best of the Bahamas

There is a lot to do without spending any/ very little money 

It offers something for everyone, both on land and in the water, with some tranquil spots to escape to
What to know before going onshore:
Cruisers need to tender ashore, taking around 15-20 minutes. There are trams that run from the welcome center to the main areas on the island

Sadly, you can't use Carnival's "Cheer Package" to pay for your drinks.

There is no pool onshore

If you want to buy some local handmade souvenirs at the straw market bring some cash
Princess Cays - Princess Cruises and Carnival Cruise Line
Image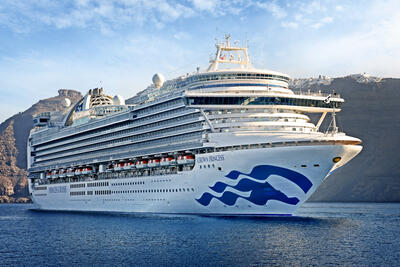 Princess Cays is another Carnival owned destination in the Bahamas. The 40-acre retreat is located in the southern part of Eleuthera, a 100-mile long island east of the capital of Nassau. Guests can expect typical Bahamian weather.
Despite being an inhabited island, the resort is an oasis surrounded by trees, beaches and crystal clear water teaming with fish. There are numerous land and water activities to keep cruisers busy during a visit.
Both Princess Cruises and Carnival Cruise Line share the destination, although it is large enough to accommodate both.
Things to do at Princess Cays
Image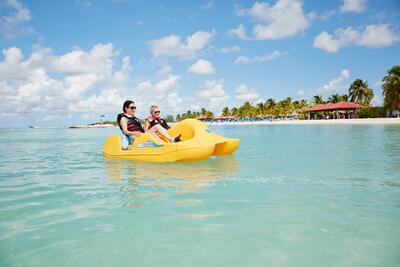 Activities on Princess Cays focus on the island's natural bounties such as its beaches, coral reefs and calm waters. There are no large pools or slides.
North Beach is the most popular spot but has plenty of free loungers, some in the shade. Clamshell loungers are available for rent, which can be a good idea on a hot sunny day.
South Beach is located at the far end of the retreat, is less crowded, a more peaceful setting.
Land activities
Island bike adventure

Volleyball

Basketball

Kids area Pelican Perch playground

Shopping

Crow's nest lookout
Water activities
Surf fishing

Coastal cruise

Stingray encounter

Glass bottom boat cruise

Hobie sailboat rental

Floating mats

Oceanview seaboard

Kayaks

Banana Boat Ride

Snorkeling

Paddle Wheeler

Standup Paddleboard

Aqua bikes
For a splurge and dedicated shade, consider a cabana rental   Princess Cays, which should be booked in advance through the Cruise Personalizer. Princess Cays Bungalow and the adults-only Sanctuary Bungalow both accommodate groups of 4.  
Princess Cays Food and Beverages
Image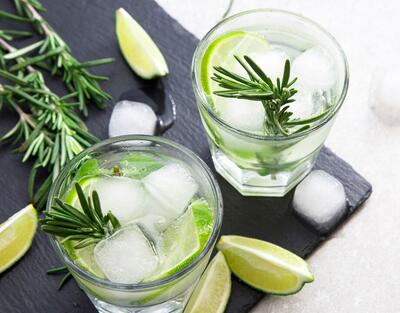 Guests are provided a complimentary buffet while on island at Princess Cays. The Grill Crazy BBQ and Sea Breeze Grill both offer lunch from 11:30-1:30. There is plenty of seating on picnic benches, including a covered area. It provides a range of BBQ favorites along with sides and dessert.
There are bars and food venues close to both beaches for the convenience of guests,
Be mindful of the time as the food service does end a little early at 1:30.   
Key Takeaways for Princess Cays
Image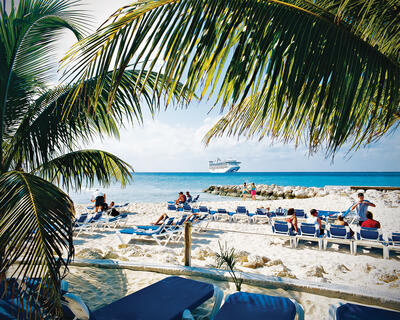 What's great about this destination?
Crystal clear water makes it ideal for snorkeling

Variety of activities to suit all types of quests

North Shore beach is a great, quiet option
What to know before going onshore:
Guests need to tender when going onshore at Princess Cays as the water is too shallow for the cruise ship to dock

Some areas of the beach are rocky, so water shoes may be a good idea

There are locker rentals at a price of $10 and towel service is available

Guests need to take their cruise card/ Medallion disk for purchases (drinks) and cash for souvenirs.

There is no pool
Castaway Cay - Disney Cruise Line
Image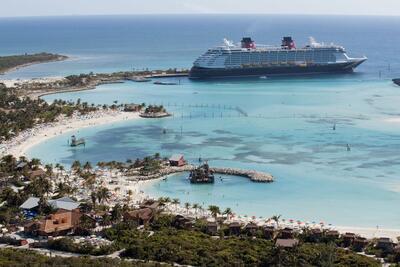 Disney Cruise Line has created the ultimate private island experience at Castaway Cay in the Bahamas. This 1,000 acre island is a popular port of call on many of its eastern Caribbean cruises.
Located in the northern Bahamas, near the Abacos Islands, Castaway Cay tends to have milder temperatures (high 70s) in the winter but hotter with some rain in the summer/ early fall.
With its sizeable area and great beaches, there is lots to do at Castaway Cay, exclusive to Disney guests.
Things to do at Castaway Cay
Image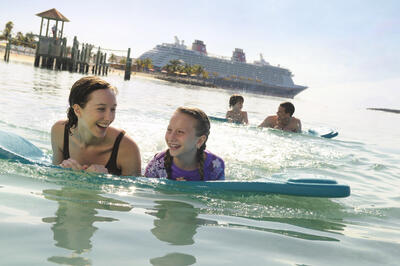 Castaway Family Beach is the central hub of activity with a stunning Bahamian beach and lots of loungers and umbrellas. Swim in the water, snorkel in the lagoon or enjoy activities, music, and dancing.
Pelican Plunge is a 2,400 square foot kids' play area located in the water. Children must be able to swim to enjoy the water slides and play area. Spring a Leak, a splash pad for younger kids, is another option. 
On land
Bike rentals

Walking trails

Volley

Soccer

Basketball

Table tennis

Teen Hideout

Character meet and greets

Spa
Water activities
Aqua Trike

Fishing

Stingray Adventure

Waterbikes

Jet Boat Tour

Glass Bottom Boat

Paddle Boat

Parasailing

Kayaks

Standup Paddle Board

Float / Tubes
Hanging out in beach-themed cabanas with ocean views is the perfect way to spend a day. There are three main cabana types at Castaway Cay including the Family Beach Cabanas for 6 guests, the Grand Family Beach Cabana for 10 and the adults only Serenity Bay Cabanas.
Food and Beverages at Castaway Cay
Image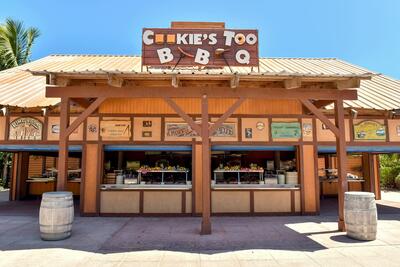 Complimentary food, water and soft drinks are provided at no extra cost at Castaway Cay. There are several venues on the island.
Cookie's BBQ and Cookie's Too Buffet offer food from 11:30 -2pm. In addition to traditional BBQ dare, Plant-based options are provided upon request. Serenity Bay (adults only) has a little more on the menu, most notably ribeye.
For those thirsty beachgoers, there are bars spread out over the island, including: Castaway Air Bar, Sand Bar, Heads Up Bar, and Conched Out Bar. Alcoholic drinks are an additional cost. 
Key Takeaways for Castaway Cay
Image
What's great about this island?
Has the traditional Disney appeal with fun theming, great for families

Large island with lots to do

Fans of all things pirates will appreciate that portions of Pirates of the Caribbean: The Curse of the Black Pearl were filmed there

The island hosts a 5 km run called the Castaway Cay Challenge.

Serenity Bay is an adults-only area with a separate beachfront and its own restaurant, bar, and cabanas. Guests can even enjoy a relaxing massage while there.
What to know before going onshore:
Disney cruise ships can dock in Castaway Cay, a much easier option than tenders. For convenience, there are trams to bring passengers to different parts of the island

Guests need to be certain to bring their Key to the World cards for any purchases such as drinks or souvenirs. Towel service is complimentary

Since it is docked, some guests choose to go back to the ship for lunch; however, there are plenty of amenities onshore

There is no pool
Ocean Cay MSC Marine Reserve – MSC Cruises
Image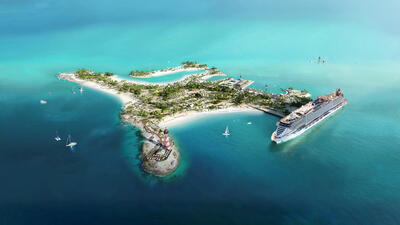 Ocean Cay MSC Marine Reserve (Ocean Cay) is located in the western Bahamas, 20 miles south of Bimini. A redeveloped industrial site, MSC Cruises (MSC) has made a serene paradise for its cruise guests only 65 miles east of Miami (with similar weather).
MSC has focused on conservation and sustainability in the rejuvenation of Ocean Cay, providing unique excursions and activities for guests including snorkeling on newly revived reefs.
The island does not have big slides and pools but provides numerous beach and water activities including evening activities.
Things to do at Ocean Cay
Image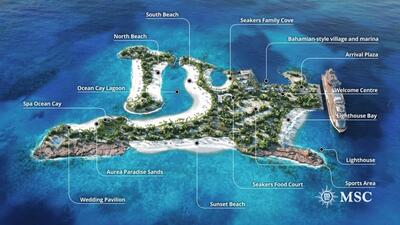 There are eight different beaches on Ocean Cay, with lifeguards on duty. North and South beaches are perfect for families with kids as the water is shallower and calmer. There are some palm trees but limited options for shade. Umbrellas can be rented for the day.
Sunset Beach is the longest beach on the island and is the perfect spot to enjoy water activities.
On land
Lighthouse Climb

Beachside Stargazing (astronomy)

Sunrise Yoga on the Beach

Sunset Silent Yoga on the Beach   

Dance classes

Aqua gym/ Zumba

Beach soccer and volleyball

Junkaroo Parade and Light Show

Shopping
Water activities
Swimming

Snorkeling

Standup Paddle Board

Kayaking

Wave Runners

Sunset Cruises

Catamaran Cruise

Aqua Yoga on a Paddle Board
Cabanas
There are three main types of cabana rentals at Ocean Cay including the Ocean Cay Beach Cabana for 6.
Exclusive for Yacht Club cabins are the Beachfront Yacht Club Cabana and the Ocean View Yacht Club Cabana.
Ocean Cay Food and Beverages
Image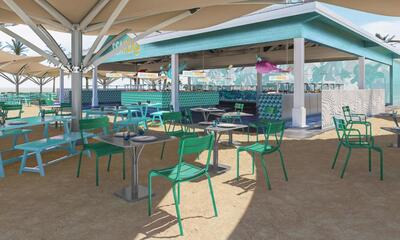 Seakers Food Court is an open air venue that offers a buffet of BBQ classics with some Bahamian flavors. There are also food trucks "Beach Shacks" throughout the island that serve hot dogs and hamburgers, also complimentary. A lunch buffet is offered onboard to guests who prefer to return to the ship.
Additional options (and cost) include The Smiling Fish and Coffee Bar has a huge array of ice cream and is a classic coffee spot that serves freshly brewed whole bean and ground coffee, espresso and cappuccinos.
There are plenty of bars on the island including the unique Lighthouse Bar which is adjacent to a 100-foot lighthouse. A casual spot, great for drinks and music, including live DJ. For a true island hangout try Springer's Bar in the marina area.
Key Takeaways for Ocean Cay
Image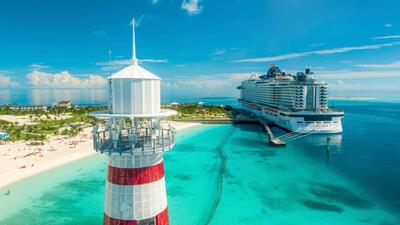 What's great about the island?
This is a spectacular island. MSC has replanted lots of foliage and brought back native species to make the island feel like a Bahamian paradise.

One great benefit to visiting Ocean Cay is its late night activities. Evening events include unique options such as stargazing, glow in the dark paddle boarding and night time cruises. A great way to experience the island from a different perspective.

Large island with lots of places to explore
What to know before going onshore:
Cruise ships dock in Ocean Cay, convenient for passengers, with the Welcome Pavilion to assist guests with questions and book activities. 

Bring your MSC Cruise Card on the island purchases (like drinks), although food is complimentary.

The straw market only accepts cash

The ship's internet packages work onshore, a great way to stay connected with party members exploring different parts of the island
Harvest Caye - Norwegian Cruise Line
Image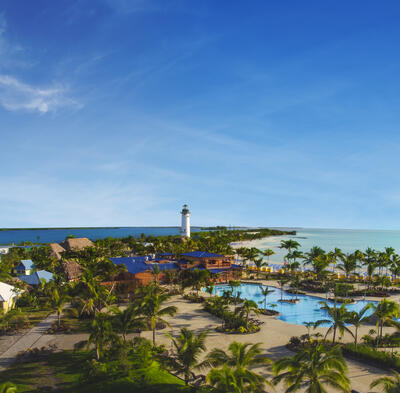 Off the southern coast of Belize lies Harvest Caye, Norwegian Cruise Line's (NCL) private island retreat. Surrounded by the lush greenery of Central America, guests are treated to a wide range of activities on this 75 acre oasis. The island was developed in partnership with the Belizean government, and local inhabitants own the businesses and work onsite, contributing to the local economy.
Harvest Caye hosts an abundance of natural wildlife as well as access to a barrier reef, the second largest in the world.
Farther south than most private islands, the weather in Harvest Caye is ideal for cruisers all year long, ranging from the 80s to 90s. January to May are the driest parts of the year; summer and fall tend to be hotter with some rain.
Things to do at Harvest Caye
Image
Harvest Cay has both a pool and the beach. The 15,000-square foot pool has a swim-up bar and a waterfall. The resort style area is complimentary and includes chairs and umbrellas. The pool is not heated, which is not a big issue given the weather. The large beach area has plenty of loungers and some palm trees for shade. The far end is rarely crowded with lots of spots available. 
There are some unique experiences at Harvest Cay including a free wildlife experience with butterflies and birds, in addition to the island's botanical gardens. Or guests, can learn about the history and culture of the region with visits to Mayan ruins, or see how chocolate is made.
On land
3,000 foot long zipline stretching along the island

Double Beach Run zipline (side by side) where guests race facing down

Ropes course

Volleyball courts

Wildlife tours
Water activities
Pool

Barrier Reef Snorkeling

Rainforest River Tubing

Standup Paddle Board

Kayaking

Parasailing

Wave Runners

Boat cruise

Monkey River Eco Tour (rainforest)

Glass Bottom Boat Ride

Catch and Release Fishing

Ferry to the mainland (Placencia)

Kid's splash park
Cabanas
There are two main types of cabana rentals at Harvest Caye, which can be booked through NCL's website.
The Private Canopy Pool Cabana for 4 and Luxury Beach Villa for 6, which includes a butler and concierge.
Harvest Caye Food and Beverages
Image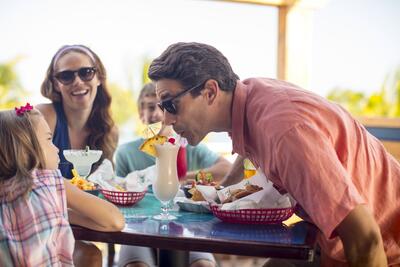 Unlike most other cruise line islands, food and drinks are extra, and the ship card cannot be used for payment. Ensure to bring cash and credit cards.
Harvest Caye has eight venues for meals, snacks and drinks. The menus include typical bar food with some touches of the Caribbean with fried plantains and ceviche. Fruity cocktails, rum and beer are all popular drinks, including some Belizean beer.
For a different view, the Manatee Bar & Grill is located on the other side of the island (which is not far at all) by the marina. Or for a quiet spot, walk to the far end of the beach to Horse-Eye Jack's Villa Bar & Bistro. 
Key Takeaways for Harvest Caye
Image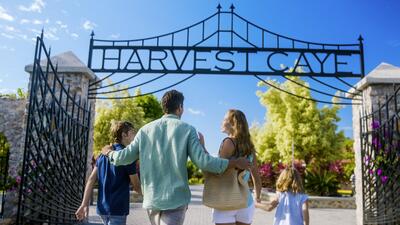 What's great about this island?
Harvest Caye allows for access to the Belize Barrier Reef, the second largest in the world

It has a saltwater lagoon that hosts several water activities

Large variety of activities including cultural

This is run in partnership with the Belizean government and businesses are run by local entrepreneurs, a more authentic experience and opportunity to give back to the community
What to know before going onshore:
Harvest Caye is the only port with a cruise ship pier in Belize, a bonus for Norwegian cruisers

English is widely spoken, and both U.S. and Belizean dollars are used, ship cards are not accepted

Ship wi-fi is not available onshore.

The ship does not provide towel service on island but there are lockers to rent at a cost of $5
Great Stirrup Cay – Norwegian Cruise Line
Image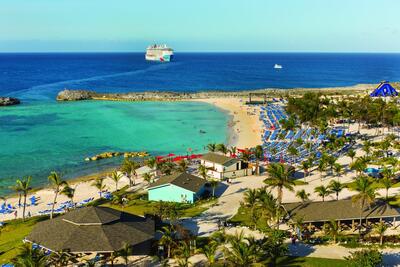 Norwegian's other private destination is located in the Berry Islands, the northernmost islands in the Bahamas. A once busy sailing route, the island has its own lighthouse, which is now solar powered.
Being in the upper end of the Bahamas, highs can reach into the 70s in the winter months but expect more sunshine, heat and humidity in the summer and early fall.
A 268 acre island oasis, Great Stirrup Cay is a lush paradise and guests can enjoy its vast beaches, great snorkeling as well as other activities.
Things to do at Great Stirrup Cay
Image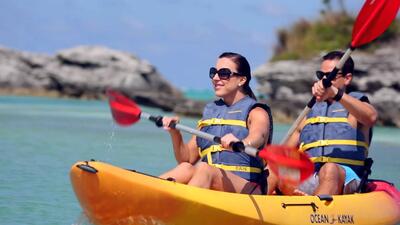 There are lots of great beaches, including the 1,500 foot long main beach, with ample loungers and some natural shade. Clamshell chairs are also available, a good idea for those who want guaranteed shade.
There are also a number of great water activities for a range of interests. The island has top notch cabanas, including the private retreat at Silver Cove.
On land
Ziplining

Volleyball

Spa 

Shopping
Water activities
Swimming

Snorkeling

Kayaking

Sailing (Catamaran)

Paddleboarding

Swimming with pigs

Swimming with stingrays  
The island has a good selection of cabanas including super luxurious ocean and lagoon villas which are furnished with beds to fully relax. The two bedroom family suites hold up to 16 guests. It has air conditioning, a TV, and an upgraded buffet.
Great Stirrup Cay Food and Beverages 
Image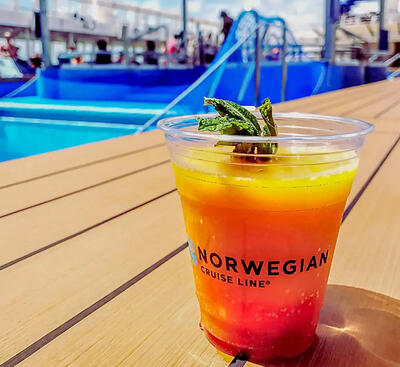 There are a number of complimentary food options onshore including the Jumbey Beach Grill for some BBQ favorites, Abaco Taco Bar and a new food truck Topic Like It's Hot with some island flavors.
Dotted around the island are some great spots to get your favorite cocktails including a tasty mojito at Bacardi Bar among 5 other spots.
Guests can use their drink packages on the island.
Key Takeaways for Great Stirrup Cay
Image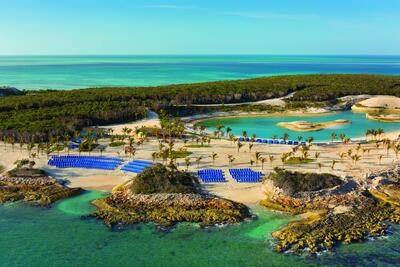 What's great about this island?
The main beach provides ample space to layout or enjoy the water

A wide variety of water activities

Some of the most specular cabanas among any private islands

The Underwater Snorkel Garden is an excellent bonus for snorkelers
What to know before going onshore:
Guests need to tender to the island, so make sure to bring everything you need

Drink plans work on the island

Bring your cabin key card, but cash for crafts and souvenirs

There is no pool
Perfect Day at CocoCay – Royal Caribbean  
Image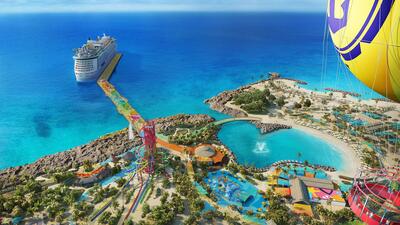 Also located in the Berry Islands, not too far from Great Stirrup Cay, is Perfect Day CocoCay (formerly Little Stirrup Cay), Royal Caribbean's impressive island in the Bahamas.
Although not a large island, the cruise line has maximized its 125 acres with a $250 million investment, making it one of the premier destinations in the Caribbean. Guests can have a chill beach day or high energy thrills. There is a wide selection of activities and areas to explore that every cruiser will enjoy.
With a number of stunning beaches, a waterpark, floating cabanas, a wave pool and Oasis lagoon, guests will find plenty of ways to stay cool.
Things to do at Perfect Day at CocoCay
Image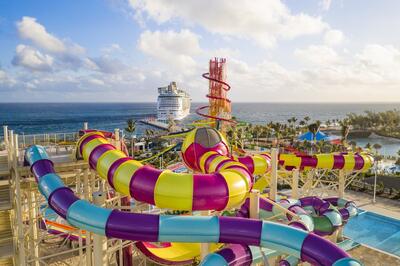 On land
Zipline

Balloon rides

Basketball

Volleyball

Exclusive Coco Beach Club

Shopping
Water activities
Thrill Waterpark with slides

Splash away Bay kids water park

Adventure Pool

Wave pool

Swimming

Snorkeling

Kayaking

Jet skis

Oasis lagoon pool

Captain Jill's Galleon (free play area for kids)
Perfect Day at CocoCay has a number of cabana and beach bed options throughout the island. The Thrill Waterpark cabanas come with 6 passes, which can be a good deal depending on the price. For the ultimate in luxury, the floating cabanas even come with their own slide.
Food and Beverages at CocoCay
Image
There are plenty of complimentary food options, including the Snack Shack and its legendary chicken sandwich. There is also Chill Grill and Skippers Grill, and an assortment of food choices.
For a more upscale experience, cruisers can dine on filet mignon and lobster at the Coco Beach Club, for an add-on price.
Captain Jack's and the swim-up bar are popular places to grab drinks, and passengers will love to hear that their drink packages work on the island.
CocoCay Key Takeaways
Image
What's great about this island?
There is so much choice, including complimentary activities

A number of great beach and pool options

High energy fun areas, along with quiet areas
What to know before going onshore
It has a pier, so no tendering

Drink and internet packages work on the island

Bring your sea pass card and some money for shopping

Thrill Waterpark has a fee even if parents are just there to supervise

There are a number of add on items, that can add up
Labadee – Royal Caribbean
Image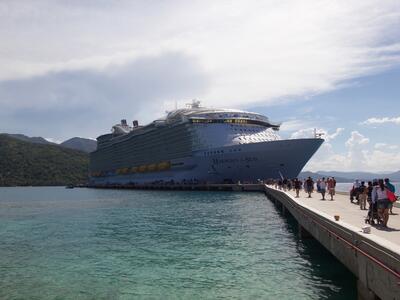 Not its own island, but technically a peninsula, Labadee is Royal Caribbean's original private destination in Haiti. Described as beachside meets the mountainside, it provides guests with a scenic background of lush vegetation and mountain terrain.
Haiti is much farther south than most private islands, which shares the island of Hispaniola with the Dominican Republic. It is more mountainous and lush reaching into 90s along with more rain in the late summer.
With 5 unique beaches and lots of fun activities such as a roller coaster and ziplining, guests will have a great time.
Take the free ferry to Columbus Cove Beach, which tends to be quiet.
Things to do in Labadee
Image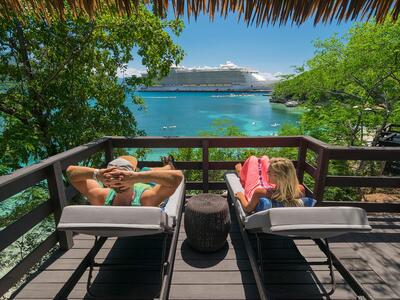 On land
Ziplines

Dragon's tail coaster

Basketball

Bocce

Walking tour

Board games

Shopping

Water activities
Water activities
Swimming

Paddleboarding

Snorkeling

Kayaking

Arawak aqua park

Waterslides

Jet skis

Parasailing

Speedboat tour

Catamaran tour
Labadee Cabanas
Labadee was one of the first destinations to introduce over the water cabanas, and guests can rent them at Nellie's beach or  Barefoot Beach if they are a suite guest.
Nellie's beach cabanas offer over the water, and beach cabana options, which are all great shade in the hot sun of the island.
Labadee Food and Beverages
Image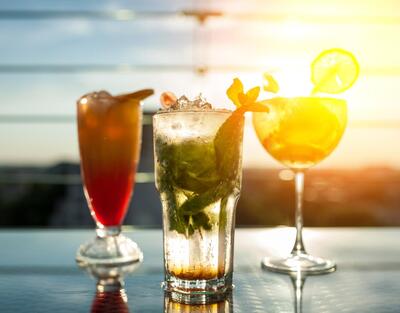 A complimentary lunch is provided at Labadee at various locations including the  Dragon's Café, Labadee Café, and Columbus Café.
Adrenaline Beach has a floating bar, always a cool attraction, and a great place to try the Labadoozie cocktail. There are plenty of watering holes on the island including Nellie's Tavern, Bohio Bar and the Columbus Bar.
Royal Caribbean drink packages are valid to use in Labadee.
Key Takeaways for Labadee
Image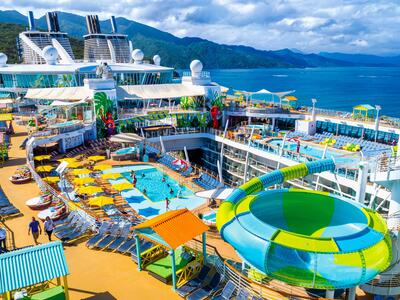 What's great about the island?
Great options for those who want non-stop action or just relax by one of the great beaches

Beautiful, lush scenery that truly transports guests to a tropical paradise

Barefoot Beach, a dedicated area for suites, is a nice perk  
What to know before onshore:
It has a pier, so there is no need to tender

Water shoes are good for the beaches

There is no pool

Drink packages work on the island

Bring  cash for souvenirs and tips