Ocean Cay MSC Marine Reserve (Ocean Cay) is located in the western Bahamas, 20 miles south of Bimini.
Once an industrial site, MSC Cruises has redeveloped the island into a serene paradise for its cruise guests. The newly transformed retreat offers cruisers the opportunity to get an authentic island experience with eight beaches and water activities that feature the restored marine life of the area. It is one of the newer private islands in The Bahamas and cost MSC $200 million dollars. 
One great benefit to visiting Ocean Cay is its late night activities. Evening events include unique options such as stargazing, glow in the dark paddle boarding, and nighttime cruises. A great way to experience the island from a different perspective, as experiencing islands at night is often not part of the traditional cruise experience. 
Here is what you need to know before you visit Ocean Cay.                                                                        
What is the weather like?
Image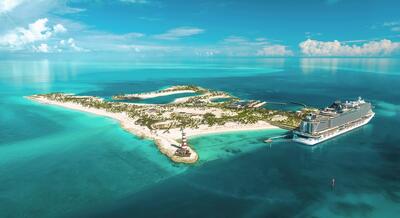 Just 65 miles east of Miami, the weather at Ocean Cay is ideal for cruisers all year long, with daytime highs ranging from the 80s to 90s. Summer and early fall have the highest temperatures, humidity, and a greater chance of rain.
Winter has the lowest temperatures and rainfall of the year, with highs of 80s, although evenings can be cooler. It is the driest time of year and cruisers can expect more sunny days during that period.
Sea temperatures are similar in pattern with temperatures in the 70s to 80s.
Note that sometimes the Bahamas can be subject to cold fronts in December and January, resulting in slightly cooler temperatures than other times throughout the year. 
Going onshore
Image
Cruise ships dock in Ocean Cay, convenient for passengers, as there is no need to worry about catching a tender boat to get ashore. Close by is the Welcome Pavilion to assist guests with questions and book activities.  
Read more: MSC Cruises ships by size
The MSC Cruise Card is the primary method of payment for purchases on the island. Although food is complimentary, drinks and some activities are extra.
Nothing is too far on Ocean Cay-- no more than a 20 minute walk; however, there is transportation available for those who require assistance that is located right by the Welcome Pavilion; it is free to use and goes all around the island!
The ship's internet packages work onshore, a great way to stay connected with party members exploring different parts of the island.  
Note that you will want to bring a towel with you when you get off of the ship, as they are not provided on the island by the cruise line. 
Things to do
Image
MSC has focused on conservation and sustainability in the rejuvenation of Ocean Cay, providing unique excursions and activities for guests.
Planting 75 thousand plants and shrubs has restored the natural flora and fauna native to the region. The 64 square miles of marine reserve includes growing coral reefs, plants, and fish; an underwater haven for guests and snorkelers.
The island does not have big slides and pools but provides numerous beach and water activities. The beach is complimentary to guests. 
If you want to book any shore excursions, like rent a jet ski or go to the island's spa, you will want to do in advance to make sure that the one you want does not sell out!
Key Highlights:
Image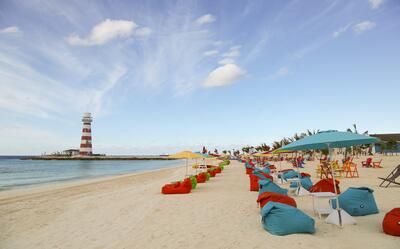 There are eight different beaches on Ocean Cay, with lifeguards on duty. North and South beaches are perfect for families with kids as the water is more shallow and calm. There are some palm trees but limited options for shade. Umbrellas can be rented for the day.
South Beach is also where you will find water sports.
Sunset Beach is the longest beach on the island, but keep in mind that it is not currently monitored by life guards, so you may want to swim elsewhere, especially if you have younger children. 
Paradise Sands features cabanas where guests can indulge in a massage. All products used adhere to their conservative efforts, as they are biodegradable and eco-friendly. Ocean House Beach is reserved for MSC Yacht Club Guests only, with a private bar and other amenities.  
Activities and shore excursions:
Image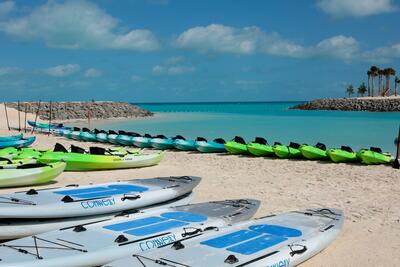 On land:
Lighthouse Climb
Beachside Stargazing (astronomy)
Aqua Yoga on a Paddle Board
Sunset Silent Yoga on the Beach   
Dance classes
Beach soccer and volleyball
Junkaroo Parade and Light Show
Pavilion for wedding/vow renewal
Spa services in an enclosed cabana. Note that prices for these services are higher than those on the ship. 
Image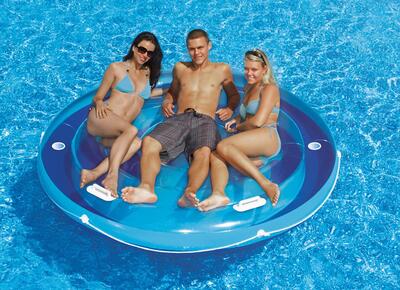 Water activities:
Marine Reserve Snorkeling
Standup Paddle Board
Standup Paddle Board (at night with LED lights)
Kayaking
Wave Runners
Catamaran Cruise
Sunset Champagne Cruise
Twilight Scenic Cruise  
Cabanas
Image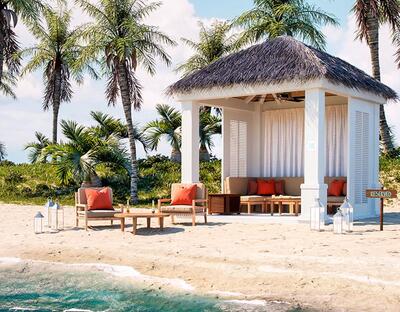 There are four main types of cabana rentals at Ocean Cay, two of which are exclusive to Yacht Club guests:
Ocean Cay Beach Cabana which start at $249. 
Water
Beach towels
2 floating beach mats and snorkel equipment 
Deluxe Ocean Cay Beach Cabana which start at $349. 
Water
Beach towels
2 floating beach mats and snorkel equipment
Includes food and drink service
Ocean View Yacht Club Cabana which start at $399. 
Water
Beach towels 
4 floating beach mats
Lunch
Afternoon snack (fruit) 
Snorkeling equipment
Beachfront Yacht Club Cabana which start at $449. 
Water
Beach towels 
Lunch
Afternoon snack (fruit) 
4 floating beach mats
Snorkeling equipment
Note that pricing is subject to change and is current as of May 2023, and each cabana can accommodate a maximum of six guests each. 
Yacht Club cabanas are only available to guests who are staying in the ship's Yacht Club staterooms. 
Read more: The cruise ship island cabanas that cost more than the cruise
Food
Image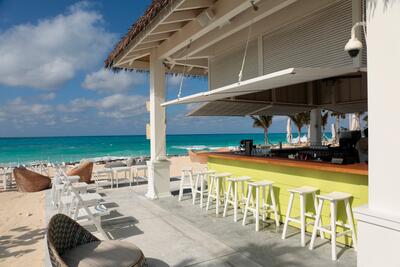 You will want to eat before you get off of the ship, as most food venues on the island do not open until around 11:30am, meaning if that you skip breakfast, it might be awhile before you will be able to be fed!
Seakers Food Court is an open air venue that offers a buffet of BBQ classics with some Bahamian flavors. There are also food trucks, which feature a variety of options ranging from seafood to American classics
The Smiling Fish and Coffee Bar has a huge array of ice cream and is a classic coffee spot that serves freshly brewed whole bean and ground coffee, espresso and cappuccinos.
Image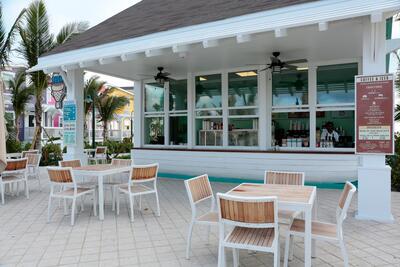 A lunch buffet is offered onboard for guests who prefer to return to the ship.
Additionally, there are complimentary food trucks located at various locations throughout the island that serve up things like pasta salad, french fries, and delicious brownies. This allows you to spend time at other places, such as Bimini Beach, without having to walk too far for lunch or a snack. 
Bars
Image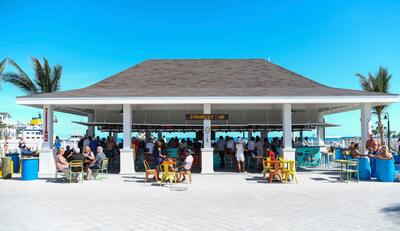 Lighthouse Bar is adjacent to a 100-foot lighthouse that can't be missed. A casual spot, great for drinks and live music.
For a true island hangout try Springer's Bar in the marina area. For convenience there are beach bars dotted across the island, so guests never need to venture far for a cool drink.
Moreover, onboard drink packages work on Ocean Cay, so you will not have to worry about paying extra if you have one!
How to visit Ocean Cay?
Image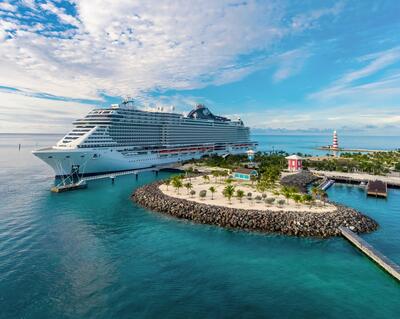 MSC offers 3, 4 and 7-night cruises with select longer itineraries that visit Ocean Cay.
Cruisers can pick between the MSC Divina, MSC Meraviglia, and MSC Armonia and MSC Seashore, the newest ship in the fleet.
Other posts that may interest be of interest if you are sailing on a different cruise line to their private island: