If your upcoming cruise itinerary includes a stop at a cruise line private island or destination, you have probably noticed that many have cabanas that you can rent for the day. While the type of cabana and included amenities vary, you can expect each to provide a reserved area just for you and your travel companions. 
These posh and luxurious cabanas are available for an extra cost and are meant to enhance your time on the island or private destination by providing personalized service, comfortable furnishings, upgraded dining experiences, and more. Sometimes, they can cost more than the actual cruise fare, especially if you are going on a short 3- or 4-night Bahamas cruise. 
Here's a list of the cruise private island cabanas that cost more than the cruise! 
Royal Caribbean's Floating Cabanas at Perfect Day at CocoCay
Image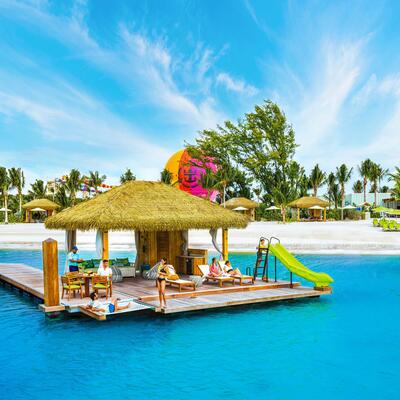 Some of the most expensive cruise line private island cabanas are the floating cabanas at Perfect Day at CocoCay. Like Royal Caribbean drink packages, they are priced dynamically; however, they are usually anywhere from $1,800 to upwards of $3,800 per cabana and can fit up to 8 guests. 
These cabanas are located within Coco Beach Club, an exclusive and upscale area of Perfect Day at CocoCay that must be reserved in advance. Here, you will find an infinity pool, sit-down restaurant, bar, comfortable seating areas, as well as private beach access with upgraded beach chairs and towels.  
Image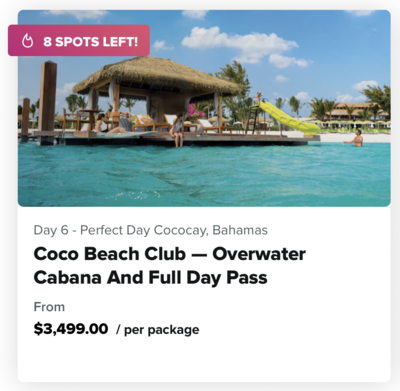 Those in floating cabanas are able to utilize all of Coco Beach Club's facilities in addition to the benefits of their cabana:
Cabana Attendant who will deliver drinks, food, and anything else that you may find yourself needing right to your cabin (and on a fun bike!)
Covered living space with comfortable seating, including a couch, coffee table, and two lounge chairs. You will also find a freshwater shower and mini-bar. Note that mini-bar items are not included with the cabana purchase. If, however, you have a drink package, you are good to go!
On the sun deck, you will find four pool chairs with an umbrella. There is also a separate dining area,  overwater netted hammock, and slide that drops you straight into the ocean!
Even though $1,800 is on the low end, let's see how much that would get us if applied towards the cruise fare: 
Image
Wonder of the Seas is Royal Caribbean's newest and largest cruise ship, and for around $1,850, you can pay for a 7-night Eastern Caribbean cruise in October 2023 for two people in an interior room! In other words, for about the same price as renting a private cabana for one day, you can pay for your entire base fare. 
Image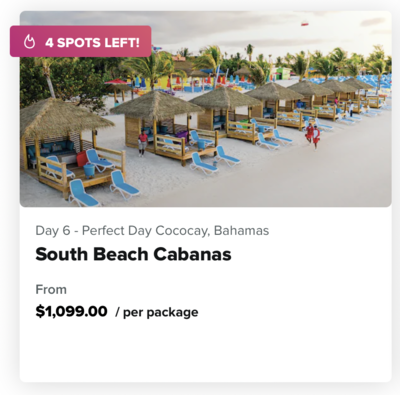 There are other cabanas at Perfect Day at CocoCay that are not as pricey. Of course, you will not get the same amenities, especially as most of them are located outside of the Coco Beach Club. With a South Beach Cabana, you'll get admission for up to 8 guests, as well as premium towels and water bottles, floating mats and snorkeling gear, and a Cabana Attendant. 
Royal Caribbean's Over the Water Cabana at Nellie's Beach in Labadee, Haiti
Image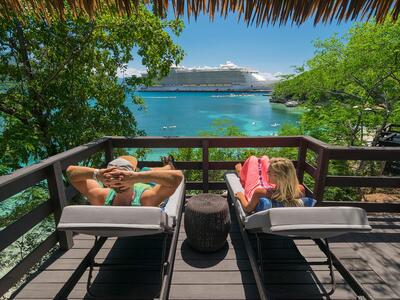 Labadee is Royal Caribbean's private destination in Haiti. Here, you can zip line over the ocean, race down the side of a mountain on an alpine coaster, or relax by the beach. 
Like other Royal Caribbean exclusives, Over the Water Cabanas at Nellie's Beach are dynamically priced; however, you should not be surprised to see it cost upwards of $1,500! 
Image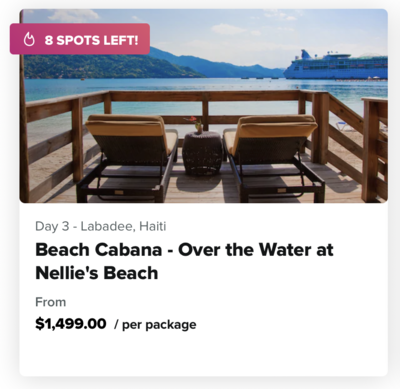 Each cabana comes with two lounge chairs and can accommodate a maximum of 8 guests. Additionally, you will get a personal Cabana Attendant, floating beach mats, and direct access to the ocean from the cabana's deck. When it comes to dining, there are a few complimentary buffets located throughout the island. 
Image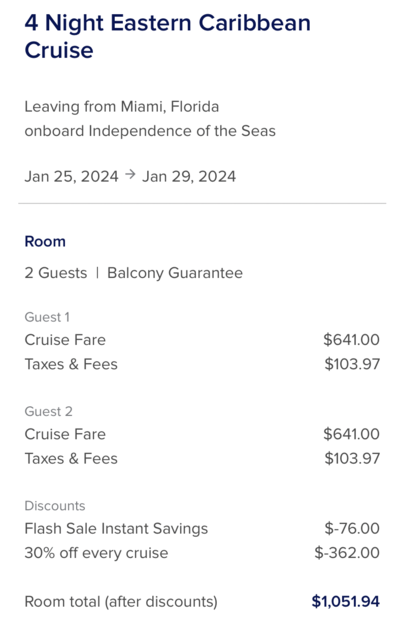 Instead of spending the money on a single day cabana rental, you could book a 4-night cruise for two onboard Independence of the Seas and stay in a balcony stateroom! In fact, this specific cruise costs almost $500 less than the Over the Water Cabana in Labadee. That might be cover to cover any incidentals and pay for the rest of your vacation!
If you want to splurge on accommodation, a Junior Suite would cost you only $35 more than the cabana. Plus, you will get some pretty nice perks to enjoy throughout your 4-night cruise!
Carnival's Private Oasis Cabana at Half Moon Cay
Image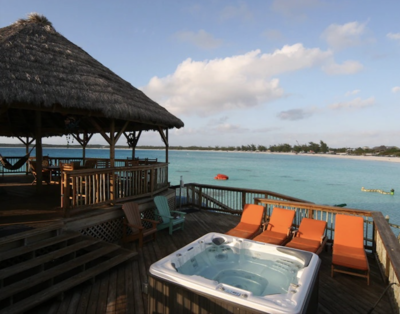 If you are sailing to Half Moon Cay and want the ultimate luxury experience, you will want to book the Private Oasis Cabana, which starts at $1,799! It is great for large parties, as it can fit up to 24 guests. Note, though, that only 12 are included in the base price. An extra surcharge of $99 per person will apply for guests 13-24. If you have 12 people, the cost breakdown is about $150 per person. 
The Private Oasis Cabana is 1,620 square feet and includes numerous different amenities that will enhance your time on the private island:
A hot tub that can fit up to 8 people
Small slide into the ocean
Changing rooms and private restrooms
Indoor and outdoor heated showers
Misting stations
A privacy gate
Dood and select alcoholic and non-alcoholic beverages
Personal chef, a bartender, butler, cabana steward, and lifeguard
If you opt to book this cabana, make sure you go hungry! Many of the reviews state that the amount of food that is served is plentiful. 
Image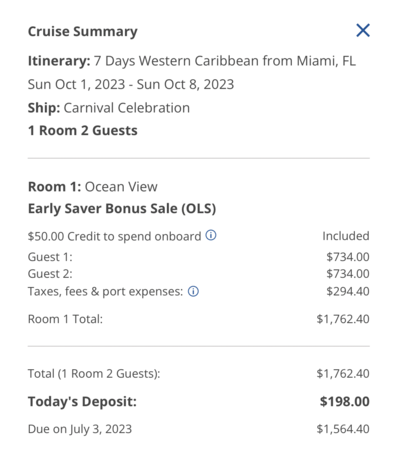 For $1,762, or about $36 less than the cost of the cabana, you can book a 7-night Western Caribbean cruise onboard Carnival's newest ship, Carnival Celebration, for two in an ocean view stateroom. 
Read more: 10 things Carnival got right with Carnival Celebration
Carnival's Beach Villa at Half Moon Cay
Image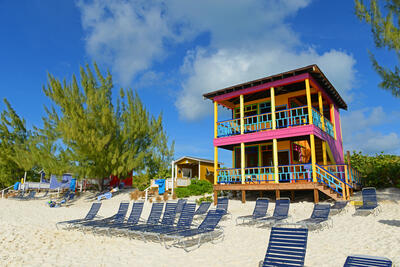 Half Moon Cay has a couple different cabana options for guests to choose from. In addition to the aforementioned Private Oasis cabana, there is also the Beach Villa. At $699 for the day, this costs about $1,000 less than the Private Oasis cabana and might be a more reasonable option for those looking to splurge on cabanas.
All beach villas are located on a public beach and include up to 8 guests. An extra surcharge of applies for guests 9-18. Once you board the ship, you can speak with the shore excursions staff members to try and request a specific location or villa. 
Regardless of which villa you spend your day at, you will enjoy the included benefits:
2-story villa with indoor and outdoor areas, including an inside dining room
Snacks like chips, dip, and fresh fruit
Water and soda 
Air-conditioning 
5 person hot tub
Refrigerator 
Ceiling fan 
Misting shower 
Floating mats and snorkel gear
Image
A 4-night Bahamas cruise onboard Carnival Conquest departing from Miami, Florida for two in an interior room is cheaper than renting the Beach Villa and will cost you less than $700. 
Read more: Best Month to Cruise to the Bahamas
Norwegian Cruise Line's Lagoon 2 Bedroom Family Suite at Great Stirrup Cay
Image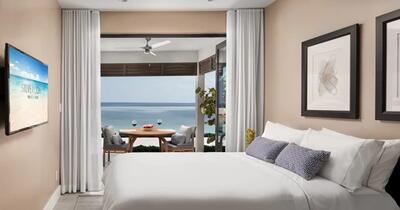 The 2 Bedroom Family Suite at Great Stirrup Cay's Silver Cove is perfect for groups looking for a luxurious and ultra-modern escape. Silver Cove is a private resort-style retreat located at the far end of the island. It is only available for those staying in the Haven, as well as guests who book a villa and spa treatments. 
The starting price is $1,049 for up to 16 guests, with the ability to add up to four additional persons for $49 each. With the 2 Bedroom Family Suite, you will get access to more than just Silver Cove's beaches, floating beach mats, upgraded buffet, and Mandara Spa:
Television with on-demand movies 
Private restroom facilities
Retractable glass wall that provides unobstructed views of the ocean, as well as access to the private beach
Two private suites and a large common room that has dining space
Food and beverage service delivered to your villa 
Image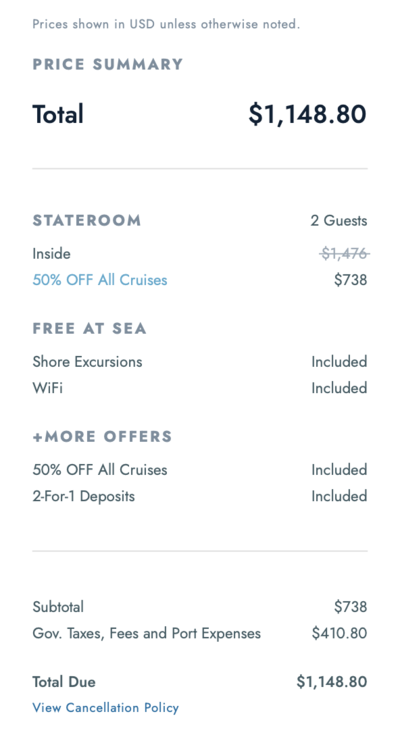 For $1,148, you can sail on a 3-night Bahamas cruise onboard Norwegian Gem in February 2024. While this costs a little bit more than the Villa, you get two "Free at Sea" perks: Wi-Fi and a shore excursion credit.  
MSC Cruises' Deluxe Ocean Cay Beach Cabana at MSC's Ocean Cay Marine Reserve
Image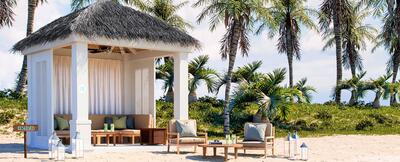 MSC's Ocean Cay Marine Reserve was once an industrial site that was redeveloped by the cruise line as a private oasis for passengers. Here, you can get a Deluxe Ocean Cay Beach Cabana for only $349. It may surprise you that MSC has cruise fares that are less than this!
In fact, you can book a 3-night Bahamas cruise onboard MSC Divina for two people in an interior room for $258. 
Image
Unlike some of the more premium cabana options offered by other cruise lines, MSC's do not come with as many bells and whistles; however, you and up to 5 guests (6 people in total) are still certain to have a relaxing day soaking in Bahamian paradise:
Food and beverage service
Floating mays and snorkeling gear 
Shaded hut with comfortable seating 
Beach loungers and umbrellas 
Read more: How to have a great time at MSC's Ocean Cay without spending any money