Stepping onboard Carnival's newest cruise ship, Carnival Celebration, was nothing like I expected.
Trendy, stylish and modern were three words that came to mind when I boarded Carnival Celebration for one of its first sailings.
Image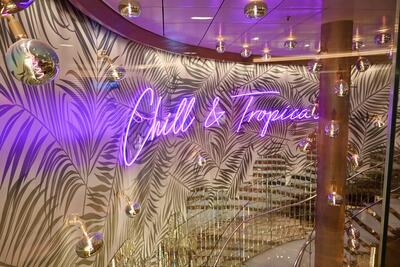 Gone are the days of dark, cramped cruise ships for Carnival Cruise Line. With its new Excel-class of mega-ships, the cruise line has completely revamped its approach to cruise ship design.
Image
The cruise line considers these ships as the start of an entirely new era of the Carnival brand.
Back in the day, Carnival Cruise Line practically started the atrium phenomenon in the cruise industry, complete with splashed neon colors everywhere and exposed, sparkling elevators that soared above multiple decks. In 1990, Carnival Fantasy was one of the largest ships sailing with the largest atrium at sea.
Image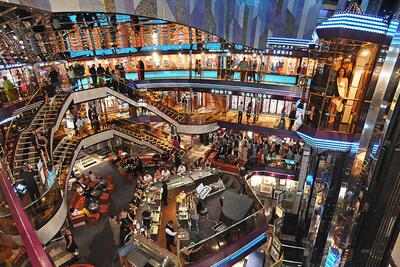 You won't find the classic seven-story atrium upon boarding Carnival Celebration; instead, you'll be welcomed by the new outward-facing, three story Celebration Central with shops, dining venues, bars and lounges.
Image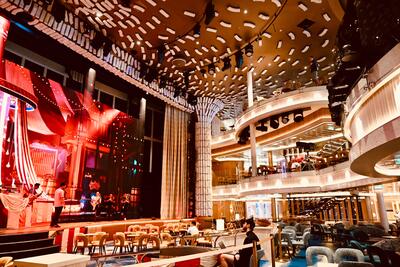 Considering Carnival Celebration, and predecessor sister-ship Carnival Mardi Gras, are 40% bigger than even the next newest ship in the fleet, I would agree with this statement.
Here are 10 things that Carnival got right with Carnival Celebration.
1. Onboard Space
The first day onboard Carnival Celebration, I was worried the ship would feel cramped and crowded with people. Knowing this cruise ship can hold close to 6,000 passengers, it felt like everywhere we went, we were surrounded by people.
Image
I spoke with a longtime Carnival cruiser who sailed more than 30 cruises on Carnival Mardi Gras who assured me that the first day was the only time the ship feels crowded.
As he suggested, the ship felt less cramped each day as the week went on.
Image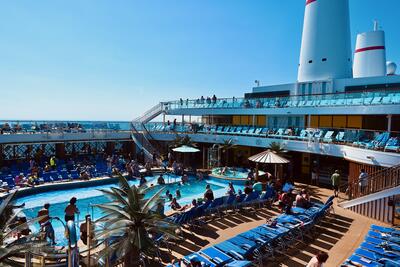 On older Carnival cruise ships, we always felt like we were waiting in long lines at the buffet or other dining venues, especially Guy's Burger Joint and BlueIguana near the pool deck. The Lido is typically busy anyway, so cramming all of the casual dining spots in this space typically creates a lot of crowds.
Image
Carnival Celebration has strategically scattered the crowd-pleasing spots throughout the ship to help with congestion. You'll find Guy's Burger Joint located at the front of the ship while Big Chicken is located on the complete opposite side.
BlueIguana and Street Eats are situated near the pool deck while deck 8 is where you'll find Miami Slice Pizza.
Image
There's also many bars and lounges throughout the ship - we didn't have any major issues finding a table or chair at an event or activity that we wanted to attend; of course, the outlier here is the circus acrobatic show, which was, in fact, a circus trying to find seats.
Image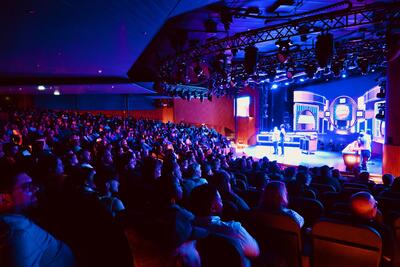 2. Casual, Complimentary Dining
When it comes to casual dining, I'd argue that no one does it better in the cruise industry than Carnival Cruise Line. Almost every casual dining space onboard was a home-run for us; not to mention, there were so many choices that we rarely ate at the same place time.
Image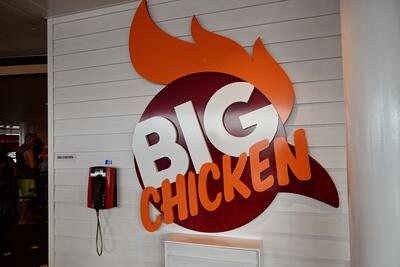 Big Chicken was a favorite spot for us on Carnival Celebration, with chicken sandwiches, tenders and breakfast that proved be a strong competitor for Chick-Fil-A.
Image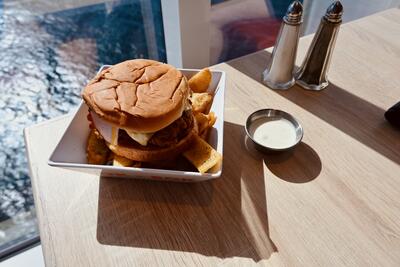 Miami Slice serves up delicious pizzas until 4am onboard and you can even order whole pizzas to share if you request. Not too far from Miami Slice is Deco Deli, which has an excellent assortment of hot and cold deli sandwiches.
Image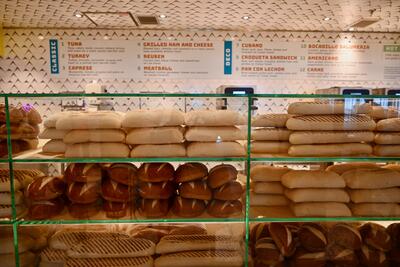 BlueIguana is a great spot for breakfast or lunch, serving up breakfast burritos in the morning and tacos throughout the day.
Image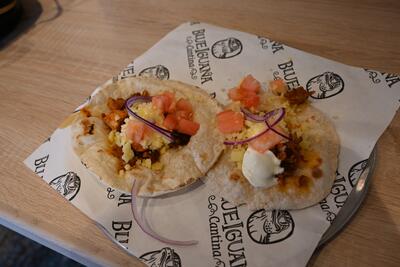 Guy's Burger Joint, a popular spot from famed celeb-chef Guy Fieri, has a nice variety of juicy, hearty burgers served for lunch and dinner. Another spot by Guy is Pig & Anchor Smokehouse, also serving lunch buffet and a-la-carte dinners.
Image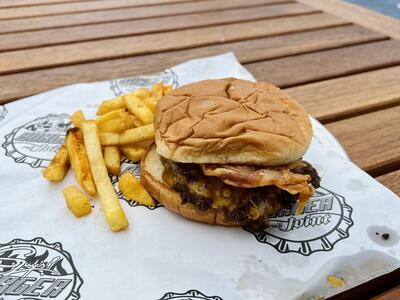 Another addition for Carnival Celebration is Street Eats, which hops on the food truck trend with four stalls serving seafood, fries, kebabs and bao buns. We found this to have odd hours, but seemed to be open more during the late afternoon into the evening.
3. Plenty of Pools
With nearly 6,000 people onboard, Carnival delivered with plenty of pools for cruisers to choose from across the ship.
During the sailaway party, I was under the impression that the Lido Deck had the main pool option onboard - it already looked extremely crowded. As the week went on, we continued to find so many pool options throughout the ship!
Image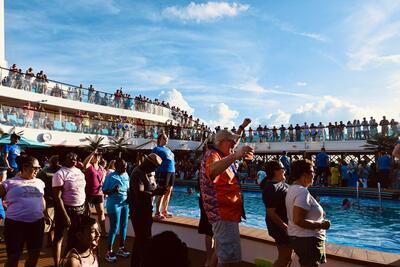 Looking at the aft of the ship, you can't miss the Patio Pool on Deck 8. There are also hot tubs that line the side of the ship around the corner in this space We enjoyed swimming here after our day in Roatan, Honduras. We practically had the pool to ourselves.
Image
You can also find Tides Bar and Pool located on Deck 16 at the aft of the ship, which gives really stunning views from an infinity pool. You'll also have access to hot tubs here, although it was so hot during our cruise that a hot tub never sounded appealing.
Image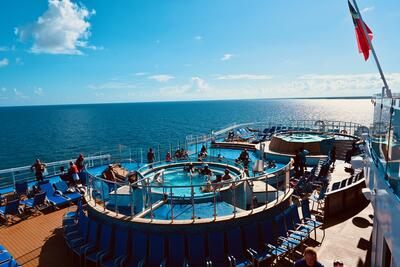 The adults-only Serenity area at the front of the ship on Deck 18 also has its own pool and hot tubs while the aft of the same deck is home to Carnival Waterworks with waterslides and splash pads.
Image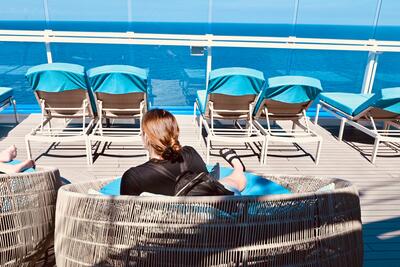 With so many pools to use onboard, none of them ever appeared to be uncomfortably cramped, especially considering how many people are sailing on each cruise.
4. Specialty-style restaurants
In a unique twist on traditional dining, Carnival Celebration has two complimentary dining venues that feel like specialty restaurants.
Image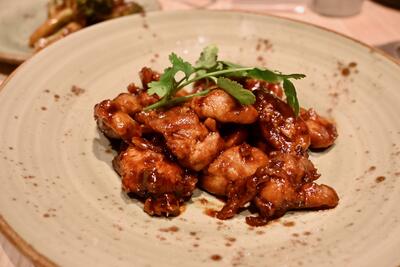 We first dined in Cucina del Capitano, which is the Italian-themed restaurant. The warm ambiance was complete with pictures of Italy everywhere; we thoroughly enjoyed our experience that we chose to return towards the end of the cruise.
Image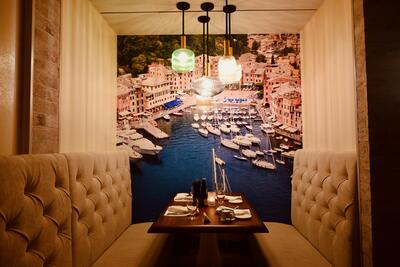 Although the quality was similar to food in the main dining room, we appreciated the overall experience and change of scenery.
Image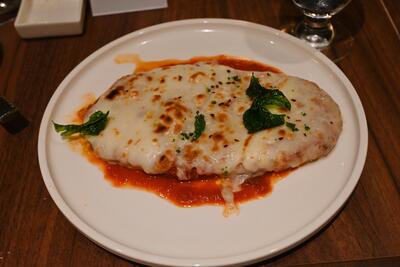 Similarly, ChiBang! Is another complimentary dining venue onboard that feels like it should be a speciality restaurant. Serving a full menu of Asian and Mexican cuisine choices, the vibrant atmosphere is a really lovely addition to the sit-down dining options on Carnival Celebration.
Image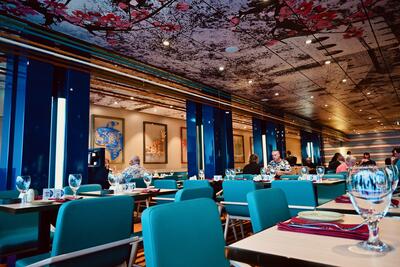 At each restaurant, you can choose from a classic Carnival menu as well; this includes choices like Caesar salad and Carnival's famous melting chocolate cake.
Image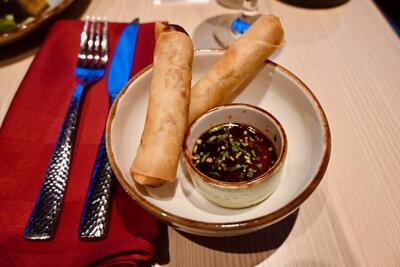 Having these two complimentary dining options onboard helps ensure the main dining room isn't overly crowded during dinner. I am sure this also helps with speed of service by providing multiple places for sit-down dinners.
Image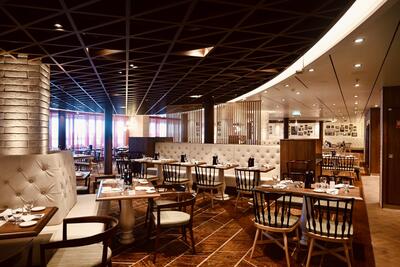 Both of these options do require that you make a reservation using the Carnival app; although we didn't have significant wait times, we did hear others who wanted later dining times were given 1-2 hour waits.
5. Innovative Headliner Shows
During our time on Carnival Celebration, we wanted to focus our week on the ship's full experience rather than being adventurous and spending our cruise exploring the ports.
Image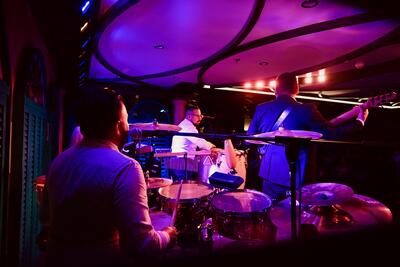 Therefore, we had a lot of time to see multiple headliner shows and participate in daily activities onboard. Overall, we were super impressed with the entertainment that Carnival Celebration has onboard!
Image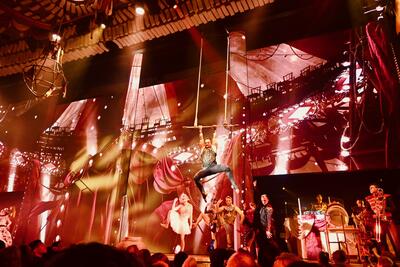 All of the headliner shows felt very trendy, innovative and captivating from the music to the acrobats and costumes.
Between Celebration Central's stage, Center Stage, and the main theater, Grand Spectrum Theatre, there are multiple shows you can see throughout your cruise. While Grand Spectrum is a traditional theatre with seating, Center Stage utilizes a versatile venue with a mixture of tables, chairs and stadium seating in the atrium.
Image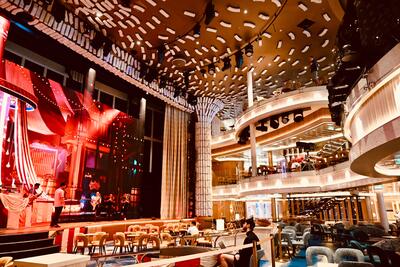 First, we watched Celestial Strings at Center Stage; this show was a combination of electric violins, whimsical dancing and Regency-style costumes.
Image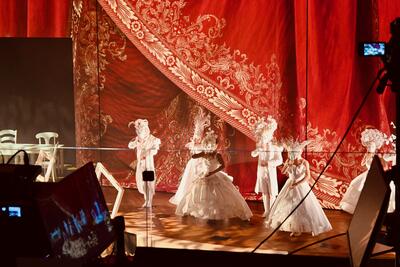 The best show on Carnival Celebration is The Most Magnificent Circus, which also takes place at Center Stage. With flying acrobats, incredible goals and truly magnificent costumes, this show cannot be missed.
Image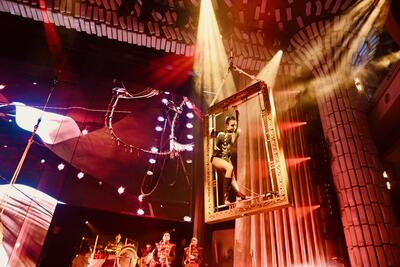 We Are One was the final show in Center Stage, highlighting the unification of the world with a beautiful display of multiple global cultures and countries.
Image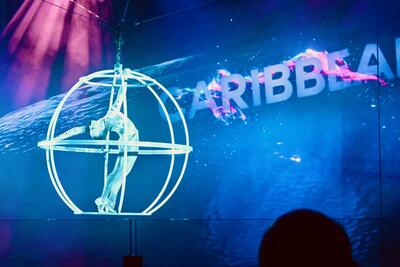 We also enjoyed Amor Cubano and Color My World in the Grand Spectrum Theatre; while we enjoyed these shows, we both agreed that the shows at Center Stage were superior. Between the huge LED screens and the overall production quality, the Center Stage shows were entertainment highlights for us.
Image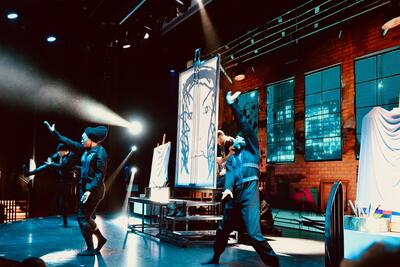 6. Endless Activities and Entertainment
Apart from the main headliner shows, Carnival Celebration has so many onboard activities and entertainment options available.
Punchliner Comedy Club - a Carnival staple - has upwards of six shows each day between PG and adult-only shows. There are so many comedy shows that they can't even host all of them in the Punchliner Comedy Club with some shows taking place in the theatre and LimeLight lounge. 
Image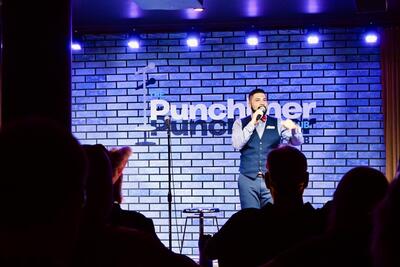 The Piano Bar is another popular spot on Carnival Celebration for nightly entertainment with people packing around a large piano belting out the words to Sweet Caroline. The family-friendly shows end at 10pm, allowing all cruisers to enjoy The Piano Bar.
Image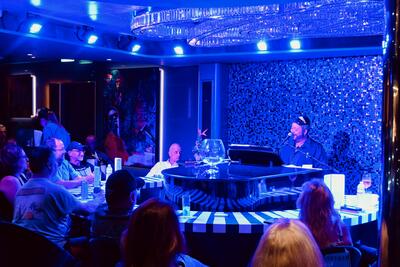 Trivia, bingo and gameshows were also daily activities onboard with a wide range of topics to appeal to all ages. We were also surprised to find not one, but two shows for the Love & Marriage game show, which is a cruising classic!
Image
Carnival Celebration also features a live versions of Family Feud and Deal or No Deal, which were interactive and amusing. Families onboard were able to audition for the Family Feud live event. 
Image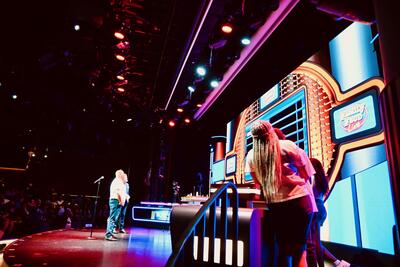 7.   Stylish Design
When you think of cruise ships that are stylish and aesthetically pleasing, I am guessing Carnival Cruise Line isn't the first cruise line that comes to mind.
Image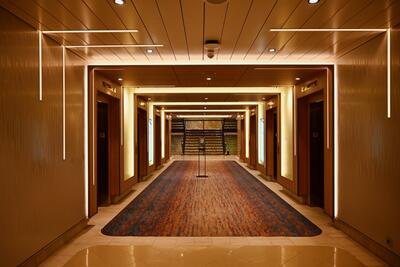 Carnival Celebration (and sister-ship Mardi Gras) are here to change that. This is truly a new era of ship design for Carnival Cruise Line - and we are here for it!
Image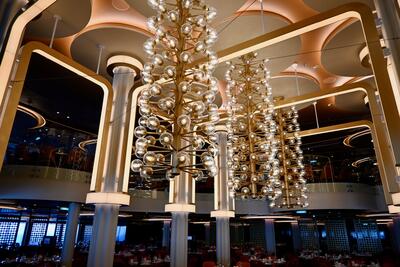 My previous cruises on Carnival were on ships with awful lighting, cramped venues, and lots of lines for everything. Our last cruise on Carnival Ecstasy was the quintessential 90s design for cruise ships with odd layouts and compartmentalized spaces.
Previous Carnival ships never felt spacious, airy or very open to me, but Carnival Celebration has a completely different vibe - one that is more modern, stylish and open.
Image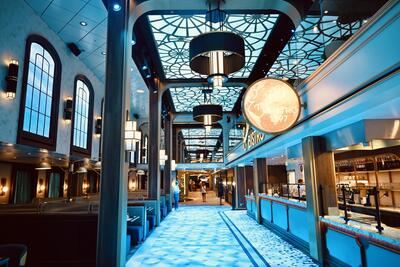 Carnival Celebration was designed to bring a mixture of past, present and future elements throughout where 'nostalgia meets innovation'. The ship features meaningful nods to Carnival's history in places like The Golden Jubilee Bar and The Gateway.
Image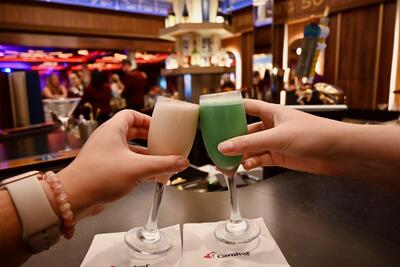 The ship is thoughtfully designed with a seemingly open floor plan where spaces seamlessly flow from one area to the next. You won't find black walls or illuminating elevators on Carnival Celebration, instead you'll enjoy brightly lit and modern spaces.
Image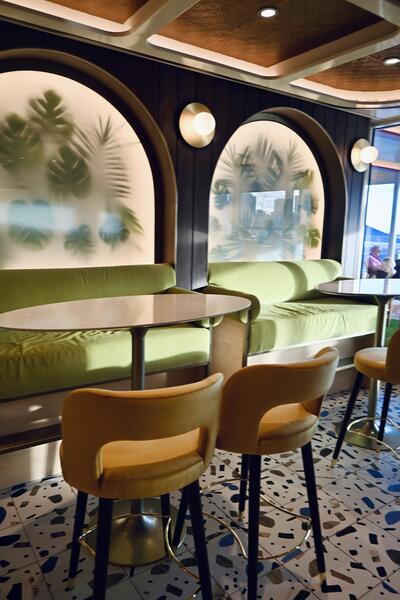 8.   Stateroom Functionality
While you might not spend much time in your stateroom, Carnival Celebration has not only elevated their stateroom design, but also the cabin functionality. Our inside cabin might have been small, but there were obvious enhancements in the design to optimize the small space.
Image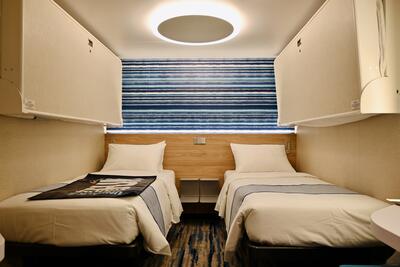 For example, we had two large closets to use with built in shelving, expandable drawers and hangers. We very comfortably unpacked for the week with most of the closet space going unused; my sister was even able to fit her suitcase and backpack in the closet, which helped keep our small cabin less cluttered.
Image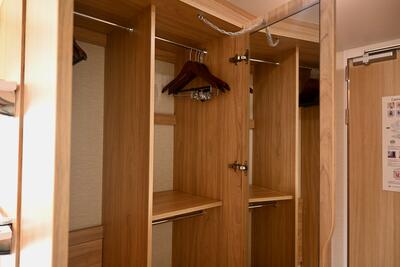 There were also numerous outlets and USB plugs throughout the room.
Image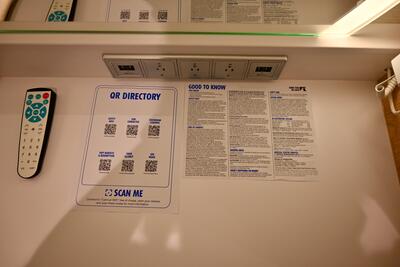 This is a necessary improvement in modern cruise ship stateroom functionality, as our last Carnival cruise on Ecstasy only had one outlet to use.
Image
We were also impressed with the bathroom design, particularly the size of the shower. The bathroom wasn't overly spacious, but the shower was comfortably large. Showers on older ships have notoriously small showers that feel like tiny capsules; some even have just a clingy shower curtain.
Image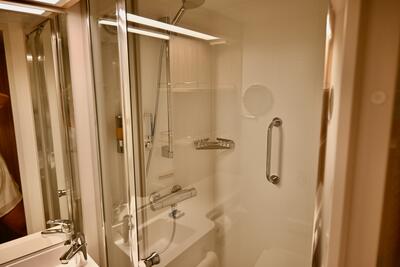 Our inside cabin shower had an actual door that maneuvered horizontally inward to keep the bathroom space more open. This kind of functionality is something I appreciate after sailing in a variety of cabins, as it makes the most of a small space.
9.   Ultimate Playground
Carnival Cruise Line is known for having the most fun ships at sea and considers itself the most family-friendly cruise line in the industry.
Image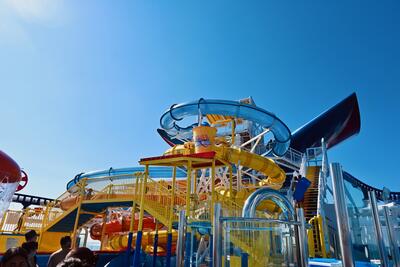 However, since I don't have children to cruise with, I am not normally interested in the kind of onboard thrills offered, such as waterslides, surf simulators, and go-karts.
Carnival Celebration has tons to do for families, but we were particularly and unexpectedly impressed with the Ultimate Playground. Located on the top deck at the very aft of the ship, this space is truly the ultimate space for everyone to have fun.
Image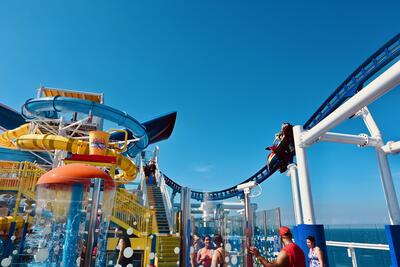 You can find Bolt: The Ultimate Sea Coaster in the Ultimate Playground, which actually had our adrenaline pumping. For $15, the price is a little steep but the whirlwind experience felt worthwhile for us as rollercoaster lovers.
Image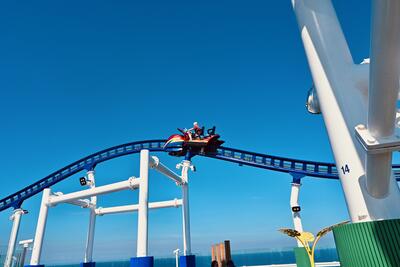 We also found ourselves intrigued enough to try the waterslides; these were way more intense than any slide we've tried on a cruise ship.
Image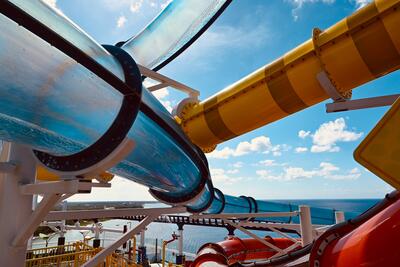 One of the slides has a drop so intense, it left a hole in my swimsuit! That didn't stop me from going down the slides five times, only waiting a few minutes each time in line.
The Ultimate Playground also features miniature golf, a sports court, ropes course and a walking path.
Image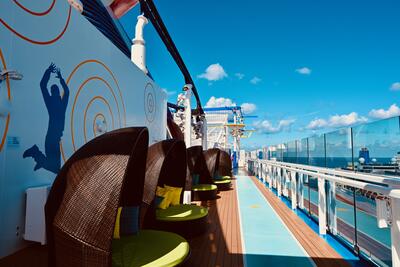 10. Themed Bars and Lounges
Carnival Celebration might have plenty to do for kids and families onboard, but adults will undoubtedly love how many different bars and lounges are available.
Image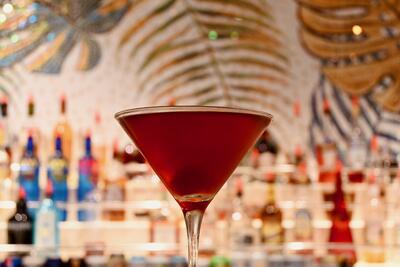 With nearly 20 different bars on Carnival Celebration, cruisers will appreciate how each space has its own unique ambiance and specialty menu.
Image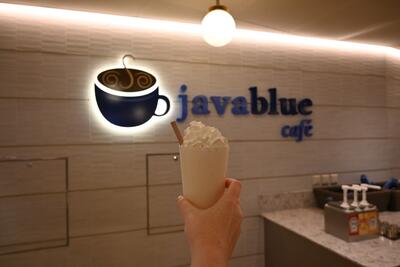 I was most excited to try Latitudes - the travel-themed bar located in The Gateway. This new space is exclusively on Carnival Celebration and features cocktails from around the world. The bartender recommended the Tokyo Sangria and Sakura (which has a special presentation you won't want to miss!). As a travel lover, this was one of my favorite bars.
Image
The Golden Jubilee is another new addition to Carnival Celebration and pays homage to the cruise line's 50th anniversary. You can indulge in specialty cocktails here (our favorite was a tiramisu martini) while admiring the dazzling chandelier and Carnival history pieces.
Image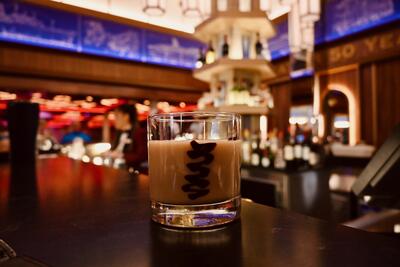 Alchemy Bar is another Carnival favorite, located above The Gateway on Carnival Celebration. We love the Revved-Up Mojito here and also tried a blueberry concoction from the bartender's recommendation.
Image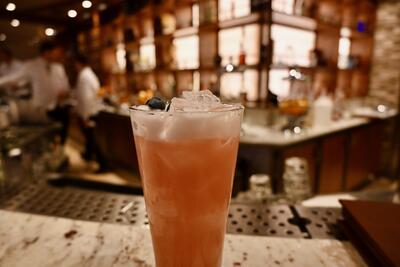 On the Lido deck, RedFrog Tiki Bar is the perfect spot to grab a fruity cocktail during the always-entertaining sailaway party on Carnival Celebration. Even though it was packed, we were able to drinks pretty quickly and admired the tiki-theme throughout our cruise.
Image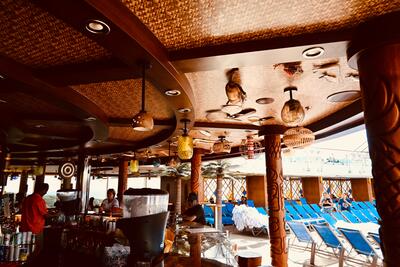 Finally, Bar 820 is a retro-themed bar located in the Biscayne 820 zone on Carnival Celebration. This bar has cuban coffee and Miami-themed drinks - one of our favorite cocktails of the entire cruise was the key lime martini that we sipped on while relaxing at the pool near Summer's Landing.
Image