Carnival Cruise Line is celebrating its 50th anniversary with a gift not only to itself, but the entire cruise industry. 
Carnival Celebration is the cruise line's biggest and most modern cruise ship to date; she is the second ship in the Excel-class for Carnival. With sister-ship Carnival Mardi Gras debuting in 2021 as the first in this new era of ship class, she paved the way for Celebration to make her grand entrance in 2022. 
Image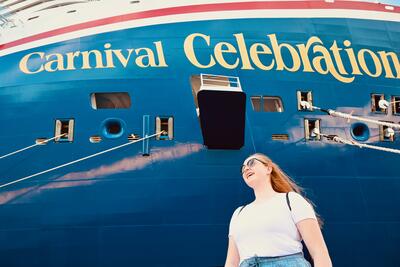 Carnival's snazzy new cruise ship is the perfect way to honor the cruise line's revolutionary impact on the cruise industry, including the introduction of an elevated atrium, festive onboard ambiance, and a major focus on fun. 
Carnival Celebration unites the past, present and future of the cruise line, bringing together nostalgia and history across the onboard experience. 
Image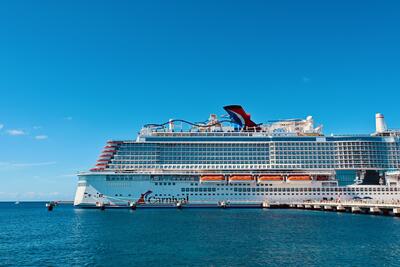 Carnival Expectations
While some cruise lines focus on offering a luxurious, refined and even traditional experience, Carnival's brand has always centered around family, affordability and fun. 
Image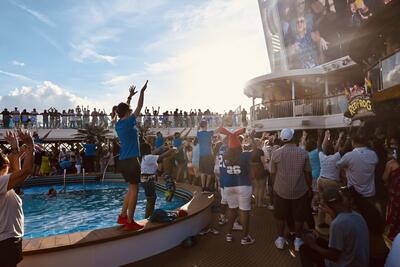 Personally, having the right expectations is key when I cruise on Carnival. I know I'll be seeing more of a party crowd, tons of families and even people who wear pajama pants to specialty restaurants. 
My expectations are understandably lower when I sail on the most budget-friendly cruise line in the industry. You often get what you pay for, and there's nothing wrong with that.
Image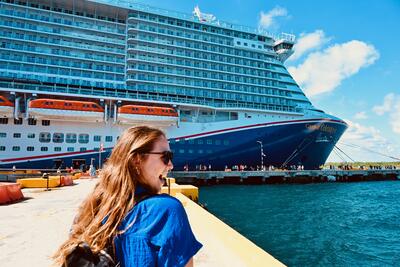 But, even if you don't spend a ton of money, you can still have a ton of fun. Just like you don't have to fly first class to have a great airline experience; you know what you're paying for when you purchase an economy ticket or choose to fly a budget airline
You can't expect to board a Carnival ship to find world-class service, glamorous accommodations and Michelin-star cuisine, but that's just fine. 
Instead, you can expect to find some of the best fried chicken sandwich and molten chocolate cake at sea. You'll also find a casual, energetic atmosphere that your whole family can enjoy.
Image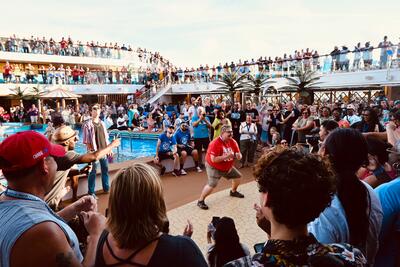 This is where the cruise line finds it's sweet spot - especially with the new Carnival Celebration. 
Where Carnival Celebration Shines
We found that Carnival Celebration really shines in many aspects, but fell short in a few ways for us. First, let's dive into the ways that Carnival Celebration really impressed us before we discuss the few areas that definitely left us frustrated.
Image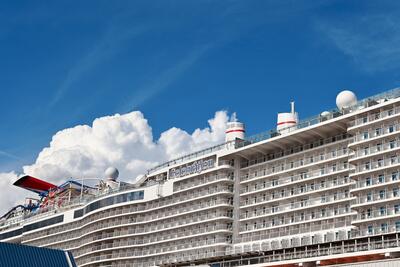 Design Improvements
Stepping foot on Carnival Celebration was an experience that I never expected; my prior Carnival experiences were on cruise ships that felt cramped, dark and outdated. Sometimes the crowds onboard were a little too rowdy and wild for my style of cruising.
Image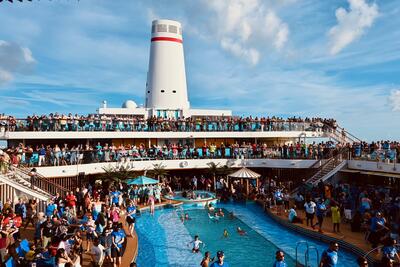 When I sailed on older Carnival ships, the darkness and crowds always made me feel like I was stuck in a nightclub or college bar; I remember waiting in huge lines and maneuvering around lots of drunk people to get a poolside drink.
This isn't to say other cruise lines don't have the same experiences, especially on shorter cruisers, but the 90s retro design onboard Carnival's older ships really highlighted the party vibe onboard.
Image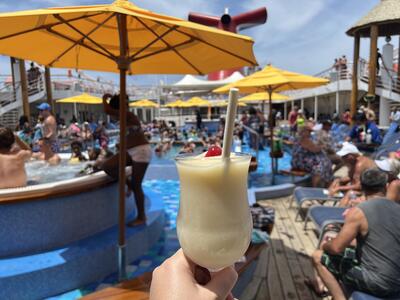 The new Excel-class ships represent a new era of cruising for Carnival; as such, Carnival Celebration feels completely different than any other Carnival ship I've sailed on before.
Image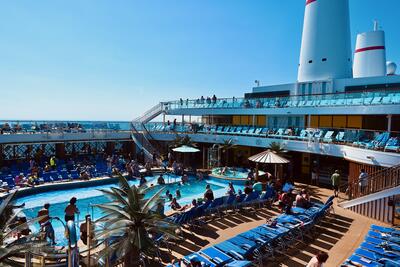 Most notably, spaces onboard generally didn't feel cramped or crowded. We never waited in massive lines, which was always one of my biggest gripes about cruising with Carnival.
The ship's design cultivates a better flow for movement by spreading out popular dining spaces into the ship's six different zones. While Big Chicken is located near the top deck on the ship's aft, you'll have to go down to Biscayne 820 to snag a slice of pizza.
Image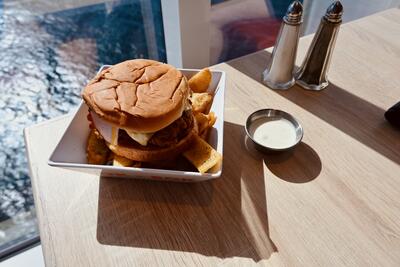 The aesthetic on Carnival Celebration has also been a huge improvement across the board. You can still find the splashes of bright, neon colors that Carnival is best known for, but it's more subdued.
Image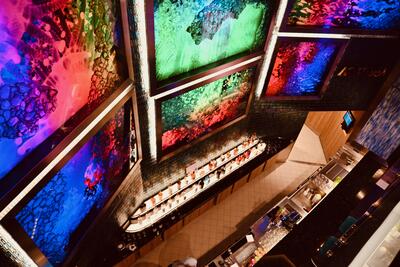 In terms of design, the atmosphere onboard feels more modern and trendy with a brighter ambiance in the air.
Image
Quality Entertainment
Previously, I had never been impressed with Carnival's entertainment. The headliner shows were nothing special on all of my previous experiences with the cruise line.
Punchliner Comedy Club and the Piano Bar were typically the preferred spots to spend my evenings while activities and trivia would find their way into my daily schedule as well.
Image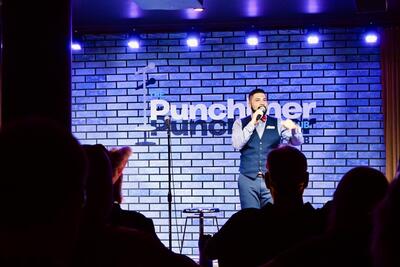 While these activities and trivia shows were livelier, the headliner entertainment came off as low-budget productions being performed by high school students
Carnival Celebration smashed any expectations I had for entertainment onboard. The cruise line has absolutely upped its game for these headliner shows.
Image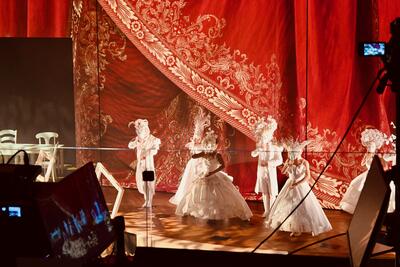 Thanks to a new Center Stage in Celebration Central, which is an outward facing atrium located across multiple decks, there were numerous headliner shows each night to accommodate the busy cruise ship.
Image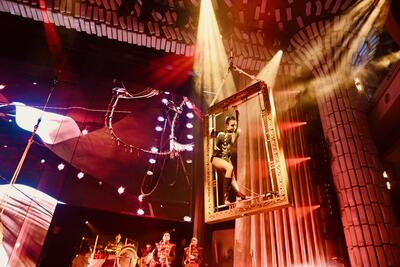 Center Stage was host to Celestial Strings, The Most Magnificent Circus and We Are One. These were the best headliner shows during our cruise with extremely talented performers, quality production and daring acrobats. The massive LED screens tower over the atrium for a stadium-style effect.
Image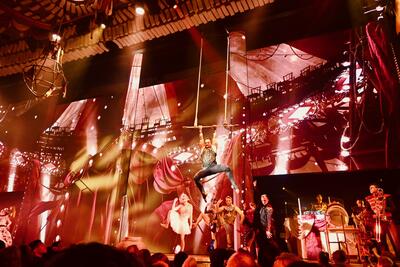 We enjoyed these headliner shows more than the Grand Spectrum Theatre productions of Amor Cubano and Color My World; however, these shows were also well done in comparison to any other Carnival entertainment I've seen.
Image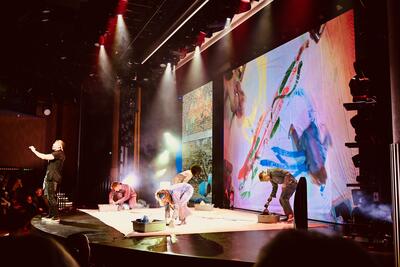 Expansive Dining Choices
Although you won't be finding exquisite, 5-star cuisine onboard Carnival Celebration, we were thoroughly impressed by how many dining choices were available onboard.
Image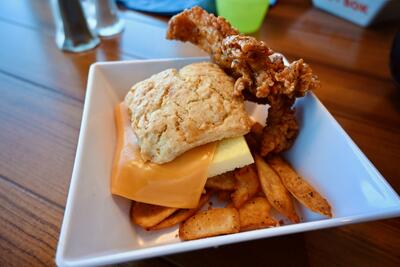 Carnival does quick, casual dining better than any other cruise line in the industry. For example, Big Chicken, serves up crispy, juicy chicken sandwiches for breakfast, lunch and dinner. From Pig & Anchor Smokehouse to Guy's Burger Joint and BlueIguana, we nearly ran out of time to try everything.
Image
Additionally, almost everything onboard is complimentary - even venues that felt like specialty restaurants, like Cucina del Capitano (Italian) and ChiBang! (Asian/Mexican fusion) are included in your cruise fare. Both of these venues were excellent; we couldn't believe they were complimentary.
Image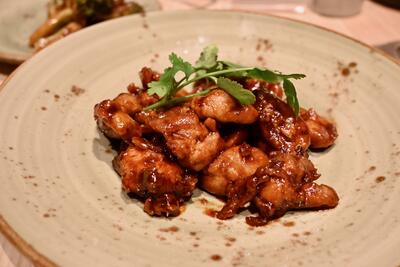 During our time on Carnival Celebration, we also splurged on some of the non-complimentary dining options, such as the Fahrenheit 555 Steakhouse, Bonsai Teppanyaki and Emeril's Bistro 1397.
Image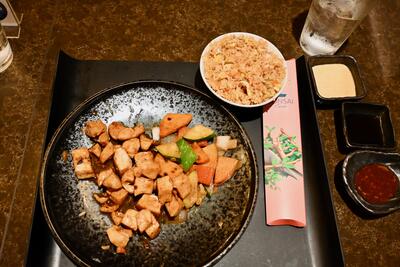 Fahrenheit 555 was a lovely experience where we dined on delicious steaks, sides and desserts. The ambiance was quiet and classy with sparkling chandeliers and velvety chairs.
Image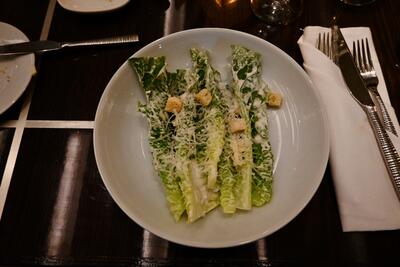 For breakfast, we were absolutely in love with Emeril's Bistro 1397. We tried everything from the breakfast po' boy to the ham croissant, along with beignets and crepes as well. Reasonably priced around $6 each, we loved having a cafe experience here.
Image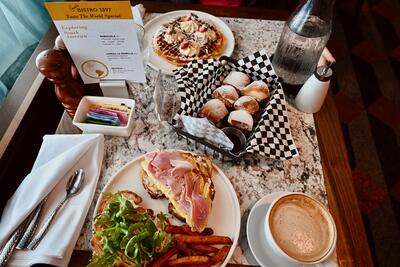 On our last evening, we splurged and tried Bonsai Teppanyaki; this isn't something we typically do on cruises, let alone at home either. Seated around a hot grill, we joined 7 others while our chef performed an intricate and interactive show while cooking up our teriyaki chicken and steak.
Image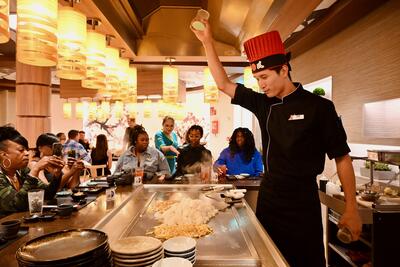 We had so many options onboard that we rarely ate in the main dining room. We dined once for dinner and twice for SeaDay Brunch. On our previous Carnival cruise, SeaDay Brunch was a highlight for us and it proved again to be just as delicious as we remembered.
Image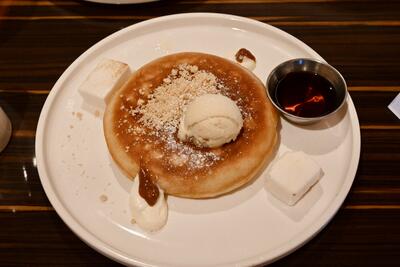 Our one night in the main dining room was very good with extremely fast service, complete with sweeping views of the ship's wake.
Image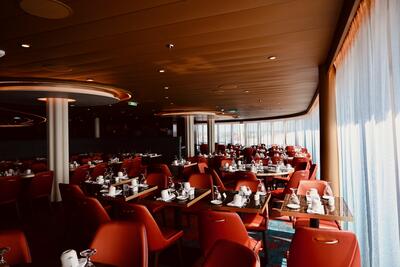 Overall, dining onboard Carnival Celebration was a huge highlight for us. We had to plan out where and when we wanted to eat so we could squeeze everything in. If anything, I wish we had a few more options for lighter fare - I joked that my lips were moisturized with grease all week.
Image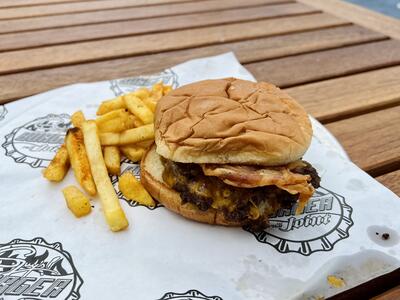 Amplified Accommodations
While there's enough to do onboard Carnival Celebration to never be in your room, we found our inside stateroom to be quite comfortable during our cruise.
Although modestly sized, we had plenty of room to unpack comfortably for the week in the two large closets. There was an array of hangers, and drawers and shelves for us to use. We had so much space we could even fit our small suitcases in the closet after unpacking.
Image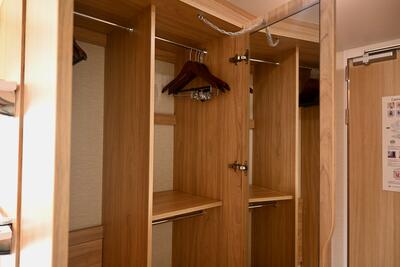 Our beds were already separated when we boarded. We found small and very modern looking 'nightstands' for us to use. Lights and USB ports were available on the bedside.
Image
Sailing on a brand-new ships means cozying into your stateroom bed knowing that maybe two to three people have slept in it. That just adds an extra little sparkle to stateroom experience knowing it's practically brand new.
The vanity, illuminated with a large ring light around the mirror, had drawers, exposed selves and a small ottoman to use. Multiple outlets and USB ports lined the vanity - a pleasant surprise and necessary amplification for modern-day staterooms.
Image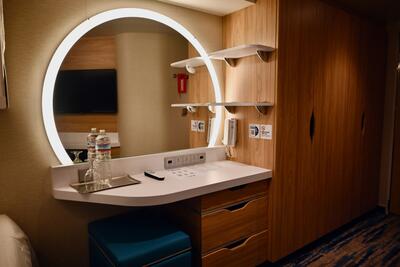 The bathroom shower was the more pleasant surprise for us was the bathroom shower. Although not necessarily the most important aspect of the accommodations, most cruise ship showers are tiny capsules. Some even have clingy shower curtains that leave water all over the floor.
Image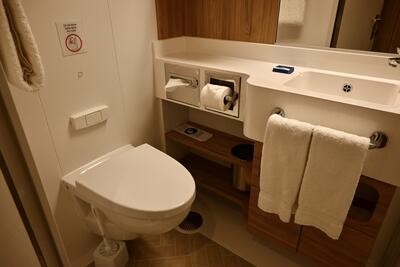 This shower took up half of the bathroom, but it was large enough that we never bumped into the walls or the soap holder. A plexiglass door maneuvered inward to keep the space more open.
Image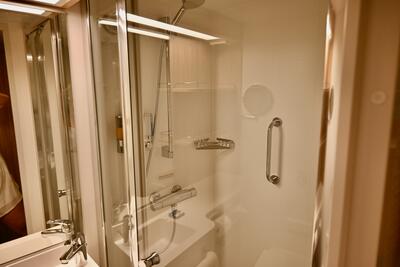 Overall, we were impressed with the bathroom upgrades and spacious closet, making the stateroom extra comfortable during the week. The only thing we wish it had was a small chair so we could sit somewhere other than our beds.
Carnival Celebration's Shortcomings
Every cruise ship has its flaws - and Carnival Celebration is no exception. Although many aspects of the brand-new ship left us impressed, we were not thrilled with everything.
Image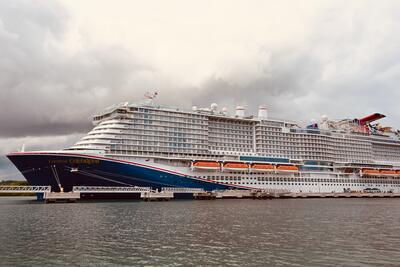 Frustration in Celebration Central
Although shows at Center Stage are fabulous, but the seating situation is horrible and chaotic.
I appreciate how Carnival tried to incorporate Center Stage into the Carnival Celebration zone with an attempt at an open-floor plan design, but the design fell flat.
Image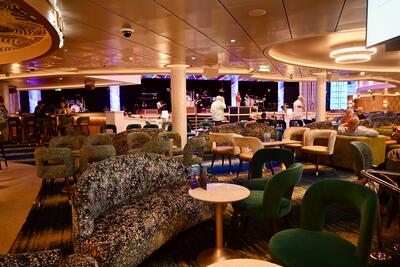 This area is disorganized entirely; in my opinion, it totally takes away from the experience of the production shows. There is a combination of chairs, tables, booths and staggered seats across the three-level atrium.
To start, there are purposeful stadium-style seats that don't even provide direct views of the stage. Many people need to walk through this space naturally while wandering from one side of the ship to another.
This means while you're trying to enjoy the show, you're constantly dodging people walking right in front of you, many of them talking and stopping to take pictures or videos.
Image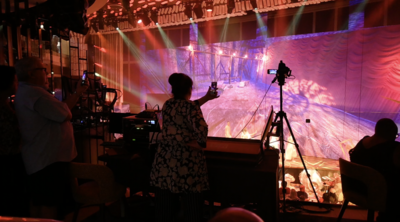 For two of the main shows, we were stuck in the stadium seats regardless of how early we arrived. This was frustrating, as we could only see maybe 25% of the actual show.
Not to mention, Carnival decided to place the technician and sound booth in a spot that obstructs the views even more for the stadium seats.
Image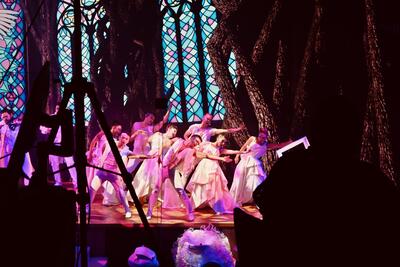 It appears the designated spot was not even enough space for what they need for production though, because there was a temporary table with computers and cords. A small 'Do Not Touch' sign sits on top of the temporary mess, which feels like an oversight.
Image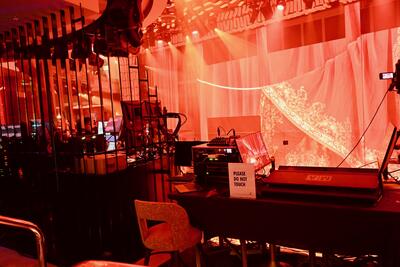 Finally, seating for The Most Magnificent Circus was, in fact, an absolute circus. We knew to arrive early based on reviews from others, but it was a dog-eat-dog environment.
Simply walking down from a higher deck in the atrium, I was scoping out the line situation when a women yelled in my face that the line was clearly behind her. I was astonished by this and it certainly set the tone for how edgy everyone was feeling.
Image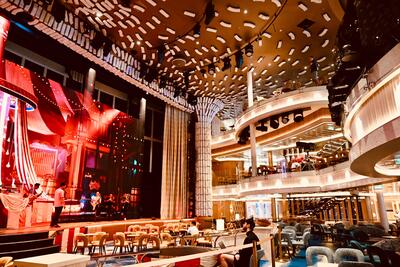 Mobs of people awaited on the sides of the atrium behind a rope in hopes of getting a decent spot, so we walked to the center area behind the front-section seating. There was a rope, indicating that it would be opened once we could pick seats.
The cruise director announced that the ropes would be removed, but there was absolutely no pushing, shoving or hitting! We heard rumors that people have been into altercations over seating at this show.
Image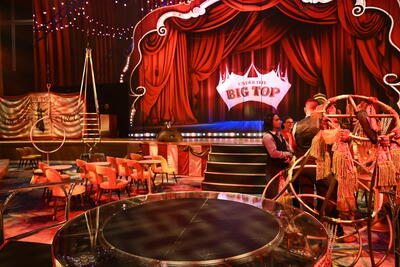 With everyone on the sides, we were able to very quickly snag a few spots in the front-section booths by entering from the center.
There was an angsty spirit in the air as we all had to sit next to one after dashing and dodging for spots.
Image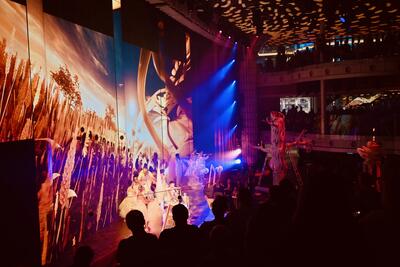 There has to be a better system for this in the future, although I am not sure what that solution would be. Perhaps utilizing the app for reservations would alleviate these lines and crowds; however, it does dampen the overall entertainment experience.
This is one our biggest gripes with Carnival Celebration and we think Carnival definitely needs to figure something out.
Not the Ultimate Walking Path
As someone who loves to walk on a cruise ship, especially during sea days, I was looking forward to trying out the walking path.
Image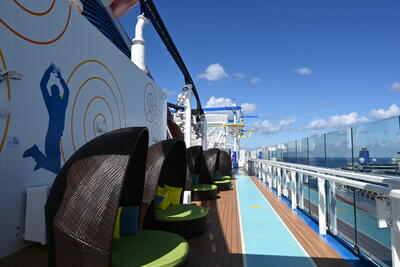 This was a huge disappointment, as the walking path is routed around the Ultimate Playground. While it might make logical sense to fit all of the sports activities in this zone, the walking path is practically unusable.
Image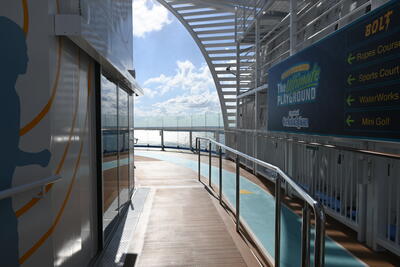 On the sides, the waterpark overflows occasionally and dumps water across the path. You also have kids running around everywhere between the slides and miniature golf, which disrupts anyone trying to walk or run.
Finally, you have parents and bystanders watching as others do the ropes course or Bolt that obliviously stand in the middle of the walking path. I saw so many people trying to run or walk who were constantly stopped or weaving around others.
Image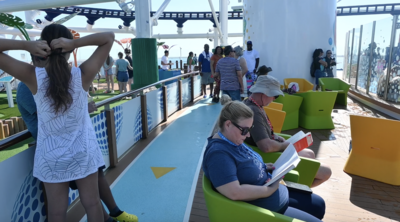 If you're set on walking on the path, you could consider getting up early to get your steps and exercise in before the kids wake up. However, if you wait until later in the day, you can expect to have a constantly-interrupted trek.
Stressful Dining Reservations
The variety of dining onboard Carnival Celebration is definitely a positive for us, but the reservation system is more stressful than I would prefer.
Image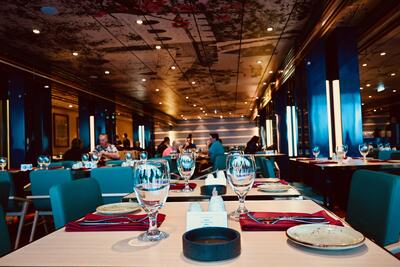 Since we had anytime dining, we were able to request tables for the Main Dining Room, Cucina del Capitano and ChiBang starting at 5:30pm using the Carnival Hub App.
Rumors from others had us worried that we would be waiting more than an hour for a table, so we promptly requested a table at 5:30 even if we weren't hungry. We had no idea how long it would take to get a table, so we were always on edge waiting for the table confirmation.
Image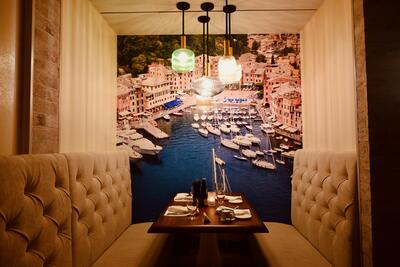 We were seated quickly each time, but you only have 10 minutes to get to your table after requesting. Therefore, you have to be somewhat ready while also being prepared to wait.
If you do not have anytime dining, you can't request a table at Cucina del Capitano or ChiBang until 7:45pm; we heard from many that this is when you have to wait a while.
Image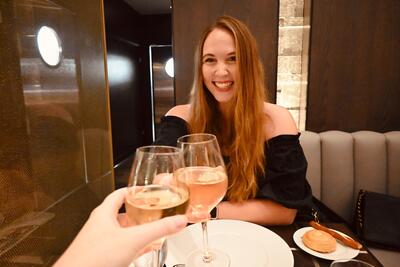 This seems like another area of opportunity for Carnival Celebration to improve, as many want to try the other specialty-style restaurants but aren't able to eat around 8pm-9pm because they are traveling with kids.
One option is to try these restaurants for lunch when you might have an easier time snagging a table.
Lackluster Lido Marketplace Buffet
While Carnival has some of the best casual, quick dining options at sea, I think they possibly have the worst buffet at sea.
Image
I've never been impressed with Carnival's buffets. On our recent Carnival Ecstasy cruise, we were utterly disappointed in the options served at the buffet that we avoided it at all costs.
Image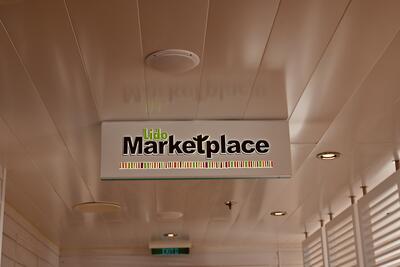 Carnival Celebration was an opportunity for the cruise line to prove me wrong; sadly, this wasn't the case.
In Lido's defense, there were so many places onboard to try that the Lido buffet just didn't seem appealing compared to other spots. We also liked how it was brightly decorated with plenty of spots.
Image
The few times that we did try to eat in the Lido Marketplace, we were found there to be minimal options. While multiple stations appeared open, we found them all serving the exact same things.
The open-floor plan attempt of the Lido Marketplace was also a disappointment for us. If you're walking from one area of the ship to the pool deck, you have no choice but to walk through the Lido Marketplace.
Image
We saw so many kids running through here in their wet swimsuits in towels over the carpet. I can't imagine it will take too long to destroy the carpet.
Image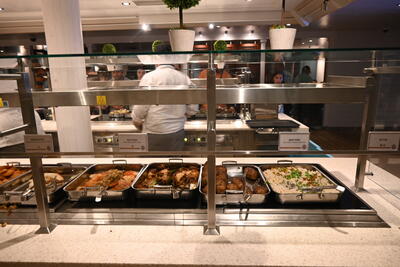 So-So Street Eats
As someone who loves food trucks, I was excited to try out Street Eats as a new addition to Carnival Celebration. With four food stalls, including seafood, bao buns, fries and kebabs, it seemed like a great spot to grab a snack.
Image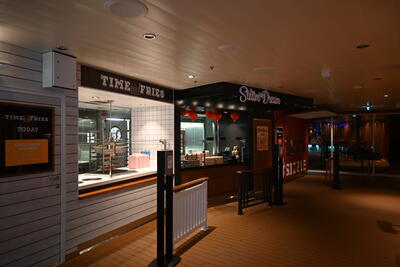 Unfortunately, Street Eats fell flat for us. To start, this section always seems to have weird hours. When other spots like Big Chicken and Guy's Burger Joint would be open, you just naturally expect Street Eats to be open as well.
Some days, Street Eats didn't open until 3pm and would stay open until 10pm. Perhaps it's meant more for a late-night option.
Image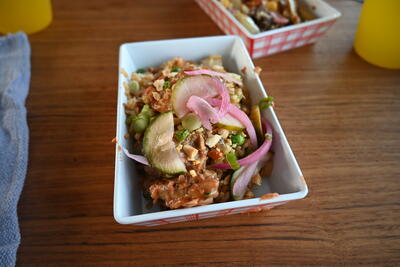 The final day of our cruise, we finally had a chance to try Street Eats. We opted to try the fries concoction and a chicken satay with fried rice. I waited probably 10 minutes to get my satay, which is much longer than I waited anywhere else.
We heard the bao buns were not good, and many had not finished theirs when looking around at everyone's plates.
Image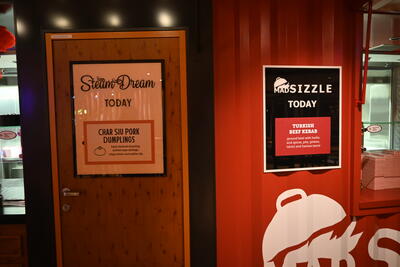 The food was fine, but it didn't live up to expectations for us. I love this concept, I just wish the hours made it more accessible.
Final Thoughts
At the end of the day, we were overwhelmingly impressed with Carnival Celebration.
Image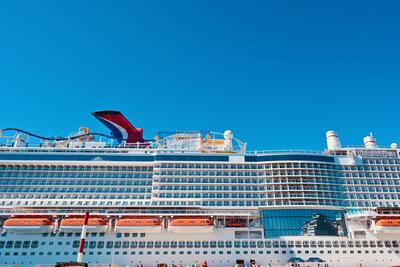 The Excel-class ships truly represent a new era for Carnival Cruise Line - and these new ships will undoubtedly attract cruisers who might have never considered Carnival before.
With a ship as massive as she is, Carnival was able to elevate so many aspects of the onboard experience. The ship was beautifully designed with a more modern, open flair compared to older cruise ships. Carnival's signature dark neon, retro aesthetic is replaced with tasteful color accents across the ship.
Image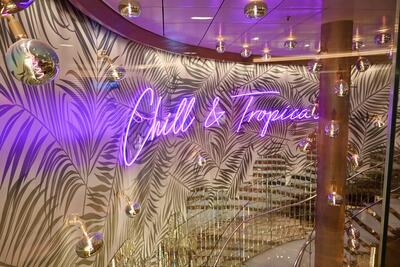 So many dining options keeps you wanting more time onboard to try everything the ship has to offer; even after 7-nights, we ran out of time to try everything we wanted to.
Image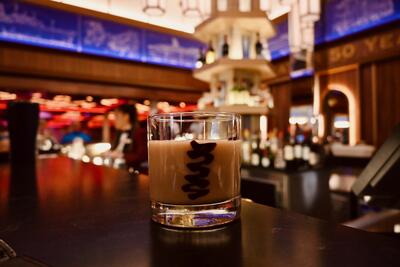 While Carnival Celebration still has the heart and soul of Carnival's fun brand, the ship was better than anything I expected, especially after my previous Carnival experiences.
Image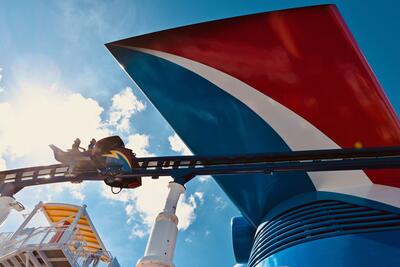 Small gripes are inevitable and brand-new ships always need about 6 months to become a well-oiled machine, so I anticipate some of our disappointments will be solved in the near future.
I am excited to see how the third Excel-class ship, Carnival Jubilee, will be designed; as this is Carnival's first opportunity to make any major design and structural changes for this new class of ships.
Image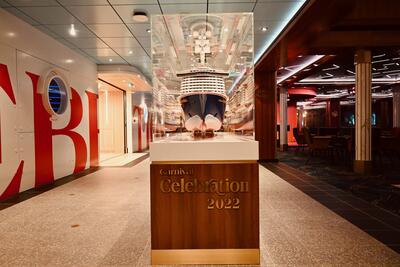 Carnival Celebration perfectly celebrates Carnival's past, present and future with many odes to Carnival's history while innovating and advancing its ship design.
Image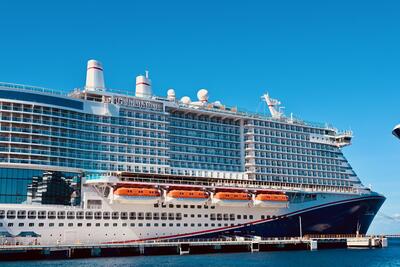 This new Excel-class is seriously elevating the Carnival experience; I wouldn't hesitate to cruise on Carnival Celebration again, although you might struggle to get me on any older Carnival ships after experiencing the cruise line's latest and greatest!