One of the best things about cruising is the great places you get to visit, but excursions can be pricey, some even costing hundreds of dollars for families. 
But there is good news for MSC cruisers visiting the cruise line's private island in the Bahamas. You can have an incredible day without spending any extra money. Not a penny
Ocean Cay Marine Reserve (Ocean Cay) is MSC's exclusive island in the Bahamas, just 65 miles east of Miami, providing an idyllic secluded paradise. Best of all, you can enjoy a day in paradise without adding to your cruise bill. Who doesn't love that?
Here is how you can spend your day at Ocean Cay without making a dent in your pocketbook.
Overview of Ocean Cay
Image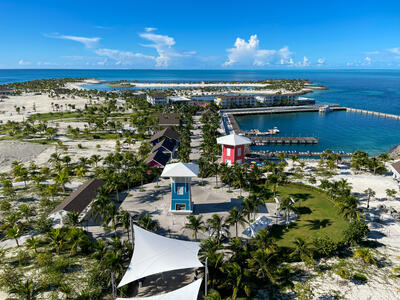 MSC Cruises has repurposed the island, converting it from an industrial site, restoring it to a natural Bahamian island with plenty of vegetation and marine life. The waters around the island once again welcome fish and other aquatic animals, making it perfect for snorkeling.
Being in the sunny Caribbean, the weather at Ocean Cay is ideal for cruisers all year long, with daytime highs ranging from the 80s to 90s, along with warm sea temperatures. Great weather for a variety of activities.
Ships dock at the pier at Ocean Cay, making it an easy port stop, and you can always pop back to the ship if you forget anything. Getting around is a breeze, with numerous walking paths and free transportation that goes all over the island.  
What you need to know for your visit  
Image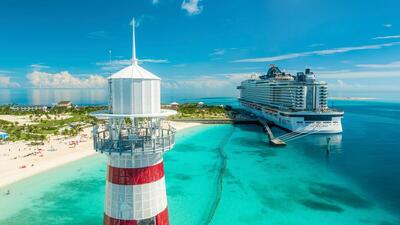 Before heading off for the day, there are a few things to know to make the most of your visit. 
Bring a towel, water bottle, bathing suit, snorkeling gear, and other appropriate equipment and clothing for any activities you want to do. Don't forget the all important sunscreen and a hat. There are free lockers in the washrooms for those wanting to store stuff while visiting for the day.
If you plan on doing a lot of walking, a comfortable pair of shoes or running shoes is a good idea. The island is large, and there are lots of places to explore. For families with younger children, bringing along some sand toys can make a beach day even better.
With that sorted out, now on to the fun. Here is how you can spend a fun filled day at Ocean Cay at no extra cost.
Enjoy the beaches
Image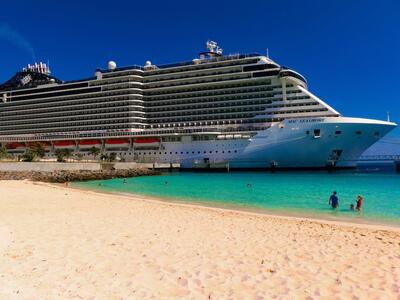 Ocean Cay has not one but 8 beaches to enjoy while you are on the island. This includes complimentary loungers with umbrellas or some natural shade.
Amongst the most popular is South Beach. Not far from the Welcome Center, walking along the main boulevard, you can't miss it. The water at South Beach is very calm, with soft sand, and there are lifeguards on duty. Close to the main food court, a bar, and washrooms, nothing is far away. It looks across to North Beach, which you can access by a small bridge, which had few people on it the day we visited.
There are several other beaches as well, including Lighthouse Bay, which has a great view of the ship; it is also popular with families. Colorful umbrellas dot the beach, with chairs and loungers, again at no charge.
Go for a walk
Image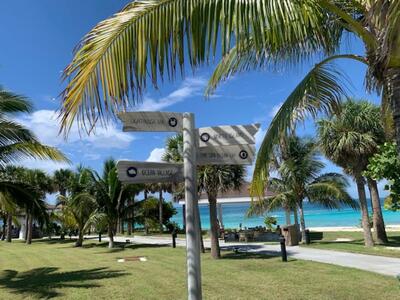 For a break from the beach, the island offers numerous paths that take guests across the two islands that make up Ocean Cay. There are plenty of signs throughout the island, so it is easy to explore, in addition to free transportation all over.
There are many desolate beaches and beautiful tree-lined paths to explore. While visiting, I was stunned at the scenery throughout the island and the isolated areas that feel like a deserted island. MSC lanted 80,000 plants, trees and shrubs on this island, which adds to its lush feel. The new vegetation has also attracted numerous birds who now make Ocean Cay their home.
Not to be overlooked is the island's signature lighthouse. With its bold red and white stripes, it's easy to spot from afar. It is a magnificent spot to take pictures or relax on one of the couches at the viewing point by the bar.
Snorkel 
Image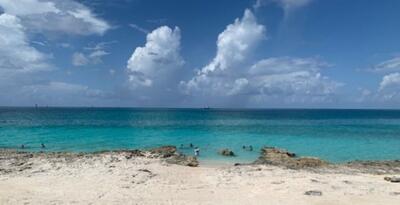 The Bahamas is known for its ocean waters and marine life, and MSC went to great lengths to reinvigorate the marine life on this island. They have relocated 400 coral colonies, making a great base to see fish and explore the crystal clear waters.
You can rent equipment (for a fee), but best to bring your own snorkel equipment to take great advantage of this bountiful water which is seeing the return of coral, seagrass, conch and lobster, among many fish species.
There are outdoor showers and change rooms so that you can wash off at the end of the day.
Indulge in a Bahamian feast  
Image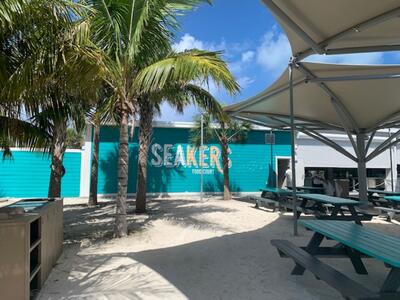 Image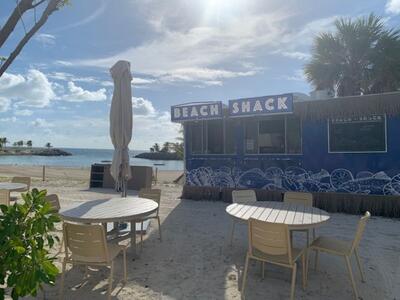 MSC passengers can choose from a couple of complimentary food venues on the island, including a buffet as well as some food trucks. Seakers Food Court is an open air venue that offers a wide range of food options, with lots of covered searing. It opens at 11:30 and runs late in the afternoon (4 pm).
It has a fairly extensive menu with a variety of salads, and protein options such as hamburgers, hot dogs, pork chops, sausages, and ribs, along with jerk chicken and fish, to name a few. There are plenty of great sides, including fries, corn on the cob, and mac and cheese. There is lots of fresh fruit for dessert, along with cookies and other sweet items.
Inside, you can refill your water bottle, or if you have a drink package, there is a bar area within the food court where you can use your onboard account to buy beer and soda. There are bars nearby for something more substantial.
There are a couple of food trucks located throughout the island. The Beach Shack serves BBQ favorites with pasta salad, fries and brownies, all complimentary.
Cool off with a drink 
Image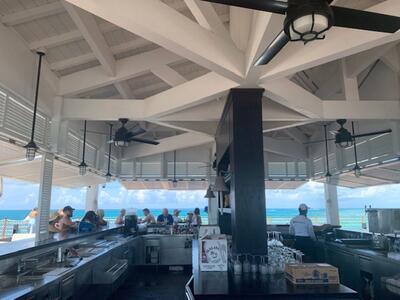 If you have a drink package with MSC – good news- it works on the island as well. For those that don't, bring along a water bottle which you can fill up at the buffet.
There are a variety of bars dotted around the island, so you never have to go far to find a drink. Among my favorite is the Lighthouse Bar which has incredible ocean views and was quite quiet the day we were there.
If you don't have a drink plan, fill up your water bottle prior to leaving the ship. The only place I found to fill up was Seakers Food Court, although it does not open until 11:30. The bars only have canned water that they sell.
Do some fun activities
Image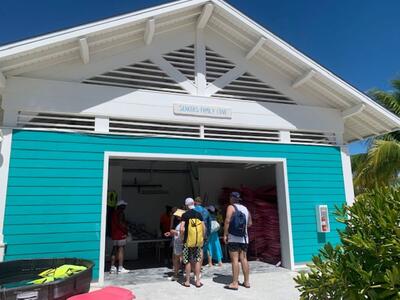 Ocean Cay offers a wide variety of activities, some of which are at an additional cost, such as kayaking, boat tours, jet skis, stand-up paddle boarding, and it even has a spa.
However, for those looking to save their money, there are many ways to enjoy this island. The day we visited, there were numerous free activities on the agenda, including volleyball, kite flying, a treasure hunt, and bocce.
You don't have to buy anything, but it is fun to look through the stores on the island, which are located near the dock. Set in colorful, Bahamian style buildings, they sell many Bahamian made products that the islands are well known for, including straw and sponges. I personally enjoyed talking to local Bahamians working in the retail spaces who have come to live on the island.
Dance the night away
Image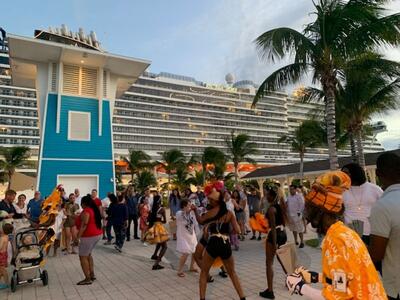 A major don't miss at Ocean Cay is the free nighttime activities. This is particularly nice; as the sun sets, the temperature dips to more comfortable temperatures, and you can enjoy the island in a different atmosphere.
The Junkanoo parade is amongst the best things all day at Ocean Cay. Junkanoo is a famous Bahamian tradition where dancers and musicians come together to celebrate, usually around Christmas, but luckily, MSC puts on a show all year round.
Dressed in incredibly bright costumes with beautiful hats with feathers, it was a sight to see. The musicians followed with drums and shakers, creating a magical repeating beat. They traveled along the island's main route, dancing with passengers, and everyone was having a wonderful time.
There is also a music party with lights and pumping music at the Lighthouse, which ends a perfect day.