Located in The Bahamas is Norwegian Cruise Line's private island: Great Stirrup Cay. In order to visit this idyllic beach getaway, you have to sail onboard a Norwegian ship, meaning that you won't see Great Stirrup Cay on any Royal Caribbean, Carnival, or MSC itinerary. 
Great Stirrup Cay, an island that's part of the Berry Islands chain, was the first uninhabited island to be converted into a private island for a cruise line. Norwegian began leasing it from the Blecher Oil Company in 1977 before finally purchasing it in 1986. Before all of that, though, it was a private hideout while the British settled in Nassau. 
While much of the island is undeveloped, Norwegian has carved out a beachy paradise on the northern shore, with plenty of fun-in-the-sun options for cruisers of all ages.
Here's a guide to Norwegian's private island Great Stirrup Cay!
Where is Great Stirrup Cay located?
Image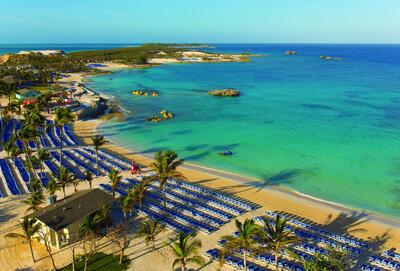 Great Stirrup Cay is located in the Bahamas' Berry Islands chain. It is neighbors with Royal Caribbean's private island, Perfect Day at Cococay. In fact, you'll be able to see the infamous Daredevil's Peak waterslide from your ship as you approach the island. 
If you're cruising on a Royal Caribbean ship, it's likely that you will be able to spot the lighthouse on Great Stirrup Cay, too. 
Read more: Caribbean vs. Bahamas cruises: Which should I take?
What ship should I sail on if I want to visit Great Stirrup Cay?
Image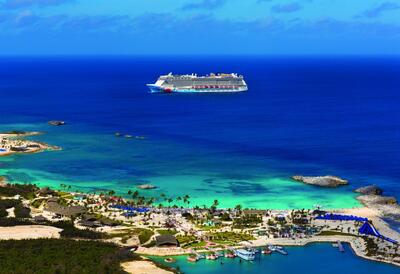 Most of Norwegian's ships sail to Great Stirrup Cay at some point during their careers, usually as part of cruises to The Bahamas and Caribbean. From October 2023 through April 2026, you can find itineraries to Great Stirrup Cay onboard the following Norwegian vessels:  
Norwegian Aqua
Norwegian Breakaway
Norwegian Encore
Norwegian Epic
Norwegian Escape
Norwegian Gem
Norwegian Jade
Norwegian Jewel 
Norwegian Joy
Norwegian Pearl
Norwegian Prima
Norwegian Viva
Norwegian Sky
Norwegian Sun
Ships from Norwegian's sister cruise lines, Oceania and Regent Seven Seas Cruises, make the occasional stop at Great Stirrup Cay, as well. These visits are part of longer Caribbean sailings or even around-the-world cruises. They're much more infrequent, though. 
Read more: The best Bahamas cruises you should try
You have to tender to get ashore
Image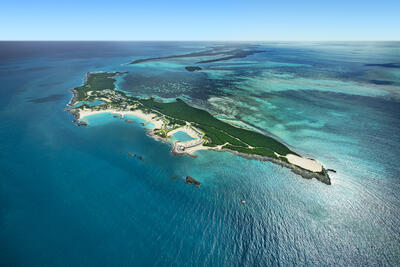 Great Stirrup Cay has no pier, so you must take a tender boat from the ship to the island.
While tenders run back and forth all day, you'll need to wait in line on either end for boats to arrive before you can board. Wait times can be long at peak transit times, so plan accordingly. If you have an afternoon spa treatment, for instance, you won't want to head back ten minutes before. 
The ride takes about ten minutes. 
There are some people who reside on the island
Image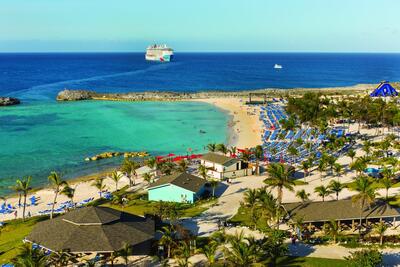 Norwegian employs over 60 staff members who reside on the island to prepare for ship visits. This is beneficial, as there can be up to two ships that visit per day! It, however, is more common for a single ship to visit per day, though. If you're looking for a tropical oasis, you might prefer this over Perfect Day at CocoCay, as that island is able to accommodate two Oasis Class ships at a time!
There's so much you can do ashore
Image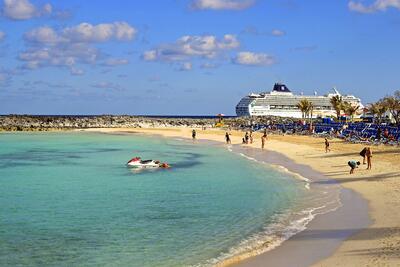 The main attraction at Great Stirrup Cay is the beach, with plentiful lounge chairs and protected coves for swimming and snorkeling. The ship's activities staff will host activities, such as beach volleyball tournaments, water and beach games, dance classes, yoga, and more. The day's soundtrack is provided by DJs and live bands at the Bacardi Bar or the bandstand.
The island's rental center can hook you up with snorkel gear to explore the underwater sculpture garden in Bertram's Cove off the main beach. You can also rent wave runners, standup paddleboards, and floating mats.
If you're looking for some beachy thrills, sign up for a zip-line adventure. The island has two courses featuring six zips and a ropes course of cargo nets, chimney climbs, and V-net bridges. You can even take a turn parasailing high above the island's shores.
Image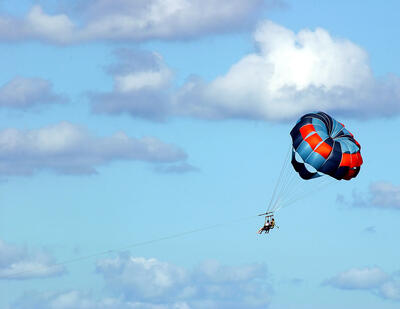 For even more beach bliss, book a massage or other spa treatment at the Mandara Spa at Silver Cove. Treatment rooms open onto the lagoon, so the island breezes can waft in while you zone out. Plus, your spa appointment will get you access to the Silver Cove beach, restaurant, and bars, which are typically reserved for villa guests.
The ocean swing sets provide a fantastic photo-op if you've been waiting for that picture-perfect moment to share on Instagram. 
You can pick up Bahamian souvenirs at the small straw market, close to the main beach.
Norwegian offers excursions for guests to book
Image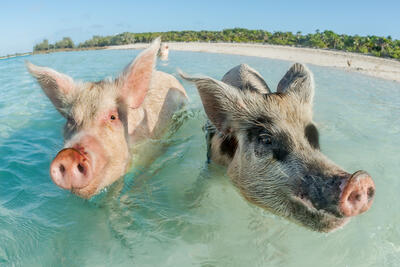 Norwegian's website currently offers 19 shore excursions to choose from, including cabana and equipment rentals. 
There's something for everyone, whether you want to soar over the island on a zip line, go on a wave runner tour, participate in a stingray encounter, or even swim with the pigs on the nearby Treasure Island, which is a short 10-minute boat ride from Great Stirrup Cay. 
At the time of writing, the cheapest shore excursion is a clam shell rental for $39 per day. The Osprey zip line costs $79 per adult, and the two-bedroom family suite at Lagoon Cove goes for a whopping $949 for up to 16 guests. Of course, this is not the most expensive cabana on a private island.  
The island has different beaches to explore
Image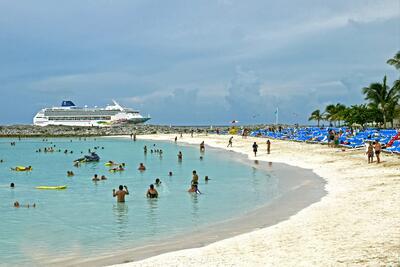 The best beach on Great Stirrup Cay will depend on your preferences because they're all beautiful.
The main beach area is the easternmost section of the island's developed area and closest to the tender pier. It's close to the snorkeling areas of Bertram's Cove, rentals, tour info, food, drinks, and music, so it's the most action-packed. 
You can rent clam shells or beach umbrellas for shade. Just watch out for rocks and coral on the ocean floor when you go into the water.
Wander westward and you'll get to Cabana and Fiesta Beaches, which are flanked by rental cabanas and can be a bit quieter.
At the far end of the developed area is Silver Cove, a restricted-access area for those who rent the island's swanky villas. The swimming area is the most protected of all the coves, and the beach is stunning, with overwater swings for a photo op and a gazebo overlooking the sea.
There's no pool on the island
Image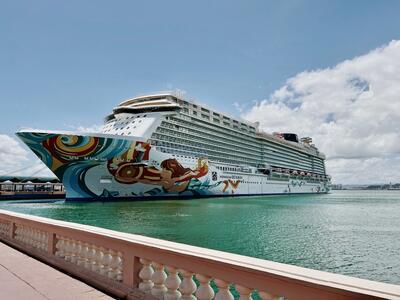 No, there is currently no pool on Great Stirrup Cay, just sheltered swimming coves. If you aren't a fan of the beach, you will have to stay onboard while every else hangs out on the island. Of course, this means that you will most likely get to enjoy an empty lido deck, which might be your preference! 
Do I need to bring cash?
Image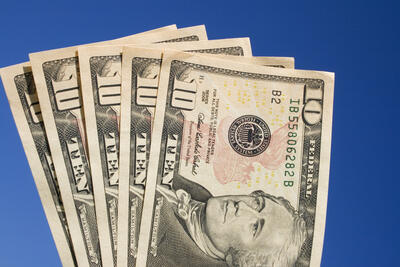 Since Great Stirrup Cay is an extension of the ship, you can pay for drinks, tours, and rentals with your cruise card. The only reason to bring cash is to go shopping at the island's straw market. 
Read more: How much cash should you bring on a cruise?
There are complimentary dining options ashore, so you don't have to return to the ship for lunch
Image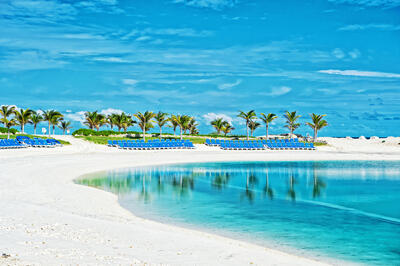 All of the food on Norwegian's private island is included in your cruise fare, so you can fill your tummy carefree without having to whip out your cruise card.
The largest and most popular dining venue is the Jumbey Beach Grill, an open-air buffet venue serving grilled burgers and chicken and sides like corn on the cob, salad, fruit, and dessert.
For something different, belly up to the Abaco Taco bar for Mexican food that's made-to-order. Cabana and villa guests have a food truck option close to them called Tropic Like It's Hot. The truck serves a limited menu of sandwiches and Caribbean-themed lunch items, plus dessert. While it's open to all, it's a bit of a walk from the main beach area.
Finally, if you've rented a Silver Cove villa for the day or have a spa treatment booked at the on-island Mandara Spa, you can enjoy a more upscale buffet experience at the Silver Cove Restaurant, located within the restricted-access area of the island. 
The menu still revolves around salads, grilled fare, and tropical fruits and desserts, but the options are fancier than at Jumbey and the presentation is more sophisticated.
Can I eat on Great Stirrup Cay if I have dietary restrictions (vegetarian, gluten-free, etc.)?
Image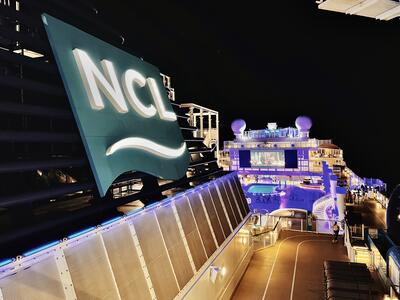 Vegetarian main dishes are limited on the island, and cross-contamination cannot be guaranteed if you're concerned about gluten, nuts, or other allergens. 
The ship's dining venues are open while the ship is anchored off the island, so if you're highly allergic or concerned about dietary restrictions, you'll have better luck eating on the ship.
If you're simply trying to avoid bread or dairy because it's your preference (rather than a medical condition), you'll find plenty of meat, fruit, and vegetable dishes that should meet your needs.
There are drinks available for purchase on the island
Image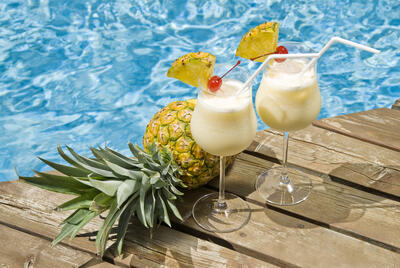 The island has several bars spread throughout the beach areas. You pay for drinks with your cruise card as you would onboard. 
In addition, your Norweigan drink package includes beverages on the island. You don't need to shell out extra for a beer or cocktail on the beach. Of course, you're subject to the same limits and restrictions as onboard. 
You'll find the following bars on Great Stirrup Cay:
Bacardi Bar, in the center of all the main beach action 
Bertram's Bar, known for its refreshing slush drinks
Lighthouse Beach Bar, by the cabanas
Patron Bar, by Abaco Taco
Moet Bar, serving Champagne-based drinks to Silver Cove guests
Silver Cove Bar, which delivers drinks to the villas and diners at the Silver Cove Restaurants
You won't be able to stay connected when you go ashore
Image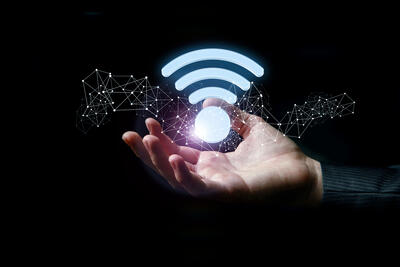 The island currently does not have Wi-Fi, so it will be a day to disconnect. Make sure that you let your friends and family know that you will be unavailable for the day before you get off the ship. 
Read more: How to get free wifi on Norwegian Cruise Line
There's no dedicated area for children
Image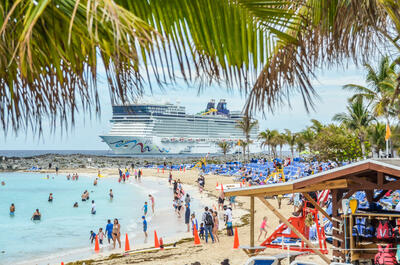 Unlike other private islands, Great Stirrup Cay does not have any kid play areas. You won't find splash pads, playgrounds, kid pools, or water slides. 
The beach, however, is certainly family-friendly, and older kids can enjoy the various activities and shore excursions. Those with younger children will enjoy wading in the water and building sandcastles!
Here's everything you need to know about the villas on Great Stirrup Cay
Image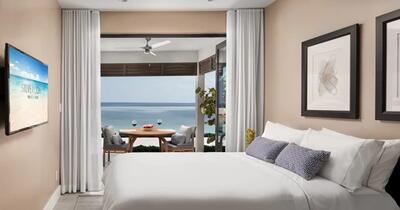 If you're really looking to relax in comfort on your Great Stirrup Cay beach day, you can rent a private cabana or villa for the day.
Note that all pricing is dependent on the itinerary, meaning that if a price starts at $399, it could be more expensive on your sailing. 
The cheapest cabana on Great Stirrup Cay is the Classic Cabana, and it is priced from $399. This cabana accommodates up to six guests, with up to two additional guests charged at $25 each. It's an open-air shelter with comfortable indoor/outdoor seating and comes with four complimentary floating mats. Classic Cabanas are located on Fiesta Beach, closest to the Silver Cove villas.
The next step up is the Premier Cabana, which starts at $499. It's simply a larger version of the Classic Cabana, accommodating eight guests, with up to two additional guests charged at $25 each. It also comes with four floating mats and bottled water. The Premier Cabanas are located on Cabana Beach, right next to the Main Beach.
Image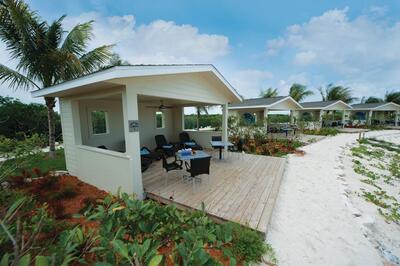 If you want an exclusive hangout with even more amenities, you'll want to reserve one of the Silver Cove villas. These grant you access to a private beach, bars, and restaurant, and come with fresh fruit, snacks, chilled drinks, and food and beverage service.
Ocean Villas start at $899 and accommodate six guests, with up to two additional guests charged at $49 each. Unlike the cabanas, villas are fully enclosed, air-conditioned day rooms, with a sliding glass door to let in the breeze and a TV with complimentary on-demand movies. 
Villas also come with a full bathroom with a shower and a private patio decked out with padded loungers. Two lounge chairs with a beach umbrella will be reserved for you at the beach. The Ocean Villas are adjacent to the cabana area in front of Fiesta Beach, not the Silver Cove Lagoon.
Image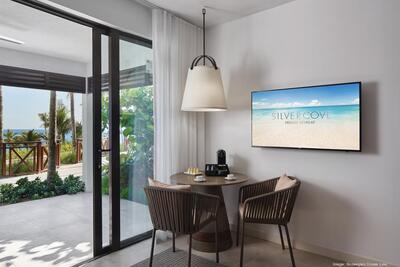 Lagoon Villas start at $949 and accommodate eight guests, with up to two additional guests charged at $49 each. They are slightly larger than the Ocean Villas and are located on the lagoon. Amenities are the same.
Lagoon One-Bedroom Villas start at $1,049 and accommodate 10 guests, with up to two additional guests charged at $49 each. These villas have a separate bedroom with a king-size bed in addition to the living area, with a dining table on the patio. 
Lagoon Two-Bedroom Family Suites at Silver Cove start at $799 and accommodate 16 guests, with up to four additional guests charged at $49 each. Located by the Silver Cove lagoon, these villas have two bedrooms flanking a central indoor living space. The expansive outdoor patio features several padded lounge chairs, an outdoor couch, and a dining table for eight. These villas offer the same amenities as the one-bedroom versions.
What do I need to bring for a day at Great Stirrup Cay?
Image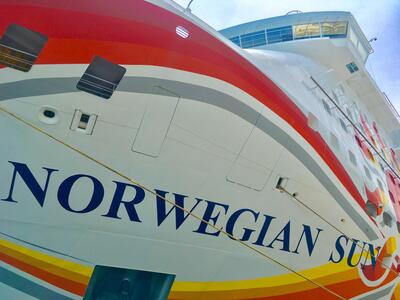 Even though you can return to the ship if needed, it's best to bring everything that you might need with you, so you don't have to worry about taking a tender back! Here's a list of some things that you should make sure that you have in your day bag before heading off the ship. 
Sunscreen
Sunglasses
Water shoes to protect your feet from rocks and coral
Flip flops
Hat
Cover-up
Books, magazines, a music-playing device and headphones, or other entertainment
Flotation devices
Sand toys, beach balls, and other beach-day sports gear
Cruise card and photo ID
Towels are provided on the island, so you do not need to bring your own from the ship. Beach wheelchairs are available on request.