Before your first cruise, there's some ship terminology that you should become familiar with, including port, starboard, forward, aft, bow, and stern. You may also heard the words "lido deck," which will not do you any good if you do not know where that deck is located. 
The word "lido" stems from Italian roots and refers to a beach where people congregate and go swimming. Knowing that, the lido deck onboard a cruise ship is where you will find the outdoor pool(s), hot tubs, and lounge chairs. Not all cruise lines refer to it as the "lido" deck, and it may or may not be the highest deck of the ship. 
On Carnival's Mardi Gras, for instance, the lido deck is located on deck 16. Yet, the ship is 19 decks high. On the three higher decks, you will find some youth clubs, Guy's Burger Joint, the second floor of the RedFrog Tiki Bar, WaterWorks, Serenity adults-only retreat, SportSquare, the Ultimate Playground, and Loft 19 Pool and Cabanas, as well as BOLT: the Ultimate Sea Coaster. 
Similarly, on one of Carnival's oldest ships, Carnival Paradise, deck 10 is named the lido deck; however, the verandah, sports, grand, and sun decks are above it.  
Here's everything you need to know about a cruise ship's lido deck. 
Lido deck amenities
Image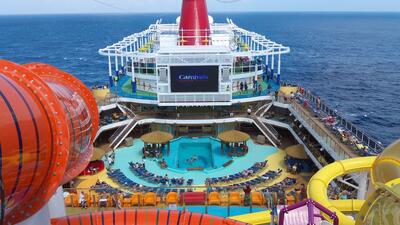 Since the lido deck is where you will find the ship's pools and (perhaps) other water-based activities, this is also where you can check out towels to dry yourself off. There will be restrooms and showers, too, so you will not need to worry about trekking inside!
And, of course, no day spent by the pool is complete without an adult beverage or two. The lido deck on any given cruise ship will have at least one bar. Plus, there will be servers walking around ready to take your order and deliver your drinks to you!
Additionally, if there are waterslides onboard, you will see them twisting and turning over the lido deck. Sometimes, this is also where passengers will exit the slides.
If you get hungry, the lido deck will usually have at least one dining option, whether it is the ship's buffet or other complimentary fast-casual options. On Carnival, for instance, you can often find Guy's Burger Joint and/or BlueIguana Cantina. 
Sailaway party
Image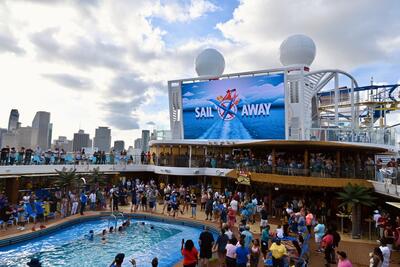 You are almost guaranteed to visit the lido deck on embarkation day, as it is where the sailaway action happens! This is the official start to your vacation, even if you have been on the ship for hours. There is nothing quite like watching the shore disappear into the horizon. 
Some guests will spend the time in the pool, while others will be dancing the afternoon away with the live band or DJ! If you are on a Disney cruise, there will be a special party featuring Mickey Mouse and some of his pals. 
Be sure to check your cruise line's app to make sure that you do not miss any of the sailaway fun. It can get pretty crowded, so if you want to hangout in a prime location, you will want to head up to the lido deck in advance. 
What activities are offered?
Image
In addition to the sailaway party and pool(s), the lido deck will host numerous different events throughout your cruise. There will be live music, belly flop contests, dance parties, and more. Like with sailaway, all the events will be listed on your cruise line's app!
Ships with large LED television screens will often play movies, both during the day and at night! Once when docked next to Odyssey of the Seas at Perfect Day at CocoCay, I noticed that they were playing a complication of cat videos on their television! 
Some cruise lines will have themed events on the lido deck. Disney Cruise Line, for instance, is known for their Pirate Night and Frozen inspired "Freezing the Night Away" deck parties!
Beware of chair hogs
Image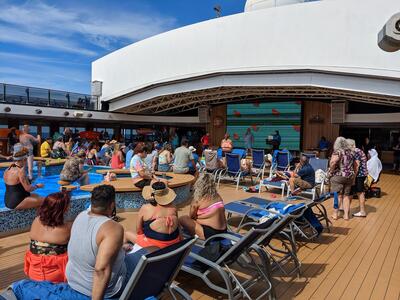 On sea days, the lido deck is one of the most, if not the most, popular place on the ship, which is why some passengers feel like they need to reserve their chairs for the day early in the morning. They will drop off their belongings at the chairs with no intention of returning until later in the day. 
Thankfully, many cruise lines have acknowledged this problem and are taking steps to stop it. If you leave your belongings unattended for too long, they might be removed by crew members. When you return, you will find a note saying where you can retrieve them. 
What should you not do on the lido deck?
Image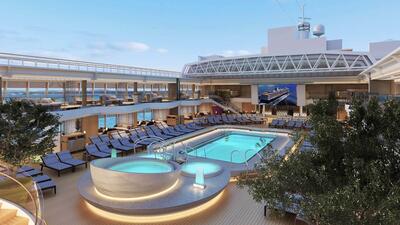 Like with anywhere on the cruise ship, there are certain behaviors that you should not engage in while on the lido deck. 
You, for instance, should not blast your own music out of your phone or portable speakers, and parents should never leave their children unattended. You never know when they will need to use restroom or accidentally get hurt, so it is important that you are able to immediately assist them.
Likewise, children if your children are in diapers, do not try and bend the rules by letting them swim in the pool. Per cruise ship policy, babies and toddlers should be properly potty trained to swim in the pool. You do not want your child to be the reason that the entire pool has to be drained and closed down on a beautiful sea day. 
Image
Additionally, if your cruise ship's lido deck has a designated smoking area, do not light up and then wander around. Even if it is full and you cannot find seating, do not go and smoke elsewhere. 
Finally, do not forget your pool essentials: sunscreen, flip flops, sunglasses, a towel, etc. The deck itself can get pretty hot, so you might want to throw on a pair of shoes when walking, for instance, from your seat to the bar. 
Plus, you do not want to get all the way to the deck and find the perfect seat just to realize that you left your sunscreen in your stateroom. It is important, too, as getting burnt on vacation is no fun. 
Read more: 20 rules of cruise ship etiquette no one ever tells you (but should)
Why is the lido deck so important?
Image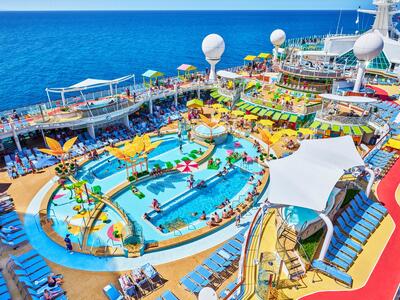 The lido deck is the hub of so much excitement while onboard. Upscale lines may not have as much activity as others, which is why it is important to choose to right cruise line for you and your travel party. 
If you are expecting a non-stop dance party, you might enjoy the lively atmosphere of a Carnival cruise. On the other hand, those looking for a relaxing place to read a good book in peace should look into a cruise on Celebrity. 
It is also important to research the specific ship you are looking to sail on. If you are traveling with infants, you may want to sail on a Royal Caribbean ship with a baby splash zone, as it is an area that allows children with diapers to cool off and have some fun in the sun. Not all ships, or cruise lines, offer things like this!