While the main purpose of any vacation is to take a break from your everyday life, you cannot forget to act with common courtesy. 
During your cruise vacation, it may seem obvious to show respect and consideration for other passengers and crew members. There are, however, some other rules of cruise ship etiquette that are good to know prior to getting on the ship. 
Here are 20 rules of cruise ship behavior to prepare you for your next cruise. 
Treat all crew members with respect
Image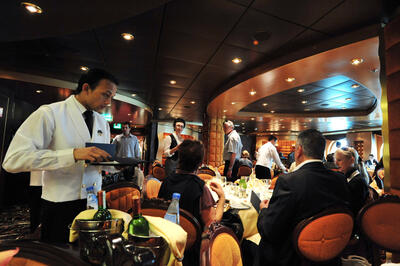 Crew members, whether they are behind-the-scenes or directly assisting you, work hard to help make sure that you have a memorable cruise vacation, and a little kindness can go a long way. 
There is a good chance that you will pass your stateroom attendant in the hallway at some point during your trip. Take the time to say hello and ask them about their day. 
Additionally, if an issue arises, stay as calm and collected as you can. Raising your voice and getting visibly frustrated with the crew member will not help them resolve the situation any faster. 
Wait your turn to get on the elevator
Image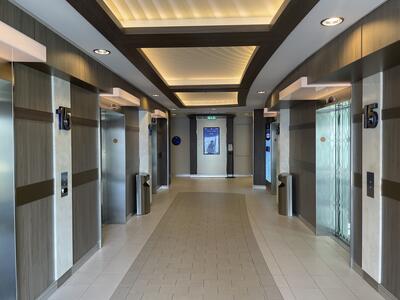 With thousands of passengers on a single ship and only so many elevators, it is not unusual to see them packed, so it is important to understand basic elevator etiquette. 
First, there is no point in bumping into others while you trade places, so you should wait and see if anyone is getting off prior to trying to squeeze on. 
Second, if there is someone with mobility issues, let them on first. If you are able, consider taking the stairs. It will leave space on the elevators for those who rely on it. 
Finally, on disembarkation day, wait your turn in line before getting on an elevator. Everyone is trying to get off just like you, so it is important to be patient!
Respect the dress code
Image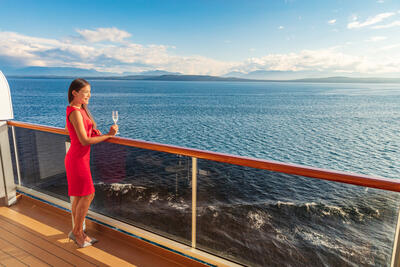 When it comes to formal night, there is usually a great deal of flexibility in how you can dress. Some people like to pull out their favorite ballgown, while others show up in a sundress in sandals. 
The cruise line you are sailing on, as well as the specific itinerary, will impact the feel of formal night. In the Caribbean, it might be a little bit more relaxed, while those on a Mediterranean cruise may dress up a little bit more.
Each cruise line will provide suggestions for what to wear on formal night; however, you are usually at liberty to dress how you feel the most comfortable. 
That being said, it is nice to put some thought into your formal night outfit, as the purpose of the dress code is to foster a specific environment in the main dining room. 
Read more: Cruise Line Dress Codes: What to Wear on a Cruise
Be cautious when carrying drinks and food throughout the ship
Image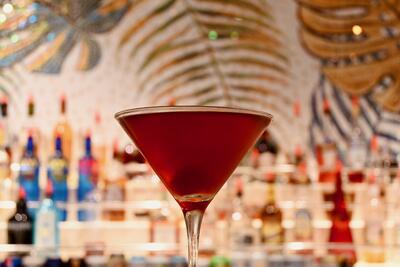 When you are carrying a drink or food, you will want to do so cautiously as to avoid any accidents. 
It is easy, for instance, to accidentally spill a martini due to the shape of the glass-- you do not want to be the person who ruins someone's outfit or shoes. 
Additionally, if you are feeling the ship rocking, it might be best to find a comfortable seat and finish your drink and/or snack prior to going to the next activity. 
Get a new plate when returning to the buffet
Image
Reusing your plate at the buffet is frowned upon, as it can lead to the spread of germs.
If you want a second serving of food or are craving a sweet treat, just leave your dirty dishes at the table while you go make a new plate. Each cruise line have crew members walking around to clear tables in between servings and at the end of the meal. 
Read the prohibited items list prior to arriving at the terminal
Image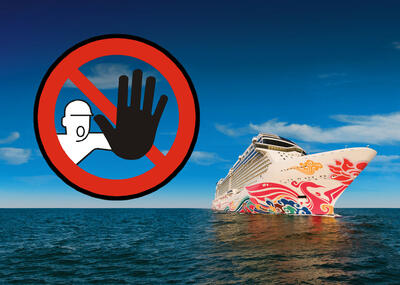 When you are packing for your trip, go to the cruise line's website to read about what items are prohibited. Some are obvious, such as illegal drugs, candles, and fireworks. Others, however, are common household items like clothes steamers and electrical extension cords that you may not even think twice about!
Showing up on embarkation day with a steamer will not prevent you from boarding the cruise, when your luggage is delivered to your stateroom, you will find a note that says the item was confiscated and can be picked up at disembarkation. To avoid this hassle, make sure that you have not packed any items that the cruise line does not allow onboard. 
You may be denied boarding if you show up to the terminal with anything dangerous or illegal. 
Wash your hands
Image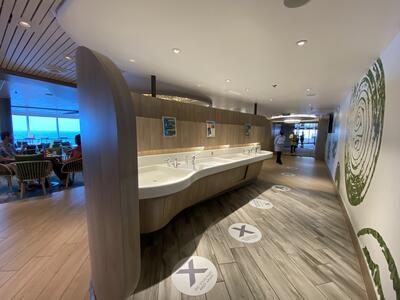 Cruising today looks a lot different than it did in 2021, as many covid protocols have been relaxed. 
That being said, you should still frequently wash your hands with soap and warm water, especially before entering the buffet.
At minimum, there are dispensers of hand sanitizer located throughout the ship that you can use. 
Moreover, there are other precautions that you should take, such as coughing and sneezing into your elbow to help prevent illnesses from spreading and putting a damper on your well deserved vacation. 
Do not skip the muster drill
Image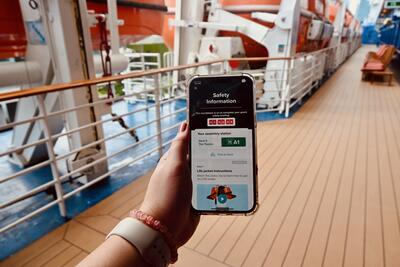 One lingering impact from the Coronavirus Pandemic on the cruising industry is that many cruise lines converting their muster drill to a virtual format, which allows passengers to watch safety videos and listen to the ship's emergency horn from their mobile device. Once onboard, you will still have to visit your assigned muster station; however, you will not have to attend a drill with every other passenger on the ship. 
Some cruise lines, such as Disney Cruise Line and MSC Cruises, still conduct their muster in-person. When it is time for the drill, do not try and skip it! A crew member will track you down, and you will be given a second opportunity to complete the safety briefing. If you skip it again, you face being kicked off at the next port of call without a refund. 
Regardless of how your cruise line does their safety briefing, be sure to either complete all of the steps as soon as possible or arrive on time. This will ensure that you get back to the fun part of your vacation sooner! 
Honor your reservations
Image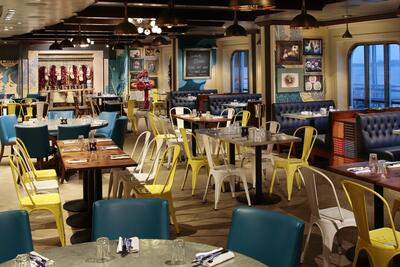 Make sure that you arrive on time to your reservations, whether it is for a shore excursion, specialty dining experience, or spa treatment. 
If, for instance, you are late to a shore excursion, you will likely be left behind. The information provided will give you a designated meeting time. Arriving early will help make sure that you do not miss the group. In the event that the group does wait, you do not want to be the reason that you kept everyone else from getting on with their shore excursion!
Likewise, adhering to all of your onboard reservations is polite to those who might have reservations after yours. 
Do not be a chair hog
Image
There is no denying that the pool deck is one of the most, if not THE most, popular place to be on a beautiful sea day. 
However, there are no excuses for those who reserve pool chairs for the entire day. If you do not plan on using a chair for hours after claiming it (i.e., dropping things off and going to breakfast or another activity), you should not prevent people who want to enjoy relax on the pool deck from doing so. 
Some cruise lines have begun implementing measures to prevent guests from saving chairs on the pool deck for a prolonged period of time. If you leave your things for awhile, you might return to find they your belongings were removed with a note telling you where you can collect them. 
Only smoke in designated smoking areas
Image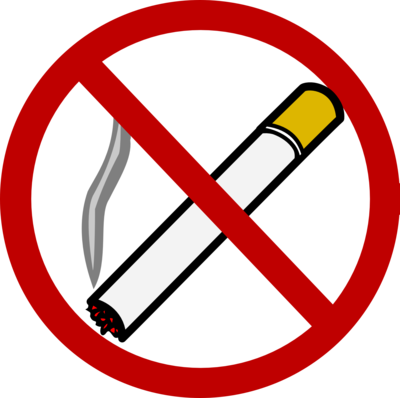 When on your cruise, you cannot start smoking a cigarette or e-cigarette anywhere you want to. In order to facilitate a pleasurable experience for every passenger, you will have to seek out the designated smoking areas onboard. 
Not all outdoor areas will permit smoking. While your stateroom balcony is technically outdoors, you cannot smoke here. If caught, a cleaning fee will be added to your onboard account. 
Be polite to other passengers 
Image
Everyone is on the cruise to have a great time. You do not want to waste time speaking with a security officer or getting involved in an altercation with another passenger. 
Sometimes, though, you might find yourself in a situation where tensions are raised. You should not try and resolve the problem yourself. Instead, locate a crew member and alert them of what is going on. They will help be able to deescalate the situation in an appropriate manner.  
Working together to treat each other with respect will create a better environment for all. 
Understand what gratuities are and why you should not remove them to save money
Image
Gratuities are an additional fee that is not included in the base fare of your cruise. They vary from cruise line to cruise line, as well as what cabin category you are staying in. Those in suites, for instance, will have a higher daily rate. 
Gratuities can either be prepaid for in advance or added to your onboard account during the trip. If you prepay for them, you cannot adjust the rate once onboard. Those who opted to wait can speak to Guest Services to have the amount adjusted or completely removed.
This is frowned upon, as it impacts those who work behind-the-scenes and receive a percentage of your daily gratuities. 
Read more: Tipping on a cruise ship: Guide and what to do
Be mindful about the noise you are making
Image
When you are walking through the cabin hallway, you will want to do so quietly. It does not matter if it is 6:30am or 1:00pm; you never know who might be trying to rest peacefully in their stateroom. Think about how you would feel if a loud group of passengers was congregating outside of your cabin while you were trying to sleep.
Avoid blasting music from your stateroom or mingling for too long in the hallways, especially late at night or early in the morning. Another thing to keep in mind is how loudly you close your door. You do not have to forcefully slam it. 
Do not throw anything overboard
Image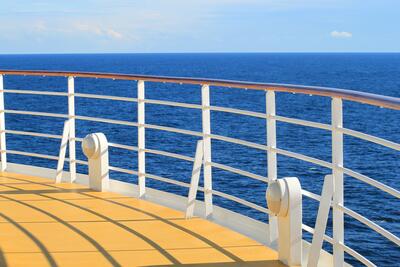 Today, cruise lines are working to decrease their overall impact on the environment. If you decide to throw something overboard, you are actively choosing to disturb a delicate ecosystem. 
It is easy to dispose of your trash properly in a trash bin. Resorting to throwing something over could result in a fine or removal from the ship at the next port of call if you are caught. 
Listen to the announcements
Image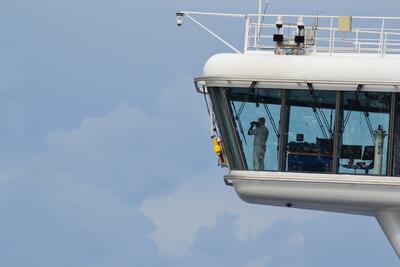 While you are on your cruise, the captain and other personnel will make ship-wide announcements over the PA system. It will benefit you to listen to what they have to say, as the information is often pertaining to disembarking in ports of call, weather, onboard activities, etc.
Maybe they are letting you know that a show was cancelled due to weather conditions or that the ship being was cleared faster than anticipated. Regardless, they are passing along information that is important to your vacation. 
Take responsibility for your children
Image
While cruises are a great vacation that allow minors to have a little bit more independence than they might otherwise, most cruise lines have rules in place for guests under 18 that should be abided by without any kickback.
Moreover, parents need to make sure that they have an eye on any young children on the pool deck at all times. You never know when they will need to use restroom or get hurt; it is important that you are able to immediately assist them.
Finally, when it comes to the youth clubs, they have a designated closing time for a reason. Make sure that you get your children on time, as the crew members might have other duties elsewhere on the ship, or it may one of their only times off. 
Do not leave a big mess for your cabin attendant
Image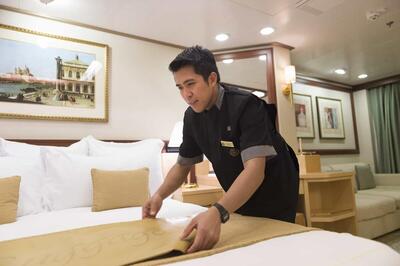 On the first day of your cruise, it is likely that you will meet your cabin attendant. They are the person responsible for making sure that you cabin is clean. Some of their duties include refreshing your towels daily, making your bed, emptying the trash, delivering important documents (i.e., disembarkation stuff and future cruise booking information), and leaving towel animals!
You should not be disrespectful towards them and leave so much clutter around your room that it interferes with their ability to do their job. If there is a big mess, do not be surprised if they clean around it! Messing with passenger belongings could lead to an accusation of taking something. 
Nobody expects you to keep your cabin 100% organized; however, you should try and consolidate your things. You will also appreciate coming back to a tidier space! 
Do not share your drink package with others
Image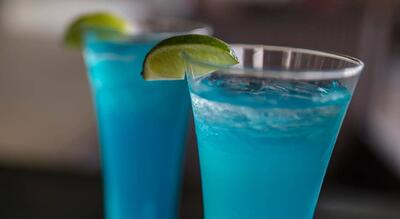 Drink packages are one of the most expensive cruise add-ons. Sometimes, they can cost more than your cruise fare! For that reason, it is tempting to want to share your drink package benefits with others to maximize the benefits of one. 
Cruise lines, however, state that sharing packages is strictly prohibited. If you are caught, you risk getting your package revoked without a refund. 
To prevent the likelihood of sharing, most cruise lines will require all passengers over the legal drinking age staying in the same stateroom to purchase their own package if one person does. Another way to think about it is that drink packages are bought per person, not per room. 
Know your alcohol limits
Image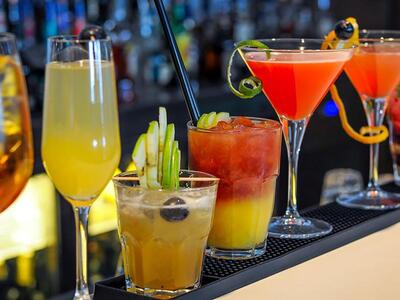 Purchasing a drink package, whether it is unlimited or gives you a fixed amount of daily drinks, does not give you the excuse to drink more than your body can handle. 
As mentioned earlier, you want to be polite to fellow passengers, and drinking is often the root of the cause when it comes to issues amongst people.
Plus, you do not want to be stumbling around the ship at night and/or feeling the effects of one too many drinks while in port the next day.