How does tipping on a cruise work? Are tips included? Should you carry cash around to tip individual crew members? Should I prepay gratuities or not?
These are all common questions for someone looking into booking a cruise for the first time. Without doing the proper research, you may be shocked when you receive your statement at the end of your vacation. 
While you can expect your base fare to cover select beverages, all-you-can-eat food at complimentary venues, entertainment, accommodation, and transportation between ports of call, there are certain things that you will need to be prepared to shell out additional money. 
Image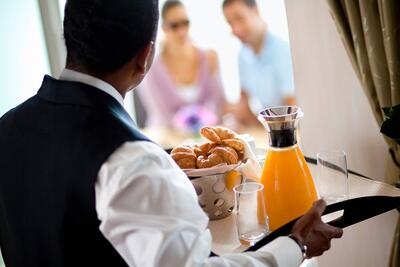 Some -- like drink packages, spa treatments, and shore excursions -- are optional, then there are port fees and gratuities. 
When browsing a cruise line's website, you will rarely find these fees calculated into the advertised price. You will need to select the specific itinerary and make your way through the booking process to see the total cost to help you appropriately budget.
Here's a guide to cruise ship tipping to help you better understand how these gratuities work and what to do!
Read more: 14 cruise ship extra charges you should know about
What is tipping on a cruise ship like?
Image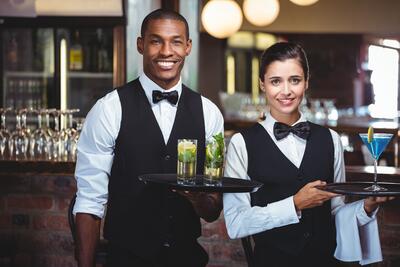 Tips onboard a cruise ship are also referred to as cruise ship gratuities. They are divided between the hardworking crew members that work to make your vacation memorable, including stateroom attendants, dining and culinary services staff, the guest services team, and others who work behind-the-scenes.
While not customary, if you are truly unhappy with the service you received onboard, you may speak to the guest services team and have the daily rate adjusted or outright removed. 
Outside of the daily gratuity, many -- if not most -- onboard purchases are subject to additional service charges. If you go the spa, grab a drink or two, or dine at a specialty restaurant, your final bill will reflect an 17%-20% gratuity, depending on the line. 
Royal Caribbean, for instance, charges 18% on drink purchases, while Celebrity Cruises and Norwegian Cruise Line charge 20%. 
Image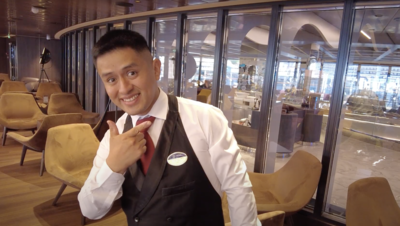 The daily rate varies from cruise line to cruise line, but most mainstream lines charge somewhere around $16-$20 per day for guests staying in standard staterooms, while those staying in suites will pay a little bit more, usually no more than $25 per day. 
They are charged per day and per person, so if you are traveling with a family of four, you will have to multiply the rate by four! If you are going on a weeklong cruise, you could be looking at an additional $600+ in gratuities! 
This is why it is important to make sure that you budget for cruise tips. If you opt not to pay for them in advance, they will be automatically billed to your onboard account to be settled at the conclusion of your vacation.
Do any lines have cruise gratuities included?
Image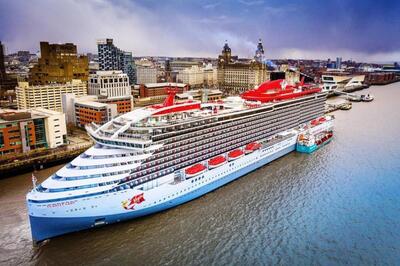 Embarking on an adults-only cruise onboard Virgin Voyages? No need to worry about setting money aside to cover gratuities. 
Per their website, "Our Crew is knowledgeable, friendly, and incredibly stylish — but mainly, our Crew is genuinely happy to help you make your vacation one of a kind. So get pampered, taste everything, and enjoy a drink (or two) knowing that all tips are covered."
Other mainstream cruise lines have added the option for you to select a more inclusive fare when booking. Depending on the line, this might include a drink package, wi-fi, and gratuities. 
Image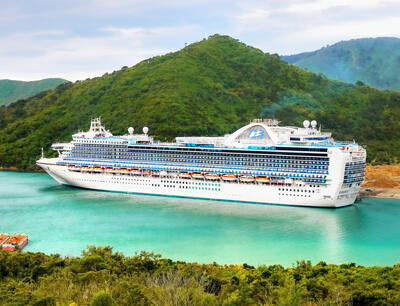 Gratuities on Princess Cruises, for instance, are included in their Princess Plus package. In addition, you will get a Plus Beverage Package (which includes drinks up to $15 each), internet for one device, two premium desserts per day, two fitness classes per cruise, and unlimited trips to the juice bar. 
If you are sailing on a luxury line, chances are that the rate includes cruise ship tips. Think of premium lines such as Regent Seven Seas, Seabourn, Silversea Cruises, Azmara, Ponant, SeaDream Yacht Club, and Scenic Luxury Cruises & Tours
How much is the daily rate?
Image
The daily rate differs between cruise lines and stateroom categories. Those staying in suites will pay more than those staying in standard cabins. However, everyone in standard -- interior, ocean view, and balcony -- cabins will pay the same rate. 
Carnival Cruise Line
The daily rate for standard staterooms is $16.00 per person, per day, while suite guests pay $18.00 per person, per day. 
Read more: Worth it or not: Carnival prepaid gratuities
Celebrity Cruises
Image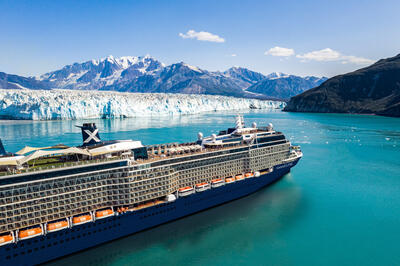 If you're going on a Celebrity cruise, you can expect to pay $18.00  per person, per day for inside, ocean view, and veranda staterooms; $18.50 per person, per day for Concierge Class and AquaClass staterooms; and $23.00 per person, per day for guests of their "ship-within-a-ship" concept, The Retreat. 
Disney Cruise Line
The recommended daily rate for all guests in standard cabins if $14.50 per person, per day, while the rate for passengers booked in a Concierge stateroom or suite  is $15.50 per person, per day 
Holland America Line
Holland America Line guests pay $16.00 per person, per day for all non-suite staterooms and $17.50 per person, per day for suites.
MSC Cruises
Image
Understanding MSC Cruises' daily gratuities is a little more complicated than other cruise lines, as they not only by passenger age and where the ship is sailing to. 
For cruises to the Bahamas, Caribbean, Asia (China, Japan, and Korea), and South America, the rate for passengers 12 and older is $14.50 per person, per night. For guests between the ages of 2 and 11, the rate drops to $7.25 per person, per night. Any guest under 2 does not have to pay. 
Cruises that sail to the Mediterranean, Northern Europe, Southern Caribbean, United Arab Emirates, India, and Red Sea bill guests 12 and older 12 euro per night and 6 euro per night for those 2-11. Again, service charges do not apply to passengers under 2.
Gratuities for South Africa cruises are $10 per guest 12 and older per night and $5 per guest, per night between the ages of 2-11. 
Note that while their website currently says "valid up to summer 2024," no increases are confirmed as of February 2023. 
Norwegian Cruise Line
Norwegian Cruise Line has some of the highest daily service charges in the mainstream cruise industry. 
For bookings made on or after January 1, 2023, passengers staying in standard and Club Balcony staterooms are charged $20.00 per person, per day, while the rate for Suites and guests staying in The Haven is $25.00 per person, per day. 
For bookings that were made before January 1, 2023, you can lock in the previous rates by prepaying your service charges before your sail date. If you are staying in a traditional stateroom, the rate is $16.00 per person, per night, while the daily gratuity for Club Balcony Suites is $18.00 and The Haven and other suite categories are $20.00 per person, per night. 
Be aware that if you're sailing to Hawaii, you'll be charged an additional 4.275% prepaid service charge GET tax. 
Princess Cruises 
Image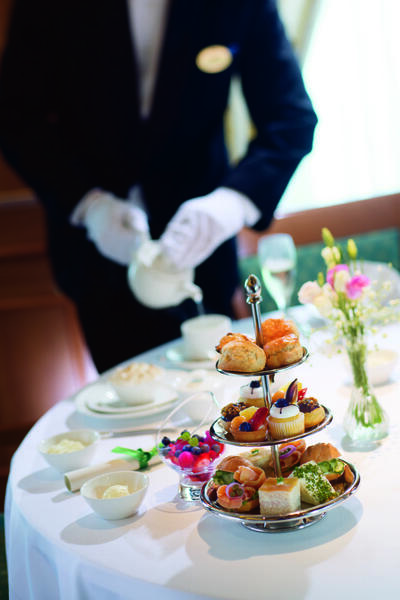 Passengers in interior, ocean view, and balcony cabins onboard Princess Cruises can expect to pay $16.00 per person, per day, while those staying in a mini-suite or reserve collection can expect $17.00 per person, per day. The rate for guests in suites is $18.00 per person, per day. 
Royal Caribbean International 
As of November 11, 2023, the daily service charge for standard staterooms is $18.00 per person, per day, or $20.50 per person, per day for guests in suites. 
Virgin Voyages
Virgin Voyages actually includes gratuities in their advertised cruise fares! You won't be asked to prepay anything or get a shocking surprise at the end of your vacation. 
How do you pay for gratuities?
Image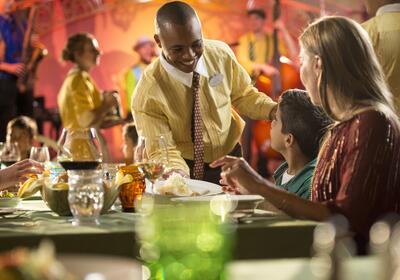 You can either prepay your gratuities in advance when you make your cruise reservation or before sailing by calling your cruise line directly. If you booked with a travel agent, they'll be able to help you take care of it!
If you choose to wait until your cruise, your onboard account will be billed each day, and you'll have to settle it -- along with any other purchases you make -- at the end of your cruise, whether that be in cash or via debit/credit card. 
There's no right or wrong answer. It comes down to your preferences and needs. 
Pros of prepaying cruise gratuities
Ability to pay them off over time
Image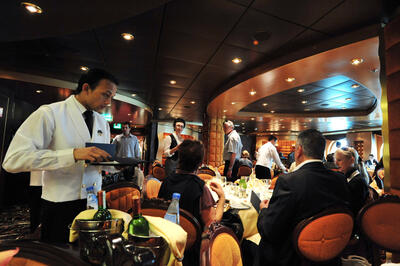 When going through any cruise line's booking process, you are usually given the option to add gratuities before even placing a deposit. In other words, you can add the total gratuities for your cruise and pay them off over time like the rest of the fare. 
Getting a better idea of your cruise budget in advance
Image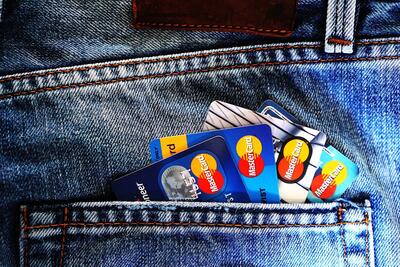 Making sure that your gratuities are prepaid before your vacation begins is a surefire way to ensure that you do not get any hidden surprises at the end. Potentially, you could board your cruise and not spend another penny. If, that is, you don't plan on spending any money on drinks, shore excursions, spa treatments, specialty dining, etc. 
Pros of waiting until the cruise
You can purchase other services and experiences that will enhance your vacation first
Image
Holding off on paying gratuities might allow you to purchase other add-ons, like drink packages or Wi-Fi to stay connected throughout the trip! Sometimes, if you wait until you board, you'll be paying more for these services! 
You can wait to pay for gratuities onboard without penalty; you can't wait to pay for airfare until the last minute unless you want to pay the inflated rates. You also don't want to risk your desired shore excursions filling up!
You can have the daily service charge adjusted 
Image
If you wait to pay for your gratuities until you are onboard, you can speak with a guest services agent and have the total amount adjusted. If you've prepaid your gratuities, they cannot be changed to reflect the quality of service that you feel you've received.
This, however, is not recommended, as gratuities are essential to the crew members who work so hard to make your cruise vacation memorable, even if from behind the scenes. 
If, for whatever reason, you decide to speak with guest services about removing the automatic gratuities, it is advised that you tip crew members in cash.
Note that once you disembark from the ship, all accounts are considered final and no changes will be made.
Read more: 10 do's and don'ts of cruise ship tipping
Apply onboard credit
Image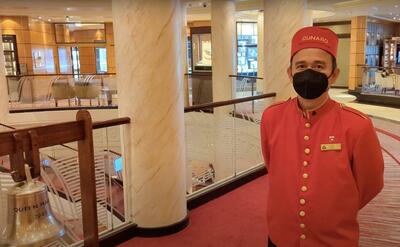 If you booked with a promotion that included onboard credit, you might want to hold off on prepaying gratuities. 
After your trip, you can use any remaining onboard credit to settle the bill. Anything added to your account (i.e., gratuities) is eligible to be paid off this way!
Unless you got the deal of a lifetime, the onboard credit probably won't cover the entire gratuity amount. 
Should you bring extra cash for tips?
Image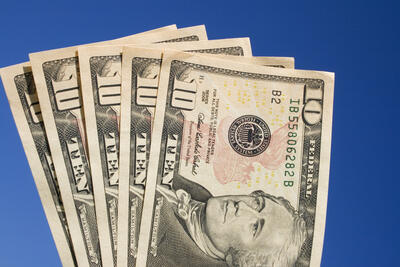 Maybe you have a bartender who made your drinks just right or a stateroom attendant who went above and beyond to ensure that you and your travel party had everything you needed and more. If you decide that the service you've received warrants additional tips, the staff will surely appreciate it. 
It is not unusual to hear about guests tipping their stateroom attendants. Some will even tip them throughout the week! While the amount varies, $10-$20 per day seems to be a relatively common answer on cruise forums. 
Bringing extra cash to tip crew members is completely optional, though! You'll still have a fantastic vacation even if you don't carry around a few extra dollars. 
It is customary to tip the porters who assist you with your bags when you arrive at the port, which usually amounts to $2 per bag. Additionally, you might want to tip your tour guides in ports of call. For a full-day tour, you'll want to tip more than a half-day excursion. 15-18% of the tour's price is appropriate; however, if they provide exceptional service, you can always tip more! 
Bottom line
Image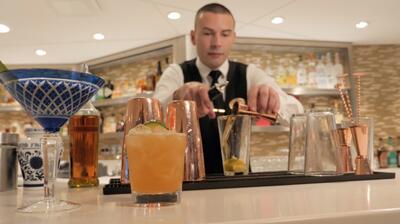 Gone are the days when you received envelopes on the last night of your cruise! Today's cruise gratuities are taken care of automatically. 
You can choose to prepay your service charges in advance before you begin your vacation or wait to pay them when you settle your bill at the end. 
The daily rate ranges from $10-$20 per person, per day, depending on what cruise line you're sailing with and to where. You will want to factor the total cost of gratuities into your cruise vacation budget before you place your deposit. 
You'll also want to carry at least another $100 for various tips, maybe more if you have multiple shore excursions planned. You never know who is going to go above and beyond! But, of course, this is not a requirement. You don't have to carry any cash onboard with you for extra tips if you do not want to.