Part of what makes a cruise vacation so memorable are the ship's crew. They will go above and beyond to make sure that all of your requests and concerns are promptly addressed. 
While there are crew members who you may frequently visit (i.e., your favorite bartender or youth staff), there are some that will also specifically attend to you and your travel party, such as your assigned waitstaff in the main dining room and cabin attendant.  
Throughout your cruise, your stateroom will be maintained by your assigned cabin attendant. Their job is to make sure that your cabin is well-kept. They will also do their best to accommodate certain requests and preferences. 
Here is everything you need to know about a cruise ship cabin attendant. 
What is a cabin attendant, and what do they do?
Image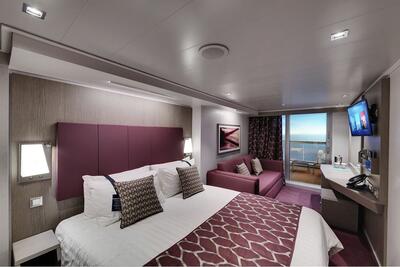 A cabin attendant, also referred to as a cabin steward, is responsible for making sure that you cabin is clean and tidy throughout the cruise. While they will not pick up your vanity full of clutter, they will refresh your towels, make your bed, empty the trash, deliver important disembarkation documents, and even leave fun towel animals! 
On the first day, they will ask if you have any preferences, like in-room bathrobes (depending on your loyalty status), fresh ice, wine glasses, additional hangers, or specific bed configurations. On my last cruise, for instance, I brought two bottles of wine onboard, and my stateroom attendant left fresh wine glasses out each evening. 
You will not have to be present for them to service your room, as they have they own key for entry. In essence, a stateroom attendant is similar to a housekeeper at a hotel. 
Image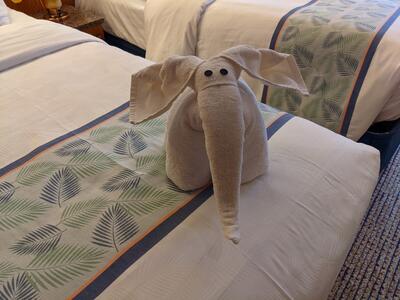 Depending on what cruise line you are sailing with, they will either visit once- or twice-per-day. 
Recently, Royal Caribbean, Norwegian Cruise Line, and Carnival Cruise Line have all cut back to servicing staterooms once-per-day. Premium lines, such as Disney Cruise Line, Celebrity Cruises, Princess Cruises, and Holland America Line, are still providing service twice-per-day. 
Even though Royal Caribbean recently cut back their standard staterooms to one service per day, their suites will still receive a morning and evening visit by their stateroom attendant. Those in regular cabins may select if they want their stateroom to be attended to in the morning or evening. 
If at any point you do not wish to be disturbed by your attendant, cruise ships will either have a magnet or sign that you can hang on your stateroom's door handle that indicates you are resting. 
Will I ever meet my cabin attendant?
Image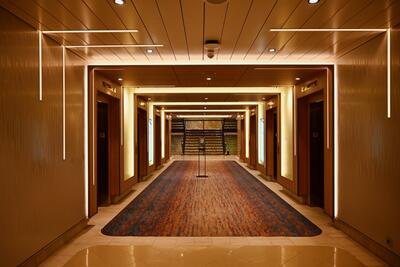 At the beginning of your cruise, it is customary for your stateroom attendant to introduce themselves to you. This may be done if they see you in passing, or they will take the time and knock on your door. You will also receive a small business-like card with their name and/or picture.  
Chances are that you will see them in the hallway throughout the cruise. When that occurs, it is considered polite to say hello to them and greet them by their name. They may even ask about your day and what you have planned. It is okay to engage in friendly conversation with them for a moment!
What are cabin attendants not responsible for?
Image
Cruise ships are essentially "floating cities," which means that there are different crew members assigned to handle different concerns. Your cabin attendant is responsible for the cleanliness of your room. 
If you have questions about your onboard account or need to replace your cruise card, you will have to visit Guest Services. Cabin attendants also cannot help you book shore excursions, onboard shows, or dinner reservations. Most of that can be done through the cruise line's app either prior to embarkation or once you get on the ship. 
If you have children, cabin attendants are not responsible for any childcare services. You will have to arrange that through the ship's youth program. Some have late-night babysitting available; however, it is often an extra charge. 
Additionally, while cabin stewards will deliver your luggage to your cabin on embarkation day, they will not help you unpack any of your belongings. Similarly, they will not assist in packing the last night of the cruise. Make sure you allot enough time to get this done, especially if you are planning on leaving your luggage outside of your cabin. 
Do you have to tip your cabin attendant?
Image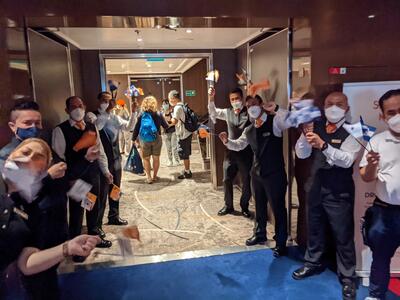 Tipping on a cruise ship can be confusing for first-time cruisers. The daily gratuity rate is rarely included in the base fare and is something that you can either prepay prior to getting on the ship, or you can have it added to your onboard account to be settled at the end of the cruise. 
The daily rate varies by cruise line and which category stateroom you are sailing in. Carnival Cruise Line, for instance, charges $16 per person, per day for standard cabins and $18 per person, per day for those in suites. 
Norwegian Cruise Line's daily rates are some of the most expensive for a mainstream cruise line, as they charge $20 per person, per day for standard staterooms and $25 per person, per day for guests staying in suites or The Haven. 
The gratuities are divided between the hardworking crew members that work to make your vacation memorable, including your stateroom attendant. That being said, it is not unusual to hear about guests leaving extra cash for their attendant. Some tip throughout the week, while others leave a larger tip on the last night of the cruise. The amount left varies; however, $10-$20 per day seems to a common answer on cruise forums. 
Some guests like to bring a small gift to their cabin attendant in lieu of, or in addition to, a cash tip. Just remember that their living quarters are tight. A box of chocolates or other non-perishable food is best instead of a trinket or other souvenir-like gift. 
Read more: 10 do's and don'ts of cruise ship tipping
I booked a suite and was told that I have a butler. What is the difference?
Image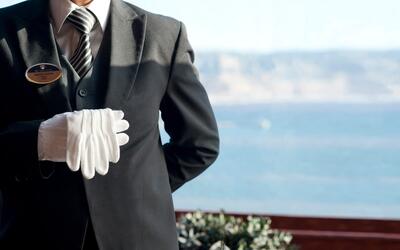 If you are staying in a suite, you may have an assigned butler in addition to your cabin steward. A cruise ship's butler job is to pamper you, and this begins before you even board! A butler can arrange dining reservations, shore excursions, and ensure that your stateroom is stocked to your liking before your cruise begins. 
A butler's job is to provide next-level service, so you can expect for them to do, well, just about anything! They will unpack your luggage, wake you up in the morning with fresh coffee delivery, draw a bath for you to relax after a long day ashore, and more. 
That being said, butlers are not responsible for the cleanliness of your cabin. Just like every other guest onboard, you will have an assigned cabin attendant. 
Read more: 10 reasons to spend extra for a suite on a cruise
How long is a cabin attendant's contract?
Image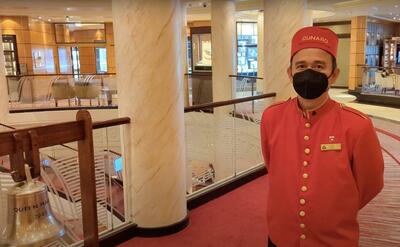 A crew member's contact varies by position. Some may be onboard for nine months, while others can be onboard for only two. 
Each crew member lives onboard for the total duration of their contact. And since ships have passengers onboard 7 days per week, it is unlikely that they will receive a full 24 hours off. Cabin stewards have to tidy guests' room every day per cruise. Plus, they are responsible for cabin turnaround in between sailings!
Depending on their position, they may or may not have be able to mingle in guest areas. Some may be able to make reservations for specialty restaurants like passengers, while still paying the required cover charge. Others may be restricted to only dining in the crew mess hall. 
Similarly, their exact living arrangements depend on their position. Headlining performers may get their own cabin, while housekeeping crew may be subject to sharing staterooms with other crew members. 
After a contact ends, they will have a couple months of vacation that they can spend at home with their loved ones before returning to sea, if they so choose.