As many people return to cruising after a long pandemic pause, they may be asking themselves if an upgrade to a suite is worth it.
Booking a suite on a cruise can be a bit of a splurge, but they do come with a number of unique perks that can be of great benefit and value in terms of money, as well as peace of mind.
What can you expect in a suite? There are a number of great features such as a bigger cabins, specialized service, and premier access to venues, just to name a few.
Here is a look at the top 10 reasons why you should spend extra for a suite.
1. More cabin space
Image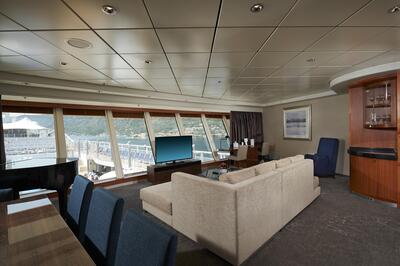 One of the most obvious perks of a suite is their bigger size. Whether you want a little more living space or an extra bedroom, there is a whole range of suite options on cruise ships.  
Perhaps you are traveling with a large group of family or friends and want to be close by and share some common spaces without the worry of being decks apart.
One great option for guests wanting this type of experience is Norwegian Cruise Line's Three-Bedroom Garden Villa which can sleep eight guests. There is plenty of indoor and outdoor living spaces, and each of the villa's three bedrooms comes with an en-suite bathroom. Relax in the warm sun on the two-story sun deck with private outdoor space that includes a roofed hot tub, dining table, and lounge seating.
2. Dedicated venues
Image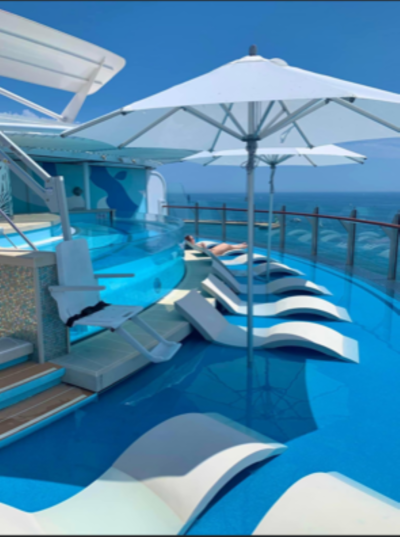 Not only are suite guests treated to roomier cabins, but this perk also extends beyond their stateroom, with dedicated suite only venues such as a private sun deck, lounge and restaurant.
Royal Caribbean's new Wonder of the Seas has one of the best suite only sun decks in the business. Perched on the top level of the ship, it has incredible views, a pool, hot tub and bar, with plenty of cool signature drinks. No need to worry about finding a chair on a sea day or getting a spot in the shade.
A level below, the suite only lounge can provide a quiet retreat, with panoramic views and plenty of space to relax, nibble on some complimentary hors d'oeuvres and cocktails. This also extends to light morning snacks, afternoon treats or pre-dinner appetizers.
3. Dining
Image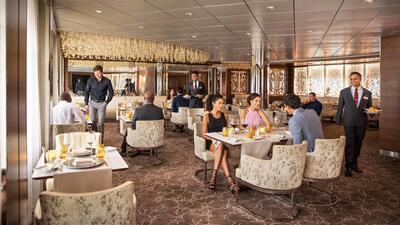 Another key benefit of booking a suite is the onboard dedicated restaurant serving breakfast, lunch and dinner with unique menus not found anywhere onboard.
A lot of these dining venues offer the highest quality, specialty dining level food and service, but are included in the cruise fare for suite guests.
For travelers who love food, Celebrity Cruises offers its suite guests the opportunity to dine in Luminae, designed by renowned French Chef Daniel Boulud, with unparalleled gastronomic experience in a stunning setting.
4. Concierge Service 
Image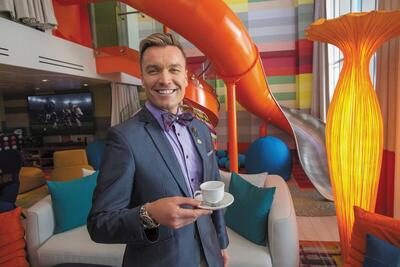 One of our favorite suite benefits is the dedicated guest services representative, usually a concierge or a butler for top level suites. They assist in a whole variety of things, which starts even before you ever set foot on a cruise ship.
Reaching out with a personalized greeting, they can help book dining and entertainment options with early access to popular booking times. It is a great feeling to step on the ship knowing all your plans are made, and all you have to do is relax. No need to rush around and book anything; it's all taken care of.
This premier service continues while cruising. A concierge can help with recommendations about what restaurant to visit in port, or help book a last minute shore excursion. Have a question about your bill? Need to print a boarding pass? They can help you with that as well.
5. Priority access
Image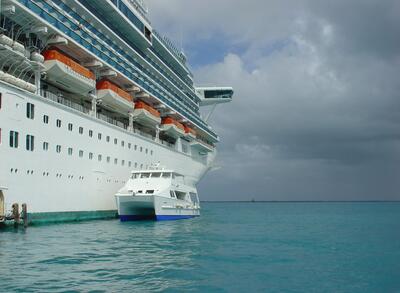 Not only can a concierge help make your cruise vacation even more relaxing, but suite guests enjoy priority access to numerous venues and entertainment while onboard. Last minute decision to go to a Broadway show, no problem. Suite guests have access to reserved seating.
Suite guests have access to priority boarding, which means you get to start your vacation even sooner. Priority access is particularly beneficial in those ports where you need to tender. Not having to get up early and worry about standing in line to get tickets is a definite plus. The convenience and ease of priority access makes planning your cruise vacation effortless.
On the saddest day of a cruise, the last day, suite guests get priority disembarkation with staff escorting cruisers to customs with expedited service. A nice touch to end off a vacation.
6. Free drinks
Image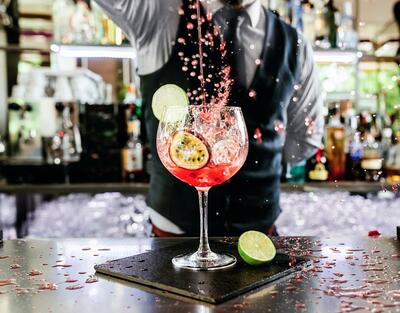 Another common perk of suites is free drinks, and who doesn't want that ?
Drink packages can certianly add a significant amount to the final cruise bill. Even if you drink 4 beverages a day, at an average cost of $10, that's nearly three hundred dollars worth of extras. Not to mention how much bottled water and pop can you can drink on a hot day.
There is also the peace of mind knowing what costs are covered and that there won't be unexpectedly high bill at the end of the cruise.
7. Internet access
Image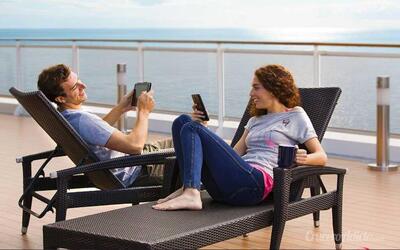 Another must have for most modern vacationers, is access to internet while onboard a ship. Whether it is to check in with family and friends or catch up on a few work emails, it is a necessity for many.
Most suites come with the premium level of wi-fi included in the cruise fare. If you were paying out of pocket for this, it could easily add up to a couple hundred dollars for a family of four.
Another thing not to have to worry about.  
8. Extra loyalty points
Image
Cruise line's offer their customers loyalty programs to incentive them to keep booking. The top echelon of these programs have some impressive benefits such as free cruises, specialty events and dining, free drinks, and many other discounts.
Carnival Cruise Line's loyalty program, Very Important Fun Person (VIFP), even makes a donation to St. Jude Children's Research Hospital on behalf of the guests who reach their penultimate level.
Suite guests can expect to receive double points for their cruises, which adds up quickly,  getting them to their goal that much faster.
9. Well appointed cabins
Image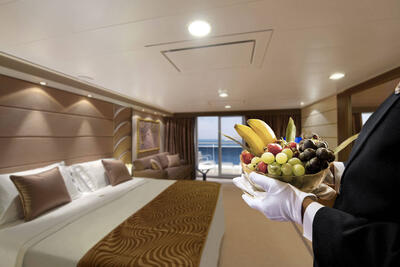 After enjoying a fun-filled day in port or activities on the ship. It is great relax in your cabin. Comfort is key for suites and guests get to enjoy such as benefits as higher quality mattresses, varying pillow options and robes. Bathrooms are stocked with upgraded toiletries such as premium shampoo, condition, lotion and body wash. No worries about bringing stuff from home or leaking in your suitcase.
This is the case with MSC Yacht Club; the cruise line's suite guests enjoy memory foam mattress, a complimentary mini-bar, and welcome bottle of prosecco and cholates.
Suite cabins also tend to be located in prime locations, with spacious balconies on upper level decks, providing the best views. Guests can enjoy a meal, or lay in the sun, with loungers or tables, all with a scenic view of the ocean.
10. Your time is valuable
Image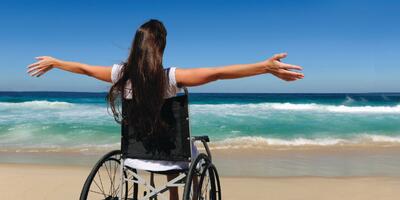 For those who can't get wait to get away from the hustle and bustle of their busy lives, a suite can provide a lot of ways to save you time. The ability to pre-book dining, entertainment and other activities is invaluable.
The pandemic has been stressful for everyone, and we return to travel, we want to spend time enjoying life and our travels, not waiting in lines unnecessarily.
A suite experience provides guests with a more inclusive experience, less hassle and worry.