You don't need to sail on a small, stuffy luxury cruise ship to indulge in an over-the-top cruise ship suite. If you're looking for two-story staterooms, ginormous balconies, and VIP privileges, you can certainly find them on mega-ships that also boast Broadway musicals, waterslides, ropes courses, surf simulators, the first-ever roller coaster at sea, and expansive kids clubs.
The biggest and best suites on mainstream cruise ships don't come cheap, but you might find you get more bang for your buck than on a luxury ship. You definitely have more choice: choice of itineraries on a line with 25 ships instead of six, choice of onboard activities for adults and kids, and choice of where to eat each night with plentiful complimentary and extra-fee speciality dining eateries. On luxury ships, everyone is treated equally to included drinks and stellar service; on a big ship, you will feel like a true VIP, receiving perks and priority over your shipmates, such as exclusive sun decks and private dining rooms.
Whether you want to stretch out in the nicest and biggest room on the cruise ship or prefer a two-bedroom cruise cabin for your family, indulge in a daydream and consider booking one of these seven best suites on big-ship cruises.
1. Royal Caribbean's Royal Loft Suite
Forget suite – Royal Caribbean's Royal Loft Suite is like a luxury apartment. Found on Oasis- and Quantum-class ships, these enormous suites measure between 1,600 and 1,800 square feet and feature two separate bedrooms, a distinct living and dining area, and multiple balconies.
Depending on the ship, the main floor of the suite will feature a sofa and comfy seating, giant TV, dining table, and dry bar. Some come with pianos! Two-story floor-to-ceiling windows let in tons of light. 
All Royal Loft Suites feature a main-floor bedroom with balcony access; some have media rooms with sofabeds for extra guests. Off the living area is a huge balcony with a dining table, lounge chairs and patio seating, a bar, and a hot tub. A telescope is provided for stargazing or getting a closer look at port.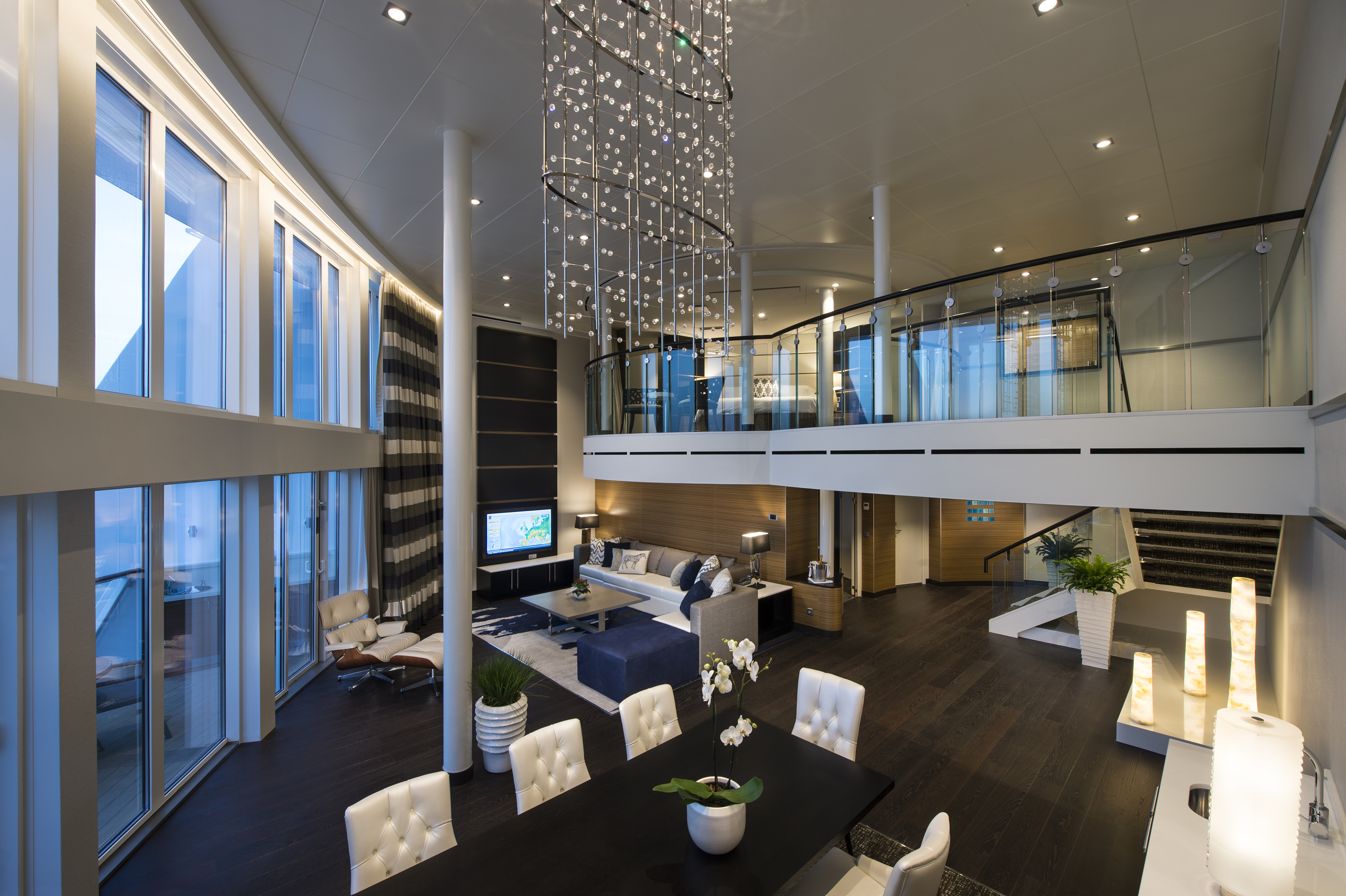 Upstairs is the open-plan master bedroom that overlooks the living room. Tucked behind the sleeping area with its king-sized bed is a huge, luxurious bathroom with a soaking tub and shower, as well as a walk-in closet and dressing area.
The Royal Loft Suite receives all of the Star Class perks (Star Class is Royal Caribbean's highest level of Suite Class). These include freebies such as internet, tips, Deluxe Beverage Package, and specialty dining, and exclusive access to the Coastal Kitchen restaurant and Suite Lounge or Concierge Club. Best of all, the Royal Loft Suite comes with the services of a Royal Genie – your personal butler for the entire cruise.
Read more: What's the difference between a balcony cabin and a suite on a cruise?
2. Norwegian's Three-Bedroom Garden Villa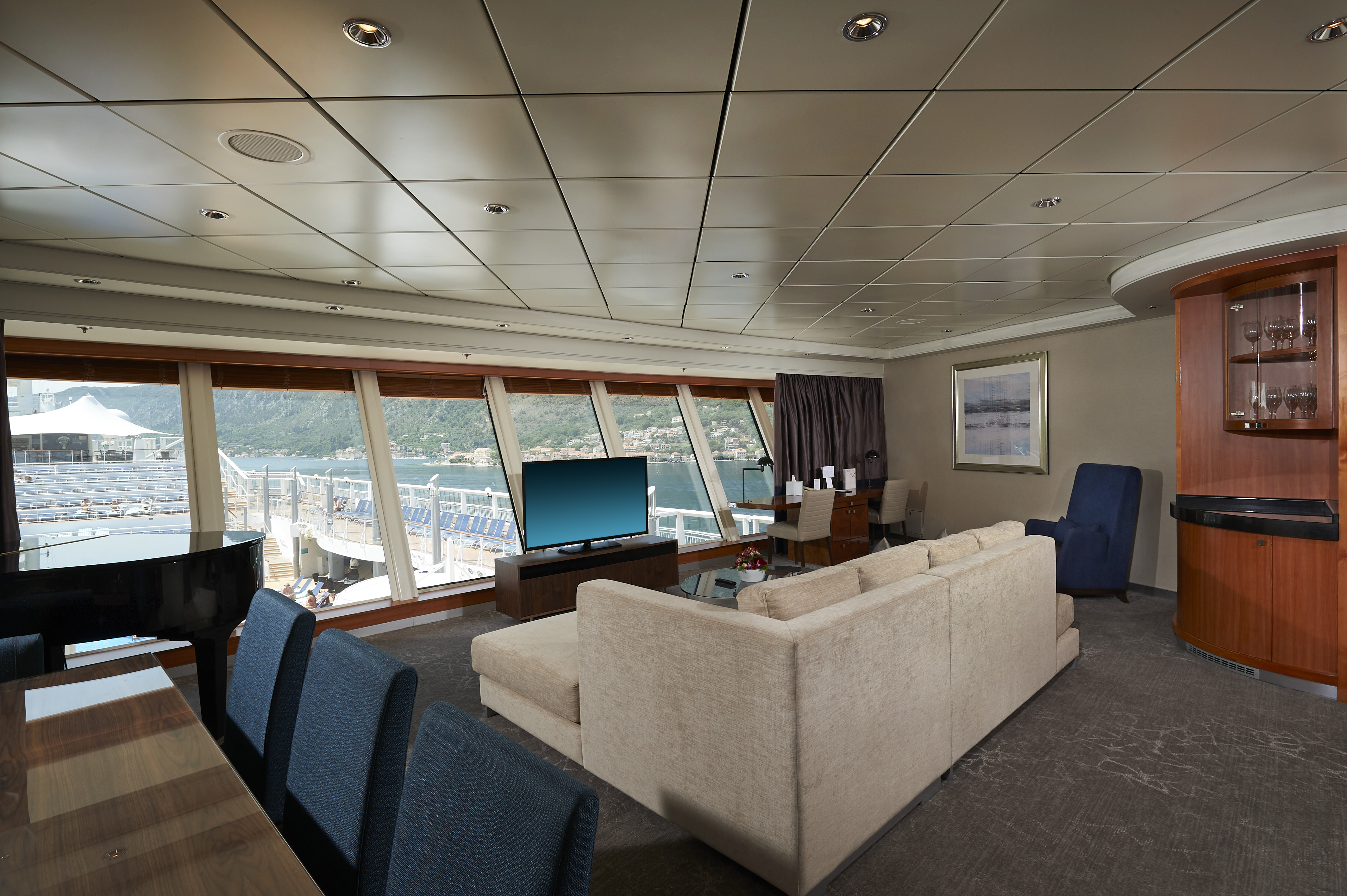 Want to live it up with your besties or extended family? Norwegian Cruise Line has an amazing suite for you. Its Three-Bedroom Garden Villa can sleep eight guests across three separate bedrooms with indoor and outdoor living spaces to die for. These suites are exclusive to the six ships found on Norwegian's Star- and Jewel-class ships.
Each of the villa's three bedrooms comes with an en-suite bathroom, some of which are extra-large with soaking tubs. The enormous living areas feature a wall of windows, dining and bar areas, and a comfortable seating area complete with a grand piano.
But the showstopper is the two-story sun deck. The expansive private outdoor space comes with a roofed hot tub, dining table, and lounge seating. Some even have small saunas. Combining indoor and outdoor spaces, the Three-Bedroom Garden Villa offers a whopping 6,700 square feet of living space. Suites on luxury ships can barely beat that.
VIP perks for villa guests include access to the Haven sun deck (when available), butler and concierge service, invitations to exclusive meals and parties, and all of the line's Free at Sea offers, including complimentary beverage package, Wi-Fi, extra guests, restaurant meals, and shore excursion credits. 
3. Carnival Excel Presidential Suite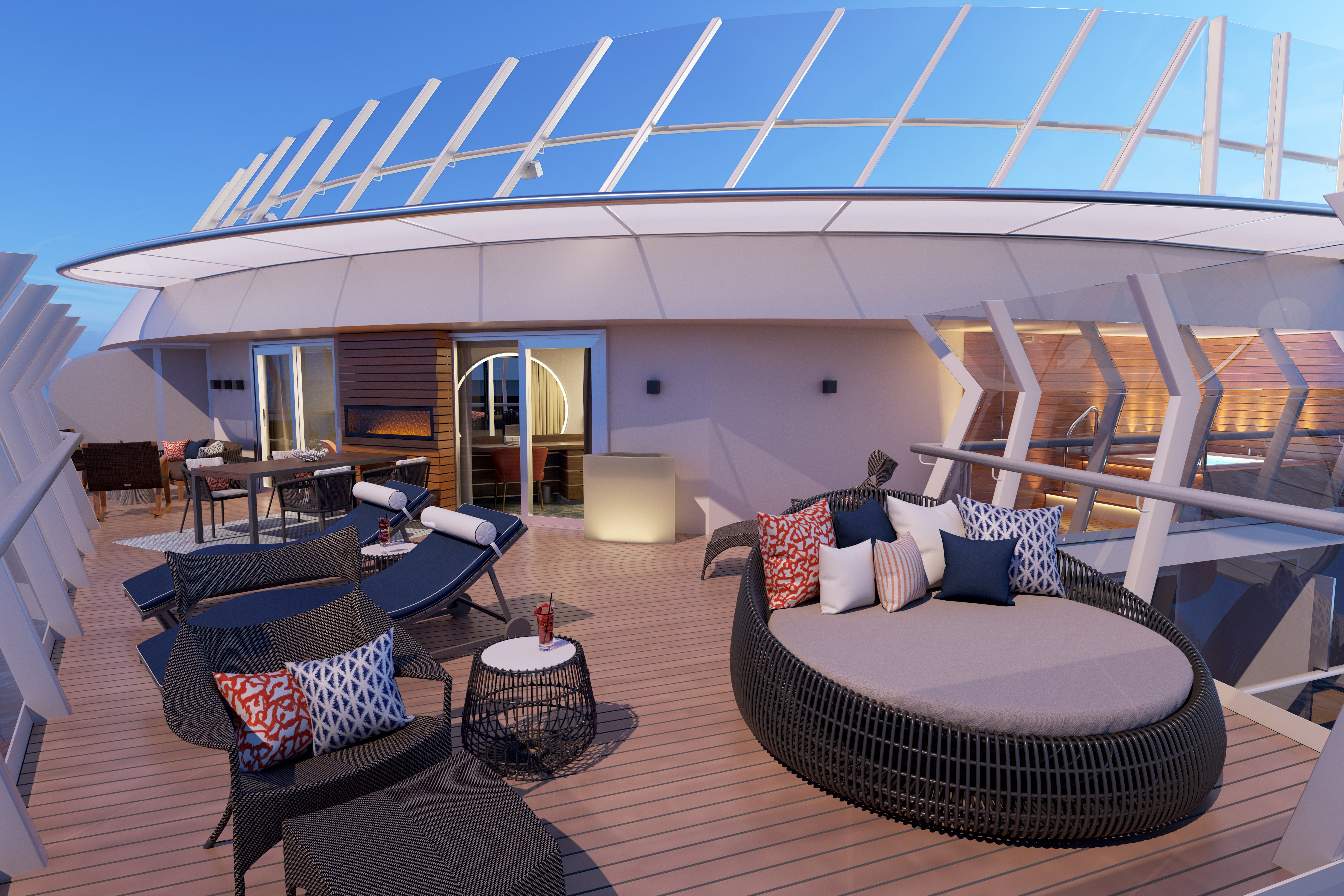 Carnival's oldest ships barely have any suites; the top suite on Carnival Ecstasy, its Grand Suite, would be called a junior or mini suite on today's newer ships. However, the Carnival Excel Presidential Suite, currently found only on Mardi Gras, is truly a luxurious suite, worthy of the suite designation.
The one-bedroom suite has a 474-square-foot interior with a bedroom separated from a living area with dining table and wet bar. The living room can sleep additional guests with a pullout sofa and a pulldown bunk above it. The split bath is perfect for entertaining, with a toilet and sink separate from a shower room with dual vanities. 
The enormous 646-square-foot party balcony is larger than the suite itself. It features a dining table, Jacuzzi soaking tub, and a variety of lounge furniture from circular pod daybeds to reclining lounge chairs. 
Suite guests also have full run of the ship, with complimentary access to the spa's thermal suite, Havana Pool, and exclusive Excel Suites-only sun deck, Loft 19. They get priority reservations of Loft 19's private cabanas, as well as guaranteed reservations at most onboard restaurants. The suite comes with complimentary room service, on-demand movies, laundry, and the Bottomless Bubbles soft drink package.
Read more: Top 10 cruise cabin hacks to make your stateroom more livable
4. Disney Cruise Line's Concierge Royal Suite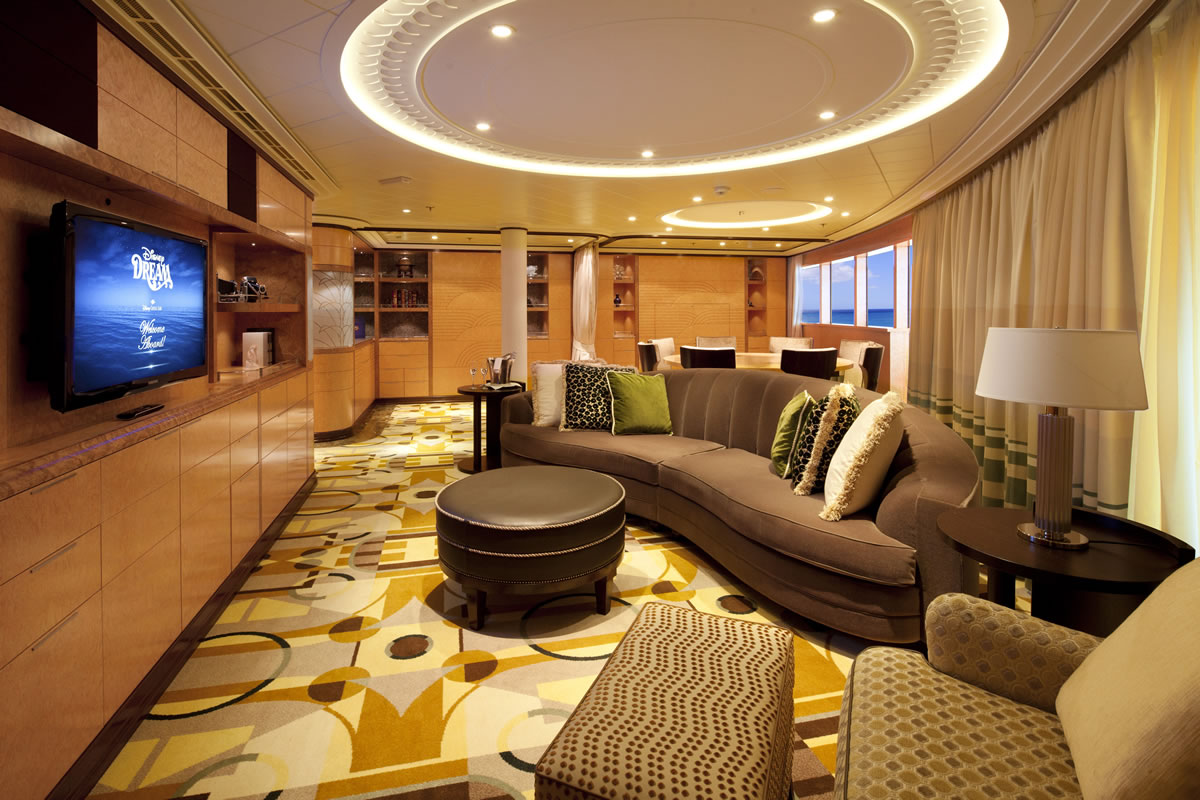 The best suites on Disney Cruise Line ships are the Concierge Royal Suites. The individual suite sizes and layouts vary by ship, but all will wow you with their space and upscale style. 
On Disney Magic and Wonder, the suites are smaller (1,029 square feet including the balcony), but sleep seven with two separate bedrooms and 2.5 baths; on Disney Dream and Fantasy, the suites are larger (1,781 square feet) but only sleep five with one bedroom and two bathrooms. Disney Wish will have Royal Suites in one- and two-level versions, and each will have two bedrooms and sleep six.
No matter which suite you choose, original artwork and an art deco design will ensure you don't feel like you're living in a theme park. You can put your feet up in a large living space with comfortable seating, dining table, pantry, and wet bar. Two or four flat-screen TVs (depending on whether your suite comes with a media room) will keep you up to date on all the latest Disney flicks. 
At night, sink into a plush Euro-top mattress covered in 300-thread-count Frette cotton linens and topped with a down duvet and your choice of pillows from a menu of feather, foam, and hypoallergenic styles.
All Royal Suites have over-sized balconies. The verandas on Disney Dream, Fantasy and Wish feature private hot tubs, as well as an array of patio furniture. 
Perks include free Wi-Fi, concierge services, in-suite dining from a special menu, and access to the Concierge Lounge and its private sun deck.
5. MSC Cruises' Yacht Club Royal Suite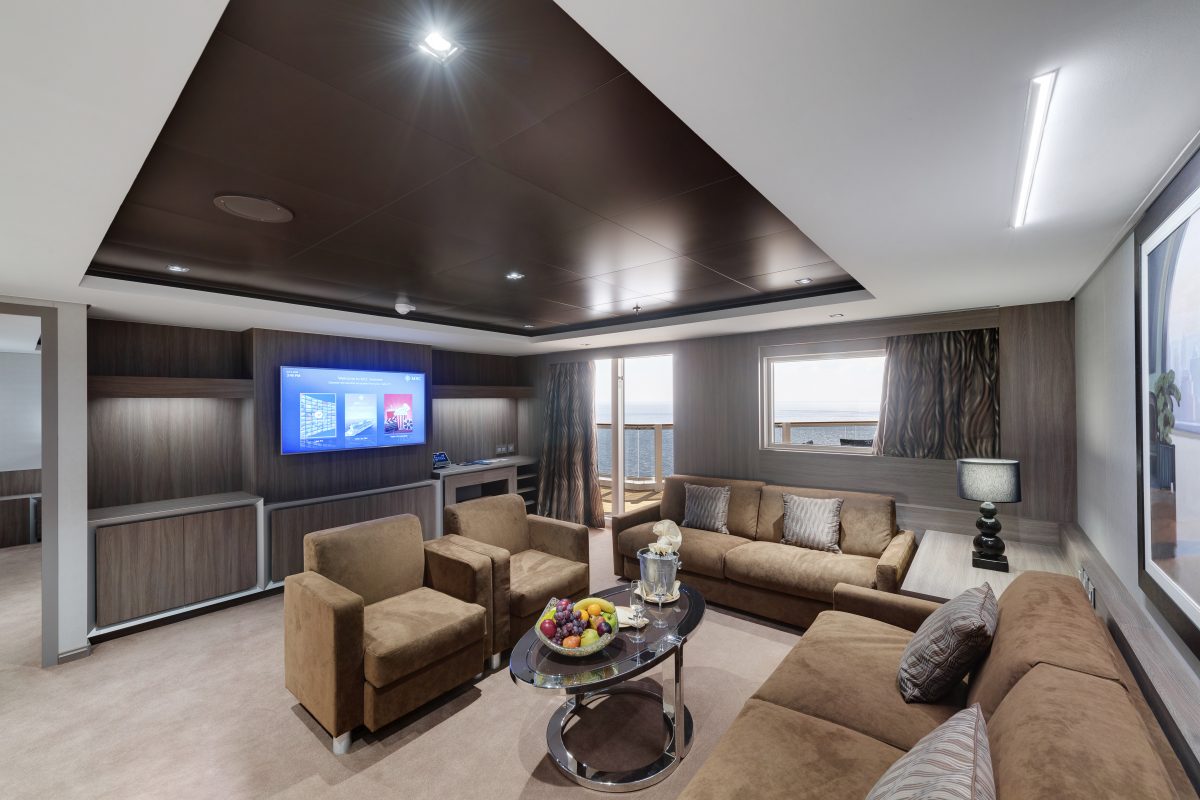 It's not surprising that three of the top suites on our list are dubbed "royal" because you'll certainly feel like the king or queen of the ship when you sail in these decadent digs. MSC Cruises' version, the Yacht Club Royal Suite, will pamper up to five guests with approximately 667 square feet of space plus a 355-square-foot balcony.
You want a separate master bedroom with plenty of room to stretch out, a living room with enough seating to throw a small party, and a luxurious bathroom with jetted tub and glassed-in shower? MSC's Royal Suite has you covered. You don't get one balcony, but two – a smaller veranda off the bedroom, and a larger balcony with hot tub off the living room (Some Royal Suites have dining tables, as well).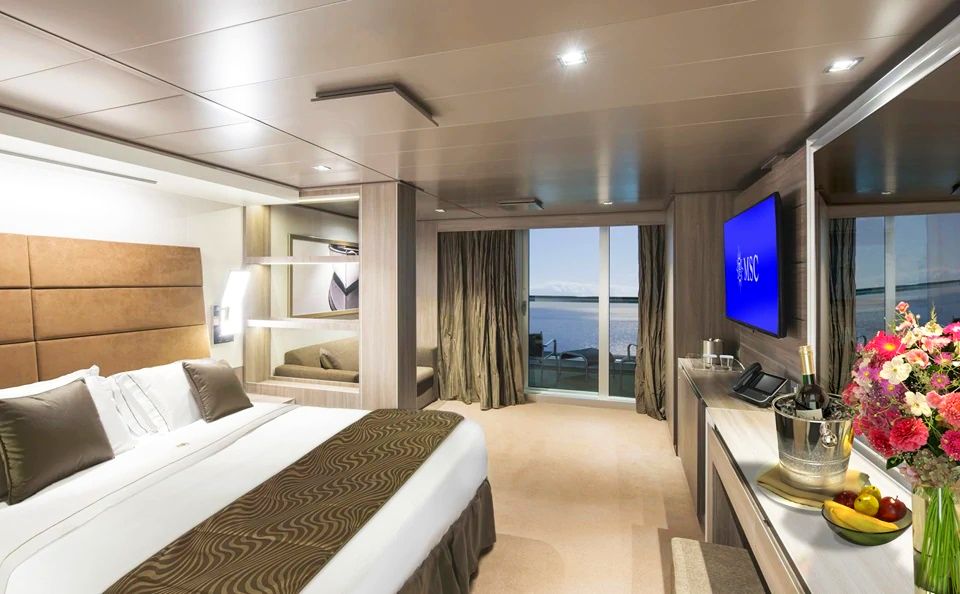 The real benefit of this suite, however, might be its Yacht Club perks. Guests have access to a ship-within-a-ship private enclave with an exclusive restaurant, lounge, sun deck, and pool. They also get free entrance to the Aurea Spa's thermal suite. Throughout the ship, enjoy complimentary drinks, Wi-Fi, and room service. A butler will take care of your every whim (well, within reason). 
Read more: 10 weird and wonderful cruise ship cabin types
6. Royal Caribbean's Ultimate Family Suite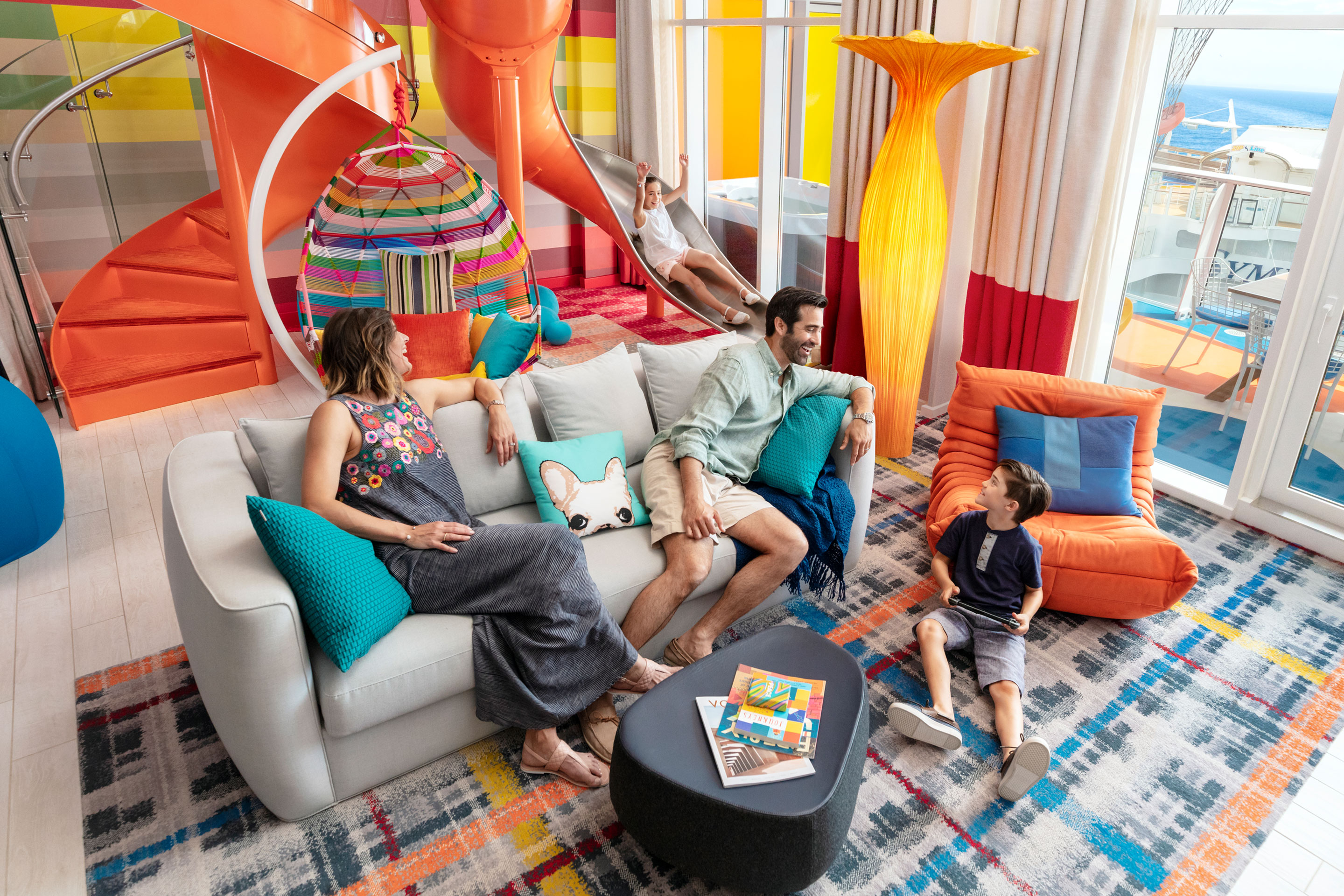 If you're looking for that over-the-top, expensive cruise ship suite and happen to be traveling with young kids, you cannot overlook Royal Caribbean's Ultimate Family Suite, found on Symphony of the Seas, Wonder of the Seas, and Spectrum of the Seas. It's a version of the Royal Loft Suite tricked out into a wonderland for kids (and those young at heart!). 
The two-bedroom duplex can sleep eight – that is, if your kids can stop playing long enough to go to bed. That's because the suite features a cinema and game room with a life size Connect Four game, a foosball table, Lego wall, outdoor climbing maze, tube slide from the second story down to the living room, balcony hot tub, and flat-screen TVs everywhere, including two in the kids' bedroom.
The décor is bright and garish, so the suite will not be your Zen-inspired retreat from the outside world. But if you want to throw your kids an epic birthday trip, the Ultimate Family Suite is the one to book. 
Don't worry-- you'll still get all the benefits as those sailing in Royal Loft Suites because the Ultimate Family Suite is part of the Star Class. 
7. Disney's Concierge Wish Tower Suite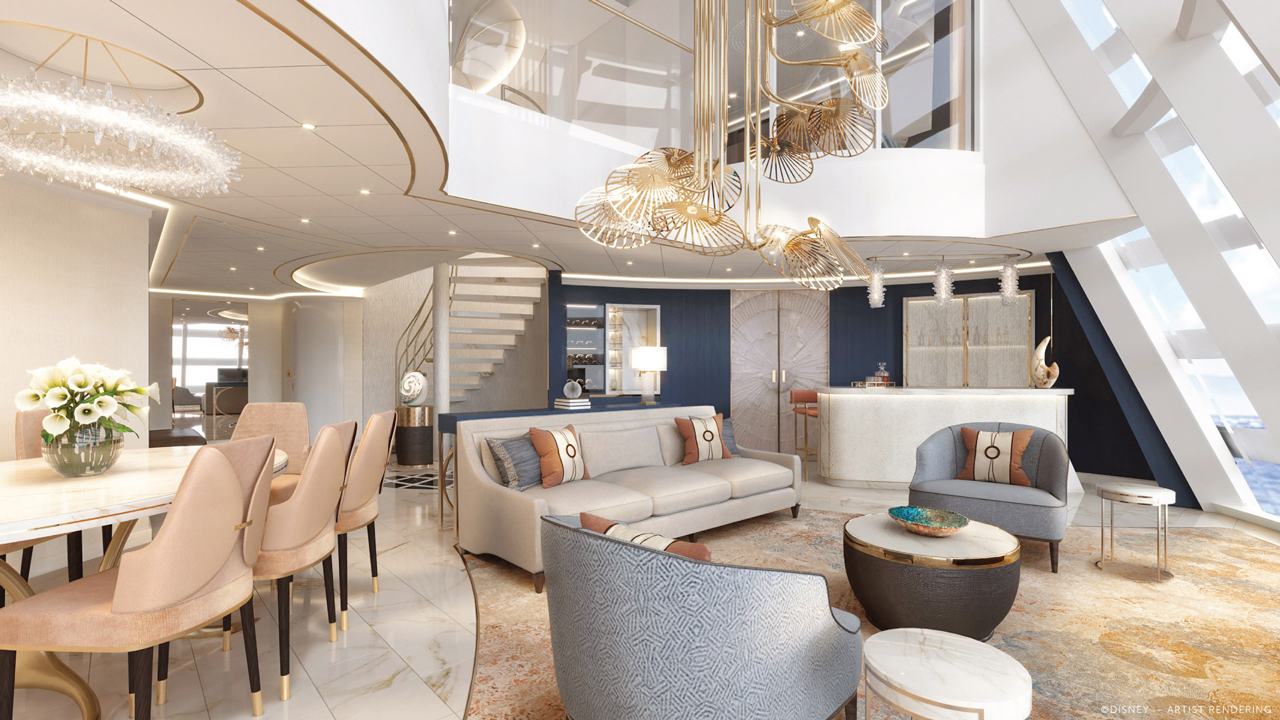 The recently launched Disney Wish introduced a first for the Disney fleet; its Concierge Wish Tower Suite is one of the most sought-after cabins afloat. Why? Because it's housed in the ship's iconic red funnel.
(Fun fact: All Disney Cruise Line ships have two funnels, but only one is functional. The other is decorative. On Disney's four older ships the faux funnel houses a teen or tween club and an adult lounge).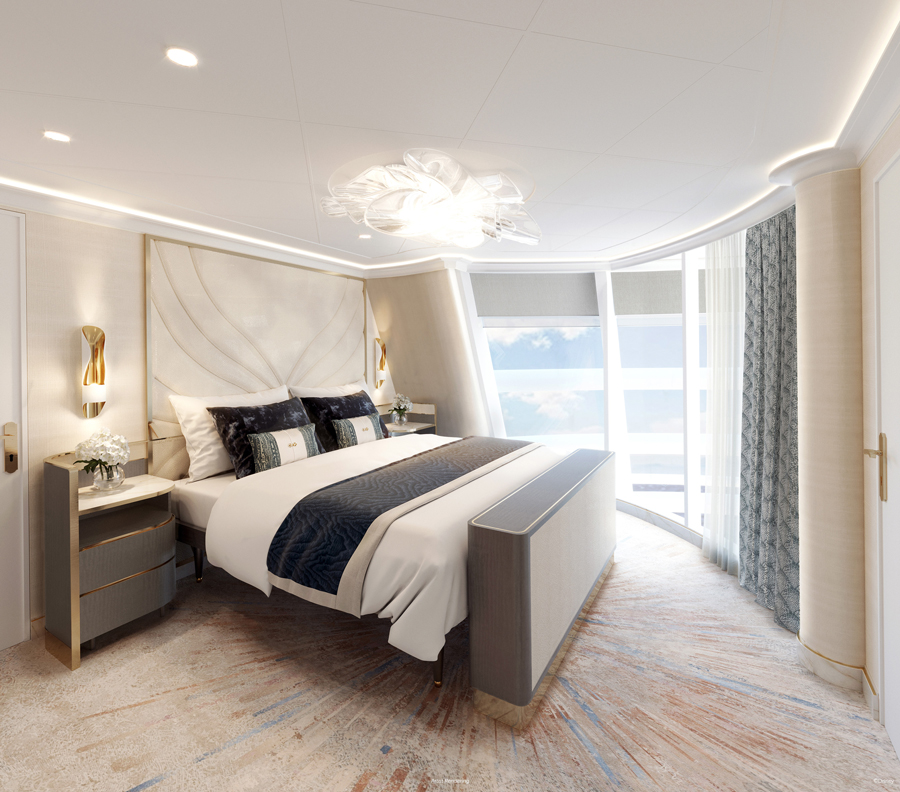 The 1,966-square-foot Tower Suite on Disney Wish is a two-story suite with four bedrooms (two master bedrooms, a children's room with bunkbeds, and a library that can convert to a bedroom) and 4.5 baths, including two masters with tub, double sinks, and glassed-in rain shower. 
The living room has a sitting area and dining space, pantry and wet bar with a wine fridge, and floor-to-ceiling windows. The décor is inspired by the Disney movie "Moana," but maintains a sophisticated style. The suite comes with all the perks: 1,000-thread-count Frette cotton linens, pillow menu, free Wi-Fi, concierge service, priority boarding and tendering, and access to the Concierge Lounge and VIP sun deck.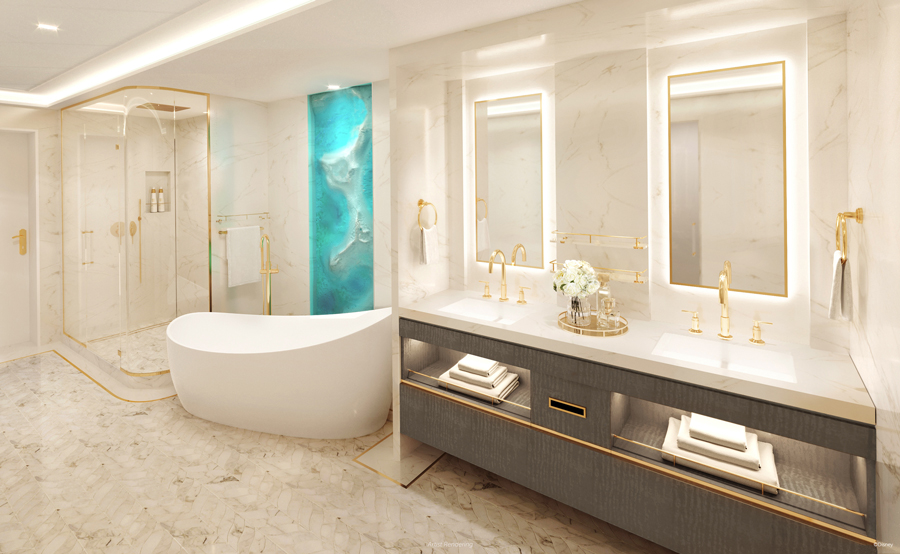 What don't you get with this enormous cruise ship suite? A balcony. The funnel location is unique, but it doesn't allow for private outdoor space. You do, however, have pretty sweet access to the Slide-a-saurus Rex!
Bonus: Regent Seven Seas Cruises' Regent Suite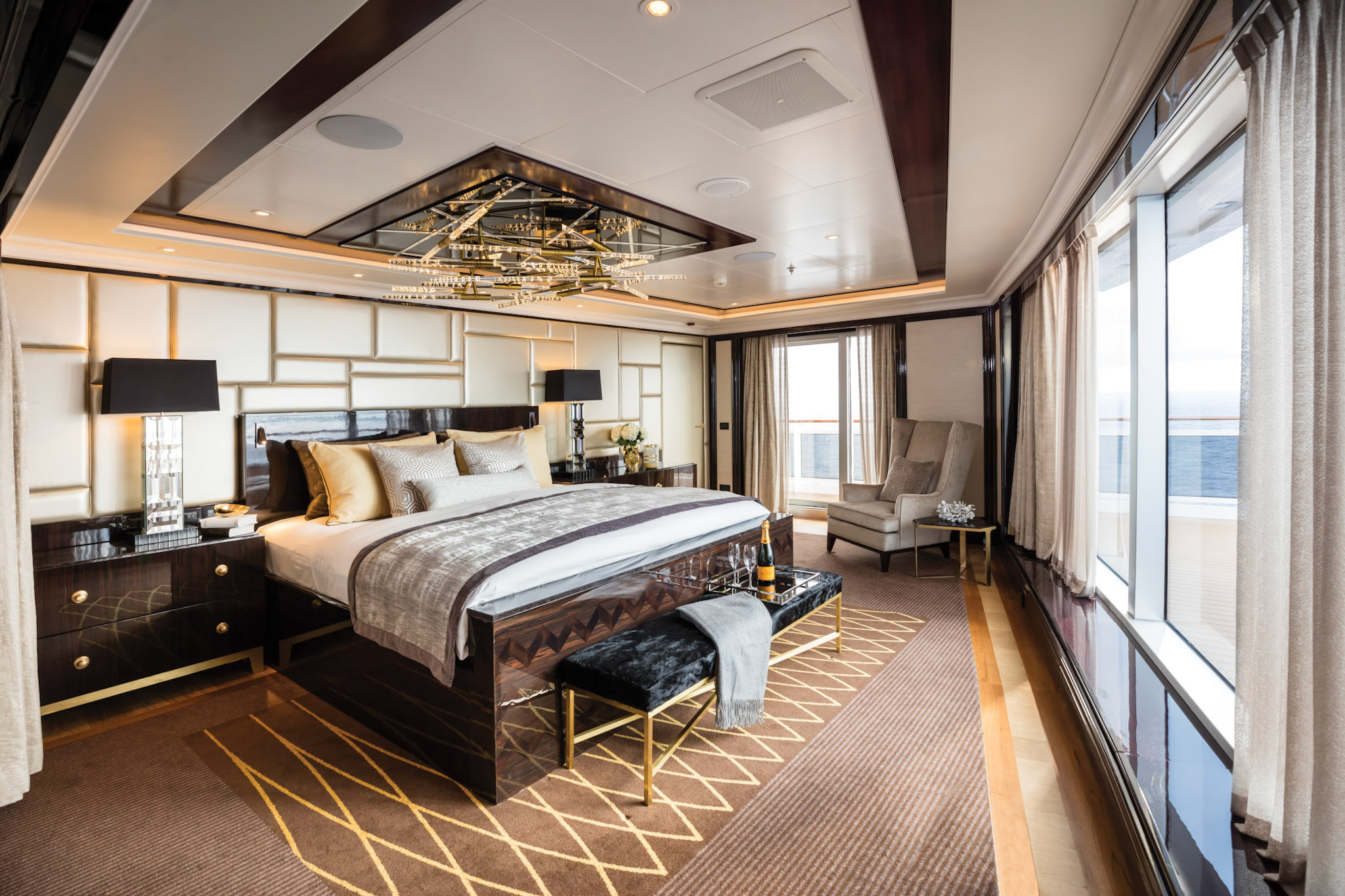 If you're truly seeking the world's most expensive cruise ship cabin, and want the most luxurious, most enormous suite afloat, you'll need to skip the big ships for a smaller one and book Regent Seven Seas Cruises' Regent Suite. It's found exclusively on the 750-passenger Seven Seas Splendor and Seven Seas Explorer. 
The 4,443-square-foot suite has everything you could imagine: sophisticated and expansive living room with dining table, full bar area and Steinway grand piano; two bedrooms that sleep up to six; and two private balconies, one with a mini hot tub. But it's notable for the ultra-luxe amenities you never would have dreamed to include: a huge gold bathroom with two heated loungers; private spa with sauna, steam room, and Jacuzzi tub and unlimited, complimentary in-suite spa treatments; original lithographs by Pablo Picasso; and a $200,000 handcrafted Vividus bed made with horsetail hair.
Of course, suite guests get nearly everything included once they've paid the multi-thousand-dollar price tag. First- or business-class airfare, private airport transfers, private car and driver in port, pre-cruise luxury hotel, butler service, in-room dining from specialty restaurants, and in-suite cocktail party for eight all come standard with the Regent Suite. All guests on Regent Seven Seas' all-inclusive ships receive complimentary drinks, tips, Wi-Fi, and shore excursions.
Need more help picking the perfect cruise room? Learn more about how to choose a cruise ship cabin.