Tired of the same old hum-drum, ho-hum cruise cabins? If you're itching for something outside the norm, we can help.
Here, we've rounded up some of the cruise industry's most quirky, lavish, interesting and just plain fun staterooms. Although it isn't an exhaustive list, it's a great place to start if you're trying to find memorable accommodations.
1. Family Suites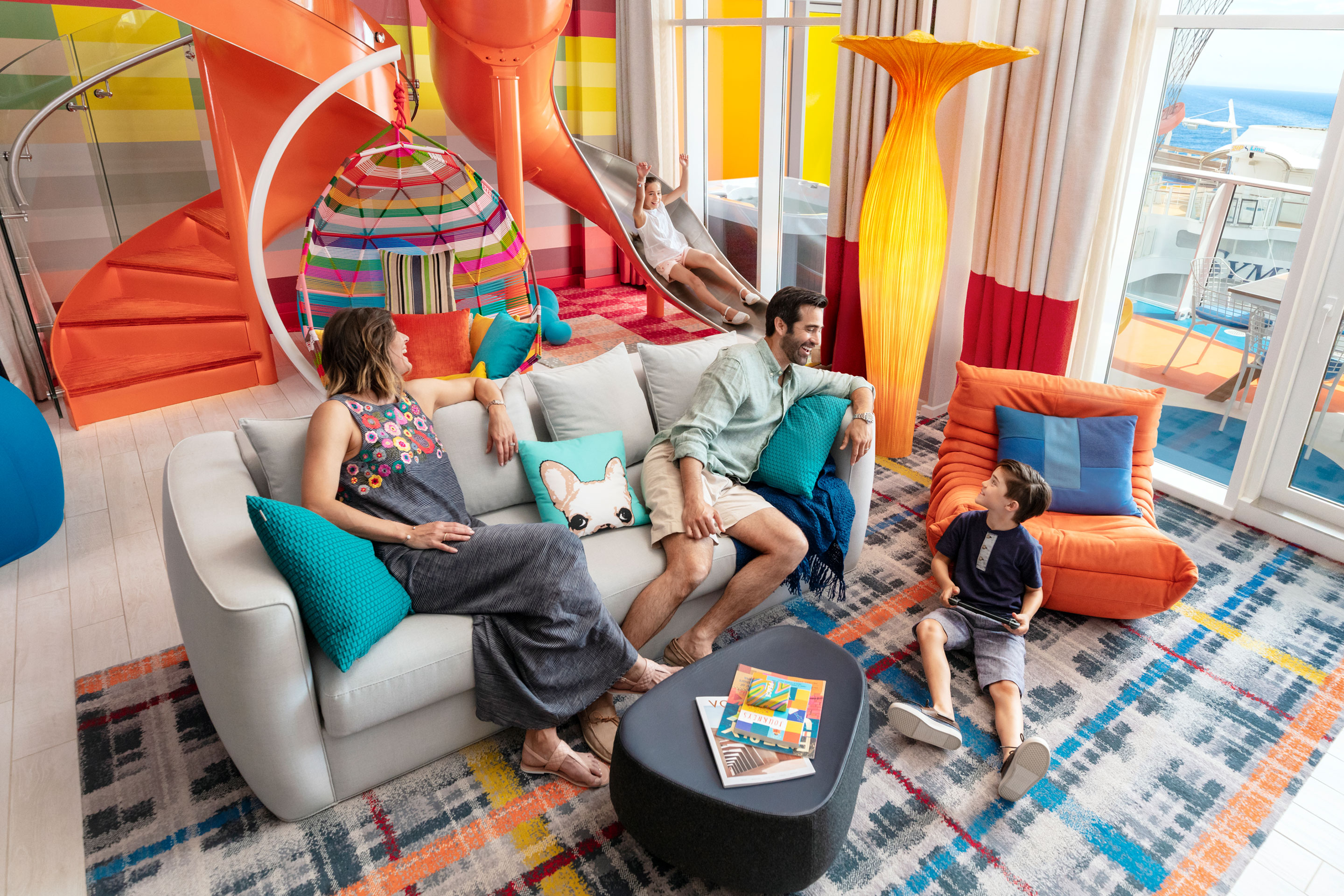 If you're traveling with kids and want to ensure your cabin has plenty of space and a child-friendly setting, check out rooms designed specifically with families in mind.
The most lavish is Royal Caribbean's Ultimate Family Suite, which debuted on Symphony of the Seas and is also available on Spectrum of the Seas. Sleeping up to eight people across two decks, the space offers separate bedrooms and bathrooms for parents and kids, as well as a gaming area, a living room with a chair swing and a slide that rises two floors.
Carnival Cruise Line also features notable Family Harbor staterooms on several of its ships, including Mardi Gras, Carnival Horizon, Carnival Vista, Carnival Panorama and Carnival Celebration. In addition to family-friendly amenities, these cabins entitle passengers booked in them to access a special lounge that provides daily breakfast and snacks.
Parents can also take advantage of free alternative dining for their kids in most for-fee onboard restaurants and one free night of babysitting in the kids club.
Family Harbor rooms are available to book in all standard cabin categories -- insides, outsides, balconies and suites -- but we find the suites to be the most impressive.
2. Suite Enclave Staterooms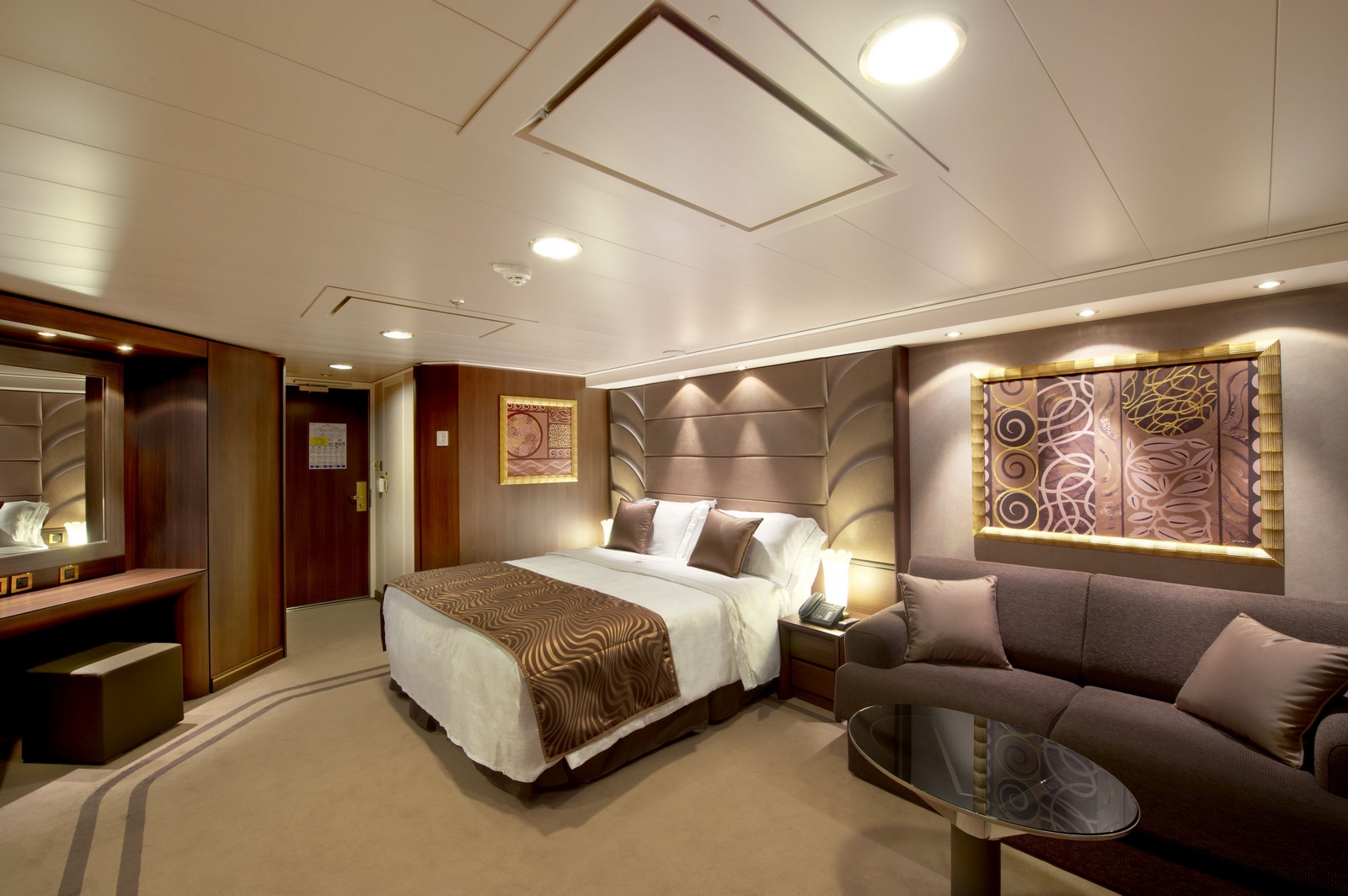 Suite enclaves have been around for years, offering a ship-within-a-ship experience for passengers who prefer the amenities of a large vessel but the solace of a small one.
Key shoutouts in this category go to Norwegian Cruise Line's The Haven and MSC Cruises' Yacht Club, both of which grant passengers priority boarding and the use of exclusive pool, sun deck, bar and restaurant spaces, as well as the services of a butler and concierge.
Staterooms in both lines' enclaves range from spacious to positively palatial, with Garden Villas (NCL's largest accommodations in The Haven, found on six ships) each boasting three bedrooms, 3.5 bathrooms (one with a hot tub), in-cabin wet bar, living room with entertainment system and baby grand piano, sauna and private sun deck.
Meanwhile, some of MSC's Yacht Club suites come with two decks' worth of space, and all include free Wi-Fi, access to the onboard spa's thermal suite and complimentary drinks (zero-proof and alcoholic) in all Yacht Club areas -- including in-suite mini-bars.
The Haven can be found on about one-third of Norwegian's ships, while the Yacht Club exists on slightly less than half of the vessels in MSC's fleet.
3. Lanai-Style Cabins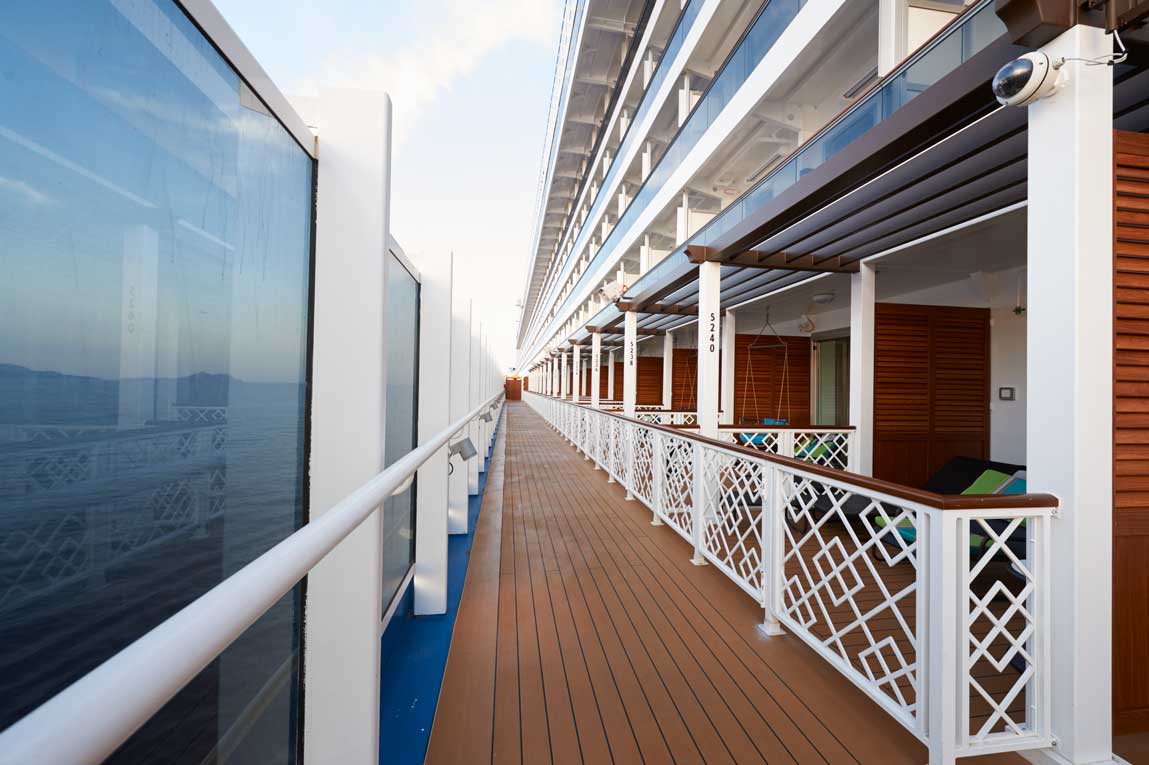 Want a balcony view without feeling confined? That's exactly what Holland America's lanai-style cabins -- found on Amsterdam, Maasdam, Rotterdam, Veendam and Volendam -- bring to the table.
Set up similarly to balcony staterooms, these feature glass doors that open directly out on the ship's promenade deck, allowing stroll-seeking passengers quick access, along with fresh air and ocean views.
Carnival's Havana Cabana Patio rooms, found on the line's Vista-class vessels, offer a similar experience, featuring direct walk-out access to a large swath of deck.
However, because the Havana Cabana cabins are in an exclusive area (similar to a suite enclave), the deck space isn't open to the ship's general population.
Although these types of cabins are outfitted with tinted glass and curtains, some passengers might still feel a little weirded out by the foot traffic that will pass by. If you're a stickler for privacy, you might want to steer clear.
4. Bow- and Stern-View Suites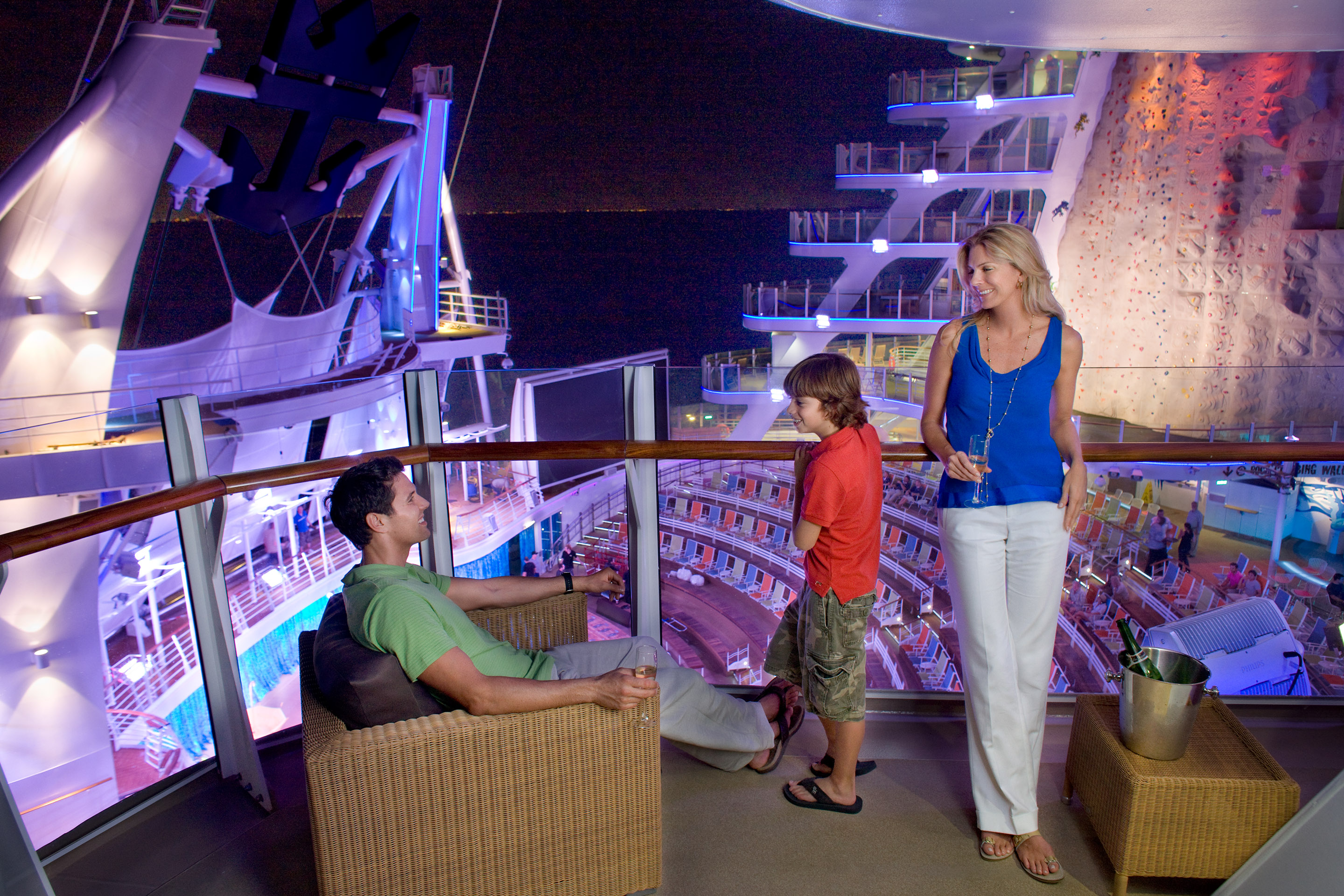 Sure, balconies are fantastic for ocean views, but sightlines can be limited by the verandas above, below and on either side of yours if you book a standard balcony stateroom.
If exclusive, sweeping vistas and romantic sunsets are what you crave on your next at-sea vacation, bow- and stern-view suites are worth consideration.
Just about every modern cruise ship has a limited number of these coveted cabins at the aft (rear), showcasing spectacular wake-view vantage points, often from corner or wraparound balconies or floor-to-ceiling windows, depending on the cabin type booked.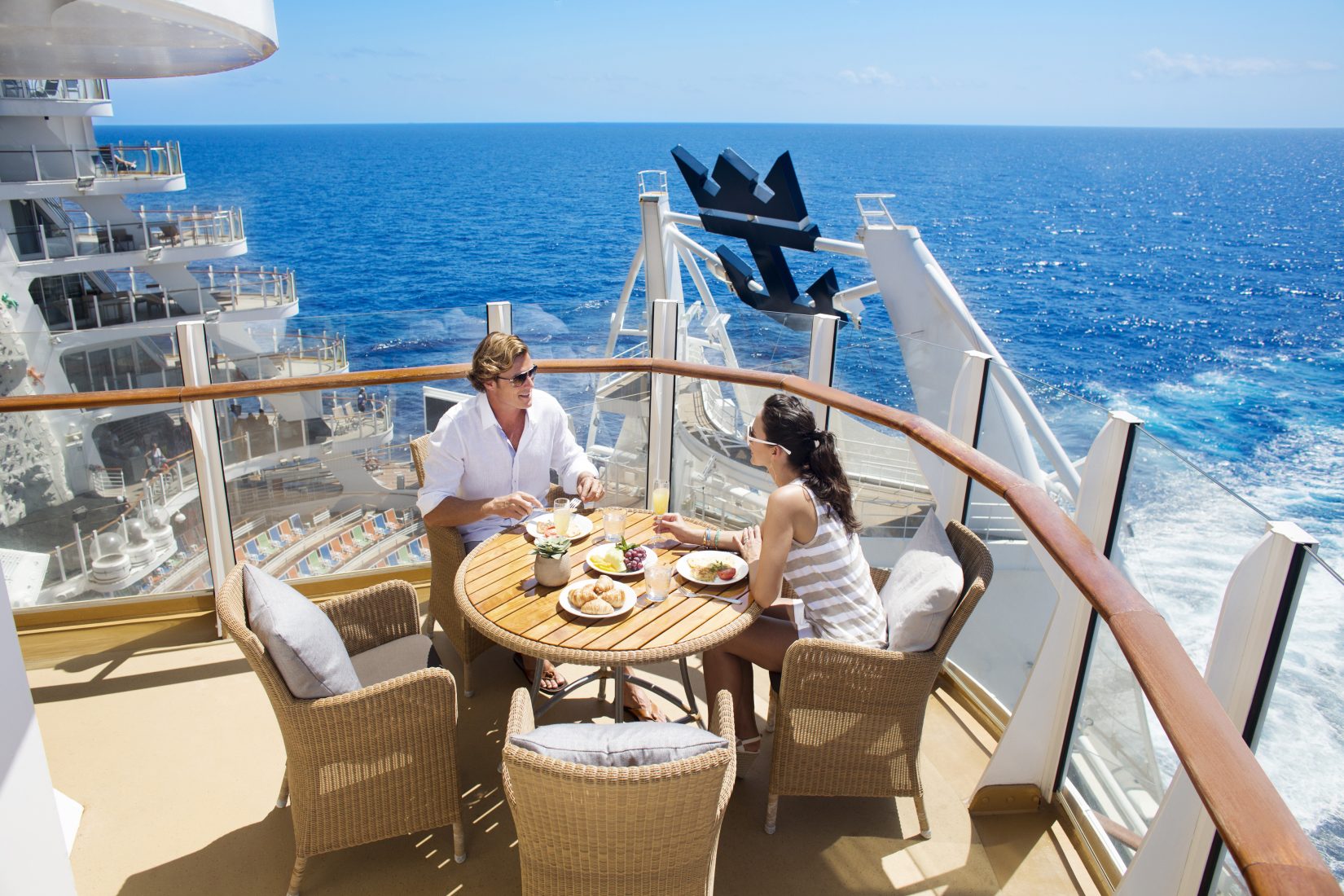 One noteworthy example is Royal Caribbean's AquaTheater Suites, which provide a bird's-eye view of acrobatic and high-diving performances at the Oasis-class ships' outdoor AquaTheater, where the wake serves as an awe-inspiring backdrop.
Somewhat more limited -- and, therefore, more in demand -- are forward-facing rooms, such as the Iconic Suite on Celebrity's Edge-class ships.
Situated just above the bridge, this suite affords cruisers the same perspective as the captain and officers steering the ship. It also comes with 1,892 square feet of space with a balcony that's nearly three times the size of most standard staterooms, and extras like priority embarkation, butler service, a private hot tub and complimentary in-cabin drinks.
5. Faux Balconies and Portholes
If your budget limits you to inside cabins, there are options that can help to make you feel less claustrophobic during your voyage.
Magic Portholes, first introduced on Disney Cruise Line's Disney Dream and Disney Fantasy, are small, round LED screens that resemble real portholes and offer ocean- and beach-themed scenes and even appearances by familiar Disney characters, such as Rapunzel or Scuttle and Flounder of "The Little Mermaid."
Building on the idea several years later, Royal Caribbean rolled out Virtual Balcony cabins -- interior rooms, each with a floor-to-ceiling LED screen that shows realistic ocean views. These staterooms are found on most of the line's newest vessels, as well as Navigator, Explorer and Voyager of the Seas.
6. French Balconies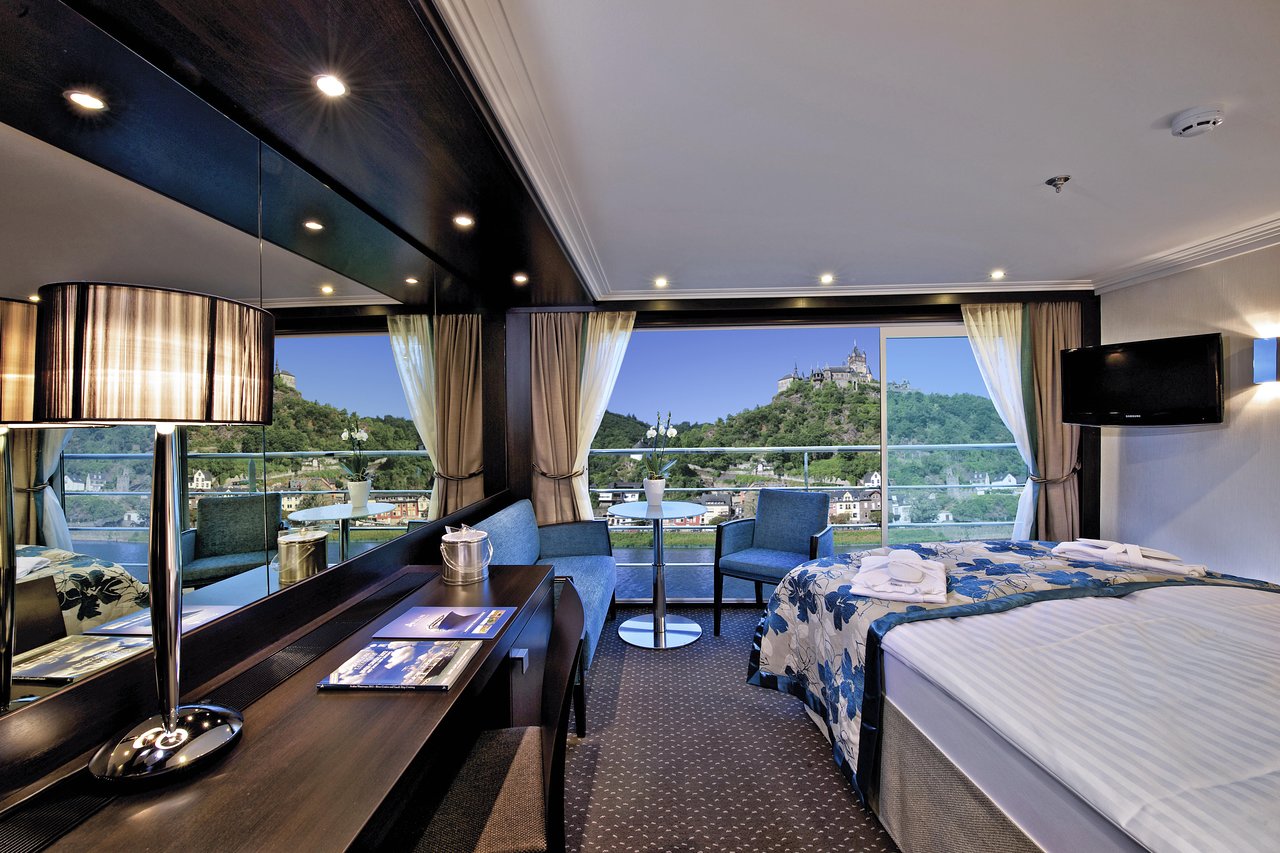 On early cruise ships, balcony staterooms were a rarity. Although they now make up a large portion of modern vessels' accommodations, it was, surprisingly, the river cruise sector that introduced the industry to the concept of French balconies -- large windows that open but don't allow passengers outside, rather than small, separate outdoor areas.
Traditional balconies are generally a no-go in river cruising because they take space away from rooms that are already tiny, due to width restrictions that allowed river vessels to fit through narrow canals along the rivers they sail.
Avalon Waterways solved the problem by introducing sliding-glass doors instead of windows on a slew of new riverboats it was constructing, touting the ability for passengers to enjoy fresh air without sacrificing square footage.
Uniworld followed, building river ships with windows that raised and lowered with the push of a button -- something Celebrity Cruises adopted on its oceangoing Edge-class ships in the form of its Infinite Verandas.
7. Spa Cabins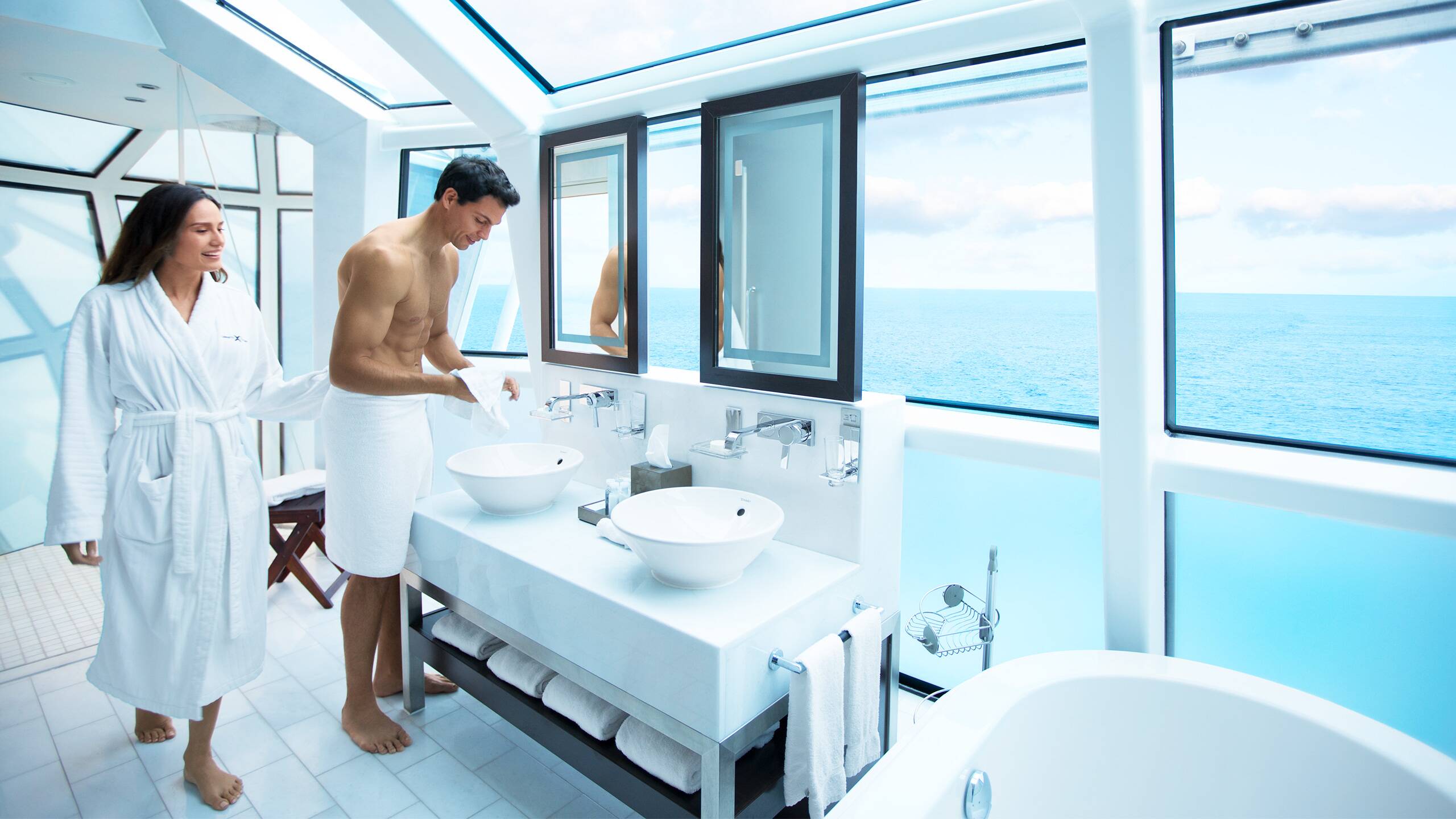 Most major cruise lines -- including Carnival, Celebrity, Holland America, Norwegian and Royal Caribbean -- include spa cabins on their lists of stateroom types, as do less-mainstream brands like Costa, Seabourn and Azamara.
These accommodations are often located near each ship's onboard spa and include special amenities like infused water and fresh fruit delivered daily, as well as in-cabin aromatherapy diffusers and fitness equipment, such as yoga mats or exercise balls.
Other perks might feature complimentary access to the spa's thermal areas (which usually requires the purchase of a treatment), discounted spa services and even the ability to dine in exclusive spa-themed restaurants that specialize in healthier fare.
8. Solo Cabins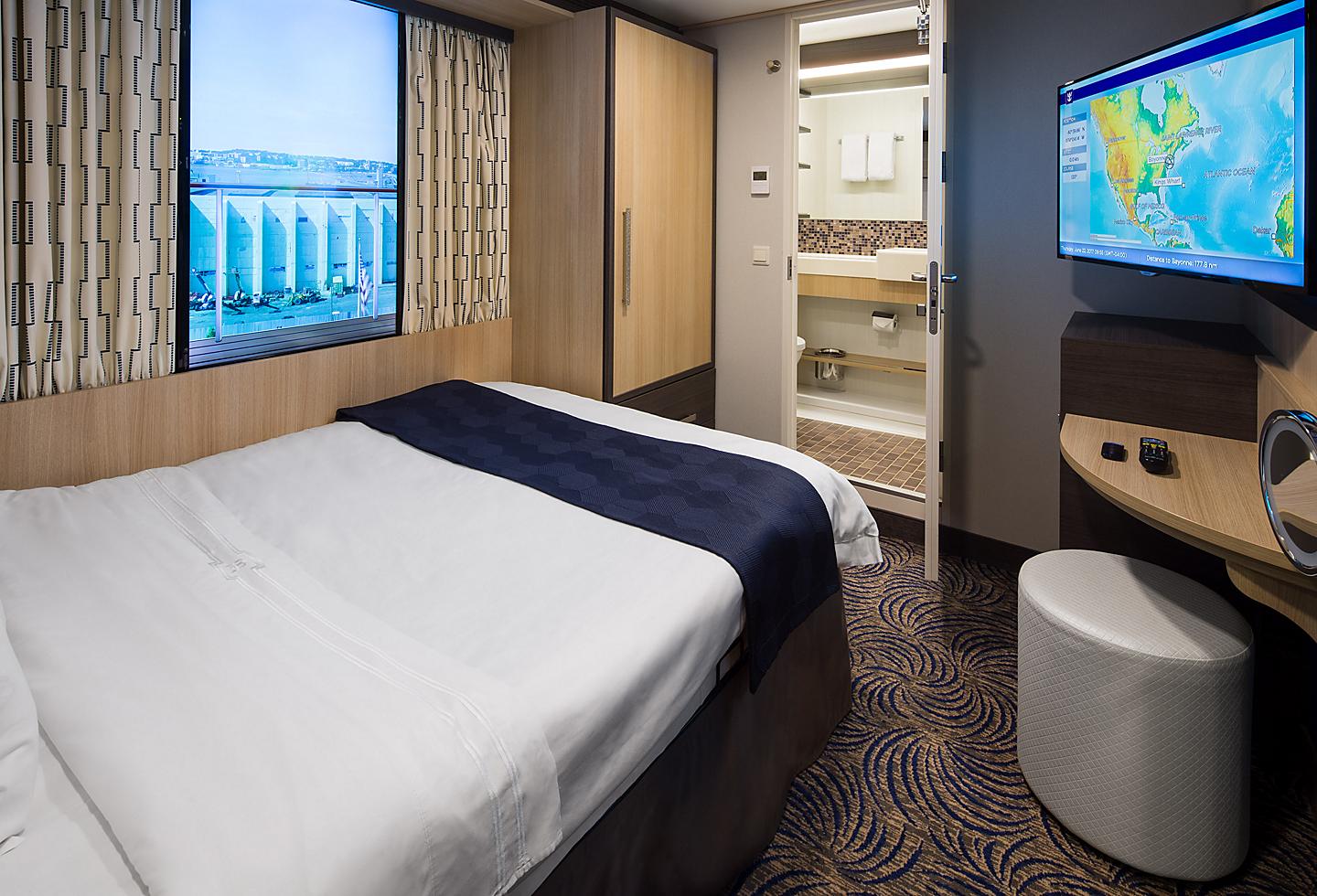 For those looking to cruise by themselves without having to pay a single supplement, ships with built-in accommodations for singles are key since most cabins are designed for double occupancy. (Your cruise line will make sure they get their money, even if you're the only person booked in your room, meaning you could end up paying two cruise fares to stay in a regular cabin.)
The first mainstream cruise line to cater to individual cruisers was NCL, which debuted Studio rooms on Norwegian Epic and provided passengers in associated bookings with access to a private lounge for those cruising alone.
Due to the success of the studios on Epic, the line also included solo cabins on all of its subsequent vessels (except Norwegian Joy) and added them to existing ship Pride of America, which sails around Hawaii.
More cruise lines quickly followed suit, with Celebrity, Cunard, Holland America, MSC, Norwegian, Royal Caribbean and others offering cabins for one in a variety of compact layouts.
9. Indoor-Facing Balconies and Cabins With Windows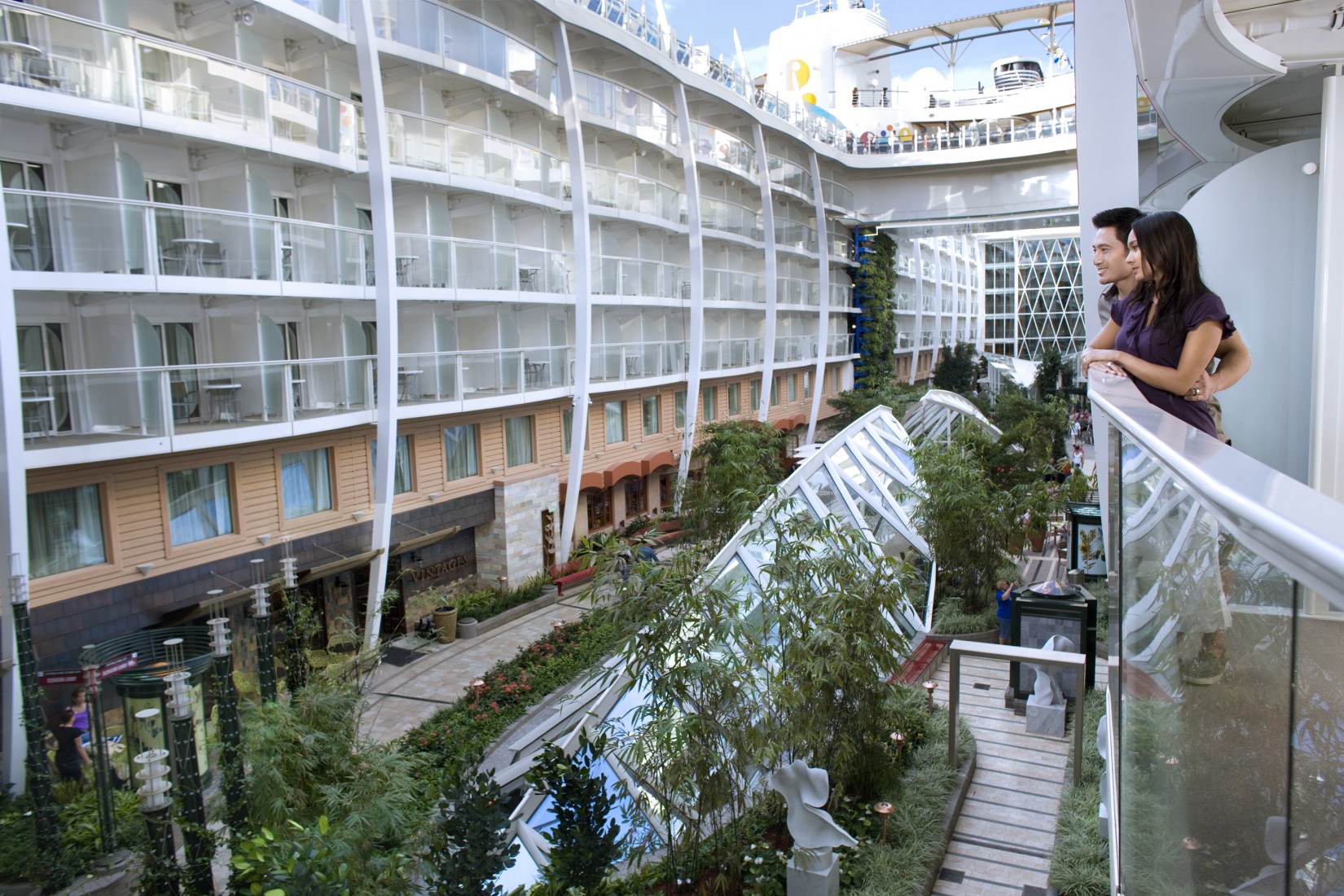 Royal Caribbean was the pioneer of indoor-facing windows and balconies -- cabins with windows or small terraces that don't actually face outward to the ocean.
The Royal Promenade -- an interior public space lined with restaurants, bars and shops, reminiscent of a mall-style thoroughfare -- was new with the launch of the line's Voyager-class ships. Further classes, including the Freedom and Oasis Classes, retained the area, along with its inside-facing cabins that look down over all the comings and goings through bow windows that neither open nor offer views of the outdoors.
When Oasis of the Seas sailed onto the scene, it was the largest ship afloat and offered seven distinct onboard neighborhoods, including Central Park -- which is home to bars, restaurants and thousands of live plants -- and the Boardwalk, where cruisers can snag ice cream, play arcade games and ride a carousel.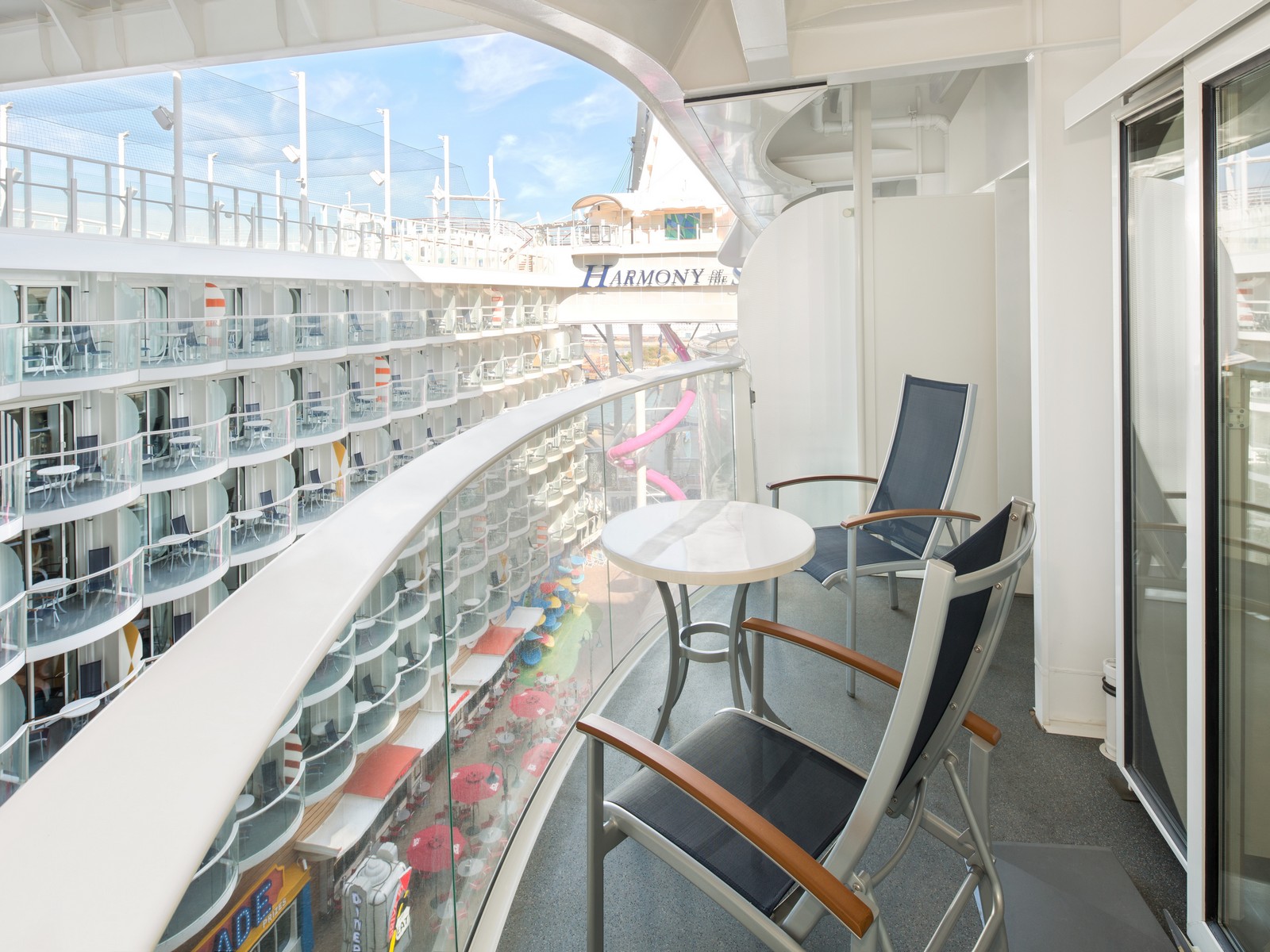 Both Central Park and the Boardwalk were built with one other curiosity -- balcony staterooms that face inward, providing views of plant life in the former and the hustle and bustle of a carnivalesque atmosphere in the latter.
These types of rooms can be a bit noisy, and the views certainly aren't as peaceful, but if you'd like a little more space and a view that won't make you feel as cramped as you might in an interior room, but at a fraction of the price of traditional balcony accommodations, this could be the way to go.
10. Quirky Cabins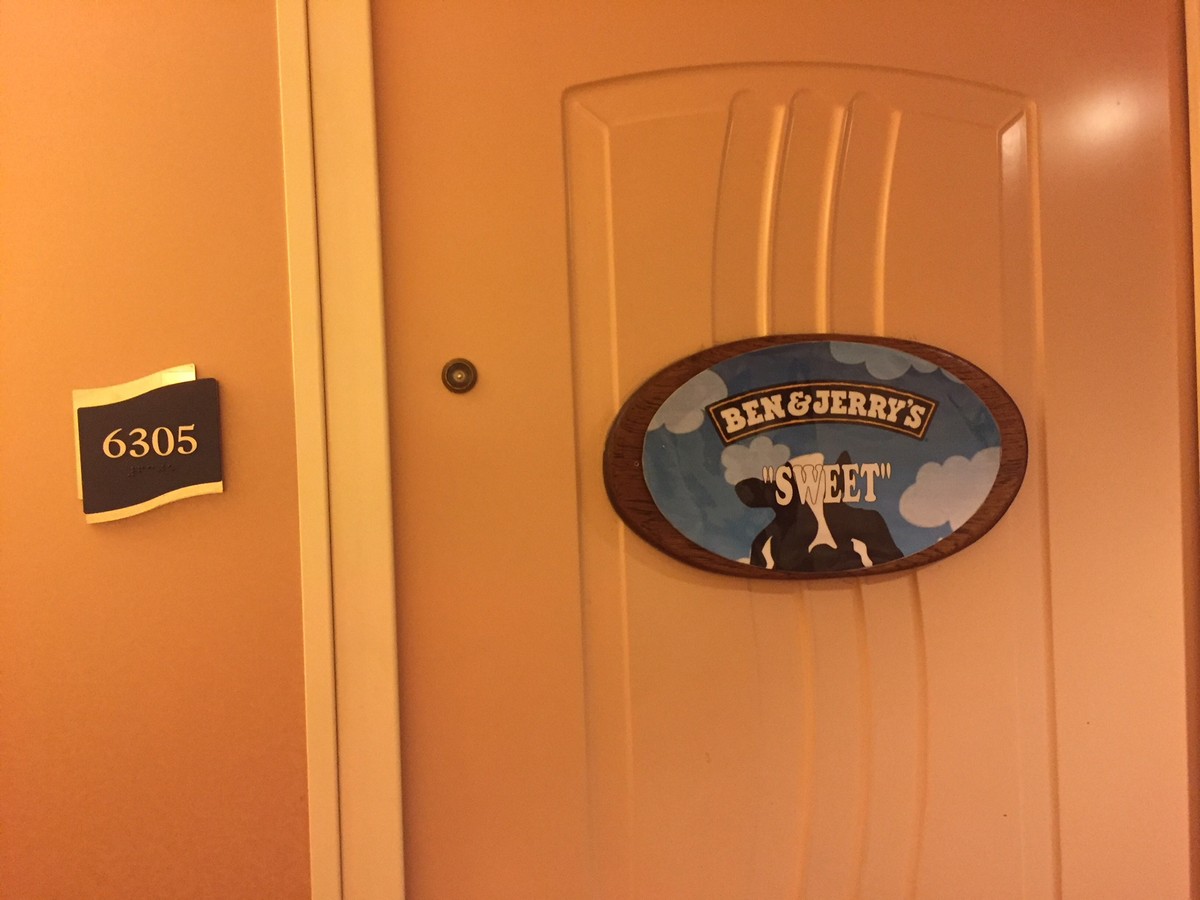 Speaking of Royal Promenade-facing "outside" cabins, there's a particularly special one on each of the three ships in Royal Caribbean's Freedom Class: the Ben & Jerry's "Sweet."
When Ben & Jerry's was constructed, it was topped by two cow statues that face out over the Royal Promenade. What the cruise line didn't anticipate was that the cows' behinds would block the view from the window of the cabin immediately behind them.
To make up for the faux pas, whoever ends up booking that cabin receives access to the same private lounge as cruisers booked in actual suites, as well as seven coupons (per person) for free ice cream to use during the sailing.
However, taking the title of quirkiest cabin at sea is Disney Cruise Line, which has a dedicated stateroom for Pepe the King Prawn (of "Muppets" fame) on Disney Dream and Disney Fantasy.
Although cabin number 5148 1/2 is not available for booking (probably because it's designed for a fictional shrimp), you can still visit it while solving mysteries via the ships' Midship Detective Agency -- an interactive game that will have you hunting for clues.
On Pepe's door, you'll find a bunch of bulletins, as well as a note with a number, inviting you to call his cabin for a chat. If you dial him from any house phone or the one in your stateroom, you'll be able to select from a numbered list of options, during which Pepe will crack jokes, tell your fortune or offer dating advice.