MSC Yacht Club is a special tier of rooms and services within MSC cruise ships. Think of it like "a ship within a ship." MSC Yacht Club is the ultimate in luxury for MSC cruisers.
This all-inclusive style of cruising includes ungraded suites, personalized service, and dedicated venues onboard, such as a private lounge, restaurant, and sundeck area. 
The premium experience also extends to customized port experiences as well as unique amenities at Ocean Cay Reserve, MSC's private island in the Bahamas.
Here is what to expect with MSC Yacht Club.
Booking a MSC Yacht Club Cabin
Image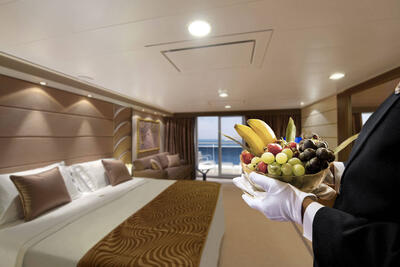 When booking a cruise, MSC offers guests several options to enhance their cruise experience, and the top level is MSC Yacht Club. Available for select cabins on many cruise ships across the fleet, it provides cruisers with upscale rooms, with more of an all inclusive type experience.
MSC Yacht Club is not a benefit on all suites but rather a select set of cabins within the ship. Surprisingly, there are even some interior cabin options in the MSC Yacht Club level, as well as spacious suites and balcony rooms.
Image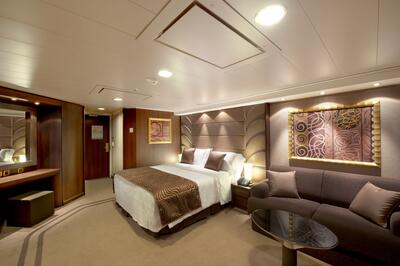 Cabin options in the MSC Yacht Club tier are bigger than the standard ones. For example, an MSC Yacht Club interior cabin is 50% larger than a regular one, although it is three times the price. These cabins tend to be grouped together on the higher level decks of the ship, located close to dedicated MSC Yacht Club amenities.
Overview of MSC Yacht Club Cabins
Image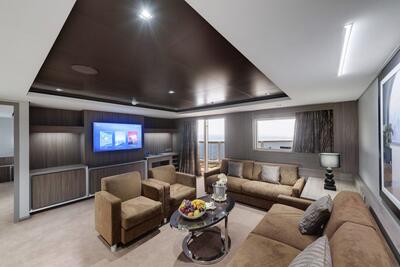 There are several different cabin options within the MSC Yacht Club, although it varies from ship to ship.
MSC Yacht Club cabin categories:
MSC Yacht Club Owner's Suite is one of the best suites in the fleet, with an expansive 1,055 square feet of space, including a separate living and dining area. Its 269 square foot balcony has a private hot tub and lots of room to lounge.
MSC Yacht Club Royal Suite has 667 square feet of space, with separate living and dining space. Its spacious balcony is 355 square feet with a private hot tub. 
MSC Yacht Club Duplex Suite has two levels, with separate dining and living areas. It is 635 square feet, in addition to a 248 square foot balcony.
MSC Yacht Club Deluxe Grand Suite varies from 269-463 square feet, has a separate living area, and a balcony (86-129 square feet).
MSC Yacht Club Deluxe Suite ranges from 269-366 square feet, plus an 86 square foot balcony.
MSC Yacht Club Interior Suite has a sitting area with a total of 226 square feet of space.
What to expect with MSC Yacht Club?
Image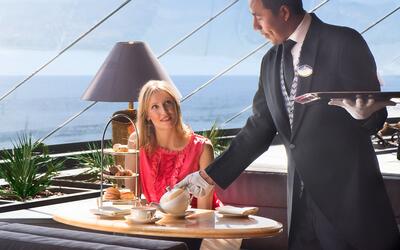 Even before guests step onboard, they will be greeted at the pier by their butler who will provide a guided tour of the ship and escort them to their cabin.
Need help unpacking? No problem, the butler can help with that. Arranging restaurant reservations, a special tour in port, or private shopping, there is no end to the personalized service.
Image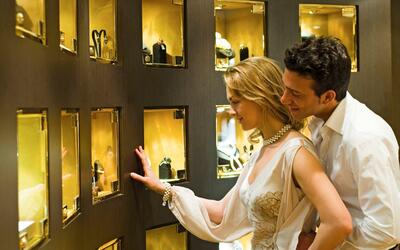 Guests booking MSC Yacht Club cabins can expect elegant decor, with Egyptian cotton sheets, a selection of pillow options, and a stocked mini-bar, all in a cabin in prime locations.
Outside of their stateroom, guests enjoy private, MSC Yacht Club guests only venues. Signature perks include a private restaurant and the Top Sail Lounge, which has panoramic views. A dedicated deck area, the One Pool deck has a swimming pool, hot tub, sun deck and bar. Snacks are available throughout the day on the One Pool deck. 
MSC Yacht Club Benefits
Image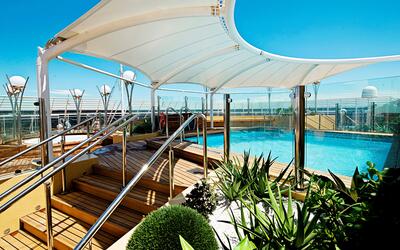 The MSC Yacht Club experience offers a wide arrange of benefits, most included in the cruise fare:
General:
Dedicated priority check-in and check-out, along with priority departure and return on port days
24-hour butler and room service, as well as a dedicated concierge
MSC for Me wristband (where available)
1 free cruise booking change
Custom experiences including onboard shopping and port excursions
Note that for the cruise change, the request must me made up to one month before departure. The new voyage must be within three months of the original cruise date. 
Image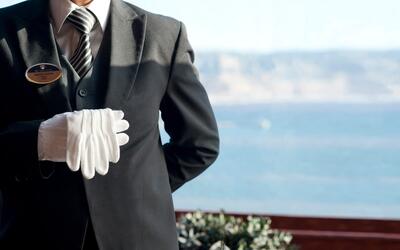 Cabin
In room welcome package (Prosecco + chocolate)
Memory foam mattresses, selection of pillows, bathrobe, and slippers 
Luggage packing/unpacking service, newspaper directly delivered in cabin on request
Packages / Services
Premium Extra Drink Package (includes all drinks up to 13$ in all ship venues)
Premium Internet package (Browse - 2 devices Unlimited Internet Package)
20% discount on a dedicated specialty restaurant prepaid package
Image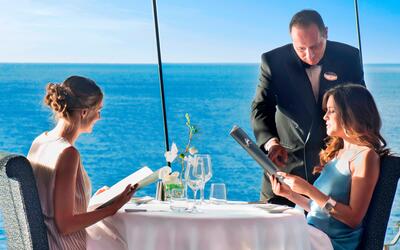 Private Venues
Dedicated, private area of the ship accessible only to MSC Yacht Club guests
Panoramic Top Sail Lounge with bar, afternoon tea service, snacks and live entertainment in the evening
Private and spacious pool deck, whirlpool baths, sunbathing area and an outdoor bar
Gourmet, Yacht Club restaurant with a la carte dining for breakfast, lunch and dinner
Image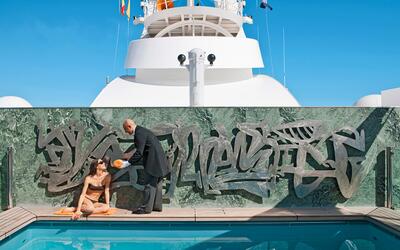 MSC Aurea Spa – MSC's Balinese style spa
Complimentary access to Thermal Suites at MSC Aurea Spa
40% discount on a dedicated Spa prepaid package
10% discount on all spa treatments purchased on board
Image
MSC Yacht Club - Ocean Cay Reserve
Image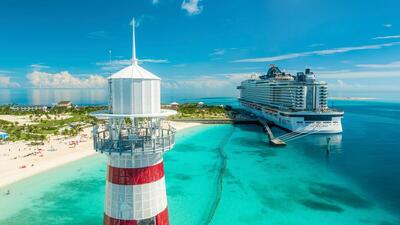 Guests of MSC Yacht Club also enjoy special access at Ocean Cay Reserve, MSC Cruises' private island in the Bahamas. An idyllic paradise that offers cruisers the opportunity to get an authentic island experience with 8 beaches and water activities that feature the restored marine life of the area.
MSC Yacht Club guests enjoy access to Ocean House Beach, an exclusive area with a private bar and premium food with butler service. Guests can also rent Ocean View and Beachfront cabanas for the day, which includes lunch, floating beach mats, and snorkeling equipment. The Ocean View cabana starts at $399, while the Beachfront is $449. It is also important to know that each cabana can hold six guests. 
Ships with MSC Yacht Club 
Image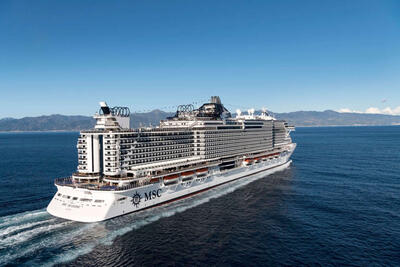 MSC Yacht Club experience is available on most of the newer ship classes, although cabin options and locations vary:
Seaside Class
MSC Seashore
MSC Seaside
MSC Seaview
MSC Seascape (to be launched in November 2022)
Image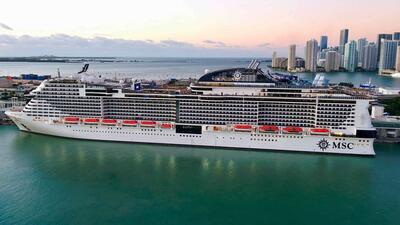 MSC Bellissima
MSC Grandiosa
MSC Meraviglia
MSC Virtuosa
Image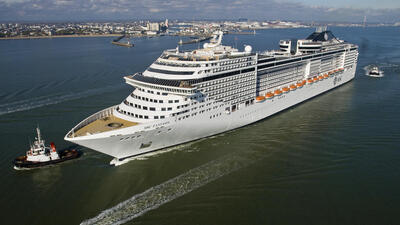 Fantasia Class
MSC Divina
MSC Fantasia
MSC Preziosa
MSC Splendida
Image
World Class
MSC World Europa (to be launched in December 2022)
Is MSC Yacht Club Worth It?
Image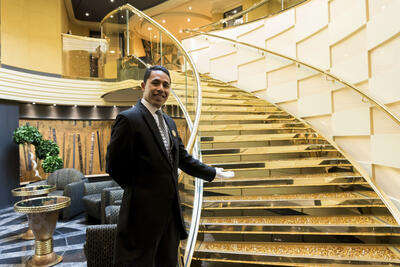 It depends on your vacation style and budget! If you enjoy splurging on vacation to be pampered and enjoy luxurious amenities, it is absolutely worth it! There is also so much included with the Yacht Club upgrade, you won't have to worry about additional add-ons like you would booking a regular cabin.
That being said, MSC does offer other levels of cruise fares, like Fantastica and Aurea, that might fit the average cruisers budget while still offering some upgraded experiences and services, such as one free cruise change, complimentary room service breakfast, and priority boarding.