Crew members live on cruise ships while they are working onboard, and they have an entire area of the ship just for them.
How much different are crew areas from guest areas, and what do these facilities look like?
In some cases, crew areas are a lot like guest areas because some crew have guest privileges. But not all crew have these privileges, so cruise lines dedicate certain parts of the ship just for crew.
Image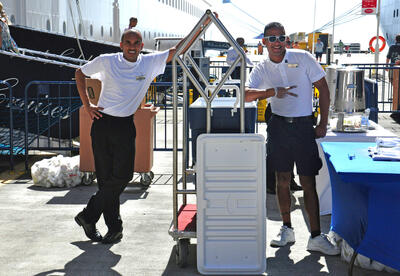 Depending on the ship's size and age, how much space is reserved for crew members will vary. Some of the newer ships have upgraded facilities. Icon of the Seas, for instance, will have an entire neighborhood dedicated just to crew members. For the first time ever, they'll have windows in their crew buffet, as well as a ton of other amenities. 
On many ships, the lowest decks are reserved for crew members only.  This is the part of the ship that has critical cruise ship functionality, such as the engines or waste management.  
The lower decks are also home to most crew cabins. It is not uncommon for crew cabins to be located on decks below the water level, and sharing a cabin with another crew member is commonplace.
Here's a look into the crew areas onboard cruise ships. 
How do cruise ship employees get around crew areas? 
Image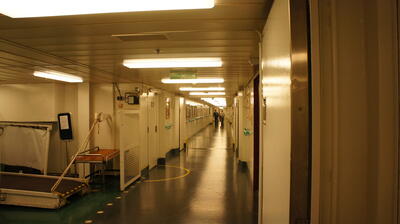 Crew areas are not easily accessible from guest areas, but they are all interconnected on their own network of walkways.
Many ships have a large thoroughfare that runs the length of the cruise ship from bow to stern. On Royal Caribbean cruise ships, this is often referred to as "I-95" because the large hallway reminded someone of the highway that runs up and down the East Coast of the United States.
Up and down the corridor are important notices and announcements pinned to the wall, so crew members can quickly glance at them as they go about their day.
Image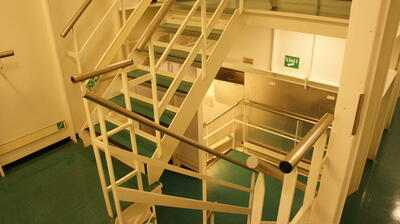 Not only are these corridors ways to get around the ship, but they can also be temporary storage. Often luggage, garbage, and supplies are stored in these corridors until they can be moved somewhere else.
There are also elevators and stairwells reserved just for crew members, so you won't find cabin stewards or dining room staff hanging out in the guest elevator banks. 
Guests can sometimes get a glimpse of these areas when they go to the ship's medical facility or disembark on a gangway when going ashore in port.
What are cruise ship crew cabins like?
Image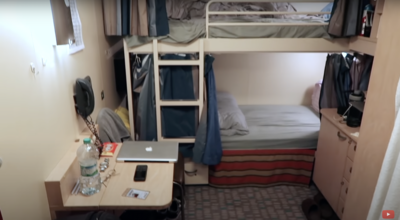 Depending on your rank and title, the cabins given to crew members vary greatly. 
In general, though, two crew members share a cabin. And unlike guest staterooms, crew cabins are more utilitarian. There are fewer decorations, and they are smaller in size compared to a guest room, even compared to the smallest inside cabins onboard! 
Bunkbeds are the usual type of bedding, as they provide more floor space. Since these rooms are typically very small, every square foot of space counts! Some cruise ships add curtains to each bunk bed to provide a little more privacy for the crew members.
Just like a guest room, there is shelving, storage space, a television, a cooler fridge, and a private ensuite bathroom. 
For crew members who achieve a higher rank or title, a larger room may accompany their status. Sometimes, this may mean a room with a porthole window or even their own room! Even so, sometimes private crew cabins are connected via a jack-and-jill bathroom. 
Cruise ship captains have the most spacious accommodations
Image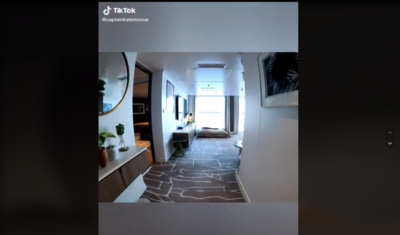 In August 2020, Captain Kate McCue, the current captain of Celebrity Beyond, posted a TikTok showing what her living quarters were like while she was the captain of Celebrity Edge. 
As soon she opens the door to her space, it becomes evident that the Captain's Quarters are unlike any other crew cabin. She's greeted by tons of natural light due to the large windows of the ship's infinite veranda. 
Plus, the large living space is furnished with a couch, television, media console, and coffee table. 
Image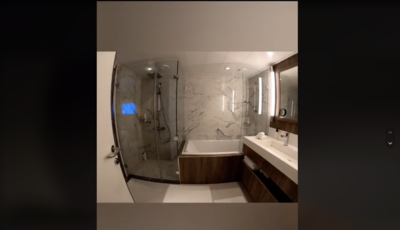 As she moved into the bedroom, we find that she has her own king-sized bed, nightstands, and another television, and the ensuite bathroom feels nothing like a standard cruise ship bathroom. In fact, it may even marvel some suites and features dual sinks, a rain shower, and a soaking tub! 
Inside the main galley, there's a spacious table that can seat six guests, as well as another television and built-in shelf that contains some of Captain McCue's knickknacks.
While the Captain's Quarter lacks a fully equipped kitchen, it does have a full-sized refrigerator that contains water and cat food for her elf sphynx cat, Bug. The drawers of the galley are also packed with snacks, such as candy bars and gummy bears.
Image
Located adjacent to the main galley is Captain McCue's office, which connects directly to the Bridge. This means that she has one of the shortest commute times ever! Other crew members may have to navigate from, for instance, the lowest deck to the ship's buffet on Deck 15. 
Read more: Take a look inside a cruise ship captain's living quarters
Do crew members have their own bars?
Image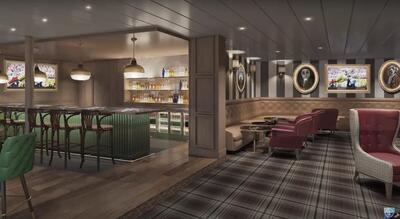 Yes! When crew members are not working, they have their own bars they can relax in, too.
Similar to guest bars, these are places for the crew to unwind and enjoy a cocktail or beer. They are usually less themed than guest bars. They, for instance, might lack the nautical theming of Royal Caribbean's Schooner Bar or the upscale feel of Celebrity Cruises' Martini Bar. 
As mentioned earlier, Icon of the Seas will feature an entire neighborhood for her crew members to enjoy, where you will be able to find some of the best crew bars at sea!
"One of the things that we've enhanced is what's called The Clubhouse," said Robert Hines, Newbuild Human Resources Manager for Royal Caribbean International.
Image
"It's an area at the front of the ship, and it's our space to really chill out and relax...It's our space to really bond as a team."
Here, Icon's crew members will be able to grab anything from a coffee to a cocktail while relaxing in a massage chair or challenging a friend to a game of pool, foosball, or ping pong. 
There will also be a crew bar with separate indoor and outdoor spaces that will have forward-facing views. 
Read more: Royal Caribbean is adding the best crew member cabins and areas on its next new cruise ship
Do crew members also eat in the ship's Main Dining Room?
Image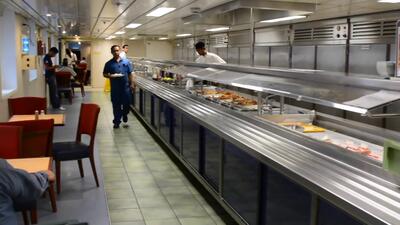 When it's time to chow down, crew members have their own restaurant onboard to enjoy all the meals they need.
The crew mess is the name of the buffet-style restaurant where crew members can dine when off duty.
Just like the ship's buffet that guests experience, crew members line up and go through the line to take the food they want and then find a seat at an open table.
Plus, there are basic beverages included for crew members, such as water, tea, or coffee that can be found here, too. 
Depending on the crew member's status, they may be able to dine at specialty restaurants, depending on availability. They're subject to paying the same cover charges as passengers if they are allowed.  
Crew member gym facilities 
Image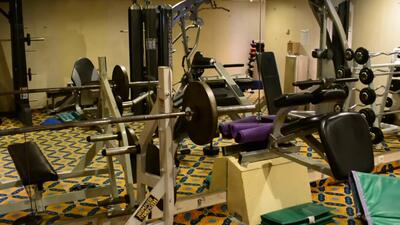 Staying healthy is as important to crew as it is to passengers, and there is a special fitness center just for them.
Sometimes referred to as the weight room or gym, crew members can find free weights and even some machines to use so that they can exercise.
The crew gym does not have as many machines or frills as guest gyms, but some crew members with a higher rank are able to use the guest fitness center, such as those performing in one of their onboard shows. 
Read more: Life working on a cruise ship: Day in a life of a cruise ship crew member