Have you ever wondered what the Captain's quarters are like on a cruise ship?
The captain of a cruise ship is a professional who oversees all onboard operations to ensure that the vessel is safely operating during each and every voyage.
Captain Kate McCue, the current captain of Celebrity Beyond, posted a TikTok in August 2020 showing what her living quarters were like while she was the captain of Celebrity Edge. 
"Welcome to my humble abode," she said as she flung the door to her spacious cabin open, "also known as the Captain's Quarters!" 
Keep reading to see how Captain McCue lived while on Celebrity Edge! 
Who is Captain Kate McCue?
Image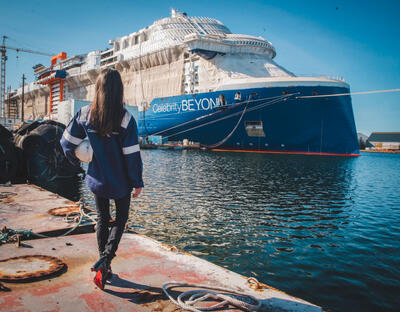 In 2015, Captain McCue became the commanding officer of Celebrity Summit, marking the first time that an American woman had been named captain of a mega cruise ship. At the time, she was only 37-years-old! 
Captain McCue attended college at California State University and graduated with a degree in business administration. One of her first experiences with ships at sea was during an internship for Chiquita Brands International, where she worked on one of their cargo ships and helped transport bananas between Ecuador and Los Angeles.
After graduating, she moved to Hawaii and worked as a general deckhand on a catamaran. When she began applying to positions with various cruise lines, it took her about nine months to land an entry-level role with Disney Cruise Line, where she worked as a third mate. 
She moved to Royal Caribbean in 2003, as she was offered a job as a second officer. One year later, she was promoted to first officer. 
Image
Captain McCue knew that if she wanted to take command of a vessel one day, she would need to further her education; therefore, she earned her Chief Mate and Master's License from the Maritime Institute of Technology and Graduate Studies in 2009. 
By 2011, she was second-in-command for Royal Caribbean and was working as a staff captain. Finally, in 2015, Celebrity Cruises asked Captain McCue to consider applying for a captain's position, and she accepted the job of commanding officer for Celebrity Summit in September 2015, making her the first first female commanding officer of a mega ship in the United States!
Today, she is captain of Celebrity Beyond, the cruise line's newest ship, and shares glimpses into her life as a cruise ship captain on her social media platforms. She has amassed 3.5 million followers on TikTok, as well as a total of 8.6 million likes!
"I truly love your content," wrote TikTok user Stacy Robbins, "You're so educational and passionate when you speak of destinations, the ship and of course your wonderful staff." 
Read more: Who is Captain Kate McCue?
Main living space
Image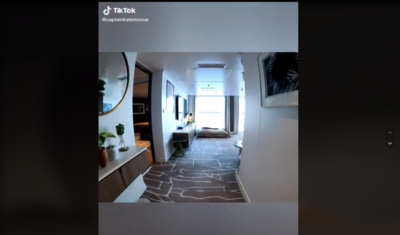 As soon as you walk into the Captain's Quarters on Celebrity Edge, you are greeted by tons of natural light thanks to the large windows of the infinite veranda and, of course, a bed for Captain McCue's cat, Bug Naked! 
Bug is an elf sphynx cat that lives with Captain McCue onboard the ship. In fact, Bug has her own Instagram page with 65.9k followers. 
Image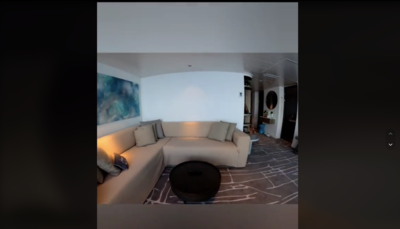 When it comes to furniture, there is a large couch, television and media console, and coffee table, and on one of the built-in-shelves, Captain McCue briefly explains why she said a framed picture of Saint Nicholas: "Because we're superstitious, there's somebody we never travel without; this is our patron saint of seafarers, Saint Nicholas." 
Image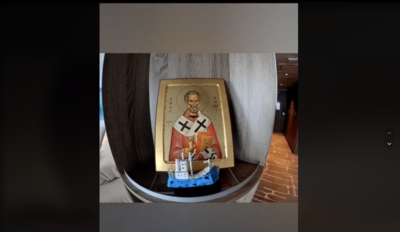 A patron saint is a saint who protects and guides a person or place, and Saint Nicholas' protects those at sea!
Bedroom and bathroom
Image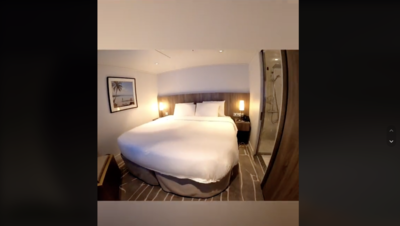 In the bedroom, there is a king sized bed, night stands, and another television. The bathroom, however, is one of the most impressive. It feels nothing like a standard cruise ship bathroom, that is for sure. 
Image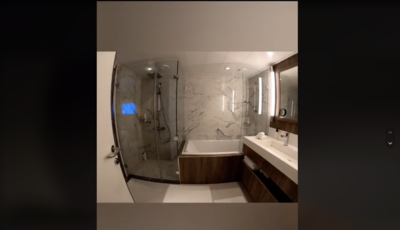 The bathroom, which connects to both the bedroom and primary entry hallway, features dual sinks, a rain shower, and a soaking tub for Bug! There is truly no shortage of space for Captain McCue in this room. 
Main galley and office
Image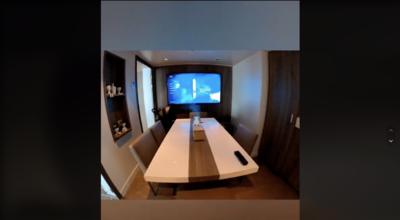 Located across the hallway is the main galley, which is home to Bug's stroller and litter box. There is also a third television! 
The spacious table can seat six guests, and there is a built-in shelf that contains some of Captain McCue's knickknacks, giving the space a more personal feel. 
While she does not have a fully equipped kitchen, she does have a full-sized refrigerator that contains water and, of course, cat food! The drawers of the galley are packed with snacks, such as candy bars and gummy bears. 
Image
Located adjacent to the main galley is Captain McCue's office, which connects directly to the Bridge. Wouldn't we all love to have a commute time as short as Captain McCue's?! 
The Bridge is located at the forward of the ship and is where the ship is commanded. Here, the captain and other crew members carry out navigational duties. "We have a minimum of three very qualified and licensed officers manning the bridge at all times," said McCue. 
"Three different teams rotate every four hours on and eight hours off....[and] the teams are made up of an officer of the watch, assistant officer of the watch and a quartermaster look out."
Read more: This is how to drive a cruise ship
How do other crew members live?
Image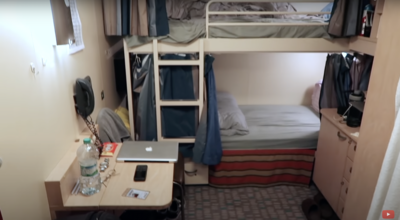 (Pictured above is a screenshot from Chris Wong's YouTube channel of his cabin onboard Oasis of the Seas)
Most crew members do not live as luxuriously as Captain McCue. Oftentimes, crew members will share a small cabin with someone else and not have much personal space, let alone multiple different rooms! Depending on their position, though, they may be able to have their own cabin. 
Chris Wong, a former Assistant Casino Host onboard Royal Caribbean's Oasis of the Seas. posted a cabin tour on his YouTube channel. He shows two bunk beds, each outfitted with a curtain for privacy, as well as a small desk. His cabin mate was one of the dealers in the casino, as those who share cabins often share with someone they work with. 
Image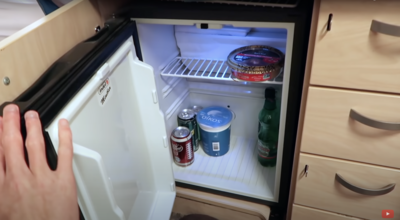 They have a small wardrobe, as well as a mini fridge. And in the bathroom, they make great use of the medicine cabinet storage, as there is not much space elsewhere. 
The stateroom you get comes down to your position. As Captain McCue is the ship's highest responsible officer with decades worth of experience on cruise ships, she has earned the right to one of the best possible spaces onboard. 
If you are interested in learning more about Captain McCue, check out her social media pages, including TikTok and Instagram! She posts content regarding ports of call and operational duties onboard. Once, she even made a post about why she made the difficult decision to cancel a port of call due to unsafe weather conditions.