In an industry dominated by men, Captain Kate McCue is making waves as the first American female captain of a mega cruise ship. McCue is a trailblazer and pioneer in the cruise industry - breaking the gender barrier and proving that women can take leadership roles in the same way that men can. 
In 2015, Kate McCue made history when she became captain of the Celebrity Edge at the age of 37 years old. Captain McCue was also the first commanding officer to sail from a U.S. port following the pandemic shutdown, which left the cruise industry crippled for 15 months. 
Today, Captain McCue is still the only American female captain of any mega ship. 
Born to Sail
Image
Growing up, McCue had aspirations to be a cruise director after she sailed on her first cruise at the age of 12. She remembers distinctly how her father supported her aspirations, but encouraged her to dream bigger. He suggested that she could do anything she wanted, even run the whole ship if that was her dream. 
As a California native, McCue attended college at the California State University's Maritime Academy. She graduated with a degree in business administration while also studying celestial navigation during summer breaks.
During her time at the university, she landed an internship for Chiquita Brands International working on one of their cargo ships. She helped transport bananas between Ecuador and Los Angeles. 
Following her graduation from the maritime academy, she moved to Hawaii to work as a general deckhand on a catamaran. McCue worked hard to gain valuable industry experience while living with her cousins for 6 months.
Professional Experience
Image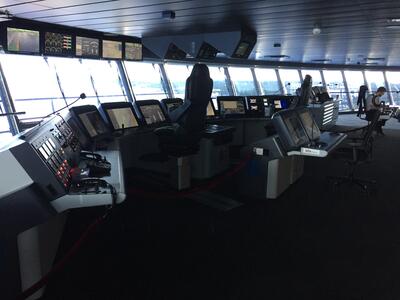 After her time in Hawaii, McCue applied to cruise lines for nearly 9 months before landing a position with Disney Cruise Line. She had an entry-level position as third mate and mainly sailed around the Caribbean. 
In 2003, McCue was offered a job as a second officer for Royal Caribbean, which gave her the opportunity to travel the world. She sailed around Asia, Alaska, Australia, the Middle East and the Mediterranean during her time as second officer.
McCue was eventually promoted to first officer in 2004 for Royal Caribbean, which was a huge accomplishment for the female sailor. 
Image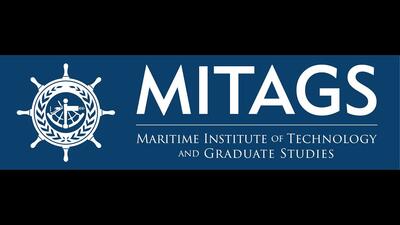 To further her education, McCue earned her Chief Mate and Master's License in 2009 from the Maritime Institute of Technology and Graduate Studies. This brought her one step closer to her dream, as she was now fully qualified to take command of a vessel. 
Royal Caribbean promoted Kate to chief officer, which is considered a senior first officer, and later to staff captain. This promotion placed Kate as second in command for Royal Caribbean in 2011. 
Transition to Celebrity Cruises
Image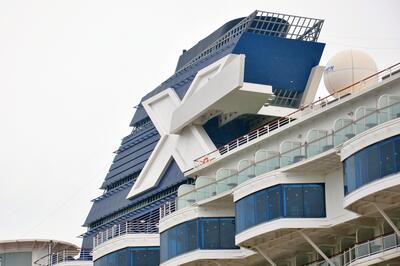 In 2015, Celebrity Cruises (which is owned by Royal Caribbean Cruises LTD) asked Kate to apply for a captain's position. She accepted the highly-coveted role of commanding officer for Celebrity Summit in September 2015.
This role solidified her place in maritime history books as the first female commanding officer of a mega ship in the United States. 
As Captain of the ship, McCue is in charge of navigation, operations, safety and passenger service onboard her vessel. She is also in charge of nearly 1,200 crew members onboard, along with ensuring passengers follow local laws when docked in foreign ports.
Image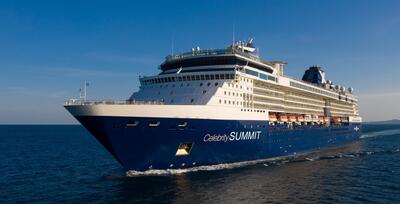 Captain Kate McCue has been the commanding officer onboard Celebrity Summit, Celebrity Equinox and Celebrity Edge since her first captain role with the company in 2015.
McCue is the commanding officer for Celebrity Beyond, the cruise line's newest luxury cruise ship launching in spring 2022. 
A Pioneer in the Industry
Image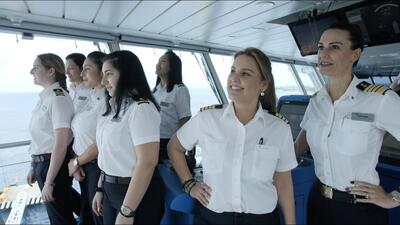 Celebrity Cruises has praised Kate for being a trailblazer in the cruise industry. The cruise line has publicly acknowledged that McCue provided an opportunity to make significant changes to gender equality at the company. 
In a recent press release, Celebrity Cruises expressed that McCue has inspired people around the world, from all walks of life, to follow their dreams. CEO and President of Celebrity Cruises stated, "Captain Kate has transcended what it means to be captain as a voice and example of inclusivity, diversity and change. She constantly thinks about how she can go above and beyond."
McCue has also gained notoriety online, as she has more than 3.5 million followers on TikTok, Instagram and YouTube. Captain Kate is giving her followers a glimpse into the life of a cruise ship captain. During construction of the Celebrity Beyond, she provided viewers with behind-the-scenes footage of the ship's construction. 
She's even gone as far as to hop on TikTok to explain why the Celebrity Beyond was skipping a port of call due to safety reasons. On June 28, 2022, she posted a video walked viewers through all considerations that go into cancelling a port of a call, making this information more accessible than ever. 
Image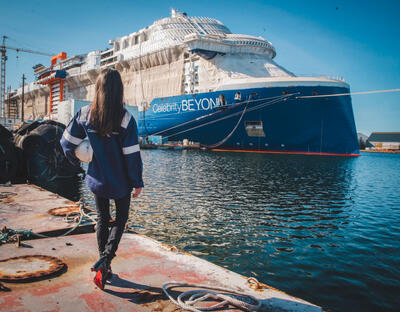 Captain McCue also has a notable companion onboard, her elf-ear Sphynx cat named Bug Naked. She pushes her cat in a baby stroller around the ship; the two share a cabin attached to the ship's main control center. 
Passengers onboard Celebrity's ships will notice that Captain Kate simply has her name tag as 'Captain'. She states that others tend to just call her 'Kate' when she had 'Captain Kate' on her name tag.
McCue said to The Washington Post, "It took me 19 years to earn that title."