Amidst all the excitement of embarkation day, you will have to complete the required safety drill. Do not worry, though. It must be done before sail away, so you will still be able to sip on a drink while watching the shore disappear into the horizon. 
While emergencies at sea are rare, the safety, or muster, drill is meant to familiarize you and your travel party with your assigned assembly station and other protocols. It is mandatory for all passengers, even those who have cruised before, as the assigned location will most likely be different on each sailing. 
Today, many cruise lines have converted to a virtual muster process that allows guests to watch safety briefings from their smartphones or stateroom television prior to visiting their muster station on their own within a specified window of time. 
Here's what you need to know about the cruise ship muster drill, including what it is and why it is important. 
What is the muster drill, and how does it work?
Image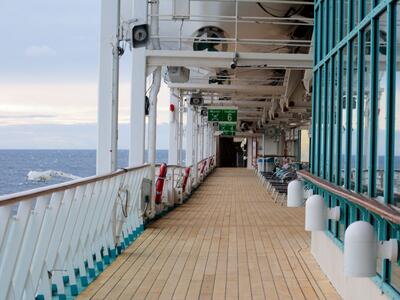 The muster drill will occur prior to sail away, and every passenger onboard will be required to either attend a physical all-ship drill or complete it virtually on the cruise line's app. Note, though, that if you have the option to participate via the app, you will still have to physically visit your muster station.  
For in-person drills, everyone will head to their designated stations at the same time. Upon arrival, your cruise card will be scanned in order to confirm your attendance. There will be life jacket demonstrations performed by the crew, and other safety announcements will be made. 
If you are on a ship with a large percentage of international guests, the drill may take longer, as the crew will make the announcements in multiple different languages. At the end of the drill, the emergency signal will be blasted. 
During the pandemic, some cruise lines switched to a virtual format, which allows you to watch safety videos and listen to the ship's emergency horn on your mobile device. Once onboard, you will have to visit your muster station and marked present by scanning your cruise card in order to satisfy all the requirements. Prior to sail away, the ship will still sound the emergency alarm, just so everyone is familiar with it. 
Can I skip the muster drill?
Image
No, the muster drill is mandatory for every passenger. If you fail to show up or do not complete the virtual muster, your name and stateroom number will be given to crew members who will track you down. If you think you can hide out in your cabin, think again! That is one of the first places that they will check. 
If you miss the initial drill, you may be given a second opportunity to complete the safety briefing. If, for whatever reason, you fail to attend it again, you face getting forced off of the ship at the next port of call without receiving a refund. In some instances, you may be kicked off before the ship event sets sail. 
It is also annoying for those who have done their part, as they do not want their first day of vacation to be cluttered with announcements reminding guests that they need to fully participate in the drill.  
In short, do not be the person who misses the muster drill. It is part of the cruising experience. The sooner everyone shows up, the sooner everyone can get back to the fun things onboard! In the end, the drill is to benefit you in the event of an emergency. There will always be crew members able to assist; however, it is important that you know what to do to keep yourself safe.
Why is the muster drill important?
Image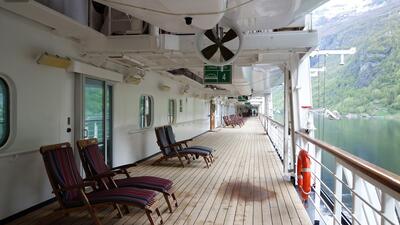 In the event of a real emergency, it is important that passengers know where to go. Can you imagine the chaos that would ensue with thousands of unprepared guests? It would make the emergency even worse and potentially more disastrous! 
SOLAS, or Safety of Life at Sea, is an international treaty that was formed following the sinking of the Titanic in 1914. When the ship sank, there were only enough lifeboats onboard for roughly half of the passengers. 
In total, less than one-third of the passengers and crew survived the disaster, so SOLAS was formed to prevent another major incident like this from occurring again by setting safety standards for both the construction and operation of passenger and merchant ships. 
Prior to the sinking of Costa Concordia, the muster drill could be conducted at any point up to 24 hours after setting sail (although, many ships completed the drill before leaving the port). When the Costa ship sank off the coast of Italy, about 600 guests had yet to complete the muster drill because they had embarked hours earlier. 
Starting in February 2012, it became a requirement for all cruise ships to complete the safety drill while still docked in the embarkation port. 
Which cruise lines offer virtual muster drills?
Image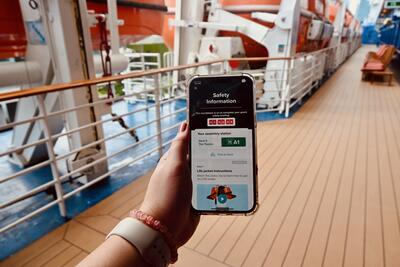 As of April 2023, Royal Caribbean, Celebrity, Carnival, Norwegian, Oceania, Princess Cruises, Holland America Line, Virgin Voyages, and Regent Seven Seas all have virtual muster drills. 
In January, Norwegian reverted back to traditional muster drills; however, after receiving feedback from guests, they announced that all ships would return to the e-muster drill format by the first of April. 
The virtual muster drills are well-recieved by guests, particually those who cruised before the pandemic and attended in-person drills. 
According to Greg Purdy, Royal Caribbean International's Senior Vice President of Marine Operations, "[guests are] able to have a more personal experience with the crew to ask them questions about the muster, to receive further instruction about donning the life jacket or or what should they bring."
Most cruise lines do not have any intention to revert back to the old system, so long as the U.S. Coast Guard does not require it. 
Disney Cruise Line and MSC Cruises are two of the only mainstream cruise lines to require passengers to attend an in-person drill. 
Do I need to take a life jacket to my muster drill?
Image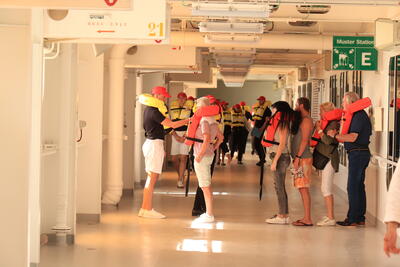 Some cruise lines require guests bring life jackets to the muster drill, while others do not. Today, most cruise lines have moved away from making guests bring life jackets from their stateroom. If your cruise line requires it, you will be aware ahead of time, so you have time to fetch the jacket from your cabin. 
In most cases, you will just have to watch a demonstration of how to properly put on a life jacket, whether that is in-person or via your smartphone. And, of course, if you have any questions or concerns, you talk with a crew member!
Be prepared
Image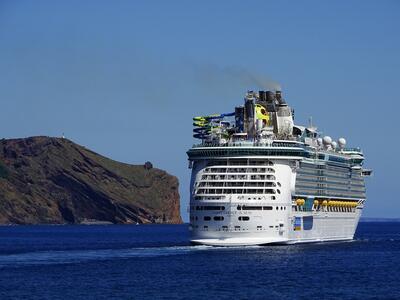 The muster drill is something everyone has to participate in prior to the ship setting sail, so it is best that you know what to expect! 
If you are on a cruise line that still conducts an in-person drill, you may want to apply sunscreen prior, as you never know if your assigned will be in the sun or not! While cruise lines usually avoid this, you do not want to be stuck in a situation where you are sitting in direct sunlight for thirty-minutes or so!
Families with young children should brief them ahead of time, even if sailing on a cruise line with e-muster protocols. In the event of an emergency, it is best if they have some awareness of what to do, even if that is just finding a crew member. And if you have a child who is sensitive to loud noises, be prepared for the emergency signal; it is not the most pleasant of noises.