Staying disconnected from those on land while on a cruise can be difficult! Whether you want to check in on your kids (fur babies count, too!) or need to have access to your email, one non-negotiable cruise add-on might be wi-fi. 
Norwegian Cruise Line does not give every passenger onboard unlimited wi-fi, meaning that you will have to appropriately budget the cost of an internet package into your vacation cost.  
It can be expensive, too, which is why it is important to decide if you need internet before opting to splurge on a balcony cabin or drink package.
As of June 2023, Norwegian's website advertises the unlimited wi-fi package at $29.99 per device, per day, and the unlimited premium wi-fi package at $39.99 per device, per day. The base price for a single person on a 7-night cruise would be around $210. Ouch! 
Since you are unable to use cellular data on a cruise, the obvious solution is to purchase an internet package. There are, however, some ways to get free (or discounted) wi-fi on your next Norwegian cruise!
Here are five tips on how you can save money on internet during your next Norwegian cruise. 
Read more: Do cruise ships have WiFi?
What is the difference between the unlimited wi-fi and premium unlimited wi-fi package? 
Image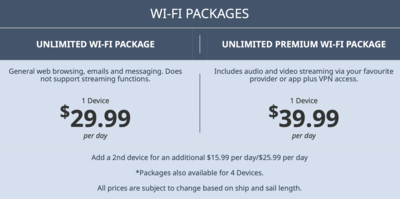 With the unlimited wi-fi package, you will have a lot included, from social media apps to messaging and video calling, app stores, web browsing, and email/file sharing. 
The premium unlimited package comes with enhanced web browsing, meaning it includes VPN access, TikTok, and select news websites (i.e., CBC News, CTV News, Fox News, and Comcast). 
Moreover, it also includes audio and video streaming, so you will not have to worry about missing your favorite show on Hulu, HBO, or Disney+. Plus, you can browse songs on Apple Music, iHeart Radio, Spotify, etc. while in the gym. 
Image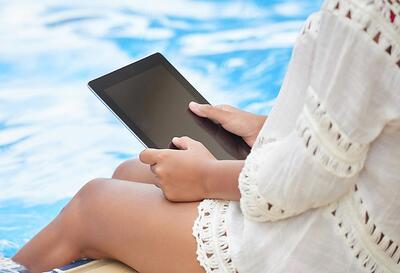 Does this make the package worth an extra $10.00 per day? Only you can make that decision! You will have access to other news networks, and if you download music in advance, you can save upwards of $70.00 on a 7-night cruise by choosing the first plan. 
As mentioned earlier, the unlimited wi-fi package costs $29.99 per day, while the premium unlimited package runs at $39.99 per day. If you want to buy wi-fi for more than one device, the daily cost for the secondary device will decrease. You can add a second device for $15.99 and $25.99 per day, respectively. 
That still, however, can add up fast if you are purchasing wi-fi for a family of four! 
Note that neither package will work ashore at Great Stirrup Cay or Harvest Caye. 
Apply your onboard credit towards wi-fi
Image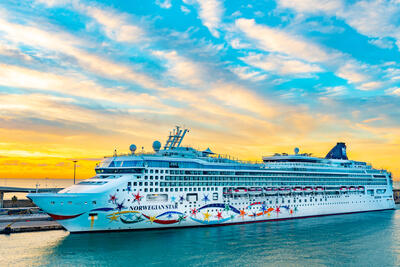 Perhaps you booked a cruise while still on your last sailing and were rewarded with onboard credit, or maybe you booked with a travel agent. Regardless of how you got it, onboard credit can be used towards a lot of things. 
In essence, it is just free "cash" that can be redeemed towards purchases on a Norwegian cruise. Note that it has no monetary value and is non-transferable. 
While it is unlikely that your onboard credit will cover the entirely of the package cost, it is a great way to reduce the total that you will pay out of pocket. In other words, when using onboard credit to pay for wi-fi, you should expect to pay the difference with a credit card upon booking.  
Free at sea promotion
Image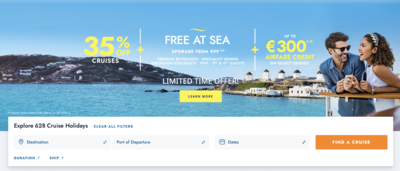 Norwegian Cruise Line's Free at Sea promotion allows cruisers to select up to five different perks to be included in their cruise fare. As of June 2023, the perks are specialty dining experiences, shore excursions credits, internet and beverage packages, and free third and fourth guests. 
On the surface, "free" wi-fi sounds great, and it is! Unfortunately, before thinking that Norwegian is just going to give you unlimited internet access for the duration of your cruise, read into the terms and conditions of the ongoing Free at Sea promotion. 
The internet that is included as one of the perks is not unlimited, and the total number of minutes varies based on how long your sailing is:
75 minutes per person for 3 to 6-night cruises
150 minutes per person for 7 to 11-night cruises
300 minutes per person for 12-nights or longer cruises
Image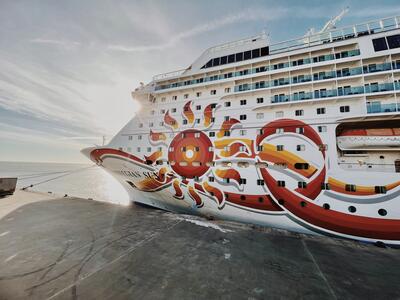 With the free minutes, you may not feel the need to purchase a package for the entire cruise. If, for instance, your sailing is 5-nights, with the free 75 minutes per person, you may only need three or four days!
When redeeming free minutes, you will find that your account will come pre-loaded with the allocated amount. As soon as you open your internet browser on your phone, laptop, or tablet, you will be directed to the login page. Once you finish setting up an account, you can start using the Free at Sea minutes!
Pro tip: if you select the drink package, you might want to consider upgrading for an additional $29 per person, per day. It, of course, depends on your drinking habits; however, the Unlimited Open Bar Package is not as inclusive as the Premium Plus Package. If you are a fan of Starbucks, you will appreciate the latter option!
Read more: Norwegian Cruise Line Tips and Tricks
Certain Latitudes members get discounts on internet packages
Image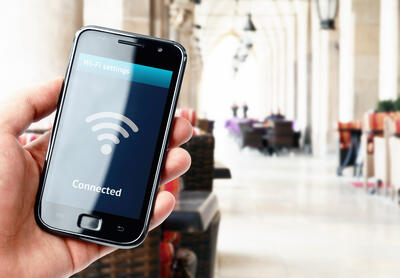 Are you part of Norwegian's Latitudes loyalty program? If so, you might be eligible for a discount on your wi-fi! While no tier will grand you free access, a discount means that you can allocate those funds to other things, such as shore excursions, drink packages, and more. 
Once you become a Platinum member, which is the fourth tier after Bronze, Silver, and Gold, you will be able to purchase an internet package and receive 15% off. 
As you continue to climb the loyalty ladder, you will unlock additional benefits, such as your choice of priority seating in restaurants and entertainment venues, unique cabin upgrades, an exclusive Sail & Sustain mixology experience, and greater discounts on internet packages. 
At the next level - Sapphire - the discount increases to 20%. Diamond and Ambassador members both get 25% off all internet packages. 
Platinum members are those who have racked up 75 cruise points, while Sapphire guests have 150 points, Diamond 350 points, and Ambassador 700 points! 
Read more: 35 Norwegian Cruise Line tips that will make your cruise go smoothly
Skip onboard wi-fi and just use it in ports of call
Image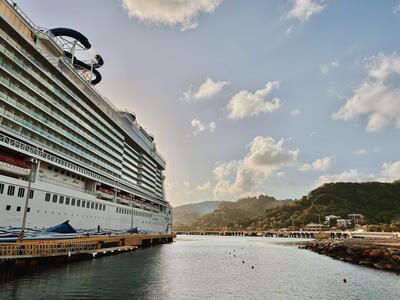 At a minimum of $29.99 per day, Norwegian Cruise Line's internet packages are pretty expensive! Let's assume that you booked a port intensive itinerary in the Mediterranean. Do you want to have to shell out that much money when you will not be onboard the ship as much as you would be in the Bahamas or Caribbean? 
When docked in port, you can find places to access free internet, such as coffee stops, restaurants, and information centers. While your time here will be limited, it might be better than spending the money for one of the cruise line's packages. 
Likewise, your cellular plan may work in port! As part of my Verizon plan, for instance, I can turn on my cellular data abroad for only $10 per day. If I was in Alaska, I would not be charged at all since it is part of the United States!
Cruise Norwegian mobile app
Image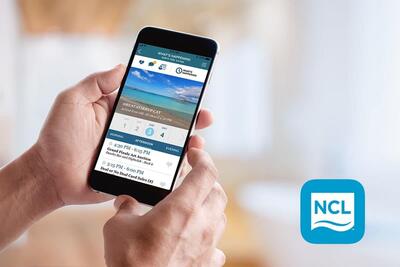 Onboard the ship, Norwegian's app will serve as a hub of information. All you have to do is connect to the wi-fi (for free) to be able to access everything, such as the daily schedule, dining times, deck plans, and more. 
Moreover, you will be able to keep track of your onboard expense account through the app for free! Sometimes, it is nice to periodically check, so you do not end up surprised on the last night of your vacation. 
If you would like to chat with others onboard, it costs a flat fee of $9.95. This nominal fee is worth it to be able to chat with friends and family who are on the ship with you. Otherwise, you may find that miscommunication is likely. What if someone heard the dinner time incorrectly or went to the wrong meeting place?  
Read more: What you need to know about Norwegian Cruise Line's onboard wifi