Your home has it, your local McDonalds has it and even your car can have it. But, do cruise ships have it?
Yup, we are talking about one of the most essential services of everyday life - the internet!
If you're new to cruising, you are probably looking to understand the very basics of how Wi-Fi works while you're at sea. As much as we all love to disconnect from day-to-day life, it's tough to go without Wi-Fi when you're used to having easy access at home.
Image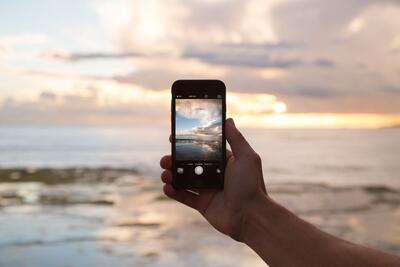 You might even assume that Wi-Fi is free on your cruise, since you can get internet for free just about everywhere else in the world. Maybe you're wondering if you can stream Netflix or video chat back home with loved ones. You might even wonder if you can make that Zoom meeting for work.
All of these are valid questions, especially with how much our lives revolve around access to the internet. 
There's also a new age of remote jobs, giving workers the flexibility to bring their offices anywhere they go. For me, I love being able to work a little while on a cruise because it means I can cruise more often. Of course, we also love to live blog our cruise experiences here at Cruise Blog - so we heavily rely on cruise ships having Wi-Fi available for us!
Image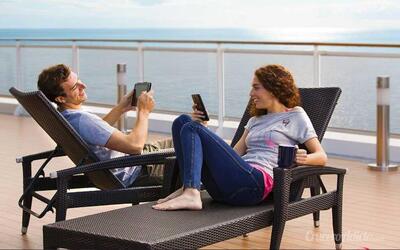 The good news is that you can find internet service on every cruise ship at sea today. The bad news is that you will most likely need to pay extra to have internet service during your cruise and the speeds will not be as reliable as your internet service at home. 
Let's go over a few basics when it comes to onboard Wi-Fi, including how much you can expect to spend, what you're able to do online and the type of speeds you can anticipate. 
Wi-Fi basics
Onboard internet service has come a very long way in the last decade. I can remember cruising in the early to late 2000s and the only internet available was in a tiny internet cafe. You can bet that we had to pay up the wazoo for a minute of internet - and it was glacially slow. 
Image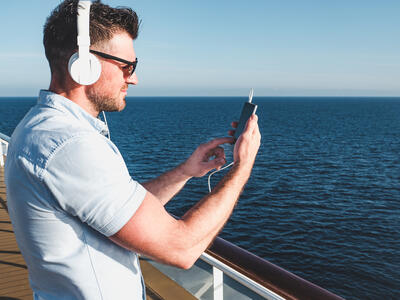 Lucky for everyone, gone are the days where you had to lug a tablet to the onboard cafe and spend 15 minutes sending an email. 
These days, you can purchase access to onboard Wi-Fi during your cruise. You will normally have the option to purchase Wi-Fi for one or multiple devices. Normally, you can also purchase a Wi-Fi pass for the day or entire voyage. 
Newer ships tend to have the newest technology available, meaning they can offer better speeds than older ships. If you're sailing on a newer cruise ship, odds are that you will have a better experience than someone sailing on a much older cruise ship.
Image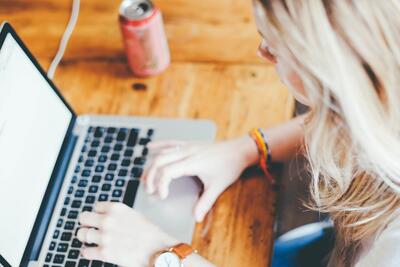 On some cruise lines, you will have different tiers of internet speed you can purchase. For example, Royal Caribbean has a premium service (Surf and Stream) and basic package. On the other hand, Carnival Cruise Line has a low tier social media package that allows cruisers to simply access apps like Facebook and Instagram.
As someone who always purchases the highest tiered package possible, I've been able to surf the web, Facetime back home, upload blogs, and watch Netflix comfortably when cruising. 
Image
Once you purchase Wi-Fi, you can access the internet during the entire voyage from anywhere from the ship. While some areas will be more spotty than others, you aren't limited to certain areas. If you're lucky, you will get reliable service in your cabin too.  
You can also switch between any device that you choose; therefore, if you only purchase Wi-Fi for one device, you can switch between your multiple devices at any time. For example, you can log out of your phone and re-login to your account on your tablet or laptop. 
Is it reliable?
While every cruise ship might have Wi-Fi available, you will not have the same reliability that you're used to on land. 
Image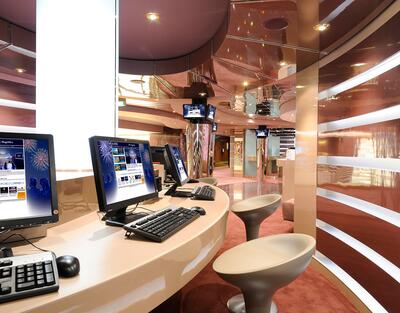 To start, the internet onboard relies on satellites while you're out at sea. Cruise lines team up with maritime communication companies to provide Wi-Fi on their ships. Since cruise lines can't afford to launch satellites specifically for their ships, it's standard practice for the cruise lines to rent bandwidth.
In recent years, the connection has become more reliable as cruise lines have started to take a hybrid approach to internet service. As cruise ships sail closer to land, they will tap into those towers rather than satellites. This has also driven down the cost, which is great for cruisers.
Image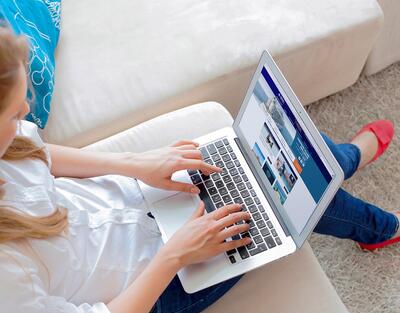 Unfortunately, the internet onboard can't really be classified as reliable. 
Just recently, I sailed on Royal Caribbean's Radiance of the Seas to Alaska and did not have Wi-Fi for two full days of my cruise. I had planned to work during these two days between blogging and my remote job. I had scheduled meetings that I had to cancel because the internet onboard was totally down for multiple days. 
Given we were sailing in the Inside Passage of Alaska, the IT team onboard said the ship's location was causing issues for the internet access. This can also be true sailing to other remote areas in the world, like Norway and New Zealand. 
Image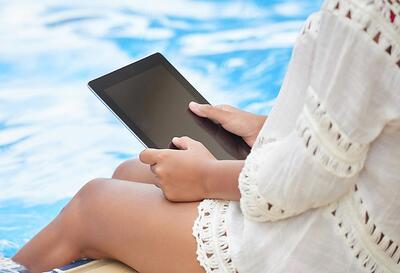 Unfortunately, I learned a tough lesson that I can't absolutely rely on the internet onboard. The Wi-Fi service onboard cruise ships is notoriously spotty. Sometimes you won't get solid service in your stateroom or in the theater. During busy times, the service onboard can get slow as well. 
Overall though, I would say 85% of the time, I am able to rely on the internet to do whatever I need to do. You can anticipate download speeds of about 3 megabits per second, although this will vary. 
How much is Wi-Fi onboard?
Although some cruise lines have moved towards free Wi-Fi onboard, you will most likely need to pay for internet when cruising. 
Image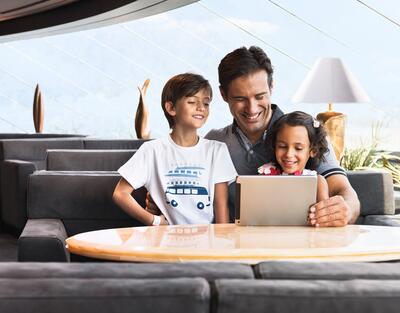 Those sailing on Royal Caribbean, Carnival Cruise Line and Norwegian Cruise Line can expect to spend anywhere from $20 to $30 per day per device onboard. Again, you can purchase daily passes or pre-purchase Wi-Fi for your entire cruise. 
Some cruise lines have multiple tiers of packages that you can choose from. Royal Caribbean offers a premium VOOM service that allows you to surf and stream the web at speeds 3x faster than the basic plan. It usually costs anywhere from $5 to $10 more per day for the higher package, although the experience is much better. 
Image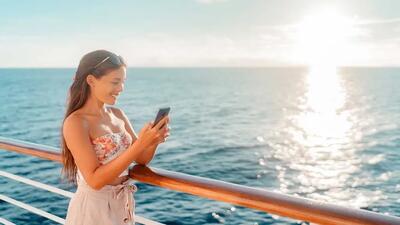 Similarly, Carnival Cruise Line offers its Social Wi-Fi plan for as little as $8.50 while its Premium Wi-Fi package sells for $14.45 per day. 
The cost for onboard Wi-Fi can be discounted if you pre-purchase your internet package before boarding. As always, the price onboard will be more expensive compared to the pre-purchased price. 
Image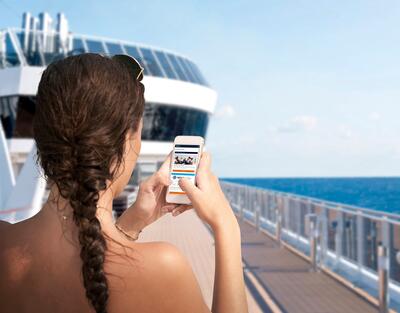 Some luxury cruise lines, like Viking Cruise Line, Celebrity Cruises, Silversea and Virgin Voyages, have started to include basic internet in their cruise fares. This is a welcomed change in the cruise industry, as almost everyone onboard will seek some sort of Wi-Fi service during their cruise. 
Saving money on Wi-Fi
You might be feeling bummed that the Wi-Fi on your upcoming cruise will not only cost you, but also be lacking in performance. There are a few ways to save money with Wi-Fi, though.
Image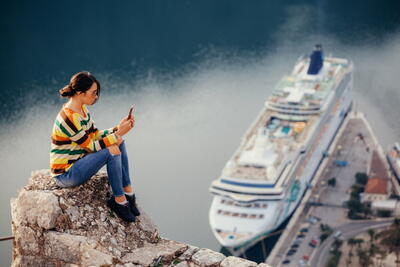 First, cruise lines normally have a loyalty program that is free to sign up for. Some of these benefits for higher tiered loyalty members include free and discounted Wi-Fi onboard. For example, when I cruise on Royal Caribbean, I receive 2 free days of Wi-Fi included because I am a Diamond + member. 
Second, consider pre-purchasing your internet packages before boarding your cruise ship. Just like drink packages, these will almost always be cheaper when you pre-book rather than waiting until you're on your ship. Cruise lines frequently run sales that you should monitor to get the best price possible. 
Another tip to save money is to use one a PC laptop to create a hotspot in your cabin. Although this might not always work depending on the cruise ship's enabled capabilities, I've successfully used my laptop as a hotspot multiple times. This allows us to purchase Wi-Fi for just one device and then create a hotspot for other devices to connect to. 
Image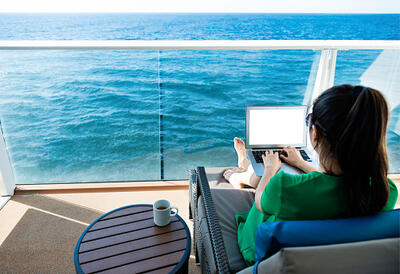 Finally, be sure to put your cell phone on airplane mode when attempting to connect to the ship's Wi-Fi. This ensures you won't be charged for any roaming fees associated with being at sea.