Off the southern coast of Belize lies Harvest Caye, Norwegian Cruise Line's (NCL) private island retreat.
Surrounded by the lush greenery of Central America, guests are treated to a wide range of activities on the 75 acre oasis. The island was developed in partnership with the Belizean government, and local inhabitants own the businesses and work onsite, contributing to the local economy.
Image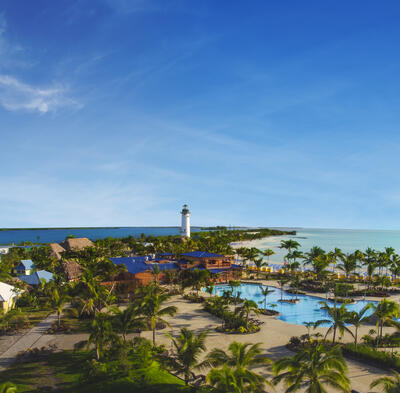 Harvest Caye hosts an abundance of natural wildlife as well as access to a barrier reef, the second largest in the world.
Here is what you need to know to prepare for a visit to Harvest Caye.
What's the weather like?
Image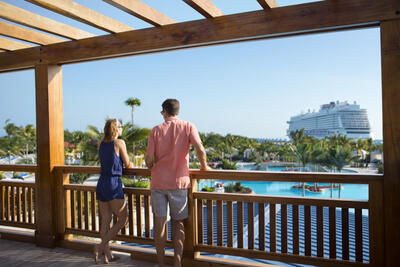 The weather in Harvest Caye is ideal for cruisers all year long, ranging from the 80s to 90s. December and January tend to have the lowest temperatures of the year, (still high 80s) and the hottest period is between May and October. 
January to May are the driest parts of the year; summer and fall tend to be rainier, with October being the peak. Humidity is high during these peak times.
Sea temperatures are similar in pattern to the weather, and it is warm enough to swim all year long.
Going onshore
Image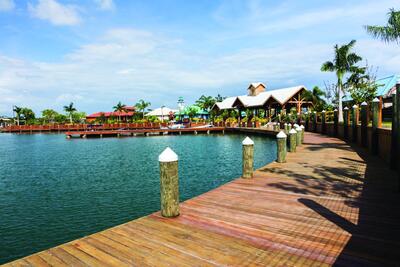 Harvest Caye is the only port with a cruise ship pier in Belize, a bonus for Norwegian cruisers. Walking along a covered path, it takes about 10 minutes for guests to reach the island. There is transportation available for those who are in need.
English is widely spoken, and both U.S. and Belizean dollars are used. As local people own the island businesses, ship cards are not accepted as a form of payment in restaurants, bars or shops. Do take note: there is no wi-fi available onshore.
The island is on central time, but cruisers should pay attention to ship time. With the sun and heat, it is essential to bring adequate sunscreen, a hat, and a towel. The ship does not provide towel service on the island but there are lockers to rent at a cost of $5.
Things to do
Image
Harvest Caye provides a great selection of activities, whether it be the beach, pool, or something a little livelier.
Key Highlights:
Beach - The island has a 7 acre beach area with plenty of loungers and some palm trees for shade. The far end is rarely crowded with lots of spots available.  
Pool – Popular with guests, the 15,000-square foot pool has a swim-up bar and a waterfall. The resort style area is complimentary and includes chairs and umbrellas. The pool is not heated, which is not a big issue given the weather.
Ocean - Harvest Caye allows for access to the Belize Barrier Reef, the second largest in the world. There is also a saltwater lagoon that hosts several water activities.
Image
Activities and shore excursions:
On land:
3000 foot long zipline stretching along the island
Double Beach Run zipline (side by side) where guests race facing downward
Ropes course
Volleyball courts
Image
Water activities:
Barrier Reef Snorkeling
Rainforest River Tubing
Standup Paddle Board
Kayaking
Parasailing
Wave Runners
Boat cruise
Monkey River Eco Tour (rainforest)
Glass Bottom Boat Ride
Catch and Release Fishing
Ferry to the mainland (Placencia)
Kid's splash park
Image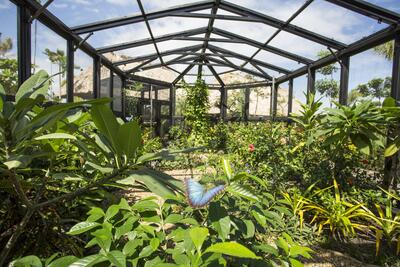 Those wanting to explore nature can enjoy the free wildlife experience with butterflies and birds, in addition to the island's botanical gardens.  
There is also an opportunity to learn about the history and culture of the region with visits to Mayan ruins and the archaeological site of Nim Li Punit. For a culinary twist, see how chocolate is made and try some locally made sweets.
Just before heading back to the ship, visit the shopping village with locally made souvenirs,  t-shirts, chocolates, and more.
Cabanas
Image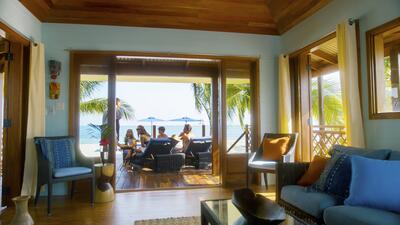 There are two main types of cabana rentals at Harvest Caye, which can be booked through NCL's website:
Private Canopy Pool Cabana
Starts at $350
Poolside location
It comes with lounge chairs and curtains for additional privacy
Easy access to the bar, retail shops and Landshark Bar & Grill
Price includes 4 guests
Image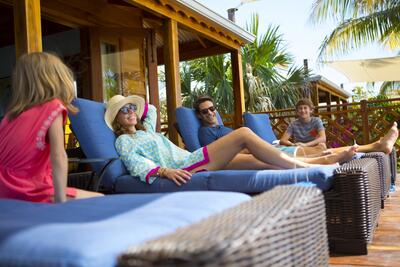 Luxury Beach Villa
Starts at $800
Located on a secluded portion of the island by the ocean
Includes private restroom, indoor and outdoor showers, BlueTooth audio, a digital safe, mini-refrigerator, beach hammock and front porch
Air-conditioned interior space
Private butler and concierge service are provided
Price includes 6 guests
Food and Beverages
Image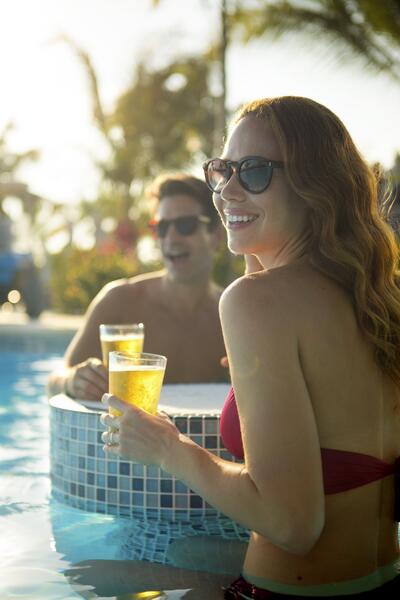 Unlike most other cruise lines' islands, food and drinks are extra, and the ship card cannot be used for payment. Ensure to bring cash and credit cards.
Harvest Caye has eight venues for meals, snacks and drinks. The menus include typical bar food with some touches of the Caribbean with fried plantains and ceviche. Fruity cocktails, rum and beer are all popular drinks, including some local Belizean beer.
Image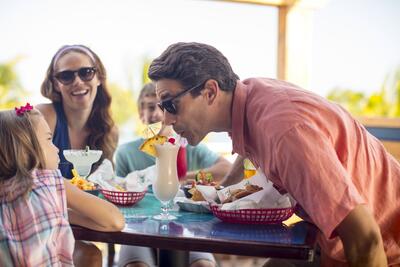 For a different view, the Manatee Bar & Grill is located on the other side of the island (which is not far at all) by the marina. Or for a quiet spot, walk to the far end of the beach to Horse-Eye Jack's Villa Bar & Bistro 
How to visit Harvest Caye?
Image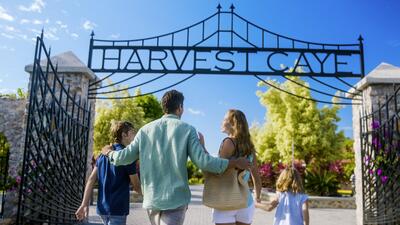 Harvest Caye is listed on itineraries in the western Caribbean. There are 5 and 7 day cruises leaving from the ports of Tampa, Miami, Galveston and New Orleans.
There is also a 9 day cruise from New Orleans and Miami, or a special Panama Canal cruise spanning 10 days.
There are a number of Norwegian cruise ships that stop in Harvest Caye:
Norwegian Bliss
Norwegian Breakaway
Norwegian Dawn
Norwegian Encore
Norwegian Getaway
Norwegian Jade
Norwegian Jewel
Norwegian Joy
Norwegian Pearl
Norwegian Sky
Norwegian Star