If you're cruising in the Caribbean onboard one of Royal Caribbean's or select Celebrity ships cruise ships, there is a good chance you will be stopping at the cruise line's private island in CocoCay, Bahamas. 
After completely renovating the island and reopening in May 2019, Royal Caribbean dubbed the new experience as "Perfect Day at CocoCay." In fact, CocoCay was the first island of Royal Caribbean's Perfect Day Collection, which is meant to bring a next-level private island experience to cruise itineraries. The second island, Perfect Day at Lelepa, has been paused for awhile; there is no confirmation of when this exclusive destination will open. 
Royal Caribbean spent a pretty penny on the renovations, with a reported $250 million investment being poured into transforming the Bahama island into a luxurious tropical resort-like experience for cruise passengers. 
Image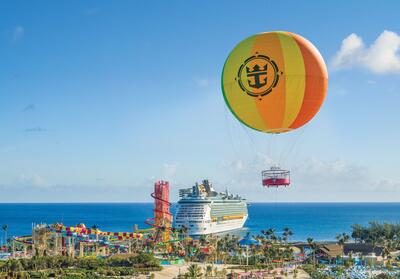 The island renovation included the additions of some incredible thrills, such as a paid waterpark, aqua play parks, zip line, helium balloon and tide pool. Those who prefer to relax will appreciate the island's freshwater pool, chill island beach, floating tiki bar, overwater cabanas, and plenty of chairs and umbrellas. 
Perfect Day at CocoCay is truly a wonderful addition to any Caribbean or Bahamas cruise itinerary. From the minute you step off the ship, you have everything you need in one spot. It is an easy going, relaxing beach day that encompasses everything vacation is all about. You have nowhere to be, no taxi drivers you need to flag down, and no navigating around.
If you want to do something more adventurous, you can pay to experience one of the tallest waterslides in the Northern Hemisphere! How you spend your day at CocoCay is truly up to you. 
You do not even have to bring your wallet or ID off the ship because everything is tied conveniently to your SeaPass card, including the shops at the market. You might, however, want to bring a beach bag to carry around your towel and any other miscellaneous items!
Image
CocoCay has so much to do that you simply cannot do it all in one port stop. It is best to prioritize all the things you want to do and, most importantly, how much money you want to spend. 
Since everything you need is complimentary, you do not have to spend a single dollar on the island. That being said, there are some luxurious upgrades that will enhance your experience, such as the Coco Beach Club, water park, and even overwater cabanas. 
Here are some of our best tips and tricks to having a fun day at Royal Caribbean's Perfect Day at CocoCay.
Do Not Waste the Day
Image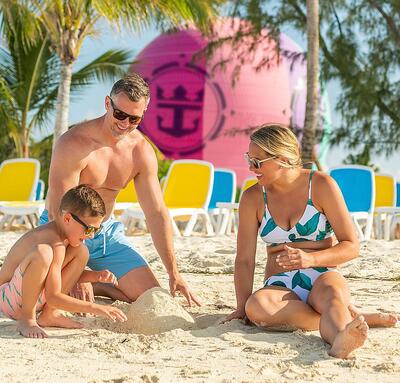 CocoCay has a lot to see and do, so do not sleep the day away and waste your time at the island! Even for older cruisers, there is still value in getting off the ship and enjoying what the island has to offer as soon as you can. 
On our first visit to the revamped island, someone gave us the tip the night before to get out there early because it's a really nice port. Depending on how long you are docked, you might only have a few hours ashore if you sleep in too late. 
On my last visit to CocoCay, we did not set an alarm and we accidentally slept in until 11:00 AM. We were cursing our inside cabin's pitch-black darkness! We only had 3 hours by the time we got off the ship, which felt a tad rushed. Luckily, you can get off the ship and walk 10 minutes to the entrance of CocoCay. They have trams available, too. 
Plus, the earlier you get off, the more choices you will have for beach chairs. This is important if you want a first or second row spot!
Image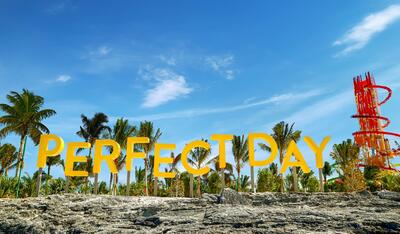 Some cruisers write off Perfect Day at CocoCay as a waste of a port day, but that couldn't be further from the truth! Vacation is meant to be relaxing and carefree, so if anything, enjoy CocoCay as a down day where you can just soak in the sun, have a drink, swim in the pool or lay on the beach. 
You can do more thrilling things in other ports and find yourself a complimentary beach chair to lounge on while sipping on a Coco Loco!
Moral of the story: utilize your time at CocoCay so you can see and do everything you want!
Utilize the transportation
Image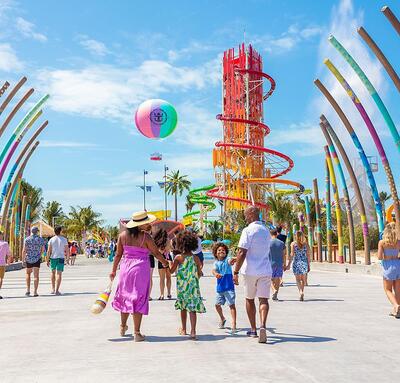 One of the best renovations with CocoCay was adding a pier, so Royal Caribbean's cruise ships no longer need tender boats to get ashore. 
After you get off the ship, you can either walk directly to the island along the pier or take one of the pier trams to the entrance. This is a great option, especially for those with mobility issues or those who simply do not want to walk in the heat.
The pier trams run all day between the island and cruise ships, so you will be able to access the trams throughout the day. 
Image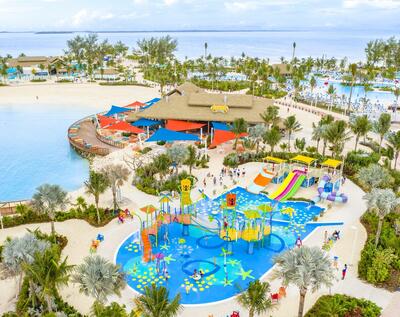 CocoCay also has an island tram that runs every 15 minutes and circles around the entire island. You'll be able to travel between Arrivals Plaza, Oasis Lagoon, Chill Island, South Beach, Coco Beach Club and the Up, Up & Away Balloon. For those who want to get a lay of the land, taking the island tram will help get you quickly acquainted.
On one of my first trips to CocoCay, I decided to walk from the ship to the Coco Beach Club. While I found my way there, I wish I had taken a tram! It would have been a seamless way to start my day. 
Also, those who need a sand wheelchair or sand stroller can access those on the island. Most of the island is paved but some parts do have sandy trails. 
Try the Swim-Up Bar in Oasis Lagoon
Image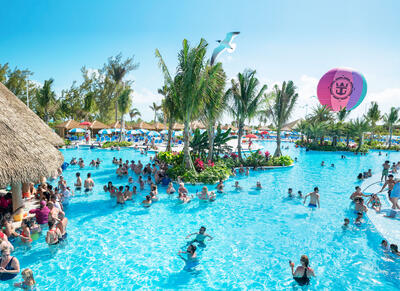 If you are looking for a good time with easy access to delicious cocktails, you will probably love Oasis Lagoon. This is actually the largest freshwater pool in the Caribbean!
Oasis Lagoon is free to use and has a massive swim-up bar where you can get drinks with the swipe of your SeaPass card. It's dangerously easy to have a great time here! A DJ will also be spinning remixes of all your favorite pop tunes while you are cooling off in the pool, soaking in the sun, and sipping on a cocktail. 
The pool has tons of chairs and umbrellas surrounding the premise with some even partially submerged in the water. You can also rent a cabana for an additional cost. 
Image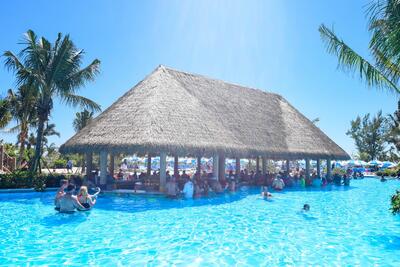 Most importantly, you can use your Royal Caribbean drink package onshore at CocoCay for drinks, and those with Crown and Anchor drink vouchers can also use their daily vouchers at the bars. You can make all your friends back home jealous with access to your Internet package ashore, too. You will not have to be disconnected for a single second. 
Eat the Day Away
Image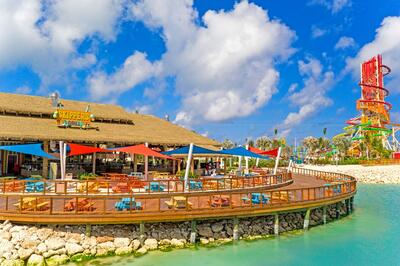 You will be pleased to know that there are complimentary venues for food on CocoCay that are available throughout the day for cruisers to enjoy. Just like onboard your cruise ship, you will not be going hungry!
The island has three Snack Shacks that serve crispy chicken sandwiches, hot dogs, fries, mozzarella sticks, and the best funnel cakes! If you are looking for something off the menu, order the "secret sandwich," which is similar to a chicken parmesan sandwich. Essentially, it is the crispy chicken sandwich served with mozzarella sticks on top! Be sure to get an extra side of marinara sauce. 
Another popular option are the funnel cakes, which are served hot with a generous topping of powdered sugar!
Skipper's Grill is another option ashore that serves up burgers, tacos, sandwiches and an array of salads in buffet style. 
Image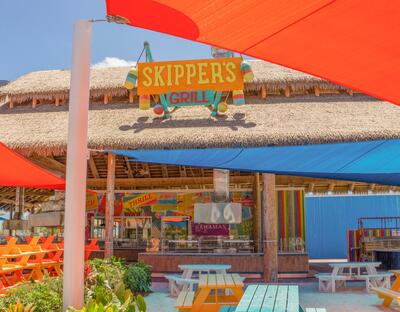 Finally, Chill Grill is a buffet option that serves jerk chicken sandwiches, ribeye cheesesteak, tacos, and Portobello & mozzarella sandwiches. Everyone raves about the cheesesteak sandwich, so be sure to add that to your list of foods to try!
Captain Jack's is a specialty dining option where you can purchase a variety of boneless wings a la carte. 
Finally, those who have admission to Coco Beach Club have complimentary access to The Coco Beach Club Grille for a made-to-order lunch and morning pastries. 
CocoCay only serves lunch, so you will want to have breakfast onboard before heading out for the day. Most venues shut down around 3pm; however, this varies by sailing. Be sure to check the Royal Caribbean app! You do not want to miss trying the infamous mozzarella sticks like I did. 
Check out South Beach
Image
If Oasis Lagoon is not exactly your vibe, head over to South Beach for a different spot to soak up the rays. The water is perfectly blue on South Beach with tons of chairs and umbrellas to relax. 
Take a dip in the ocean and swim out to the island's floating tiki bar! You'll have to actually swim a bit to reach the bar, but it is very manageable and in a calm bay. 
Image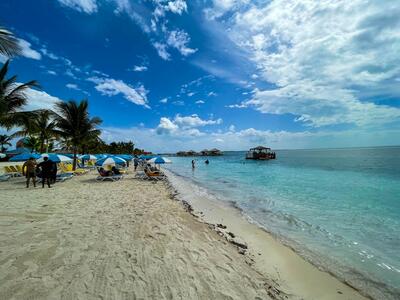 South Beach also has an area for beach activities like volleyball and basketball. The cruise compass for the day even has organized pick-up games that you can participate in, so be sure to check that our early in the morning. You don't want to miss an activity! 
South Beach has some stretches of quiet areas because it's further from where the ships dock. You won't find the party atmosphere like Oasis Lagoon, so if a more serene beach day is your vibe, check out the shoreline near South Beach. 
Free Things for Kids
Image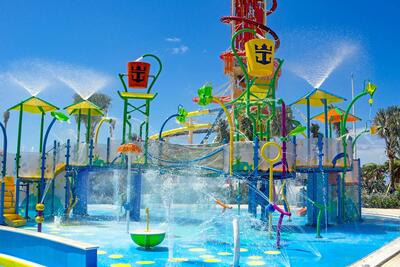 Those traveling with little cruisers who don't want to pay for excursions or admission to the Thrill Waterpark can enjoy plenty of kid-friendly activities that are completely free!
Splashaway Bay is a signature feature for Royal Caribbean cruise ships, offering tons of fun water activities for kids on the pool deck. The Splashaway Bay on CocoCay is similar, but it was amplified to be even bigger and better! Your kids will love running around on this water playground and all the splash pads. 
Captain Jill's Galleon is another fun spot for little cruisers that is complimentary on CocoCay. Located right outside of the waterpark and right at the end of the pier, your kids can enjoy a full pirate ship filled with water activities - including water cannons. This aqua park will be a hit with your little cruisers!
Souvenir Shopping
Image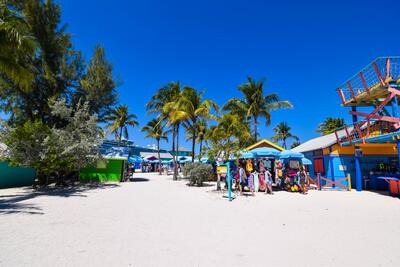 Those who love to buy trinkets, t-shirts or other souvenirs when traveling will appreciate a stroll through the straw market. These stands feature souvenirs that are operated by locals, so you will be supporting the local economy as well. 
It is nice to spend some time strolling through this little market and shopping, especially if your schedule allows.
In my experience, the souvenirs were pricier than I anticipated. Expect to spend around $15 on a magnet and $25+ on a t-shirt. If you are looking for a long sleeved shirt, they are more expensive and start around $40 each. It wasn't horribly expensive, but I was surprised by the pricing. 
If you need sunscreen, a pair of sunglasses, a hat, or even a snorkel mask, you can grab that in this area, too. Again, though, expect to pay a premium compared to what you would on land.
Most stores here accept Seapass cards for payment, as well as cash!
Keep an eye out for wildlife
Image
Perfect Day at CocoCay has more than beautiful turquoise waters and unique thills. There's tons of lush vegetation where you can often find wildlife hanging out!
Be sure to keep an eye out for wild chickens, iguanas, and seagulls. That being said, you should never feed any of them!
Snorkeling
Image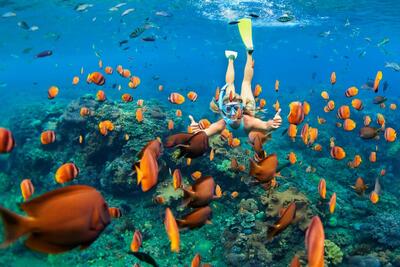 If you enjoy snorkeling, be sure to either bring your own equipment or rent gear from Royal Caribbean. Bringing your own, however, means that you can enjoy the snorkeling area at no additional cost!
Don't worry, there are lifeguards and platforms out there if you need a break. You are sure to see plenty of marine life, especially near the underwater plane wreck, including stingrays, fish, and sometimes even a sea turtle! 
Extra Costs at CocoCay
Image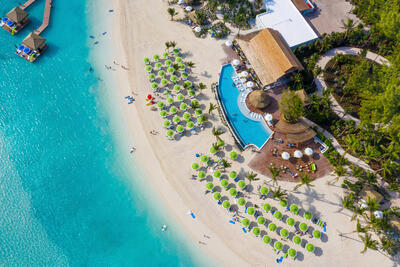 If you want to experience some of CocoCay's exhilarating thrills and luxurious amenities, you will need to pay for those.  
Admission charges apply to Thrill Waterpark, which includes the incredible Daredevil's Tower (the tallest waterslide in North America), Dueling Demons slides, Adventure Pool and a wave pool. 
You can expect to spend more than $100 per person for admission to the waterpark; although, Royal Caribbean's dynamic pricing and pre-cruise sales can bring that price down. On an upcoming cruise onboard Freedom of the Seas, the current pricing for this excursion is $140.99, with the onboard pricing advertised as $149.00. 
Catch CocoCay from above with a bird's eye view by flying through the sky on the zip line or soaring above the island on the Up, Up and Away Balloon. These will both cost you extra, with prices ranging anywhere from $50 to $140 each. 
Image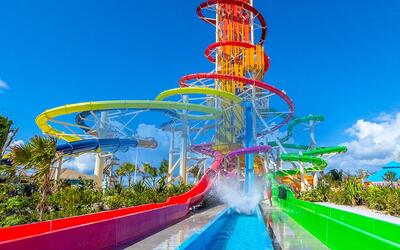 Admission to the exclusive Coco Beach Club is costly, but it includes access to an exclusive beach, infinity pool, club house, beach chairs and umbrellas. You'll also have complimentary dining at The Coco Beach Club Grille, where you will receive appetizers, made-to-order entrees (including options like lobster, filet mignon, roasted chicken breast, and cheeseburgers), and dessert. 
Using the same Freedom of the Seas cruise, a pass to Coco Beach Club is currently going for $235.99. The website states that onboard pricing is $249.00 per adult. Pricing, of course, can vary, so it is important to browse through Royal Caribbean's Cruise Planner once you have placed your deposit to see how much they are charging for excursions during your sailing. 
Those looking to relax can indulge in renting a private daybed or cabana. While private daybeds will cost about $200 for the day, a cabana will cost anywhere from $700 to well-over $3,000. The cabana can accommodate up to 8 people and includes sofas for lounging and a waiter to bring food and drinks. 
Image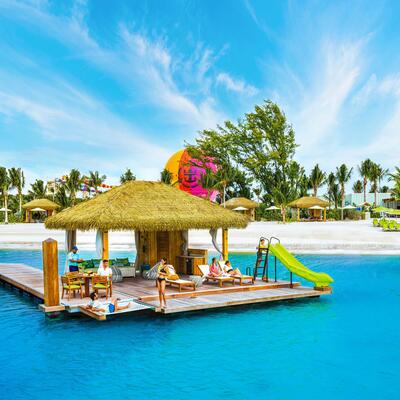 The ultimate luxurious experience in CocoCay is renting a floating cabana, which can cost anywhere from $1,900 to $3,500. You will feel like you're vacationing in Bora Bora with a private cabana that features a sofa, dining area, water slide and concierge. This also includes access to everything in Coco Beach Club, so you can bounce from the ocean to the infinity pool! 
Pro tip: if you get an overwater cabana, consider eating lunch in The Coco Beach Club Grille, as the pelicans get feisty when there is food lying on the table!
Kayaking, snorkeling, jet skiing, and parasailing are all additional excursions that are available for purchase on CocoCay too.  
Other excursions from CocoCay include scuba diving, swimming pigs tour, and stingray city. 
Perfect Day at CocoCay Frequently Asked Questions
How much does Perfect Day at CocoCay cost?
There is no admission fee to go to CocoCay.
Access to the island is complimentary, and most of the experiences are included with your cruise cost.
Here's what's included and what costs extra:
Image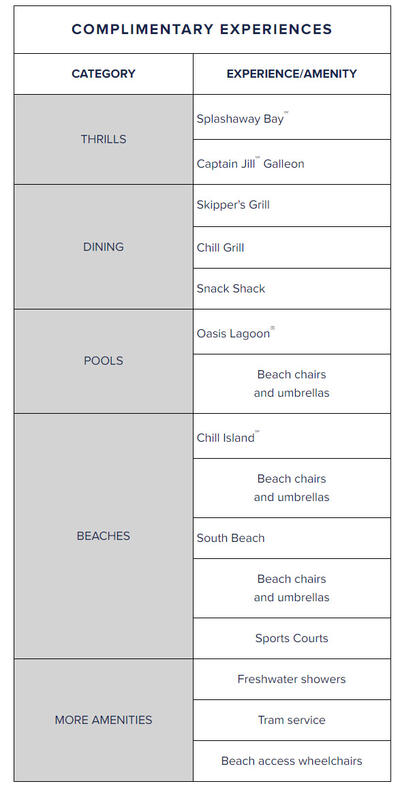 Image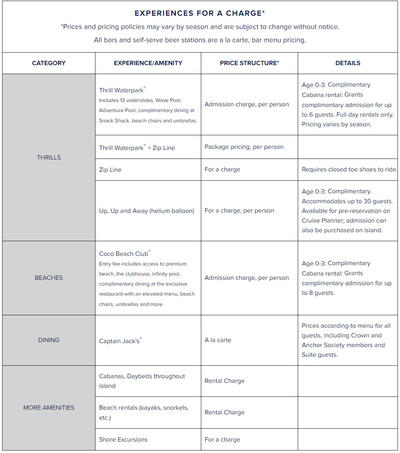 Can I bring my drone and use it at Cococay?
Drones are not allowed to be operated onboard the ship at any time, nor on Perfect Day at CocoCay, Bahamas.
How do I find ships that visit Perfect Day at CocoCay?
Image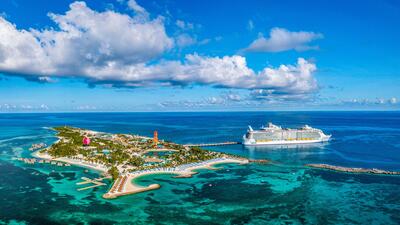 A great many Royal Caribbean ships sail to CocoCay, so you just need to do a search for cruises that visit The Bahamas as a starting point.
If you go to Royal Caribbean's website and do a search for cruises, set the filter "Perfect Day at CocoCay." That will show you all the sailings that stop at Perfect Day at CocoCay.
Plus, Celebrity Cruises has announced that Celebrity Beyond and Reflection will begin sailing to CocoCay, too. This means that you can experience the island on an award-winning Celebrity ship!
Can I use my drink package at Perfect Day at CocoCay?
Yes! Royal Caribbean drink packages purchased onboard or in advance via the Cruise Planner will be active on the island. A pro tip is to frequently check the pricing of the package. If you purchase it and find that the daily cost decreases later, you can simply cancel the package you bought for a refund and secure the lower rate. 
Are there overnight stays at Perfect Day at CocoCay?
No, Royal Caribbean does not offer cruises that stay overnight at the private island. 
Royal Caribbean said they considered the idea, but it has not been offered as of March 2023.
The next best thing would be a cruise that visits CocoCay twice in the same sailing. Those, however, are pretty infrequent. 
Image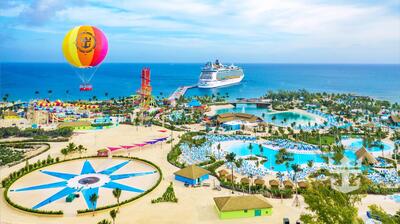 Is there Wi-Fi internet access at Perfect Day at CocoCay?
Yes, and if you have an internet package you purchased for your cruise, it works at CocoCay too for no additional cost! 
Image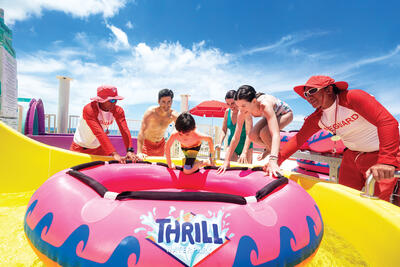 How does admission to Thrill Waterpark work on Perfect Day at CocoCay? 
If you purchased admission to Thrill Waterpark, then you can come in and leave the park as you please.
When you enter the park, you'll just need to swipe your SeaPass card. When you want to leave, use your SeaPass card again.
If you purchased Thrill Waterpark admission before the cruise, then your ticket is already pre-loaded on your SeaPass card, so there's nothing extra to bring with you.
We recommend to get to the park as early as possible before the crowds start to show up. Later in the afternoon, you can choose to go in the wave pool or relax on the beach!
Image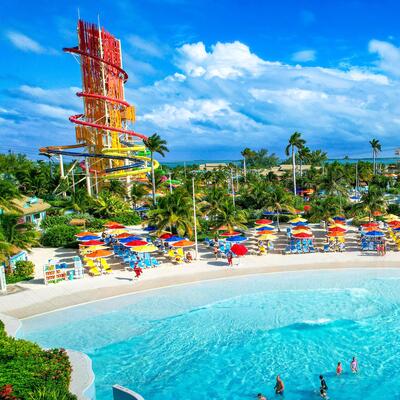 Are there lockers you can use Perfect Day at CocoCay?
Yes, you will find lockers to use around Perfect Day at CocoCay that are free to use, including one set inside Thrill Waterpark.
You don't need to bring a lock. Each locker is controlled via a code.
You'll also find complimentary freshwater showers, restrooms, and changing rooms available to use.
Image
Are there beach chairs, towels, and umbrellas available at Perfect Day at CocoCay?
Beach chairs and umbrellas are complimentary to everyone and can be found at any of the beaches and pool.
Complimentary beach towels are available onboard your ship, can be brought onto the island, and exchanged throughout the day as desired at three towel exchange stations.
If you rented a cabana, then towels will be provided for you and you do not have to bring towels off the ship.
Image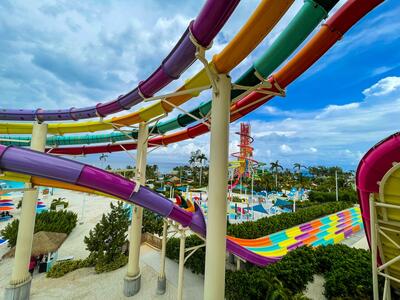 What are the height, weight, or age restrictions for the water slides or rides at Perfect Day at CocoCay?
Some experiences, such as water slides, have height and restrictions.
Guests that are under 14 years old must be accompanied by another guest who is at least 14 years old to enter.
Image
There are no restrictions for Up, Up and Away helium balloon, Oasis Lagoon freshwater pool, and Captain Jill's Galleon.
Does CocoCay have a lazy river?
Image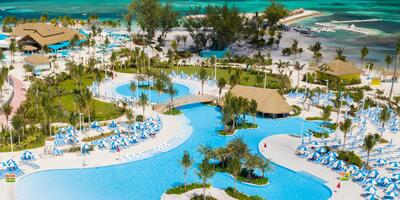 No, Perfect Day at CocoCay does not have a lazy river. 
There is a complimentary freshwater pool at Oasis Lagoon, which happens to be the largest freshwater pool in the Caribbean.
What is Hideaway Beach, and when will it be completed? 
Image
When completed, Hideaway Beach will be an adults-only getaway located at Perfect Day at CocoCay. 
While not too much is known about the area's specifics, it has been in the works for awhile, as plans for an expansion were announced on September 1, 2021 by Royal Caribbean International President and CEO Michael Bayley.
As of April 2023, it is unclear if this will be a complimentary feature, or if guests will have to pay for admission like they do to enter the Coco Beach Club.