Located in the Atlantic Ocean north of the Caribbean and to the east Florida, you will find the Bahamas, an archipelago compromised of just about 700 different islands!
Cruises to the Bahamas are popular year-round, especially since they are one of the places that you can cruise without a passport. They can be visited on a short 3- or 4-night cruise or as a single port on longer Caribbean itineraries. Chances are that if you are sailing from Florida, you are going to have the opportunity to visit both the Caribbean and Bahamas!
That being said, when you decide to go can greatly impact your overall experience. 
If you sail in March, for instance, you may find yourself in the middle of a college spring break cruise, while the weather in January could be a little bit cooler than you anticipated for your tropical getaway. 
Here are the best times to cruise to the Bahamas based on certain preferences. 
Read more: What is the best time to cruise to the Caribbean?
Overview of Bahamas cruises
Image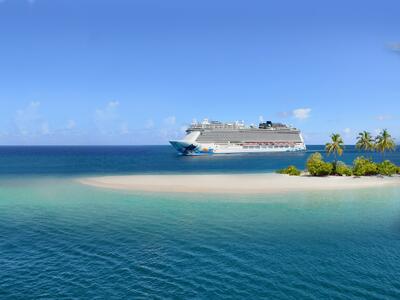 The Bahamas are a popular vacation destination and for good reason! There are pristine white sand beaches with crystal clear water, unique experiences like swimming with pigs, and scuba diving and snorkeling opportunities. And if you are sailing to the Caribbean, there is a good chance that you will spend one day in the Bahamas!
Many cruise lines, including Royal Caribbean, Norwegian Cruise Line, Carnival Cruise Line, and Disney Cruise Line, have their own private islands in the Bahamas. 
You can, however, also take a cruise just to the Bahamas! If you sail from Florida, you will most likely be on a shorter itinerary, either 3- or 4-nights. You can take longer cruises to the Bahamas if you sail from further north. Carnival, for instance, operates out of Charleston, South Carolina; Norfolk, Virginia; and Baltimore, Maryland. Sailing from one of these ports will allow you to take a 5, 6, or 7-night cruise to the Bahamas. 
Additionally, Royal Caribbean also has longer cruises to the Bahamas that depart from Baltimore, Maryland and Cape Liberty, New Jersey.  
There are multiple cruise ports in the Bahamas that you can visit, most of which are cruise line private islands: 
Best month to cruise to the Bahamas based on weather
Image
Due to the Bahamas' geographical location, the weather is not the same as you will find further south in the Caribbean. For that reason, you should not always expect the same temperatures in Nassau and St. Thomas or Cozumel. 
In fact, the islands are even subject to cold fronts, which makes sense when you think about how Nassau is only 180 miles from Miami! The average high in Nassau during January in 79, while the average low drops to 64 degrees. 
If you want the best weather, you will want to cruise to the Bahamas in November, late April, or Early May. All of these months fall outside of the rainy season, as well as hurricane season. Plus, you are unlikely to encounter a cold front in November. 
This year, I went on two cruises that stopped in the Bahamas in January. In both cases, the waters were pretty chilly, and there were times where I had to dry off and put my clothes back on because of the wind chill! You do not want to risk an unexpected cold front putting a hold on your beach day!
June marks the beginning of hurricane season, but it is rare for any to form until later in the season, usually September to October. That being said, the summer months are the Bahamas' rainy season. You may not have your cruise derailed due to a major hurricane, but you might find that your plans are rained out!
Read more: The best Bahamas cruises you should try
Best month to cruise to the Bahamas based on crowds
Image
Cruises are more popular than ever, so you can expect your ship to be sailing at full capacity at just about any point during the year. Due to today's demand for cruising, you can never truly avoid the crowds. On February 27, 2023, for instance, Nassau set a new single-day record with 28,554 cruise ship passengers in port in a single day!
Cruises in March and April are filled with spring breakers, both college students and families. Weekend cruises are more common for partiers, while families tend to book the longer sailings. 
If you plan on traveling during this time and want to avoid party cruises, you will want to Google your ship name, sail date, and the words "spring break." As an example, you could search "Liberty of the Seas March 8, 2024 spring break." If you do not find anything in Google, you can always try Facebook just to make sure you covered all the bases. 
Read more: Spring break cruises: are they fun and should you try one?
You will also find more families on summer cruises due to the school break, and holiday weekends (i.e., Memorial Day, Labor Day, Veterans Day, etc.) draw more crowds since people have to take less time off of work. The same goes for Thanksgiving, Christmas, and New Years. 
To avoid the possibility of large crowds, you will want to cruise when American schools are in session. Note, however, that schools across the country do have different breaks throughout the year. If you live in South Carolina, the traditional academic calendar might differ from Northern states like Vermont or Maine! 
Best month to cruise to the Bahamas based on prices
Image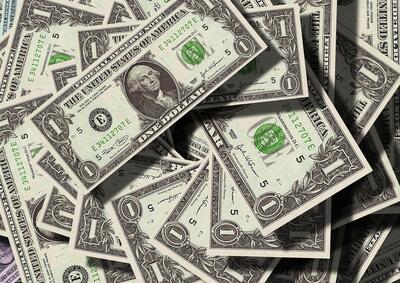 If you want to score a fantastic cruise deal, you will need to sail during what is known as the off-season. While the Bahamas is certainly a year-round destination with year-round demand, you are more likely to find a cheap cruise if you sail during the following times: 
January (with the exception of New Years' week and Martin Luther King Jr. Weekend)
February (with the exception of Presidents' Day Weekend)
May 
September
October
First two weeks of November
First two weeks of December 
Read more: What is the cheapest month to go on a cruise?
March and April tends to see an increase in cruise pricing due to the spring break demand. That, however, does not mean that you cannot find a cheap spring break cruise. 
Holidays, too, see a surge in pricing. Below are the prices for two 3-day sailings onboard Carnival Conquest. The cruise over Labor Day (September 1-4, 2023) begins at $284 per person for an interior room, while another cruise onboard the same ship (September 22-25) starts at $199 per person later the same month!
Image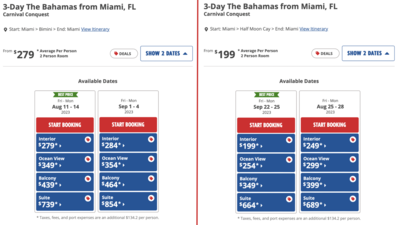 In other words, prices increase when there's a demand for cruising, and that coincides with American school and federal holidays.
Read more: 20 tricks for cruising cheap on less than $100 per day
Best month to cruise to the Bahamas to experience cultural festivities and other unique experiences
Image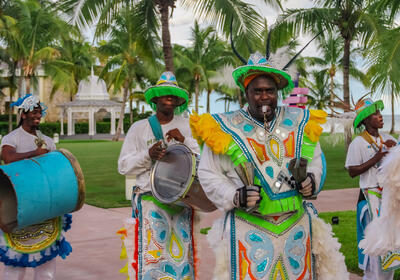 Junkanoo
Junkanoo is a Bahamian national festival and street parade that takes place every Boxing Day (December 26) and New Year's Day (January 1) that features music, dancing, and costumes, and you will find the largest celebration on Bay Street in Nassau.
If you are unable to travel over the winter holiday, the Junkanoo Summer Festival is celebrated each Saturday during the month of July. 
The festivals align with peak travel demand, so you will encounter higher prices; however, it is a great way to experience the popular cruise port of Nassau in a different way! Plus, other islands across the Bahamas, like Freeport, celebrate in their own way. 
Castaway Cay Challenge
Image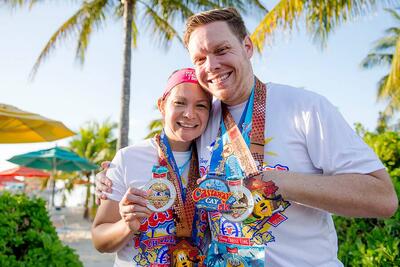 Unlike the Castaway Cay 5K, the Castaway Cay Challenge is not available during each stop, nor is it an activity that you can complete on your own. 
Guests who partake in the Walt Disney World Marathon Weekend are eligible to guests who participate in the Castaway Challenge. You must, however, make sure that you are booked on the correct cruise. In 2023, it was a 4-night sailing on the Disney Wish that departed on January 9, 2023. The actual challenge commenced at 7:00am on January 12, 2023. 
In 2024, the Walt Disney World Marathon Weekend takes place January 3-7. Since the cruise always departs the Monday after the marathon weekend, next year's Castaway Challenge will take place during the January 8, 2024 sailing onboard Disney Wish. 
After you complete the run, you can relax on the beautiful island and cheers to your accomplishments!
So...what's the best month to cruise to the Bahamas?
Image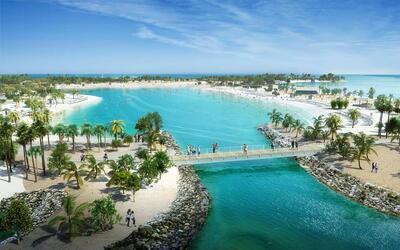 Taking into considering the weather, crowds, and price, the most ideal time to cruise to the Bahamas is early November or May. 
During the month of November, the average high and low temperatures in Nassau are 83 degrees and 69 degrees, respectively. The average temperatures do not change much from November to May, when the average high is 86 degrees and low is 71 degrees. You will be able enjoy your cruise while avoiding the peak temperatures and humidity! 
Additionally, these months fall outside of the high demand season (so long as you book within the first two weeks of November before Thanksgiving), so you are likely to find better pricing than during other months, as well as the possibility of fewer crowds. 
The best time, however, to cruise to the Bahamas is whenever works best for your schedule. If you can only take a cruise in July due to the kids' school and extracurricular calendars, then so be it! You cannot go wrong with an escape to the Bahamas, no matter what time of year you go!