Princess Cays is Princess Cruises' private island destination in the Bahamas. The 40-acre retreat is located in the southern part of Eleuthera, a 100-mile long island east of the capital Nassau.
Despite being an inhabited island, the resort is an oasis surrounded by trees, beaches and crystal clear water teaming with fish. There are numerous land and water activities to keep cruisers busy during a visit.
Princess Cruises and Carnival Cruise Line share the destination as they are both owned by Carnival Corporation. So guests from either cruise line may visit Princess Cays.
Here is what you need to know before you visit Princess Cays.                                                                        
What's the weather like at Princess Cays?
Image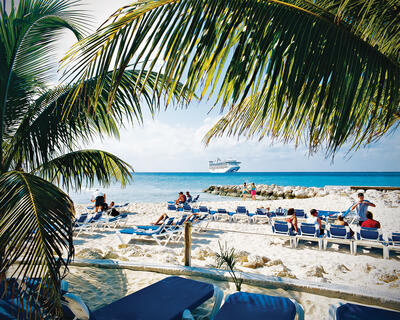 Eleuthera's weather is typical for the Bahamas Islands. Drier and slightly cooler in late fall and winter, cruisers can expect little rain and sunny skies. Temperatures range in the 70s to 80s during this period.
Summer is hot, reaching into the 90s with high humidity and the occasional rain shower. Make sure to bring a sun hat and plenty of sunscreen for a summertime trip.
Sea temperatures are similar in pattern with temperatures in the 70s to 80s, great for water activities.
Going onshore
Image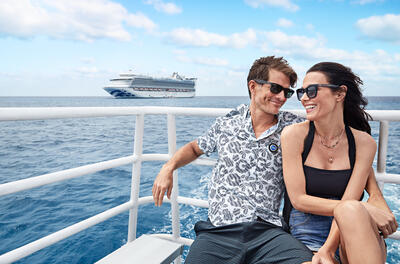 Guests need to tender when going onshore at Princess Cays as the water is too shallow for the cruise ship to dock. Once on the island, there is an information center and many posted maps to guide passengers along the walkways.
It is advisable to pack everything needed for the day and planned activities. Some areas of the beach are rocky, so water shoes may be of benefit to some, along with sunscreen and insect repellant. There are locker rentals at a price of $10 and towel service is available.
Guests need to take their cruise card/ Medallion disk for purchases (drinks). There are some shops on the island, which accept cash only as payment (US dollars).
Things to do
Image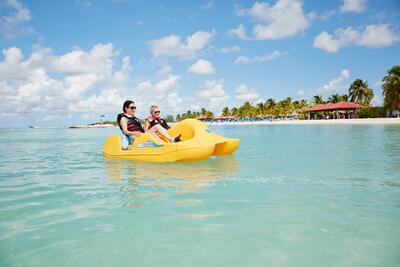 Activities on Princess Cays focus on the island's natural bounties such as its beaches, coral reefs and calm waters. There are no large pools or slides.
Once arriving at the Love Boat Marina, many passengers head to North Beach, the most popular spot. There are plenty of free loungers, some in the shade. Clamshell loungers are available for rent, which can be a good idea on a hot sunny day.
Less crowded is South Beach, located on the opposite end of the retreat. It is a more peaceful area with the longest stretch of beach. There are bars and food venues close to both beaches for the convenience of guests.
Eleuthera has abundant marine life and clear water, making it a great place to snorkel and partake in other water activities.
Activities, shore excursions, and rentals:
On land:
Island bike adventure
Clamshell beach chairs
Volleyball and basketball
Kids area Pelican Perch playground and small pool  
Local market which sells locally made Bahamian souvenirs  
Crow's nest lookout
Water activities:
Surf fishing
Coastal cruise
Stingray encounter
Glass bottom boat cruise
Hobie sailboat rental
Floating mats
Oceanview sea board
Kayaks
Banana Boat Ride
Snorkeling
Paddle Wheeler
StandUp Paddleboard
Aqua bikes
Cabanas
Image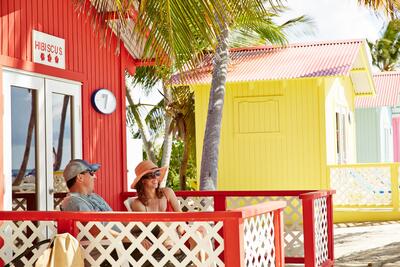 There are two main types of cabana rentals at Princess Cays, which should be booked in advance through the Cruise Personalizer.
Princess Cays Bungalow – starts at $230
Within walking distance of the beach
Air conditioning
Table with chairs inside
Loungers on deck
Private shower
Bar service (additional cost)
Priority tender tickets
Motorized transport available from the dock
Includes 4 people
Sanctuary Bungalow (starts at $300)
3 minute walk to the beach
Float rentals (2)
Air conditioning
Table with chairs inside
Loungers on deck
Private shower
Bar service (additional cost)
Optional gourmet picnic
Priority tender tickets
Motorized transport available from the dock
Includes 4 guests
Must be 18+
Image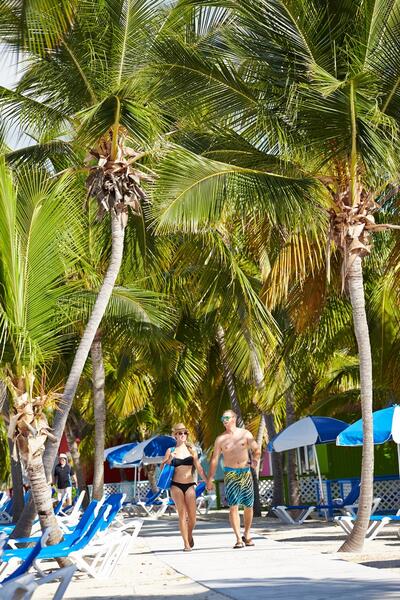 Food
Guests are provided a complimentary buffet while on island at Princess Cays. The Grill Crazy BBQ  and Sea Breeze Grill both offer lunch from 11:30-1:30. There is plenty of seating on picnic benches, including a covered area.
The menu features hamburgers, hot dogs, chicken, and ribs, served with salads and other sides like potato salad, coleslaw and beans. Fresh fruit, brownies and other treats are available for dessert. Lemonade and tea are also included with the meal.
The Grill Crazy BBQ is located in the northern part of the island near North Beach and the snorkeling area. Sea Breeze Grill is south near the tender area, not far from South Beach.
Bars
There are a number of spots dotted through the island to get a cold drink or a cocktail. At the northern end of the resort is Bahia Bar, close to the end of North Beach. Coconut Bar is nearby the food pavilion Grill Crazy BBQ.  
The Banana Beach Bar is midway along the resort, followed by Reef Runner Bar in the South Beach area.
Guests can use their Princess drink packages on the island, or they can charge beverages to their onboard account.
How to visit Princess Cays?
Image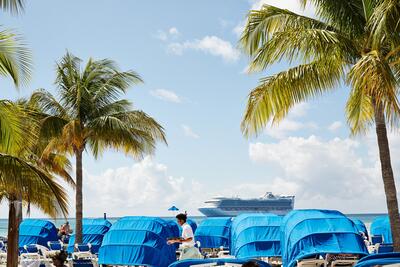 There are several great Princess Cruises options for those wanting to visit Princess Cays departing from Fort Lauderdale, Florida; Galveston, Texas; and New York City in 2022, 2024, and 2024:
4-day to the Bahamas
5-day Caribbean with Cozumel
6- and 7-day Eastern or Western Caribbean
10-day Southern Caribbean
11-day Caribbean Islander
16-day Caribbean Southern Adventurer
20-day Caribbean Explorer
Regal Princess, Caribbean Princess, Sky Princess, Enchanted Princess, Emerald Princess, Island Princess, and Ruby Princess all cruise to Princess Cays.
Currently, Carnival Liberty, Carnival Conquest, Carnival Freedom, Carnival Elation, and Carnival Sunrise are all scheduled to visit Princess Cays. 
Other posts that may be of interest: 
Princess Cays Frequently Asked Questions
Is Wi-Fi available on Princess Cays?
Image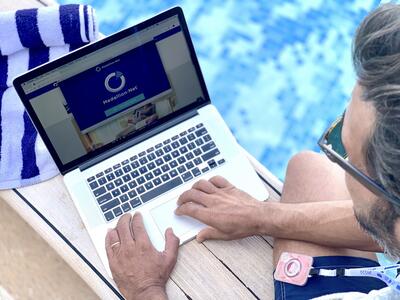 Medallion Net Wi-Fi is available to Princess Cruises guests. As Carnival Cruise Line use a different internet service, they are unable to connect during their visit.
Princess Cays was the first cruise line private island to expand their Wi-Fi to allow for onshore connectivity. 
Does the Carnival Cheers! Beverage Package work on Princess Cays?
Image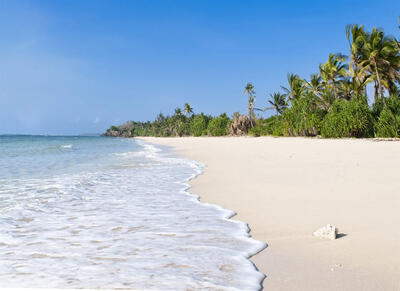 No, Carnival guests will have to pay for each drink a la carte. Additionally, the Cheers! Beverage Package does not work on any private island, including Half Moon Cay.