Have you ever thought running a race would be a fun idea during your cruise?
Disney's Castaway Cay is one of the most beloved ports of call on the Disney Cruise Line.
If you are traveling on a Bahamian or Caribbean-bound Disney Cruise Line ship departing from Florida, your itinerary will include a stop at Disney's Castaway Cay. While there are many different activities and excursions available to book at Castaway Cay, one of the most popular things to do is also completely free.
The Castaway Cay 5k is a fun run that takes place on the island. It has changed in recent years but is still a well-loved island activity that guests can do on their own.
Disney's Castaway Cay
Image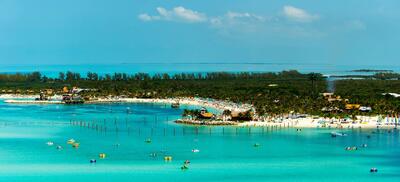 Disney's Castaway Cay is a private island located in the Bahamas. The island offers family beaches, an adult beach, bike trails, snorkeling, excursions, a water slide, kids' clubs, massage cabanas, bars, gift shops, three BBQ venues, and much more. It accommodates one Disney Cruise Line ship per day and is staffed by crew members from your ship. Most guests leave the ship on Castaway Cay day, and there are few on-ship activities planned.
Serious runners, exercise enthusiasts, and walkers love participating in the Castaway Cay 5K for several reasons. It isn't a timed or serious race, and there are no winners, although some frequent cruisers may choose to keep track of their race times.
Image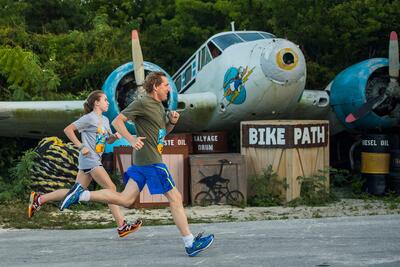 During your 5K run, you'll go past the airstrip on the island, as well as through some other fun areas of Castaway Cay. It's a great island tour route and can be a nice way to get some exercise, especially after spending time on the cruise ship, while seeing the island. Even if you aren't a runner, walking the route can be a great way to see much of Castaway Cay.
The Castaway Cay 5K route isn't especially strenuous. However, it can be very hot. You'll definitely want to bring along water and sunscreen.
Recent Changes to the Castaway Cay 5K
Image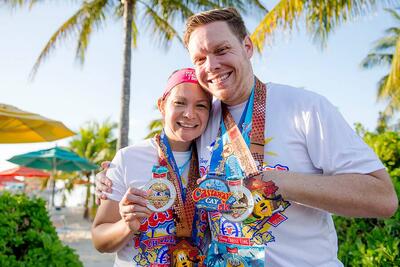 Prior to the pandemic the Castaway Cay 5K was a scheduled activity. Guests signed up at the port excursion desk and reported to a specific location at a designated time. Castaway Cay 5K participants were generally among the first off the ship for the day, and all left a the same time. Plastic finisher medals were provided to participants as they completed the 5K, and runners wore numbered bibs, like a regular 5K.
At this time, the Castaway Cay 5K isn't a scheduled activity. It's not a group race, and there's no designated start time. Participants can choose to do the 5K at any point during their day at Castaway Cay, although they'll have to wait until the announcement is made that all guests are invited off the ship.
Image
While some may be disappointed in this change, it can be good for other cruisers. If you are planning on participating in an excursion first thing in the morning, you'll now be able to do the 5K later in the day. In the past, you would have had a choice to make.
Guests who'd prefer to run in the afternoon can bring a change of clothes, and run the route before going back to the ship at the end of the day to show. The flexibility of choosing your time can definitely be useful. In the past, guests would often run the 5K, then go back to the ship to change, shower, and eat breakfast before going back out. Just keep in mind that it does get hotter throughout the day.
How to Participate in the Castaway Cay 5K
Image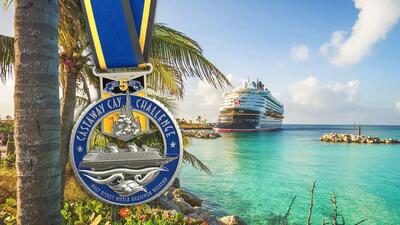 Because of the changes in this process, we recommend that you talk to guest services to get the exact current process. It's possible that it eventually changes back to a scheduled event.
Right now, if you want to do the Castaway Cay 5K in any fashion (running, walking, individual, with friends/family), you don't need to register. Just dress for your walk/run, and head to the bike rental station on the island where the course starts.
Image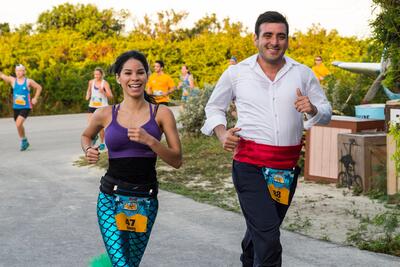 The 5k course is marked, and you'll follow the official route during your run. There's no time limit (except to be back on the ship at the all-aboard time), so you can go at your own pace.
Although this isn't an official race, there are still participation medals that you can collect and wear for bragging rights. These medals can be collected at the bike rental station once you are done. In addition, official 5K merchandise, including t-shirts, can be purchased in the gift shops on Castaway Cay.