Disney Cruise Line has created the ultimate private island experience at Castaway Cay in the Bahamas.
Situated along popular pirate sailings routes, some believe it was an actual hideout for buccaneers in the 18th century.
Today, Disney has transformed the 1000 acre Gorda Cay, as it was formerly known, into a popular port of call on many of its eastern Caribbean cruises.
Before starting an adventure to Castaway Cay, here is what you need to know.
What's the weather like?
Image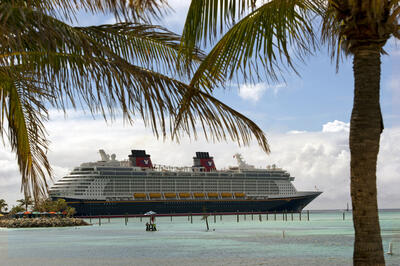 Located in the northern Bahamas near the Abacos islands, Castaway Cay tends to have milder temperatures (high 70s) in winter with drier conditions.
Summer brings more rain, with temperatures reaching into the high 80s. Expect greater humidity levels and lots of sunny weather during these months.
Late summer and early fall are more likely to have a rain shower and a tropical storm on occasion. Ocean temperatures follow a similar pattern throughout the year.
Going onshore
Image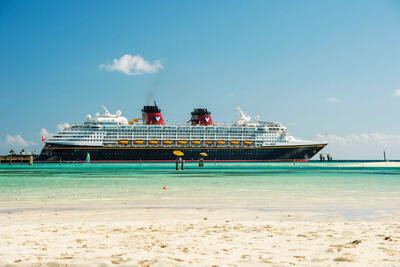 Disney cruise ships can dock in Castaway Cay, a much easier option than tenders. For convenience, there are trams to bring passengers to different parts of the island.  
Guests need to be certain to bring their Key to the World cards for any purchases such as drinks or souvenirs. Towel service is complimentary.
Since it is docked, some guests choose to go back to the ship for lunch; however, there are plenty of amenities onshore.
Things to do
Image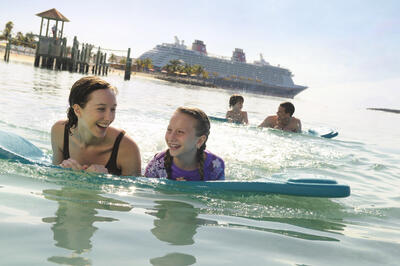 Ocean:
Castaway Family Beach is the central hub of activity with a stunning Bahamian beach and lots of loungers and umbrellas. Swim in the water, snorkel in the lagoon or enjoy activities, music, and dancing.
Pelican Plunge is a 2400 square foot kids' play area located in the water. Children must be able to swim to enjoy the water slides and play area. Spring a Leak, a splash pad for younger kids is another option. 
Serenity Bay is an adults-only area with a separate beachfront and its own restaurant, bar, and cabanas. Guests can even enjoy a relaxing massage while there.
On land:
There are no pools at Castaway Cay, but there are many other things to do. The sports beach is the spot for volleyball and soccer among other games. This is also where guests can get water equipment rentals.
The Teen Hideout is a sanctuary for 14-17 year olds to have their own private space away from parents.
Kids Da Shade Game Pavilion has lots of fun games like table tennis, pool, basketball, and foosball in a supervised environment. There are character meet and greets in various locations.
Other activities and shore excursions:
Image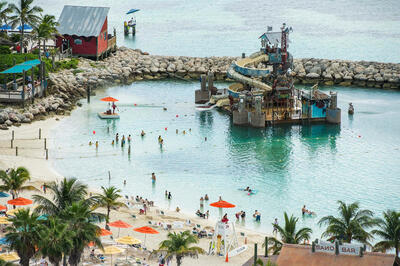 Water activities:
Aqua Trike
Fishing
Stingray Adventure
Waterbikes
Jet Boat Tour
Glass Bottom Boat
Paddle Boat
Parasailing
Kayaks
Standup Paddle Board
Float / Tubes
Image
On land:
Bike rentals
Walking trails
Water activities
Cabanas
Image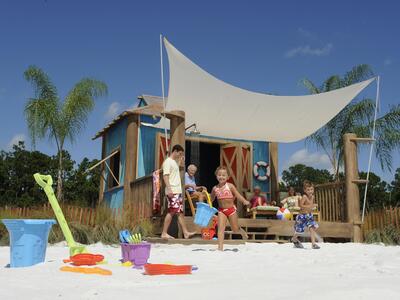 Hanging out in beach themed cabanas with ocean views is the perfect way to spend a day. There are three main cabana types at Castaway Cay:
Family Beach Cabanas - starts at $549 and includes:
Snorkel equipment and sand toys
Floats, tubes and bikes
Safe for valuables
Refrigerator and shower
Lounge chairs, hammock and patio
Bottled water and soda
Light snacks – fruit and chips
Cabana host
6 guests
Grand Family Beach Cabana – starts at $899 and includes:
Snorkel equipment and sand toys
Floats, tubes and bikes
Safe for valuables
Refrigerator and shower
Lounge chairs, hammock and patio
Bottled water and soda
Light snacks – fruit and chips
Cabana host
10 guests
Serenity Bay Cabanas – starts at $399
Located in adults only area, all guests must be 18+
Safe for valuables
Refrigerator and shower
Lounge chairs, hammock and patio
Bottled water and soda
Light snacks – fruit and chips
Cabana host
4 guests
Food and Beverages
Image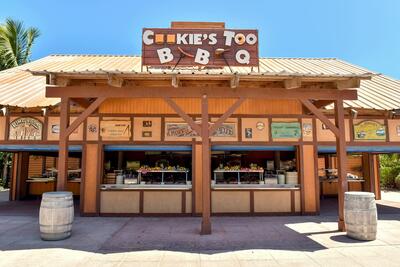 Complimentary food, water and soft drink are provided at no extra cost at Castaway Cay. There are several venues on the island.
Cookie's BBQ and Cookie's Too Buffet offer food from 11:30 -2pm. Lunch options include hamburgers, hotdogs, chicken sandwiches and BBQ pork ribs. Serenity Bay (adults only) has a little more on the menu, most notably ribeye. Plant-based options are provided upon request.
Guests get to enjoy soft-serve ice cream, cookies and fresh fruit for dessert.
For those thirsty beachgoers, there are bars spread out over the island, including Castaway Air Bar, Sand Bar, Heads Up Bar, and Conched Out Bar. Alcoholic drinks are an additional cost.  
Interesting Facts about Castaway Cay
Image
Although a relatively undeveloped island, there are some interesting facts for visitors:
There is an operational post office onshore. Guests can mail friends and family a fun souvenir card postmarked Castaway Cay, just make sure to bring some US dollars for stamps.
Cast members say that portions of Pirates of the Caribbean: The Curse of the Black Pearl were filmed there, although no actual pirates have been found.
The island hosts a 5 km run called the Castaway Cay Challenge.
It has a 2400 foot long airstrip. Originally built in the 1960s as part of a development project, it was later abandoned.
There are some noteworthy environmental programs. Disney is working on coral rejuvenation by transplanting long-spined sea urchins for growth. They also monitor endangered loggerhead sea turtles and have installed solar panels to supply the island's energy needs.
How to visit Castaway Cay? 
Image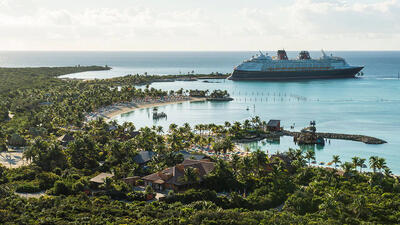 There are plenty of 3 and 4 night Bahamian cruises leaving from Port Canaveral with stops in Nassau and Castaway Cay.
Disney also offers a 6 night western Caribbean cruise leaving from Port Canaveral.
Disney Dream, Disney Wish, and Disney Fantasy sail to Castaway Cay. The brand new Disney Wish is set to debut this summer, with numerous sailings throughout 2022, including the special holiday events: Halloween a Sea and Very Merrytime.