Both Royal Caribbean and Disney Cruise Line have announced that they will be opening new beach resorts in the Bahamas in 2024 and 2025. The exact dates have yet to be released. 
Disney's Lighthouse Point will be located on the island of Eleuthera, while Royal Caribbean's Royal Beach Club will be on the western end of Paradise Island in Nassau. At just about 700-acres, Lighthouse Point is the larger of the two destinations. In comparison, Royal Beach Club is only about 17-acres. 
This will be Disney's second private cruise line destination, second only to Castaway Cay; Royal Beach Club will be Royal Caribbean's third private destination, following Perfect Day at CocoCay and Labadee, Haiti. 
Read on to see how the two beach resorts compare to one another.
Private island versus private destination
Image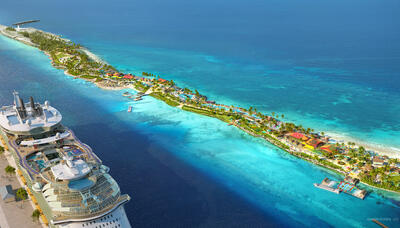 (Pictured above is an aerial view of where the Royal Beach Club will be located on Paradise Island in Nassau)
Unlike Castaway Cay and Perfect Day at CocoCay, neither Lighthouse Point nor Royal Beach Club are situated on their own private islands. Both, however, are exclusive to cruise line guests. 
In other words, if you are on a Disney or Norwegian cruise that stops in Nassau, you will not be able to access the Royal Beach Club. 
Similarly, if you are on a Carnival or Princess cruise and stopping in Princess Cays, which is located just about three miles north of Lighthouse Point on the western side of Eleuthera, you won't be able to visit the exclusive Disney Cruise Line destination. 
Additionally, since Lighthouse Point is more of a private destination rather than an exclusive experience, there will be a private pier for guests. Those going to the Royal Beach Club in Nassau will have to make their way outside of the cruise terminal to catch a ferry. 
Cost
Image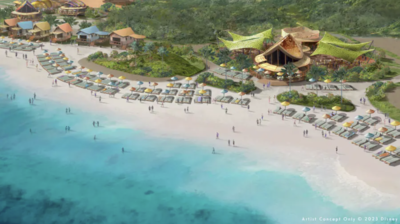 (Pictured above is an artist's rendering for the adults-only beach at Lighthouse Point)
Based on Royal Caribbean's Environmental Impact Assessment (EIA), it is fair to assume that each guest will have to pay to enter the Royal Beach Club: "It is anticipated that with the payment of an entrance fee, the experience will include access to the Royal Beach Club, lunch and the rental of a beach chair." 
"For an additional fee, guests will be able to purchase alcohol and sodas, a cabana, day-bed, clamshell, and participate in water sports and local tours."
The actual price of admission and of additional activities have yet to be released by the cruise line. 
Like Castaway Cay, Lighthouse Point will provide the complimentary beach essentials (i.e., beach loungers, umbrellas, and towels). Other experiences will be available for an additional cost that have yet to be announced by Disney Cruise Line. 
Bahamian culture and partnership 
Image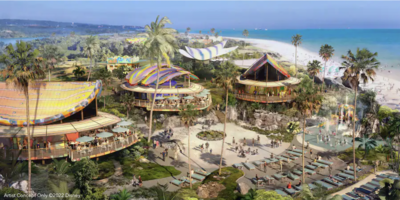 (Pictured above is an artist's rendering of Disney's Lighthouse Point)
Press releases from Disney and Royal Caribbean state that the private destinations will emphasize the local culture, as well as local partnerships. 
The Royal Beach Club is being designed as a public-private partnership, where Bahamians are able to own up to 49% equity in the beach club. 
Additionally, the club will be comprised of 13-aces of land owned by Royal Caribbean and 4-acres of Crown Land, which will be contributed as equity to ensure a share of the profits are returned to the government and the people. This is a first-of-its-kind agreement in the Bahamas!
"Alongside private cabanas, stunning pools and more, the vibrant Bahamian spirit and culture will come to life throughout the world-class destination experience," said Royal Caribbean. 
From the moment you enter the private club, you will be greeted by local architecture and other experiences that highlight the Bahamas, such as island-style barbecues, live music, and local artisans. 
Likewise, Disney Cruise Line wants Lighthouse Point to be a "...tropical retreat immersed in the natural beauty and tranquility of The Bahamas--and inspired by this island nation's rich culture, traditions and stories."
In working to create Lighthouse Point, Disney Cruise Line worked in close collaboration with local artists, historians, and cultural ambassadors to help bring this one-of-a-kind destination to life in a way that pays homage to The Bahamas. 
When on the island, guests will notice that many activities represent the festive spirit of Junkanoo, the national Bahamian street parade. Additionally, the work of local artisans will be present in other community spaces and private cabanas. 
Image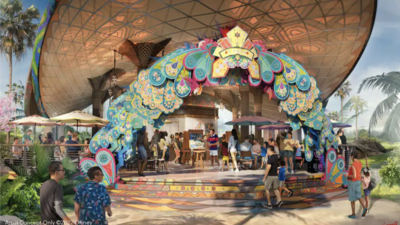 (Pictured above is an artist's rendering of the Arts and Culture Pavilion at Disney's Lighthouse Point)
Not only will you be able to go on exciting new port adventures that were developed in partnership with local tour operators, but you can also explore the Arts and Culture Pavilion: "Here, special programs and local artists provide Guests with opportunities to learn and celebrate the traditions and natural beauty of The Bahamas."
Activities
Image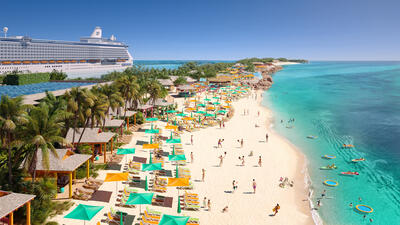 Both destinations aim to provide experiences for guests of all ages. 
At the Royal Beach Club, you will find three different beaches: Tranquility Beach, Hideaway Beach, and Sapphire Beach. Additionally, there are private cabanas for rent, two pools (one of which is adults-only), a kids' splash pool and wading pool, numerous bars, a Food Hall, Snack Shack, and Artisan Village. 
For those who do not want to lounge on the beach all day, the following activities will be available: 
Snorkeling
Scuba diving
Kayaking
Jet skiing
Floating mat rentals
Inflatable water slides
Parasailing
Nature hikes
Volleyball
Other sand and water related activities
*This list is subject to change and may include more offerings as Royal Caribbean releases more about the Royal Beach Club. 
Since Lighthouse Point is larger, you can expect to find more amenities here. On the east side of the island, there will be an expansive family beach. You will not have to walk far to find the main dining venue and other recreational activities:
Covered gaming pavilion
Volleyball court 
Gaga ball pit 
Watercraft and bike rentals 
Nature trails 
And as mentioned earlier, there will also be the Art and Culture Pavilion.
Image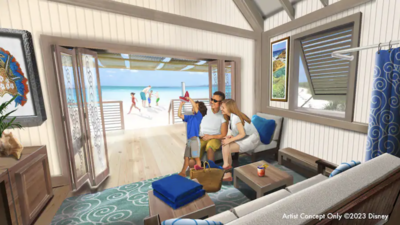 (Pictured above is an artist's rendering of the family cabanas at Disney's Lighthouse Point)
Families who want to take a break from the sand and ocean will love the interactive water play area, which will include two slides, water drums, foundations, a dedicated toddler space, and more. 
Adults who are looking for a quiet escape will love the adults-only beach and private dining area. Don't worry about the kids-- those between the ages of 3 and 12 can be taken care of by Disney Cruise Line counselors at the themed kids' club!
Finally, there will be both adults-only and family cabanas available to rent for an additional cost. 
Can drink packages be used at each destination?
Image
Since Disney Cruise Line does not offer an unlimited beverage packages, the same policies apply as onboard and Castaway Cay: you will have to pay for each drink á la carte.
As of March 10, 2023, Royal Caribbean has not commented on whether or not drink packages will be valid at the Royal Beach Club. 
Read more: Everything you need to know about Royal Caribbean's Deluxe Drink Package
Lighthouse Point versus Royal Beach Club
Image

Both experiences leave guests with a lot to look forward to. Royal Beach Club is a great option for guests who frequently visit Nassau, while Lighthouse Point takes Disney Cruise Line's magic to the next level. 
There are, however, some major takeaways. First, Lighthouse Point will be much secluded than Royal Beach Club. When disembarking the ship, you won't have to deal with exiting the cruise terminal. Instead, you can walk straight off the pier. 
With the Royal Beach Club, you'll have to navigate out of the often packed Nassau pier to reach the ferry that will transport you to Paradise Island. 
Plus, you will have to pay an entrance fee for the Royal Beach Club. It is an experience that is meant to augment, not replace, Nassau's other attractions, including Atlantis, Blue Lagoon, and Pearl Island. You can think of it like Perfect Day at Cococay's Coco Beach Club (sans having the complimentary beaches around the island). It just one of many ways that you can enhance your visit, but it is totally optional. 
Disney Cruise Line guests, however, visiting Lighthouse Point can, in theory, not spend a single dollar once they get off the ship.