Castaway Cay, Disney's private island, is always a port of call on the Disney Cruise Line ships departing from Florida. It's one of the most popular stops for families - offering beautiful beaches and fun activities.
Whether you want to spend the time on this beautiful island relaxing, or if you prefer staying active, here are twenty fun things to do on Castaway Cay.
We've noted if these are offered for an extra fee, or are included in your cruise. Excursions should be booked in advance wherever possible for the best availability. Check with the Port Adventures desk on board if you haven't booked in advance.
If conditions at Castaway Cay deem your activity unsafe, you will receive a refund, so there's no risk of losing your money if the weather doesn't cooperate.
Rent a cabana (extra fee)
Image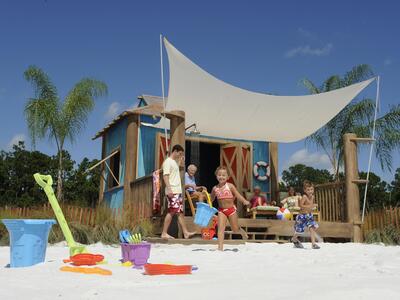 Castaway Cay offers a number of cabanas on both the family and adult-only beaches. They are extremely popular and need to be booked as soon as your booking window opens.
Cabanas include chairs, couches, snacks and beverages, sunscreen, floats, bikes, snorkeling equipment, and more. They are a fun place to hang out, especially for a larger family, and there's lots of shade.
Pelican Plunge (free)
Image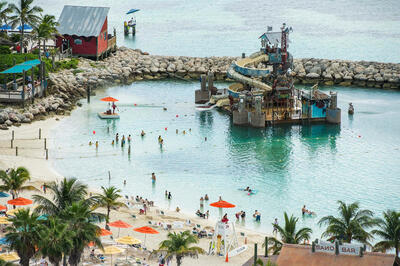 This floating platform is just a short swim from the shore on the family beach. It includes water slides, water cannons, and more. You'll slide right into the seawater, so keep in mind that it may be a little chilly!
Castaway Cay 5k (free)
Image
If you are the type to run or exercise on vacation, the Castaway Cay 5K is a nice, land-based option. In the past, it's been an organized, free event where travelers meet on the ship before heading out to run.
Now, it's less organized, but guests can still get a completion medal when finished. It's a great way to explore the island.
Get specific details from Port Adventures before your day at Castaway Cay.
Rent bikes (extra fee)
Image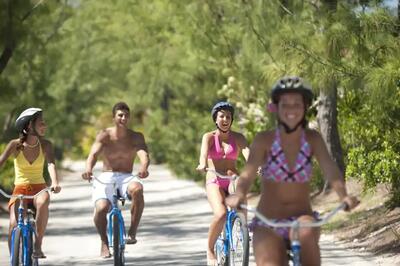 Another fun way to explore the island is by bike. You can rent in advance, but can also do it once you arrive on the island.
Bike rentals are for one hour, which is plenty of time to explore much of the island.
Snorkel (extra fee)
Image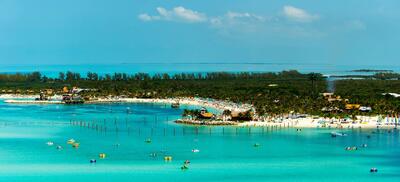 Want to explore the sea life at Castaway Cay and see the Mickey and Minnie statues under the sea?
Snorkel rentals are available at two separate locations on the island. You can also bring your own equipment but will need to use the yellow snorkel vests for safety.
Float on the water (extra fee)
Image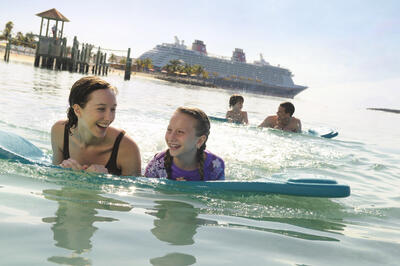 Perhaps one of the most relaxing things to do on Castaway Cay is to just sit on a float or tube on the beautiful, turquoise water. Float/tube rentals are available to rent for the full day.
If you want to bike, snorkel, and float, you can save some money by purchasing the Castaway Cay Getaway Package. It includes all three rentals at a discounted rate.
Enjoy a beach day (free)
Image
The sandy beaches at Castaway Cay are absolutely beautiful, with complimentary beach chairs, umbrellas, and hammocks.
You don't have to book any activities - you can still have a great time just enjoying a day at the beach.
Aqua trikes (extra fee)
Image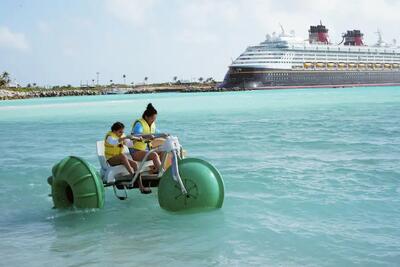 Head to the boat beach, located close to the ship, to rent an aqua trike for 30 minutes.
You'll be able to paddle over the water enjoying some exercise while taking in the beautiful views of your DCL ship docked at Castaway Cay.
Castaway Ray's Stingray Adventure (extra fee)
Image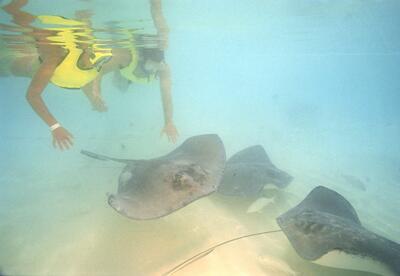 One of the most popular port excursions at Castaway Cay is Castaway Ray's Stingray Adventure. This excursion takes about an hour, and guests can feed and pet stingrays in the shallow waters before snorkeling into the deeper water to see even more stingrays.
The snorkel equipment provided in this excursion can only be used during the hour, so if you want to keep snorkeling you'll need to rent that equipment separately. There's also a separate excursion - Castaway Snorkeling with Stingray, where you'll skip the shallow water feeding and go right to the snorkeling.
Glass bottom boat (extra fee)
Image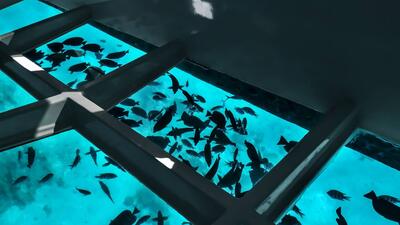 If you'd rather not snorkel but still want to admire the sea life, a glass-bottom boat may be a better option. During this 60-minute excursion, you'll travel in a boat over a reef area to see fish in their natural habitat. This is a great alternative for families with younger kids who still want to experience Caribbean sea life.
Parasailing (extra fee)
Image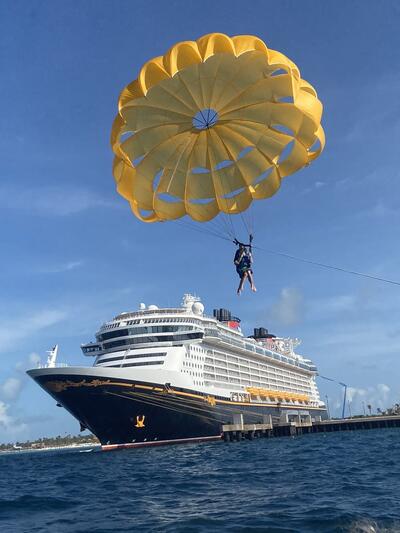 Parasailing is one of my favorite beach thrill activities.
Not only is it exciting, but you'll also get a chance to see Castaway Cay from a unique vantage point. This is something you'll want to book in advance, but if the conditions aren't safe, you'll be refunded.
Get a massage (extra fee)
Image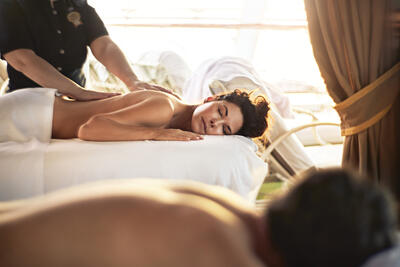 The Senses spa on the Disney Cruise Line offers fantastic, relaxing treatments for adults. For a uniquely relaxing experience, they also offer massages on Castaway Cay.
Both couples and individual massages are offered. Book at the Senses spa onboard the ship in advance for the best availability.
In Da Shade Game Pavilion (free)
Image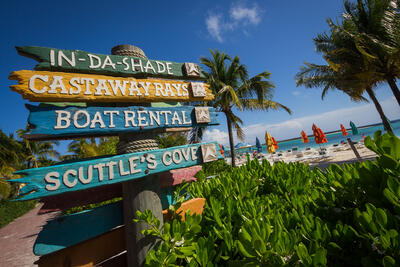 This covered and shaded pavilion is a great spot to take a break from the direct sun.
Activities include basketball, foosball, pool, and ping pong. It's located by the family beach.
Scuttles Cove (free)
The youth club activities continue off the ship on Castaway Cay at Scuttles Cove. Available for kids ages 3-12, Scuttles Cove offers supervised activities such as a water play area and a Caribbean Beach Party.
If your kids are older, there are other supervised activities offered on the island - check the Personal Navigator or the app for specific details.
Sea kayak (extra fee)
Image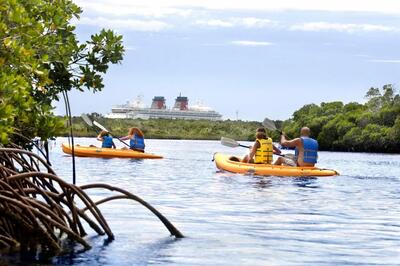 Thirty-minute single and double sea kayak rentals are offered on the boat beach, near the entrance of Castaway Cay.
Meet the characters (free)
Image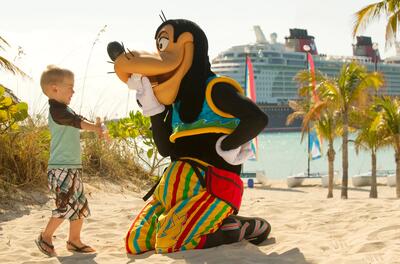 We always love seeing the Disney characters relaxing in their beach attire. You can find a schedule of appearances on the Navigator app or in the printed Personal Navigator.
Fishing (extra fee)
There are several fishing excursions available on Castaway Cay, including bottom fishing and fly fishing.
They are very limited, so you'll want to book them as soon as you can. Be sure to read the details so you pack everything you need for the excursion.
Paddleboarding (extra fee)
Image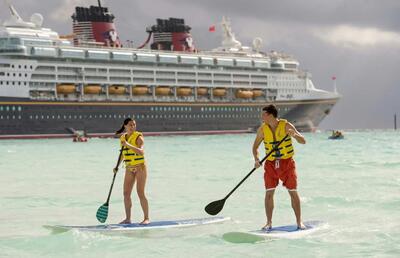 Two and four-person paddleboards are available for thirty-minute rentals at Boat Beach. Passengers need to be at least five years old, so this is a great option for families with elementary-aged kids.
Banana Boat (extra fee)
For a moderately thrilling activity, book a banana boat ride. You and up to five others will be pulled behind a motorboat for up to 30 thrilling minutes. These excursions depart from Boat Beach.
Spring-A-Leak water playground (free)
Image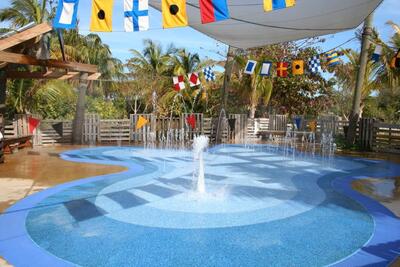 Cool off at the Spring-A-Leak water playground, which includes water jets and is lots of fun for younger kids.
Whatever you choose to do at Castaway Cay, be sure to bring along sunscreen and a hat and drink lots of water. The Caribbean sun can be very hot, especially if you are spending time on the water.